Risk management is an essential aspect of any organization's operations. However, with so many different risk management software options available, it can be difficult to know which one is the best fit for your organization.
In this article, we'll dive into the details of risk management software and provide a comprehensive guide on what to look for when choosing a risk management software for your organization.
Risk management is a company's ongoing process of identifying, assessing, and treating potential loss exposure and monitoring risk factors to lessen the impact of damages. Risks can be related to money, reputation, competition, laws, and regulations.
Every business involves some level of risk. Risks cannot be completely eliminated, but you can take steps to reduce their likelihood or impact. That is where risk management software comes in handy.
Risk management software assists CISOs in identifying, assessing, and mitigating risks. Some risk management software can give you risk scores for prioritization and communication with various teams.
Risk management solutions help you know where your risks are and what efforts have been made by the accountable person to mitigate them.
Key Features of Risk Management Software
A risk management tool assists organizations in quickly identifying areas of concern and assessing the risks' status.
As you improve your company's risk posture, you will gain practical insights that will help you track issues and quickly address them. It also makes it simple to share reports with your executives and establishes a clear communication chain.
Here are the key features that risk management software offers:
Creation of your risk register: The first step in any risk management process is to identify and comprehend potential risks. Risk management software aids in the identification and documentation of all risks along with their likelihood and impact.
The risk register dashboard shows all the information about each risk to your business, including the nature of the risk, the level of impact it may have, mitigation measures in place to respond to it, and more.
Risk assessment: Risk scoring is another common feature in most risk management software solutions. Since businesses face hundreds of risks today, quantifying risks helps you build a risk treatment plan by assigning the priorities of risks.
These applications come with a dashboard that helps you visualize, quantify, and communicate your risk posture with your stakeholders.
Aids development of a risk treatment plan: Risk management software will be able to track, record, and display risk changes over time. Once identified, you can treat the risk using repositories of mitigation activities, controls, and procedures. Whether you ignore, accept, transfer, or mitigate the risk, the same can be documented and tracked in a risk management software.
Apart from this, some risk management tools enable the mapping of risks with controls for popular compliance frameworks, like SOC 2, PCI DSS, ISO 27001, and other standards in real time.
Because of the reporting and auditing capabilities of an automated risk management system, you are always aware of potential compliance issues.
Determine your goals and objectives
The first step in selecting the risk management tool is determining your risk-managing goals and objectives. Your risk management software must meet your business objectives while providing organizational value.
Thus, before you start your research, you should outline why your organization needs a risk management tool.
Some key questions you need to ask:
Who will be using the tool?
Are you aware of all the risks associated with your business?
What is the cost-benefit ratio of adopting a risk management tool?
What is the shortcoming in the current way of managing risks?
What new risk areas could emerge in the future?
What compliance frameworks do you need to comply with?
What is the budget for investing in risk management software?
How to Select a Risk Management Tool
Here, we have listed the parameters you should consider while selecting your risk management software. These factors can assist you in narrowing down your software options.
Evaluate how it would help you with Risk Identification
Creating a risk register risk management software should be simple and intuitive.
To assess risks, you first need to identify them. One of the major use cases of risk management software is to help you identify risks.
The volume and complexity of risks that today's organizations face are increasing exponentially due to rapidly advancing technology. Your risk management software must continuously scan data sources to identify emerging risks.
But risk identification is not limited to reviewing IT assets, such as systems, software, networks, devices, and data. It also includes risks associated with employees and vendors.
Risk management software enables you to create a risk register quickly by pre-poluating the risks that you may face.
A risk register is a repository of all the risks your organization faces that includes
Description of a specific risk
Likelihood of its occurring
Impact of risk
Now, we would like to explain how this looks in practice with the example of Scrut Risk Management.
With Scrut, you can build your risk register within minutes.
You can use Scrut's risk library, which contains commonly faced risks by different types of organizations.
To build your risk library, click on Create New.


You will see a pop-up like this: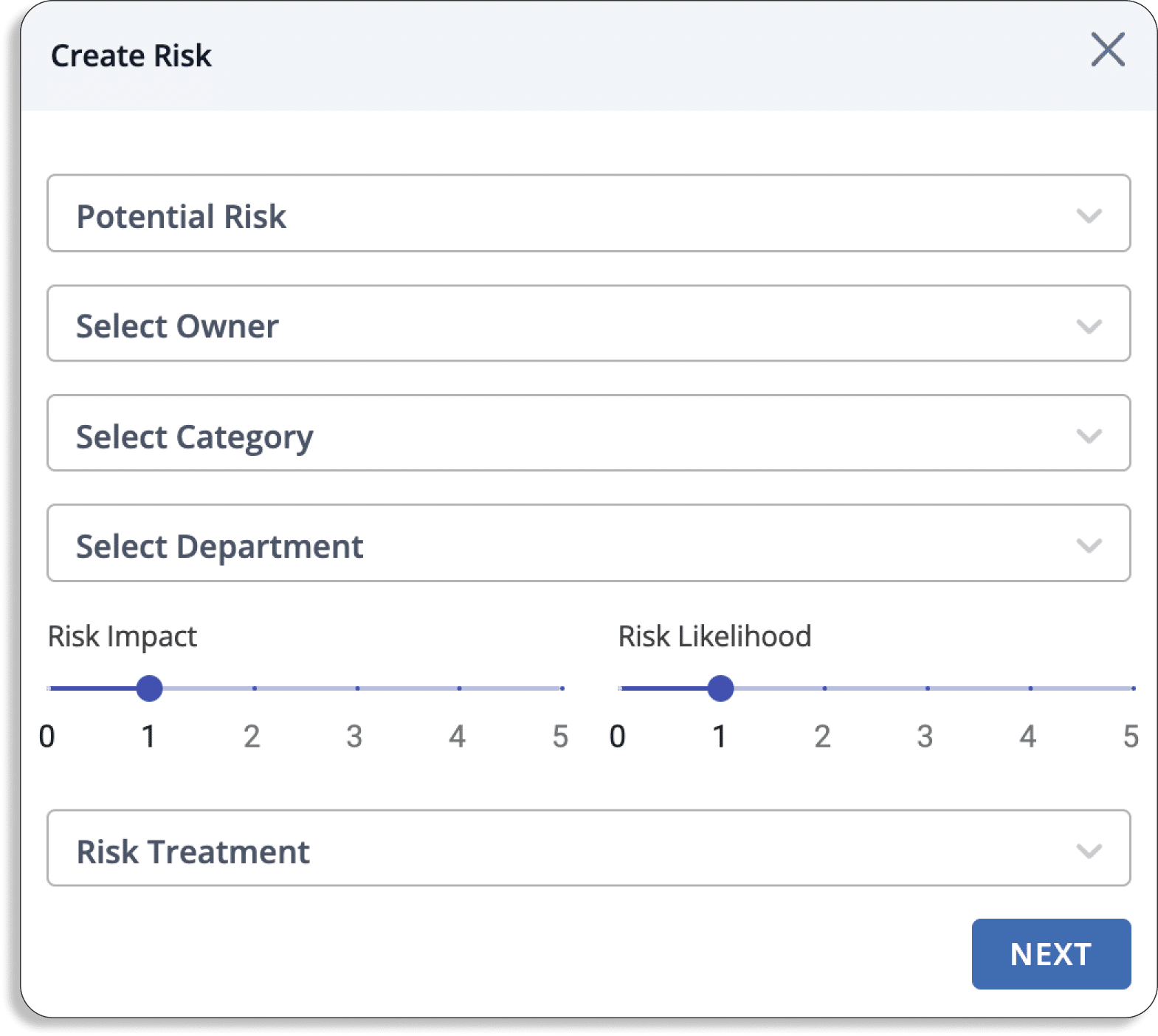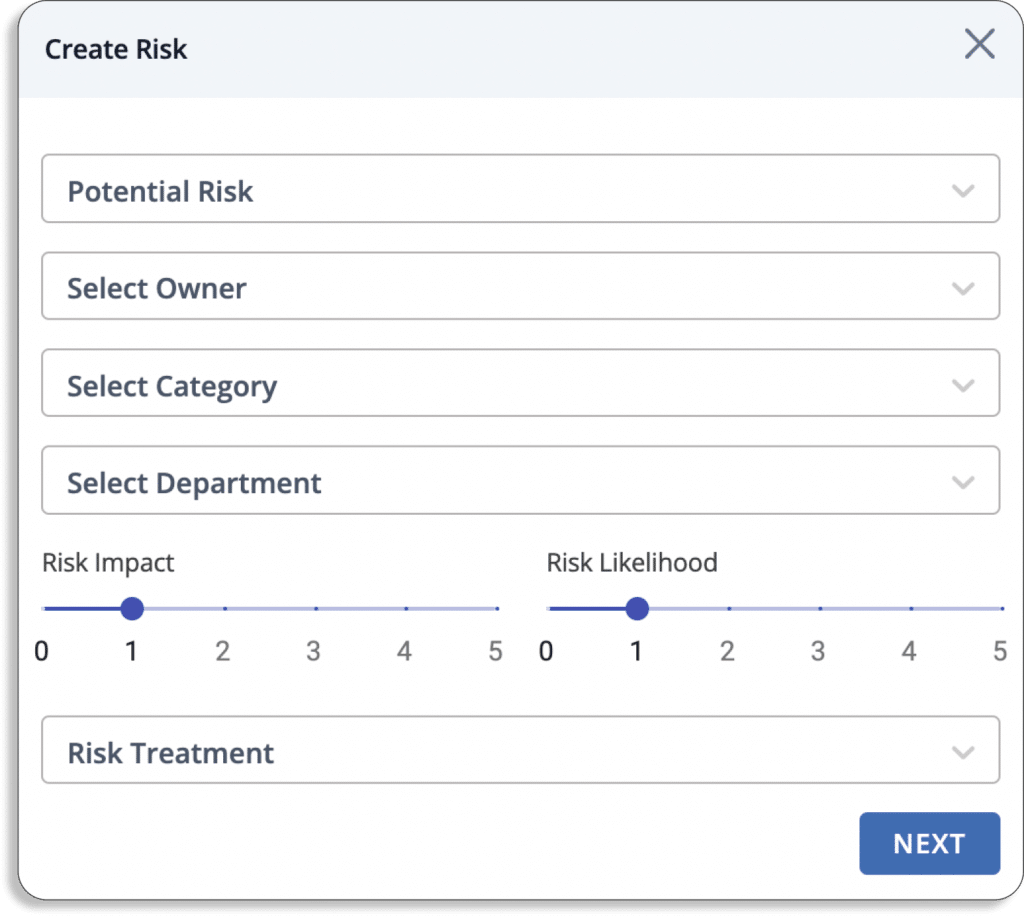 You can choose any risks either from our risk library or create your own custom risks.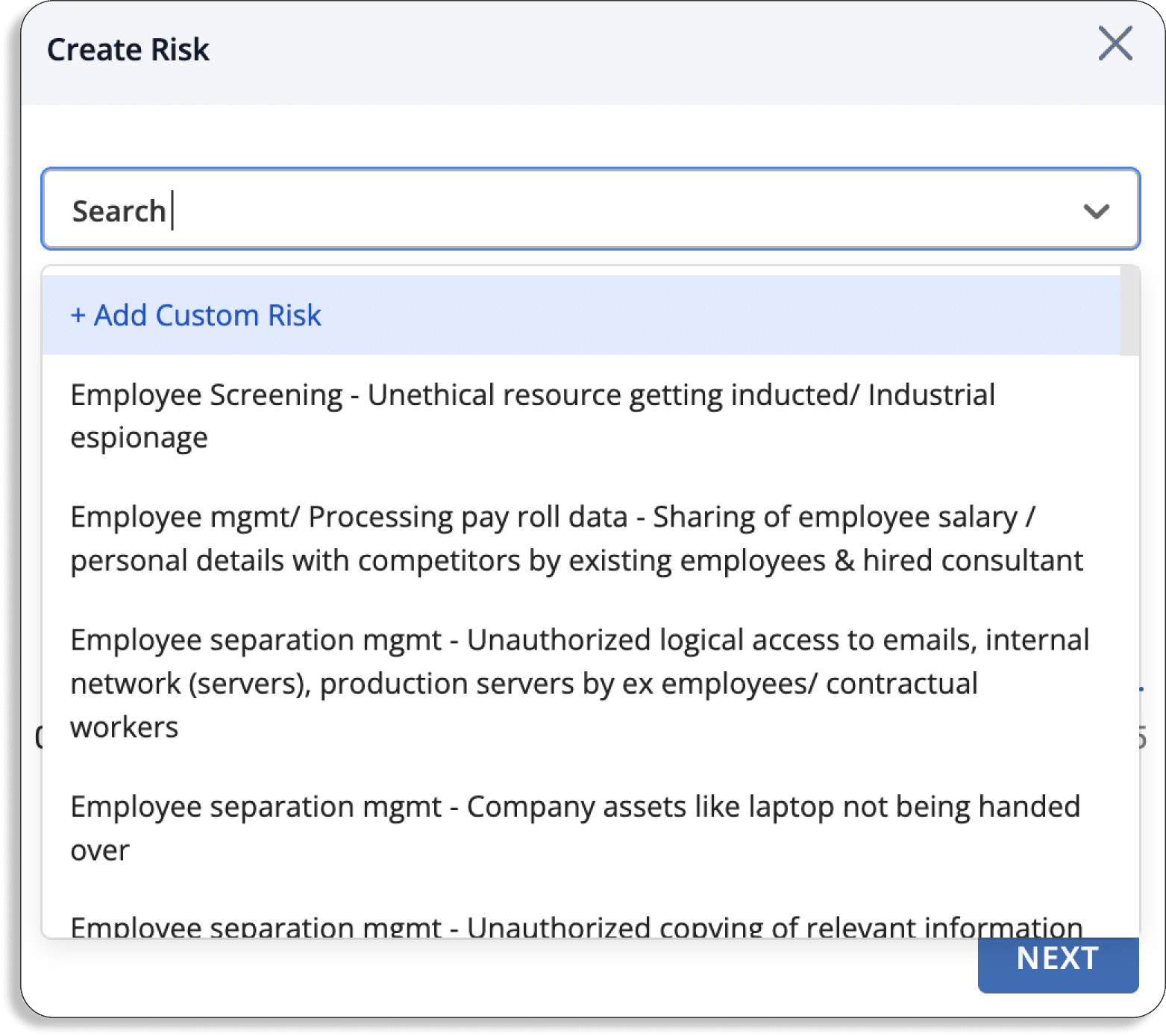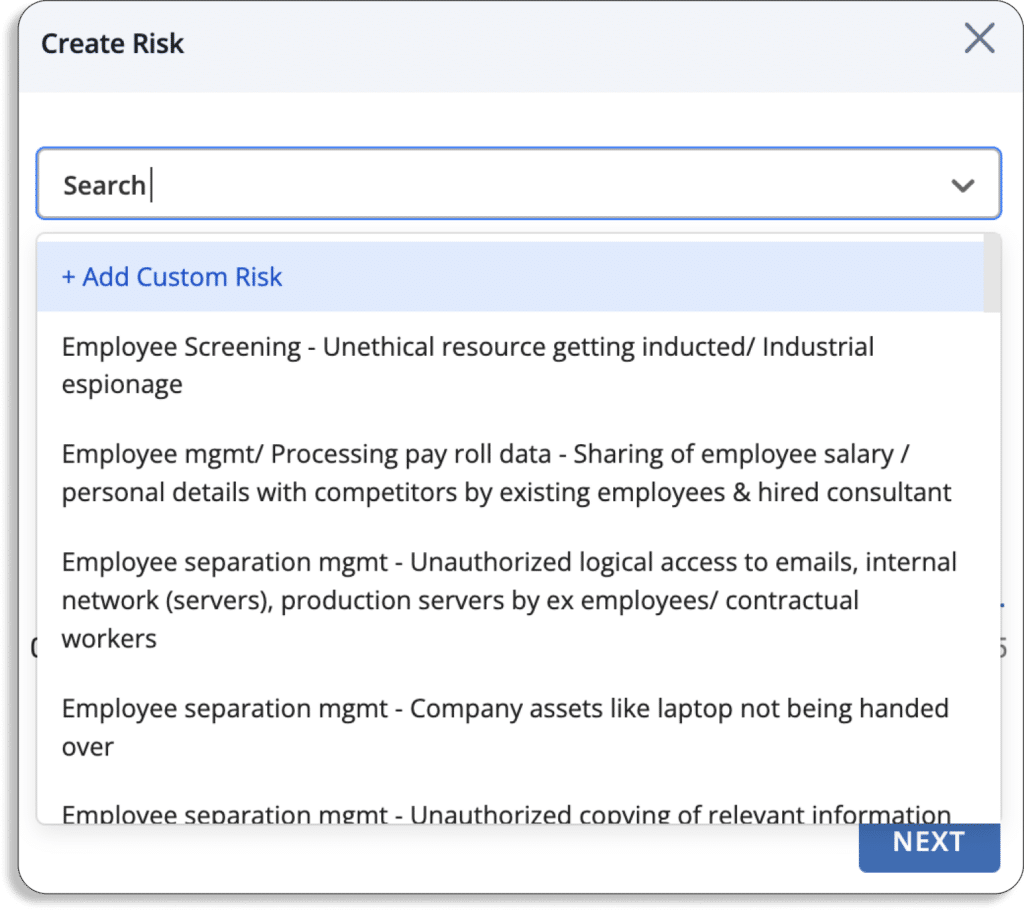 Note that Scrut gives you the flexibility to create your own custom risks. In case any risk is not present, you can use the Add Custom Risk option.
For every risk, assign the person accountable for keeping track and managing it, select the category of the risk.
Scrut categorizes risk into 7 categories: governance, people, customer, regulatory, resilience, technology, and vendor management.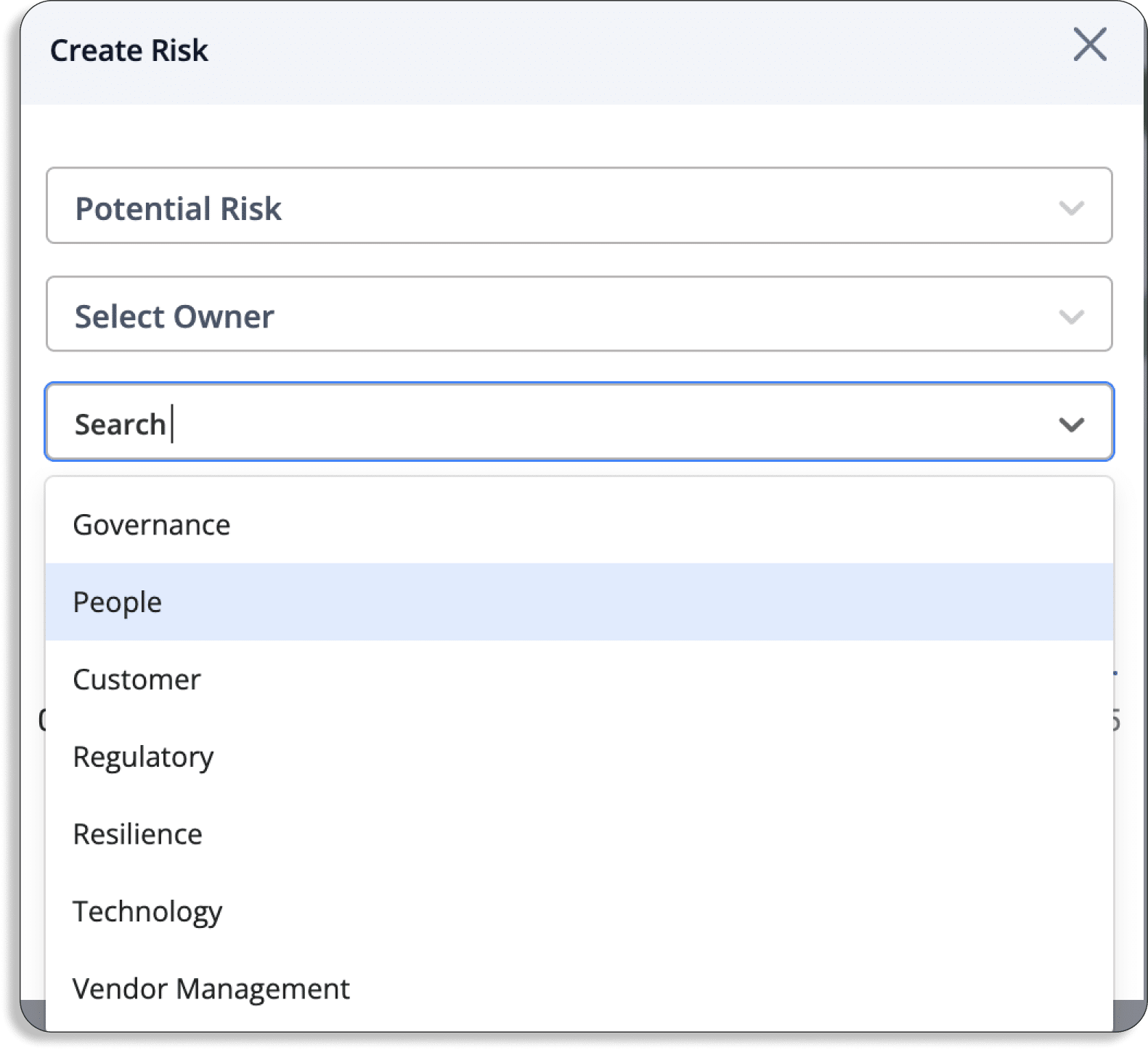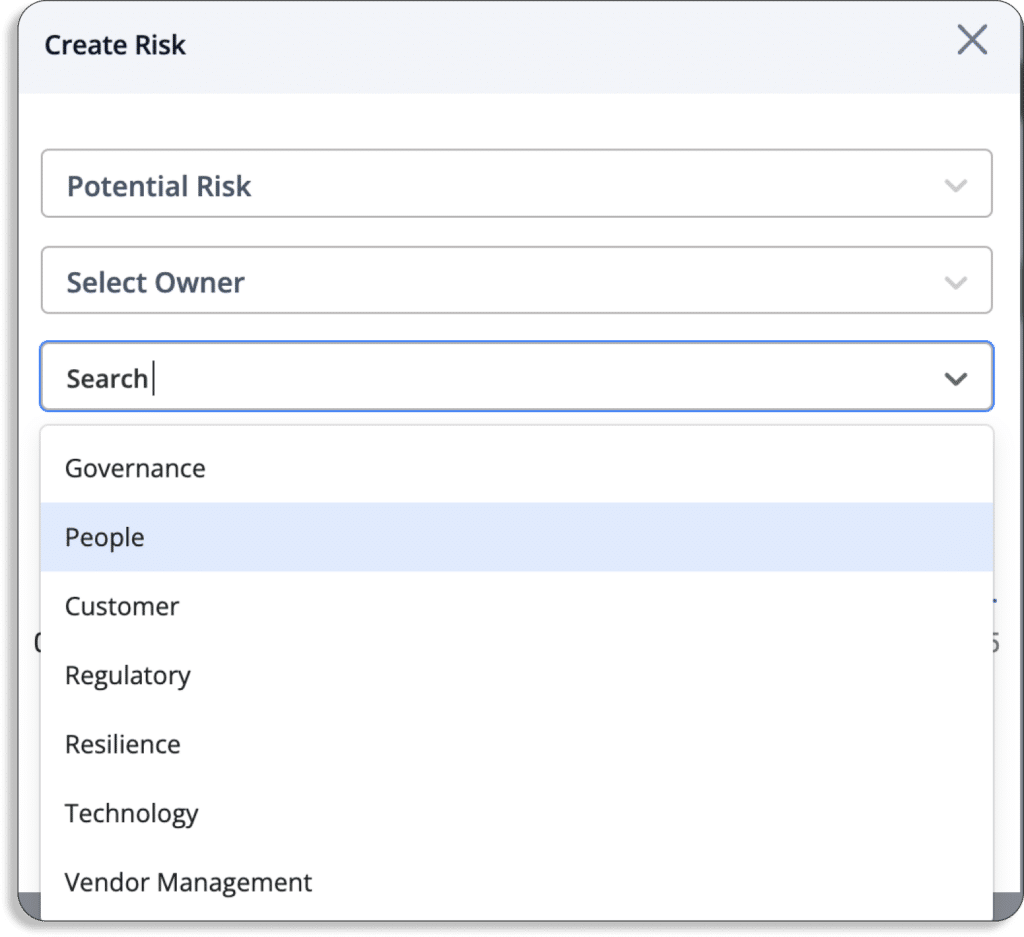 Finally, choose the department that the risks fall into. You can select among these departments: HR, admin, IT, and engineering.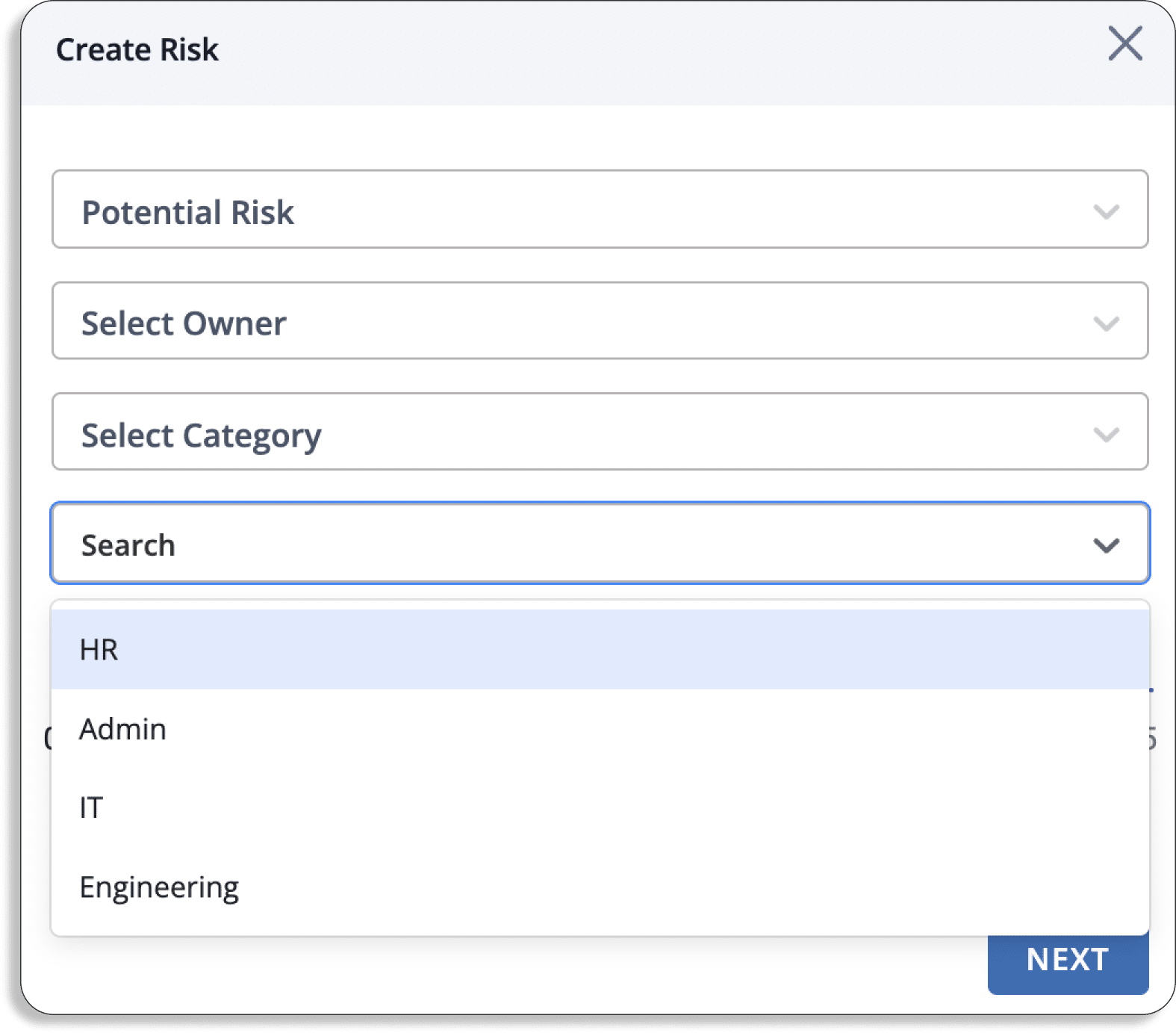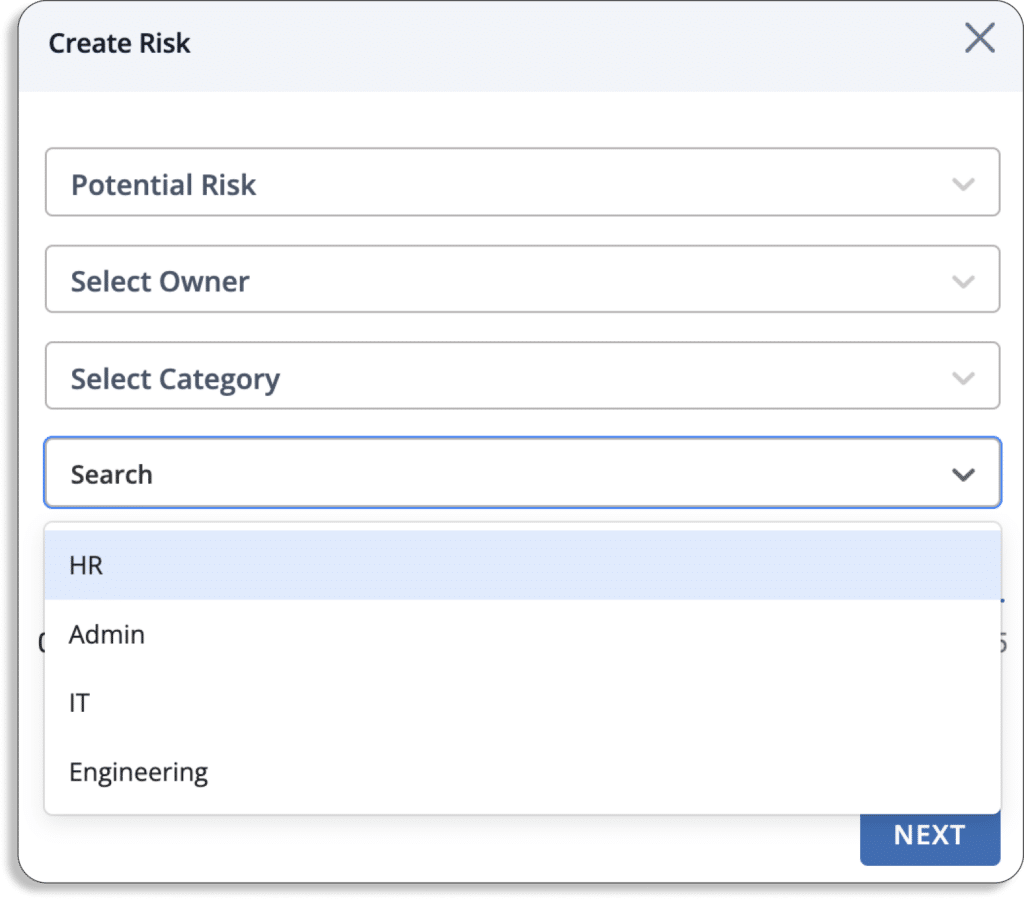 At the end of this process, you get a list of all the risks associated with your organization.
Furthermore, Scrut maps these risks automatically against different compliance frameworks and controls, as shown in the screenshot below.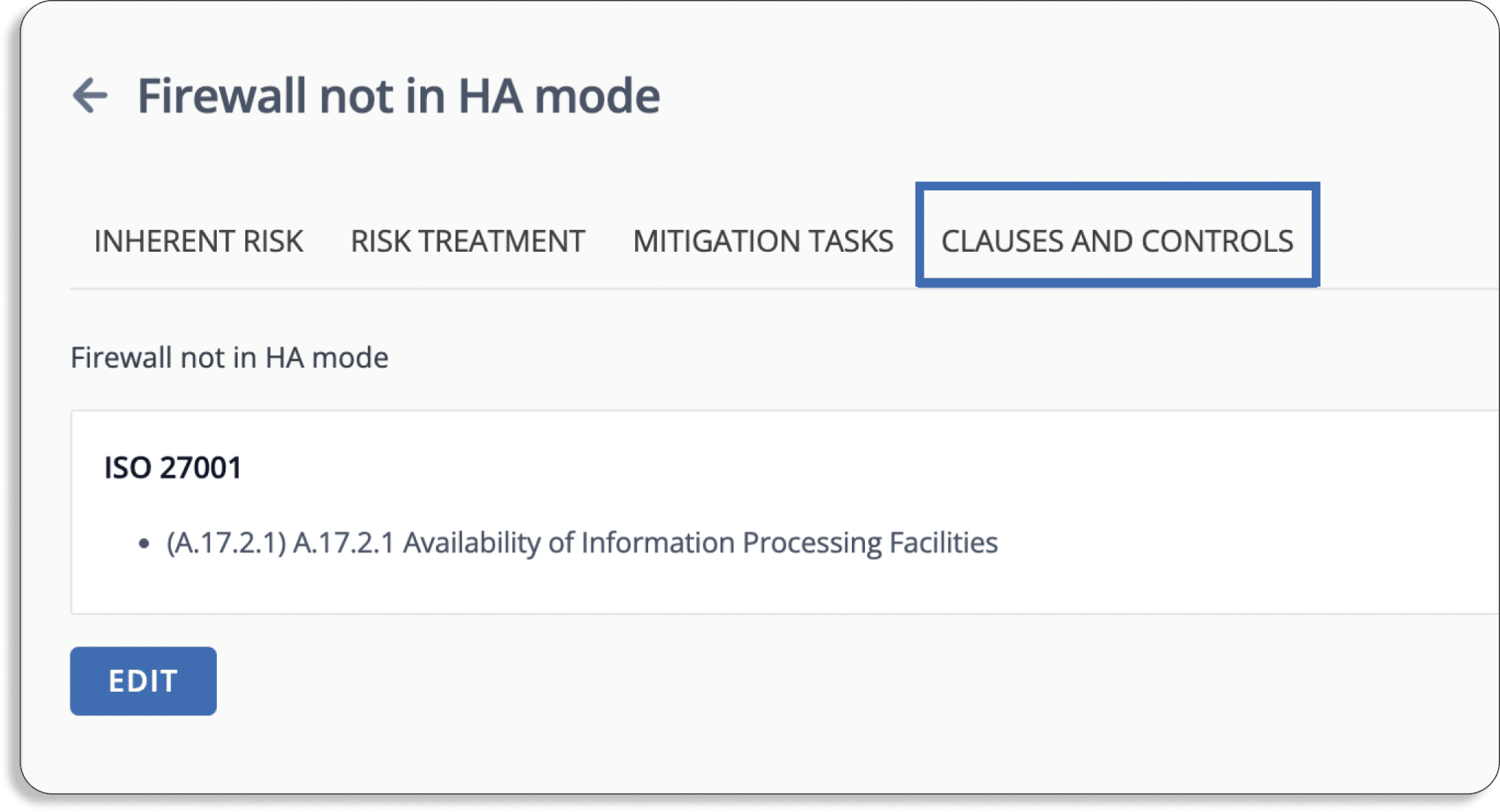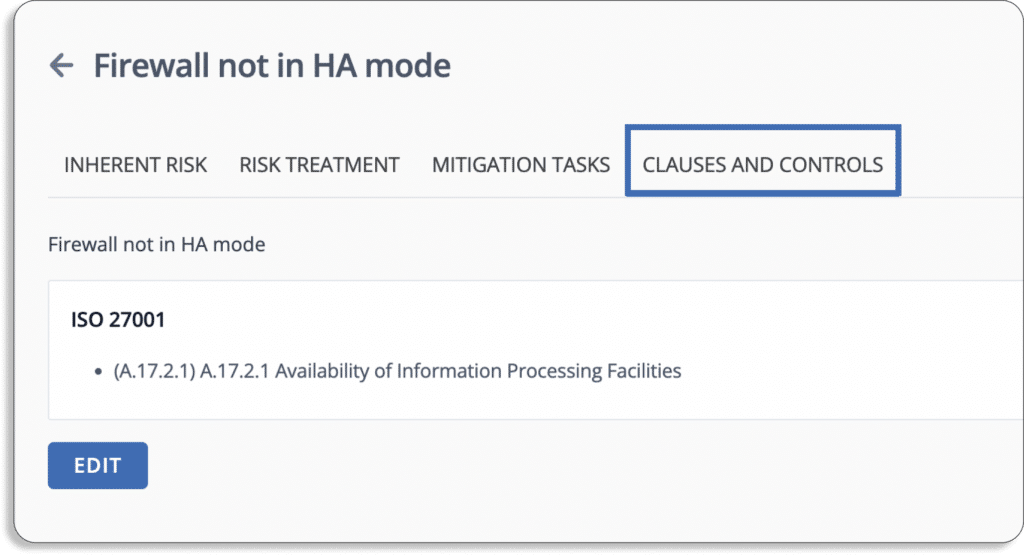 Evaluate how it helps you with Risk Assessment
In the risk management process, after risk identification, the next step is to assess the risk. Risk assessment provides insights into how different risks affect your organization. Therefore, you can prioritize which risks to work on first.
Thus, you need to evaluate the risk assessment capabilities of your shortlisted risk management solutions.
Now, let's continue with our Scrut Risk Management example to understand how this works.
Scrut automates your risk assessments in minutes by eliminating the time spent on creating and mapping risks and threats.
Scrut automates your risk assessment by keeping a close eye on your risk posture through continuous risk monitoring.
With Scrut, you can assess your risk profile using automated risk scoring. Scrut creates your risk scoring based on the likelihood and impact of events.
Risk = Likelihood * Impact
Let's take an example of employee screening risk, as shown in the screenshot below.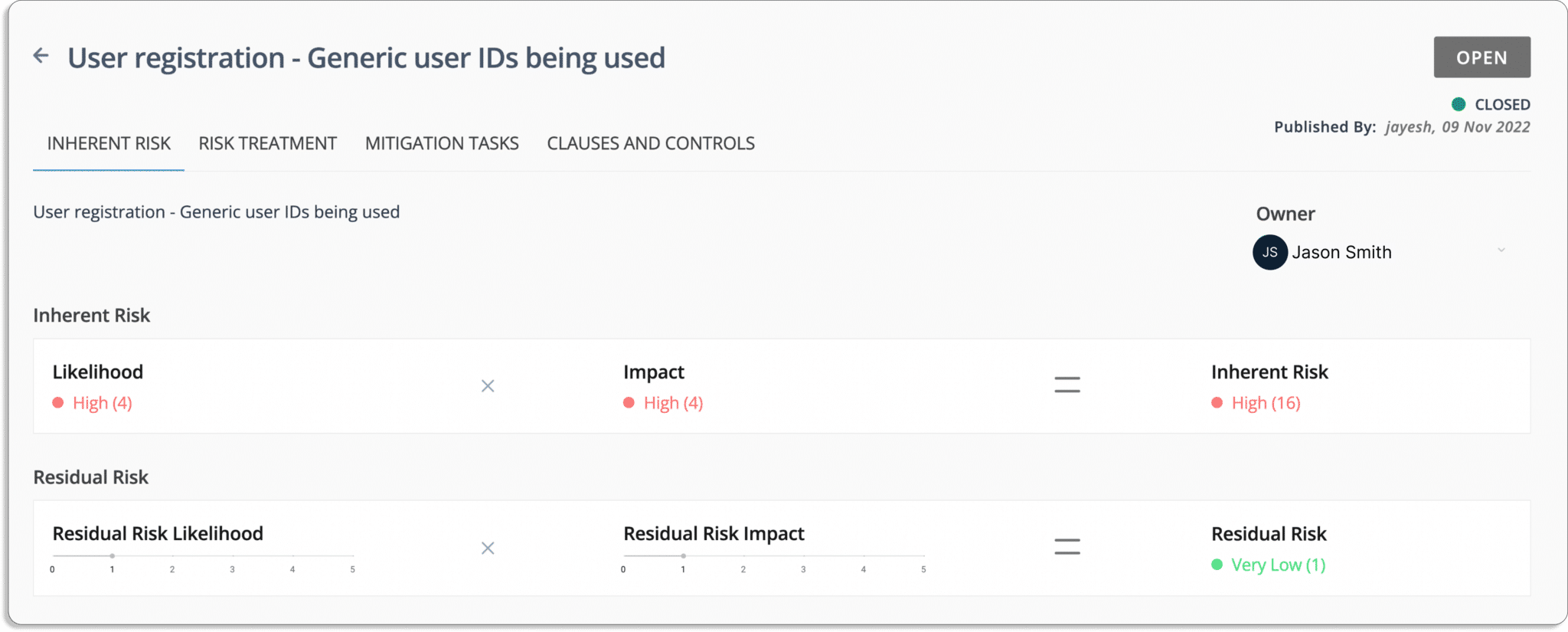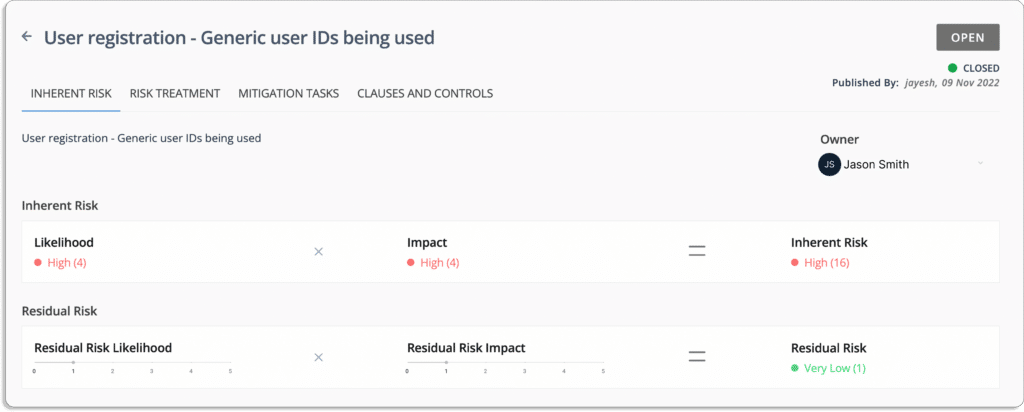 The likelihood of this event = 45 (very high)
The impact in case the event occurs = 4 (high)
Thus, the inherent risk associated with this event is also high = 1620 (high)
Likelihood (5) * Impact (4) = 20
The final score lies between 0 – 25. The following table helps you interpret the final score.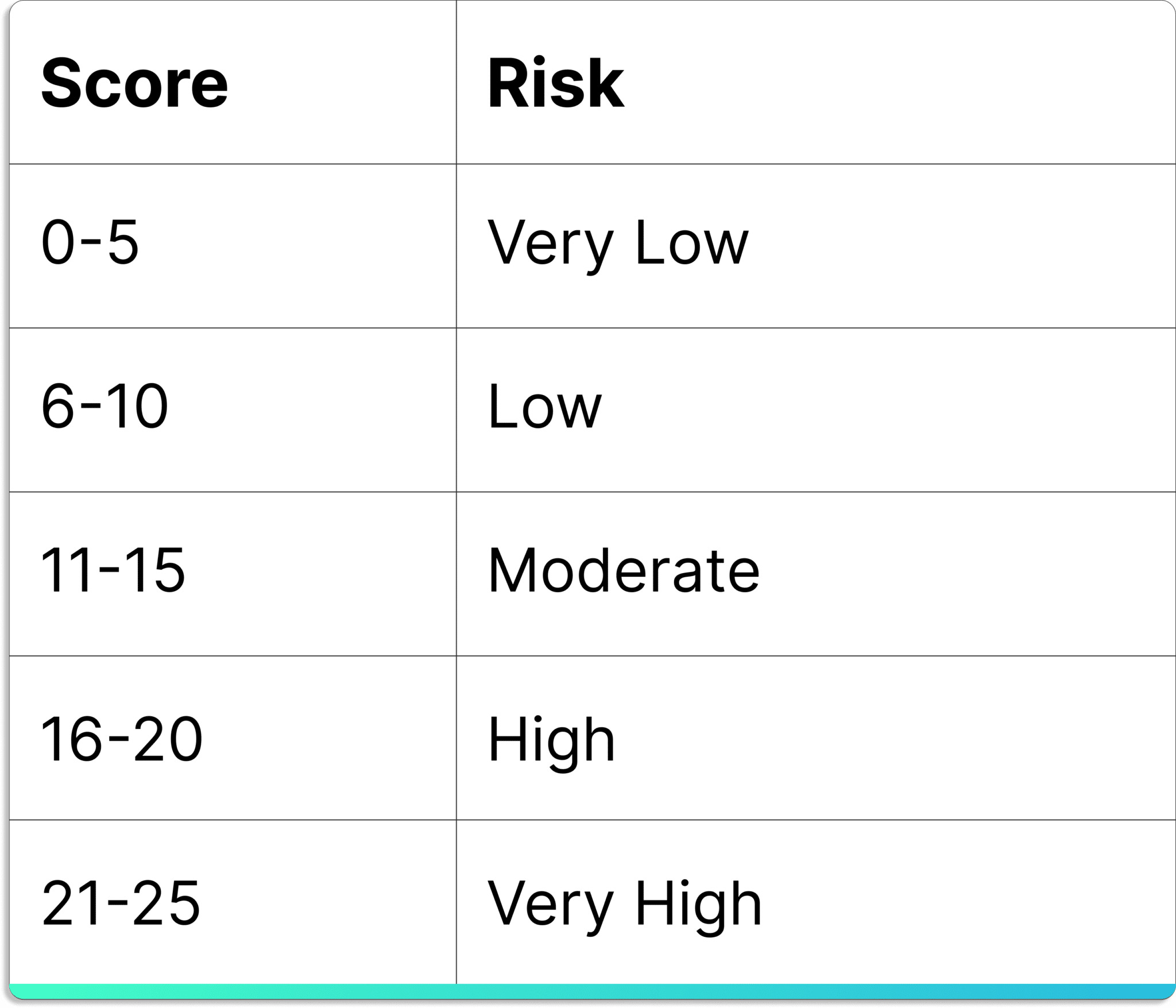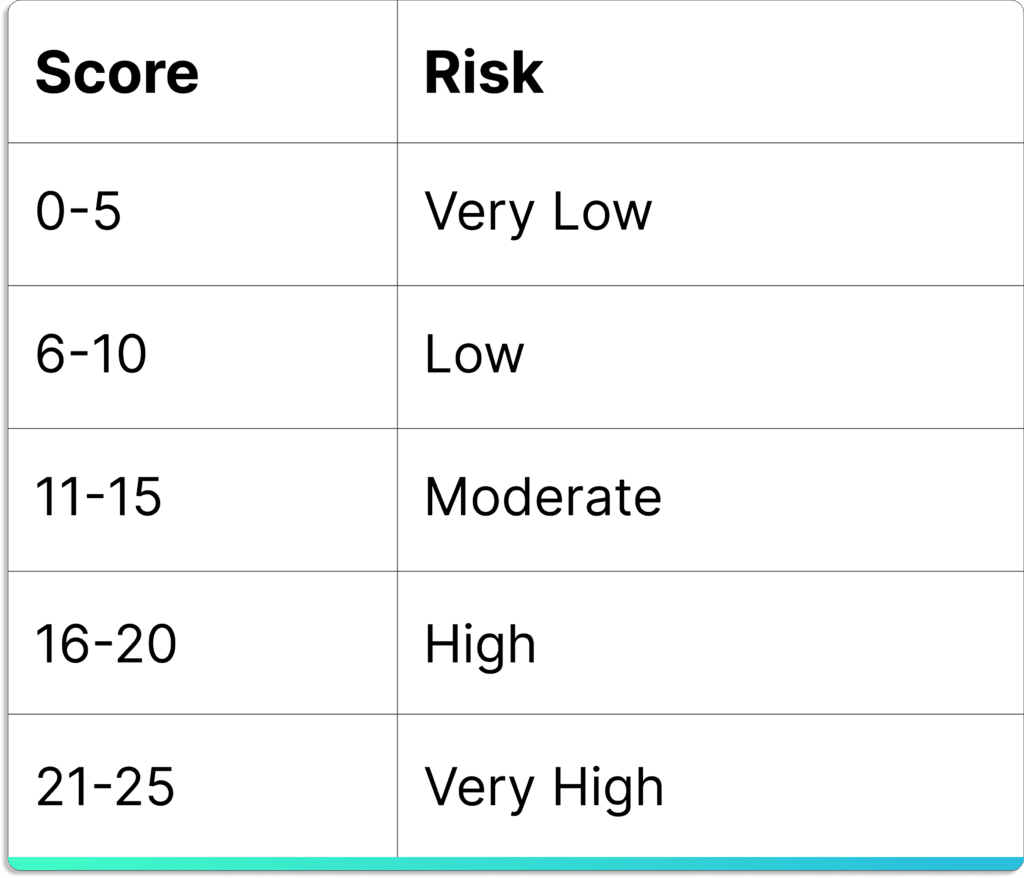 Thus, you can stay ahead of risks with Scrut's continuous and real-time risk score updates.
Scrut also helps you visualize your risks with a heatmap.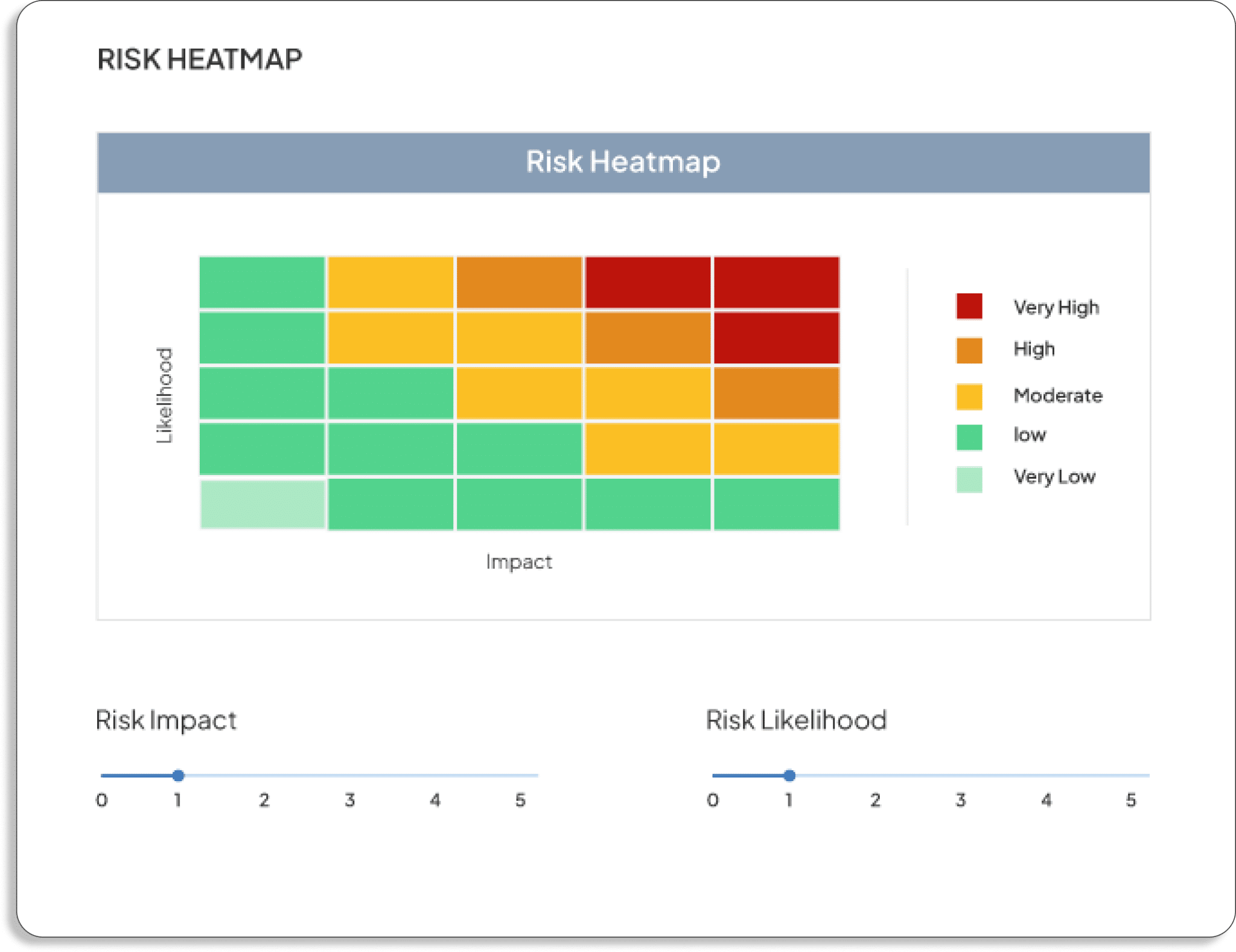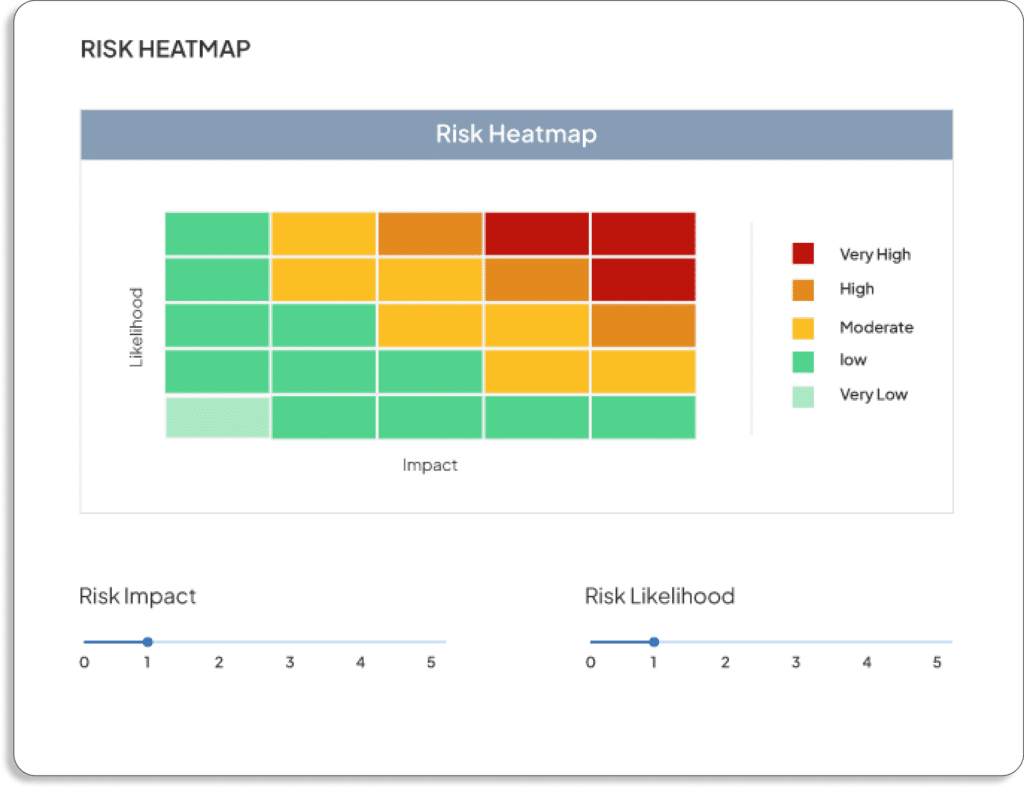 Risks can be assessed in both their inherent and residual forms.
Many times, it's not possible to eliminate the risks entirely. After taking possible measures to reduce risks, what remains is called residual risk.
Evaluate how it helps with your Risk Treatment Plan
After risk assessment, the next step is to work on the risk treatment.
Risks can be mitigated through compensating controls implemented in your organization, such as integrating SaaS platforms into the organization's SSO solution, employee security training, and requiring multi-factor authentication (MFA) for all logins, etc.
There are mainly 4 ways to treat a risk:
Avoid: To eliminate the chances of risk by correcting an error.
Transfer: To take action by transferring the risk to another entity.
Mitigate: To take action that will minimize the potential impact of any given risk by implementing mitigating controls.
Accept: Sometimes, you need to accept the risk as the cost of treatment is higher than the damage due to the risk itself.
Some risk management software like Scrut suggests these treatments for different risks that is very convenient and time-saving for InfoSec teams.




With Scrut Risk Management, you can also create and document mitigation tasks.


You can create a mitigation task by naming the task, the due date, the assignee, and detailed steps to be taken.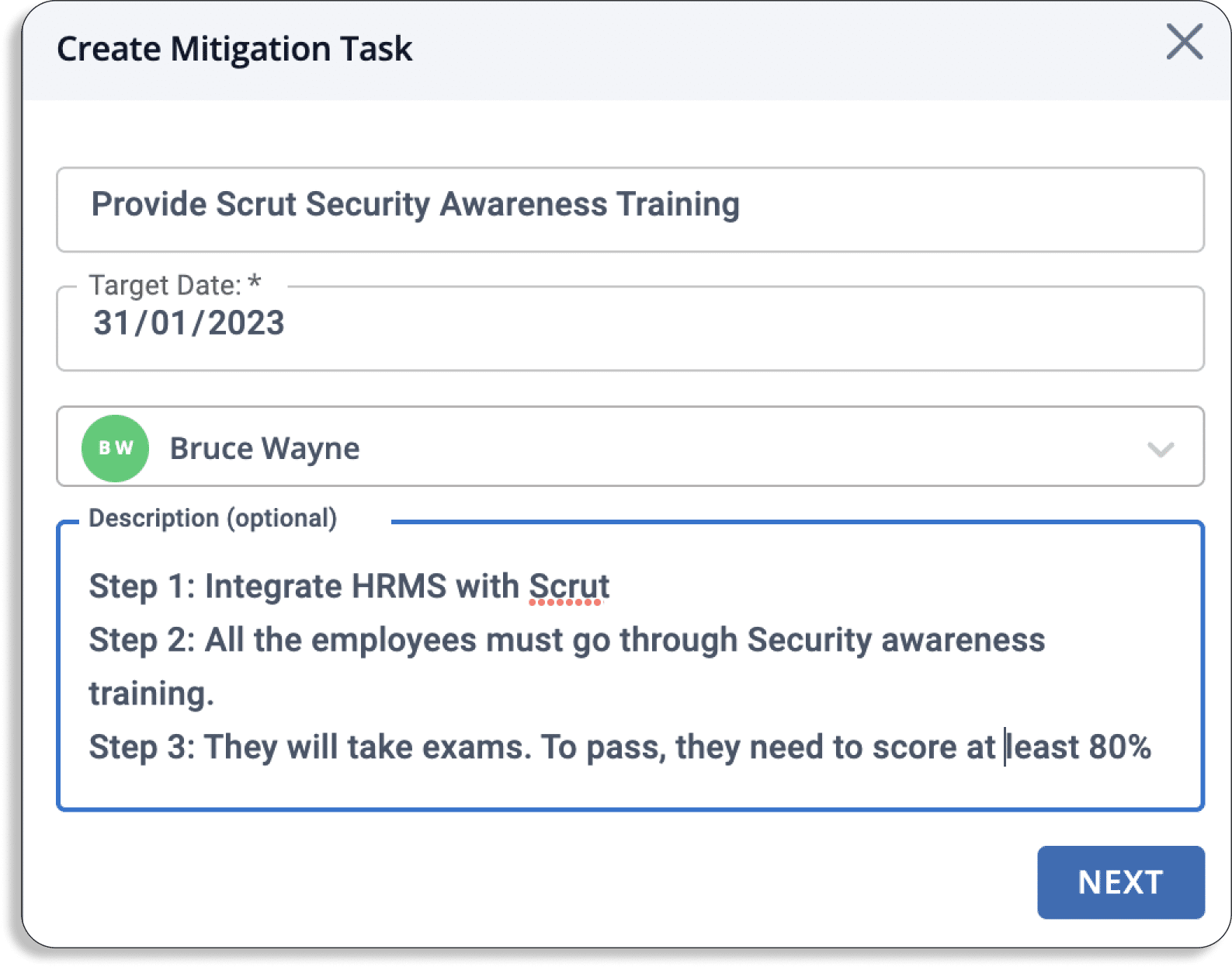 This makes sure that the person can be held accountable to complete the tasks on time.
Continuous risk monitoring is a reality with Scrut. You can confidently stay on top of your risk posture with simple-to-configure alerts and notifications integrated with your messaging and mail apps.
At the end of these steps, you get a complete risk register that looks like this.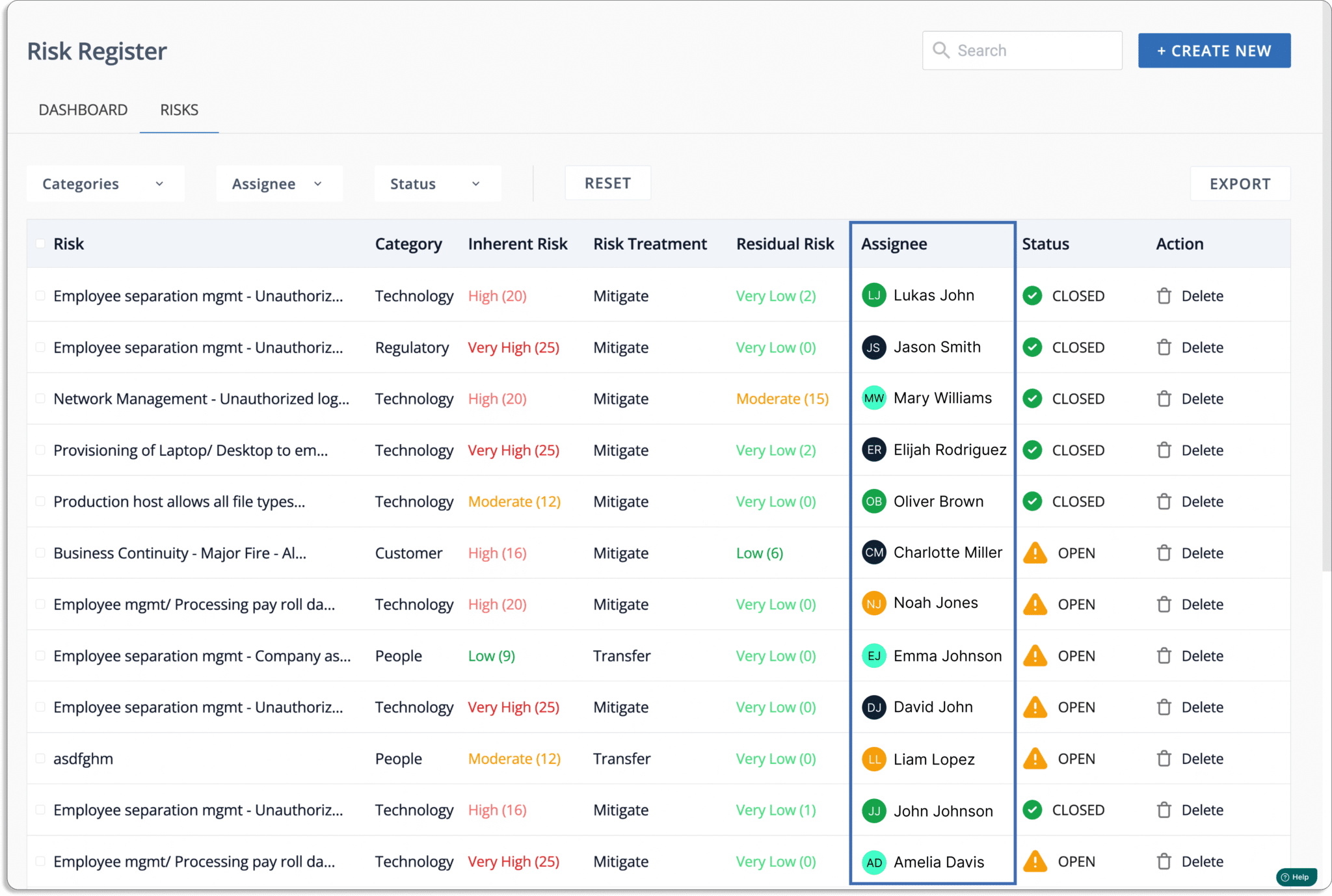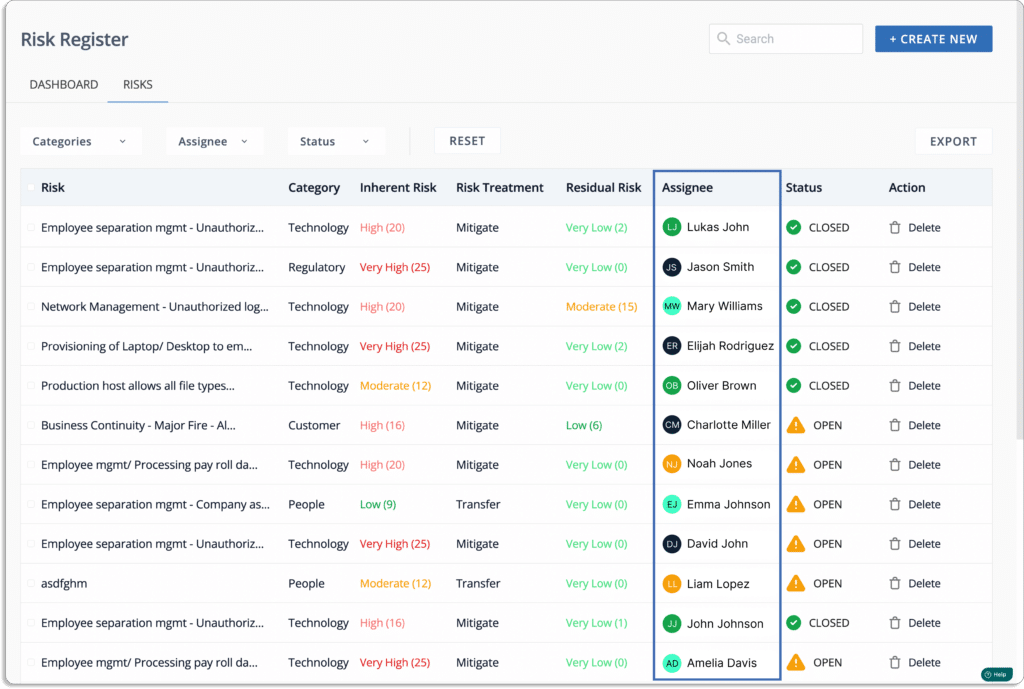 Other Factors that Should Be Considered While Choosing Risk Management Tool
While the above factors make a risk management software application effective, the below factors improve your risk posture and make your risk management process efficient.
Security awareness training for employees
Phishing, malware, and ransomware are some of the issues that all businesses face today. Employee mistakes are one of the leading cause of cyber incidents, like data breaches, phising, exfiltration, etc. Thus, you must train employees on how to avoid these mistakes.
The best way to prevent this is to set standards for security practices for your employees and enforce them by following the fundamental rules for all security measures.
Scrut platform provides pre-built employee information security training courses.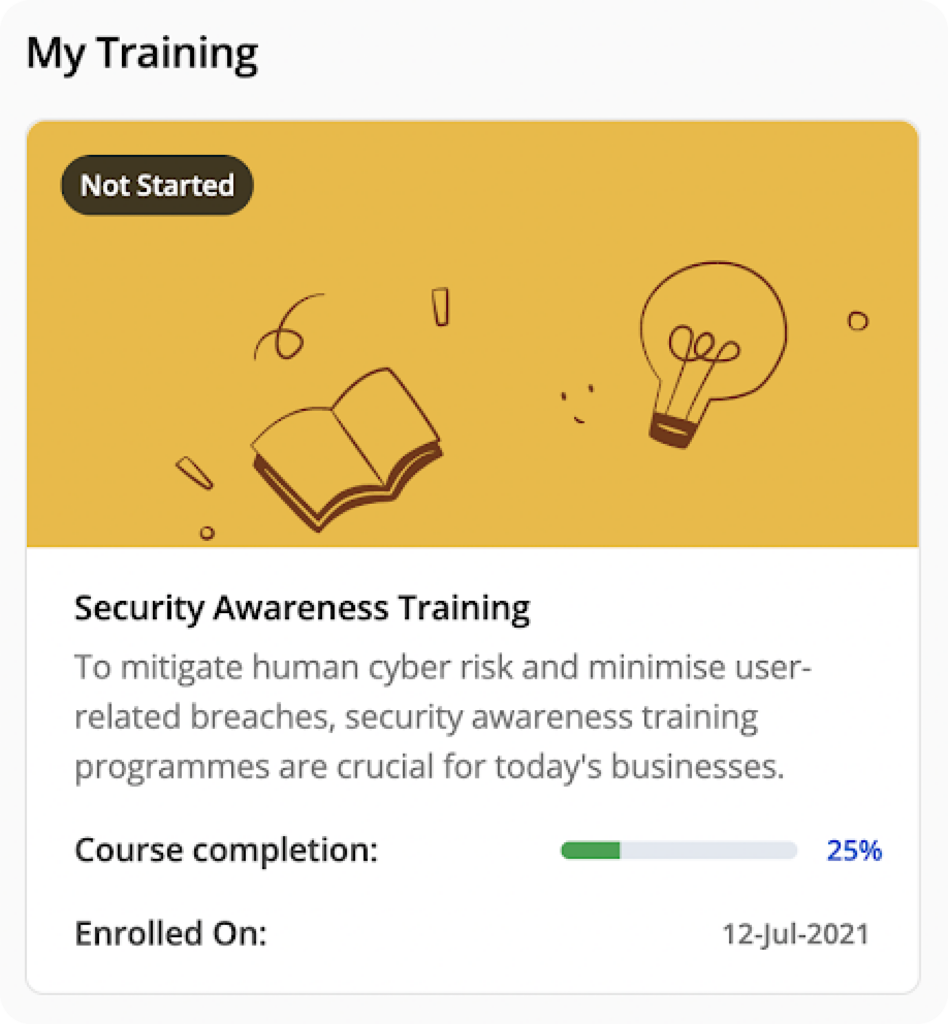 You can connect your HRM or identity provider to import all the employee data in Scrut. Furthermore, Scrut allows you to create alerts, set reminders, and send personalized notifications to employees to complete the training.
Cloud security monitoring capability
An effective risk management tool should provide continuous cloud monitoring. For example, Scrut automatically tests your cloud configurations against 200+ cloud controls to maintain a strong infosec posture.
The platform identifies misconfigurations and enables you to assign tasks to internal teammates to fix them. It reduces your risk and compliance exposure across all public cloud accounts.
Scrut cloud security audits your cloud accounts regularly for security risks, misconfigurations, and control threats across hundreds of configuration settings.
Scrut's cloud security gives you complete control over your cloud environment. With Scrut's unified dashboard for all risks and an automated status classification system, you can prioritize your work efficiently.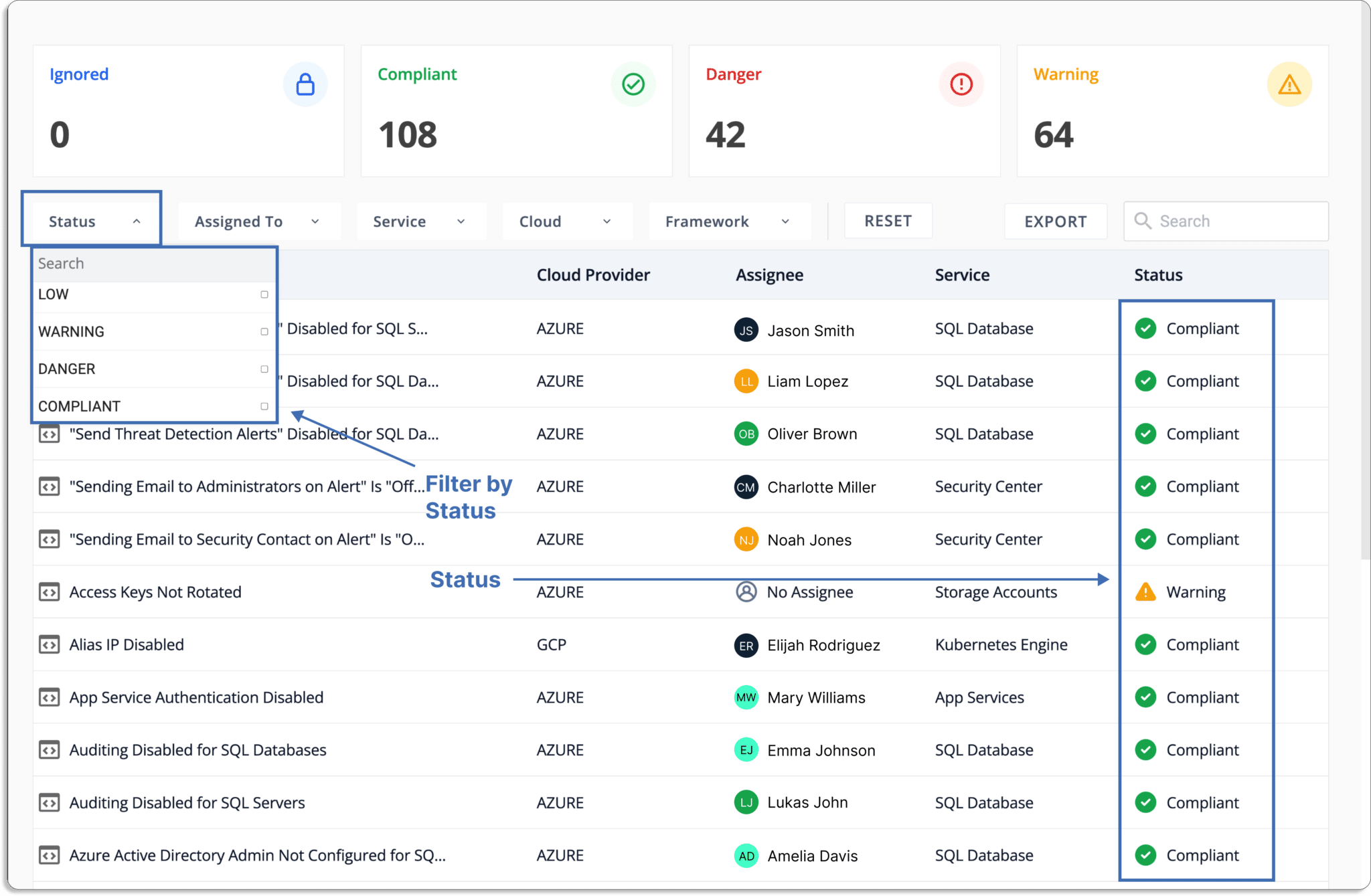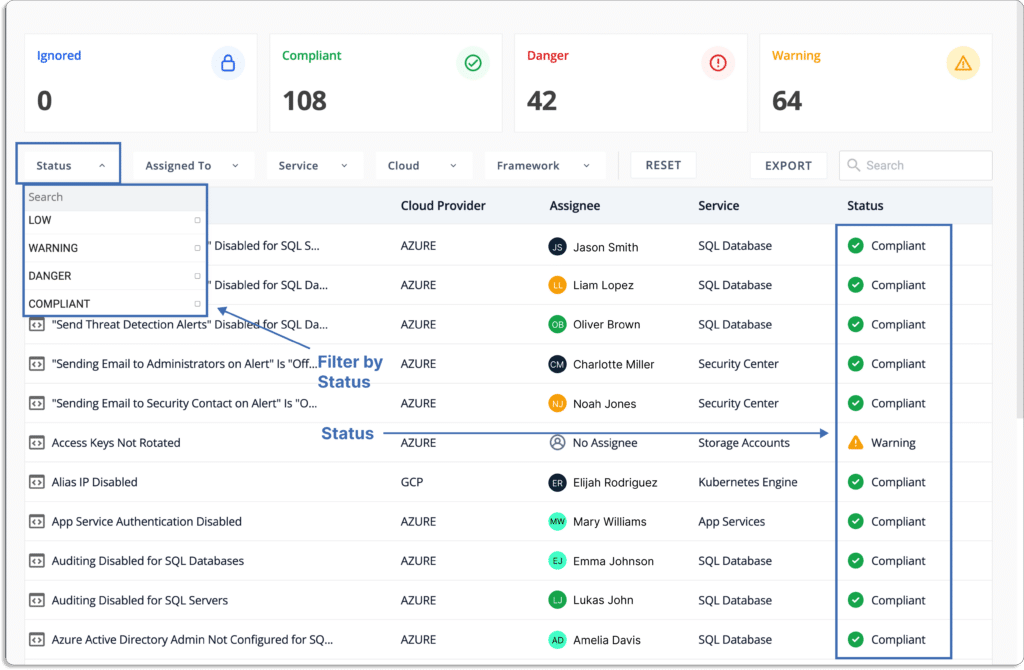 Workflows automation and task management
With Scrut, you can free your team members from tedious and time-consuming manual work by providing automated workflows for conducting risk assessments and executing treatment plans for risk remediation, acceptance, transference, or avoidance.
Scrut risk management provides automated evidence collection. The platform collects reports and evidence through pre-built cloud-based integrations across your cloud, HRMS, DevOps, and other systems, so you don't have to spend time manually updating evidence against each risk. This helps you provide proof to your auditors while going for a compliance audit.
With Scrut, you can connect team members through notifications about changes in residual risk. You can also create Jira or Monday tickets for misconfigurations directly from the Scrut platform and add them to the assignees' pipeline.
Vendor risk management is essential for protecting an organization's customers and all proprietary information. To achieve compliance, auditors expect an organization to have information on how secure its vendors are.
With Scrut vendor risk assessment, you can create a quick and effective method for assessing, monitoring, and managing vendor risk by understanding how your vendors perform and whether their security postures align with your compliance requirements.
You can create your questionnaire or use one of our pre-made templates, as shown in the screenshot below.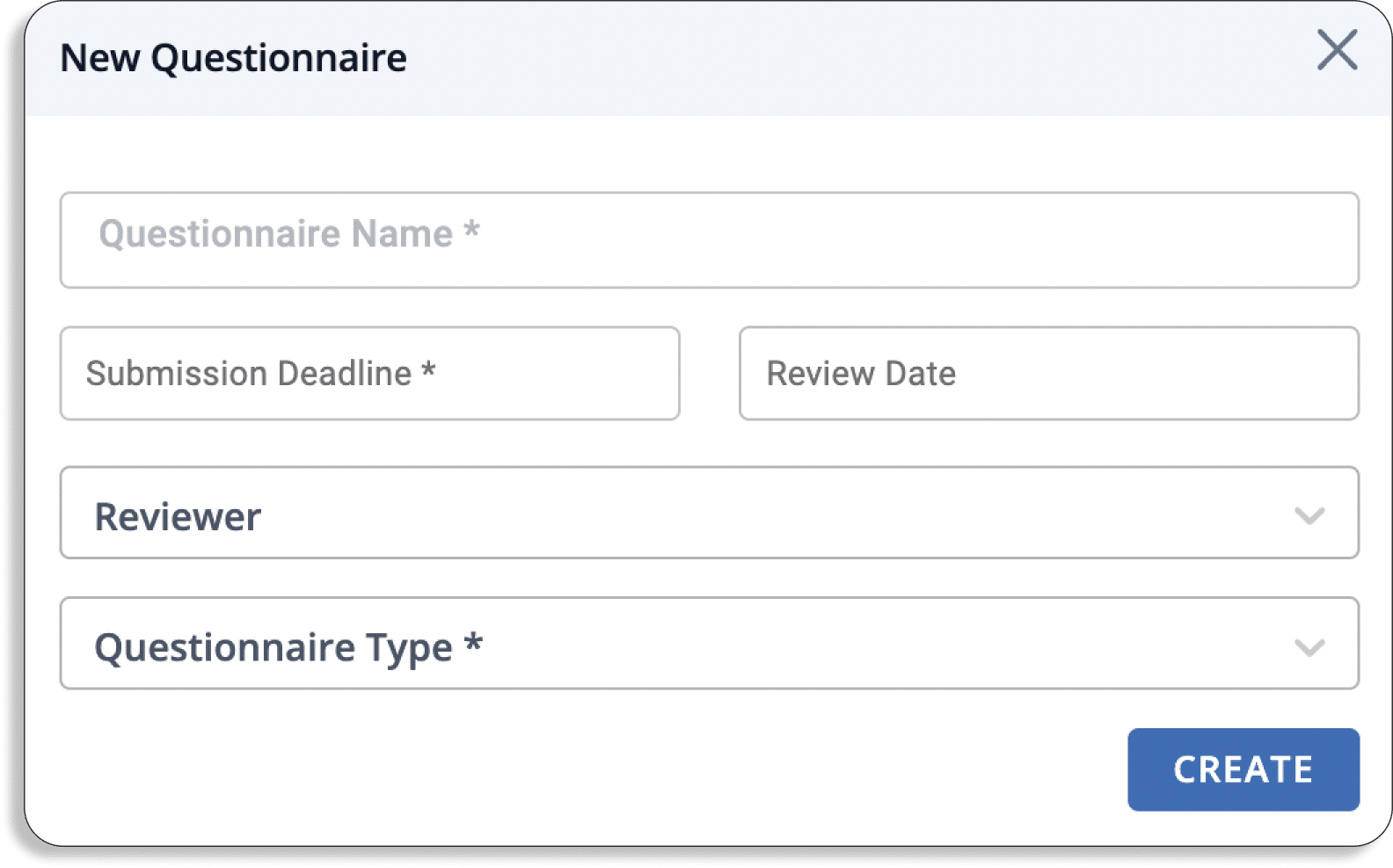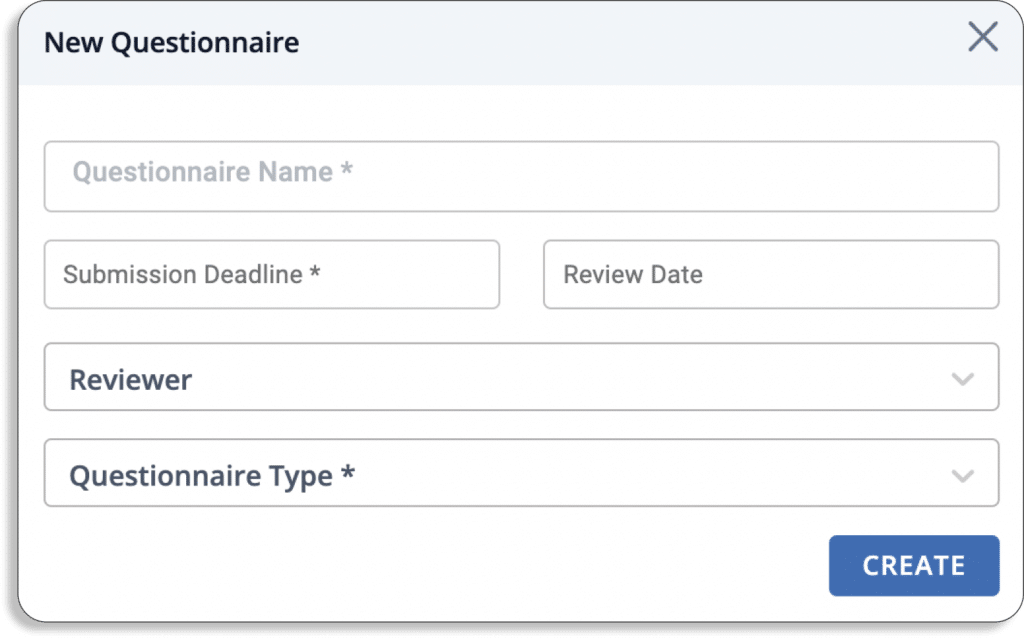 The platform keeps all vendor security certifications, software vendor audits, and paperwork in one place.