In this digital age, you can't operate or grow without proving that you can keep your customers', partners', vendors', employees', etc., data secure. Getting compliant is a way to show that you are serious about security and privacy and have systems and processes in place to ensure the same.
Whether you are working on getting new frameworks or wanting to improve your existing processes, manually managing a compliance program is time-taking, frustrating, and distracts your organization from focusing on product development, sales, strategy, etc.
When going for compliance, you will be required to do many tasks that will consume a lot of time if done manually. For example,
collecting evidence
creating policies and associated controls and procedures
gap assessment
vulnerability assessment
risk assessment and treatment
finding CPAs or audit firms
Further, compliance is not a one-time job; you must ensure that you have suitable systems, processes, and policies to keep your organization compliant.
How does a compliance automation platform help you?
As the number of cloud and people resources grows in your company, your cloud complexity grows as well—making it harder to stay compliant. A compliance automation tool will not only help you find security issues but will also help you with auto-remediation.
Continuous compliance (not at a point in time): Many tasks related to getting compliant can be automated with the help of a compliance automation platform. Additionally, the right platform continuously monitors your controls to help you stay compliant.
Get compliance faster with less effort: Compliance automation tools can help you get compliant in a much shorter time frame. For example, they can help you get ready for SOC 2 compliance audit in 2-3 weeks as opposed to 1-2 months when done traditionally. Similarly, the manual effort required to get ready for SOC 2 audit from your end can be reduced to 10-12 hours (based on the gap assessment) compared to 150 hours via the traditional solution.
All these benefits translate into peace of mind for you and high trust among your employees, partners, customers, vendors, and auditors. This makes you not just a supporting role in the company but a business enabler. You can focus on more strategic work and help the organization grow.
11 Compliance Automation Solutions
1. Scrut Automation
Scrut Automation is a risk-first smart governance, risk, and compliance (GRC) platform. With Scrut, you can say goodbye to the tedious process of manually getting compliant.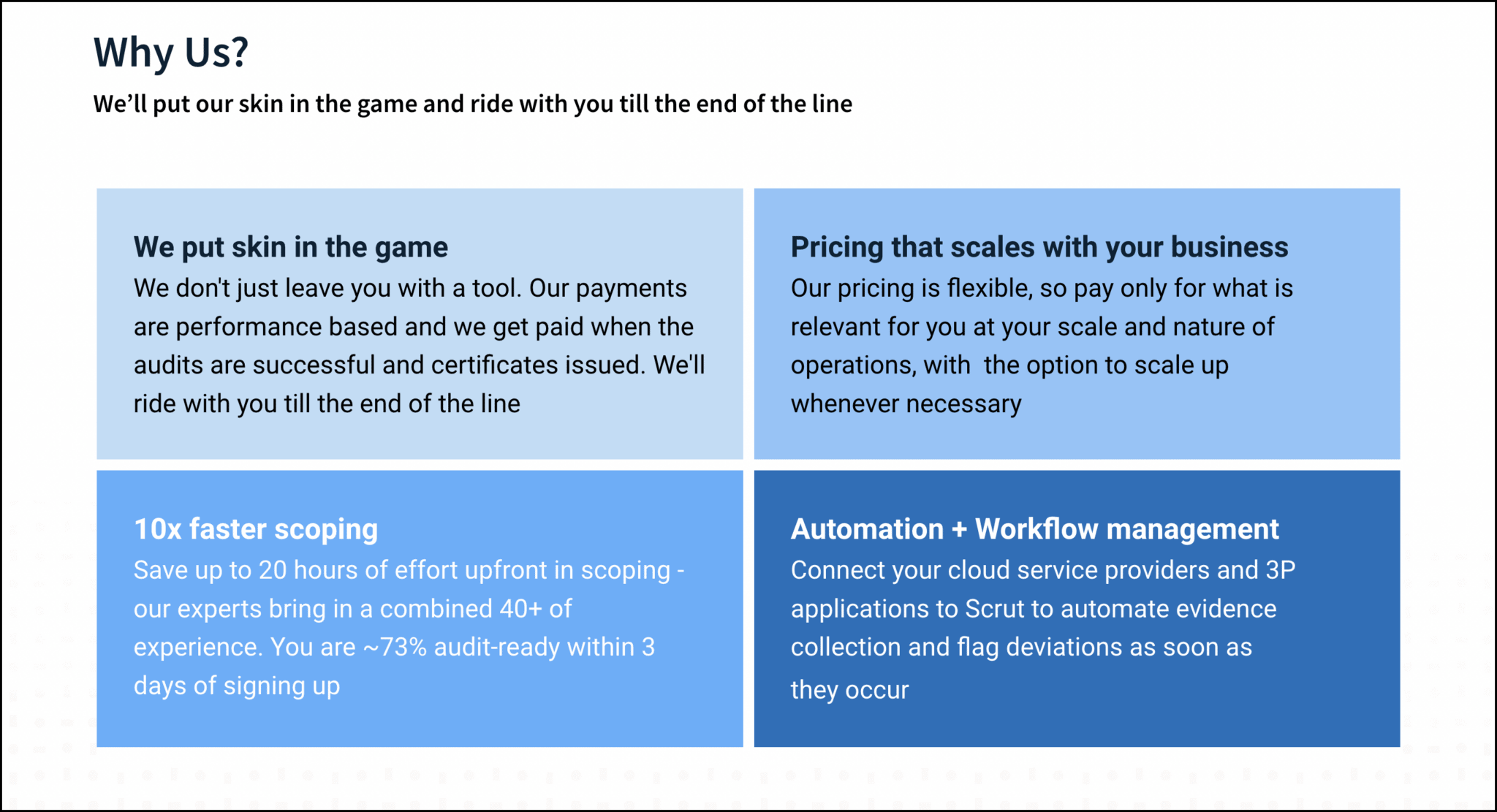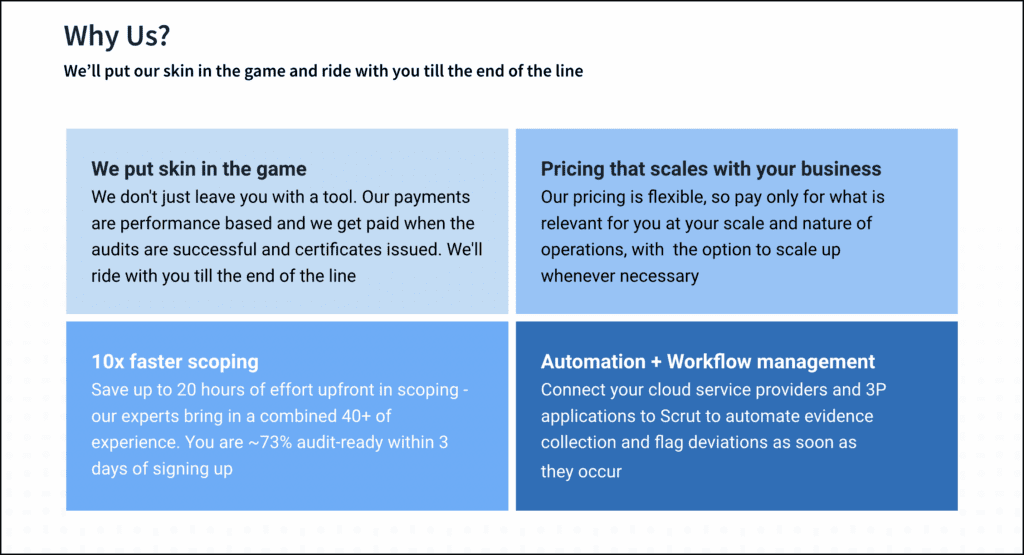 Scrut saves approximately 70% of the effort required to comply with over 20 frameworks, like SOC 2, HIPAA, PCI DSS, ISO 27001, GDPR, CCPA, HITRUST, ISO 27017, ISO 27018, ISO 27701, ISO 9001, PIPEDA, etc.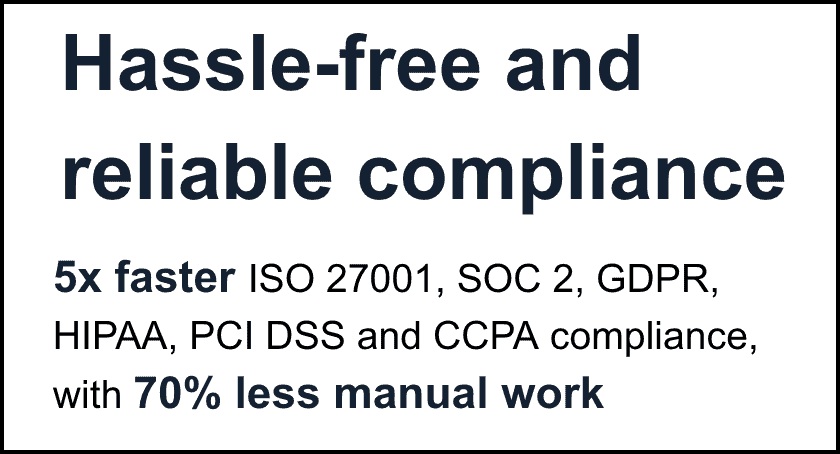 With Scrut Automation, put your InfoSec compliance on auto-pilot. Scrut heavy lifts most of the compliance tasks, like cloud evidence collection, automatically checking against 150+ controls on a daily basis, risk management, etc.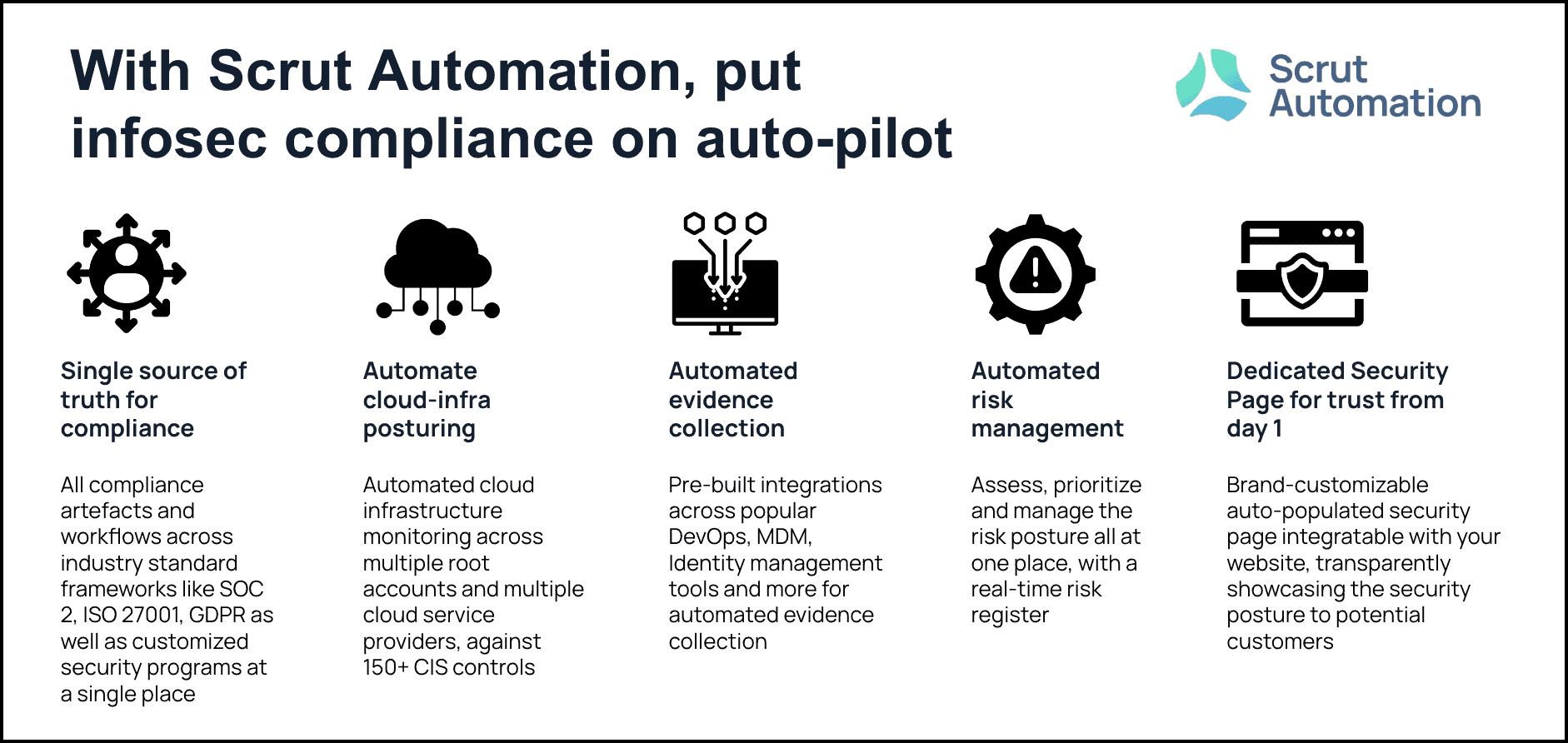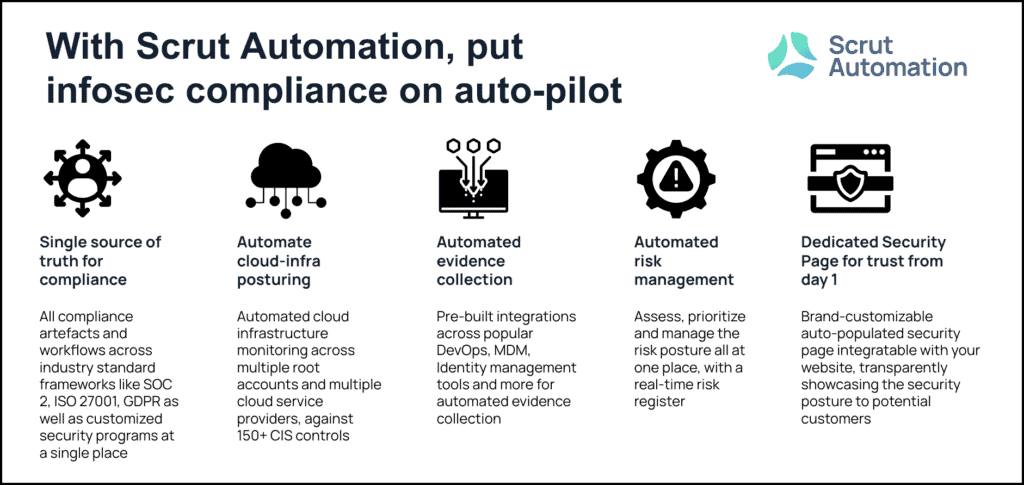 Check a few of our customer reviews below:
Benefits unique to Scrut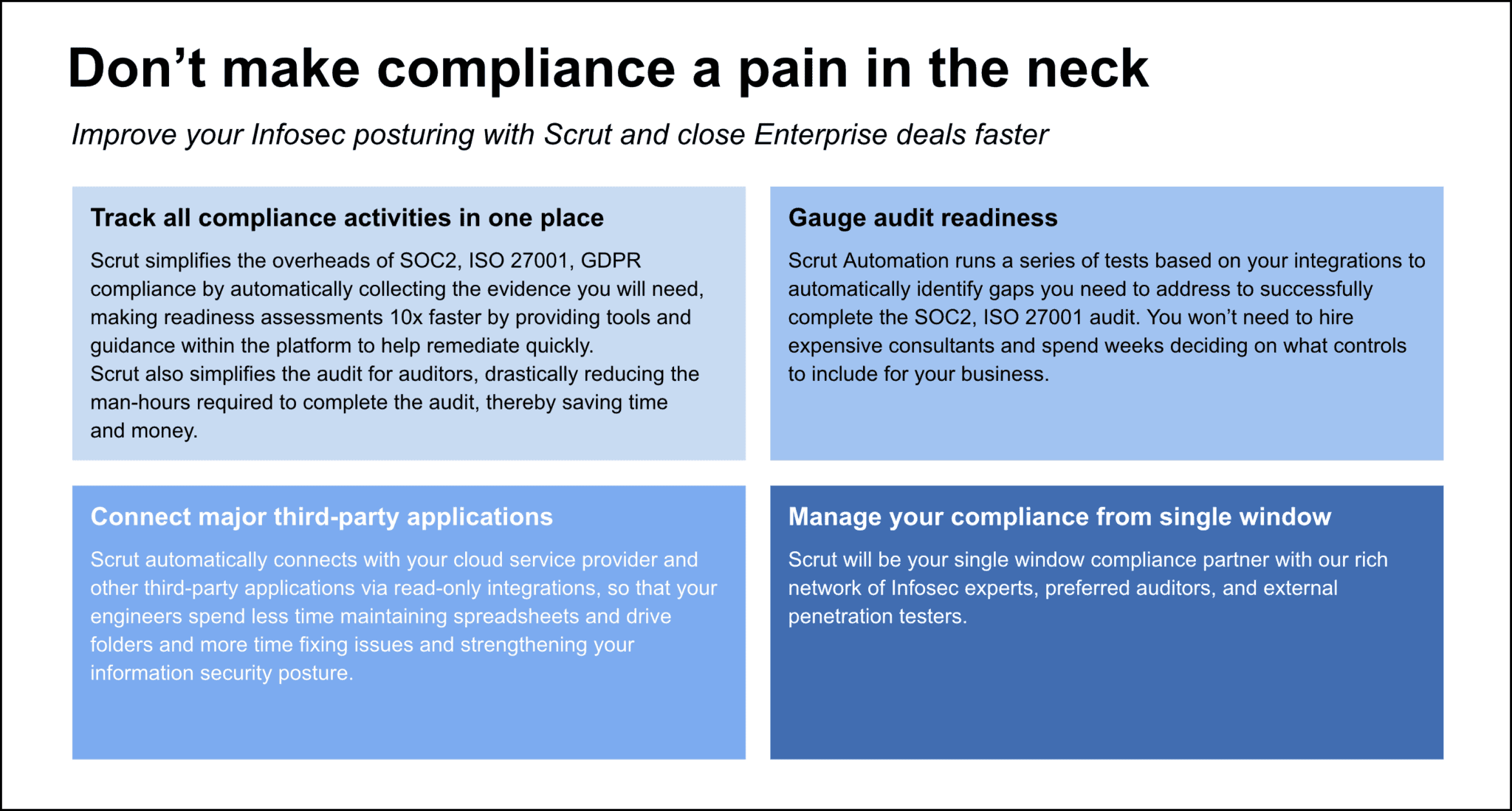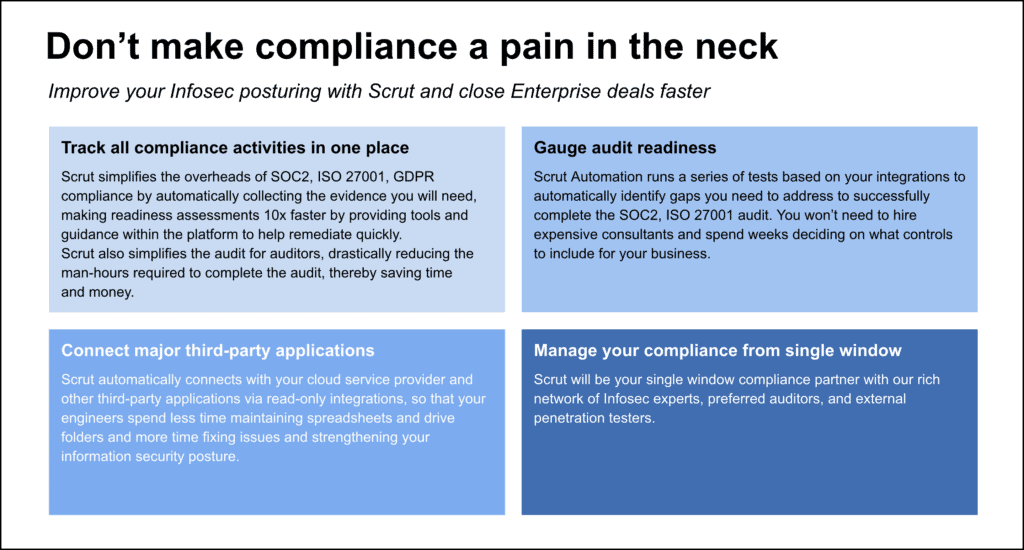 Scrut offers the lowest total cost of ownership (TCO) and the fastest time to value. We bring compliance to you with our single-window GRC platform. It handles everything from asset tracking and audit management to streamlined workflows in one place.
You don't have to find external auditors/CPAs to conduct audits. Just work with any auditor in Scrut's partner network at pre-negotiated rates.
You no longer need to work with external consultants for penetration testing. Work with our network of testers for a seamless experience.
Scrut's structured customer success program ensures implementation happens in a 'lowest-touch' manner in the industry, as the programs are made by our highly experienced InfoSec experts.
Scrut is a faster, easier, and smarter path to compliance. It takes the mystery out of preparing and maintaining certifications.
Scrut allows you to track all compliance activities in one place. Since there is a good overlap between many frameworks, you can work on multiple security and compliance frameworks simultaneously. For example, SOC 2 and ISO 27001 overlap close to 80%.
With Scrut, you can track multiple compliances at once.
This simplifies the whole process and helps you get compliant quickly. With Scrut, you get a unified, real-time view of risks and compliance, providing the insights required to make strategic decisions and keep your organization secure and compliant.
Save time with pre-built policies: Building policies from scratch is time-consuming when starting your compliance journey. With our pre-built policies, you can save 90% of the time you would have wasted the manual way.
These policies have been designed in collaboration with InfoSec experts and lead auditors (people who audit companies.) With such a strong foundation, you can quickly move ahead.
You can also upload custom policies.
Pre-built Policies Templates
Furthermore, you can edit these policies with an inline editor to make them specific and updated according to your organizational requirements.
These policies are mapped to different compliance frameworks for your understanding.
Automate evidence collection: Evidence collection is a tedious, repetitive, and frustrating process that nobody wants to do but you can't do away with.
Scrut simplifies the overheads of compliances by automatically collecting the evidence you'll need, making readiness assessments 10x faster. It automates most of the evidence-collection tasks for you, with integrations across your cloud service providers, identity providers, HRMS, etc.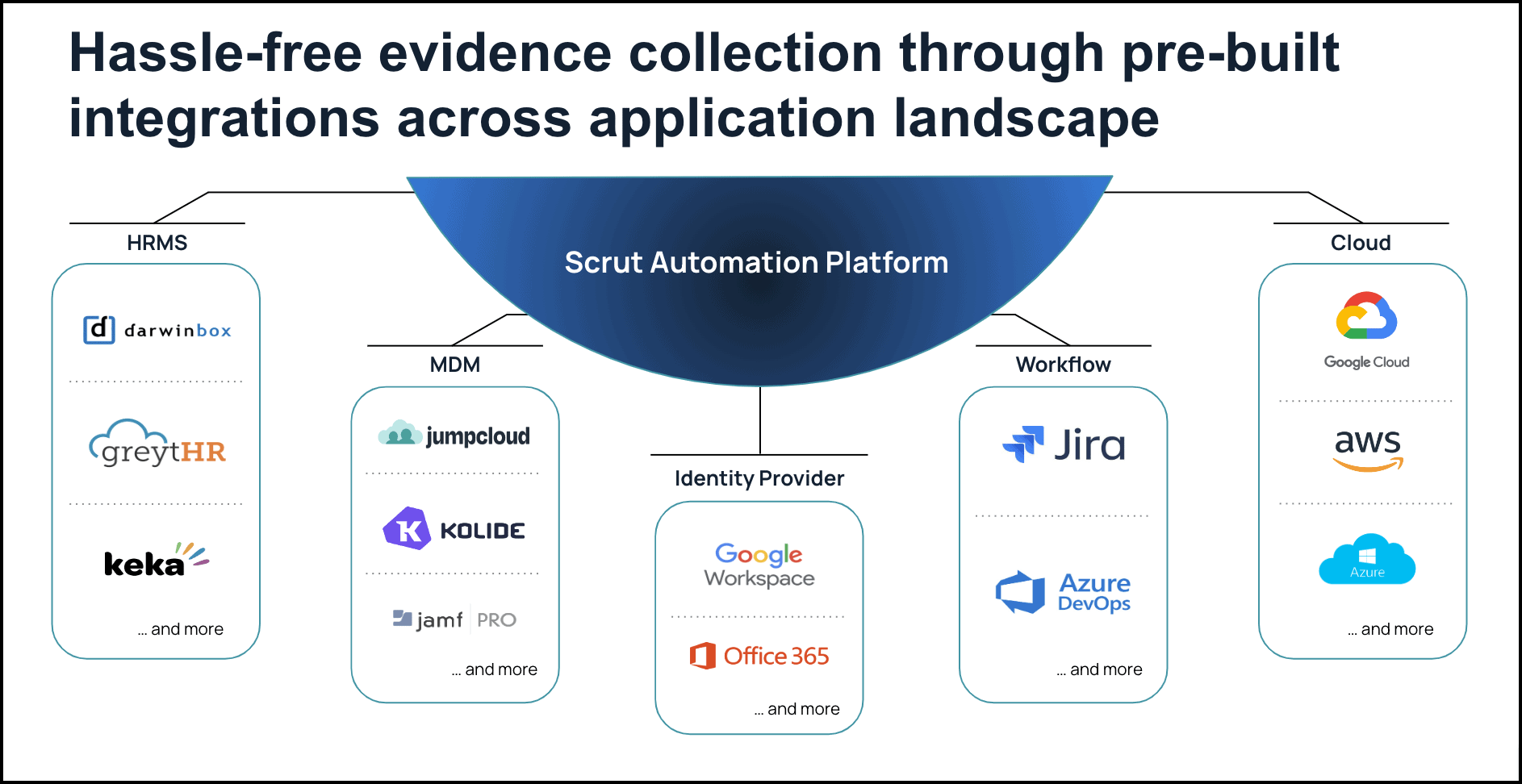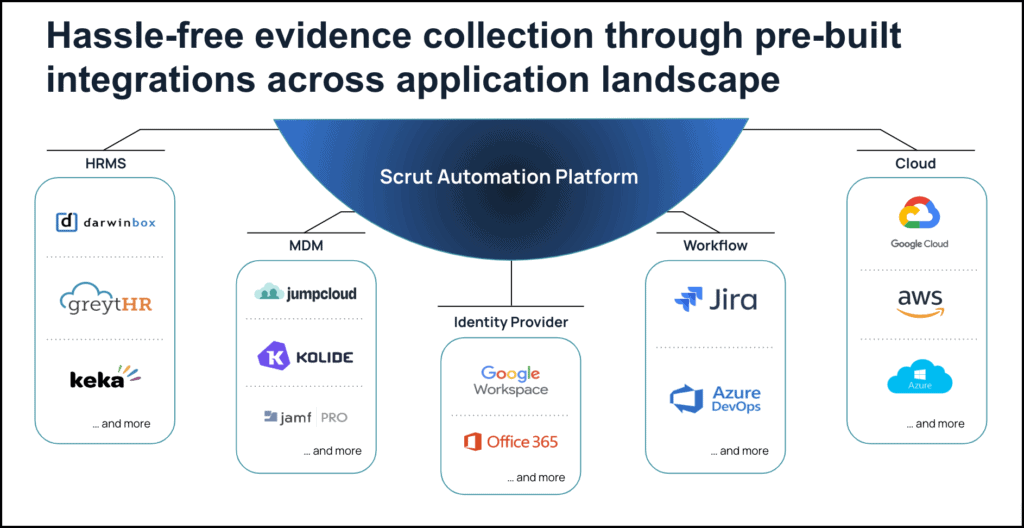 Otherwise, you would be required to spend countless hours taking screenshots and managing multiple folders in Google Drive, OneDrive, etc.
Earlier, one of our customers was keeping the evidence in Google Drive in various folders and was losing track of the versions. With Scrut, that problem was immediately solved.
Automate cloud security monitoring: The most significant benefit of using Scrut Automation is that it doesn't just help you get compliant but helps you stay compliant. Today, the changes in the cloud environment take place at a rapid pace. Unless you monitor your cloud continuously, you can never be confident of your security and compliance posture.
For example, your developers may launch new EC2 instances that don't comply with your security policies or have unencrypted S3 buckets in your AWS account.
Scrut doesn't just alert you of these misconfigurations and other security issues in your cloud. It also helps you prioritize which ones to fix first with status categories (danger, warning, and low).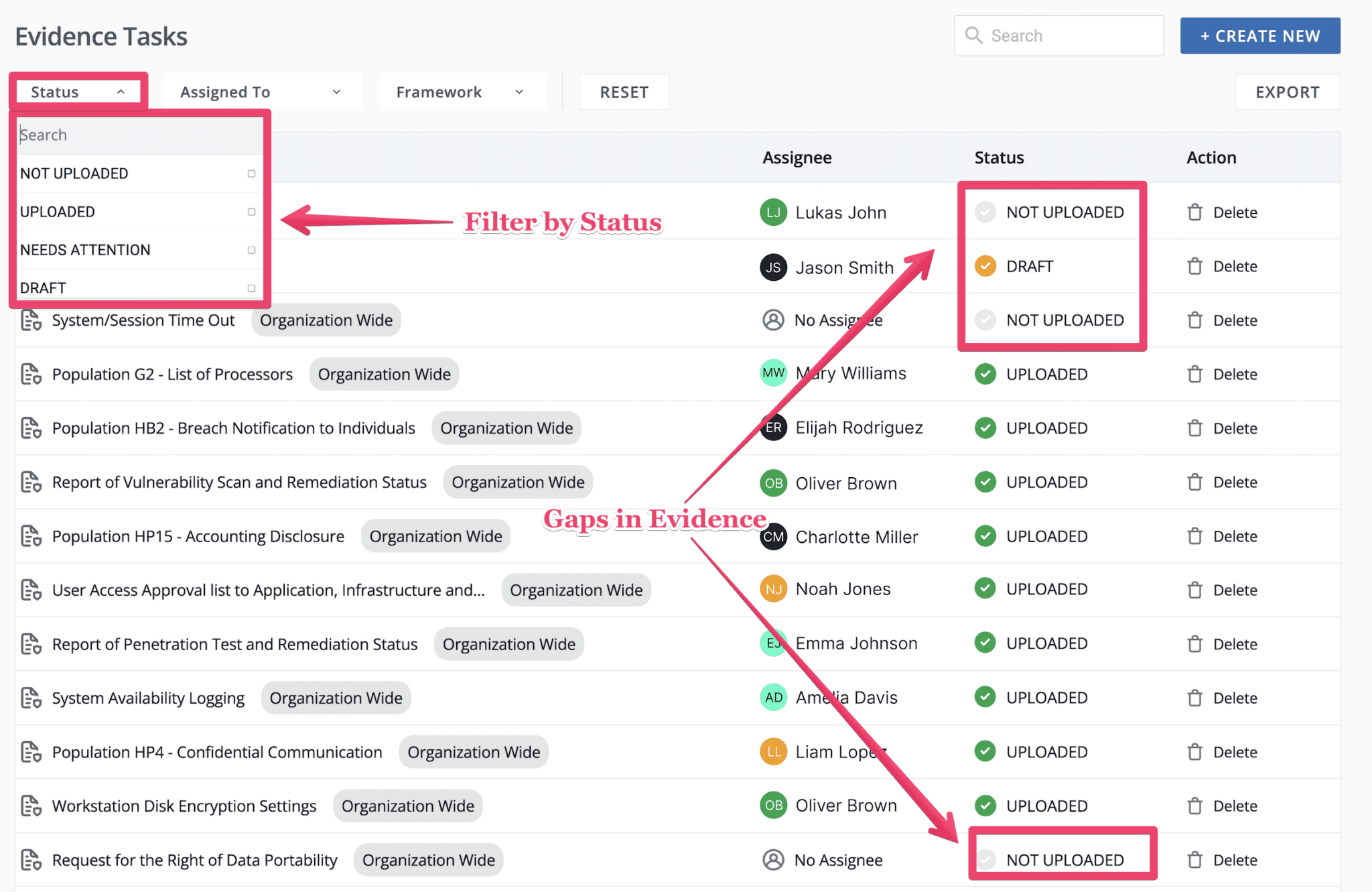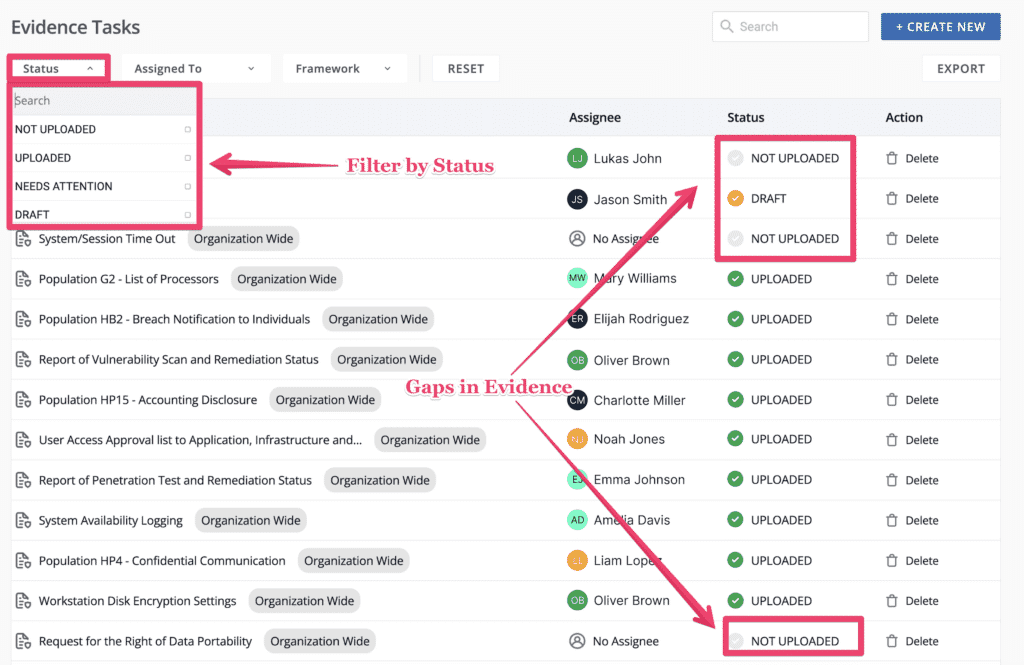 Another unique benefit our customers gain with Scurt is that we are not limited to basic controls required to comply with popular frameworks. Our cloud security monitoring goes much deeper. We scan over 150+ controls across all your cloud environments as per the CIS benchmarks.
Whenever there are any issues in your cloud environment, you get real-time notifications (email, Slack, etc.). Further, you get tools and guidance within the platform that help you quickly remediate the issues.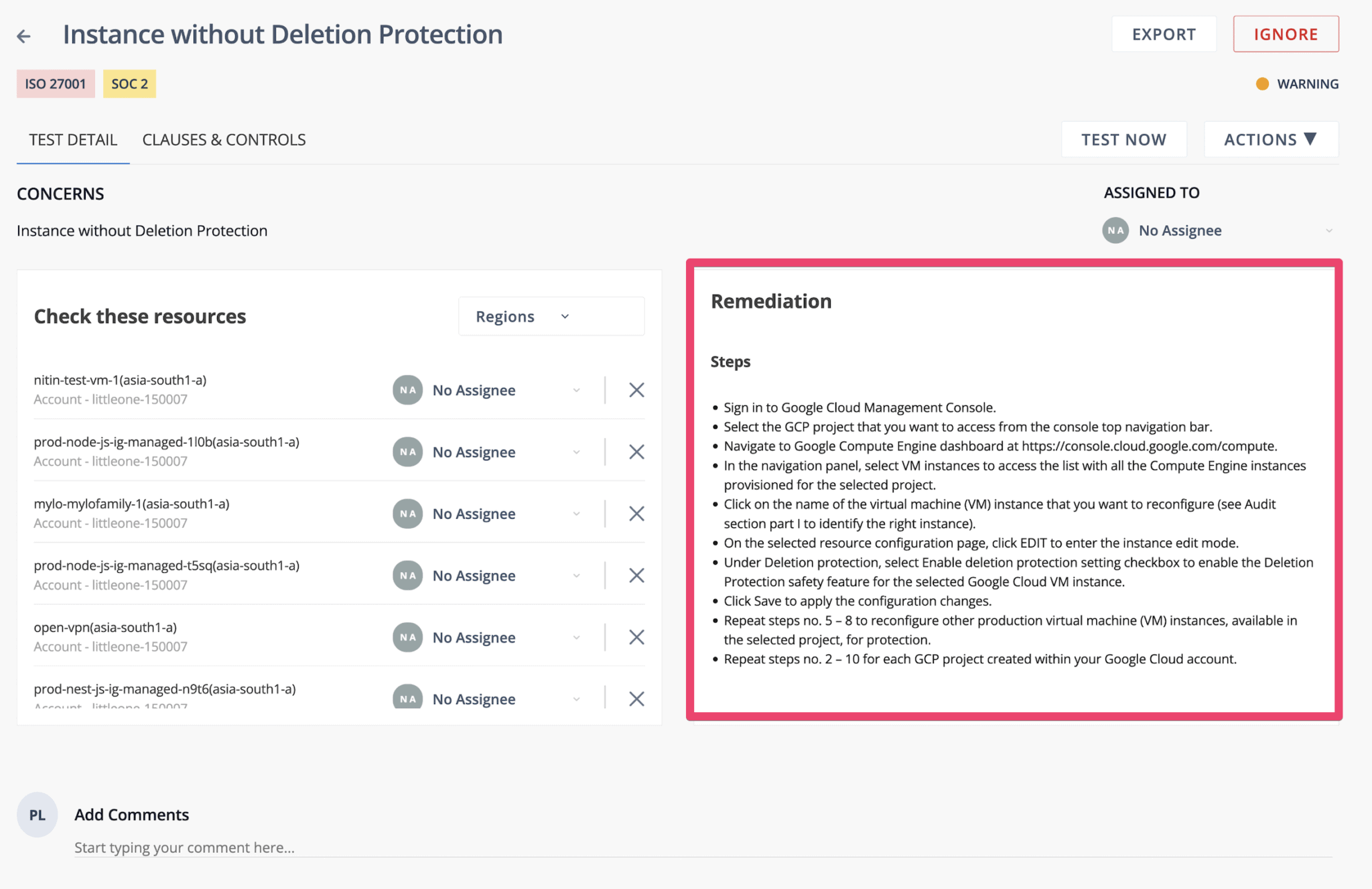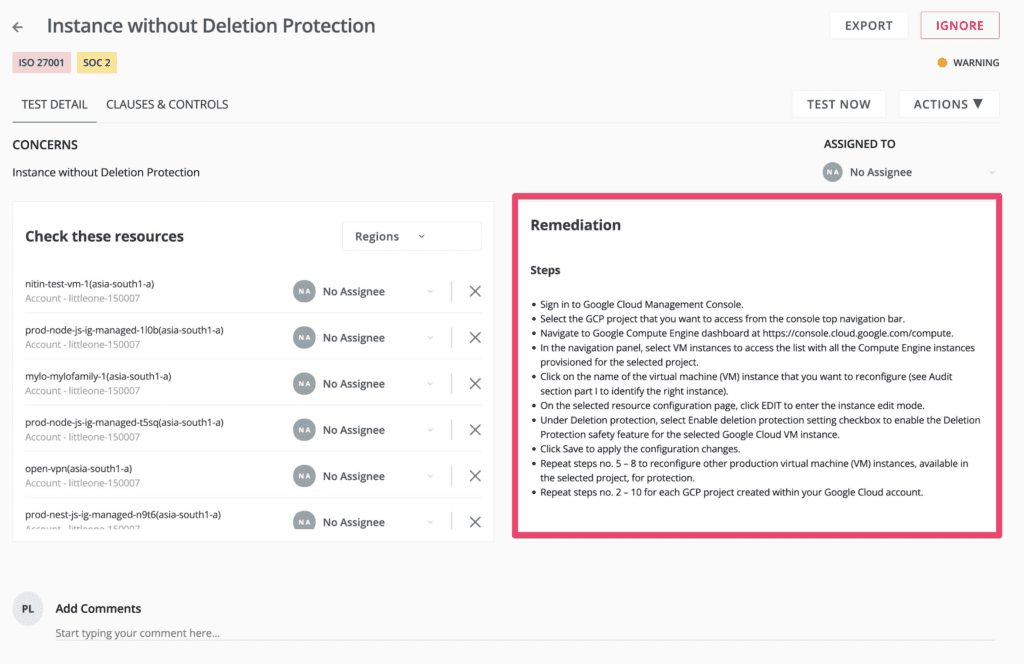 Moreover, you can ensure accountability for fixing these by assigning ownership to different individuals for every task. This makes you secure in the true sense.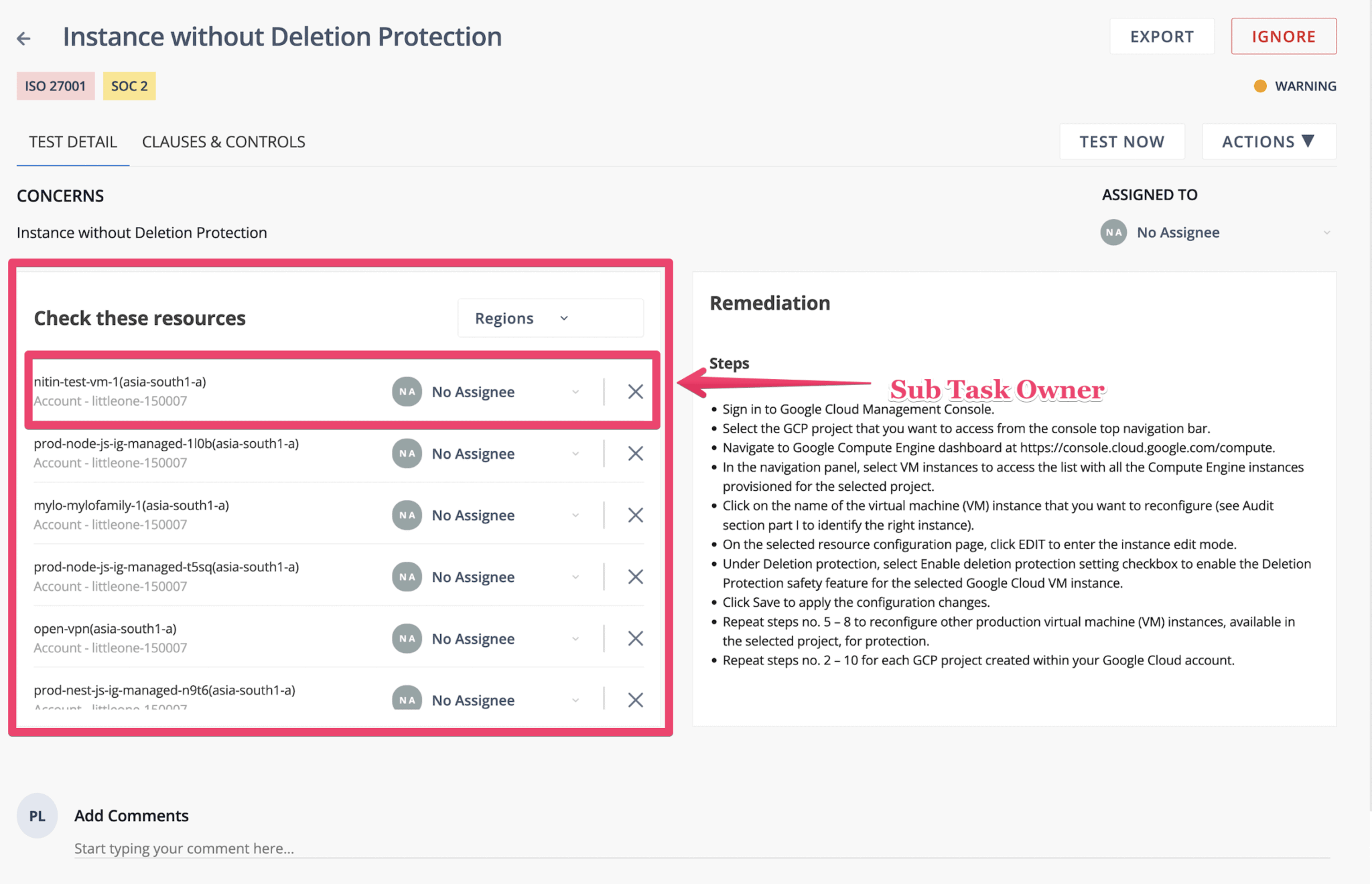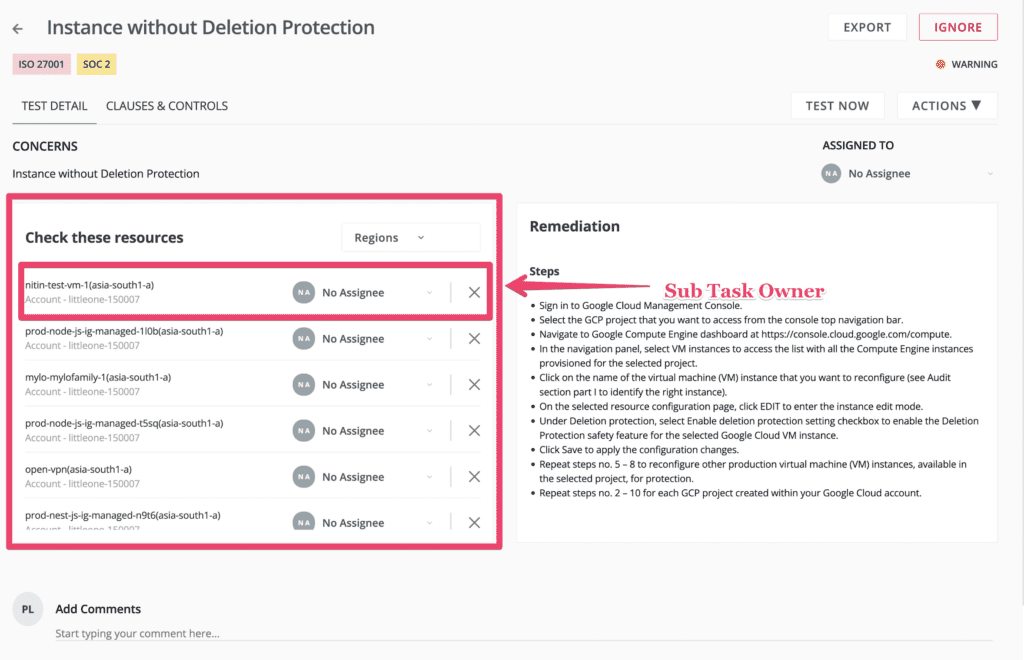 When you are secure all the time, you have security assurance, which means getting and staying compliant is a byproduct of your high-security standards.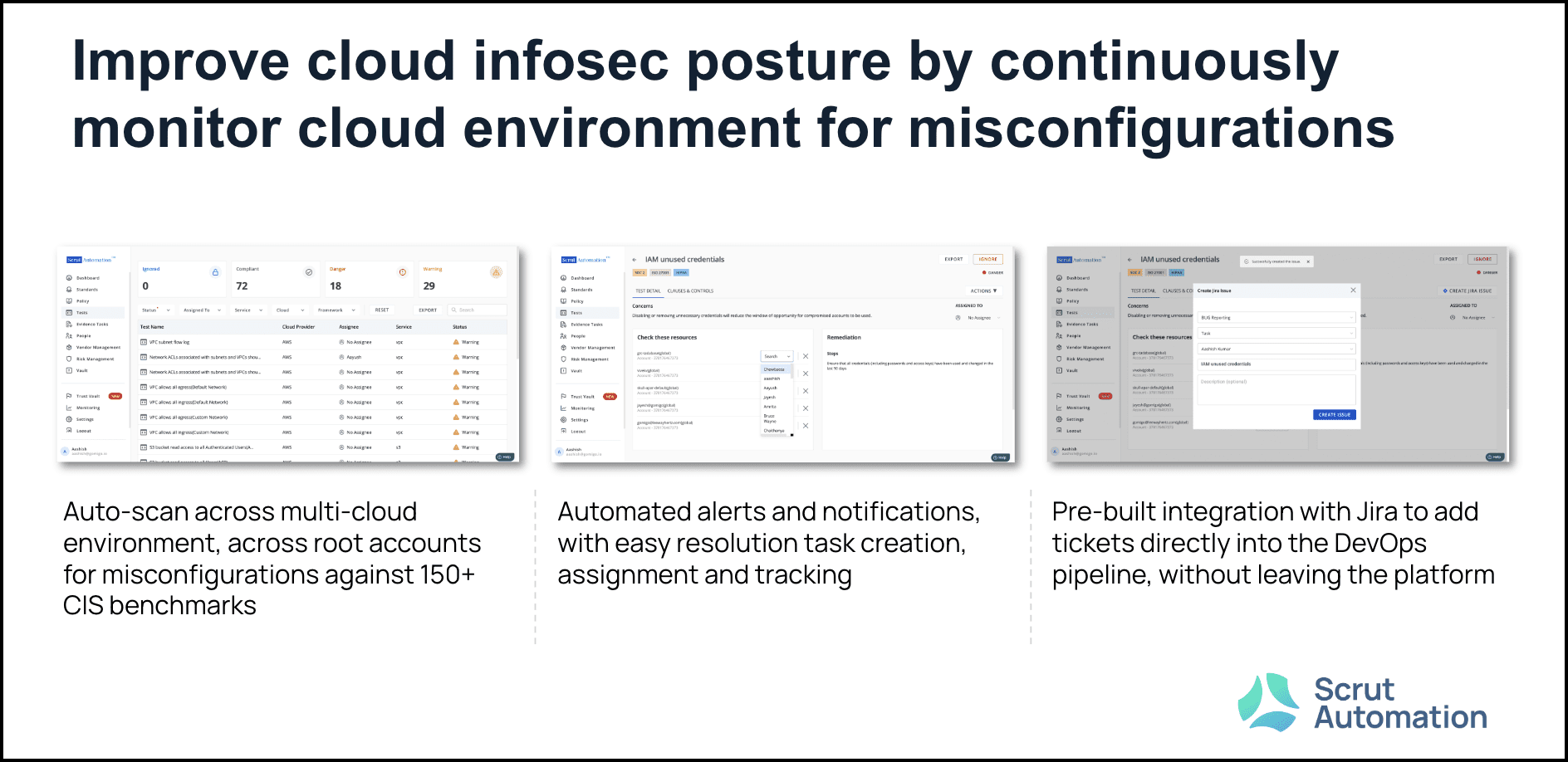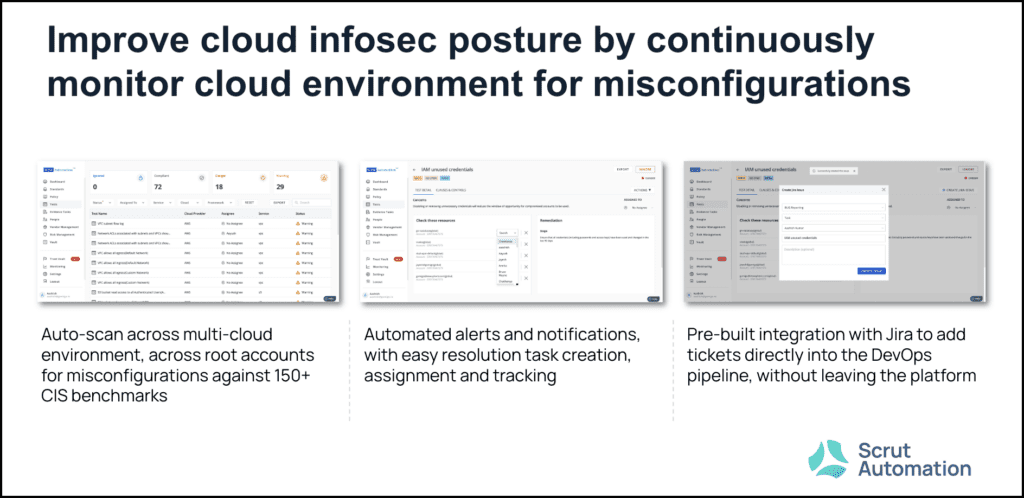 Hence, Scrut ensures that no security gaps are found during your audit process.
Automate employee training: We have training programs for security awareness among employees. Just connect Scrut with your identity providers or HRMS, and Scrut takes care of employee policy acknowledgement during onboarding, offboarding, and at regular intervals set by you. You always have visibility into the status of your security training.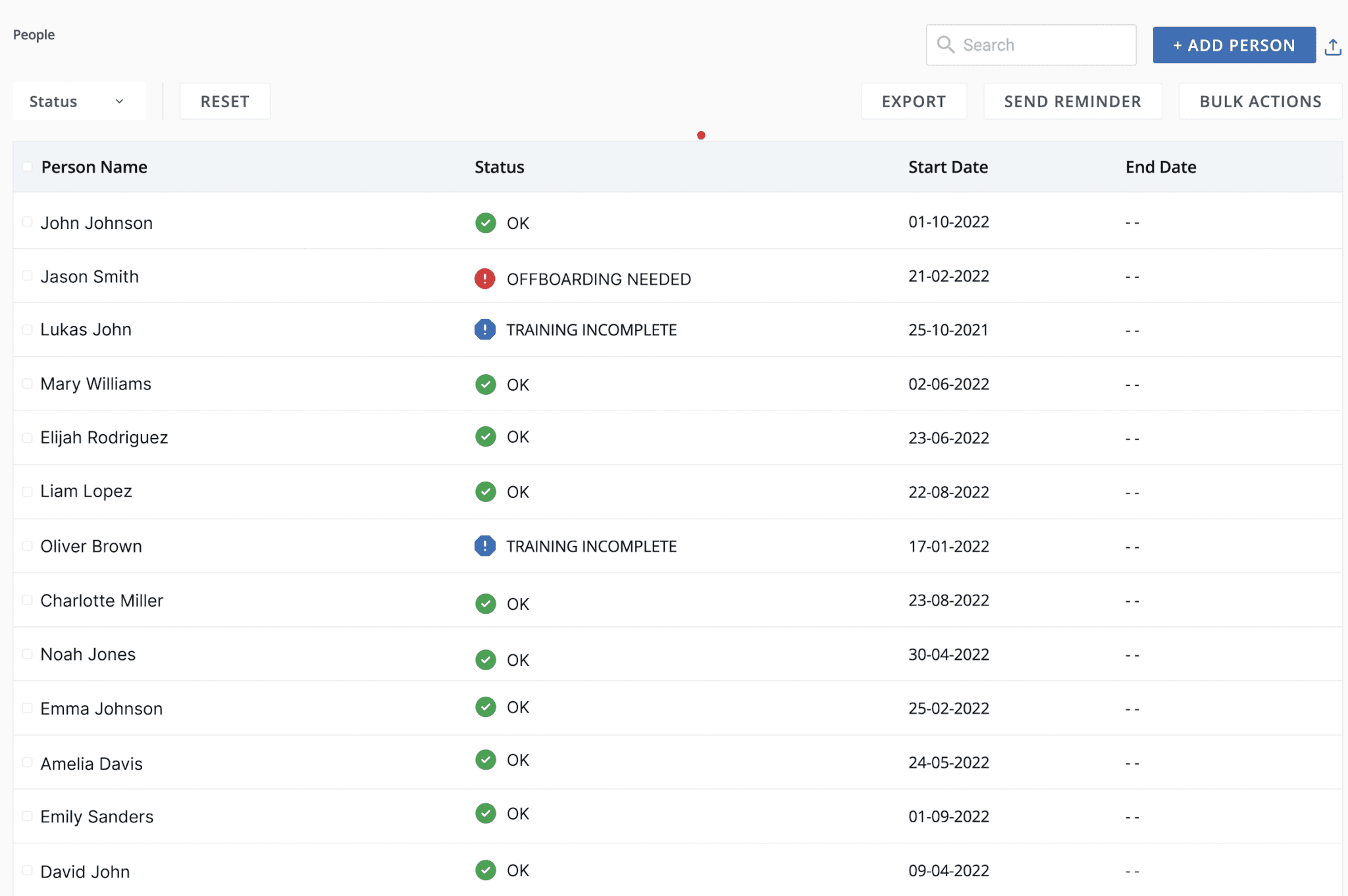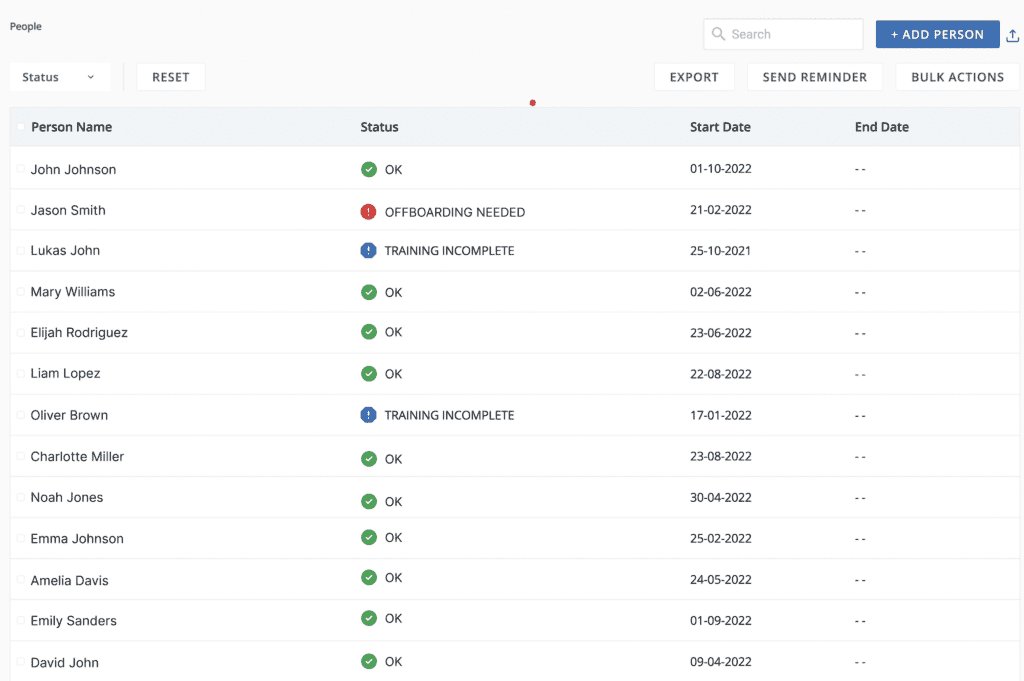 You can send reminders to those employees who have not completed the training.
Further, you can take a quiz to make sure that employees have not just read through the policies but understood them too.


Our UI is so simple that there is almost 0 learning curve. Your employees can just sign up and start the training.
Mitigate cybersecurity risks and stay ahead of threat: Scrut Risk Management provides you with actionable insights in the context of your business processes to help you effectively identify, assess, and mitigate IT and cyber risk. Build your own contextualized risk register from Scrut's pre-mapped risks, create custom risks, and assign owners.
You also have the visibility needed to stay ahead of threats and communicate the impact of risk on high-priority business initiatives.
Unlock automation with pre-mapped controls to risks.
Moreover, Scrut Risk Management increases accuracy by automatically rescoring risks for updates or changes in related objects such as controls, threats, and vendors. It updates residual risk scores and your overall risk posture.
We assist you to stay ahead of threats with continuous real-time risk score updates.
Vendor risk management: Staying compliant is not just about your own security measures. Since you would be sharing sensitive data with your vendors, it is also mandatory to make sure that your vendors are also secure. Scrut enables you to create a faster, efficient, and effective way to assess, monitor, and manage your vendor risks. With Scrut vendor risk management, you get actionable insights into how your vendors are performing and whether their security postures align with your compliance requirements or not.
Scrut allows you to test your vendors to see if they are compliant with the information security standards your organization wants to achieve. It eliminates the hassle of performing audits and conducting security questionnaires through the power of automation.
You can send security questionnaires, track and collect responses, and identify deviations directly from the platform. Upload your own security questionnaire or use our pre-built templates after onboarding to the console successfully.
Audit process: Not only your audit preparations, but you can also semi-automate your audit process with your CPA via Scrut. Our smart GRC platform enables effective collaboration with your auditors. Coordinating and completing audits is more straightforward when all relevant policies, procedures, controls, and evidence are kept in one place. You and your auditor can communicate directly within our platform, preventing needless delays and frustration. You can just invite them to your Scrut account.
When giving access to relevant stakeholders, you're in control. You can grant audit project access only to those that need it.
Scrut doesn't make life easier just for you, but for your auditor too! They can check your policies, associated controls, and evidence pieces, and quickly finish the audit—and if they need any clarifications, they can ask directly within the product. This reduces the audit timing from a week to a few hours.
Support: When it comes to compliance, you may need expert support at any point in time. Our infosec experts, comprised of people from the big 4 firms (EY, Deloitte, PwC, and KPMG), are available round the clock with you from beginning to end till your compliance journey–and even after that.
Customer Rating
2. Drata
Drata is a security and compliance automation platform that monitors and collects nce of security controls. It streamlines compliance by automated monitoring, evidence collection, asset tracking, etc.
Drata's supported frameworks include SOC 2, ISO 27001, HIPAA, GDPR, PCI DSS, CCPA, ISO 27701, NIST CSF, etc.
Drata gives you visibility into your security posture, compliance status, and control across your organization. Moreover, it offers integrations with your SaaS apps and brings compliance status in a single platform.
Pros
Almost effortless setup
Comprehensive documentation that helps to get familiar with various topics
Centralized visibility of all your personnel and assets
Gives you insights into what compliance requirements need your attention
Cons
Lacks some custom integrations with other systems
Some integrations (Checkr, GCP) don't work properly
Inability to customize what to monitor poses challenges for the engineering team
Customer Rating
3. Hyperproof
Hyperproof is a security assurance and compliance operations platform that empowers the organization to comply with regulatory requirements. It brings efficiency to your compliance and risk management. It helps in organizing, standardizing, and automating your compliance-related work.
This tool offers an end-to-end solution for understanding compliance requirements, managing internal controls, and defining your audit processes and workflows.
With Hyperproof, you can begin with any compliance framework per your business requirement. It will reduce the manual work related to control mapping, testing, evidence collection/management, and make you audit-ready.
The compliance framework includes SOC 2, ISO 27001, NIST 800-53, NIST CSF, NIST privacy, PCI, SOX, and many more. Additionally, it allows you to upload custom frameworks and manage them on the platform itself.
Pros
Role-based access management ensures users have access to only their tasks and are focused on what they should be
Easily integrates with numerous tools, and automates evidence collection
Easy tasks management: Tasks can be viewed in either a Kanban board or a simple grid
Cons
Inability to configure and customize notifications
Occasionally system stops functioning and requires a refresh to work again
Customer Rating
G2: 4.5/5
Capterra: 4.7/5
4. AuditBoard
AuditBoard is a cloud-based audit, risk, and compliance management platform that helps comply with SOC 2, ISO 2700x, NIST, CMMC, PCI DSS, and more.
The platform centralizes all your compliance frameworks in a single location and helps you manage efficiently. It reduces manual tasks, avoids duplicative assessments, and streamlines reporting with automation. The tool eliminates manual follow-ups with automated alerts and reminders to stakeholders.
AuditBoard identifies the compliance gaps between your organization and industry standards and ensures that your organization stays compliant with the changing requirements.
Pros
Single hub for all risks and controls
Easy implementation and customizable as per your needs
Cons
Incapable of third-party risk management
Confusing to set up new controls, processes, etc.
Customer Rating
G2: 4.8/5
Capterra: 4.7/5
5. LogicGate
With LogicGate's Risk Cloud platform, you can manage and improve your governance, risk, and compliance (GRC) program with ease. LogicGate proactively tracks and responds to issues and provides insights.
The platform helps you with the entire compliance lifecycle— from identifying the right rules to keeping tabs on the effectiveness of your compliance programs. LogicGate helps you communicate processes to remain compliant, assess and manage risks across the organization, and protect your business from threats.
Pros
Highly customizable platform that doesn't require technical knowledge to make changes
In-depth training on using the platform and getting complaint for administrators
Cons
Options for bulk changes are not available
Steep learning curve; you have to spend good time training employees
Customer Rating
G2: 4.6/5
Capterra: 4.7/5
6. Sprinto
Sprinto is a compliance automation tool that helps companies automate information security compliances and privacy laws, including SOC 2, ISO 27001, HIPAA, GDPR, and PCI DSS. It automatically creates security documents and enables real-time centralized monitoring.
It automatically maps your work to audit requirements and collects evidence. Sprinto detects new joiners and triggers onboarding workflows. It generates downstream tasks around background checks, security training, policy acknowledgments, access control, etc., and tracks them to completion.
Pros
Provides real-time evidence tracking
The interface is clean and easy to understand and navigate
Cons
You need to reach out to their support team due to missing information in the knowledge base
Sync delay: Consumes time in monitoring and fetching data
Customer Rating
7. Vanta
Vanta is an automated security and compliance management platform. It helps your organization remain compliant by monitoring, improving your security postures, and meeting requirements for standards like SOC 2, HIPAA, ISO 27001, PCI DSS, etc.
Vanta trust reports allow you to avoid repetitive tasks and provide customized reports. It gives you insights on compliance violations and helps you avoid hefty audit fines.
It has integrations with cloud service providers, identity providers, task trackers, and many more to automatically collect evidence. Additionally, it helps you manage vendor risks.
Pros
Provides a large library for pre-built policies and process templates
Share audit access to auditors directly on the platform
Cons
The build in risk assessments are not too in-depth,
Checkr International is not supported that causes fail tests for international employees
Setup is tedious and takes a lot of time
Customer Rating
G2: 4.7/5
Capterra: 4.9/5
8. Laika
Laika is a compliance automation platform that helps organizations of all sizes obtain InfoSec certifications (like SOC 2 and ISO 27001) and stay compliant with regulations (like HIPAA and GDPR.)
Laika tracks your compliance progress in a single dashboard and streamlines the auditing process. It helps in automated vendor discovery and assesses current compliance policies and practices. Moreover, it sends notifications to the relevant person whenever any human intervention is needed.
Pros
You can use the policy management system as the source of truth for all of your company's policies
Cons
Some features are a bit unstable at times
Occasional glitches, and sometimes it gets slow
Customer Rating
9. Secureframe
Secureframe helps companies in compliance frameworks like SOC 2, ISO 27001, PCI DSS, CCPA, GDPR, and HIPAA. As compliance is a continuous process, it helps you always remain compliant and send alerts and reports on any deviation.
With a streamlined workflow, Secureframe automates most of the compliance process as per your business requirements. In addition, it integrates with several service providers to help you stay compliant and makes you audit-ready.
Pros
Policy builder saves a lot of time
Good number of integrations
Cons
Send false notifications sometimes
Many processes require a lot of manual work that could be automated
Customer Rating
10. Carbide
Carbide identifies gaps, automates the compliance process, and accelerates your compliance programs. It provides a hassle-free way to compliance, starting from mapping your security and privacy policies to various frameworks and regulatory controls to managing the audit.
This compliance automation tool makes you aware of shortcomings in your audit and guides you to overcome it. It reduces the manual time and effort by integrating with your systems and automatically collecting evidence for the audit.
Pros
User interface is simple
Easy to add and edit content
Cons
Customer Rating
11. Strike Graph
Strike Graph is a compliance automation solution that simplifies security certifications for SOC 2, ISO 27001, HIPAA, and more. It assesses risk and assigns controls to create a cybersecurity program that matches your business requirements.
Moreover, it brings your auditor on the same platform and helps to pass your audit and get certified. Strike Graph maintains a state of compliance with automated tracking and evidence collection. The compliance automation platform tracks and manages all your evidence requirements from one location.
Pros
Provides straightforward evidence package
Good customer support
Cons
Lacks in many automation and integrations
There are a few UI errors
Customer Rating