Reciprocity is an enterprise risk management tool – but the in-built GRC is lightweight and not robust enough. Moreover, it requires a significant amount of implementation and configuration support.
This article discusses the 13 best alternatives to ZenGRC that may help you with your GRC requirements.
Reciprocity by ZenGRC enables organizations to maintain privacy and security frameworks. The platform automates your InfoSec program and simplifies compliance with frameworks such as SOC 2, ISO 27001, GDPR, and HIPAA.
Further, it simplifies the mapping of controls across multiple frameworks for your organization.
Before discussing the alternatives, let's learn more about ZenGRC's key features and drawbacks.
Key features of ZenGRC
ZenGRC simplifies audit and compliance management. The tool offers easy access to information for program evaluation and continuous compliance monitoring that addresses critical risks.
Acts as a single source of truth for all your compliance needs. ZenGRC gives you a single pane of glass view of all things that make up your compliance and risk programs: objectives, assets, controls, and history.
Pre-loaded content library to quickly get started. ZenGRC simplifies the mapping of control across multiple frameworks with its pre-loaded content library. These pre-built templates allow for customization and can be quickly deployed for popular frameworks, such as SOC 1 and SOC 2, GDPR, ISO, CCPA, etc.
Automate critical tasks. It automates the review process and evidence collection. Further, collected evidence automatically sync into your preferred systems, such as Jira and ServiceNow.
Foster collaboration among team members. It makes task management easier with the help of task assignments, tracking progress, and tagging features.
Drawbacks of ZenGRC
There is no in-line editor in ZenGRC for editing policies on the platform.
It doesn't support custom frameworks.
The platform doesn't has in-built employee security training module, unlike other GRC platforms like Scrut.
Risk observability features are missing, like asset discovery, relationship mapping, etc.
No option to collaborate with your auditors directly on the platform. So, the audit process can be time consuming.
Customer Rating
ZenGRC Alternatives
1. Scrut
The Scrut smartGRC platform provides a unified, real-time view of risks and compliance status. This helps you understand your InfoSec and security posture.
The platform offers you pre-built policies vetted by industry experts.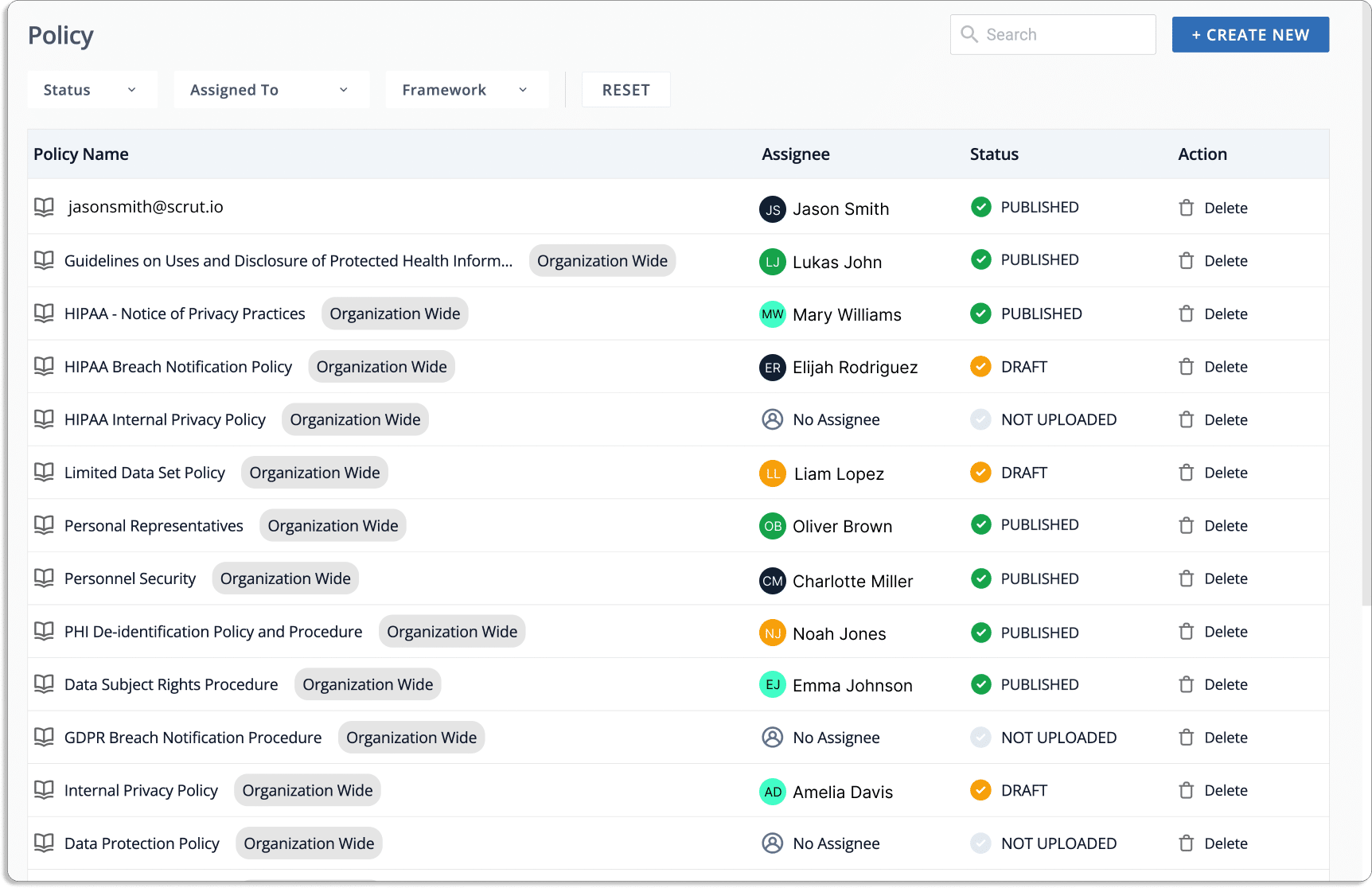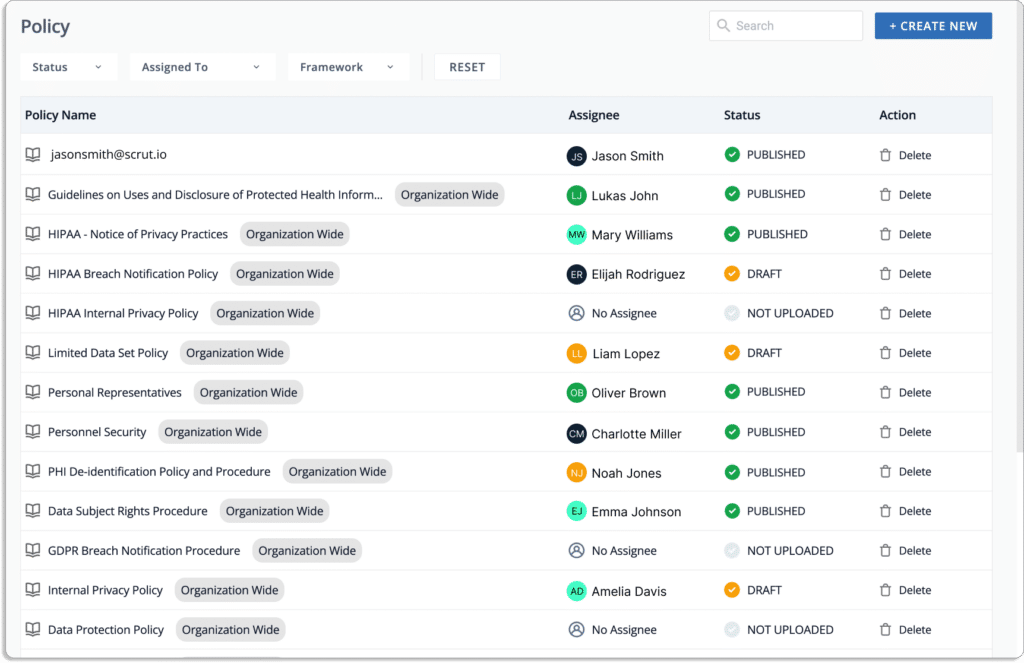 You can customize policies using the built-in editor or upload your existing policy docs on the platform.


Additionally, you can manage permissions via different user types:
Contributor: Can make changes to policies but cannot publish them.
Admin: They can approve and publish policies.
Auditor: Invite auditors directly to the platform and complete your audit quickly.
With Scrut, you can keep track of multiple compliances simultaneously, as shown in the screenshot below.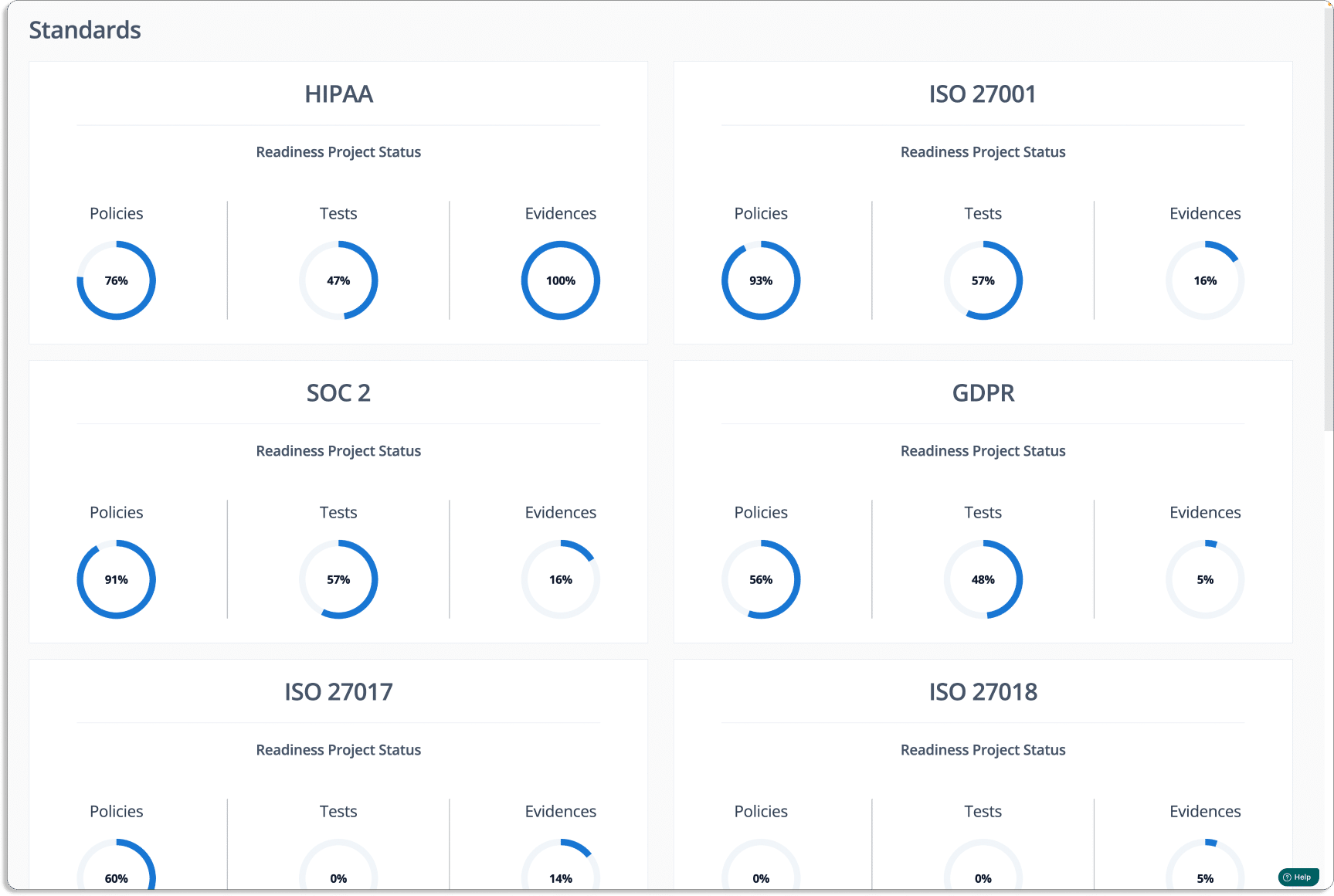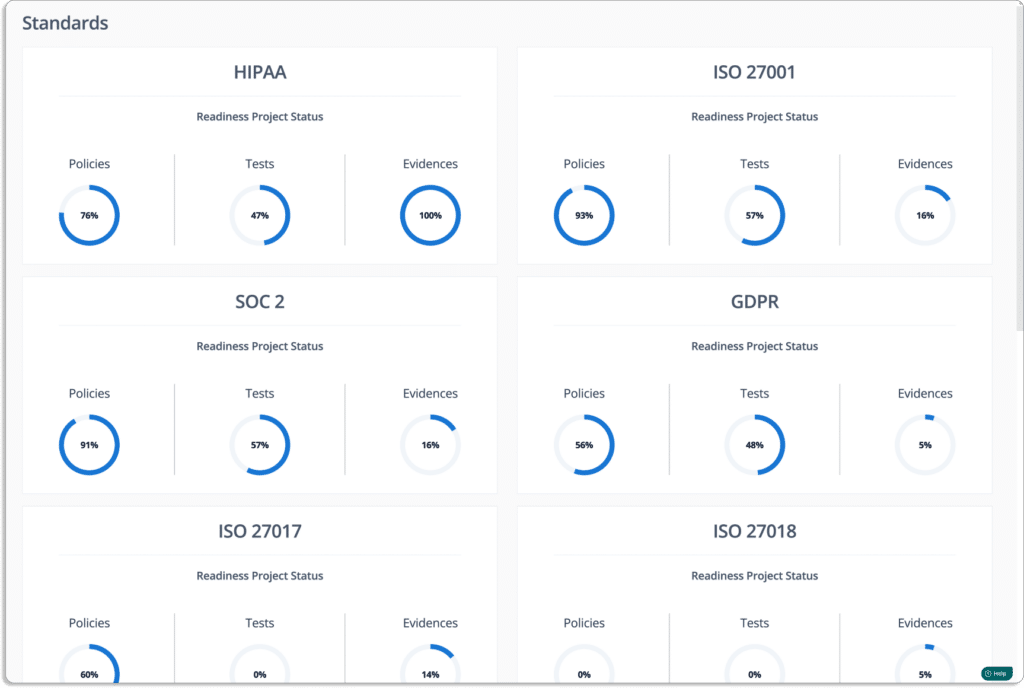 It automatically maps controls against different frameworks. This eliminates the hassle of creating new controls when you go for any new compliance frameworks, thus eliminating duplication of efforts.
Risk Management with Scrut
Scrut's risk management will help you quickly build your risk register.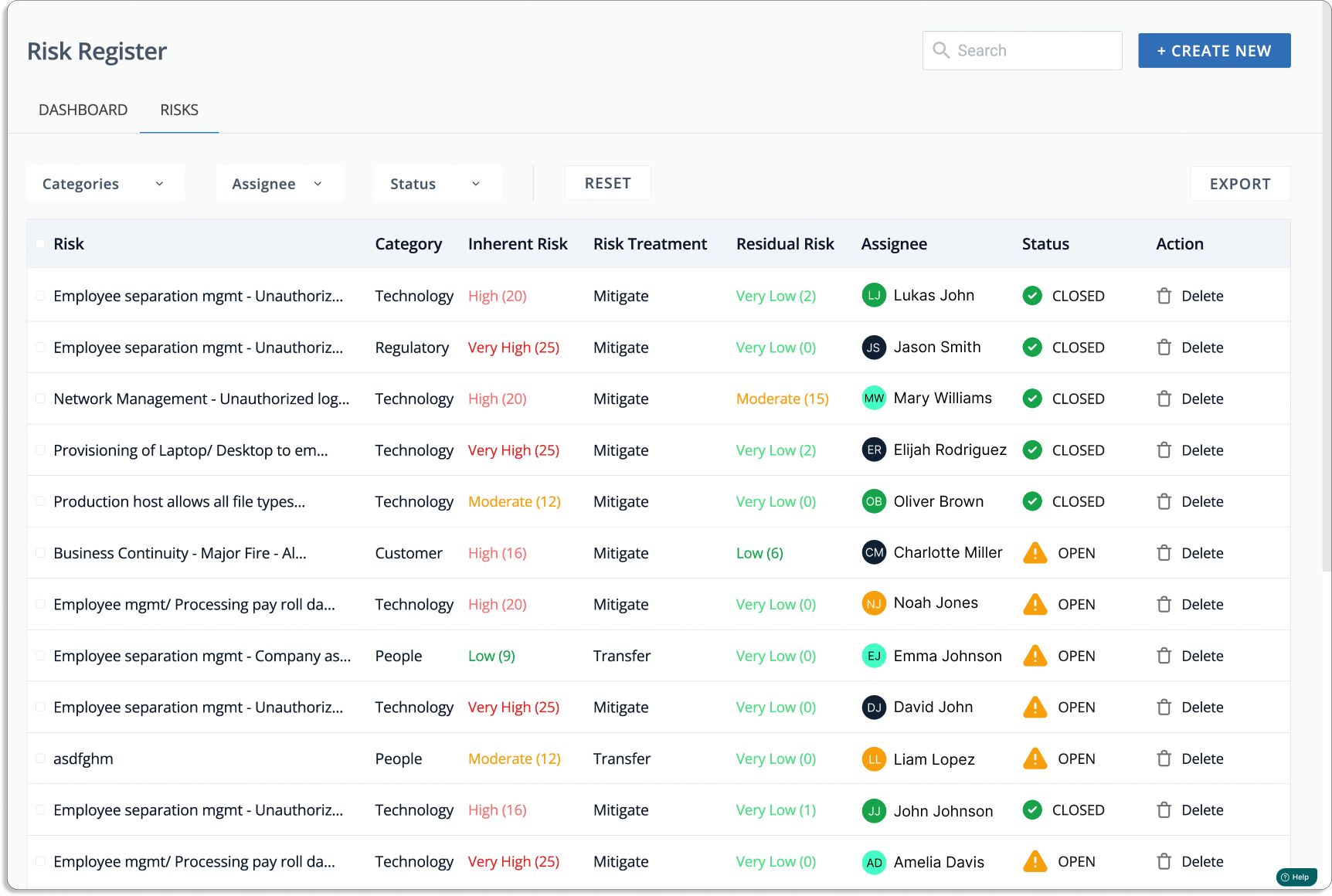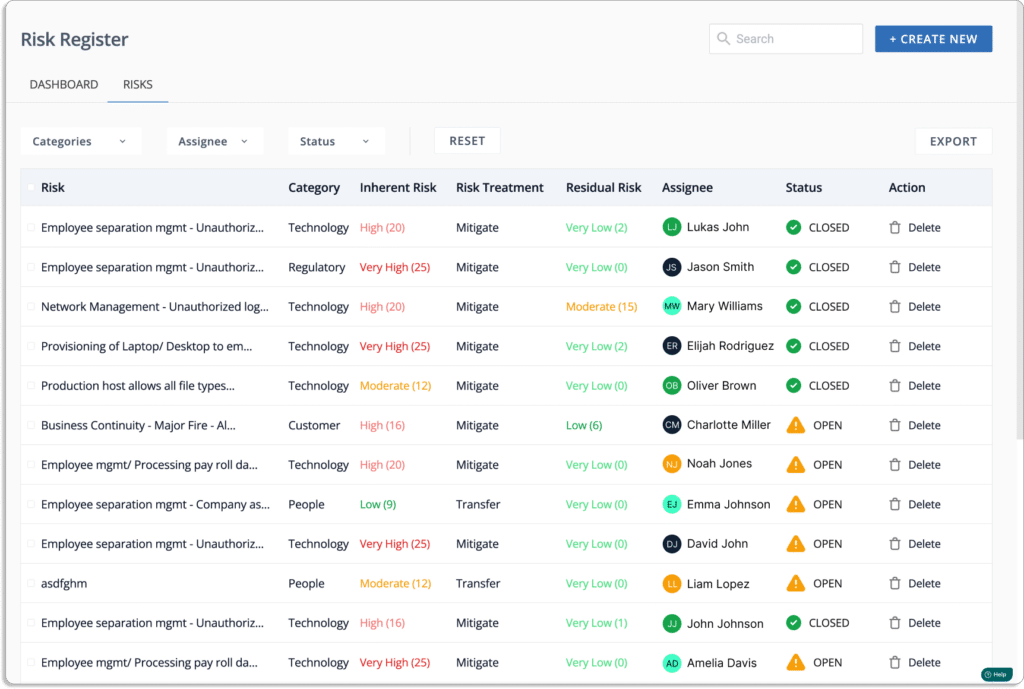 You can identify risks from pre-populated risks from the risk library. Scrut also allows you to build custom risks.
You can get a quick glance at your overall risk posture on the platform.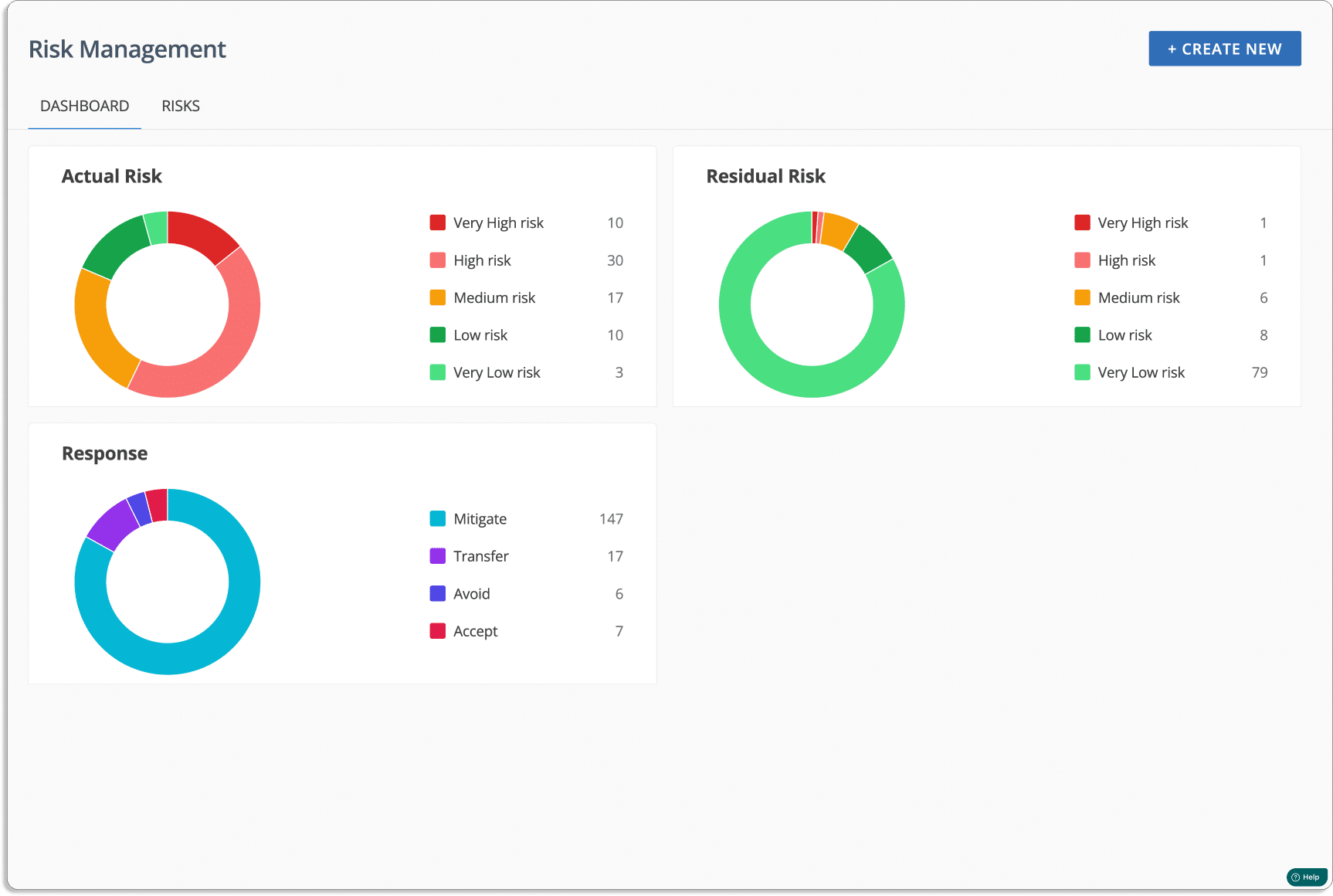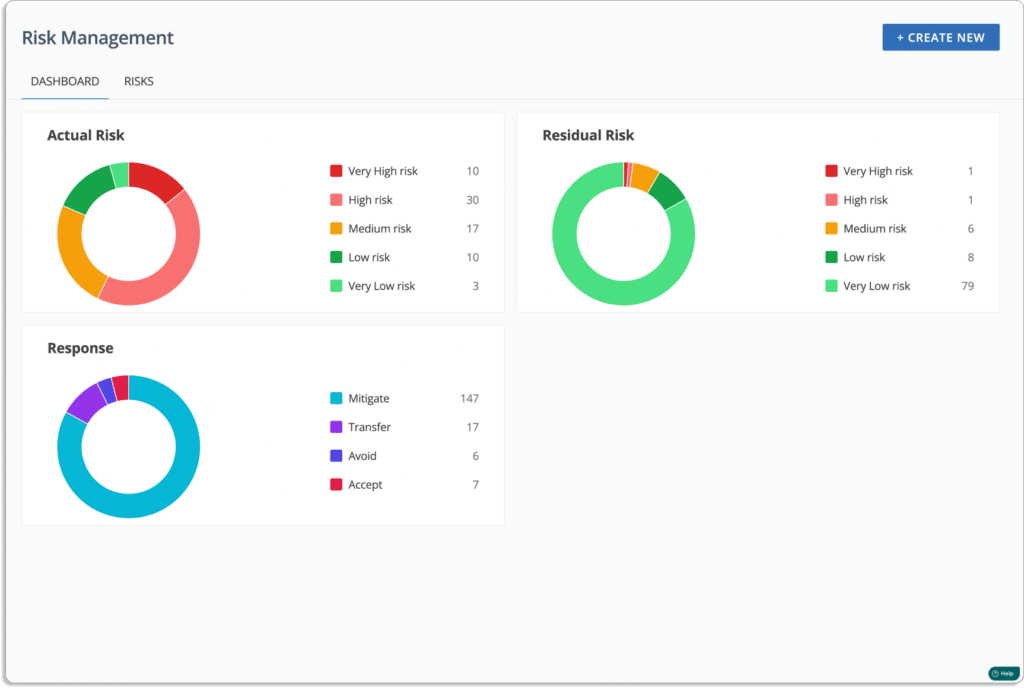 The platform automatically maps your risks to different controls across frameworks like ISO 27001, SOC 2, GDPR, HIPAA, and PCI DSS.


It also helps with risk scoring, treatment, and mitigation tasks. You can read more about how Scrut helps with risk management.
Streamline audit-related tasks and delegate ownership
Our GRC tool streamlines every task required to get audit-ready.
With Scrut, you can assign and keep track of tasks and hold your team accountable to complete the tasks in time.
It sends reminders when a task is pending. You can choose the frequency of reminders.
For example, say your policy needs to be reviewed every quarter; you can choose recurrence as quarterly.


Or suppose you need to collect evidence every month that your security team participates in the impact analysis and design phase of software development.
So, the person responsible for updating the proof—in this case, Austin—will get a monthly reminder for the same.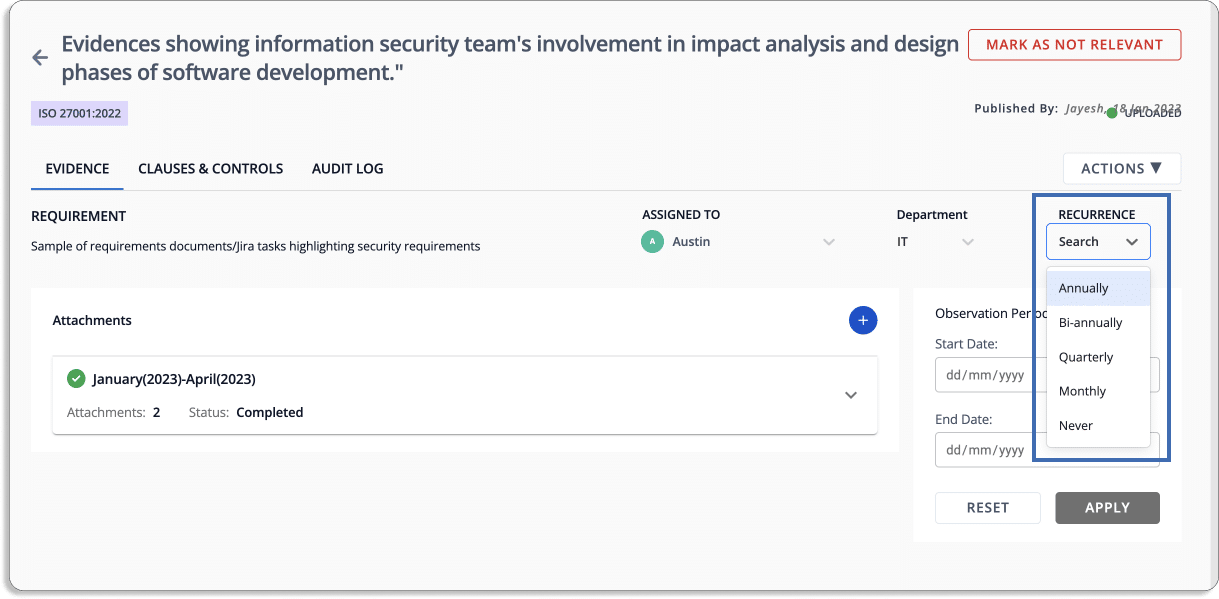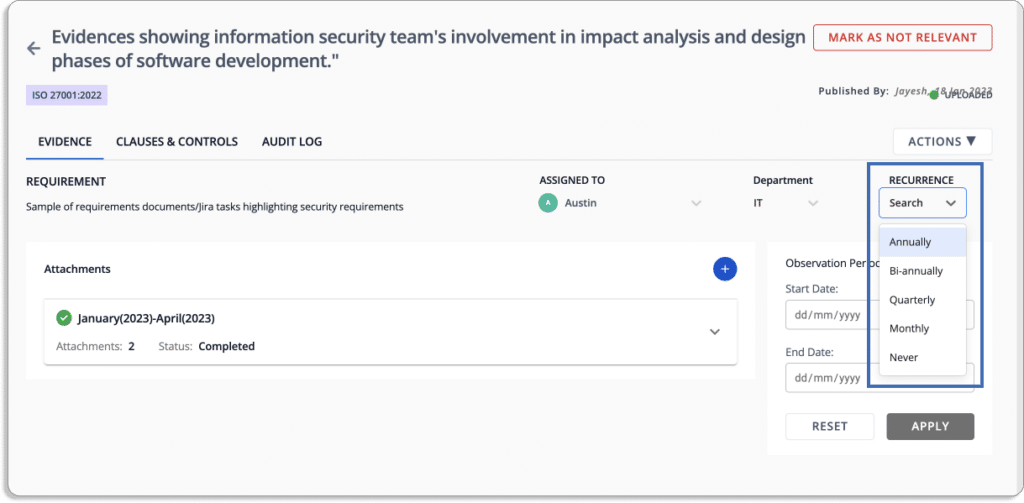 Policy ownership: With Scrut, you can identify who is responsible for what policy within the organization. Further, you can assign different people to create or update policies.
Test ownership: You can assign issues according to their criticality and monitor all their status from one place. Test Owners can be a department or team heads who can further assign tasks to their team members.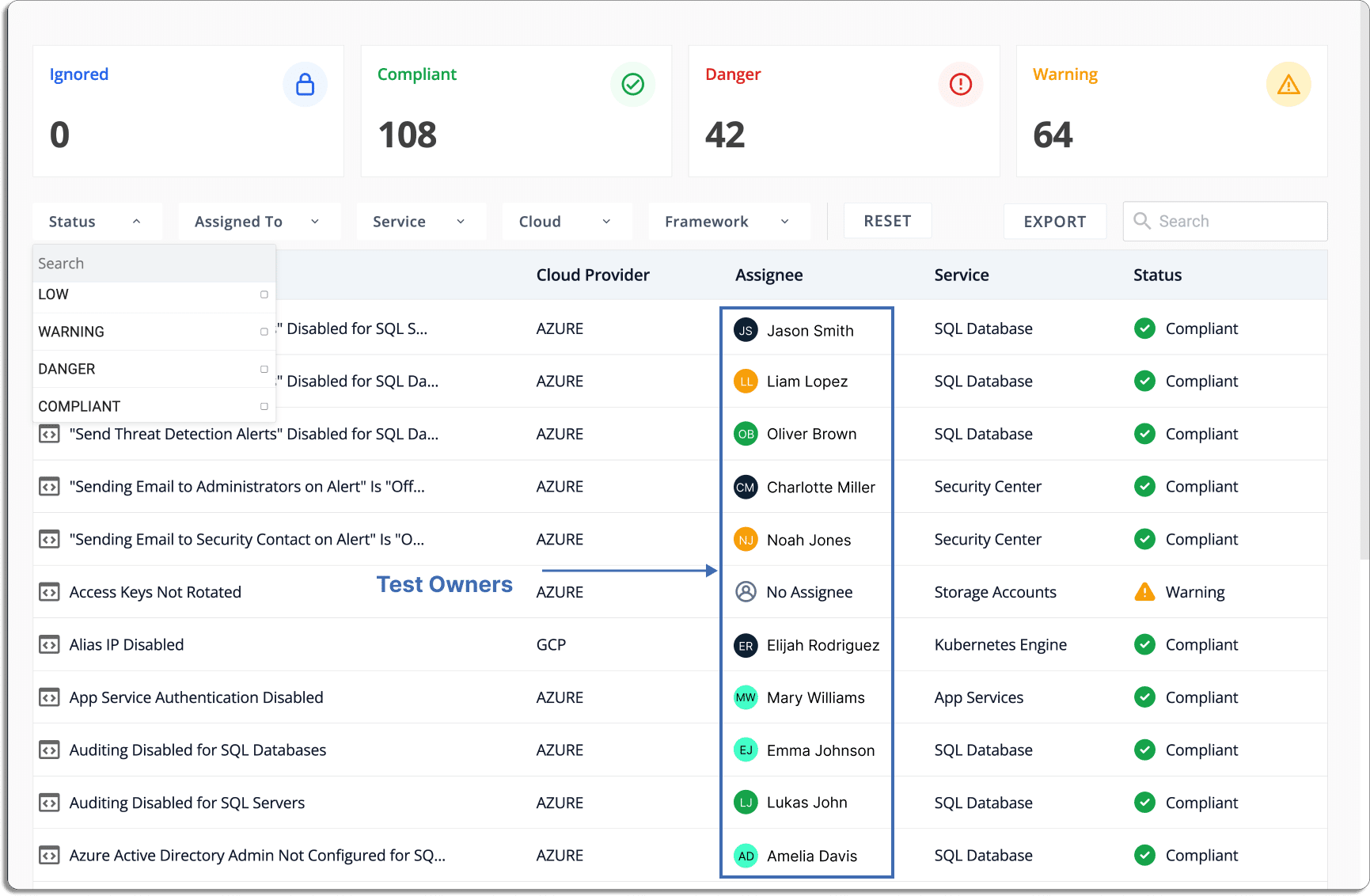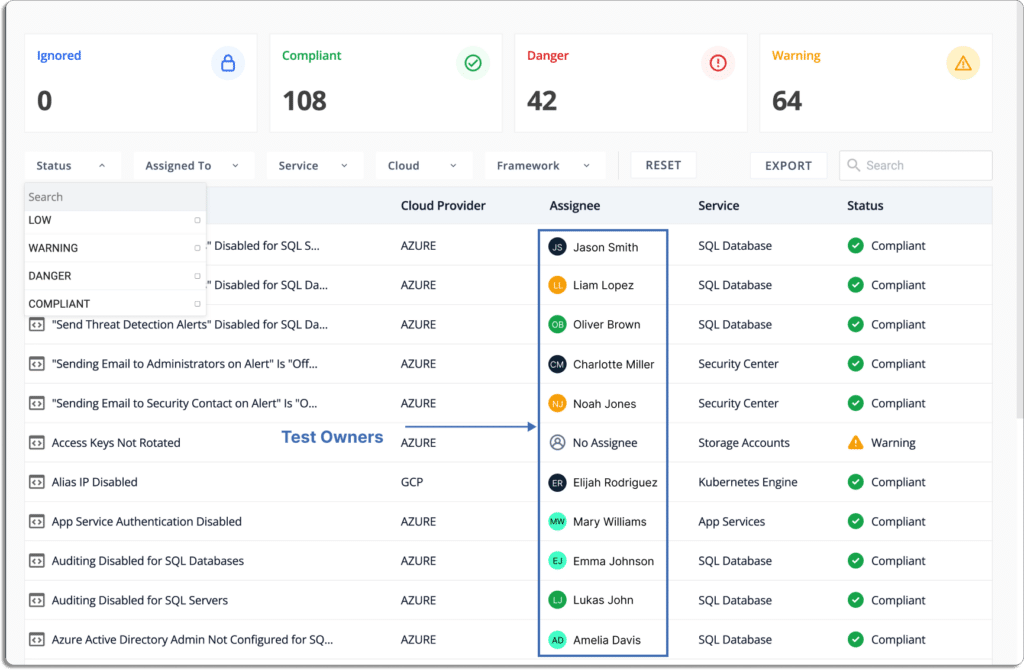 The platform provides a step-by-step guide to remediate issues. Further, each task under remediation can be assigned to a team member to resolve the issues faster.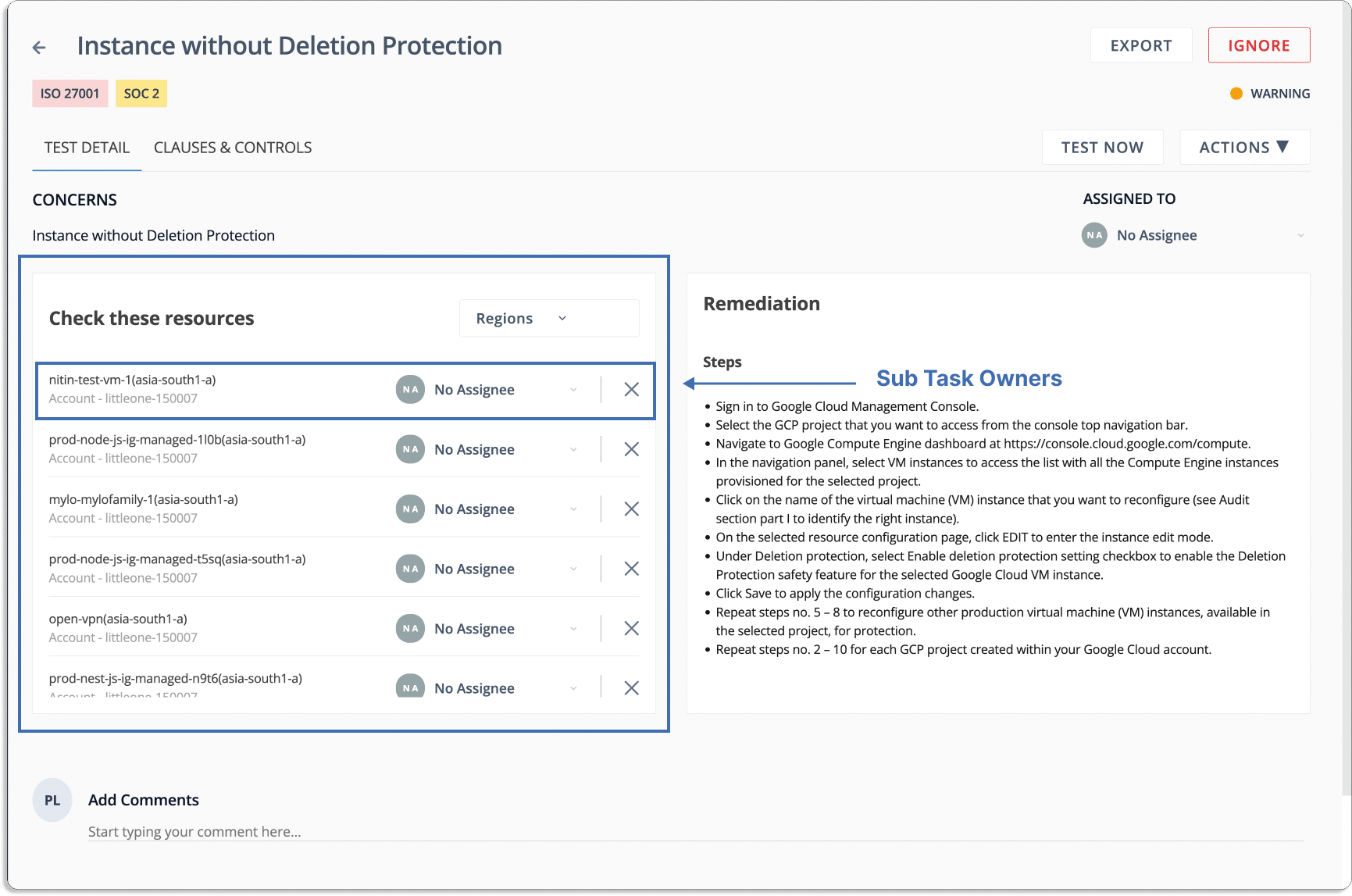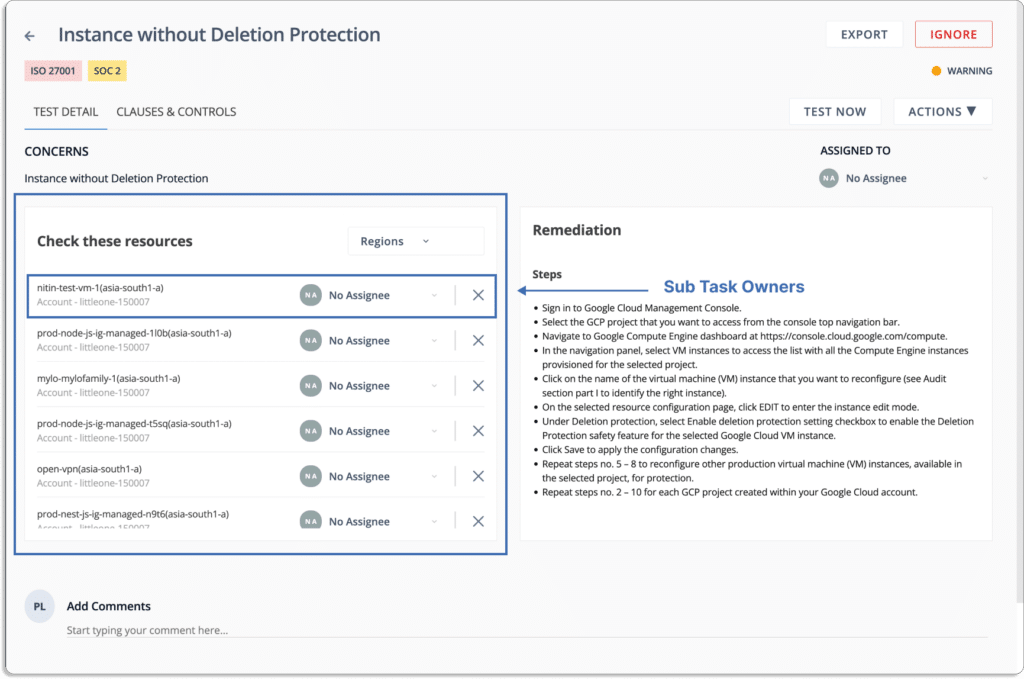 Automate Evidence Collection: The platform integrates with more than 70 tools (AWS, GCP, Okta, Datadog, JAMF, Jira, GitLab, etc.) and helps you to automate over 70% of evidence-collection tasks and reduce manual efforts involved in the same.
It also keeps all information related to evidence in one place and that helps the auditor to quickly through them. This also eliminates the hassle of managing multiple sheets or docs for evidence.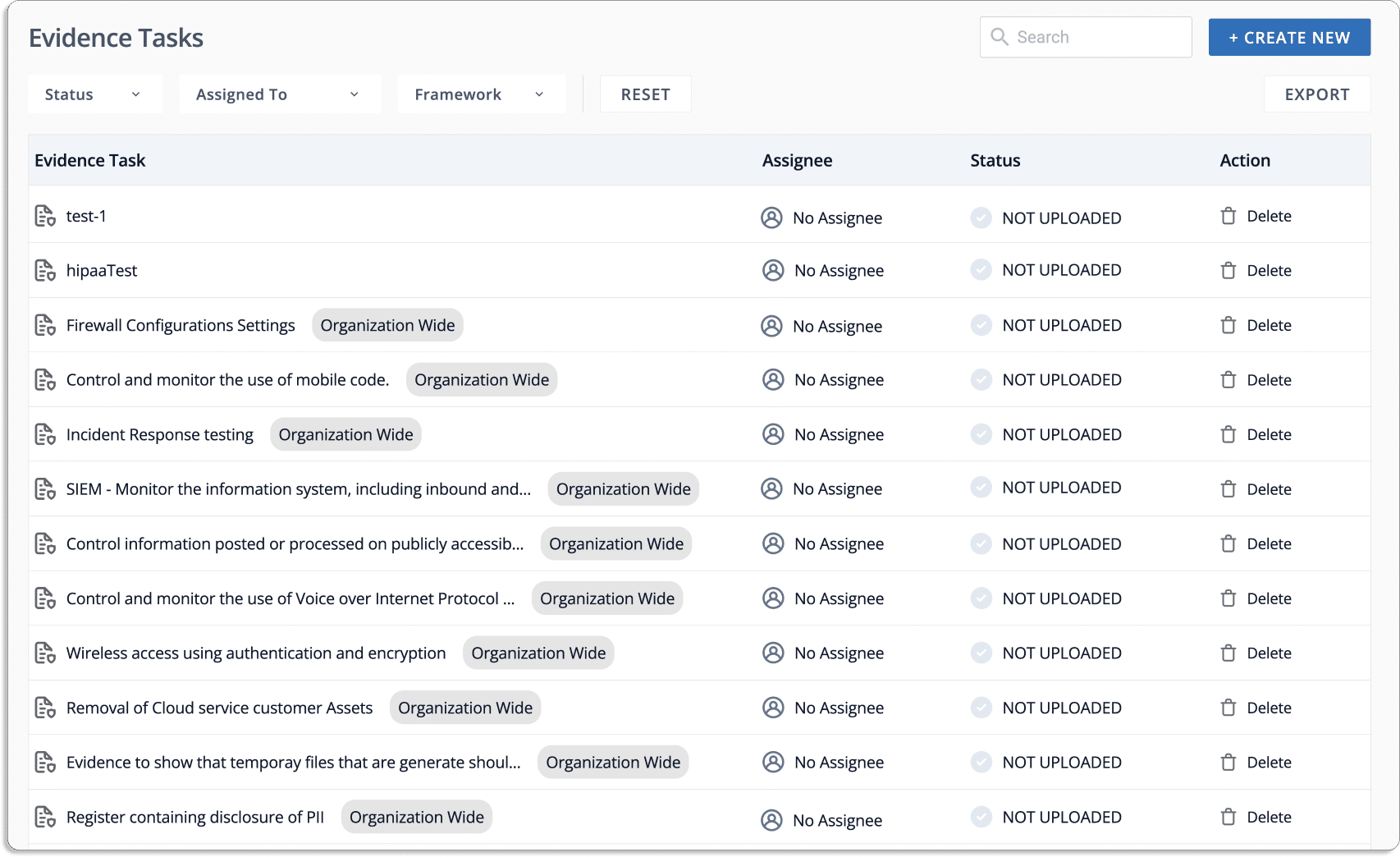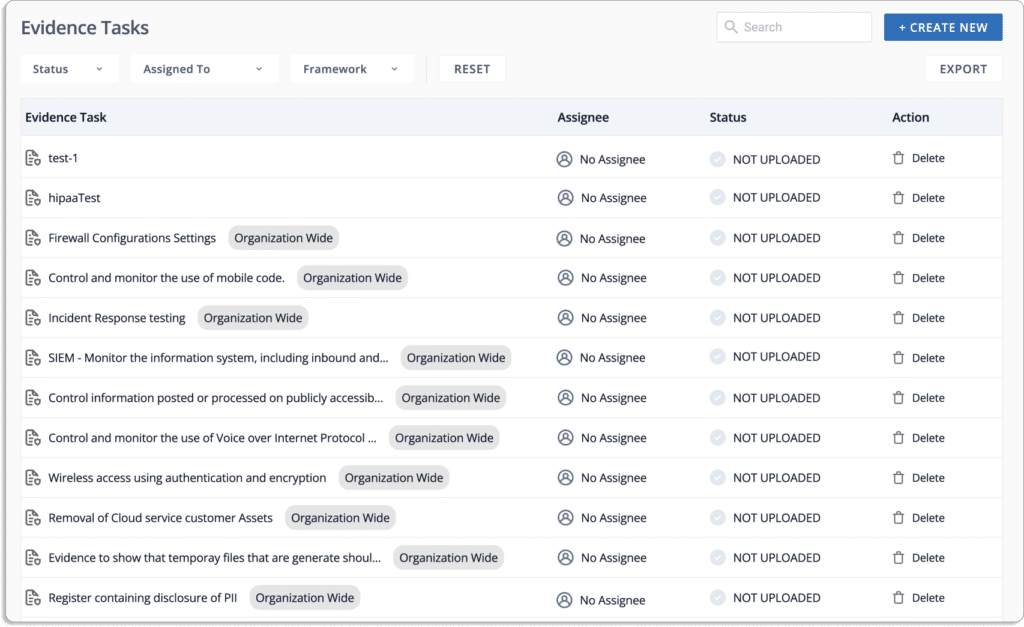 Cloud security: Scrut monitors your cloud environment across multi-cloud service providers (AWS, GCP, AWS, Oracle Cloud, IBM Cloud, and many more) providers and multi-account for misconfigurations.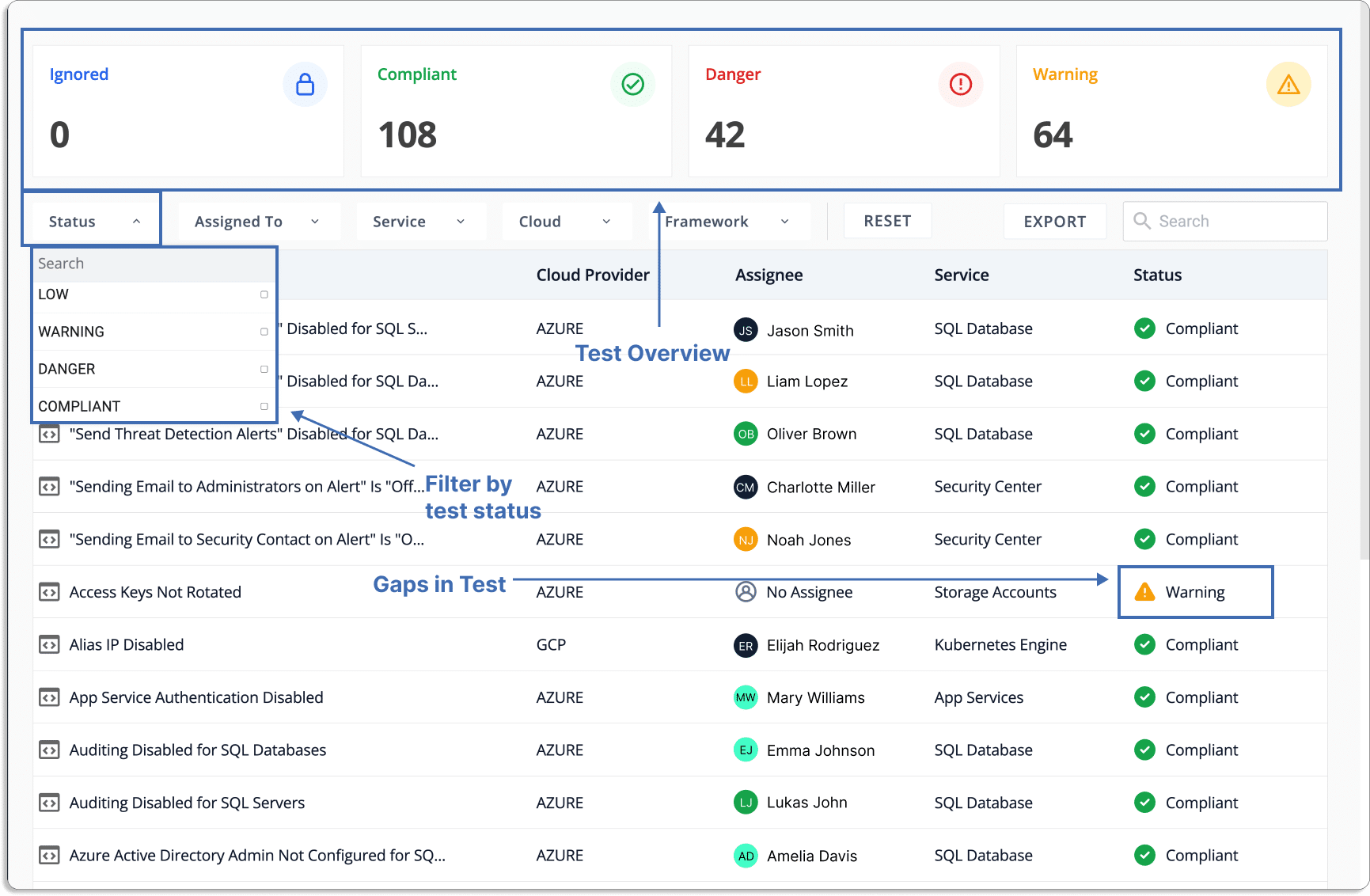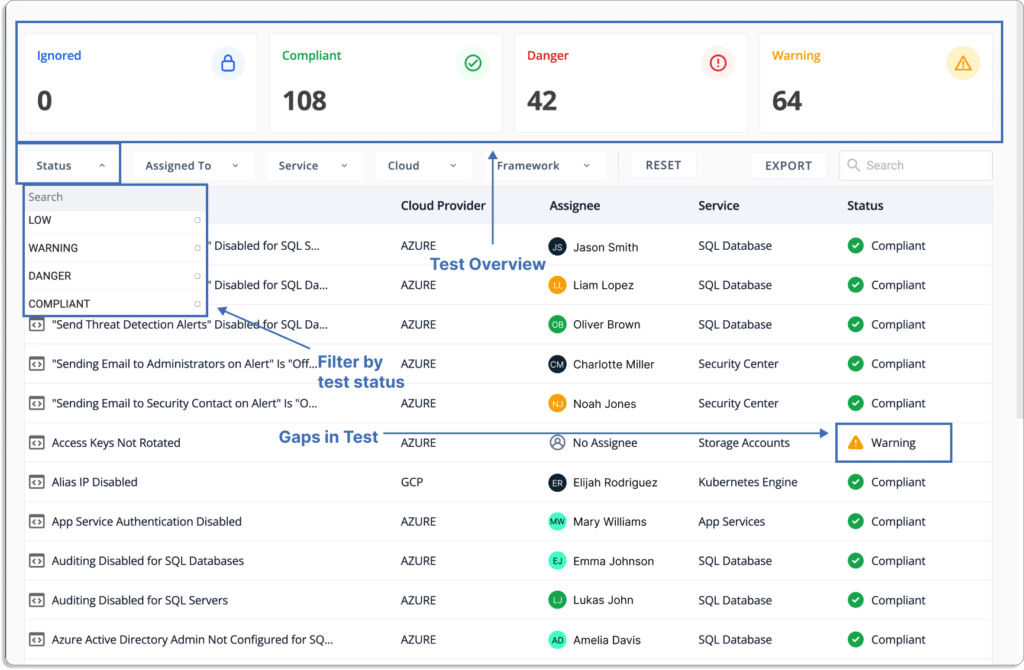 It continuously monitors across 200+ cloud controls. This helps you promptly fix them before any malicious agents exploit them.
In short, Scurt helps you strengthen your cloud-native security across virtual machines, serverless containers, etc.
Vendor risk management: With Scrut, you can do faster, smoother, and smarter vendor risk assessments. The platform helps you develop a rapid, effective, and efficient method for evaluating, monitoring, and managing all risks related to vendors. The tool lets you easily find and understand the InfoSec posture of your vendors.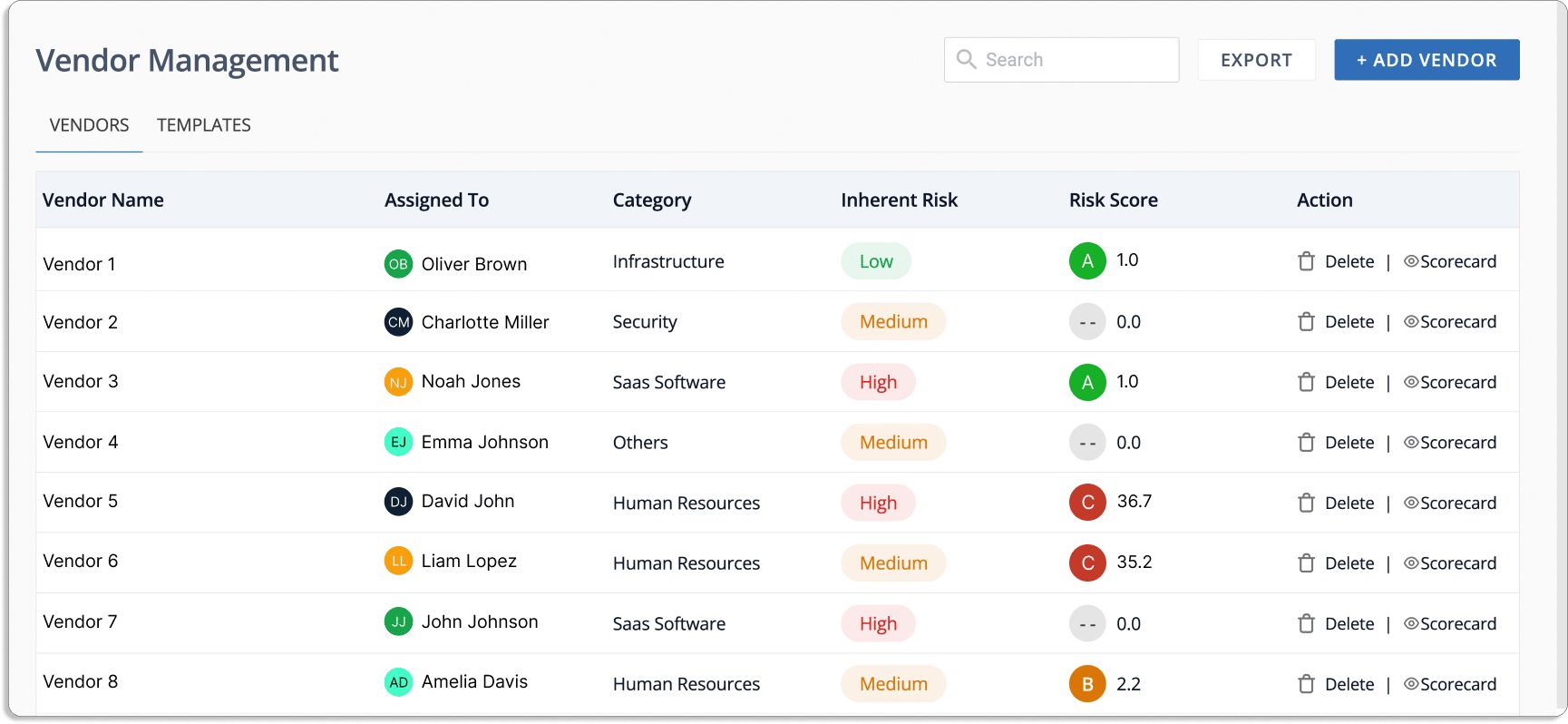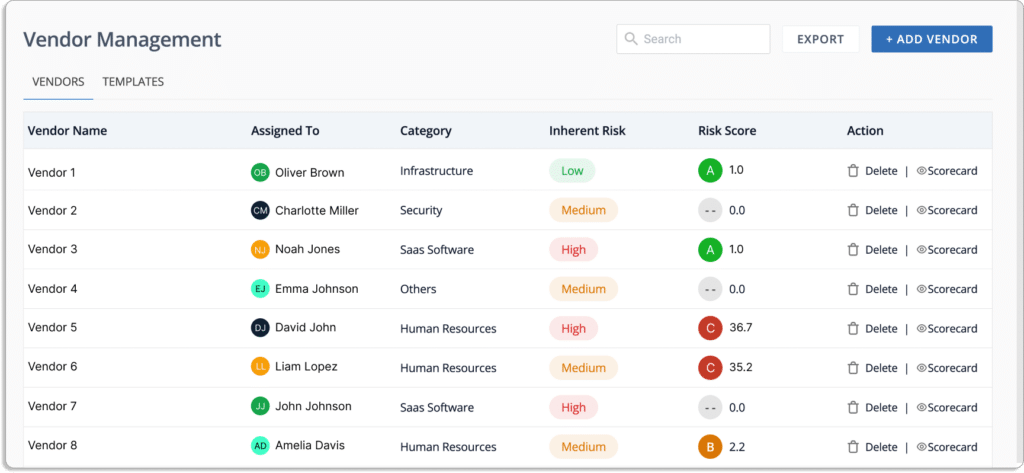 You can use pre-built templates for security questions or create your own specific to the vendor.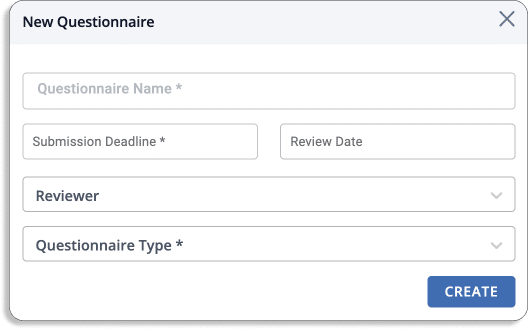 Further, you can invite your vendors to the platform to fill out the security questionnaires.
The platform also gives quick insights into your vendors' compliance and security posture.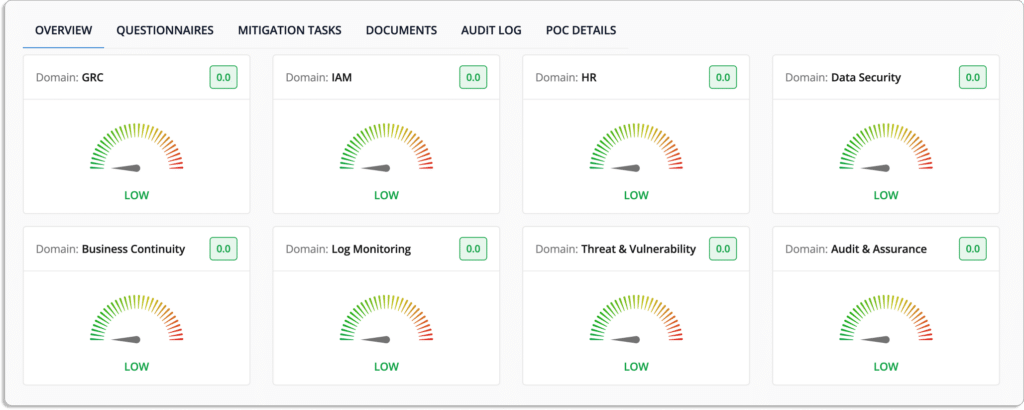 Key features of Scrut Vendor Risk Management


Security awareness training for employees: Scrut helps in the security awareness training task for employees through pre-built courses, documents, and automated policy assignments.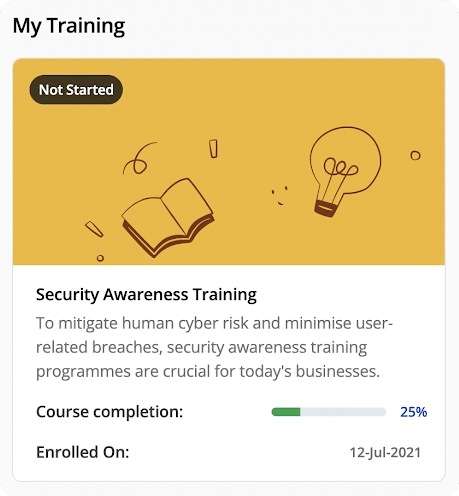 This empowers employees with everything they need to understand potential security risks and avoid making mistakes, such as clicking on phishing emails.
Scrut keeps you updated on the status of the overall training programs.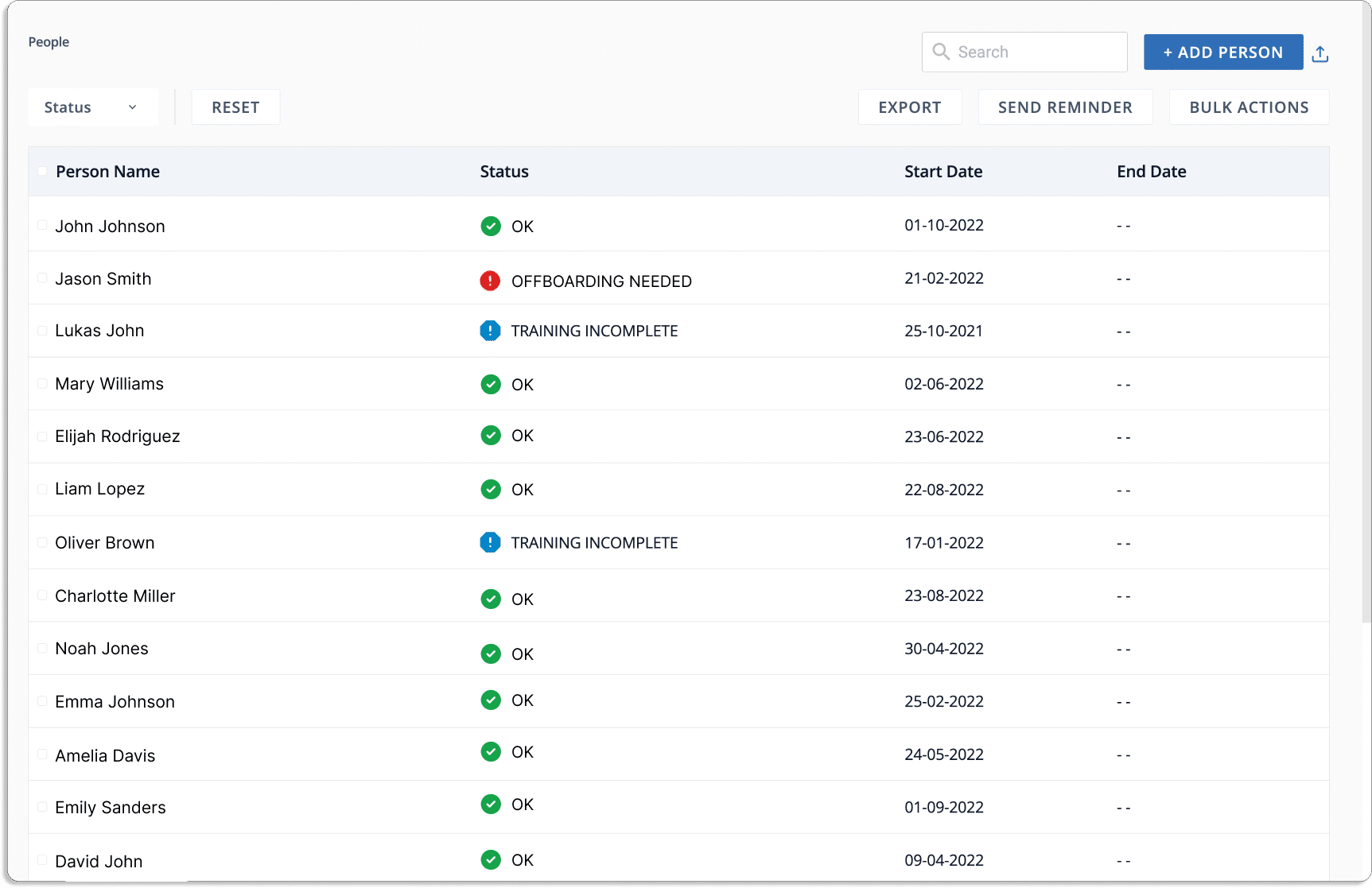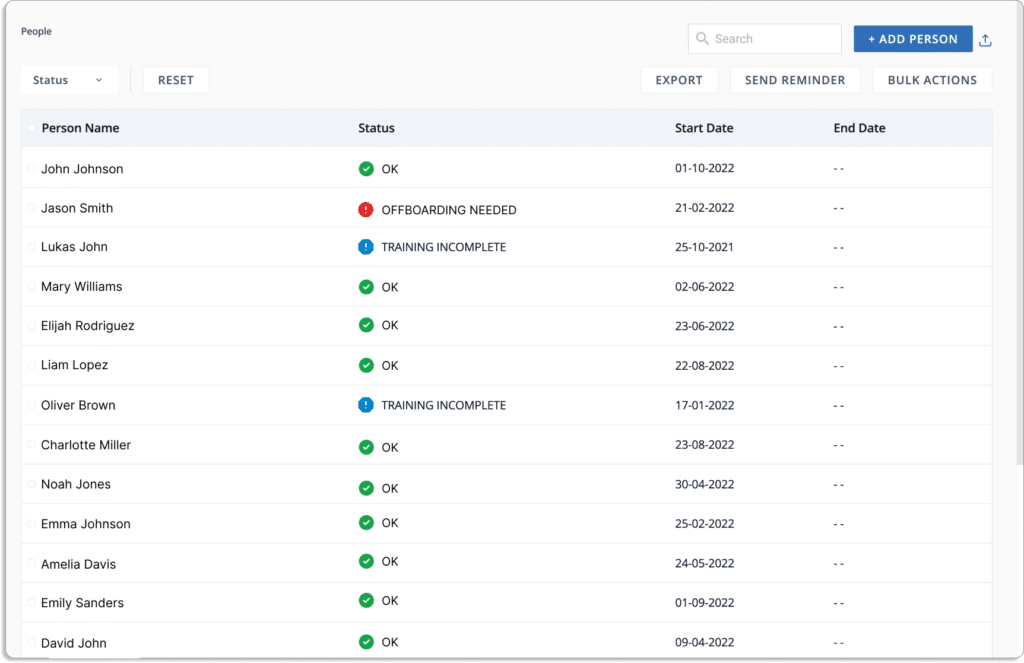 ​​At last, you can make sure that employees have understood all the policies and guidelines, and you can set up quizzes and check their scores.


Demonstrate trust from day one: Showcase your security and compliance posture in real-time to prospects, partners, customers, and more to build trust from day one with the help of Scrut's trust vault.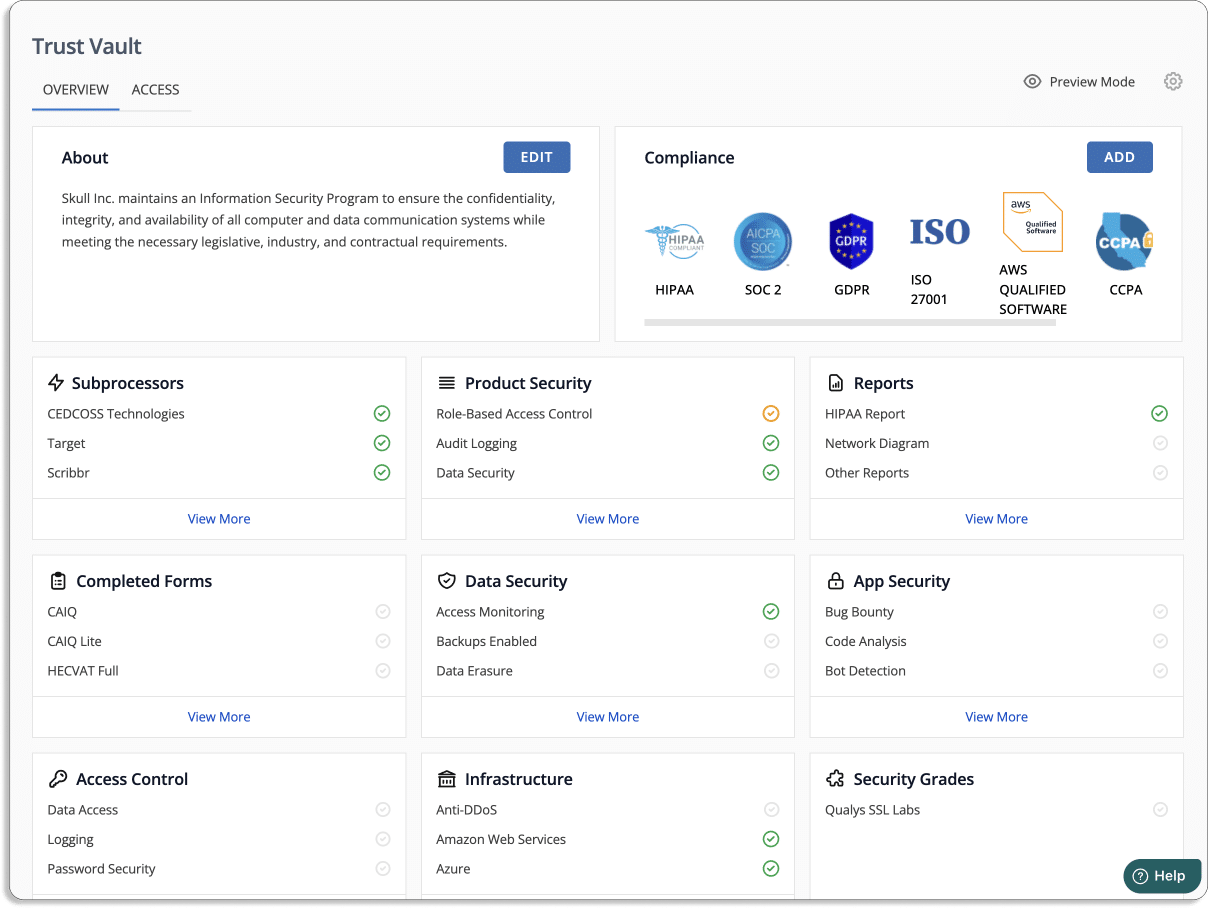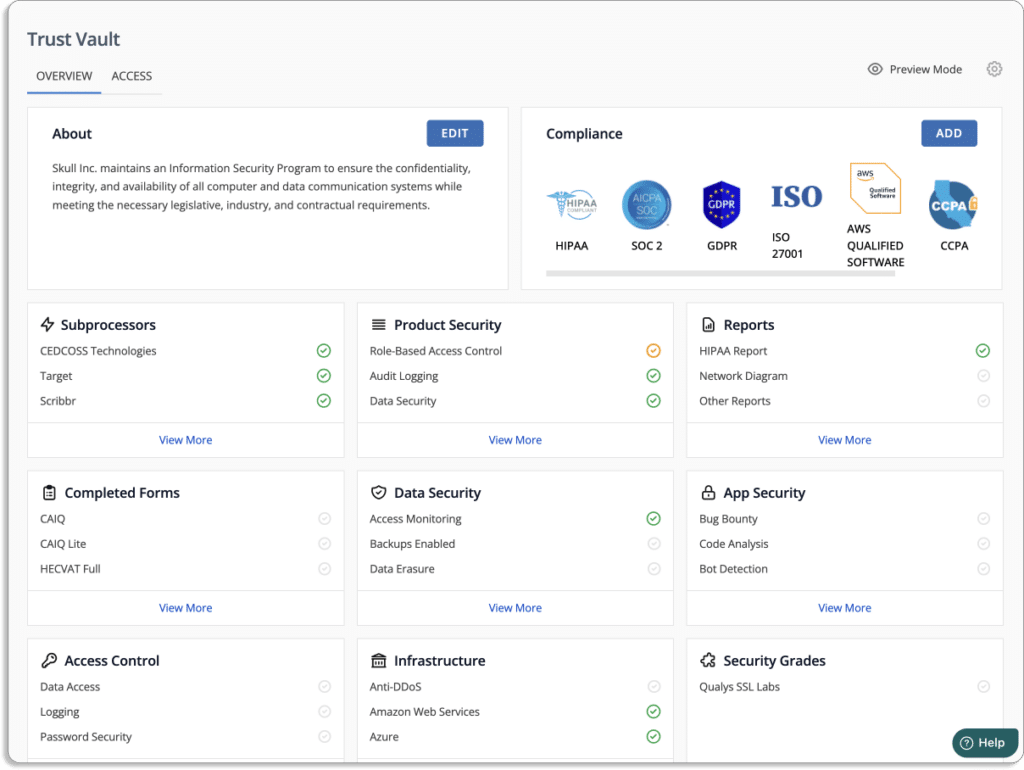 Create and share an auto-populated branded security page with Scrut's Trust Vault to highlight all certifications and attestations like, ISO 27001, HIPAA, GDPR, SOC 2, and more. These require evidence documentation to demonstrate compliance can be stored and managed centrally in Scrut's trust vault.
Check a few of our customer reviews on G2 below.



Customer Rating


2. Drata
Drata is a compliance automation tool that streamlines compliance workflows to ensure audit readiness while continuously monitoring and gathering evidence of a company's security controls.
The platform provides 75+ integrations. It brings the compliance status of all people, devices, assets, and vendors into one place.
It provides automated monitoring and evidence-collection capabilities to communicate between siloed tech stacks and confusing compliance controls.
The tool provides visibility into your security control and posture through actionable insights, alerts, and reports.
The platform enables users to work with a network of pre-vetted auditors. It streamlines the audit experience by providing continuous platform enablement.
Pros
Assists in implementing systems and processes and identifying gaps.
The control suite and monitoring reduce the cognitive load required for compliance, allowing users to focus on developing the product.
Cons
Slow synchronization with AWS takes a longer time to make changes in the environment.
It lacks some integration features that can connect with auditing systems to pull out data from the platform.
Customer Rating
3. Tugboat Logic
Tugboat Logic creates and manages an entire information security program by automatically defining security policies, responding to RFPs, and providing proof of compliance to build customer trust.
The platform keeps your company secure by responding to due diligence questionnaires and completing audits. The tool helps you scale your business by automating your compliance journey and replacing your manual effort to find security talents for securing your organization.
It has a pre-built library of over 40 policies to create an infosec policy efficiently and quickly.
Pros
Tugboat's machine learning suggests answers that allow users to repurpose previously answered questions.
The tool provides automatic evidence collection with integrations.
Cons
There is no feature to send individual reminders to the InfoSec team.
It takes manual effort to unlink similar policies and controls, duplicate processes where necessary, and map them to the appropriate readiness project.
Customer Rating
4. Vanta
Vanta is an efficient compliance automation tool that assists businesses in scaling security practices. It streamlines an organization's compliance automation journey with the industry's most sought-after standards, including SOC 2, ISO 27001, HIPAA, GDPR, and other critical security and privacy frameworks.
The tool continuously monitors your systems to improve your security posture.
It supports privacy frameworks with guided scoping, policies, controls, and automated evidence collection. The tool continuously monitors your system to be audit ready or prove attestation quickly.
Pros
Vanta controls, dashboards, and alerts are extremely helpful in keeping compliant rather than experiencing workload spikes.
The platform connects to all development systems, such as GCP and GitHub, saving a significant amount of manual testing and logging work.
Cons
Vanta alerts cannot be sent to a specific email address, such as a ticketing system or a Slack channel.
The platform's document does not contain the same templates, samples, and other resources.
Customer Rating
5. Hyperproof
Hyperproof is an all-in-one solution for understanding compliance requirements, managing internal controls, defining ideal compliance processes and workflows, automating manual tasks, and monitoring compliance posture.
You can get a unified view of your risk management and compliance activities with organized and automated workflows.
The tool integrates with various services across cloud storage, cloud infrastructure, project management, security, DevOps, and business applications so that the compliance process can fit seamlessly into your existing workflows.
Pros
The tool works efficiently in the distributed environment of the organization.
It provides SaaS integrations to automate evidence collection for the management of the security program.
Cons
With Hyperproof, it is challenging to maintain a smoother continuous monitoring posture.
Hyperproof doesn't have in-built employee security training courses, unlike other GRC platforms like Scrut.
There is no in-line editor in Hyperproof for editing policies on the platform. This means if you want to change or update any of your policies, you need to change it outside the platform and then upload it back on the platform.
Customer Rating
6. AuditBoard
AuditBoard assists users in bringing together people, risks, and insights to keep up with today's demands and improves business resilience.
It automates processes and improves execution with a purpose-built solution to address today's practitioners' most pressing challenges.
AuditBoard is an efficient cloud-based technology that is revolutionizing how businesses manage risk. The tool has a streamlined integrated suite with simple audit, risk, and compliance solutions capabilities. It also provides organizations with efficient internal audits, SOX compliance, controls management, risk management, and security compliance.
The platform provides the connectedness, visibility, and efficiency you need to stay ahead of today's risk environment.
Pros
The platform is highly customizable and allows organizations to add business-specific data.
The tool provides templates to help users to adjust their current practices.
Cons
Doesn't allow editing data in survey templates.
The platform is difficult to customize.
It is challenging to start new controls from an administrator's side. For example, adding a control only adds to a list of available controls in the admin section.
Customer Rating
7. Sprinto
Sprinto helps to automate security and compliance programs by integrating seamlessly with your cloud environment to consolidate risk and map entity-level controls. The platform goes to great lengths to ensure compliance and prompt remediation – all in real-time.
It allows users to work with a pre-approved, audit-friendly, and customized security compliance program.
Pros
Sprinto manages everything for compliance, from policy documentation to SOA. The platform handles all of the auditor conversations on the user's behalf.
The tool helps users to stay compliant at all times by providing real-time control and gaps overview.
Cons
User experience is inconsistent throughout and, as it can be tough to navigate at times.
There is no employee assessment after the security training process.
Expensive compared to many other platforms.
No module for vendor risk management.
Customer Rating
8. ServiceNow GRC
ServiceNow is a governance, risk, and compliance platform that helps businesses break down barriers to manage risk and increase compliance across the board.
The tool transforms your organization with digital IT workflows and modernizes your business activities to optimize cost and productivity.
It reduces errors by increasing productivity with automated workflows and artificial intelligence technology.
Furthermore, it provides continuous monitoring and dashboards for real-time visibility of compliance programs.
Pros
You can create internal workflows for resolving issues and incidents with this platform.
It provides many categorizations and an intuitive dashboard for users.
Cons
It's not easy to customize tasks on this platform.
The overall module is difficult to understand for users.
No option to edit comments made on incidents/cases/changes.
Customer Rating
9. Secureframe
With Secureframe, you can quickly achieve and maintain continuous security and privacy compliance—including SOC 2, ISO 27001, PCI DSS, HIPAA, GDPR, CCPA, and others. The platform automates and simplifies adherence to the most stringent global privacy and security standards.
The tool sends alerts and reports that notify you about crucial vulnerabilities so you can quickly take necessary actions to fix issues and stay compliant.
Pros
Users can choose auditors as per their choice.
Allows you to easily track where you and your team are at any point in the process.
Cons
The tool generates many errors with little information on how to resolve them. For example, it reports an issue with the X Amazon tool in a region but does not specify which areas are affected.
Absence of auto-reminders and evidence collection for integrated services.
Customer Rating
10. LogicManager
LogicManager is the SaaS-based enterprise risk management software that enables organizations to plan for the future, protect their reputations, and improve business performance through strong governance, risk management, and compliance.
This tool's flexible and intuitive GRC software manages your organization's risk management efficiently. It offers a robust GRC experience built with industry-standard technology to keep your organization compliant and competitive.
Pros
Users can easily create libraries, workflows, and surveys.
Cons
The annual risk assessment process is inefficient to maintain while keeping historical data from the previous year's risk assessments and due diligence requirements.
There is no undo feature.
Customer Rating
11. LogicGate
LogicGate Risk Cloud tool employs automation to track and respond to issues proactively, providing insights and best practices along the way. It also assists you in making sense of the regulations that apply to your business and establishing processes to ensure compliance.
Pros
Generate forms to automate, collect, and store information and responses required for events and locations.
Easy to create workflows.
Cons
There are minor possibilities with access entitlements in table reports.
Customization takes a lot of time compared to other platforms.
Customer Rating
12. Laika
Laika's automated workflows, compliance templates, and teams help you get certified and pass enterprise security assessments faster.
Using this tool, you can build programs to meet the standards of your customer's expectations. After each audit, you can track the progress in Laiks's dashboard.
Pros
Users can use the policy management system as the authoritative source for all of the company's policies.
Cons
Some features, such as the in-app editor, are difficult to use.
Occasional glitch.
Customer Rating
13. Riskonnect
Riskonnect GRC software consolidates everything you need to manage risk and compliance into a single location, allowing you to see what you're up against, how everything interrelates, and the full impact on the organization.
Pros
It provides customizations and configurations to connect with different systems in your organization.
Cons
There is no replicating features to add reports, replacing users' manual effort.
Administrator's features are non-intuitive.
Customer Rating