Whether you're implementing a new GRC program or improving your existing one, you'll require GRC software to automate many tasks. Without a GRC tool, it's challenging to implement a successful GRC program.
Modern governance, risk and compliance (GRC) solutions continuously monitor your security systems and processes required for the GRC program. These tasks could be cloud security monitoring, risk assessment, vendor risk management, employee training, gap analysis, evidence collection, etc.
This helps you stay compliant and proactively secure your data, thus, building trust in the eyes of your customers, partners, vendors, and investors. But if you go into the market looking for GRC solutions, it is easy to get confused with hundreds of GRC tools, each claiming to be the best.
So, we have picked the top 24 GRC tools to reduce your research time and shortlist the ones you can confidently go ahead with.
Top 24 Governance, Risk & Compliance (GRC) platforms
1. Scrut Automation
What separates Scrut (that's us) from the rest of the GRC platforms in the market is that it is a "risk-first" GRC platform as compared to one "standards-first".
Scrut is a smart GRC platform that gives you single-window observability into all your infosec risks. This is because risk observability is the foundation of GRC programs. Unless you uncover all your risks, you can neither establish governance in your organization nor stay compliant.
To uncover all the cyber risks in your organization, Scrut first discovers all your cyber assets and then establishes the relationships between them to give the contextual understanding required to act on those risks.


Furthermore, it helps you create controls that act on those risks. Some of these controls are part of popular standards like ISO 27001, SOC 2, GDPR, PCI DSS, HIPAA, etc. Moreover, Scrut provides effective tracking for the established controls.
This means that CISOs and people in the security and GRC teams don't have to look into multiple tools to view all the risks. They can directly manage their risks and compliance from a single platform, no matter how many cyber assets they have and where they are.
Additionally, working on the remediation becomes easy when you have a unified and real-time view of your risks. You know what risks to prioritize and what you can leave for later.
With Scrut GRC platform, you can get rid of tedious manual processes and be aware of the development and success of your governance, risk, and compliance program.
In short, Scrut is your one-stop solution for all governance, risk, and compliance programs.
Scrut eliminates 70% of manual work by automating tasks such as evidence collection, gap analysis, identifying misconfigurations, and centralizing policies. It continuously monitors your cloud (Azure, AWS, GCP) and helps you proactively do remediation to prevent data breaches.
We not only give you the platform to manage your compliance but also assist you in locating the auditors that are the "perfect match" for you so that you may reach your goal.
Let's now see the various benefits Scrut offers you.
Unified, real-time view of risks and compliance: With seamless integrations across your application landscape, you gain a unified, real-time view of risk and compliance, providing the contextual insight needed to make smart, strategic decisions that keep your organization secure and earn the trust of your customers, partners, and employees.
Faster, easier, and smarter path to compliance: Take the mystery out of preparing and maintaining certifications such as SOC 2, ISO 27001, HIPAA, and others.
Check a few of our customer reviews on G2 below.
Our GRC platform gives you prebuilt policies and controls mapped to these frameworks and guides you to collect what you need to pass the audit and get certified.
Our GRC platform gives you prebuilt policies and controls mapped to these frameworks and guides you to collect what you need to pass the audit and get certified.
Note that our infosec experts customize these policies per your requirements.
Comprehensive view of controls, policies and evidence: Gain clear visibility into each control's details, associated policies, and evidence to identify all potential gaps.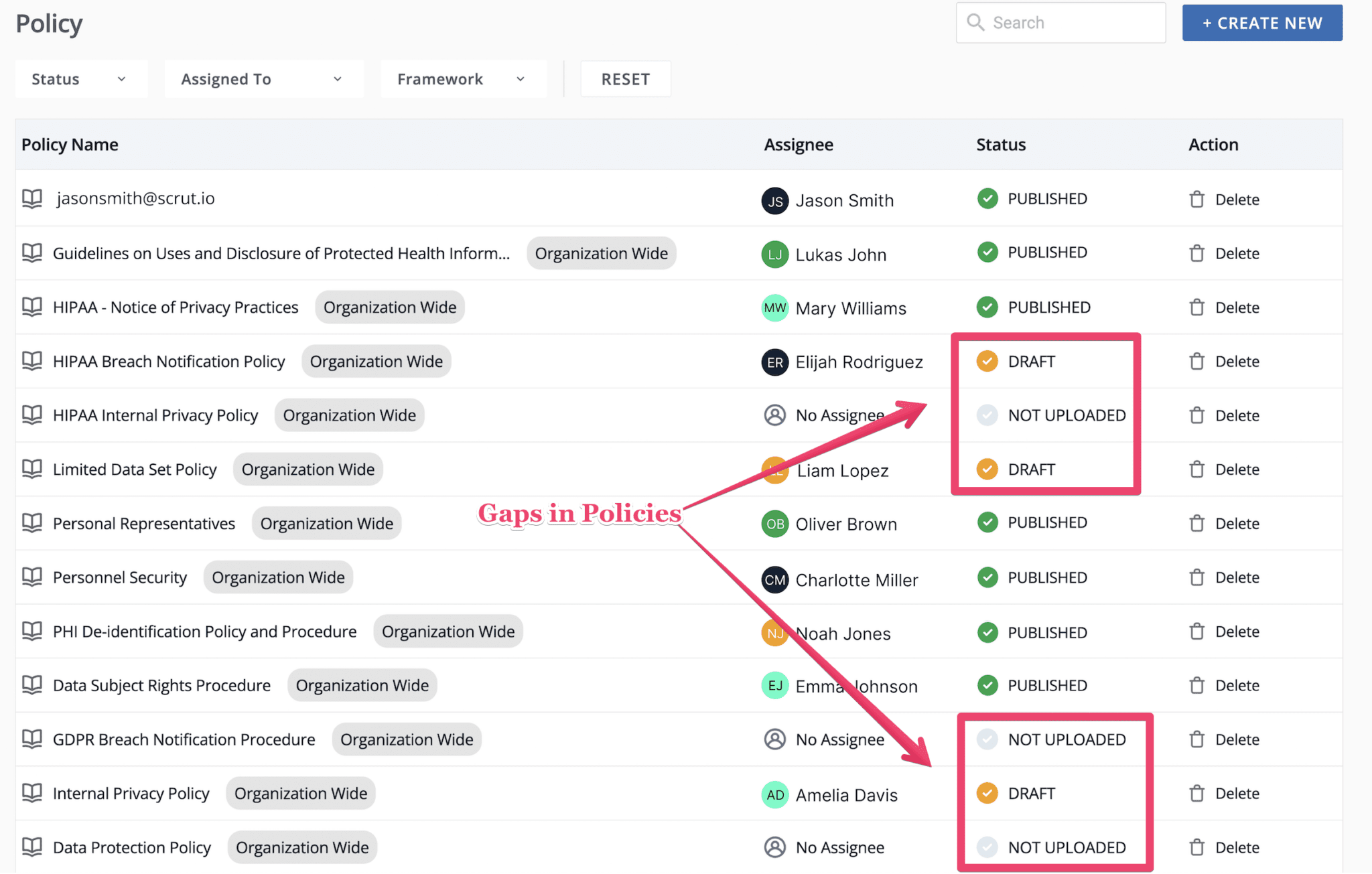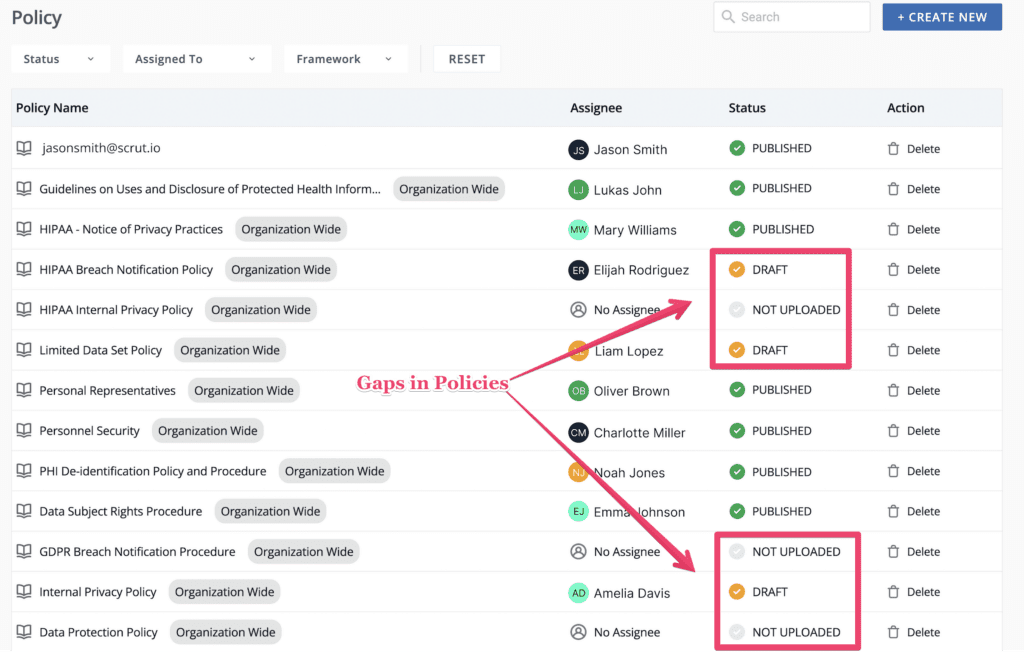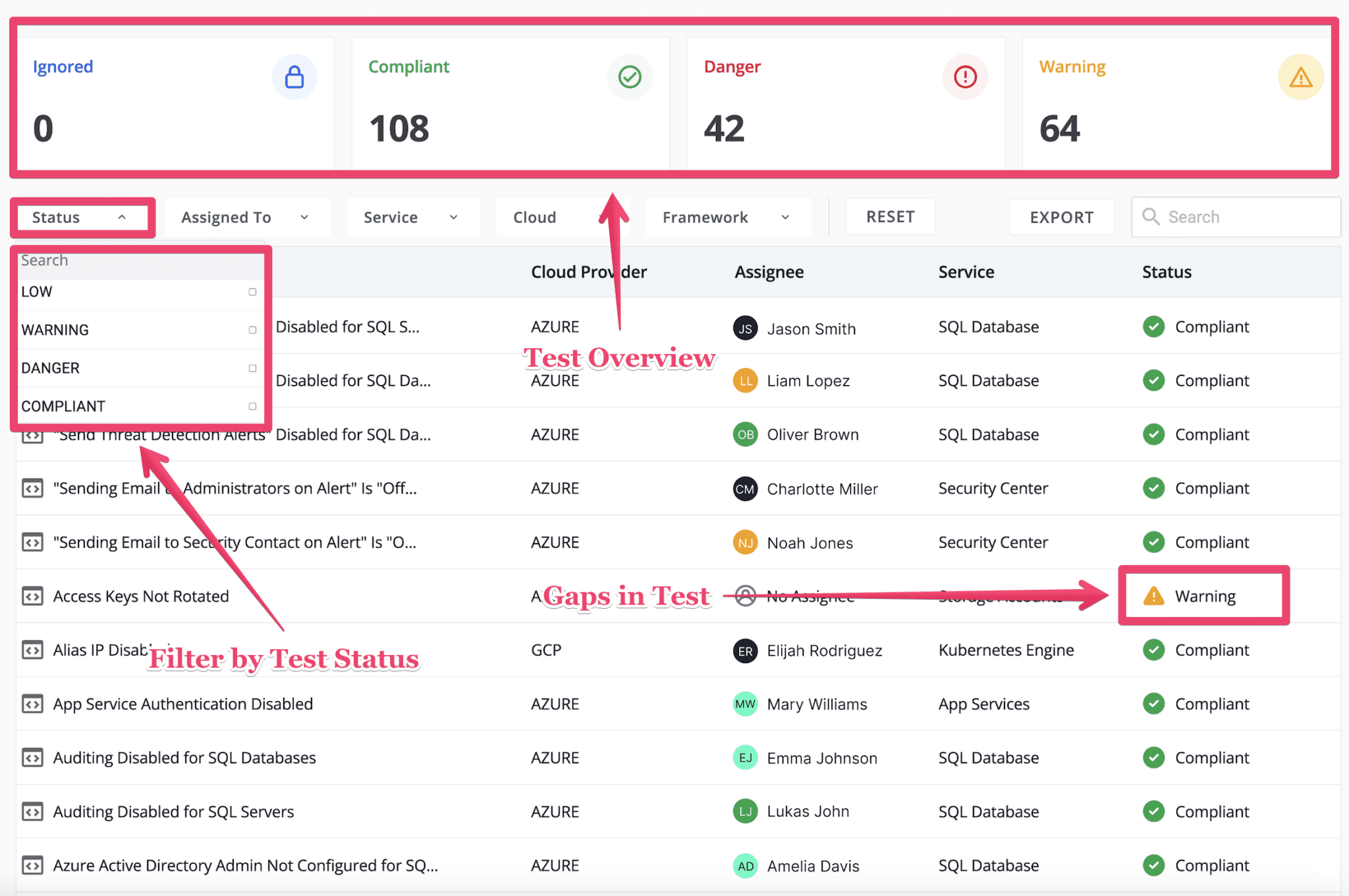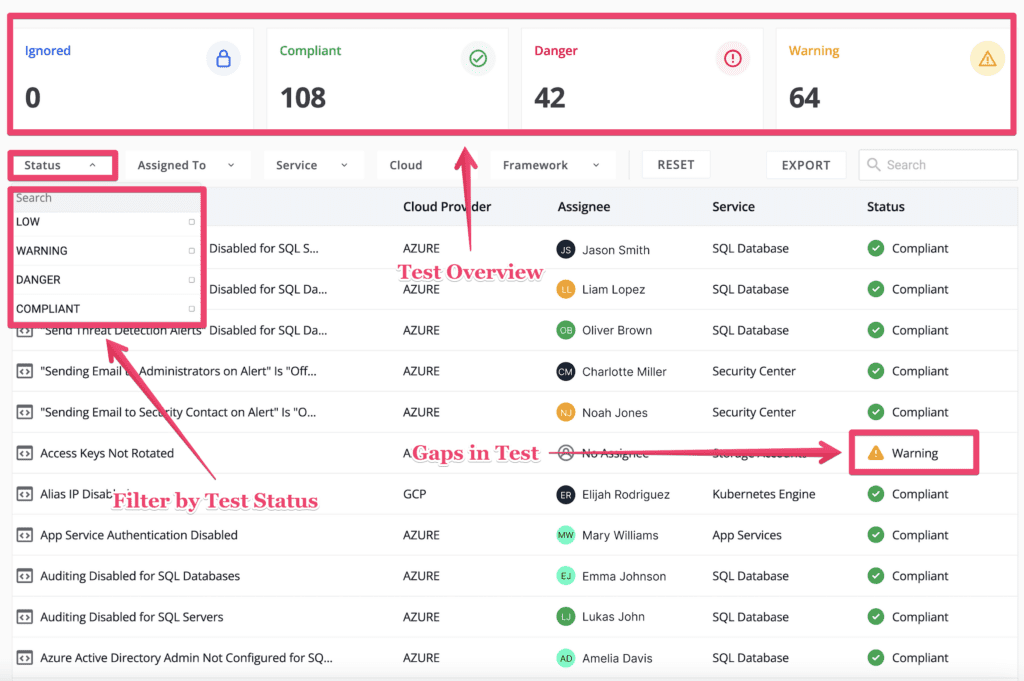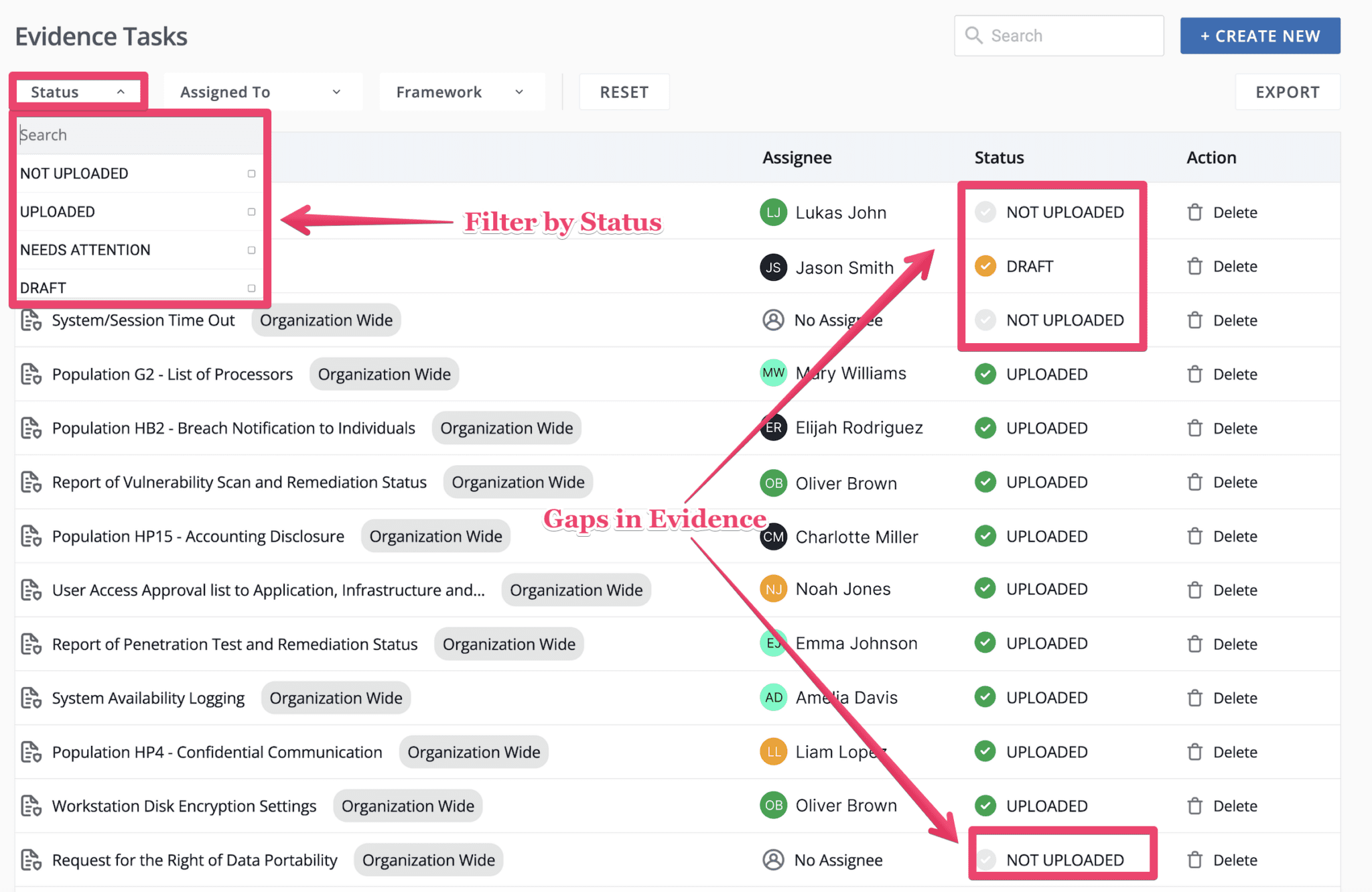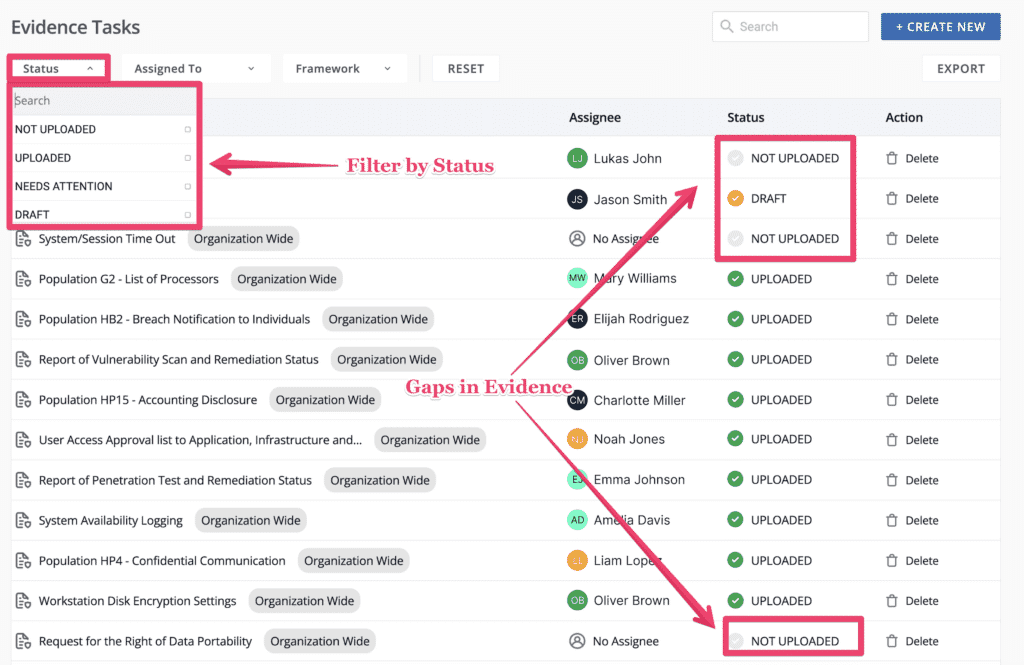 Streamline audit-related tasks: Our GRC tool streamlines every audit-related task from audit readiness to examination. Additionally, our customer success team will work directly with you to pinpoint open issues and find solutions. Your journey will be almost "zero-touch," and we accompany you all the way to the finish line.
For example, assign and keep track of tasks. Hold your team accountable by assigning tasks and due dates. Seamlessly work with your internal team by assigning and tracking tasks to completion.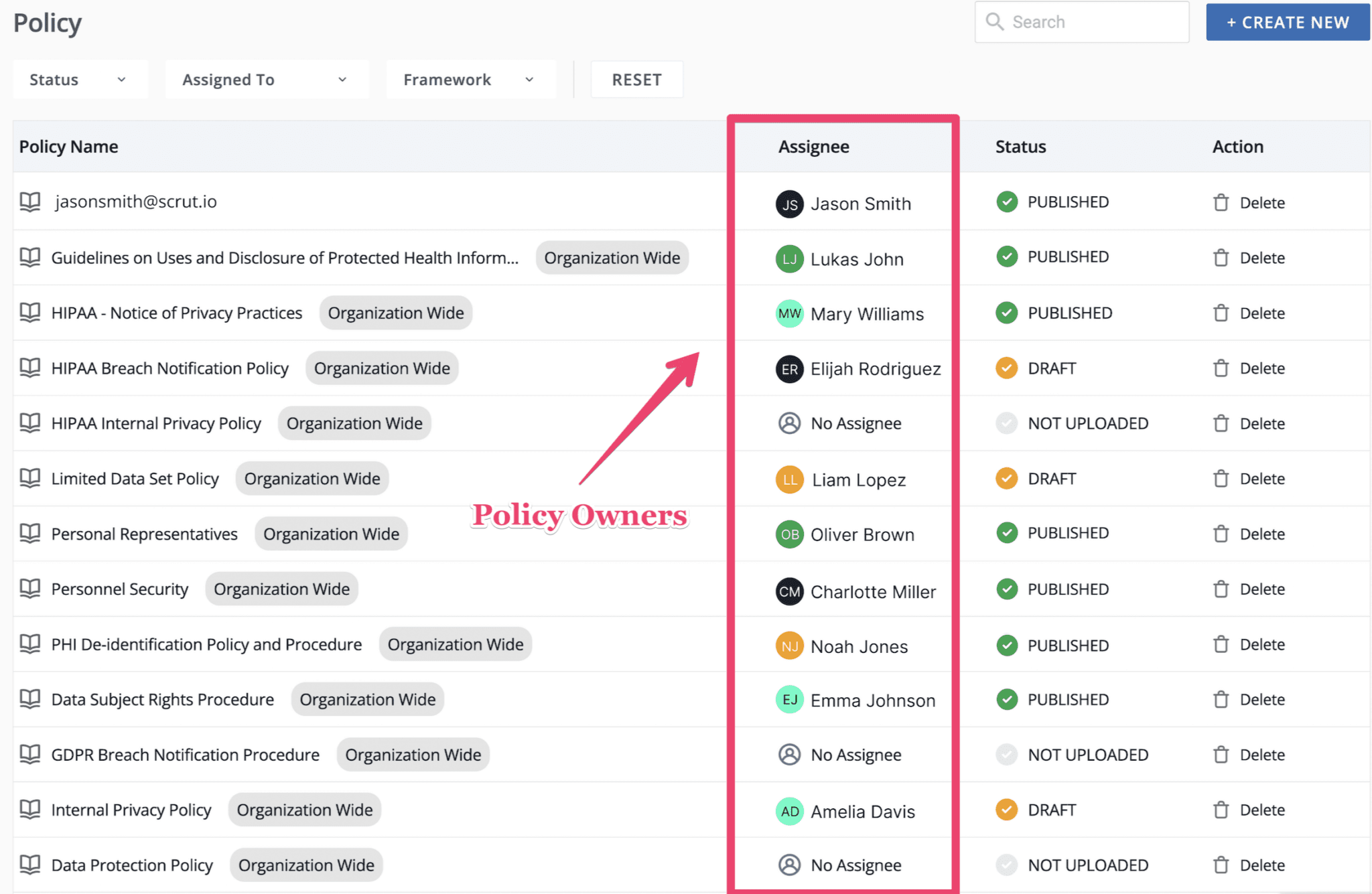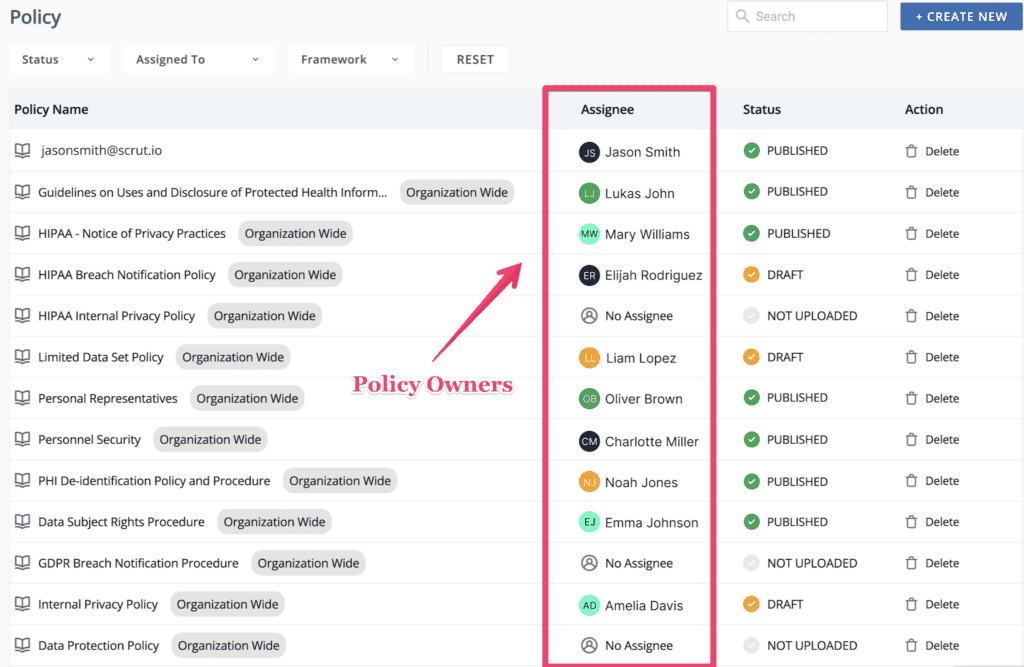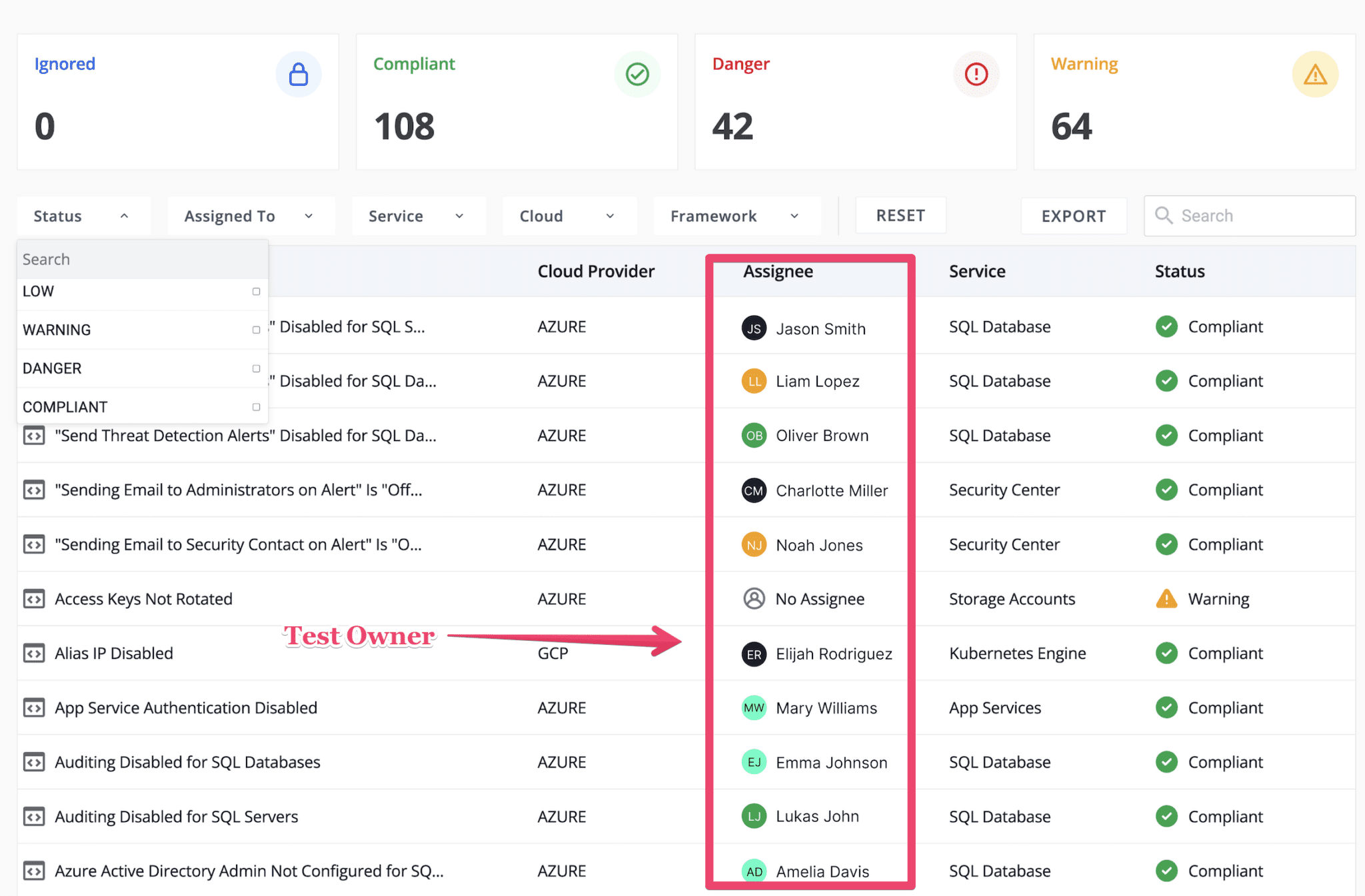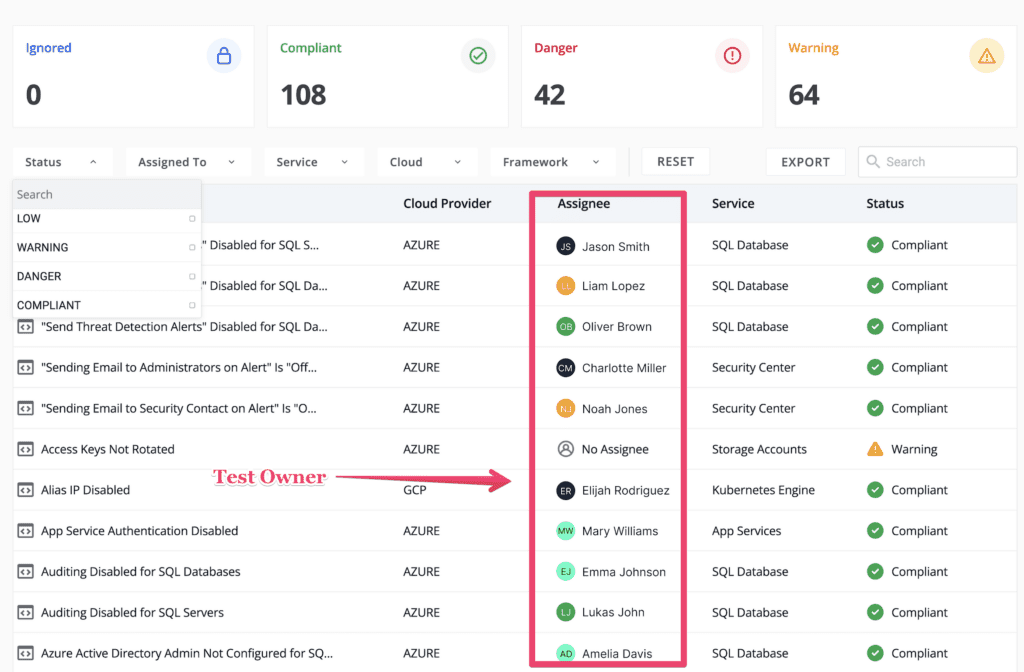 These owners can be a department or team heads who can further assign tasks to their team members.
Scrut also acts as a central platform to keep record of evidence. These records prove that all security controls have been implemented, meaning an information security audit will never catch you off guard. Therefore, you're always prepared for an InfoSec audit.
Earlier, one of our customers was keeping the evidence in Google Drive in various folders and was losing tracks when the versions were updated. With Scrut, that problem was immediately solved.
Not only this, Scrut automates evidence collection with integrations and workflows.
You can assign owners for evidence collection tasks that can't be automated.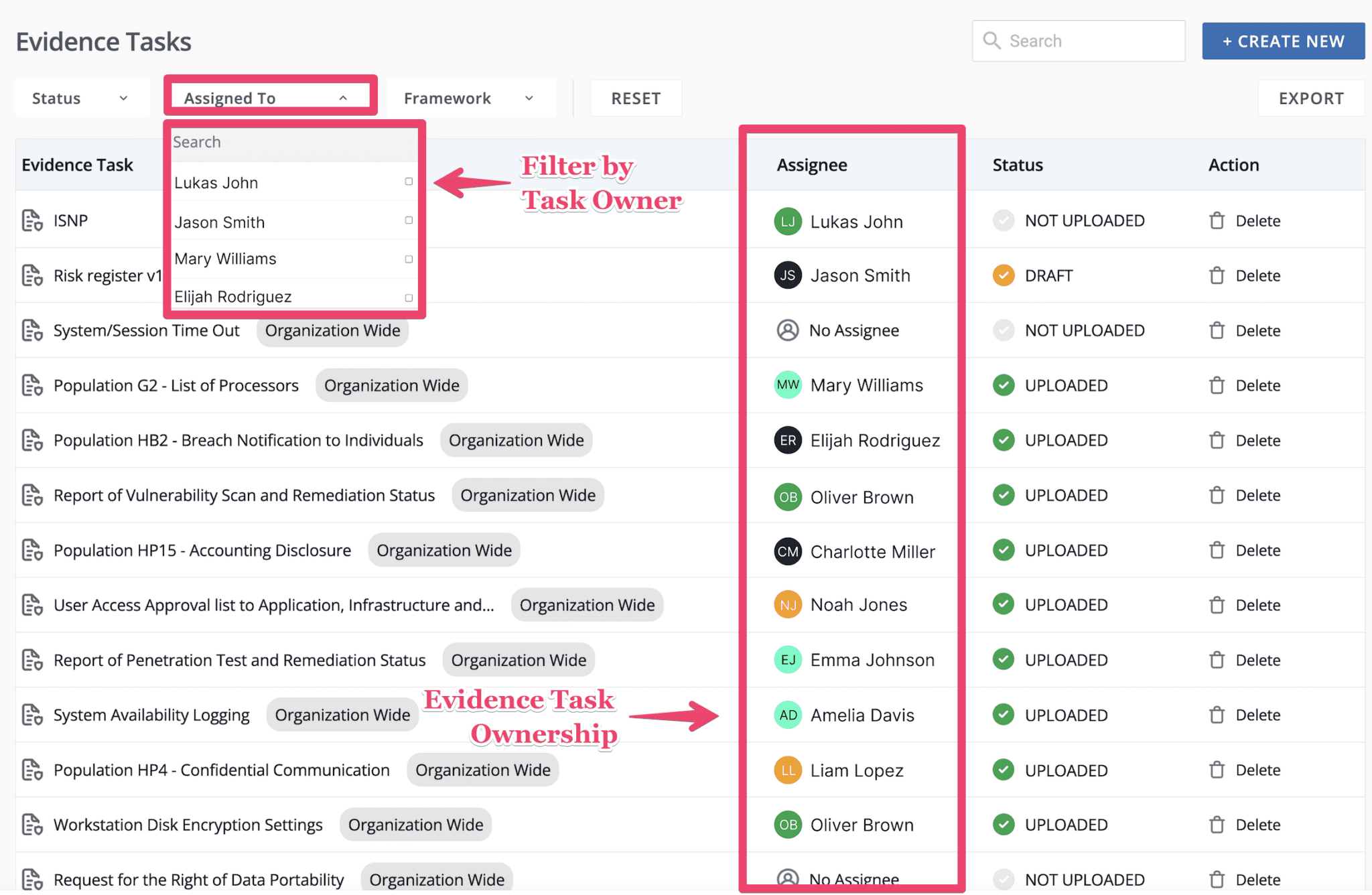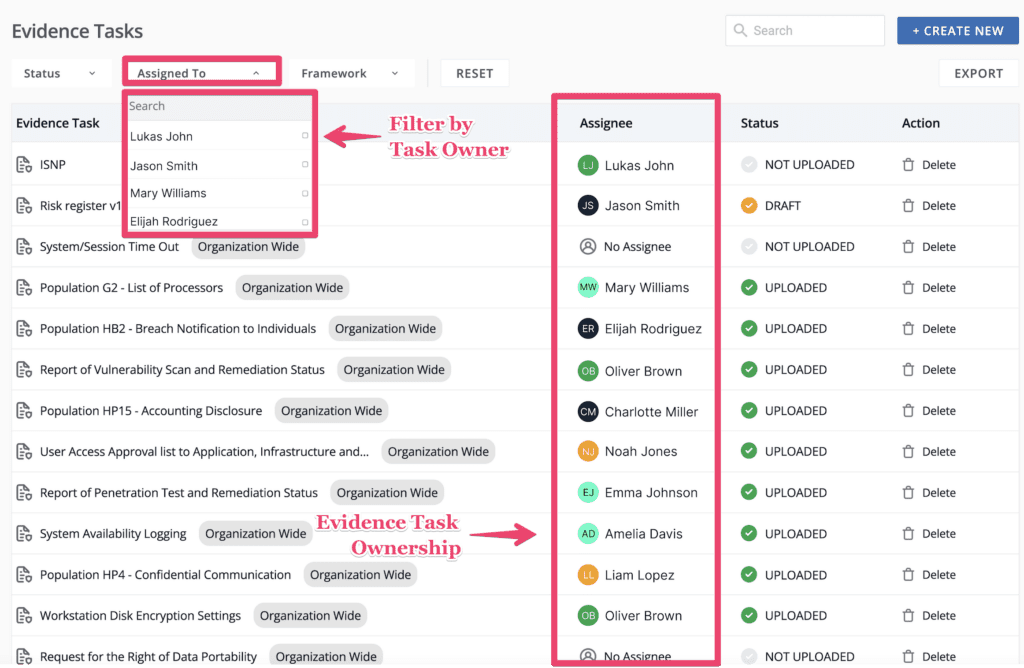 The owner gets an email notification when they fail to upload the evidence according to the recurrence (annual, quarterly, monthly, etc) you have set.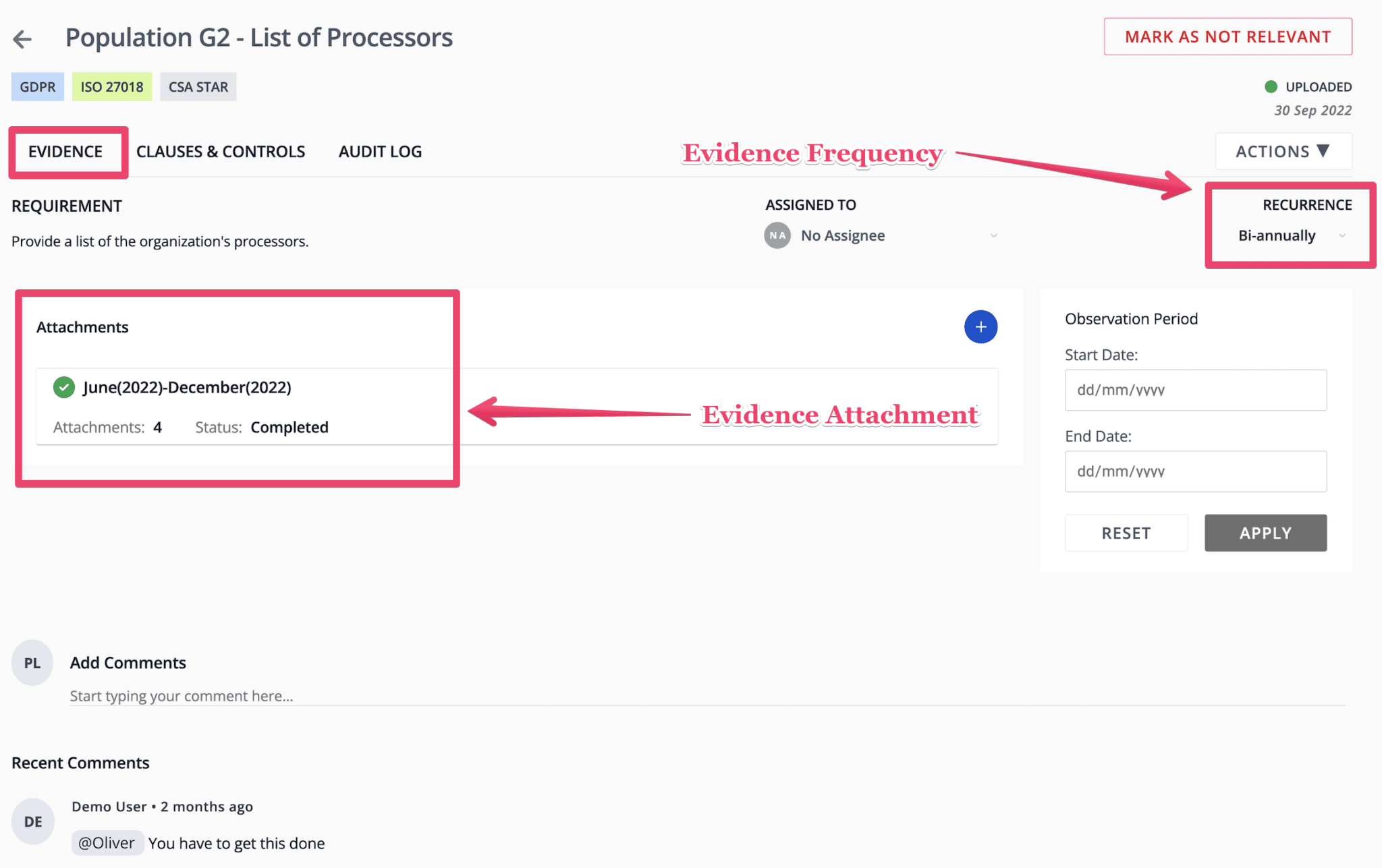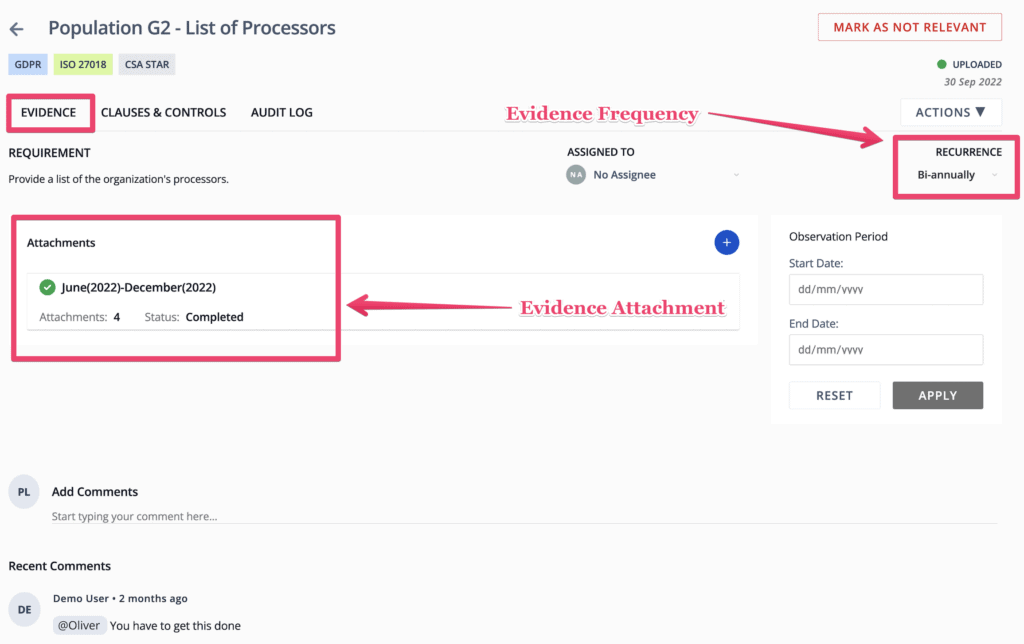 When you are ready for an audit, you can schedule an audit directly from the platform.
Track compliance status: The GRC platform provides the visibility to understand the progress and effectiveness of your compliance programs and their impact on reducing risk.
With the help of the GRC platform, you can see how far along your compliance programs are and how much of an impact they have on lowering risk.
Smoothen the audit process: Our GRC platform enables effective collaboration with your auditors. Coordinating and completing audits is simpler when all relevant policies, procedures, controls, and evidence are kept in one place.
You and your auditor can communicate directly within our platform, preventing needless delays and frustration. You just need to give access to your account to the auditors.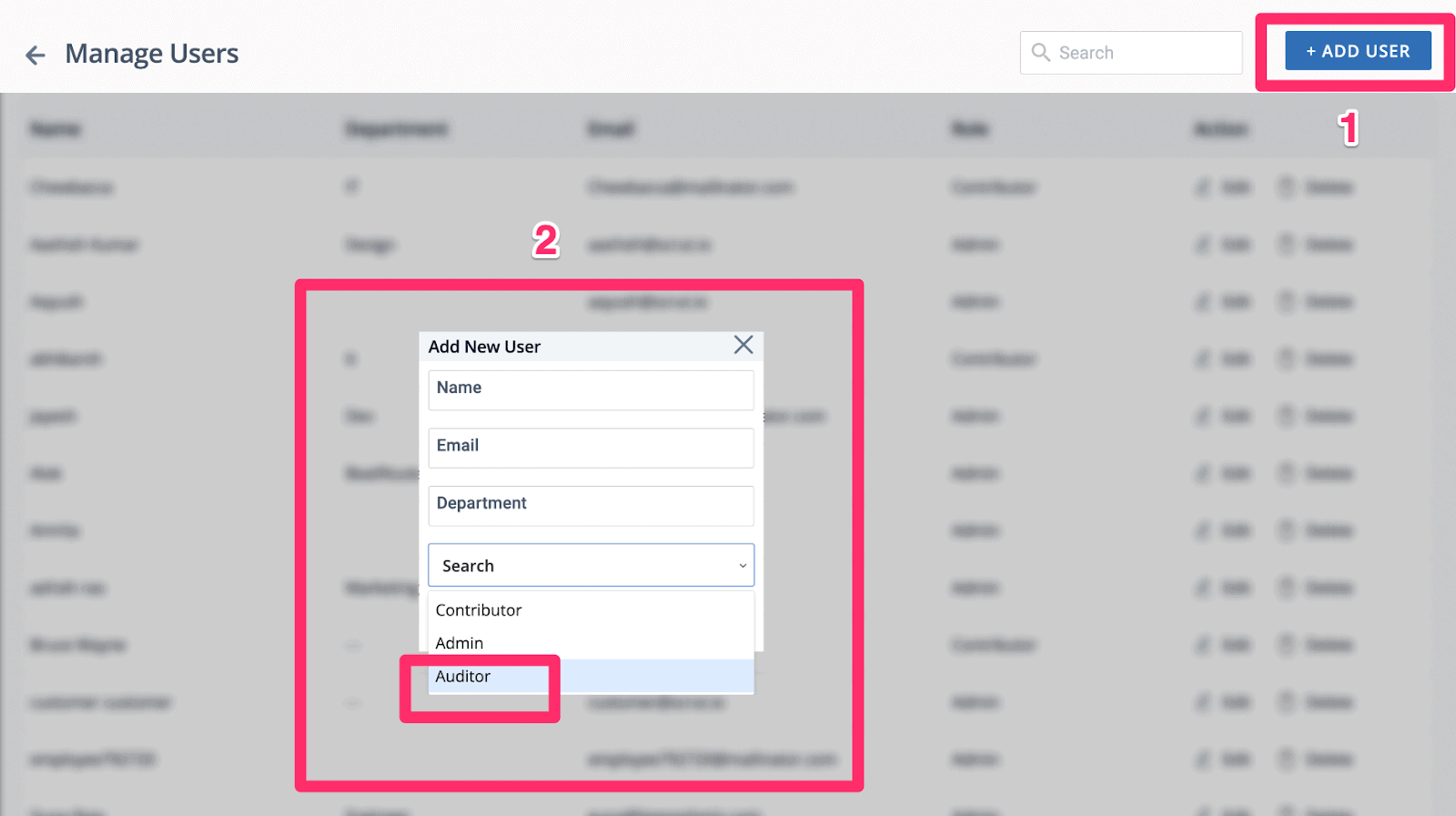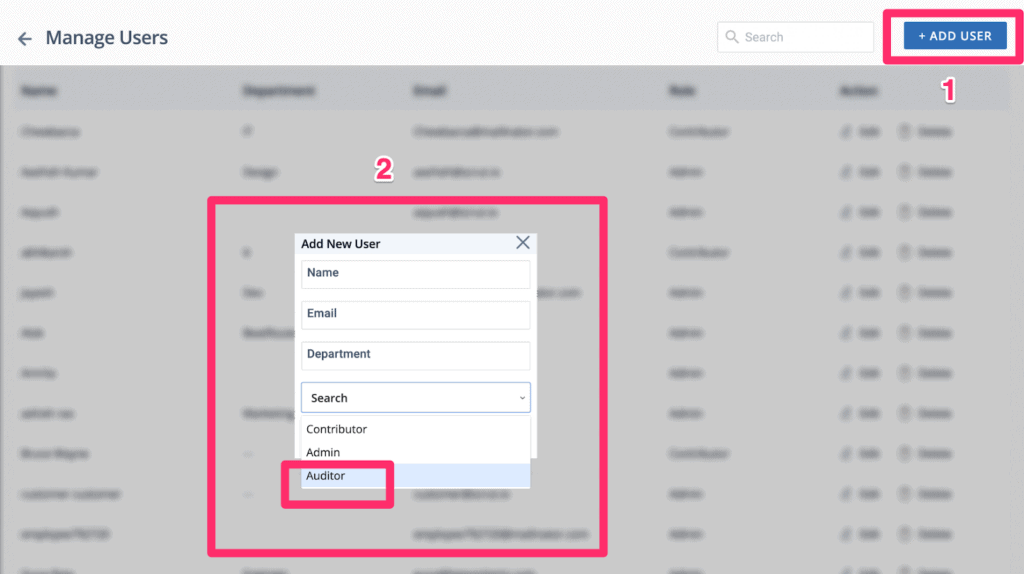 When giving access to relevant stakeholders, you're in control. You can grant audit project access only to those that need it.
The auditor can come to the platform and go through control by control. They can look at the policies, tests, and evidence. With policies, procedures, controls, and evidence stored in one place, it's easier to collaborate with your auditors and complete audits.
If the auditors need clarification, they can leave comments within the platform.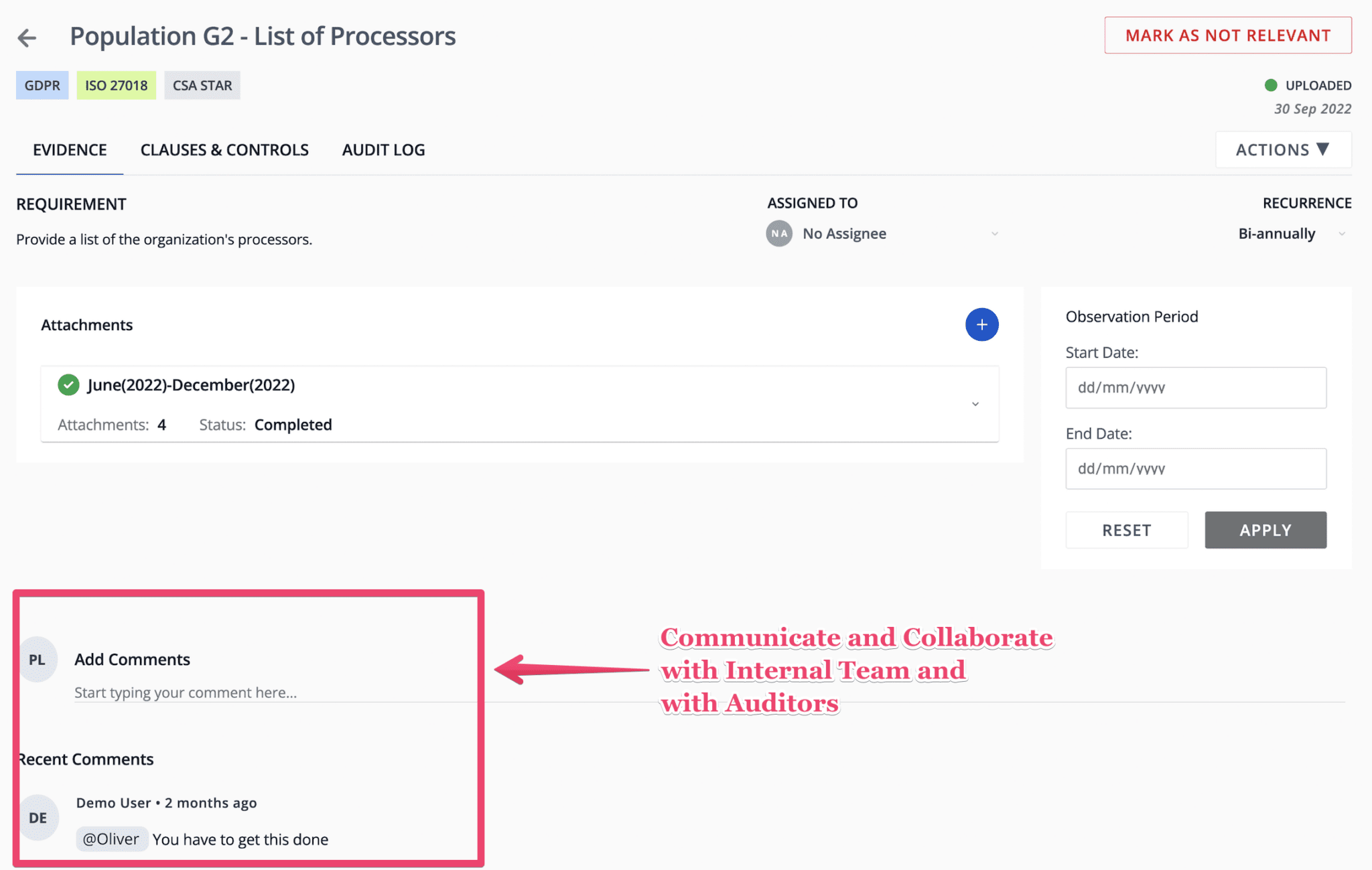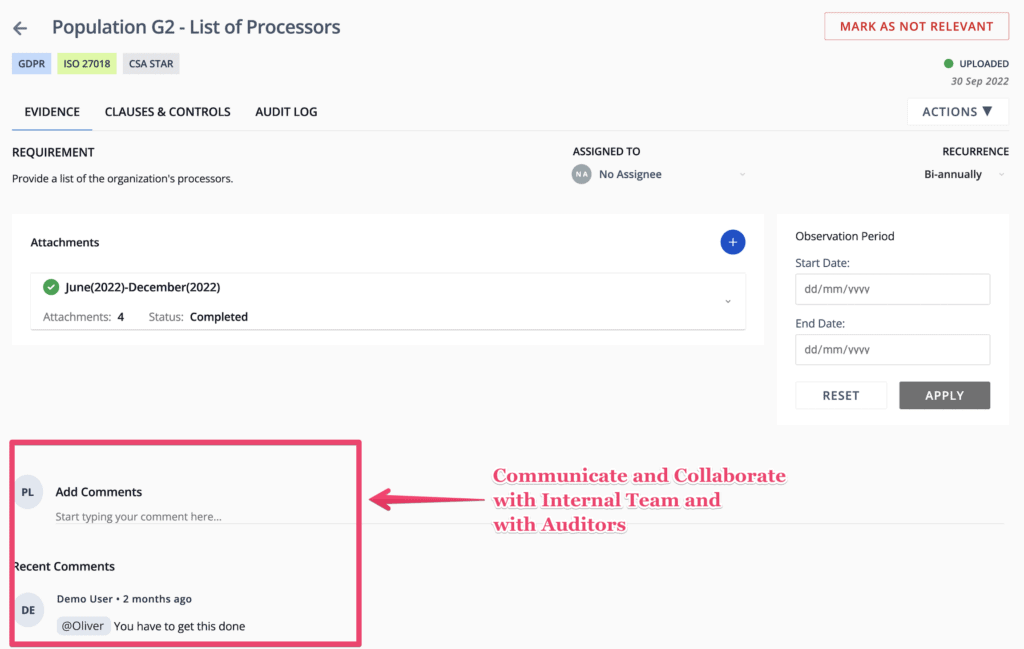 This eases the whole audit process and reduces the audit time to about a few hours (2-4 hours) from 1 week via the traditional way.
Customer Rating
2. JupiterOne
JupiterOne empowers your cybersecurity and governance team by simplifying the process of achieving ongoing compliance. It gives complete visibility across cloud assets, code repo, networks, users, and more to prevent data breaches and maintain continuous compliance.
Pros
Quickly integrates with your environment and starts adding evidence for assessing PCI, HIPAA and SOC controls
It helps you to easily visualize relationships in your environment to understand what's going on
Cons
Steep learning curve: can be overwhelming initially
Fails to pull many desirable data from some SaaS integrations
Customer Rating
3. Tugboat Logic
Tugboat Logic is a security assurance platform that eliminates the hassle of maintaining compliance and security. Tugboat Logic offers a comprehensive, flexible, and dependable information security solution. This is accomplished by automating the process of establishing and managing your information security program.
Pros
Saves much time in answering infosec questions via Tugboat Logic's machine learning suggested answers
Easy to manage controls and evidence collection
Cons
Sometimes, the search doesn't work properly; searching questions in your own created question bank may show 0 results
Task management and accountability: No feature to send reminders to the team members for their incomplete tasks
Customer Rating
4. Drata
Drata is a security and compliance management software that monitors and collects proof of a company's security measures while expediting compliance workflows end-to-end to ensure audit readiness.
Frameworks such as SOC 2, HIPAA, GDPR, PCI DSS, CCPA, ISO 27701, Microsoft SSPA, NIST CSF, and NIST 800-171 are supported by this GRC tool. With over 75 integrations, Drata brings the compliance status of all your people, devices, assets, and vendors into a single location.
Pros
Simple interface and good automation options
Quick access to compliance experts from the platform
Cons
Lacks integrations like sending Slack notifications when a test fails
Additional charges for a feature like Trust Center
There is a 25MB file size limit for all evidence uploaded to Drata. Whenever you need to upload something larger, you must contact Drata's assistance
Customer Rating
5. Hyperproof
Hyperproof is a simple, scalable, and user-friendly GRC tool. The platform enables security assurance and compliance teams to always keep on top of their work.
That is, they assist enterprises in efficiently demonstrating compliance, providing continuous assurance, and mitigating IT risks on an ongoing basis. You can get the visibility, efficiency, and consistency you and your team need to keep on top of all your security assurance and compliance work with Hyperproof.
Pros
Hyperproof makes program requirements, controls, mitigation planning, tasking, and validation easy to manage
The app reduces redundant work across programs, saving time and reducing errors.
Seamless workflow to link controls to numerous frameworks
Cons
Difficult to get a smoother continuous monitoring posture as Hypersync only has fewer proofs
Security controls are not inherited, resulting in deactivated user accounts remaining in the module
Customer Rating
6. ZenGRC
To ensure that your company's risk and compliance policy meets all applicable InfoSec requirements, ZenGRC provides a tried-and-true solution. It coordinates with your current GRC initiative and grows with you as you progress along your maturity roadmap.
Pros
Reduces manual effort by creating a simple process for users
Allows you to manage the end-to-end audit cycle completely
Cons
Some features aren't as strong as they could be. These include role-based access controls, the ability to upload multiple files to a record at once, and how the Jira integration is generally set up.
Users with read-only access can also edit the tasks
Customer Rating
7. Sprinto
Sprinto is a GRC software that accelerates cloud-hosted enterprises' SOC 2, ISO 27001, GDPR, and HIPAA compliance and makes information security accessible to all.
It automates and manages the entire process from start to finish via continuous security control monitoring, removing all regulatory bottlenecks while organizations focus on boosting revenue.
Pros
The platform works well in the modern IT environment
Sprinto handles most of the compliance-related tasks, including external audit firm interaction and protocols
Cons
It can be tough to navigate at times
Expensive even when you go for multiple compliance certifications
Customer Rating
8. Secureframe
Secureframe is a GRC tool that helps organizations in managing their infosec compliances. It makes obtaining and maintaining compliance standards, such as SOC 2, ISO 27001, HIPAA, and PCI DSS, simple and painless.
Secureframe automatically collects audit evidence, provides security awareness training, monitors infrastructure, and more. It has over 100 integrations with major services, such as AWS, Google Cloud, Azure, Github, JAMF, and Okta.
Pros
It integrates with the majority of major cloud providers, identity providers, HR systems, code repositories, and so on
Cons
A lot of manual entries are required due to bugs in syncing information
There are no auto-reminders
Customer Rating
9. Laika
Every aspect of information security compliance is streamlined and automated by Laika's comprehensive Compliance-as-a-Service solution. Frameworks that Laika supports are SOC 2, ISO 27001, GDPR, HIPAA, PCI DSS, and many more.
Enjoy ongoing help and direction from Laika's compliance specialists as you easily transition from a certification program to a continuous compliance program. Verify your security posture with included in-app penetration testing.
Pros
You can use the policy management system as the source of truth for all of your company's policies
The customer support team is active throughout the process, from implementation to suggestions on improving compliance posture
Cons
The platform features are a bit unstable at times
There are some minor bugs with integration connections
Customer Rating
Navex IRM provides visibility to risks that are often controlled through a variety of different sources. It compiles data points from internal and external systems.
The platform allows enterprises to discover dependencies and make more informed business decisions by centralizing, correlating, and connecting relevant data.
Pros
Initial setup is easy; you can configure it in no time
Cons
Quite basic reporting feature: no way to report stage transition dates
Customer Rating
11. ServiceNow GRC
ServiceNow governance, risk, and compliance (GRC) is a unified GRC program built on the Now platform that transforms inefficient procedures throughout your extended company. It continuously monitors for compliance and automates and manages your policy lifecycle.
Pros
The UI is intuitive and straightforward to understand: not much training is required to use it
Easy to split tasks among the team members and get view of ticket distribution across teammates
Cons
There is no option to edit comments made on cases/incidents/changes
Cost is high as compared to many other tools in the market
Customer Rating
12. AuditBoard
The modern, integrated risk platform from AuditBoard enables you to exploit risk as a strategic driver. The core is surrounded by a set of robust platform capabilities, including collaboration, automation, a powerful workflow engine, business information, and a layer of integration that is highly expandable.
Pros
Seamless and easy to adapt across the organization
Well-integrated workflow capabilities
Cons
Difficult to customize
Non-editable data in survey templates
Customer Rating
13. Vanta
Vanta makes it easier to comply with SOC 2, ISO 27001, HIPAA, PCI, or GDPR, which means you can build trust with your customers and focus on growing your business.
Integrations with the most popular cloud services, identity providers, task trackers, and more that can only be used to read data are built into the Vanta platform. This makes it easy to gather evidence automatically for security audits. Every hour, Vanta checks these systems to ensure they are set up correctly and remain compliant over time.
You can use Vanta Seamless Audit, which will match you with an independent auditor with a five-star rating, or you can choose an auditor yourself from their list of preferred partners.
Pros
Integrate with most software apps
Real-time reporting on technical controls
Cons
Not very accurate compliance check
Customer Rating
14. LogicManager
LogicManager is an enterprise risk management software that empowers organizations to anticipate what's ahead, uphold their reputations, and improve business performance through robust governance, risk management, and compliance (GRC).
Pros
Creating libraries, workflows, and surveys/questionnaires is easy.
Cons
Customer Rating
15. Riskonnect
Riskonnect is a source of integrated risk management technology. The company provides clients with a growing suite of solutions. These solutions enable clients to improve their programs for managing all risks across the enterprise.
Riskonnect provides businesses with the ability to identify, manage, and control risks in a holistic manner, which favorably impacts shareholder value.
Pros
Cons
Confusing logins
Administrators features are non-intuitive
Customer Rating
16. LogicGate
Risk Cloud® is a cloud-based platform that comes with a suite of risk management applications. It upgrades how businesses manage their governance, risk, and compliance processes by combining easy, no-code technology with expert-level content and service to produce a comprehensive view of their risk programs.
Pros
Simple workflows
Customizable dashboards
Cons
Customizing it is more time taking compared to many other GRC tools
A bit confusing interface
Customer Rating
17. MetricStream
MetricStream compliance management, built on the M7 Integrated Risk Platform, simplifies and strengthens compliance with regulations across the organization. Additionally, it improves visibility into the effectiveness of controls and ensures that issues are remediated promptly.
MetricStream also helps to manage a wide variety of compliance needs in an integrated framework. Inconsistencies and duplications in applying policies, standards, rules, and controls have been eradicated due to this alignment.
Pros
The document control module makes document search easy. Allows you to search metadata as well as terms within the document
Cons
Difficult to customize
You may find some bugs after updates
Customer Rating
18. RSA Archer
Archer GRC helps organizations manage policies, controls, risks, assessments, and deficiencies across their entire business. It helps you stay compliant with industry compliance regulations such as HIPAA, SOC 2, GDPR, etc.
Pros
Customizable as per your needs
Allows you to set up your compliance frameworks easily
Cons
Needs enhancement in UI for better user experience
Search functionality needs improvement
Customer Rating
19. StandardFusion
StandardFusion is a GRC platform suitable for information security teams of any size organization, whether large or small. The platform enables information security teams to efficiently manage operational risk, audits, and vendors while providing an intuitive user experience and good customer service.
Its goal is to make good governance, risk, and compliance (GRC) easy to understand and accessible to businesses of all sizes.
Pros
Reporting display of progress over time and highlights areas where you can benefit from increased maturity
Supports a Value Assurance practice, unlike other GRC platforms
Cons
Only enterprise packages include SSO
Steep learning curve for someone who is using GRC tool for the first time
Customer Rating
20. SAI360
By providing customers with a combination of software and learning content, SAI360 allows them to implement an efficient integrated risk management solution.
With SAI360, organizations can build and foster a strong risk and compliance culture with a unified view of governance, risk, and compliance, achieve risk-ready oversight of business processes, and improve organizational ethics and employee behavior.
Pros
Highly customizable
A broad range of compatible modules
Cons
Dashboards are pretty outdated and lack customizations
Confusing audit logs
Customer Rating
21. VComply
VComply is a governance, risk, and compliance (GRC) management platform that will assist you in the implementation of the compliance program, the assignment and tracking of compliance tasks, the monitoring and measurement of the success of your GRC programs, and the assessment and mitigation of risks in real-time.
Vcomply is a code-free workflow automation solution for improving corporate governance, internal control, policy management, and risk assessment.
Pros
Modules are interconnected, this helps with end-to-end GRC management
Training and support teams are very responsive
Cons
Bugs appear occasionally
It takes time to learn due to vast functionalities present
Customer Rating
22. Resolver
Resolver is a compliance software that compiles all available risk data and performs a thorough analysis. The platform evaluates the far-reaching consequences of any risk, including compliance and edit, events, and threats, and turns the effect of these risks into quantitative business KPIs.
Pros
Anonymous portal for employees to submit their observations
Easily track and consolidate all incidents
Cons
The agile sprint methodology requires time for those who have not actually implemented the agile sprint program in the past
Too many small glitches that can give headaches, for examples, users not being able to log in, missing buttons, the site not loading
Customer Rating
23. Apptega
Apptega is a cybersecurity and compliance management platform that makes it simple to evaluate, construct, administer, and report on your organization's cybersecurity and compliance program. Apptega can be used by organizations in every industry and managed security service providers (MSSPs).
With support for more than 25 frameworks, such as SOC 2, NIST, CMMC, ISO, CIS, PCI, GDPR, HIPPA, and other regulations, you may manage your program with assessments, compliance scoring, risk management, and multi-tenancy.
Pros
Stakeholder management: You can generate executive at-a-glance reports easily to keep your shareholders informed on-demand
Framework mapping helps you reduce duplicate efforts if you manage multiple compliances
Cons
Integrations with workflow streamlining tools, such as Jira, is missing
Document editing feature is missing: So you have to manage versions separately in spreadsheets and get them approached every time via emails/Slack outside the platform
Customer Rating
24. OpenPages
OpenPages by IBM is an AI-driven, highly scalable governance, risk, and compliance (GRC) platform. It centralizes siloed risk management functions within a single environment. The GRC solution helps you identify, manage, monitor, and report risk and regulatory compliance.
OpenPages is mainly for very large size organizations, with the primary use cases being managing operational risk, regulatory compliance, IT governance, internal audit, business continuity, model risk, third-party risk, policy, data privacy, and financial controls management.
Pros
Flexibility to deployment across on-prem, own cloud environment or use as SaaS
Helps you consolidate all your GRC programs on a single platform
Cons
Requires multiple clicks for simple tasks
On-going maintenance and related professional services are costly
Customer Rating