In the rapidly evolving landscape of business operations and regulations, the importance of effective control management cannot be overstated. Businesses face a multitude of challenges, from compliance intricacies to the ever-present risks of security breaches.
Navigating this complex terrain demands not just expertise, but a trustworthy companion that can guide you through with precision and ease.
That's where "Kai," our exciting new AI copilot, steps in.
The Birth of Kai: Bridging the Control Gap
Launching Kai wasn't just about introducing another tech solution; it was about addressing a pressing need. As the team at Scrut delved into the challenges faced by businesses across industries, a common theme emerged: the need for a reliable partner to master control management.
And then the idea to launch Kai was born.
The name "Kai" was chosen with great thought. Derived from the Greek word "kairos," which signifies the opportune moment, it encapsulates the essence of our AI copilot. Kai is designed to help organizations seize the right moment to take action on their security challenges.
Kai for Automated Security Questionnaire Responses
While the applications of Kai are diverse and boundless, we decided to tackle a pressing issue as our inaugural use case: automated security questionnaire responses.
Security questionnaires are a standard part of vendor and partner evaluations, often demanding painstaking hours to address. But with Kai, those hours are saved, and accuracy is heightened.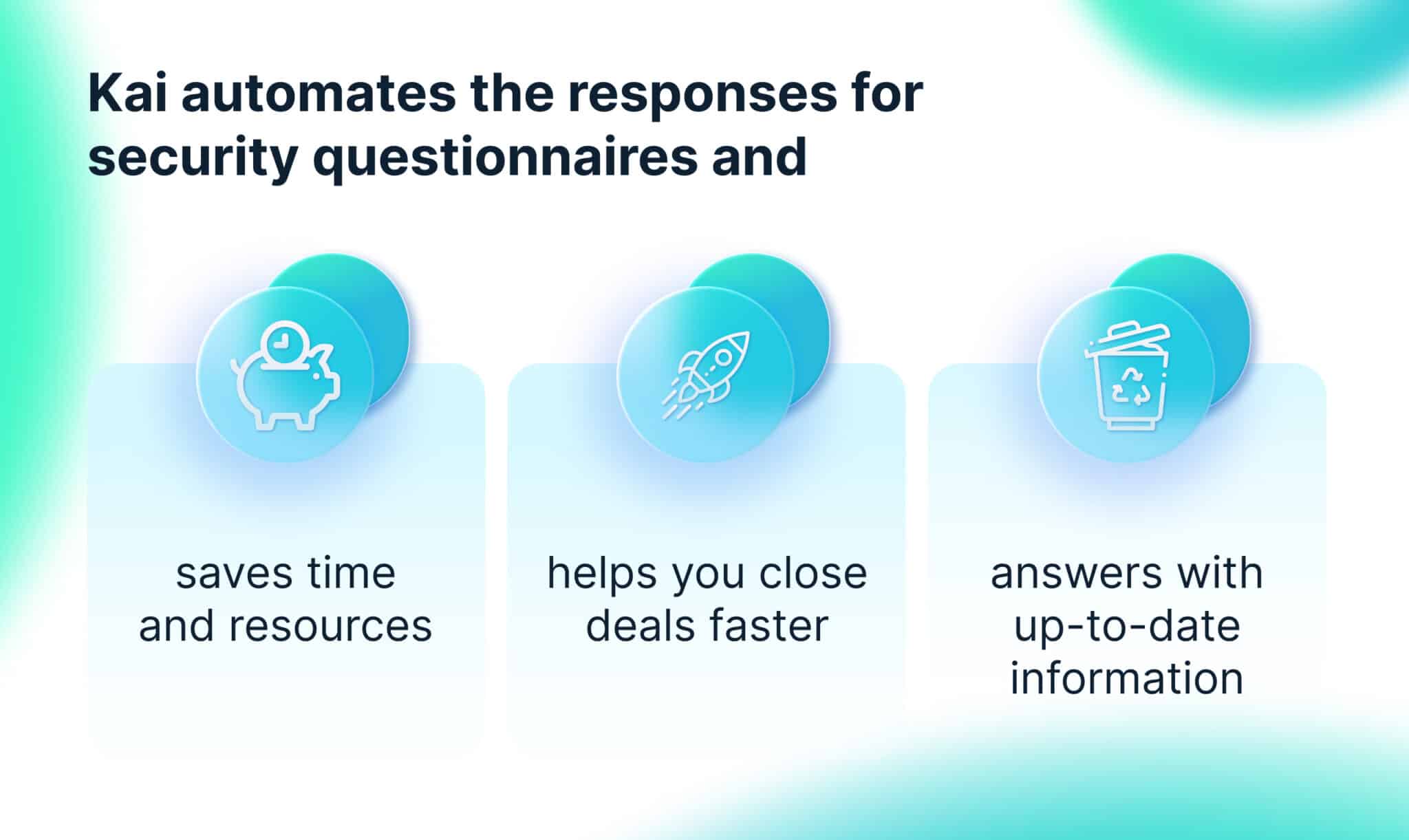 Kai swiftly analyzes each questionnaire, scans across your controls, and extracts relevant information for the questionnaire. It then crafts well-informed questionnaire responses that align with your business's security posture.
This not only saves time but also ensures consistency and accuracy, reducing the chances of errors that can lead to more back and forth, and longer deal cycles. Kai breaks through elongated sales cycles and helps you close deals faster.
Why Kai Shines: Beyond Automation
Kai isn't just an automation tool; it's a digital companion, a copilot that understands the intricacies of control management. It's designed to bridge the gap between human expertise and technological innovation, providing insights that empower users to make informed decisions.
The real magic of Kai lies in its adaptability and intelligence – it grows with your needs, accommodating diverse control scenarios and expanding with your journey.
With Kai as your copilot, you have a trusted partner that's equipped to navigate control complexities, mitigate risks, and drive compliance.
Experience the power of Kai – visit our website to learn more about how it's reshaping the control landscape. Take control of your controls, and let Kai be your guiding light.