What separates Scrut from the rest of the GRC platforms in the market is that it is a 'risk-first' GRC platform while others are 'compliance-first.'
Scrut smartGRC platform gives you complete observability into your risks.
Unless you have visibility into all your risks, you can neither establish governance in your organization nor stay compliant. Hence, risk observability is the foundation of all GRC programs.
For operating in specific geographies or industries, organizations have to comply with many security and privacy frameworks, for example, GDPR, SOC 2, HIPAA, and ISO 27001.
However, managing these compliances and the associated audit processes is complicated and resource-consuming.
You can't rely on spreadsheets or Google Drive/Sharepoint to create scalable governance, risk, and compliance (GRC) programs. They are neither efficient nor scalable systems. Thus, organizations use GRC tools, like Scrut smartGRC to manage their governance, compliance, and risk programs efficiently at scale.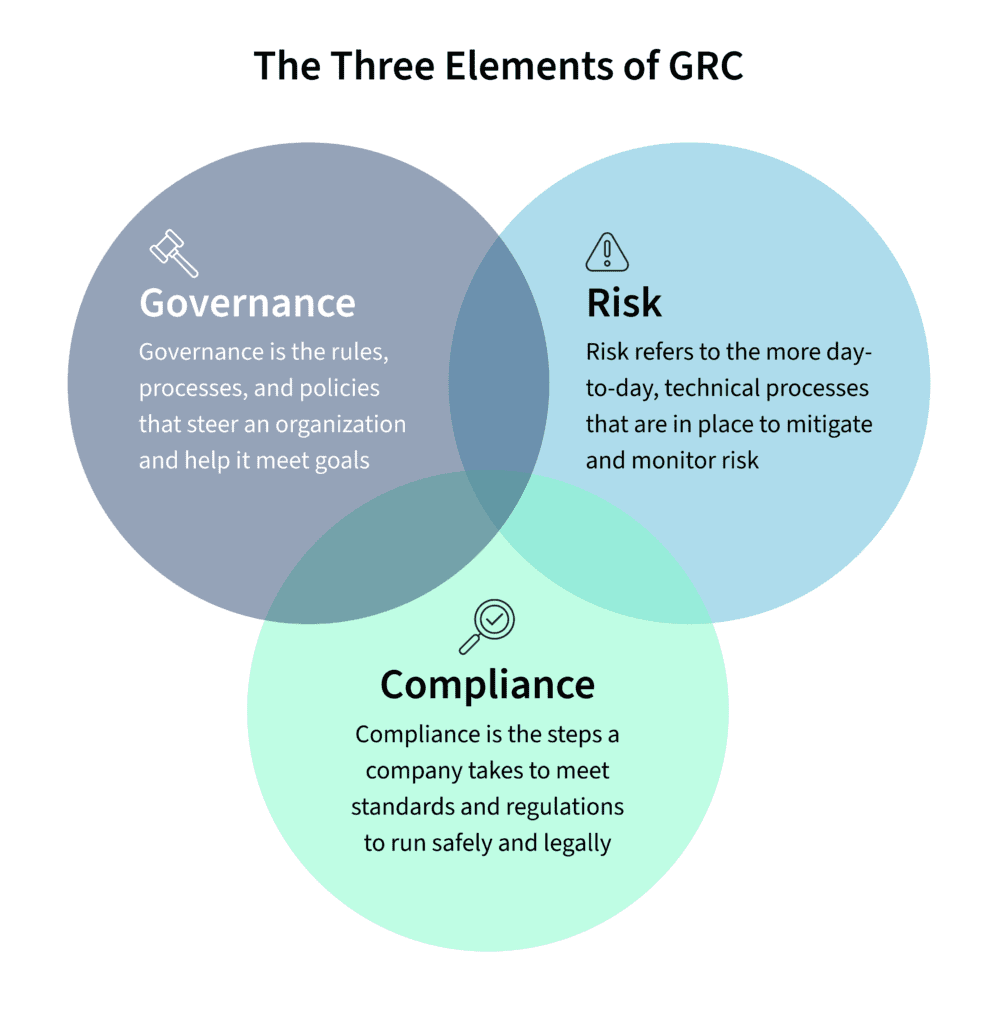 If you are looking for a GRC platform, you will find hundreds of GRC tools in the market with similar offerings.It's difficult to choose one because all of them make similar claims.
In this post, we will show you how Scrut excels other GRC tools.
How Scrut smartGRC excels other GRC platforms
As we said earlier, Scrut is a risk-first GRC platform. The risk-first approach focuses on risk observability to establish a robust information security program as opposed to policies and controls that are purely established to meet compliance requirements.
This means, you stay on top of risks, which would eventually lead to your company being compliant.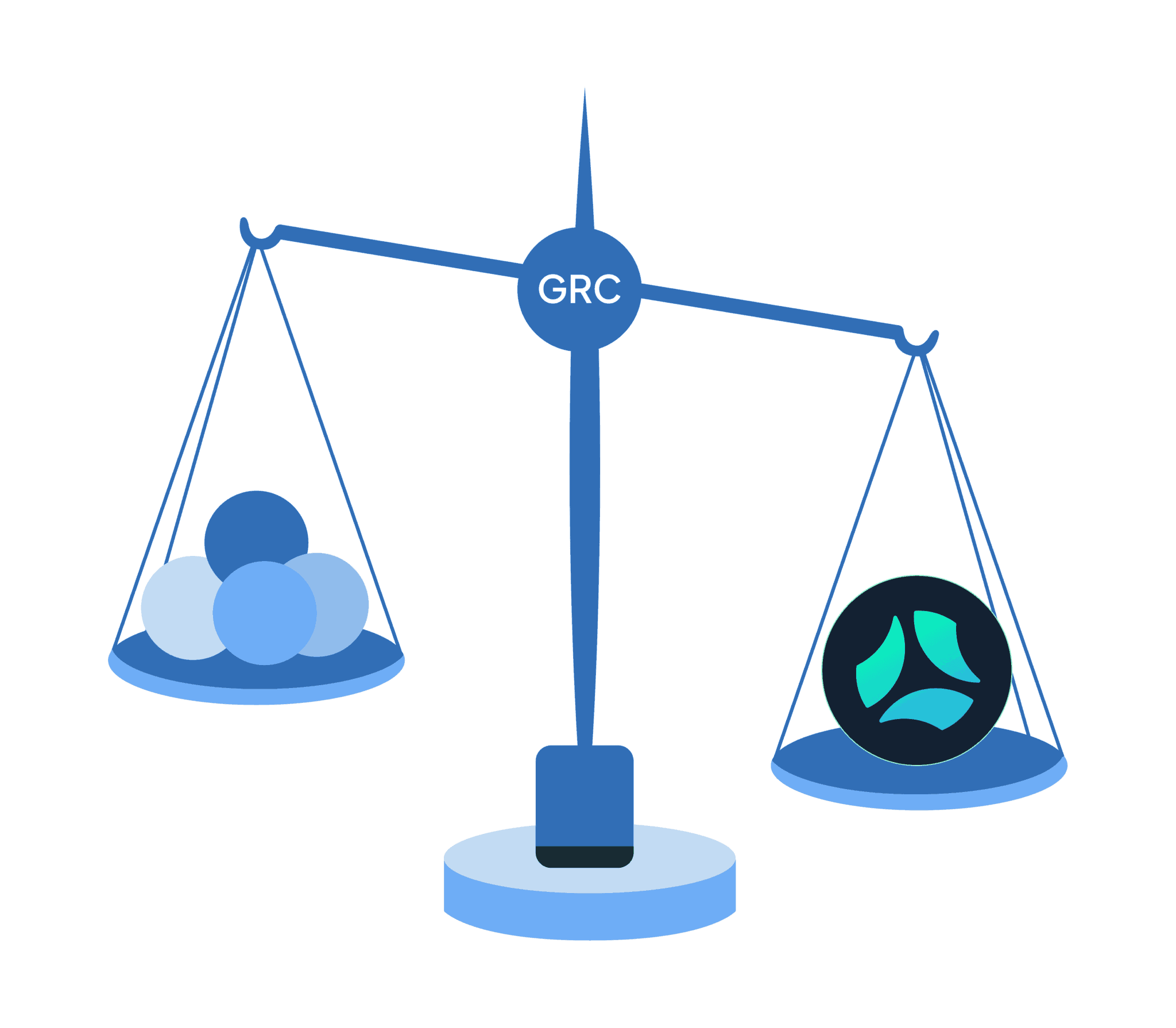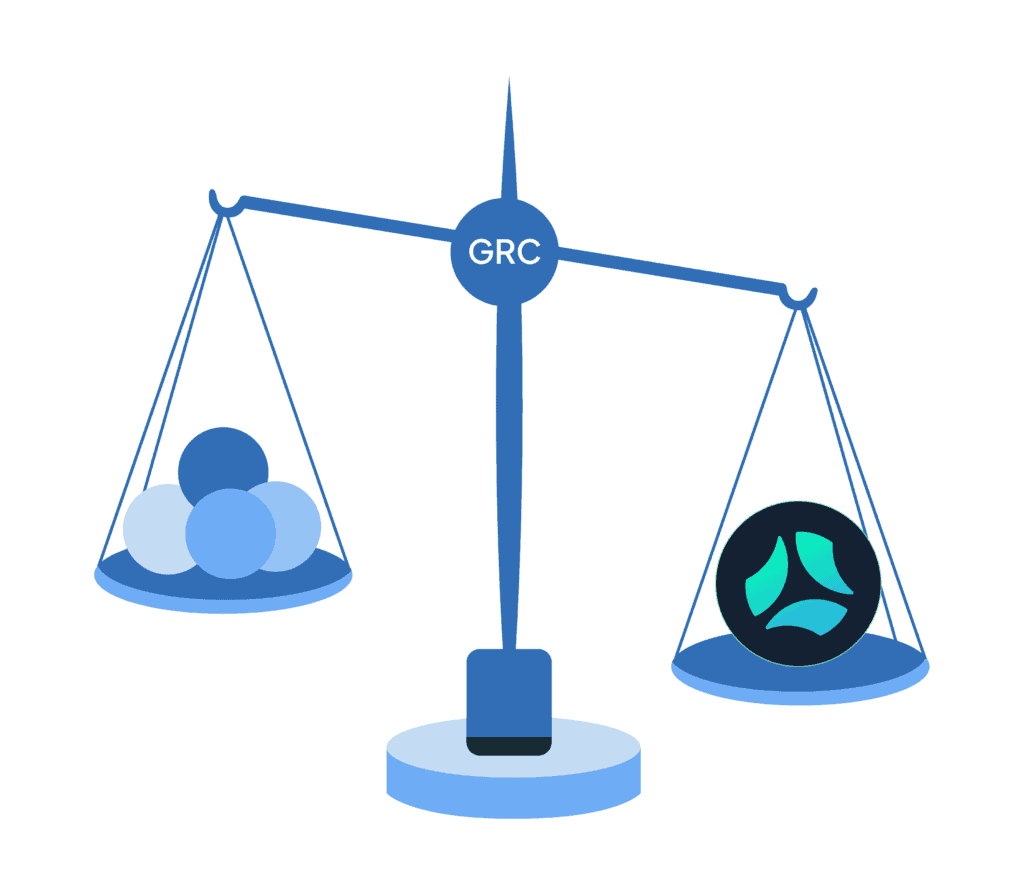 What this translates to for you is being secure and compliant all the time.
Let's see some of the features that Scrut smartGRC offers: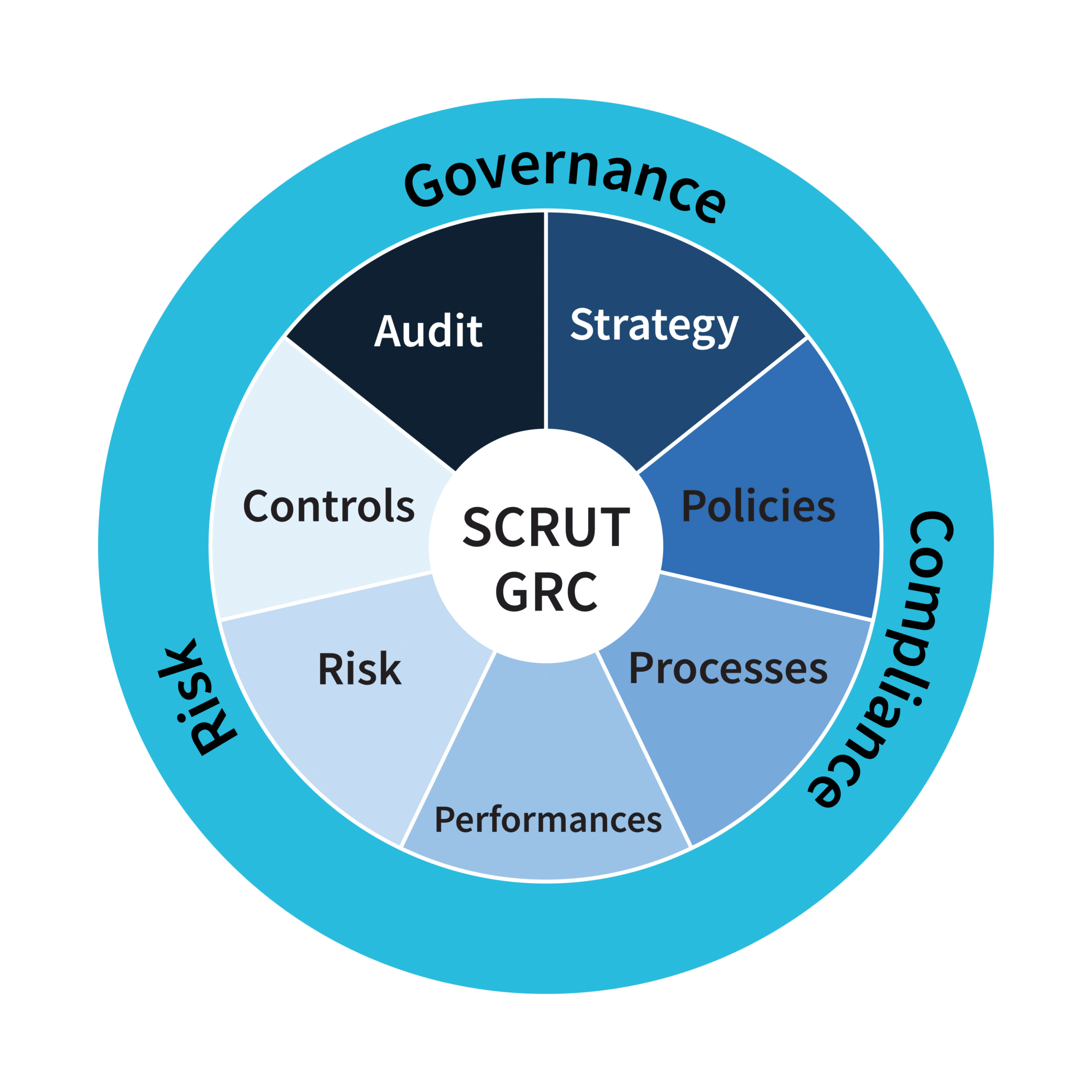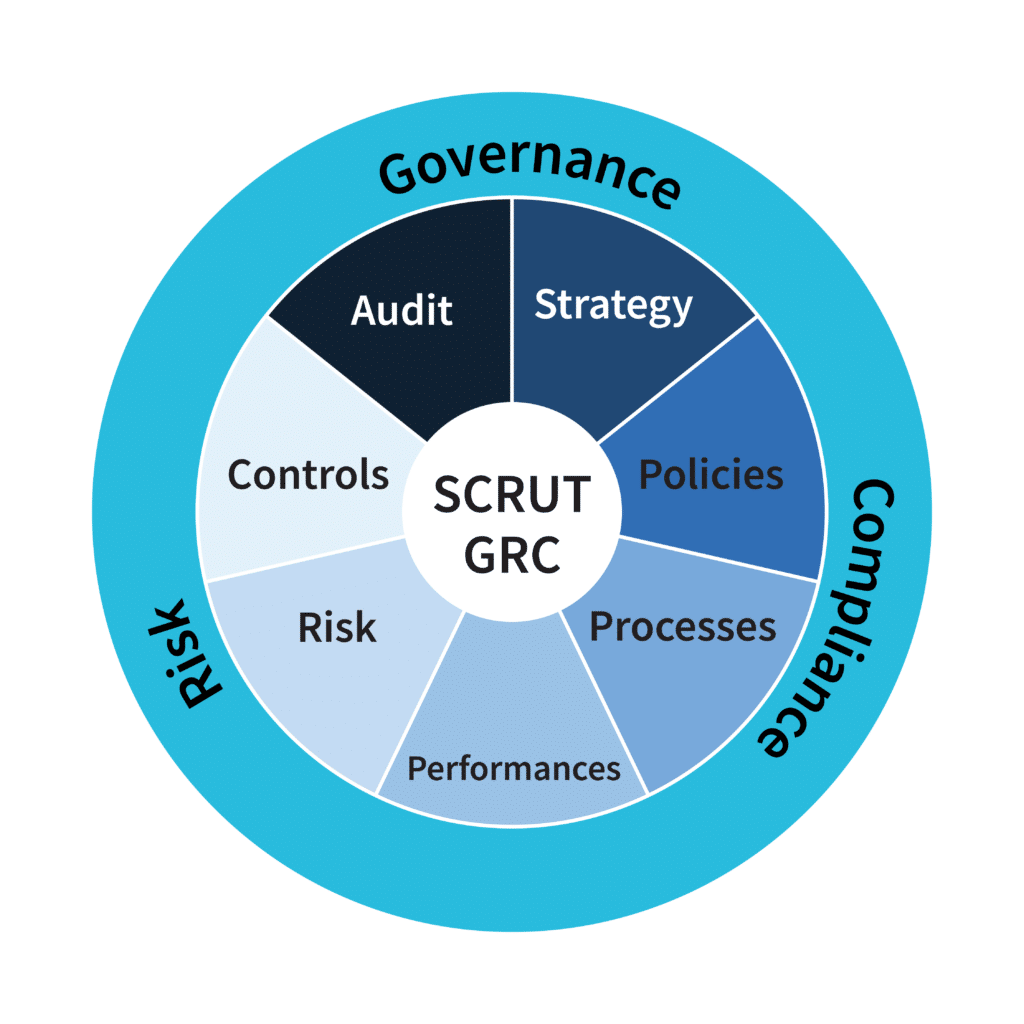 Source of truth for different records
Policy management
People management and Security training
Vendor management
Risk management
Audit management
Assigning tasks to team members
Creation and editing of GRC components like controls, assets, risk, etc.


Scrut smartGRC helps you fast-track your compliance. smartGRC is a single window platform for all compliance-related tasks.
Some of the frameworks that Scrut supports include but are not limited to are SOC 2, SOC 3, ISO 27001, ISO 27701, ISO 27017, ISO 27018, ISO 22301, ISO 20000-1, GDPR, HIPAA, FERPA, HITRUST, FedRamp, CMMC, CCPA, PCI DSS, CSA Star, CMMI – DEV, CMMI – SVC, GLB, NIST 800 171.
With a library of 50+ policies built and vetted by our in-house InfoSec experts, you can start building your compliance program in minutes.
smartGRC offers various integrations to automate evidence collection and enables you to create, assign and monitor tasks for compliance requirements. The in-built mapping to popular InfoSec frameworks helps manage your compliance posture hassle-free.
Let's see some of the core features of the Scrut GRC platform.
Single-window platform for compliance requirements
Scrut is a single-window GRC platform to manage everything related to your compliance requirements, from getting ready for audits to finding CPA and collaborating with them on the platform to complete the audit.


With seamless integrations with cloud service providers, HRMS, version control systems, etc., you get a real-time view of risk and compliance.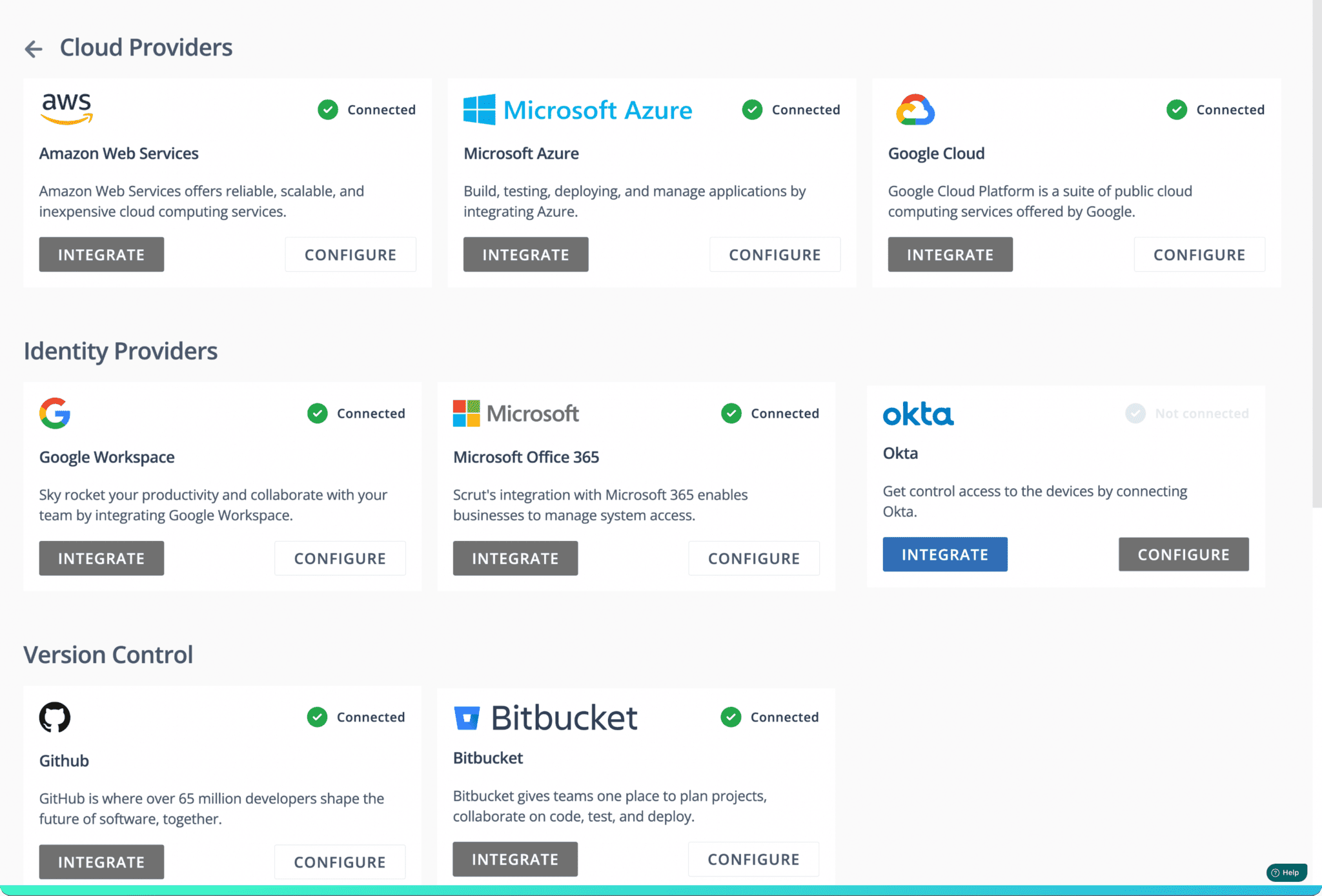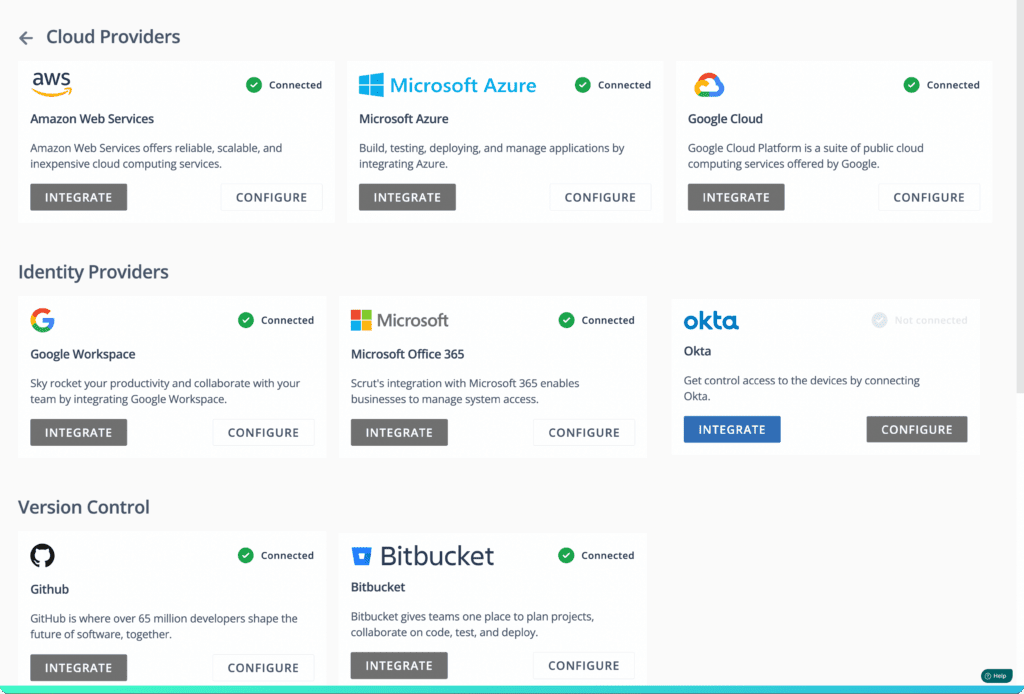 This gives you complete visibility into your risks necessary to make wise, strategic decisions that keep your organization secure and win the trust of your clients, partners, investors, and employees.
You can also assign tasks like remediation, uploading policies, etc., to different people on the Scrut platform.
Additionally, you can collaborate with different stakeholders on the platform itself without having to switch between different tools.
Faster and easier compliance
Scrut can help you get compliant in a much shorter time frame. For example, it can help you prepare for SOC 2 compliance audit in 2-3 weeks instead of 1-2 months when done traditionally.
Similarly, the manual effort required to get ready for SOC 2 audit from your end can be reduced to 10-12 hours (based on the gap assessment) compared to 150 hours via the traditional solution.




Identify, assess, and manage all your risks
Scrut scans your ecosystem to identify risks across the code base, infrastructure, applications, vendors, employees, and access.
You can choose from Scrut's library of the most common risks across seven categories. The Scrut's risk categories are Governance, People, Customer, Regulatory, Resilience, Technology, and Vendor Management.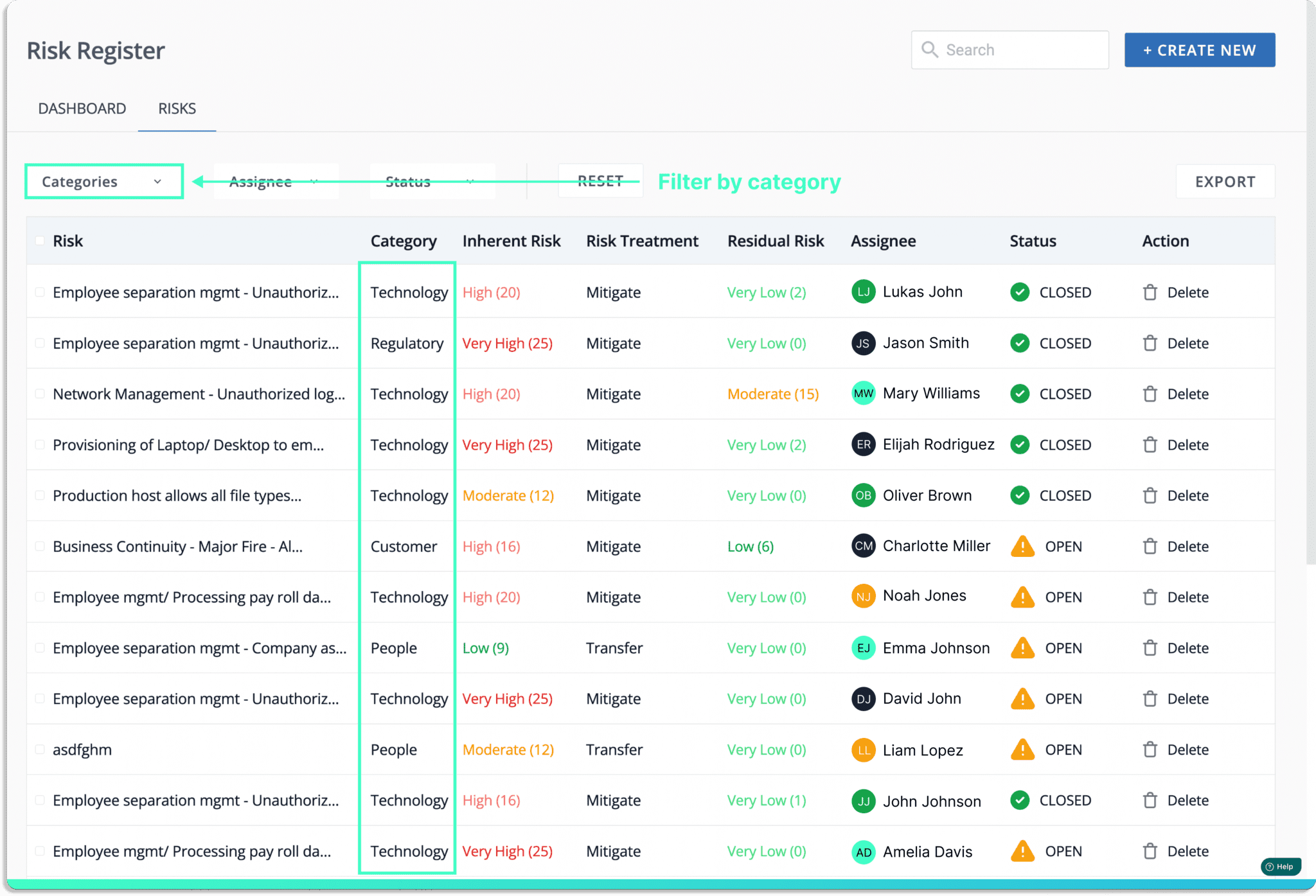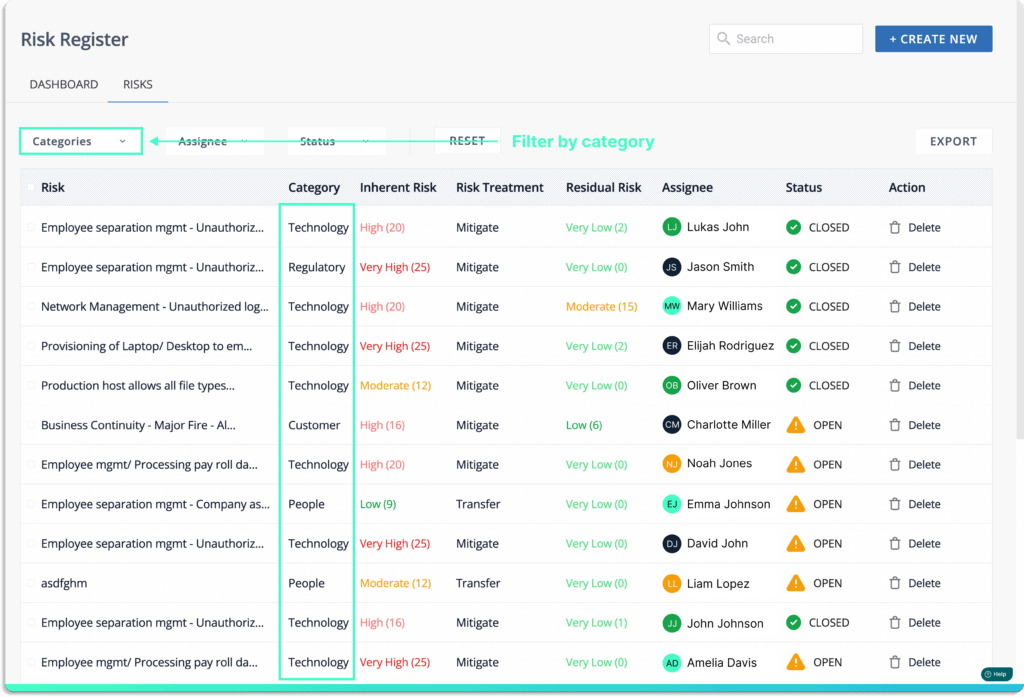 This helps to build your risk register within minutes.
Likewise, you can begin your first risk assessment in only a few minutes by cutting out the numerous hours spent developing and mapping risks, threats, controls, and related tasks.
Scrut Risk Management provides a smarter way to help you recognize, evaluate, and reduce IT and cyber risks. You can free your teams from tiresome and time-consuming manual work by using automated workflows for vendor risk assessments.
Furthermore, Scrut guides you with action items for carrying out treatment plans for risk repair, acceptance, transference, or avoidance.
Some key benefits of Scrut Risk Management:
Quantifiable risk scores. Build a treatment plan for each risk. Quantify your risk profile, both inherent and residual.
Continuous risk monitoring. Monitor your risk posture, and compliance with pre-mapped controls to SOC 2, ISO 27001 etc. in real-time.
Easy risk distribution. Assign risks to team members to ensure smooth management and mitigation of risks.
For more details on working on risk management, refer to this post.
Quickly start building policies with Policy Builder
Scrut smartGRC platform helps you compile the documentation required to pass audits and obtain certifications by providing you with prebuilt policies and controls aligned to different frameworks.
You can start working on your compliance requirements immediately with a library of more than 50 policy templates created and reviewed by our InfoSec specialists. You can edit these policies or create your own with an inline editor to make them specific to your organizational requirements.
Additionally, you can assign ownership for policies across your organization and keep track of policy status. With this record, you can always be sure that all security controls have been applied and are ready for your organization's security audit.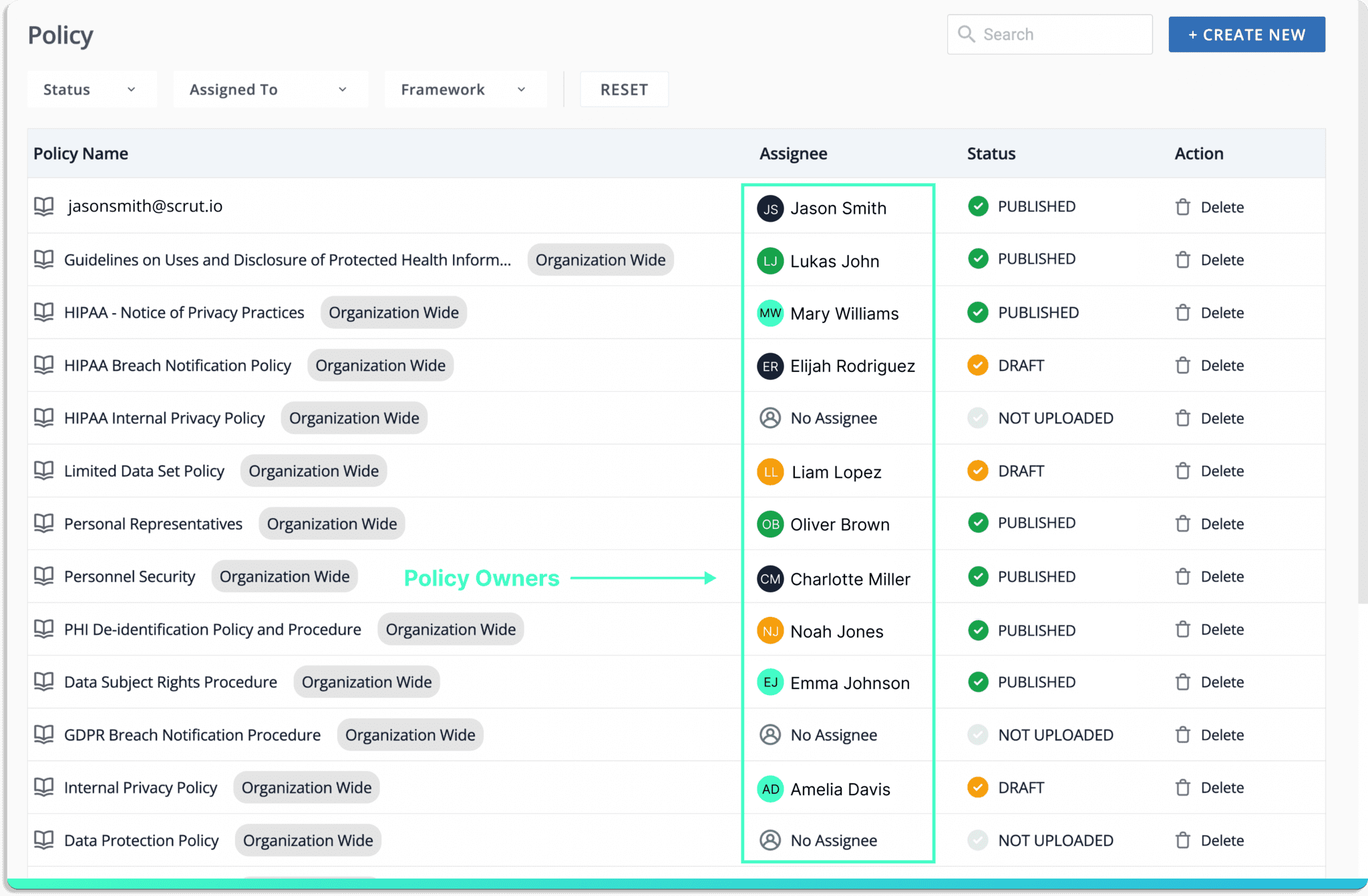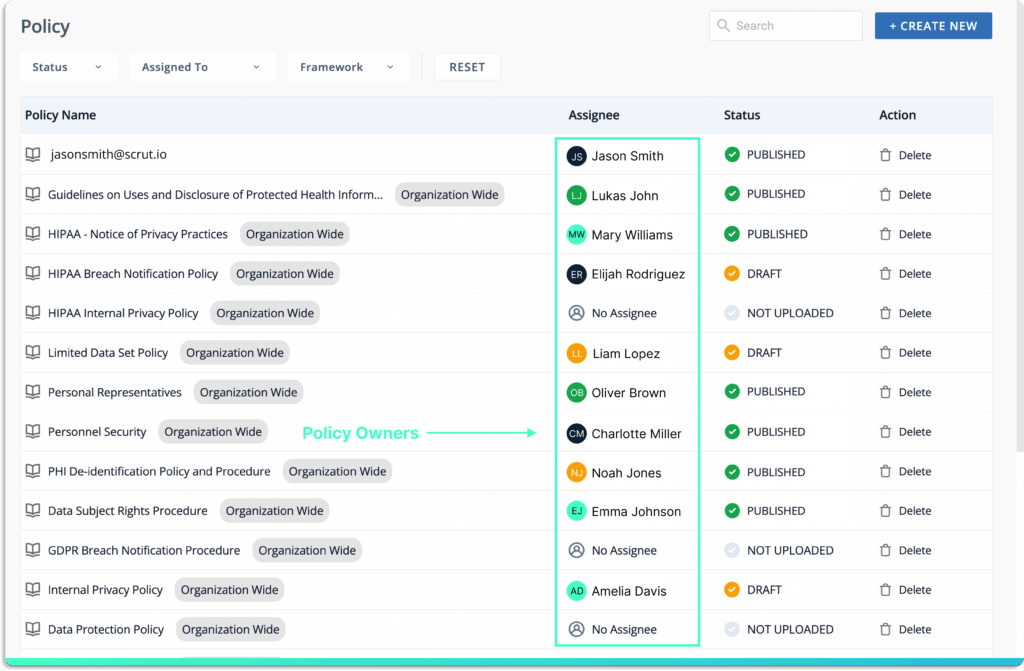 Scrut reduces time and resources spent on manual compliance processes by enabling you to reuse controls across multiple frameworks and policies for future audits. Built-in security policies and procedure templates map your assets and environment, so you can easily retrieve or scan as and when required.
Continuous cloud monitoring
With Scrut, you get a comprehensive view of your risk and compliance posture across cloud accounts.
Scrut solves the following security problems in your cloud environment:
Keep track of changes in the sensitive information, such as customers', employees' and vendors' detail across cloud to provide continuous visibility of data exposure risks
Help you to compare different application configurations
Find misconfigurations within network connectivity and alert security teams about the same
Detect accounts with over privileges
Helps you stay compliant with standards like SOC 2, ISO 27001, HIPAA, PCI DSS, GDPR, etc.
Thus, Scrut helps you establish a comprehensive security configuration baseline across your cloud environment.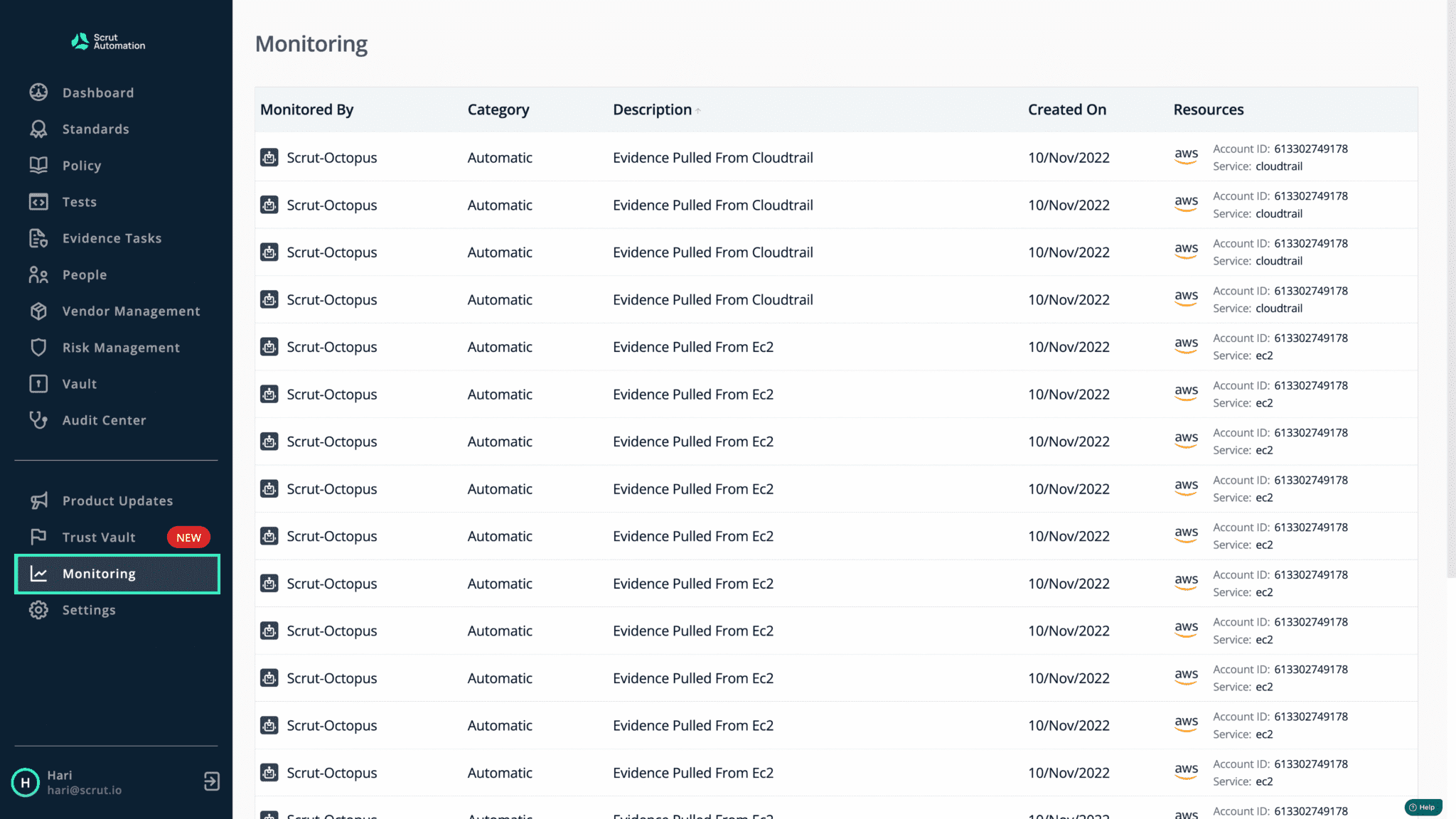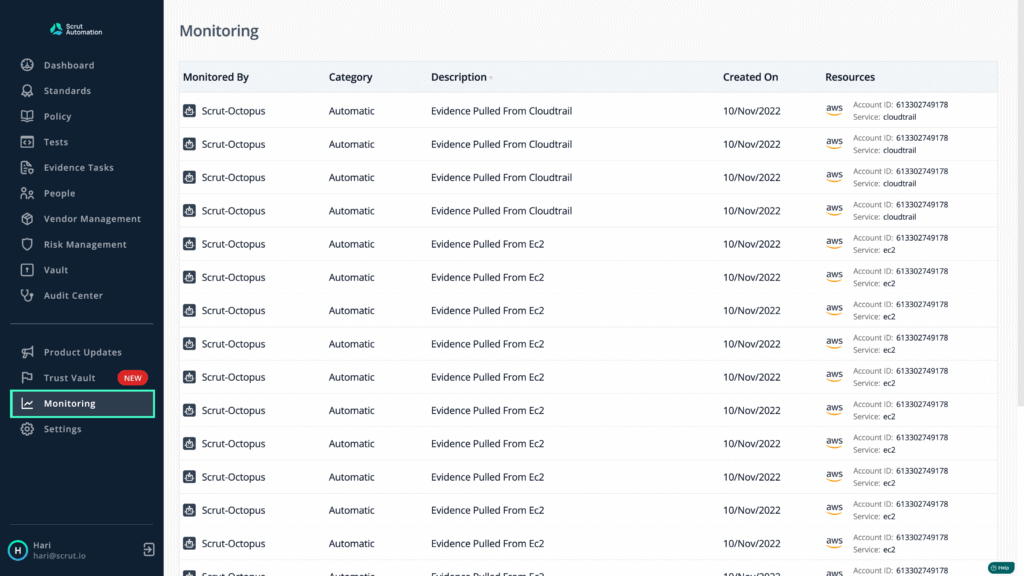 Most of the other GRC tools monitor up to 50 controls from CIS benchmarks. This is because they are focussed on letting you stay compliant with required standards/regulations.
But at Scrut, we take a different approach to security and compliance. We believe that if you take proper measures for security, you automatically become compliant. Compliance is a byproduct of being secure.
Therefore, we go beyond the basic controls to keep you secure. Scrut monitors 200+ controls to ensure that you're not just compliant but also always aware of your cloud risks.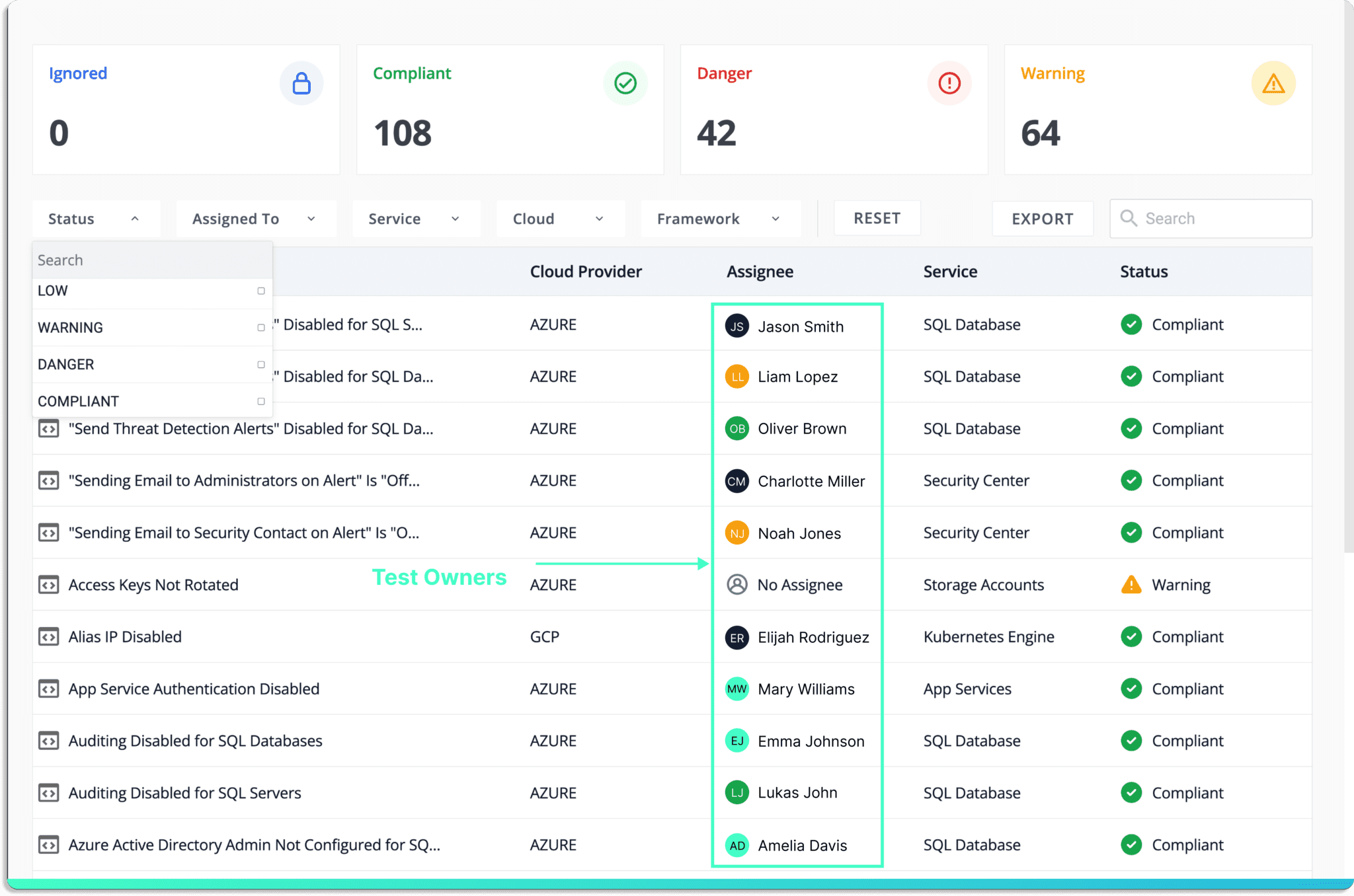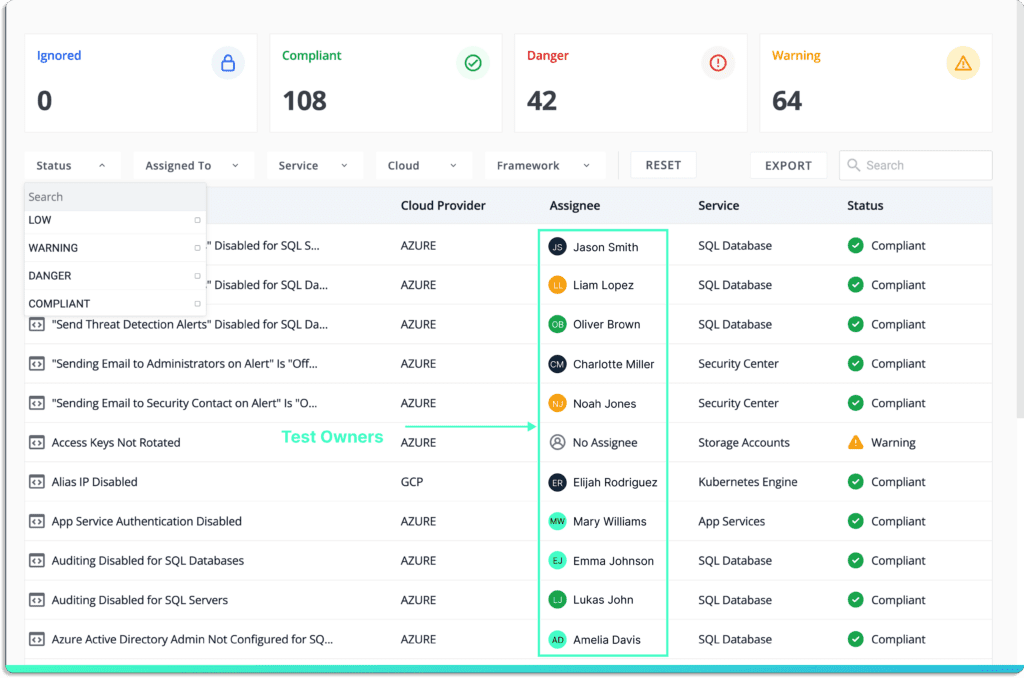 Automated evidence collection up to 70%
When going for a compliance audit, you need to be ready with evidence to support your claims of having internal controls to implement your policies. The traditional ways to manage evidence is repetitive, tedious, and consume a lot of time.
Summoning engineers from different teams to provide information to show auditors feel like an uphill battle. Since there are a lot of dependencies on other teams with no accountability towards GRC, delays are common.
Scrut deeply integrates with your cloud environments, identity providers, HRMS, and other tools and automatically collects evidence from them. It automates up to 70% of your evidence collection and saves a lot of time and manual effort.
Your application landscape can be integrated with the Scrut smartGRC platform to automate evidence collection and to generate, allocate, and track tasks for compliance needs.
Earlier, one of our customers was keeping the evidence in Google Drive in various folders and was losing track when the versions were updated. With Scrut, that problem was immediately solved.


Smooth Audit Process
Our GRC platform enables effective collaboration with your auditors.
You and your auditor can communicate directly within our platform, preventing needless delays and frustration. You just need to give access to your account to the auditors.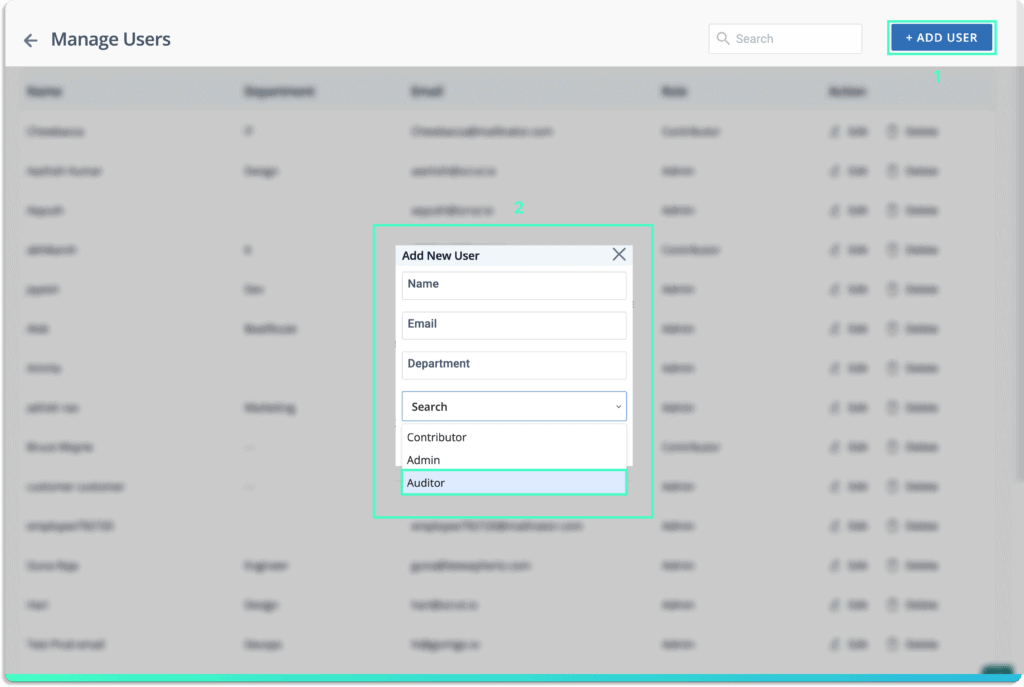 Give access to auditors
When giving access to relevant stakeholders, you're in control. You can grant audit project access only to those that need it.
The auditor can come to the platform and go through control by control. They can look at the policies, tests, and evidence. With policies, procedures, controls, and evidence stored in one place, it's easier to collaborate with your auditors and complete audits.
If the auditors need any clarification, they can leave comments within the platform.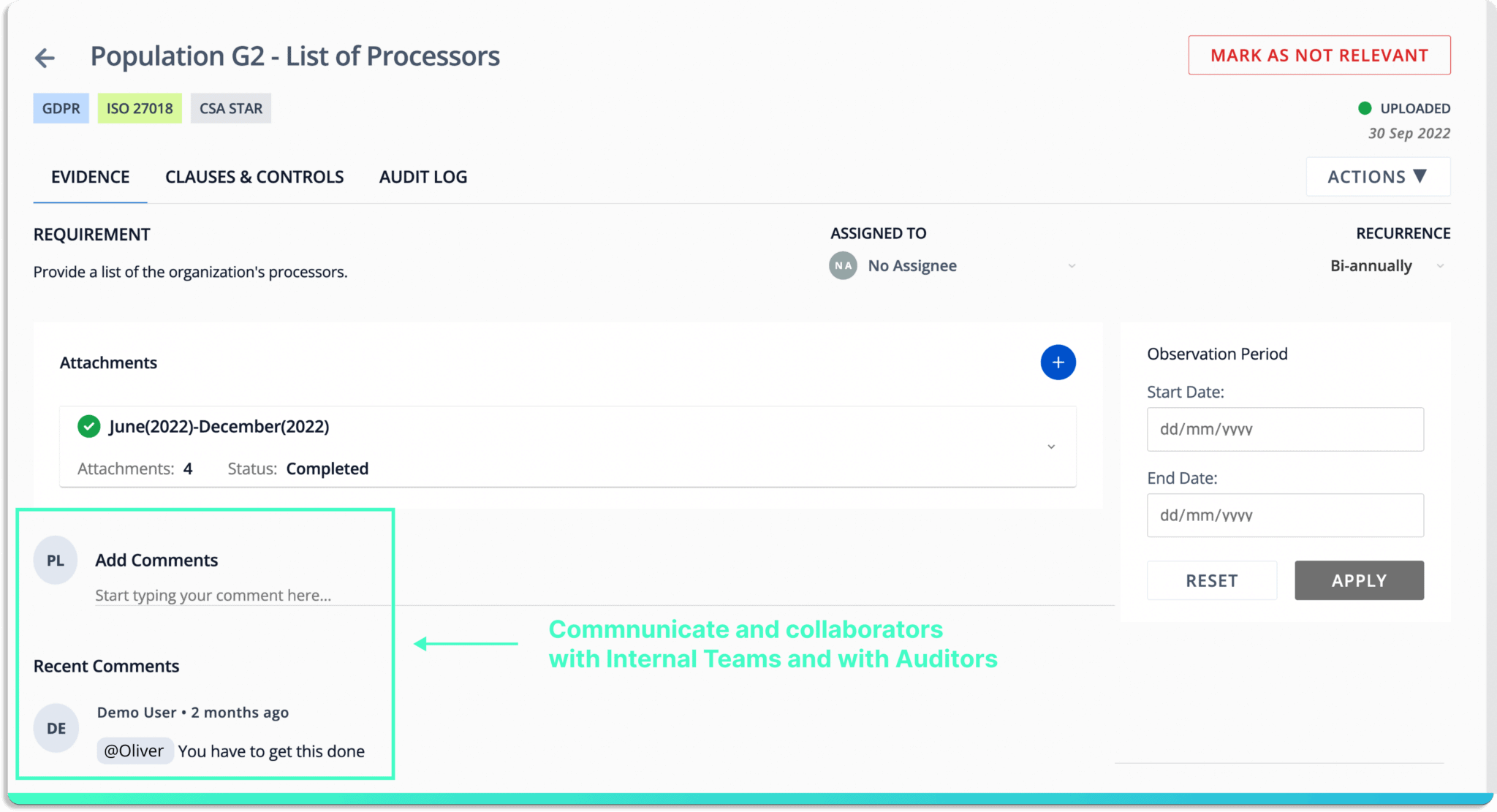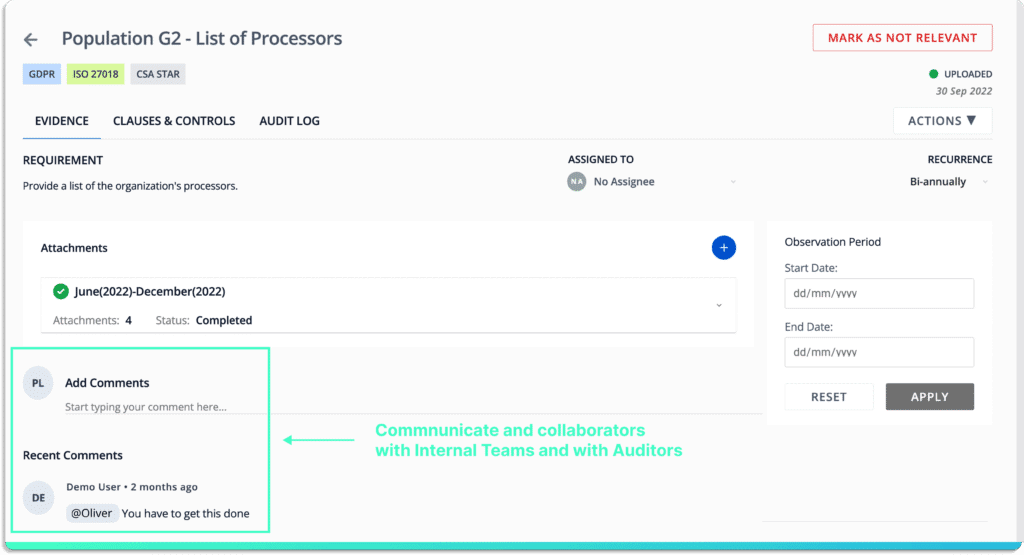 Comments – For communication and collaboration
This eases the whole audit process and reduces the audit time to about a few hours (2-4 hours) from 1 week via the traditional way.
Scrut is an all-in-one platform to manage GRC programs


Scrut Cloud Security regularly scans your cloud architecture across various clouds service providers, and root accounts against 200+ CIS (Center for Internet Security) benchmarks to identify misconfigurations. When misconfigurations are found, simple automated workflows are provided for their correction.
Scrut Cloud Security is instrumental in managing your organization's security posture. Other tools cover only 40-50 cloud controls which are essential for ISO, SOC 2, etc. But we cover more than 2000 controls ensuring that you're not just covering for getting certified but also entirely secured for all controls.
See one of our customer's reviews on G2.