Traditionally, creating policies has been a time-consuming and laborious task. Companies have had to rely on their legal and compliance teams to draft policies, which can take days or even weeks to complete. It also comes with several other challenges, such as a lack of clarity and difficulty in keeping up with changing regulations.
While automated policy creation provides organizations with pre-built templates to save time and resources, there are even more effective solutions in the present age.
Such as ChatGPT. With the oncoming prowess of AI technology, the hassle of policy creation can be a thing of the past. And we at Scrut are resolved to provide you with precisely that – which is why we have introduced our brand new feature – Policy Maker with ChatGPT.
Using state-of-the-art technology based on OpenAI's GPT-3.5 architecture, Scrut now offers an intuitive policy builder feature that makes the process of creating policies much easier and more efficient
What does Scrut's GPT Policy Builder do?
Policy Builder with ChatGPT is an innovative and efficient solution that helps users to create and generate complex policies through artificial intelligence and machine learning algorithms. It allows the system to generate policies automatically based on a series of prompts and questions.
Users simply need to provide basic information about their organization, such as its industry, size, and location, and the system will generate a custom policy that meets their needs.
Organizations can create customized policies by simply selecting from a range of pre-written clauses and provisions. Users can mention specific requirements or select the clauses that are most relevant to their organization, and the system will generate a policy that includes those clauses.
This advanced AI-based tool can rapidly analyze large datasets, saving time and resources for policymakers. Not only that, but it is also continuously evolving to keep pace with the ever-changing landscape of compliance regulations and best practices.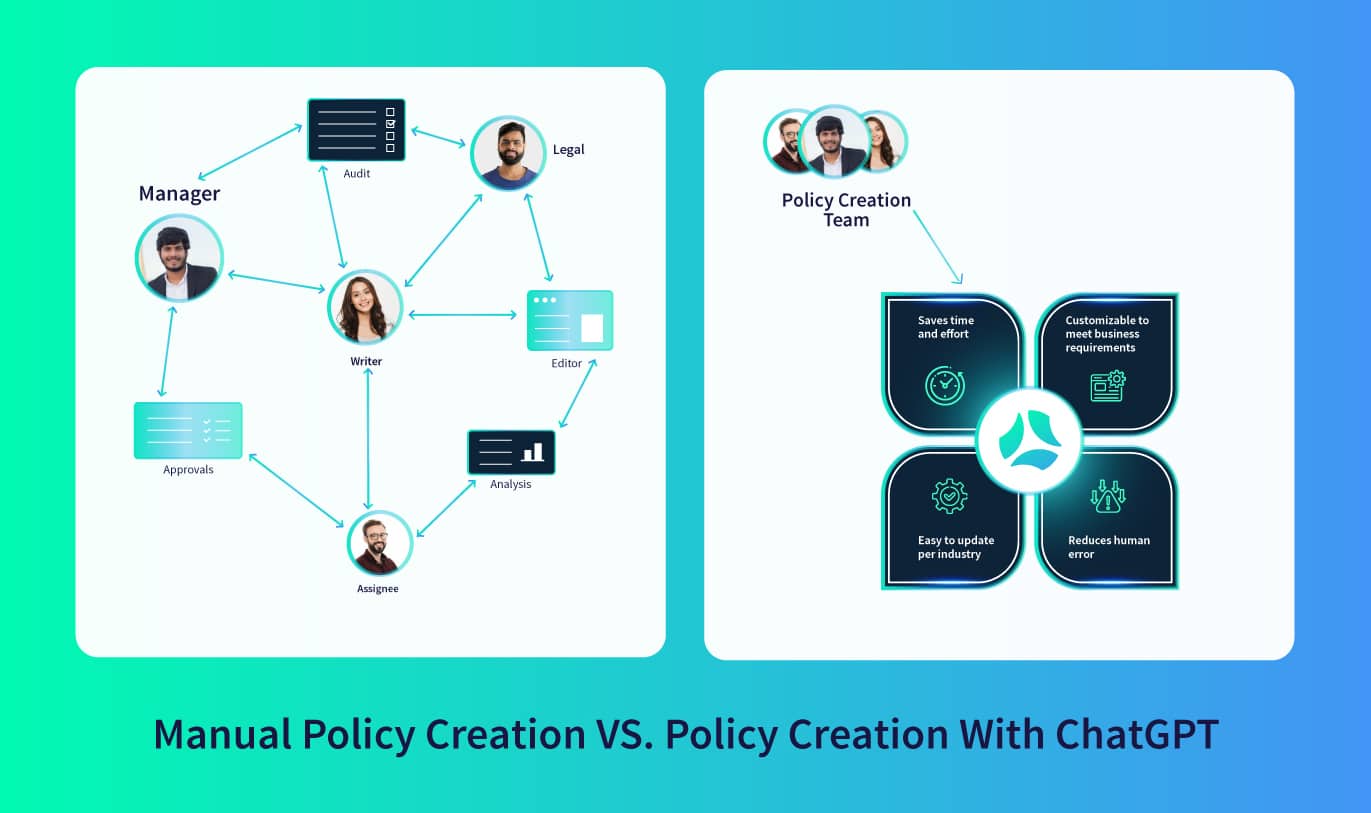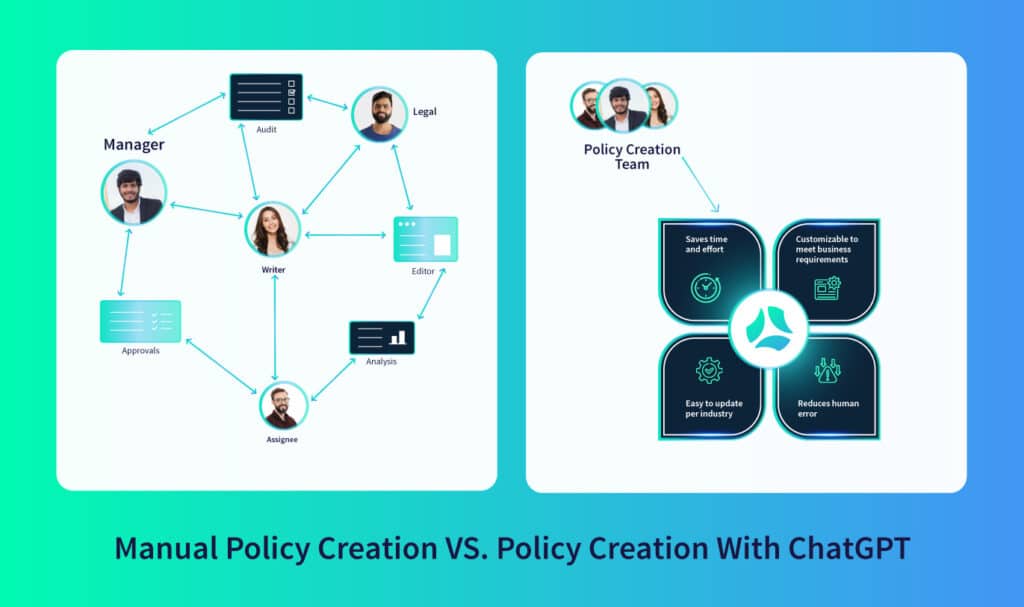 Scrut's Policy Builder makes your life easy
The chatGPT-based policy builder is designed to be user-friendly and intuitive, so even users with no legal or compliance background can easily create policies. The system uses natural language processing and conversational interfaces to guide users through the policy creation process, making it easy to understand and follow.
In addition to making policy creation faster and easier, the new feature also helps ensure that policies are compliant with relevant laws and regulations. The system is constantly updated with the latest legal and regulatory requirements, so users can be confident that their policies are up-to-date and accurate.
With this feature, you can easily generate policies for any industry, such as healthcare, finance, legal, and more.
To summarize, you'll be able to develop policies faster than you can say 'compliance' with the help of Scrut's GPT policy maker.
How does this AI Policy Builder work?
As the name suggests, GPT does the work for you. Our policy builder will take the pain out of your compliance game!
All you have to do is enter your organization's information as well as the industry and enter some basic policy information, such as the title and name of the framework you want to comply with.
Once done, you just need to click on generate and voila!
Scrut's Policy Builder also helps you edit and customize the policy per your needs on the platform before you click save.
What are the benefits of using GPT Policy Builder?
Effective policy creation can help organizations identify and mitigate potential risks, establish a culture of compliance, and ultimately achieve their strategic objectives while operating within legal and ethical boundaries.
To create a balance between pursuing compliance and continuing business growth, organizations are fast shifting towards platforms that combine the genius of AI with existing smartGRC models, like Scrut's GPT policy builder.
However, there are several reasons why organizations may be apprehensive about implementing a machine-generated policy. Is AI compatible with an organization's needs? Would machine-generated policies be as effective as manually-created ones?
Well, our policy builder checks all the boxes and makes it a game-changer for companies looking to streamline their policy creation process!
1. Saves time and effort
With Policy Builder using GPT, you can generate complex policies in a matter of minutes, which would otherwise take hours or even days to create. This leaves you with a good amount of resources, previously involved in policy creation, to focus on product development and organizational growth.
2. Customizable policies
The generated policies can be edited and customized as per your requirements, allowing you the capacity to give a personalized touch. By customizing policies, organizations can ensure that their policies align with their unique culture, values, and operating environment.
3. Industry-specific policies
The tool generates policies based on your selected industry, ensuring that the policies are relevant and up-to-date with the changing regulations and legislation. Creating applicable policies is the need of the hour, and Scrut's Policy Builder understands that.
4. Error-free policies
One of the most significant drawbacks of manually created policies is that they are prone to errors. The policies generated by the tool are free from human errors, ensuring that they are accurate and legally compliant, saving organizations a lot of back and forth.
In conclusion, Policy Builder using GPT is an excellent tool for anyone looking to create complex policies quickly and accurately. Its user-friendly interface and customizable policies make it an ideal tool for businesses of all sizes and industries.
Explore the feature or schedule a demo with us to learn more today!