Whether you are a start-up or a large enterprise, you must comply with the PCI DSS if you store or process credit card payments.
However, managing PCI DSS compliance is difficult. Imagine reading through 1,800+ pages of documentation to determine which of PCI DSS's 300+ security controls apply to your company!
With compliance automation tools, it is easier to comply with PCI DSS requirements.
Data breaches can cause a severe blow to a company's reputation, making it vulnerable to potentially damaging public relations nightmares and financial losses.
To protect users' sensitive payment information and to guard against these risks, all organizations, regardless of size, must adhere to the Payment Card Industry Data Security Standard (PCI DSS).
Fortunately, with the help of compliance tools, companies can more easily comply with the PCI DSS and reduce the risk of a data breach.
PCI DSS automation software streamlines and automates the PCI compliance process. It assists businesses that store or process credit card details in meeting the regulatory requirements of the payment card industry data security standard.


In this article, we will discuss different PCI DSS compliance automation software and how they can help you protect your users' sensitive information while staying compliant with PCI DSS regulations.
Top 15 PCI DSS Compliance Automation Software
Here is the list of compliance automation tools based on PCI DSS compliance that will save you time in your research.
1. Scrut Automation
Scrut makes PCI DSS certification easier by strengthening compliance with pre-built controls and continuous monitoring. The platform guides you through gathering the information you need to pass the audit and become certified.
Single window solution: Scrut is a single-window platform for all PCI DSS-related policies, tasks, and evidence activities. It provides a unified view of your PCI DSS compliance by providing an overview of where you stand and ensuring that you are on track for your audit.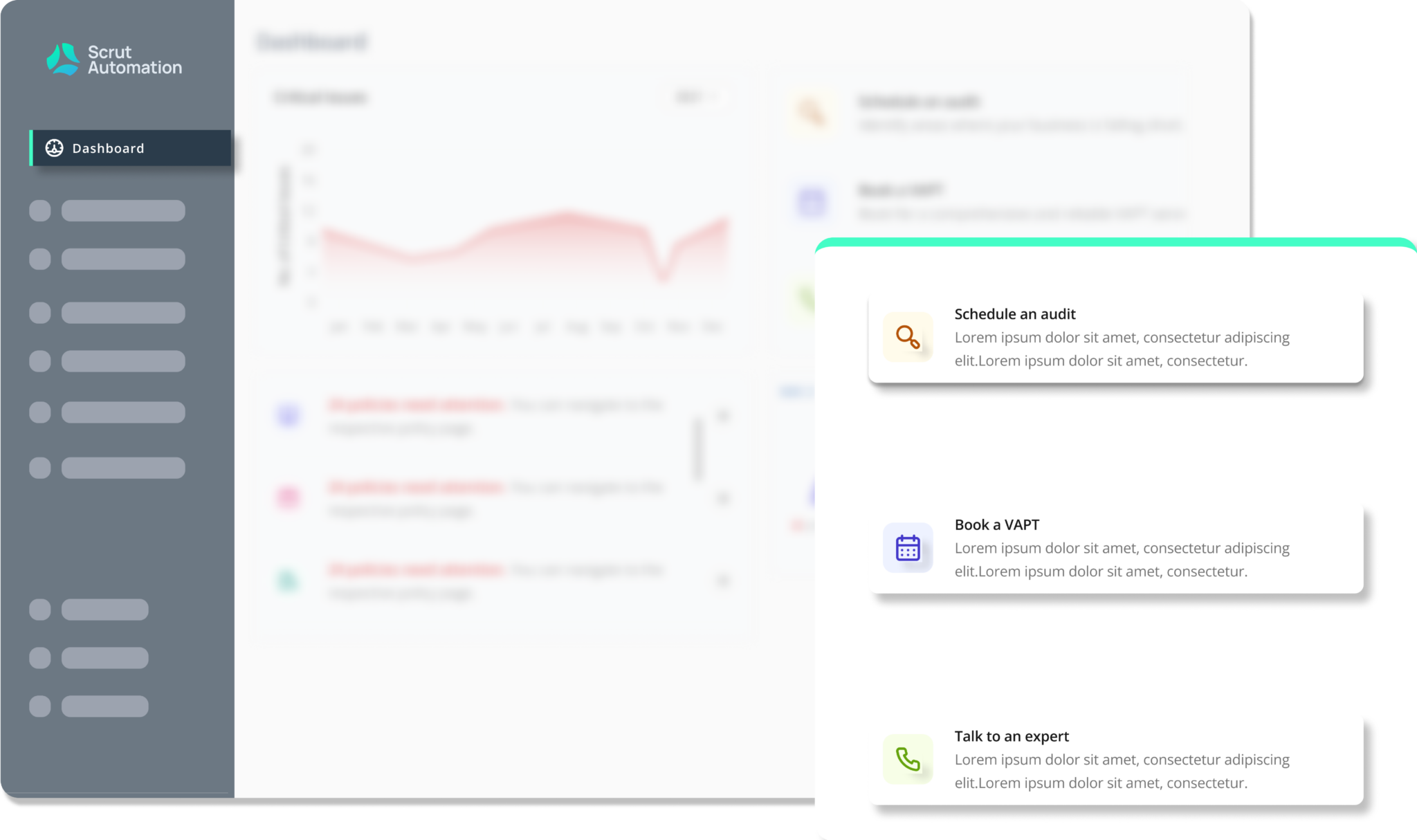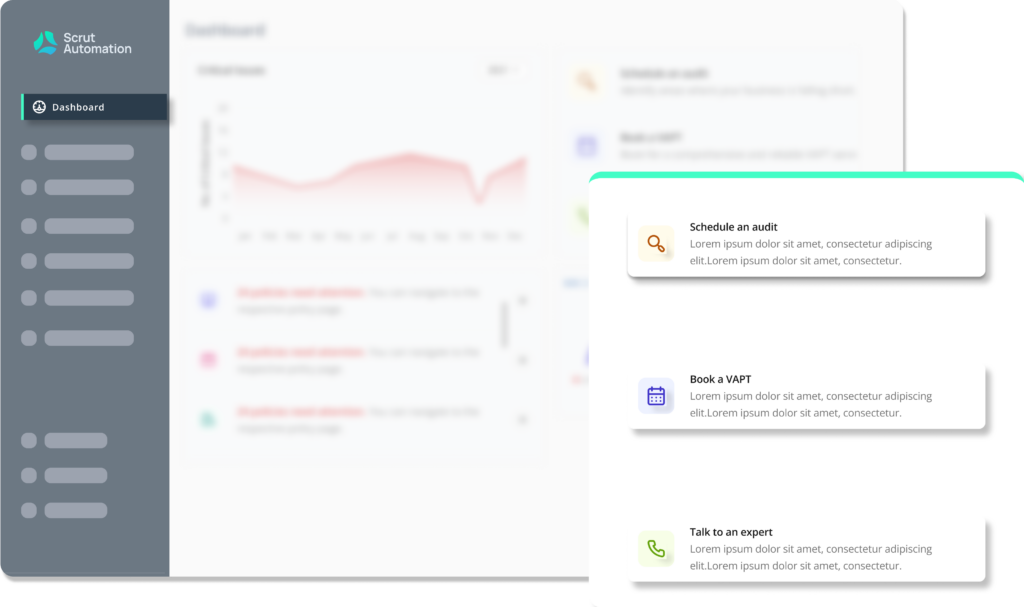 As shown in the screenshot below, you can use our policy library, which contains over 50 pre-built policies for PCI DSS controls. Moreover, you can customize these policies with the in-built editor and get them vetted by our in-house PCI DSS compliance experts.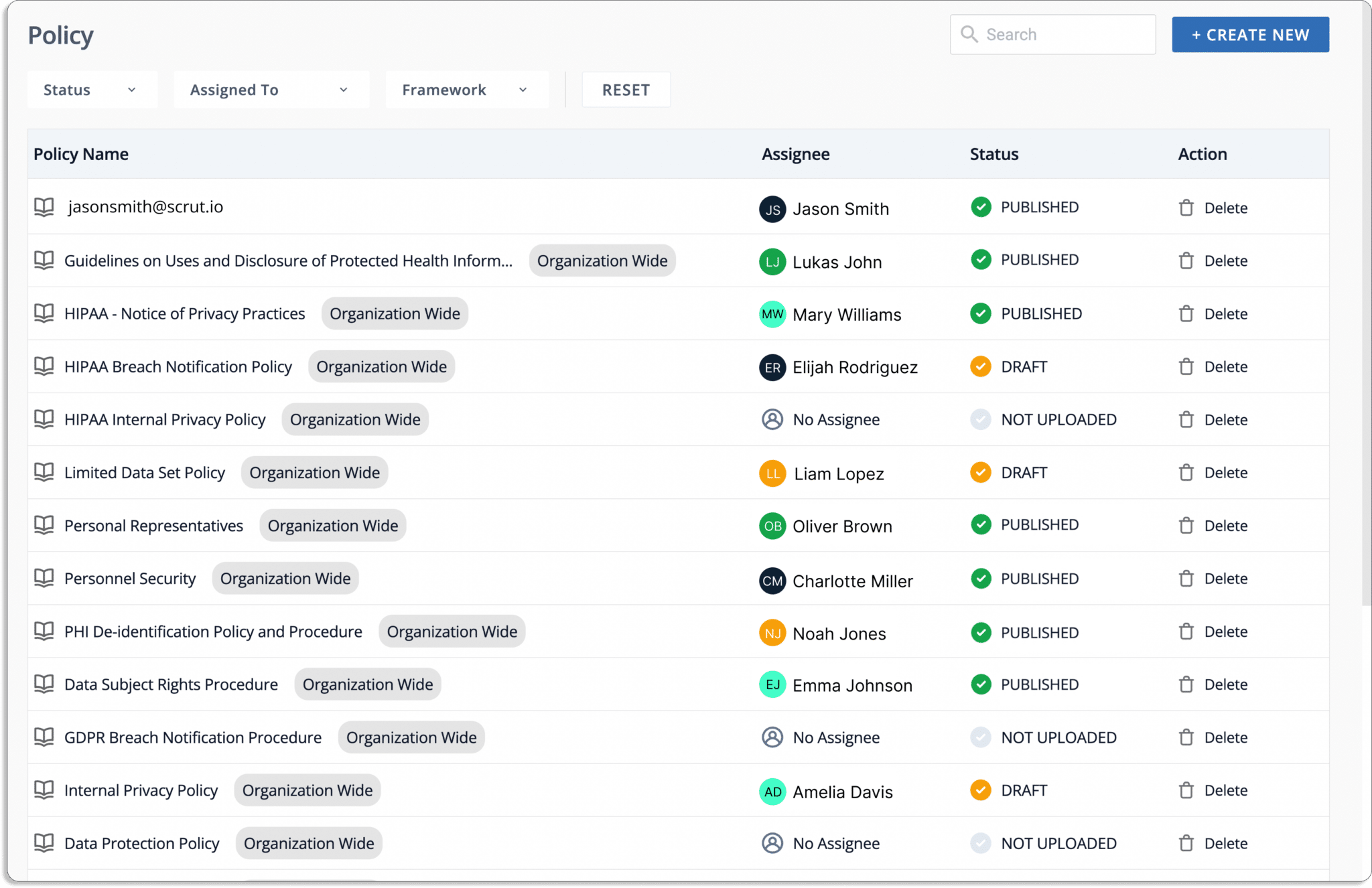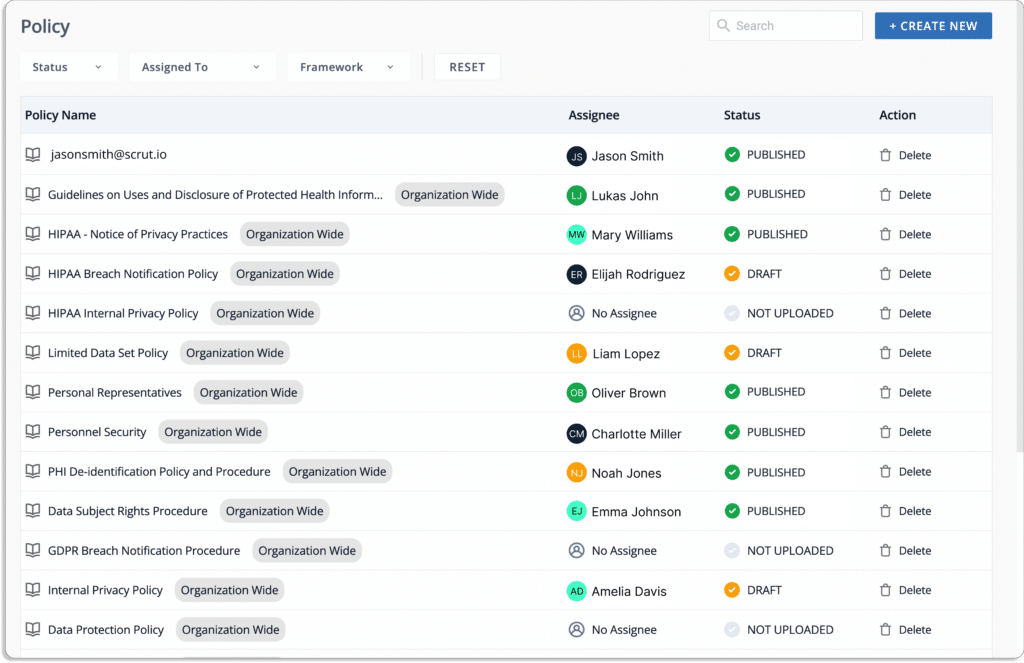 Scrut also gives you the flexibility to upload your own policies.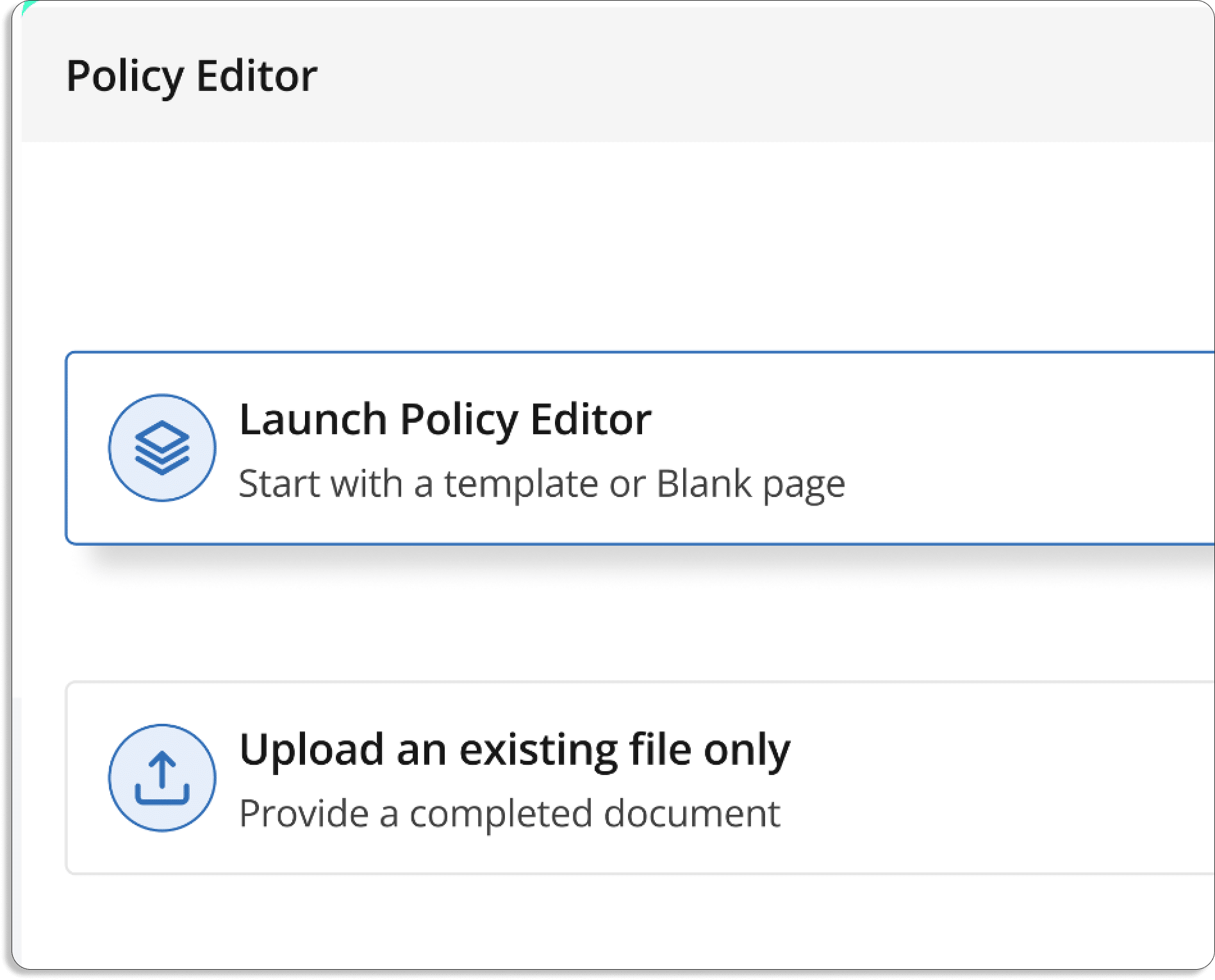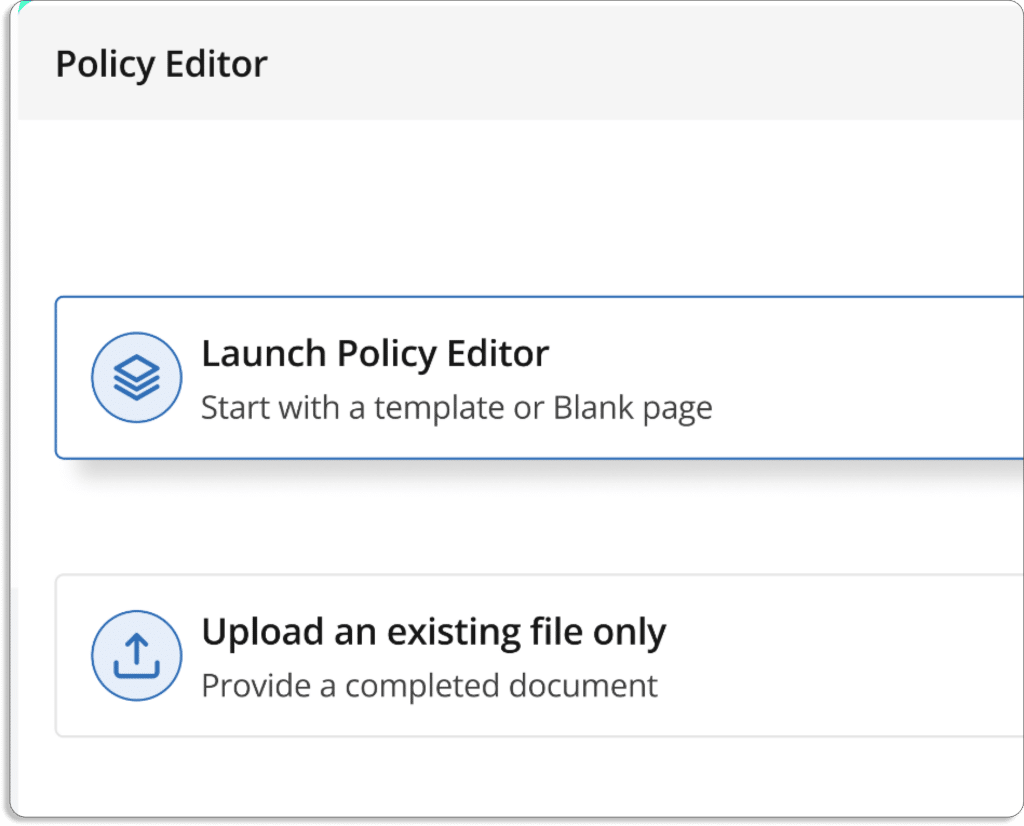 Additionally, these policies are mapped to controls.


Centralized record for all evidence
The platform provides a centralized record-keeping system through which you can assign owners across your organization and store relevant evidence.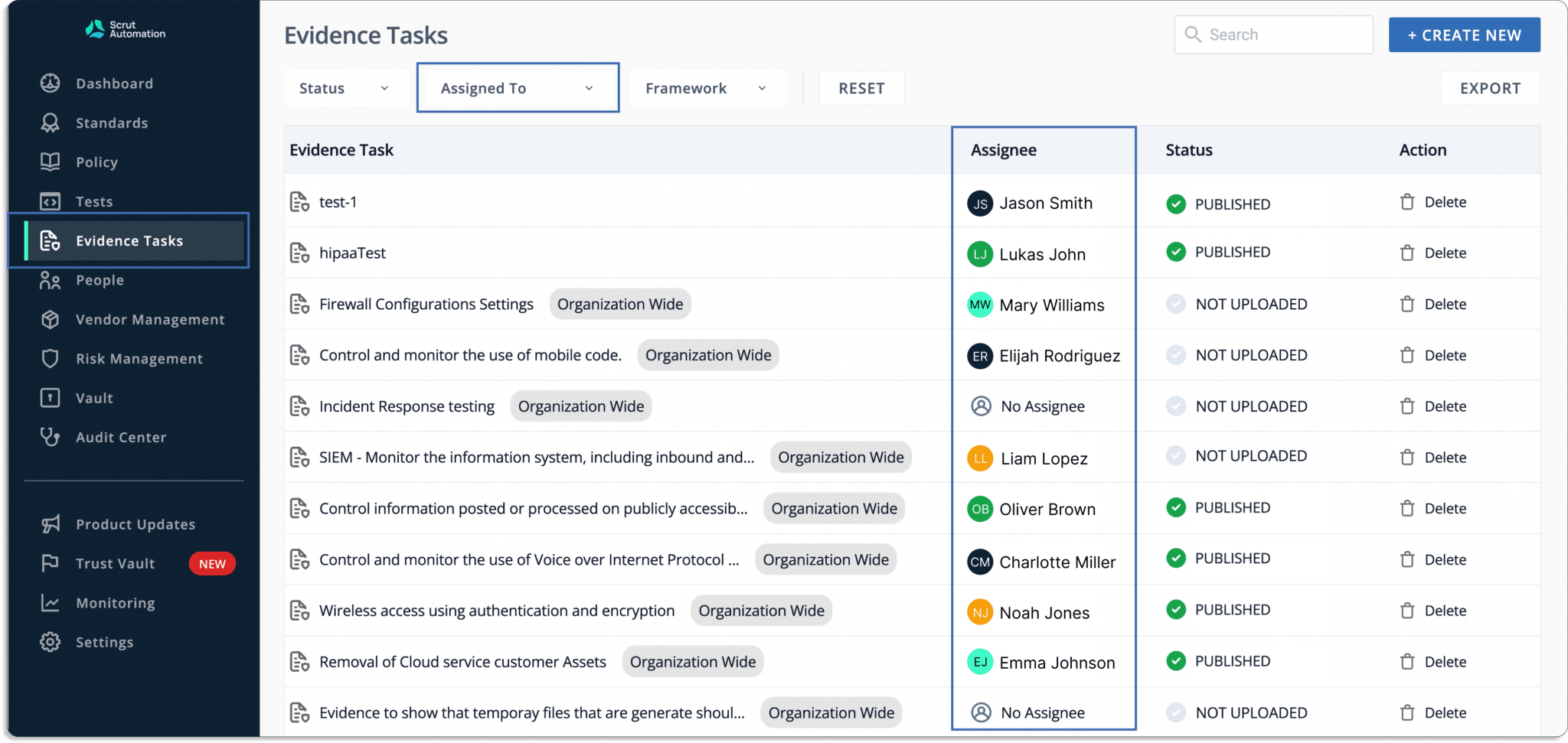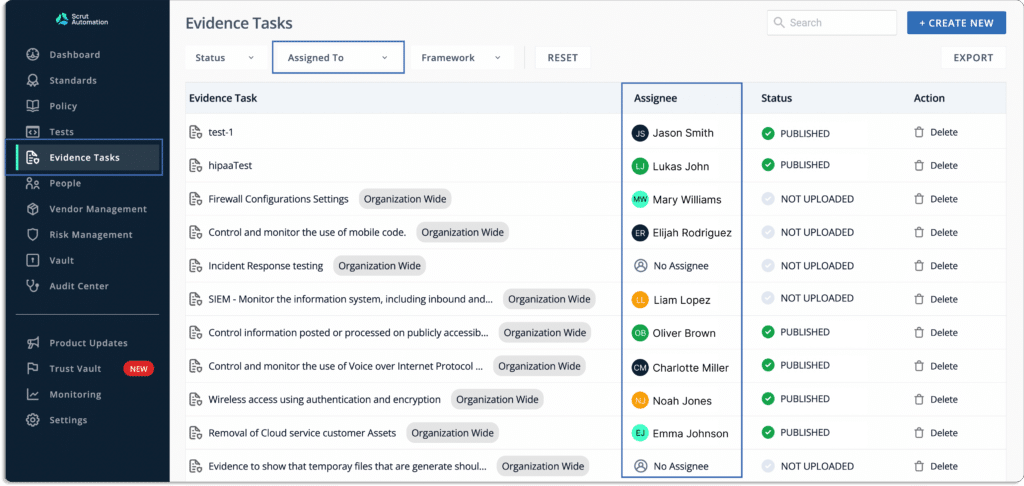 Scrut automates more than 65% of the evidence-collection process. To do this, Scrut integrates with various tools, like mobile device management, identity providers, cloud service providers, HRMS, etc.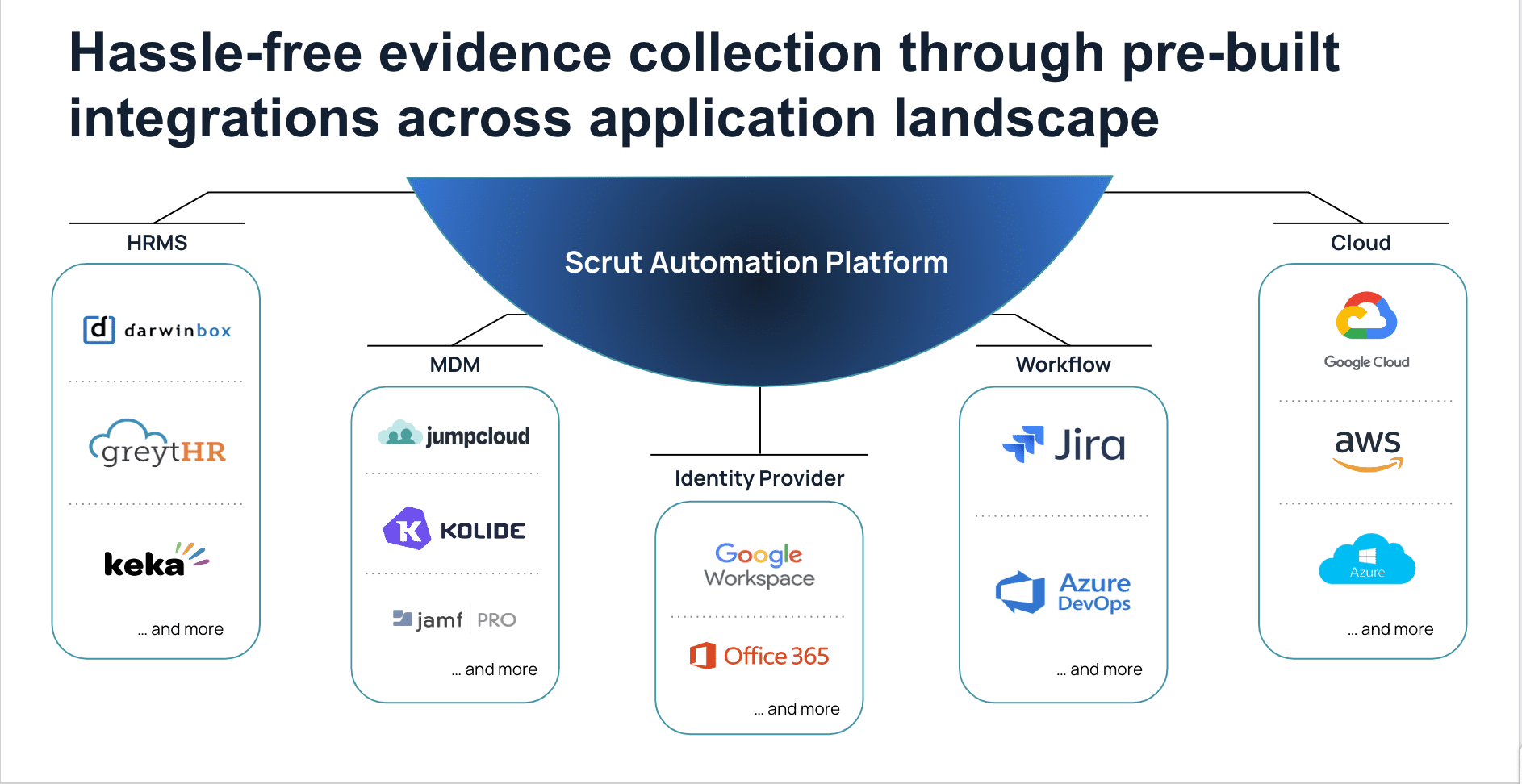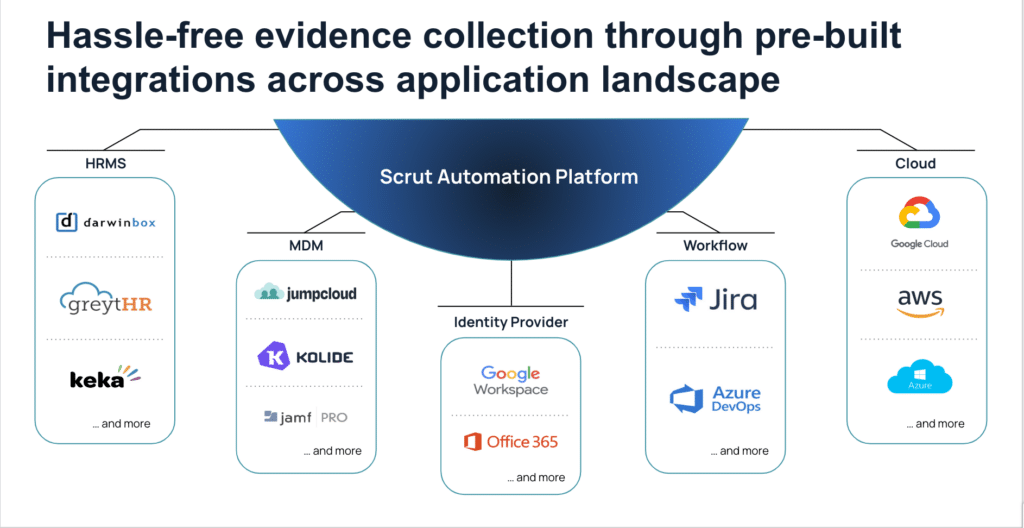 Before using Scrut, one of our customers used Google Drive to store evidence. But they were losing track of the versions. With Scrut, that problem was immediately solved as Scrut stores these evidence pieces contextually for every control and test.


Easy to build trust with Trust Vault
With Scrut, you can showcase PCI DSS and other security certifications to build real-time transparency into your security and compliance postures.
You can host this on your website so that prospective customers can directly request the reports they need.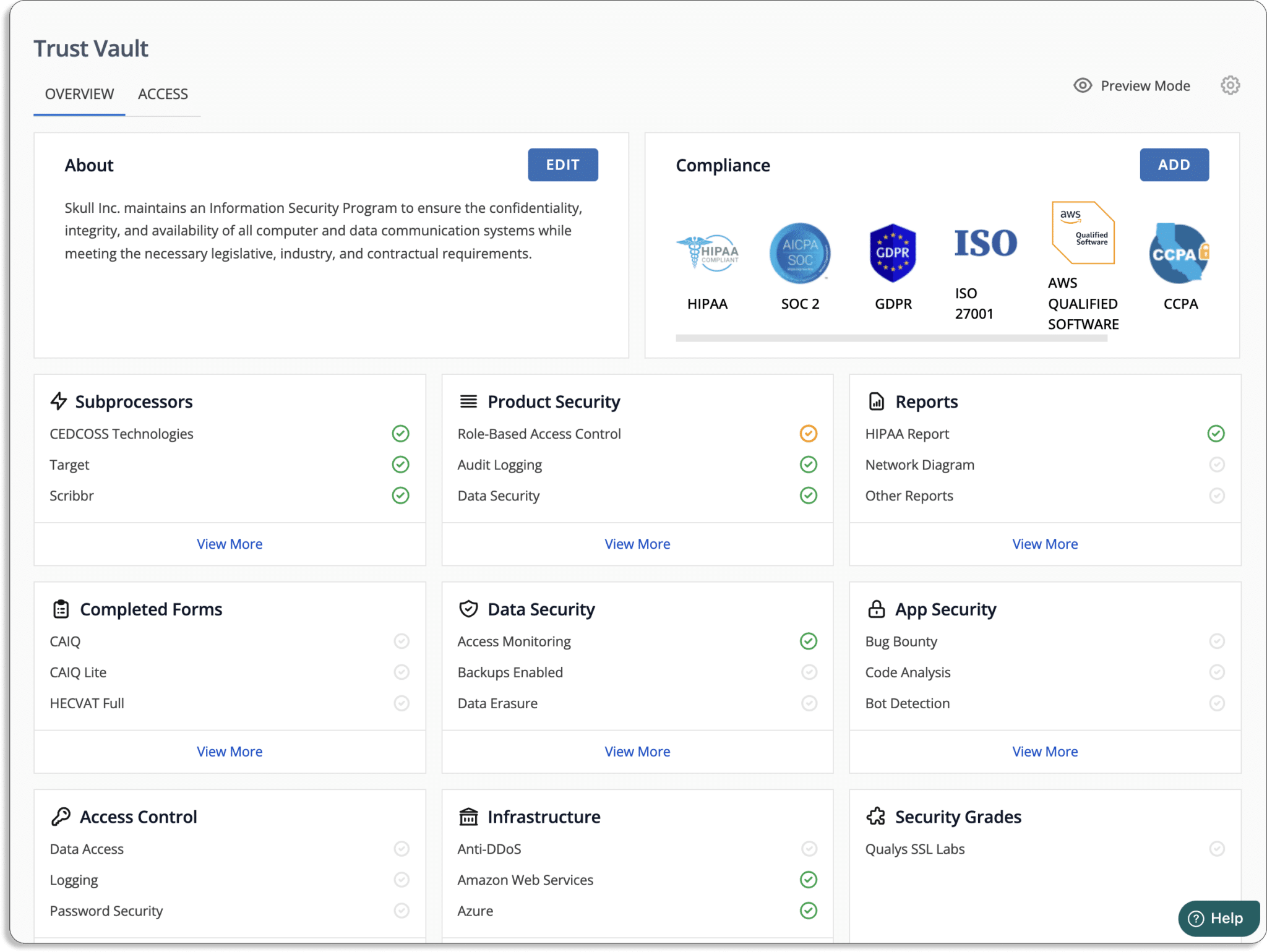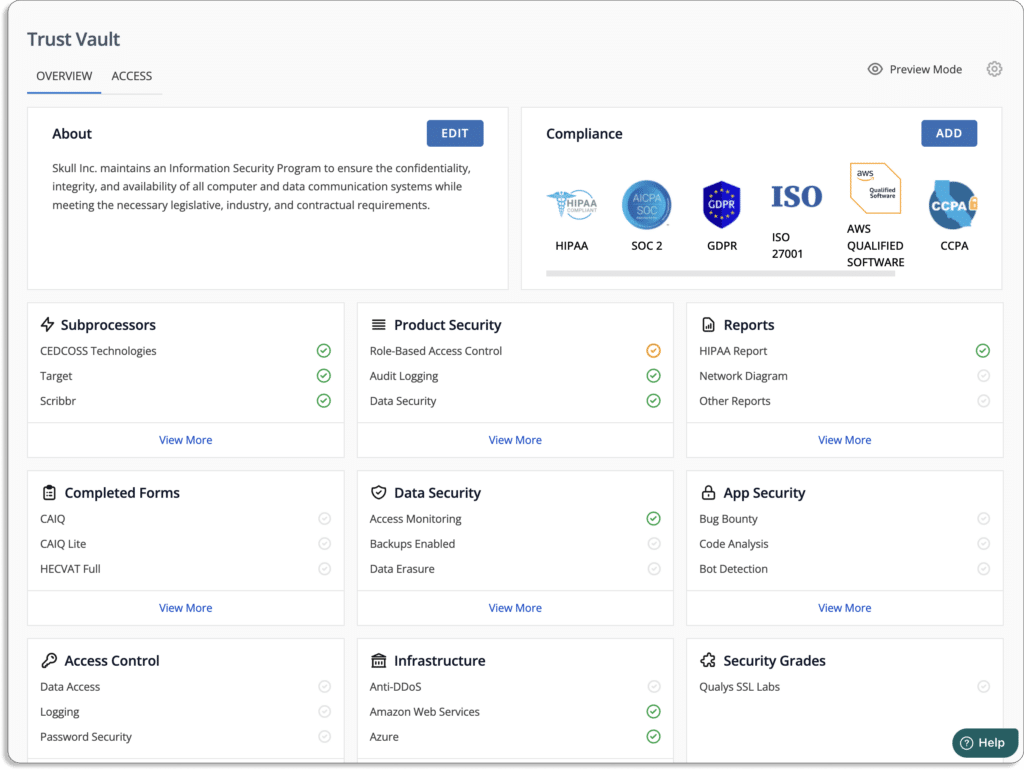 You can invite your auditor on the platform to collaborate on various audit tasks. Auditors can easily find all artifacts related to audits on the platform, which helps them to do audits quickly.
To do this, just create a new audit in the audit center.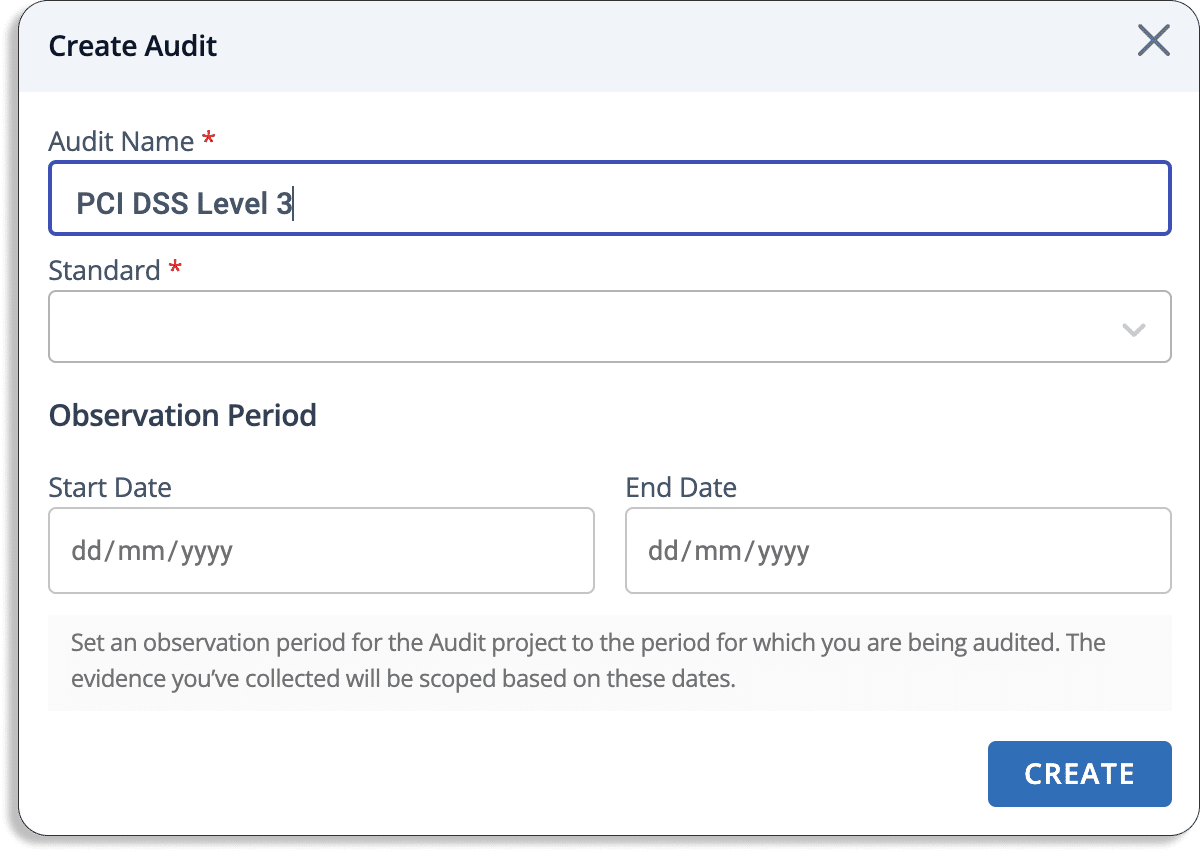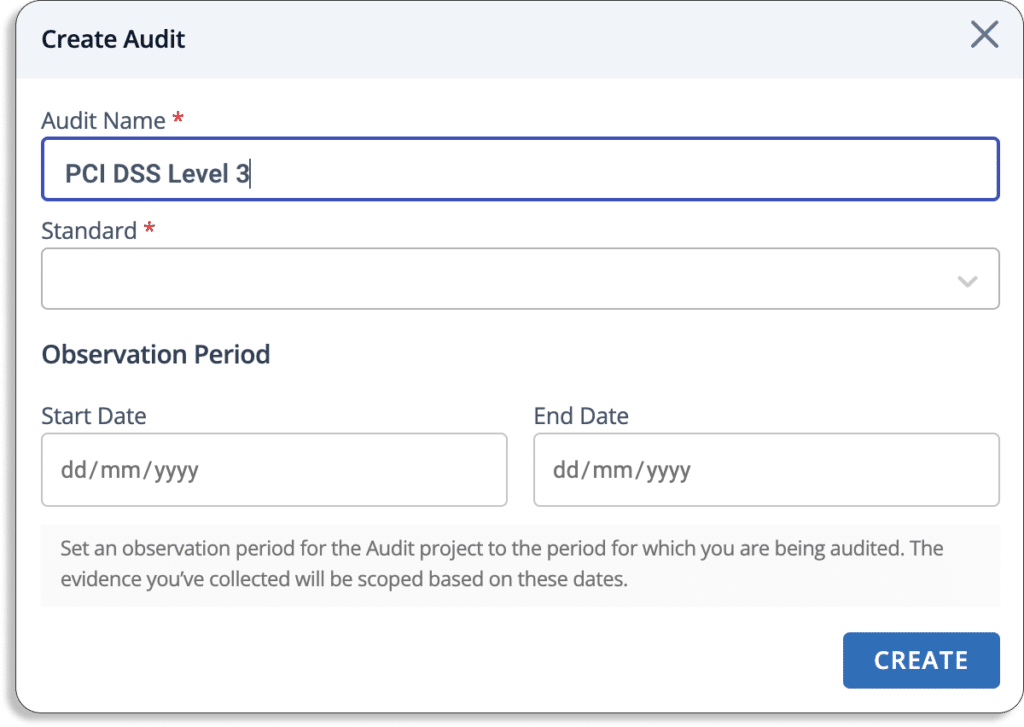 Then, invite the auditors to the platform.
First, you need to add them with auditor roles.
To do this, go to settings and then manage users.

Then, click on add new user. You will see a pop-up like this.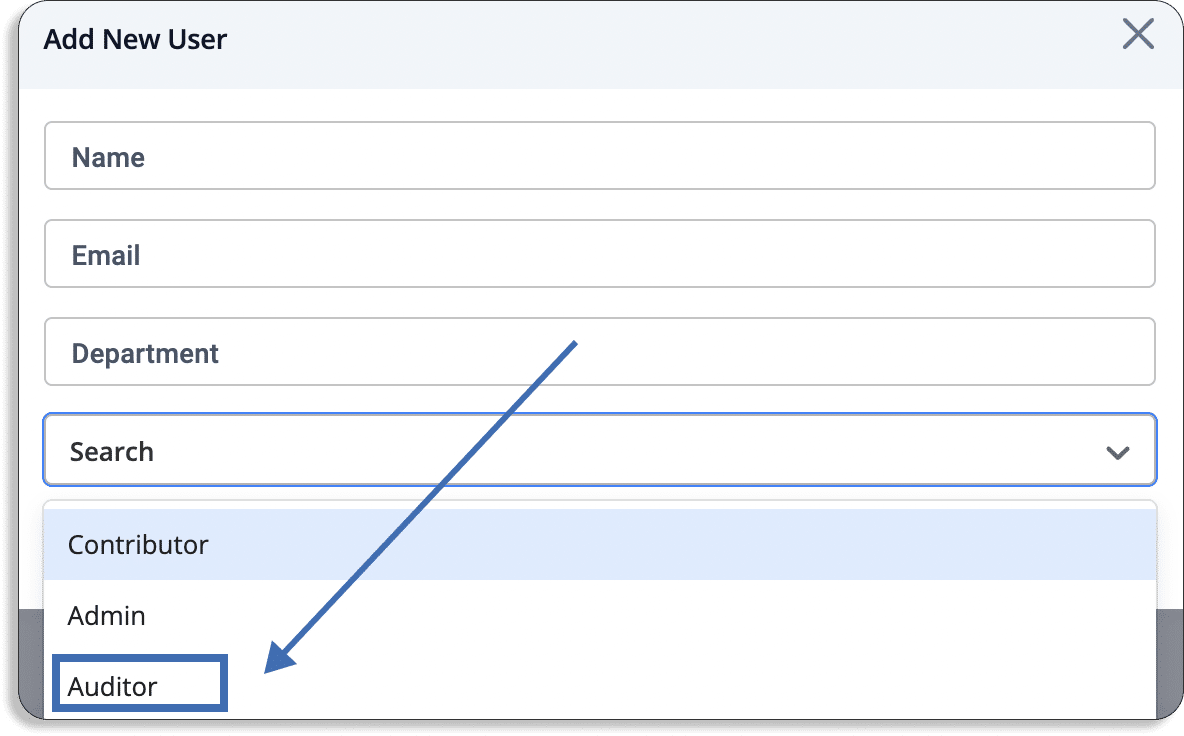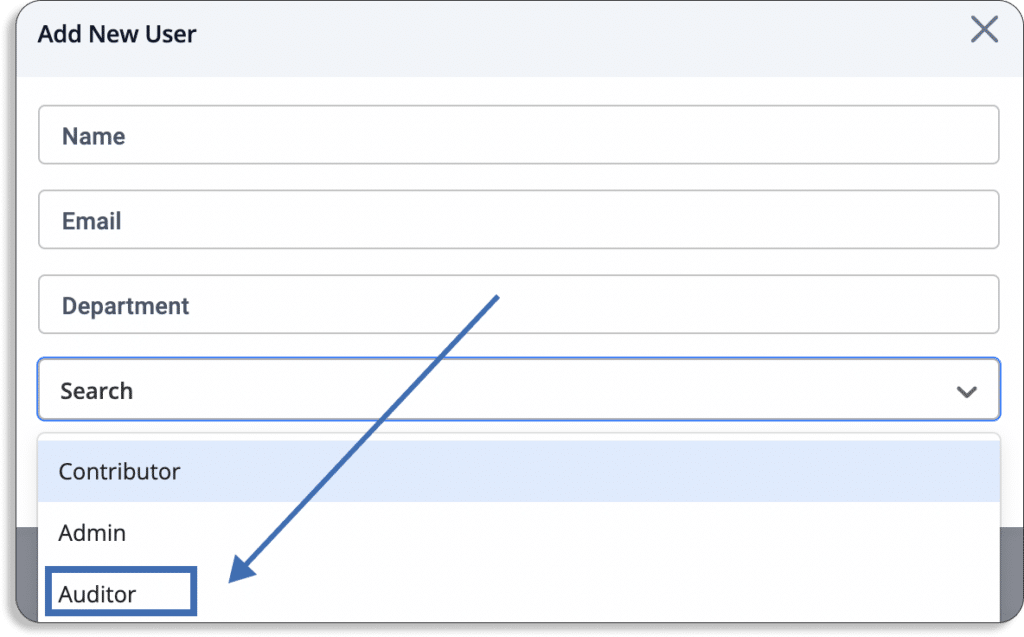 Enter their details, and you are done.
Track multiple compliances at once
The Scrut smartGRC platform comes with over 20 security and compliance frameworks out-of-box.
These controls are mapped with multiple frameworks due to overlap between different frameworks. So, one control may fulfill the requirements of multiple frameworks.
This eliminates the duplication of efforts when going for multiple frameworks at once or even if you go with other frameworks in future.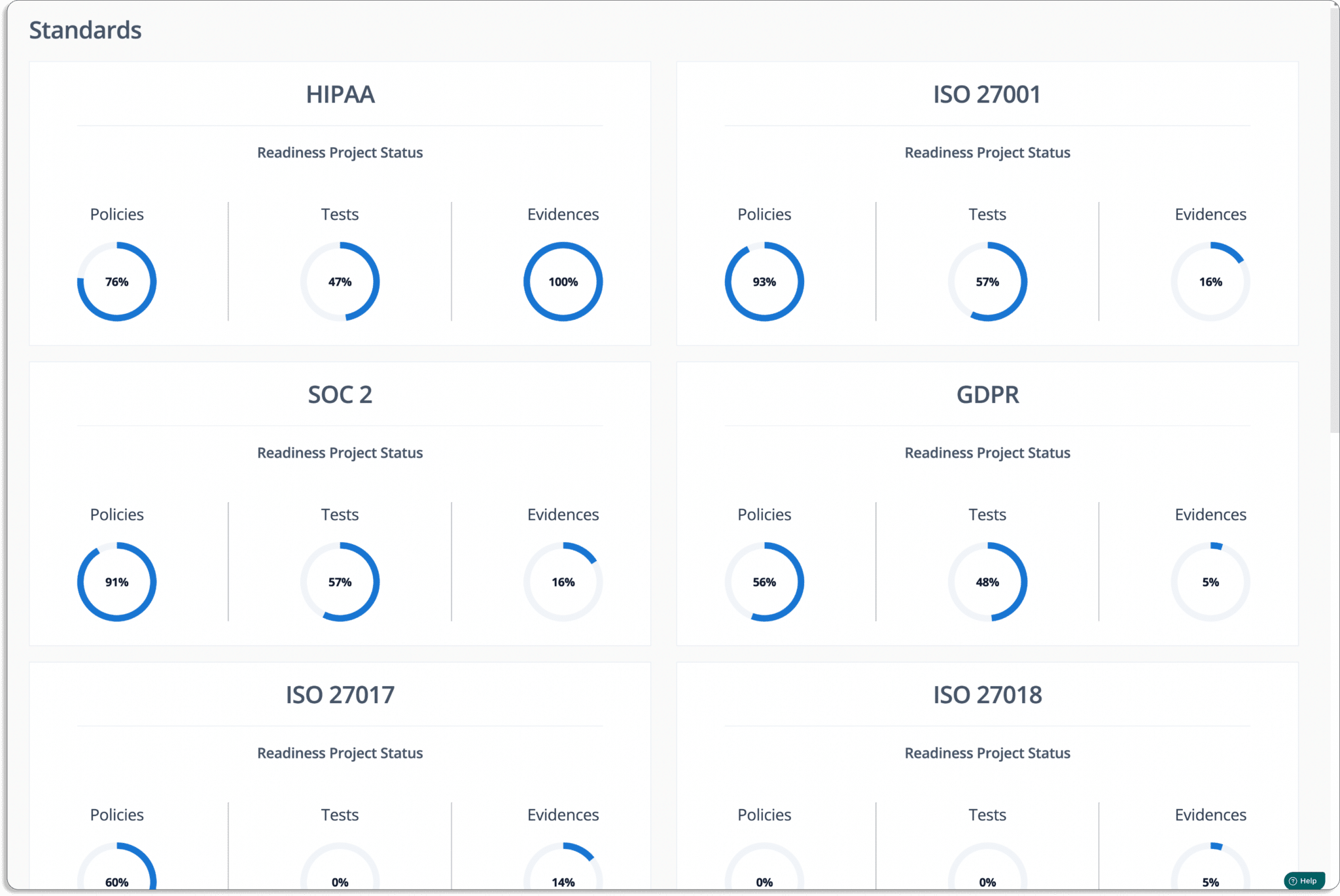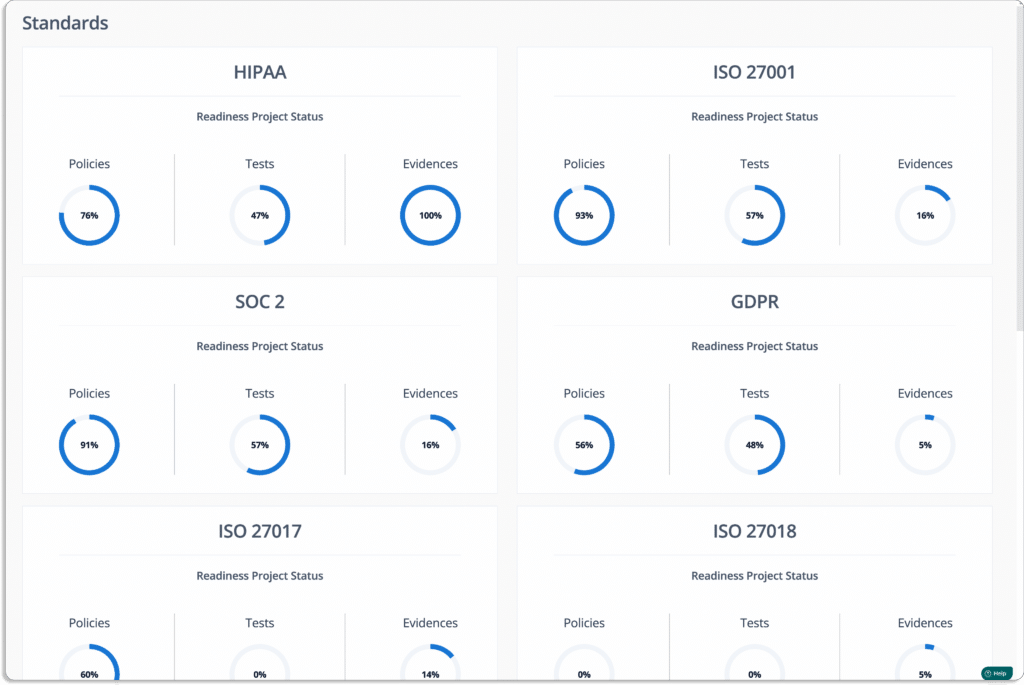 Automate cloud security monitoring
Scrut Automation not only assists you in becoming compliant but also in staying compliant.
We are not restricted to the basic controls required to comply with popular frameworks. Scrut automatically tests your cloud configurations against 200+ cloud controls across CIS benchmarks to ensure a strong InfoSec posture.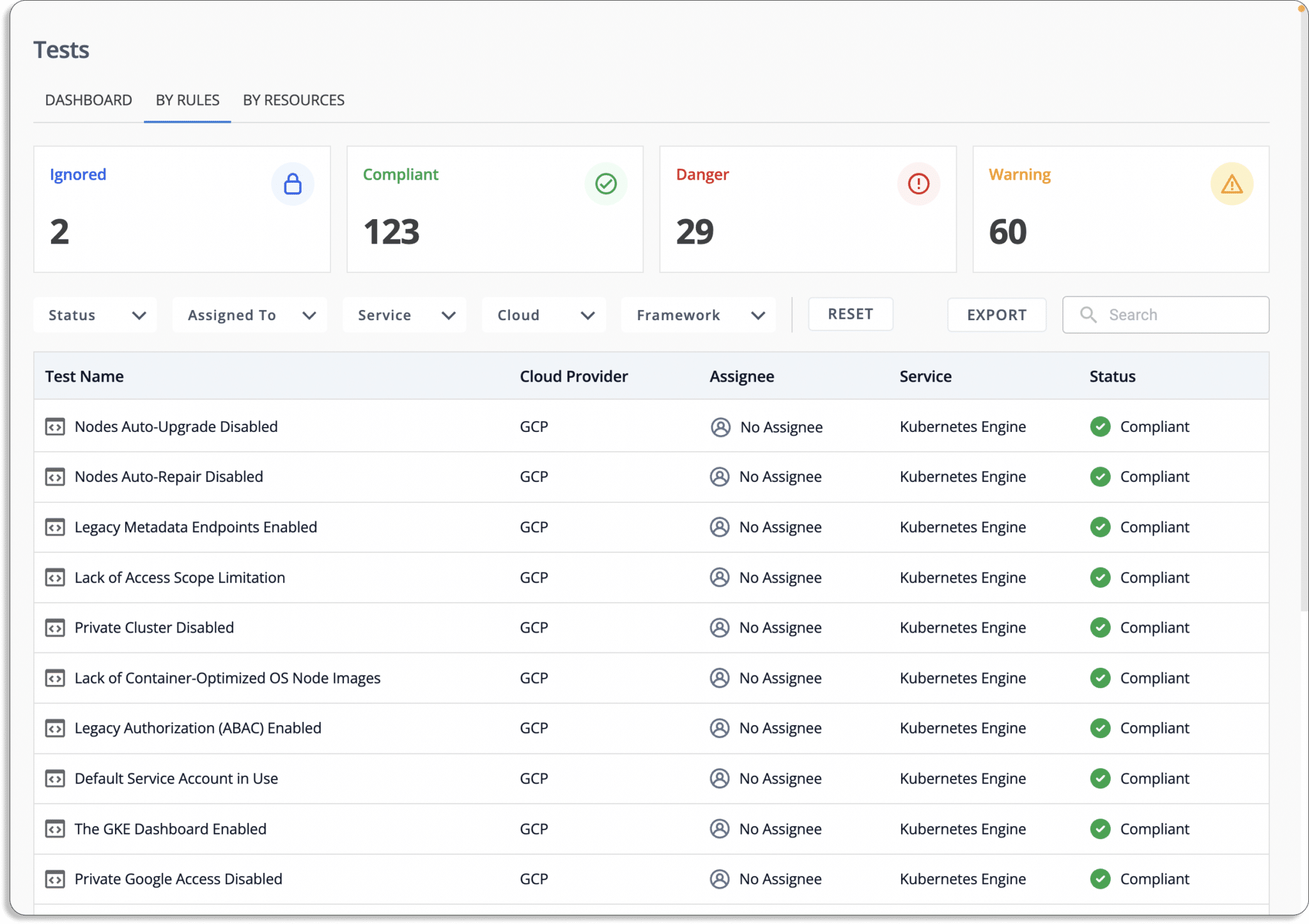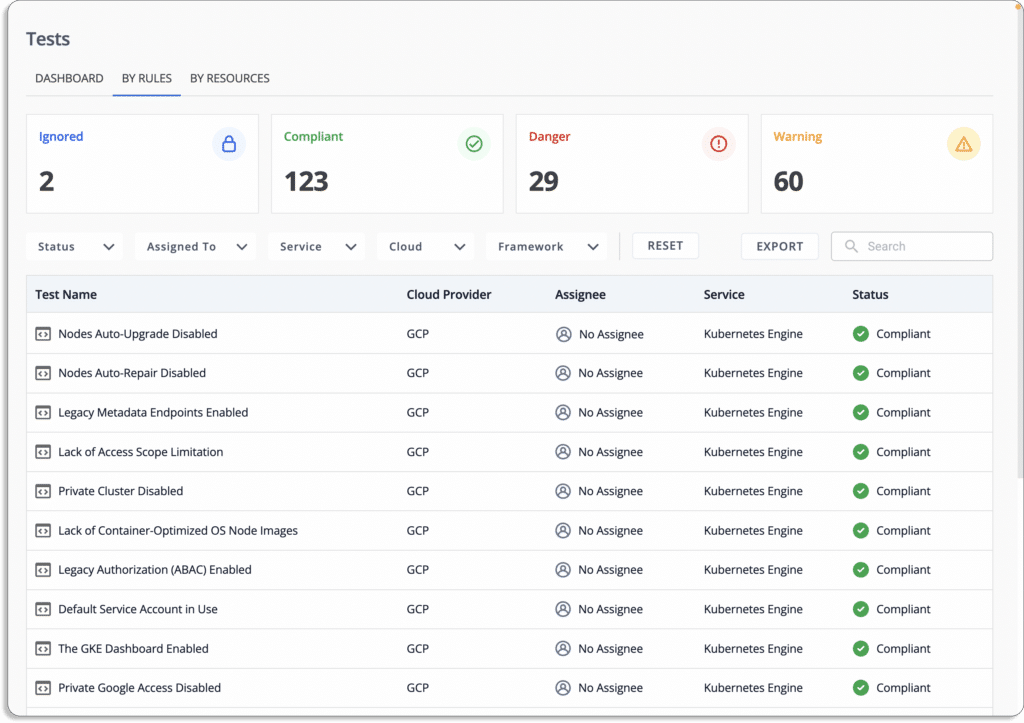 You may require professional assistance at any time regarding compliance. Our information security specialists are available around-the-clock throughout your compliance journey and even after.
Check our customer reviews below.






Customer Rating
Schedule a demo to learn more about how Scrut Automation can help you with PCI DSS compliance.


2. Vanta
Vanta helps organizations comply with the PCI DSS by determining which self-assessment questionnaire (SAQ) is appropriate for your organization and assists in completing a report on compliance (ROC). With Vanta, you can take action on PCI DSS compliance and reduce your company's dependence on external consultants. Vanta's continuous security monitoring reduces the burden of completing your SAQ or ROC while meeting the new PCI DSS 4.0 requirements.
Pros
Vanta offers automated task reminders.
The tool provides complete visibility for policy sharing with third parties.
The platform provides you with a clear roadmap for meeting all requirements and gathering the necessary evidence.
Cons
The automated policy generator may not work as efficiently when you edit offline.
Tracking requirements such as encryption may not always work on Linux machines, necessitating manual verification and storage of that data in Google Drive for auditors.
Customer Rating
3. Hyperproof
Hyperproof is a compliance solution that assists organizations in understanding PCI DSS requirements, developing tailored controls for their business, automating the evidence management process, and monitoring their security controls. With Hyperproof's pre-built templates, you can implement controls quickly. The platform collaborates with professional service firms with a proven track record and deep expertise in assisting organizations in becoming PCI DSS assessment-ready.
Pros
The platform saves users time with integration capabilities and seamless workflow for linking controls to multiple frameworks.
Hyperproof's risk register allows users to manage longer-term risks to assess impact, likelihood, and mitigation progress.
The platform is simple to integrate with other applications to import and export data.
Cons
Uploading controls into your programs can be difficult, and the process is not entirely automated.
Users cannot customize and configure notifications as per their requirements.
Customer Rating
4. Drata
Drata's dashboard provides a comprehensive view of your security posture and PCI DSS compliance status. Drata's built-in PCI playbook gives you the tools you need to navigate PCI DSS compliance requirements while providing users with a single documentation source.
The platform includes a playbook of pre-mapped controls that give visibility into your security posture and control over compliance. Furthermore, it offers a variety of integrations with background check tools to meet all security information policy requirements.
Pros
The tool suggests a list of auditors who are familiar with the tool and offers a significant discount for the audit.
The policy center is equipped with expert-level policies that have been pre-written and only require some general context replacement, saving hours of policy writing.
Cons
Additional charges need to be paid for features like Trust Center.
You cannot collaborate with the auditors on the platform.
Customer Rating
5. ZenGRC
The ZenGRC tool allows you to track your InfoSec program over time to ensure compliance. The platform offers a user-friendly dashboard with current statistics on the highest-priority risks. You can use the pre-built templates to assist in your compliance audits. It also provides a central location for all audit-ready records.
Pros
ZenGRC reduces manual efforts and facilitates business-related tasks.
The tool provides an automated compliance tracking feature.
Cons
Evidence storage solutions are not fully integrated with the tool.
Customer Rating
6. Apptega
Apptega is a cybersecurity management software solution that helps develop, manage, and report your PCI DSS compliance procedures, and your overall cybersecurity program. The platform designs your entire program once you log into the solution. It manages your PCI compliance program, which includes a real-time compliance scoring, budgeting, task management, collaboration, and other features. The tool allows you to map all your cybersecurity frameworks in one place.
Pros
Users can crosswalk multiple frameworks at the same time.
The platform manages multiple scorecards from a single pane.
Cons
The platform sometimes gets slow in saving real-time data updates, and users experience a lag when inputting data and making compliance program updates.
Customer Rating
7. VComply
VComply is a compliance management solution that offers a repository of controls that are aligned with the PCI DSS framework requirements. You can create linked controls wherever gaps are identified to make risk mitigation easier. The tools allow you to define ownership for adhering to PCI DSS compliance guidelines with VComply. Furthermore, the tool sends automated e-mail notifications to the owners when tasks are updated.
Pros
Provides an easy follow-up process with system alerts.
Provides customizable features that can be adapted to an organization's specific needs.
With VComply, users can get task updates as well.
Cons
VComply dashboard does not provide search filters to view the overall status better.
Customer Rating
8. Tugboat Logic
Tugboat Logic's audit assessment module automates the PCI DSS compliance process by providing you with all the information and guidance required to pass the audit by indicating which of the 300+ controls you need. The tool manages and tracks your PCI prep work, allowing your auditors to see what controls you've put in place alongside the evidence you've gathered. Tugboat Logic's audit readiness module identifies the policies and controls that must be implemented to comply with PCI DSS.
Pros
The platform provides a security training feature with an overview of who has completed which training sections and who has not.
The readiness project feature provides a compartmentalized assessment of compliance requirements.
The tool provides security questionnaires with existing evidence and controls.
Cons
The tool does not offer a feature to send individual reminders to team members about the tasks they still need to complete.
Customer Rating
9. Qualys
The Qualys integrated solution provides a unified view of your assets and PCI compliance status. The platform identifies gaps in your compliance and directs you to pre-built templates, profiles, and policies.
Qualys meet many PCI DSS requirements, including asset management, payment web app security, external and internal vulnerability management, and secure configuration management. The tool collects telemetry required for all PCI DSS requirements into a highly scalable cloud platform, assisting security practitioners in managing their PCI DSS posture.
Pros
Users can manage asset vulnerabilities throughout the entire vulnerability lifecycle.
It is extremely simple to manage assets across multiple AWS accounts using connectors.
Cons
Endpoint scanning can be slow sometimes.
The user experience can be suboptimal because the menu isn't repeated across various modules and each UI is updated separately.
Customer Rating
10. AuditBoard
AuditBoard is a compliance solution that identifies, evaluates, and manages risks in a single location. It connects risks and controls across assets, laying the groundwork for various framework audits throughout your organization.
The platform dynamically scores and ranks risks to gain insight into their severity and understand the likelihood of potential threats. Furthermore, it automatically schedules and sends requests to stakeholders based on frequency.
Pros
You can use filters and keyword search options to find the controls.
AuditBoard provides real-time review and approval process features.
Cons
There is no module for third-party risk management.
It has a complex process for setting up new controls and processes.
Customer Rating
11. Alert Logic
Alert Logic's managed detection and response services assist you in becoming PCI DSS compliant. The platform offers automated security controls that simplify assessing and detecting vulnerabilities and suspicious behavior that could jeopardize your PCI DSS compliance status.
Alert Logic provides comprehensive managed detection and response (MDR) for public clouds, SaaS, on-premises, and hybrid environments.
Pros
The tool collects data from a variety of open-source and commercial sources, as well as from internal and external sources.
The platform identifies commitment indicators to protect assets from potential attacks.
Cons
Sometimes the tool provides incorrect threat geolocation.
Users are sometimes bombarded with irrelevant alerts.
Customer Rating
12. MetricStream
MetricStream is an integrated risk management and governance, risk, and compliance solution that enables businesses to thrive on risk through risk-aware decisions. The platform identifies and mitigates potential PCI DSS compliance risks by providing a unified view of control documentation, assessments, and testing processes.
MetricStream builds a structured and logical internal control hierarchy that maps PCI compliance policies and regulations to your company's processes, assets, risks, and controls. The tool quickly resolves PCI DSS compliance and control issues using AI-powered issue management.
Pros
Integrates with other GRC modules as well.
The platform provides automated risk processes using templates and workflows.
Cons
Lack of a dashboard for executive-level reporting in the compliance module.
Customer Rating
13. Onetrust
OneTrust provides an interactive PCI compliance checklist manager to help you prepare for and pass audits faster.
You can manage the PCI DSS compliance lifecycle by reviewing, assigning, and marking controls in an at-a-glance operations dashboard. You can share evidence, track the project, and collaborate with an auditor directly within the platform once you've tracked evidence collection and completed all controls.
Pros
Users can directly send vendor security assessment questionnaires to third-party vendors.
Provides constant updates to keep users up-to-date.
Users can build detailed assessment questionnaires with an assessment automation module.
Cons
The platform does not provide system asset hierarchy levels.
Lacks in SSO and delegated user administration.
Customer Rating
14. Secureframe
Secureframe is a GRC platform that simplifies the PCI DSS compliance process at every stage, allowing organizations that process, store, transmit, or interact with credit card data to become compliant easily.
The platform streamlines the assessment process by collecting evidence and meeting the PCI DSS's 300+ control requirements in one location. It keeps track of over 100 cloud services, including AWS, Azure, and Google Cloud.
Pros
The platform includes integrations for automatically pulling data.
Cons
Secureframe doesn't provide any information on how to resolve errors. For example, the tool notifies that there is a problem with a tool in a particular region but fails to specify which regions are affected.
Some of the instructions on the test pages are outdated.
Customer Rating
15. Laika
Laika is a compliance automation software that helps organizations get InfoSec certifications. The platform streamlines and accelerates your PCI DSS certification by combining automation, self-assessment support, and expert insights.
Laika provides PCI DSS policy templates and automated vendor discovery. Furthermore, it customizes your PCI DSS compliance roadmap based on a detailed gap analysis.
Pros
The platform provides step-by-step instructions on everything users need to do to become compliant.
The tool summarizes the progress and questions related to the project.
Cons
You cannot find previous comments in a single location.
Customer Rating