In manual vendor risk management (VRM) programs, vendor assessment answers are kept in spreadsheets, which expose organizations to a wide variety of cyber threats due to the manual nature of the process. On the other hand, automated VRM reduces the risk and increases vendor onboarding speed.
By automating VRM, organizations can streamline vendor onboarding, centralize vendor inventory, and automate compliance checks and risk assessments. This leads to overall visibility into vendor risks and the ability to track key metrics.
A vendor is a third party that provides services to the organization when they outsource their business tasks. Examples include cloud service providers, law firms, accountants, auditors, consultants, etc.
Vendor risk management is a component of vendor management that identifies, analyzes, monitors, and mitigates risks posed by third-party vendors to your organization. It ensures that using service providers does not increase the risk of business disruption.
Vendor risk management software assists businesses in developing and automating their vendor risk management program. It collects and manages vendor risk data to protect businesses from breaches and noncompliance. Besides, it enables organizations to track their vendor relationships over time, identify new risks as they emerge, and measure vendor performance.
The software provides a centralized platform for collecting and analyzing information about vendors, conducting risk assessments, monitoring vendor performance, and reporting on vendor risk. It helps organizations to reduce the likelihood of data breaches and other security incidents caused by vendor negligence or malicious intent.
The tool enables organizations to maintain compliance with industry regulations and standards such as PCI DSS, HIPAA, NIST 800-53, and GDPR. It also provides detailed reports on vendor performance that can be used for decision-making purposes.
Some key features of vendor risk management software include:
Vendor risk assessment: The software enables organizations to assess vendor risk by collecting and analyzing information about vendor security posture, financial stability, and business practices.
Contract management: The software provides a centralized repository for storing and managing contracts and service-level agreements with vendors.
Risk monitoring: The software allows organizations to monitor vendor performance and identify potential risks in real time.
Reporting: The software provides a range of reports to help organizations understand the vendor risk landscape and track progress in mitigating risks.
Workflow integration: Vendor risk management software should be user-friendly and easy to integrate into the existing workflows of an organization.
This article will explore the importance of automating VRM, the different components of VRM, and how to automate these components to improve security and reduce risk.
Importance of Automating Vendor Risk Management
Organizations' success depends heavily on how they manage their vendors. Outsourcing any business-related task may require the provision of some confidential information. In such cases, risks associated with the vendor (such as compliance risks, operational risks, strategic risks, etc.) can expose flaws in your organization.
According to an HSB survey, nearly half of all data breaches in 2017 were caused by a third-party vendor.
VRM automation helps organizations to reduce vendor risk by increasing the organization's speed and scalability. It helps to scale every aspect (such as vendor onboarding, security reviews, etc.) of the vendor risk management process. Automated VRM helps organizations identify potential security threats in real time.
Furthermore, automation help ensure that internal policies and external regulations are being followed.
Different Components of Vendor Risk Management
The components of VRM are as below:
Streamline vendor onboarding: Vendor onboarding involves evaluating and selecting vendors and establishing contracts with them. One of the most important aspects of vendor onboarding is considering the previous track record. Vendors can also be evaluated using questionnaires, scorecards, site visits, and third-party standard certifications.
Vendor risk assessment: Vendor risk assessment involves evaluating the risk posed by each vendor based on a set of questions. These questions can be answered through the security questionnaire or a separate assessment process.
Vendor inventory: It includes a list of all vendors an organization works with, including information about the type of services they provide, the data they have access to, and the level of risk they pose.
Security reviews: Security reviews involve assessing the security of a vendor's systems and processes to ensure that they meet the organization's security standards. A security questionnaire can be used to gather information about the vendor's security practices, such as their data backup and disaster recovery processes.
How to Automate Different Components of VRM
Vendor risk management software automates VRM components, such as streamlining vendor compliance checks, accelerating security reviews, assessing vendor risks, and so on. Let's discuss how to automate components of VRM:
Streamline vendor onboarding
Automating vendor onboarding involves the automating process of evaluating and approving new vendors. This includes automating the process of verifying their compliance with standards, conducting background checks, and verifying their references.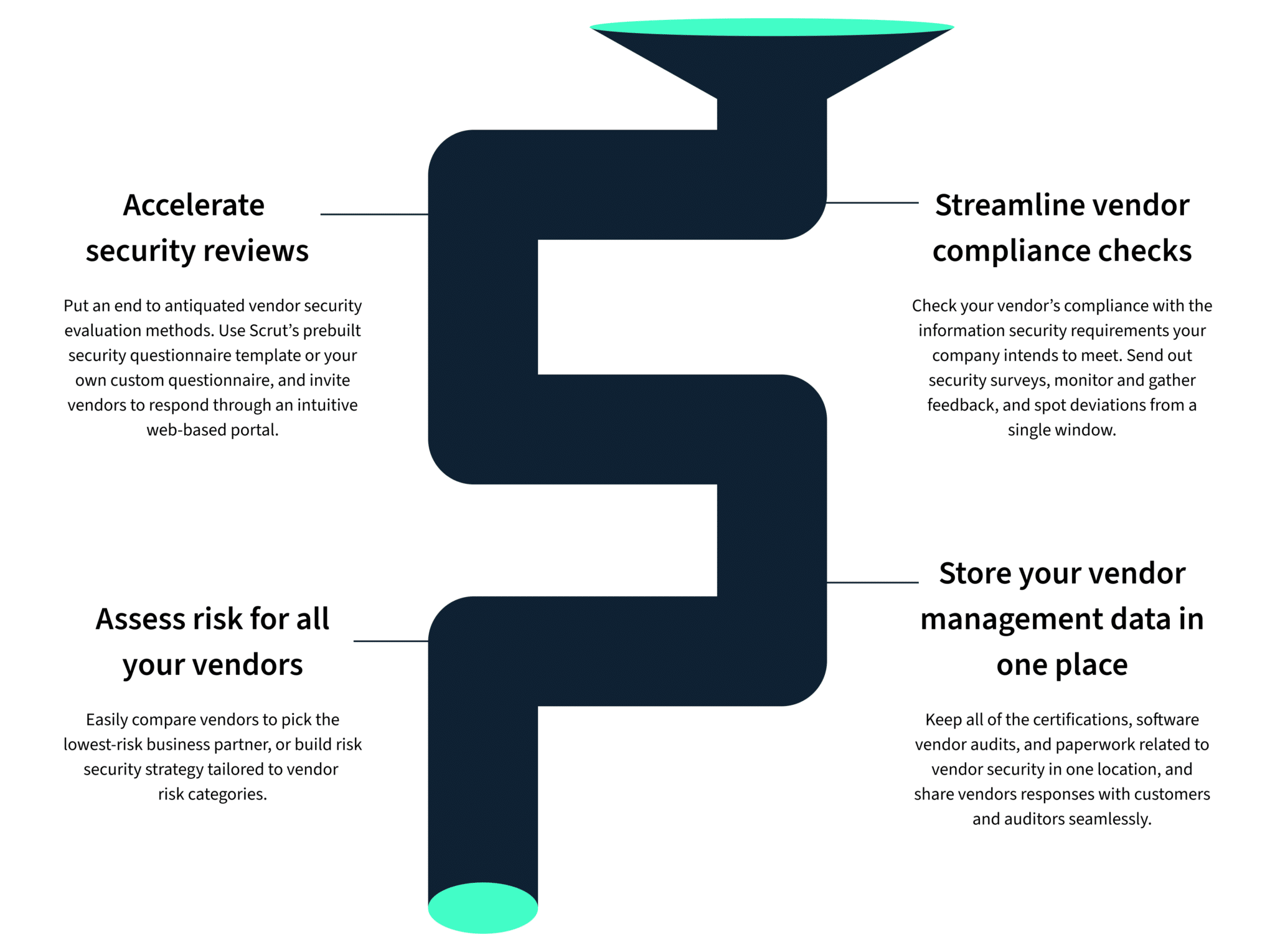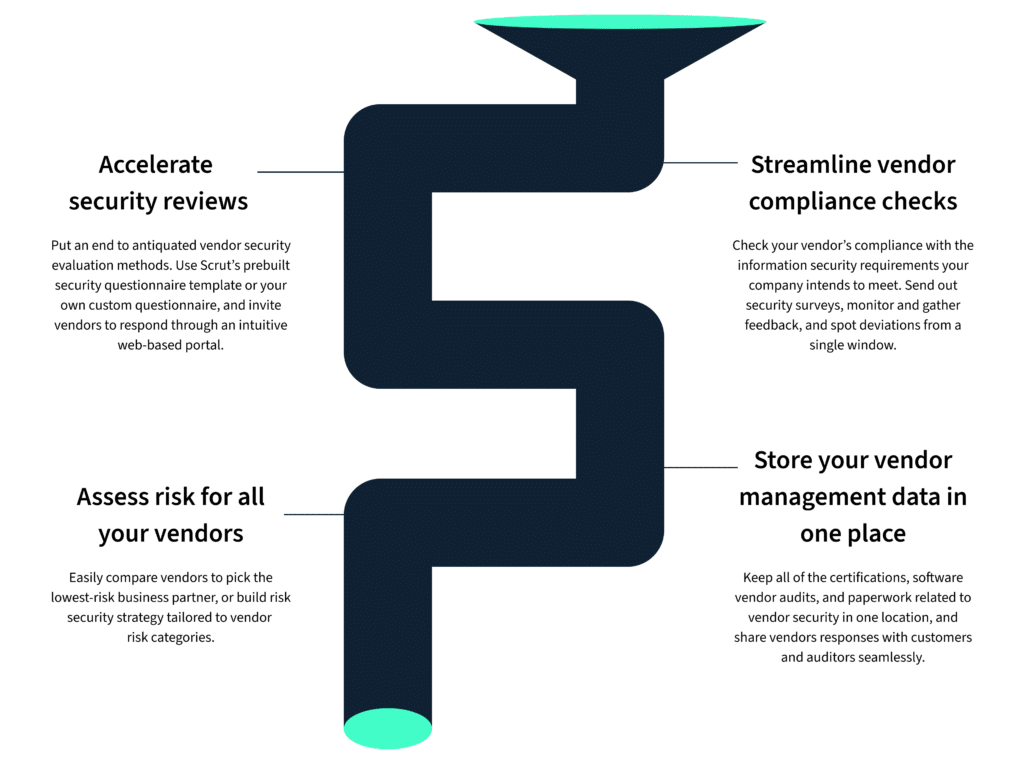 Automating onboarding workflows enables users to consolidate third-party information into a single and editable profile.
Now, let's discuss Scrut's vendor onboarding.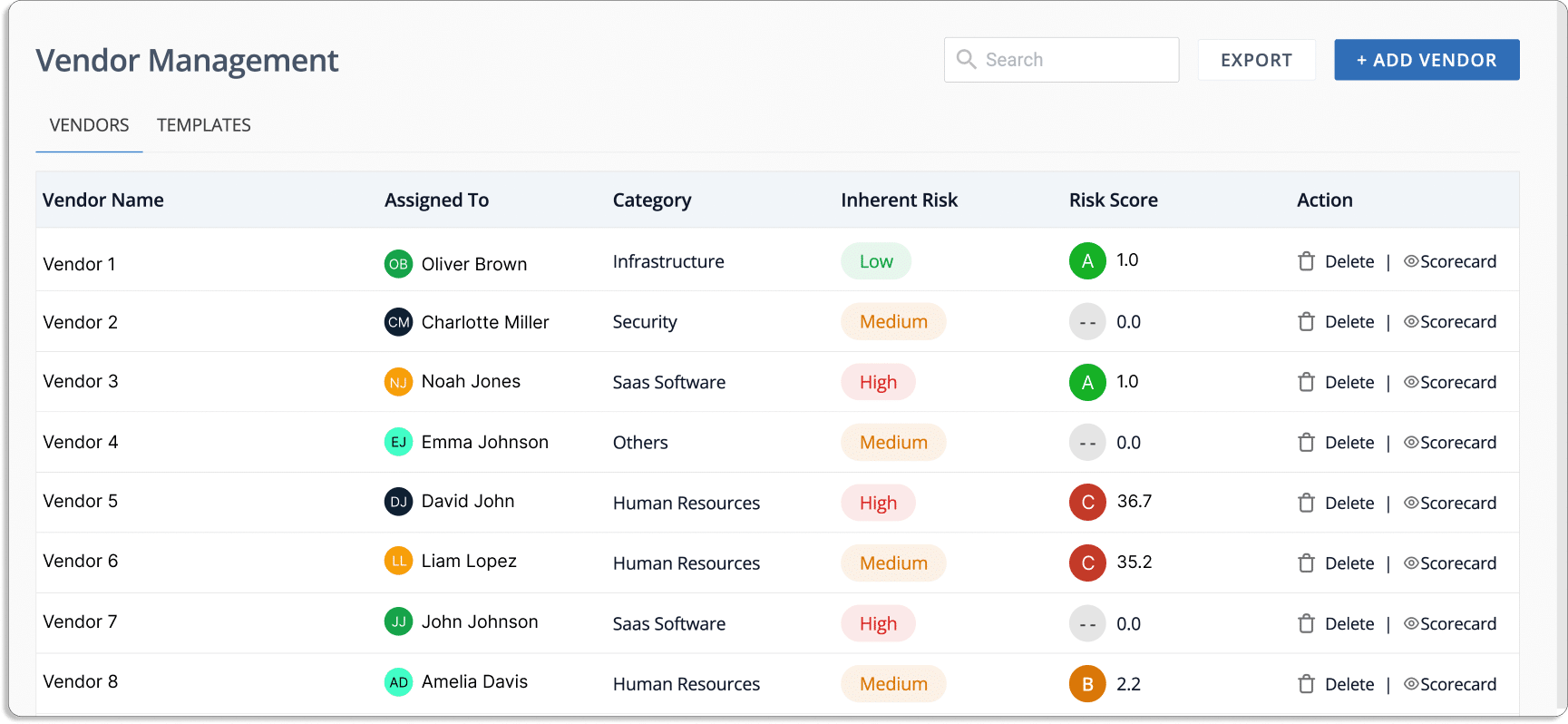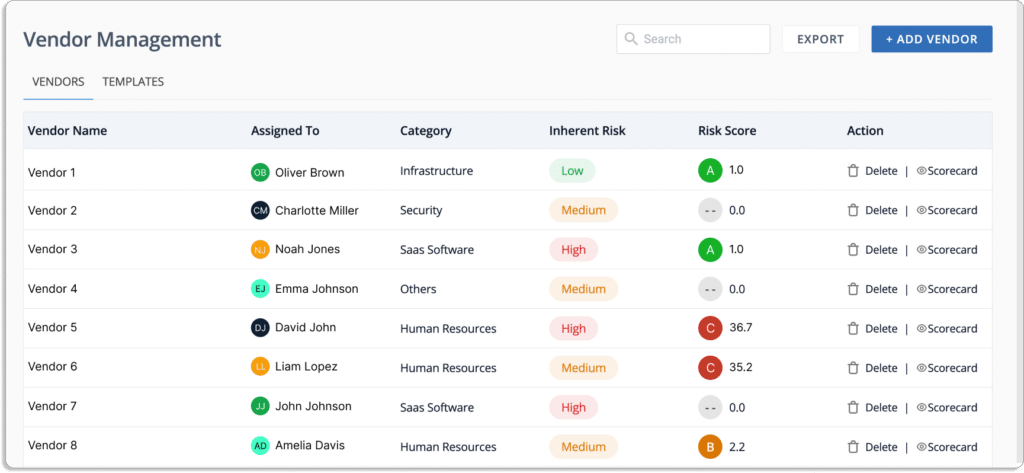 Scrut allows users to recognize, evaluate, and track vendor risk in a single window. It speeds up the process of assessing your vendors' security posture and compliance with your compliance standards by 70%. Scrut allows you to automate vendor audit programs and conduct audits to evaluate vendor risk profiles.
Centralize vendor inventory
This includes using a single central dashboard to gain visibility across your vendor inventory and prioritize the most important third-party relationships.
Centralizing vendor inventory maintains a list of all vendors an organization works with, including information about the type of services they provide, the data they have access to, and the level of risk they pose in one place. This gives organizations a comprehensive overview of all their vendors, their respective risks, and the measure to mitigate them.
Scrut centralizes all vendor security certifications, software vendor audits, and paperwork. The platform allows you to seamlessly share vendor responses with customers and auditors, as shown in the screenshot below.


Automate compliance checks
Automating compliance checks allows for verifying that a vendor complies with an organization's security and compliance standards. This includes automating the process of checking a vendor's security posture, conducting vulnerability scans, and verifying their certifications.
Scrut platform streamlines vendor management by validating your vendor's adherence to the information security requirements that your company intends to meet.
Automate security reviews
Automating security reviews helps evaluate a vendor's security posture and identify potential security risks. Automating the security questionnaire components of vendor risk management can greatly streamline the risk assessment process and ensure that all necessary information is collected consistently.
These platforms typically include pre-built security questionnaire templates that can be customized to meet your organization's specific needs. The templates usually have questions related to the vendor's security controls, policies, and procedures, as well as their compliance with relevant regulations and standards.
The organizations will send the security questionnaire to all the vendors via the platform and can complete and submit it electronically. This allows for a more efficient and effective way of collecting the necessary information, as all responses are stored in a centralized location and can be quickly reviewed and analyzed.You can use Scrut's prebuilt security questionnaire template or create your custom questionnaire.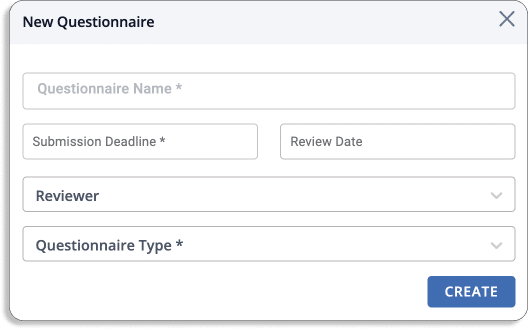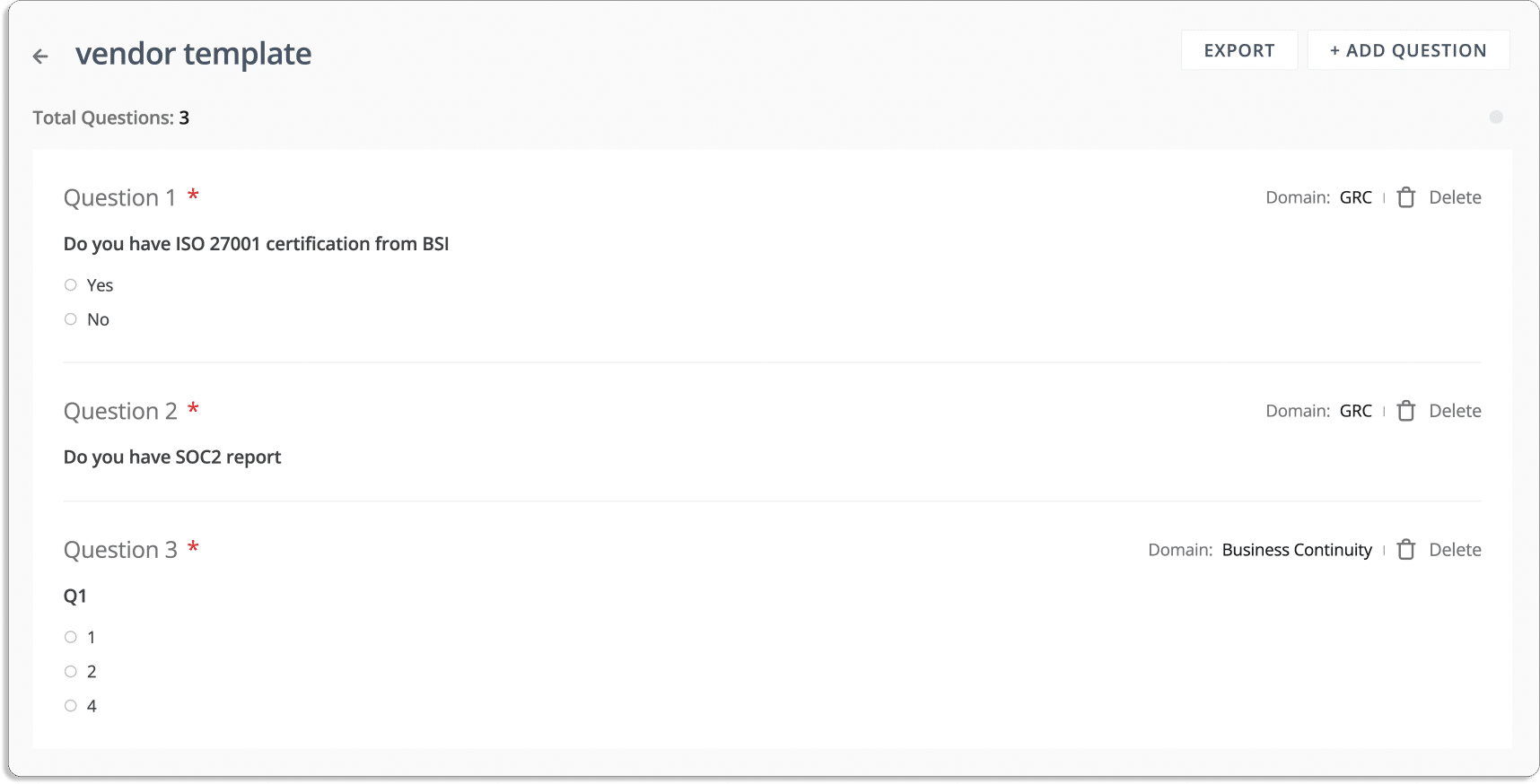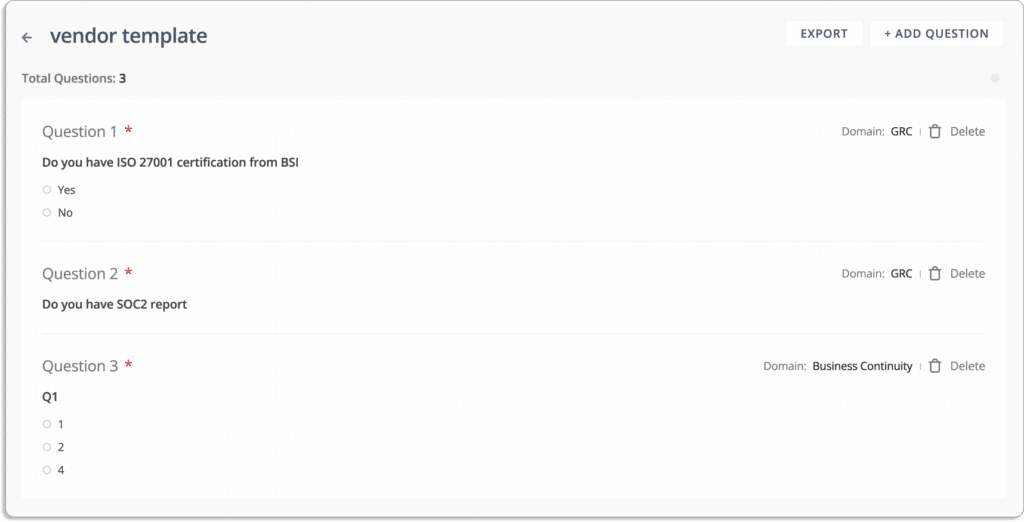 You can invite your vendors to fill out the security audit questionnaires on the platform, as shown in the screenshot below.


Overall visibility into vendor risks
After evaluating different risk parameters, VRM software provides a complete overview of all vendor risks in a centralized platform. This makes it easier for organizations to track, identify, and assess risks associated with vendors, contracts, and services.
Using a centralized platform, organizations can view information from various sources, such as contracts, vendor assessments, security reviews, and other relevant documentation. It gives a complete picture of vendor risk, allowing organizations to prioritize their efforts and make informed decisions about which vendors and services require attention.
Track Key Metrics:
One of the key metrics organizations should track is the number of vendors and contracts they manage. This information can be used to prioritize vendor risk management efforts, as organizations can focus their attention on the most critical vendors and contracts first.
Another important metric is the number of vendor risk assessments conducted. It helps organizations track their progress and follow a consistent process for assessing vendor risks.
In addition to these metrics, organizations should also track the number of vulnerabilities and incidents associated with their vendors. This information can be used to identify areas of weakness and develop strategies to address these risks.
Finally, organizations should track the time and resources required for vendor risk management activities, including vendor onboarding, security reviews, and compliance checks.
Scrut informs you about the performance of your vendors and whether their security posture suits your organization. With Scrut's dashboard, users can easily compare vendors to find the lowest-risk business partner or create risk security strategies based on vendor risk categories. You can track key metrics and make informed decisions to mitigate vendor risks.
It provides quick insights into your vendors' compliance and information security posture. From a single dashboard, you can send security surveys and identify deviations.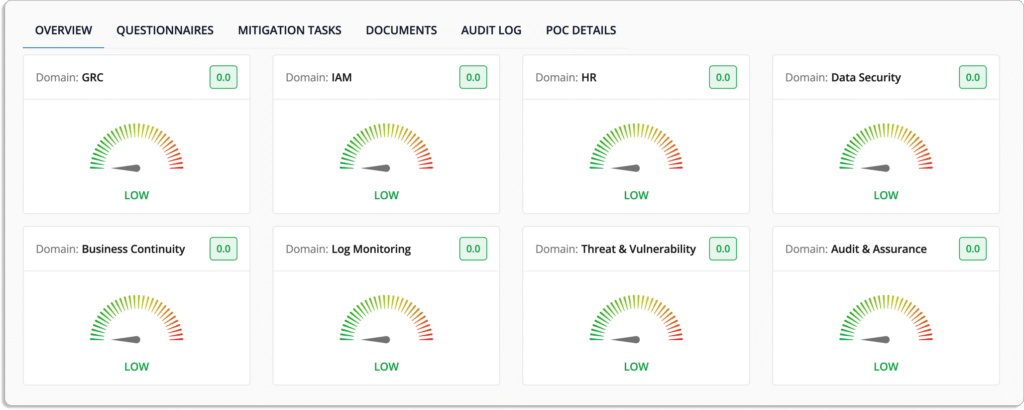 Schedule a demo to learn more about Scrut Automation.