As companies increasingly rely on cloud and SaaS to run their organizations, the exposure of business and consumer data to potential risks is heightened. To instill confidence in this transition, their strategic software partners must demonstrate they are doing all they can to protect this data. The result – crucial but tedious security questionnaires.
Being on the receiving end of security questionnaires is no fun.
They can be quite overwhelming for any company, big or small. The sheer volume of questionnaire requests can be overwhelming for any growing organization, hindering speed and affecting strategic priorities. It doesn't help either that the right information is distributed across teams and systems, making it an arduous task to get the answers right, on time.
What makes it worse is that most security questionnaires have ~60-90% overlap, often built on top of standard templates like CAIQ/VSAQ, meaning that the volume is just a result of duplication across various customers/partners and is avoidable.
That's not it! Inconsistencies and errors in responding and a lack of a centralized solution for tracking and distributing the questions internally are other sets of problems that an organization may face.
But before we jump into the resolution – let's discover a bit more in detail about the challenges security questionnaires present for organizations.
Security questionnaires are a painful endeavor
If you've ever been bogged down by security questionnaires and their time-consuming, manual completion process, you're not alone. Ask any person filling out a security questionnaire, and they will likely say that there is something better they'd rather do with their time.
The current approach to handling security questionnaires involves a lot of manual effort and requires the involvement of multiple team members taking attention away from strategic priorities.
This approach comes with several challenges:
1. Time-consuming procedures
Completing security questionnaires requires a significant amount of time and effort from your teams, diverting focus from core business activities. 
An average company selling to or partnering with enterprise companies will have to respond to 30-50 questionnaire responses annually, and among these questionnaires – there is around 60-90% overlap.
Monitoring the progress of each questionnaire and coordinating across sharing them with different stakeholders and monitoring the progress of each questionnaire can be a cumbersome task.
This is further delayed by a number of factors, such as:
People need to search individual documents housed in separate drives, pdfs, excels, etc.
Oftentimes, the process also requires involves manual downloading or copy-pasting answers which is where errors might creep in or context is lost
Version logs may be skipped, resulting in responses based on dated information.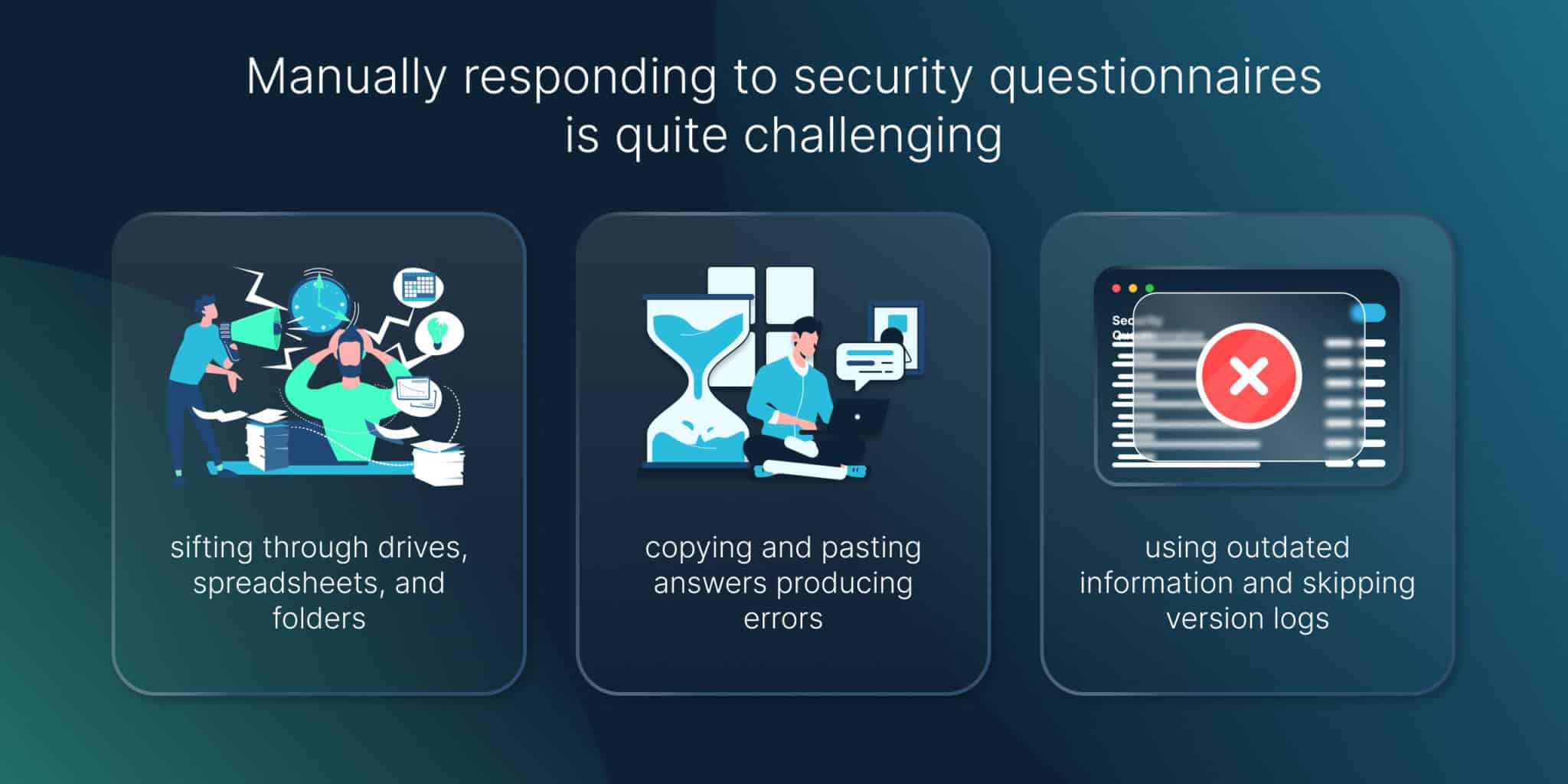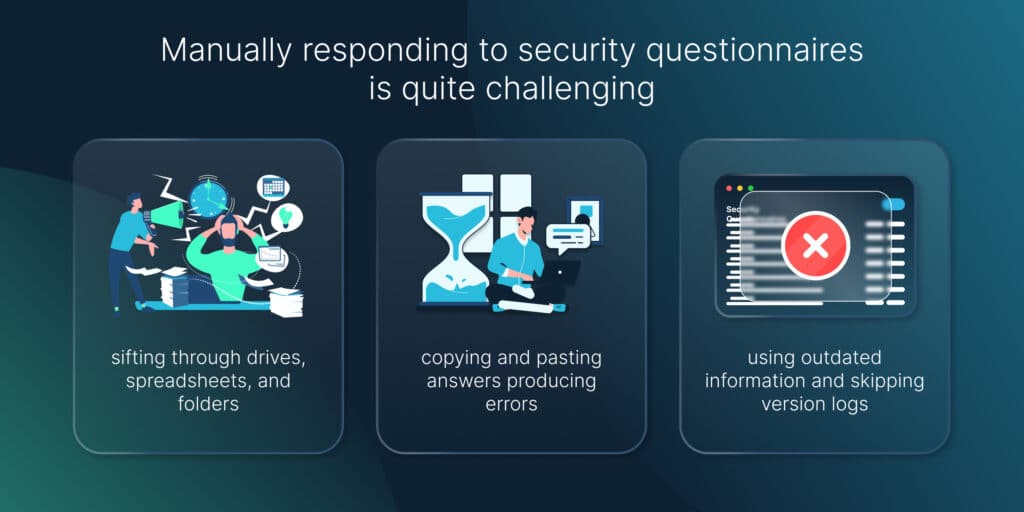 2. Outdated information causing risks
Inaccurate or outdated responses may arise from simple human errors, misinterpretations, or differing knowledge levels within the organization. Such Incorrect answers can expose your organization to several risks, impacting your business reputation and relationships with customers and prospects.
Introducing Kai
Scrut didn't want to simply sit by and let these challenges become a roadblock for our customers – which is we decided to launch Kai.
Kai – your AI co-pilot, is the trustworthy control partner every company needs. It is designed to provide precise guidance at the right time, ensuring that your control journey is always on the path to success.
Even though the applications of Kai are many, we decided that as an inaugural use case, we will be tackling a severe and pressing issue – automating security questionnaire responses.
Kai for simplifying security questionnaires
Kai harnesses the power of Large Language Models (LLM), restricted to your control environment, to automatically answer complex questionnaires and streamline the entire process, saving you valuable time and resources.
The Mechanism Behind
Here's a simplified step-by-step overview of how Kai works:
A. Language Processing
When a new security questionnaire is received, Kai uses restricted LLM to process and understand the language, including the nuanced technical and security terminologies.
B. Source Inputs
Kai generates contextual responses based on your controls, policies, recorded version logs, and historical responses to questionnaires.
C. Automated Responses
Kai automatically generates responses for the security questionnaire, offering detailed and accurate information – in one click.
D. Review and Editing
Before submitting the responses, your team has the option to review and edit the answers, ensuring that they align perfectly with your organization's unique context.
Why Kai?
Kai has been meticulously developed to address the pain points associated with filling up security questionnaires.
1. Unburden yourself
By getting rid of manual questionnaire tasks, Kai frees up your team's time and resources – to focus on bigger, better initiatives.
2. Automation, but with control
With Kai, you're the boss of your responses. You can double-check them before hitting send, ensuring they're solid and reliable. You maintain complete control of the responses while enjoying the sweet benefits of AI-enabled automation.
3. Build trust like no one's business
Continuous Control Monitoring with Scrut builds a strong security posture. Kai helps you demonstrate that. With Kai, you can rest assured that nothing's overlooked and every response is up-to-date.
4. Win deals faster
Faster security questionnaire responses -> better buying experience -> shorter deal cycles and higher win rates. It is that simple.
Want to experience the power of Kai?
Manually filling security questionnaires and diverging valuable business hours is a persistent challenge across organizations, irrespective of their size, industry, and geography.
This is where Kai comes in. It is not just an enhancement, but a transformative solution for your organization's security questionnaire challenges. By adopting Kai, you empower your team with unparalleled efficiency, accuracy, and confidence to focus on innovation and growth.
Ready to experience the power of Kai? Visit our website and schedule a demo today! Let us be your partner in securing your organization's future.