As the number of data breaches is increasing, compliance is not something only large organizations require. Now every company is expected to be compliant with security and privacy frameworks. But managing information security via traditional solutions is time taking and resource-intensive.
Further, it distracts you from more important work, like product development, sales, etc.
Thus, we started Scrut last year to help companies manage their InfoSec programs.
Every organization stores sensitive information. It can be an organization's financial, employees', partners', or vendors' data—and it is crucial to secure this information.
Depending on the geography in which an entity operates, its industry, and the type of information it stores, organizations have to comply with different standards like SOC 2, GDPR, HIPAA, CCPA, and more.
Facing the Pain Ourselves (How Did We Get Started?)
Like many of you, we had a software business—a supplier collaboration platform for enterprises—before founding Scrut, and a lot of effort was going into managing compliance tasks.
Amongst converting customers, building the product, sharpening our customer success, etc., one of the biggest hurdles that we faced was compliance. We had to go through five information security standards (like SOC 2 and ISO 27001) to meet the requirements of the deals.
Getting compliant with these frameworks took several months and occupied a lot of our bandwidth. As an early-stage company, we were operating very lean.
We were constantly juggling between making sure the customers' needs were fulfilled and performing compliance-related chores. Overall, we had to manage hundreds of documents, spreadsheets, and tasks—for evidence gathering, record keeping, and communicating.
In short, we found that the traditional solution of getting compliant had issues. The process was time-consuming, distracting, prone to errors, and most importantly, required to be done periodically.
We thought that this problem may be universal. That's when we started digging deeper.
InfoSec is a Big Problem (Identifying the Market Opportunity)
We discussed with 100+ people, from different companies in startups and enterprises, about this problem, and everyone agreed on one thing: InfoSec compliance is complex.
This validated our hypothesis that this problem was not unique to us—all companies were facing this problem.
In simple terms, managing compliance manually is a very excruciating task. Even with sharp, trained, and more importantly, dedicated resources to manage information security, enterprises often find compliances painful to manage.
For startups operating on lean teams, this is a luxury they cannot afford. The whole process of getting compliant diverts your team's attention from essential tasks like product development and sales.
Birth of Scrut (Our Initial Solution – A Compliance Automation Tool)
Our initial solution was focused on compliance automation since that is what we built for our internal requirements. It saved time and effort for whoever was accountable for getting compliant.
Here is how we did it.
Policy templates to get started quickly
The platform came with a library of more than 50 policy templates created and reviewed by InfoSec specialists. Users could edit these policies with an inline editor to make them specific according to their organizational requirements.
Automated key workflows, and made them collaborative
Moreover, it allowed users to collaborate with different stakeholders on the platform without switching between various tools. They could assign tasks like remediation, uploading policies, etc., to different team members directly on the Scrut platform.
Developed pre-built control mapping to avoid repetitive tasks for additional frameworks
Scrut reduced time and resources spent on manual compliance processes by enabling users to reuse controls across multiple frameworks and policies for future audits.
Furthermore, tasks related to policies, controls, etc., could be assigned to different stakeholders. And users could track these tasks within the platform.
Automated evidence collection
Scrut's deep integrations with different cloud environments, identity providers, HRMS, and many other tools provided users with automated evidence collection for compliance audits.
It automated over 70% of the evidence collection tasks for our customers, thus saving a lot of time and manual effort.
Added top-notch free services on top of the tool
We made Scrut a single window to do everything required to get compliant with information security frameworks. We helped our customers find the best-fit pentesters, CPAs, and auditors at pre-negotiated rates through our vast network of InfoSec resources.
This eliminated the need for our customers to go out in the market to figure out vendors, negotiate and manage. What's more, we managed the SLAs for each of these as well. We even represented our customers during audits.
Our single window approach saved a lot of time for CTOs, VP of engineering, and CISOs—and made Scrut the go-to-solution for their compliance needs.
Altogether, this approach gave us an advantage against other compliance automation tools because they were just selling the platform. The remaining things, like finding penetration testers or audit firms, were still customers' jobs. This increased the cost for those companies and required them to put additional time and effort into finding the right partners to work with them.
Made the audit process smoother
Our GRC platform enabled effective collaboration with auditors. Our customers could communicate with their auditor directly within the Scrut platform, preventing needless delays and frustration. For this, the users were just required to give the auditor access to their Scrut account.
The auditor could come to the platform and go through all relevant controls at one place, supported by the necessary documentation. They could check the policies, tests, and evidence. With policies, procedures, controls, and evidence stored in one place, it was easier for the auditors to complete audits. If the auditors needed clarification, they could leave comments within the platform.
This eased the whole audit process and reduced the audit time to about a few hours (2-4 hours) from 1 week via the traditional way.
Where We Are Heading Now
Though the origin of Scrut was around a compliance automation solution to help companies get ready for different compliance frameworks, we have realized that compliance is a byproduct of good governance and proper risk management.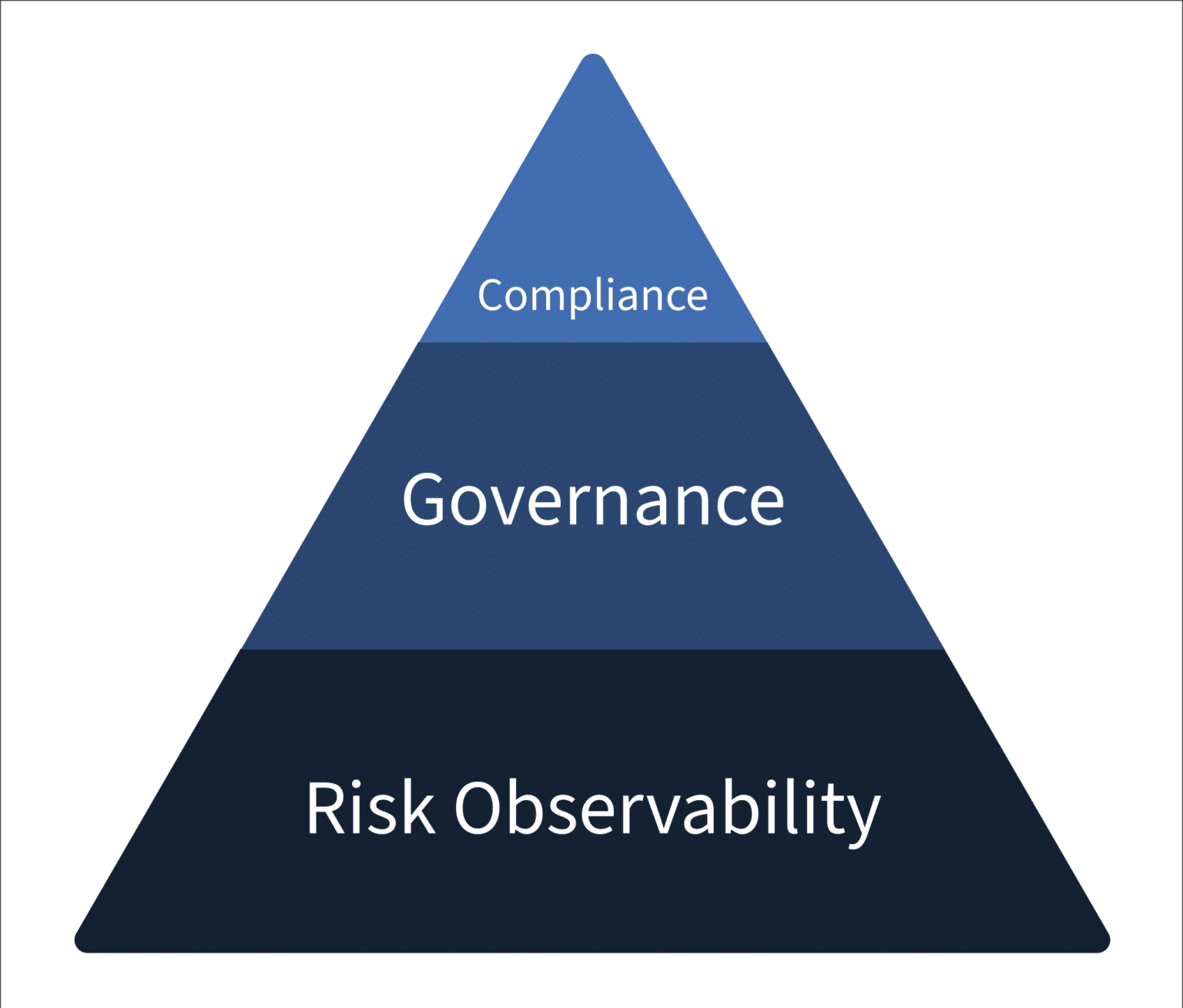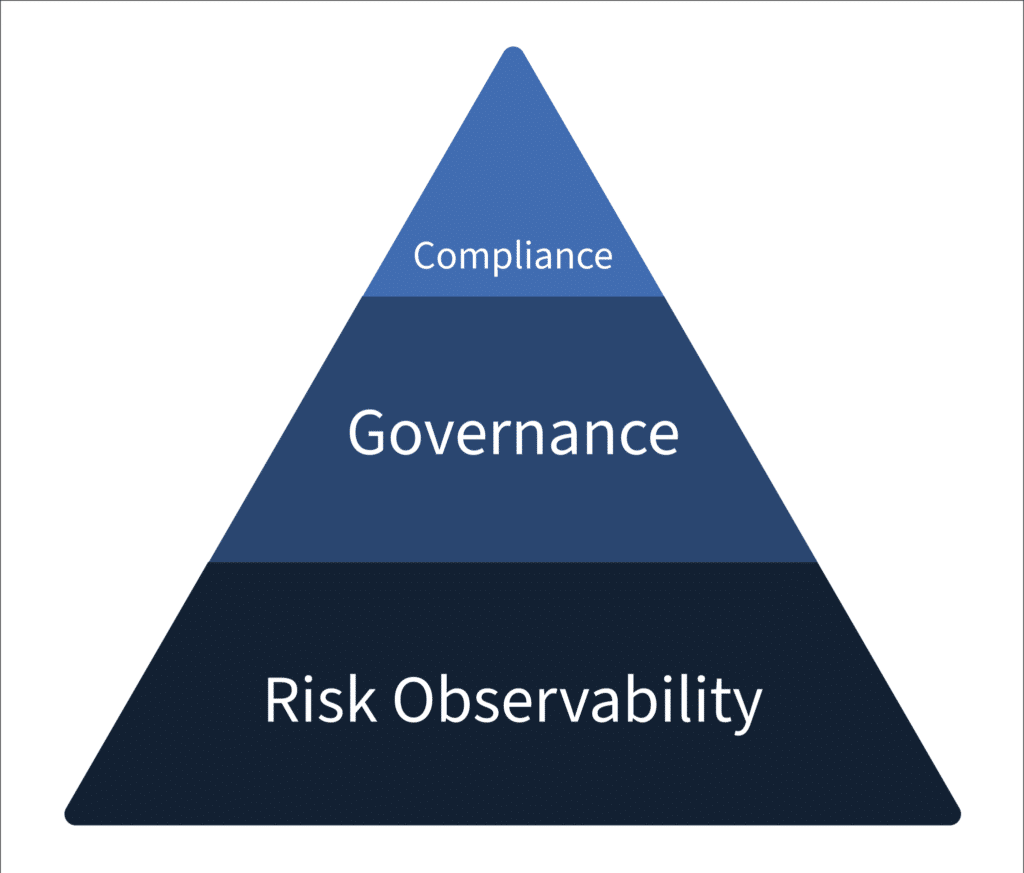 Being compliant with a standard shows that you are adhering to some of the best practices in terms of managing security. However, each company's risk posture is unique, and a universal guideline is just the bare minimum bar that you can do from a security perspective.
Moreover, security is not a one-time house cleaning thing you can do only to show to an external guest when they come home. With such an approach, risks are always present.
Instead, you should focus on being secure. This gives you security assurance. We believe that if you have run your groundwork for security, you are better prepared to get compliant. Compliance is a byproduct of being secure.
This perspective towards security, risk, and compliance is also validated from our customers' end, as there is a growing demand for solutions that can provide visibility on overall security and compliance posture.
Many traditional solutions solve this issue to some extent. But the problem with these point solutions (like CSPM, CIEM, CWPP, CNAPP, etc.) is that risk observability is distributed. Thus for CISOs, there's no way to know which is a bigger risk area, where they need to focus on, and what they need to fix first.
Many risks do not lie directly in the individual cyber assets but in relationships among them. Hence, you don't have complete visibility into your risks.
Ultimately, we scaled from a compliance automation platform to a 'smart' GRC platform built for cloud-native companies. It gives our customers a single-window solution for risk observability, information security, and compliance.
---
We did a rebranding announcement recently, which you can read here.
---
At Scrut, we help CISOs by giving them complete visibility into InfoSec risks in their organization. This is because risk observability is the foundation of InfoSec programs. Unless you discover all sources of InfoSec risks, you can neither establish good security governance in your organization nor be assured that you will stay compliant.
To uncover all the InfoSec risks in your organization, Scrut first discovers all your cyber assets and then establishes the relationships between them to give the contextual understanding required to act on those risks.
We also realized that the source of InfoSec risks is more than just cyber assets. Risks can come from employees or vendors as well.
According to Verizon's 2022 report on Data Breaches Investigations, 82% of data breaches involve a human element, including social attacks, mistakes, and misuse.
Recently, vendors have been the cause of some major data breaches, including the attacks on Audi and Volkswagen.
Scrut offers you company-wide employee awareness training to reduce risk and strengthen internal security. It automates the employee training processes and ensures that all of your employees are up-to-date on the latest security policies.
Simply connect Scrut with your existing identity providers or HRMS and let the system handle the rest. It gives you visibility into the status of your security training, making it easy to send reminders to those who haven't completed the training yet.
Scrut also offers a quiz feature to ensure that employees read through the policies and understand them. They can simply sign-up and start the training right away.
Scrut also gives you a clear view of the security posture and compliance status of all your vendors to avoid sifting through paperwork or scheduling time-consuming on-site audits. With Scrut, you can swiftly identify and evaluate potential risks and track progress as vendors work towards improving their security standards.
With Scrut, you can breathe a sigh of relief knowing that your vendor risk management process has been streamlined by 70%. And with the ability to access all of your vendor information in one central location, you can stay on top of potential threats and keep your company safe from the ever-evolving landscape of risks.
In short, Scrut brings all the risks under one umbrella—quantifying them objectively from a criticality and severity perspective—that helps our customers understand where they need to focus and develop a risk treatment plan as unique as their risk profile.
You just need to build controls, and we map them to relevant frameworks directly on the platform.
Furthermore, Scrut integrates with many incident management and vulnerability management tools:
integrates with SIEM tools, such as Datadog and Splunk
integrates with XDR tools, like Crowdstrike
integrates with vulnerability management tools, like Qualys, AWS Inspector, and Tenable
We also complement this with human offensive testers (pentesters) who are permanent members of our team.
Scrut shows you the readiness to all the compliance frameworks you are tracking at any point of time.
Additionally, Scrut has the most comprehensive audit management capability. You can keep track of every audit—internal or external—assign auditors, track comments and assign follow-up tasks.
Additionally, Scrut's Trust Vault helps you build trust with your customers from day one of the sales processes. The Vault gives you real-time visibility of your security and compliance postures and eliminates the hassle of fielding manual requests for security questions, reports, and certificates.
Now, we offer information security and compliance visibility with our products.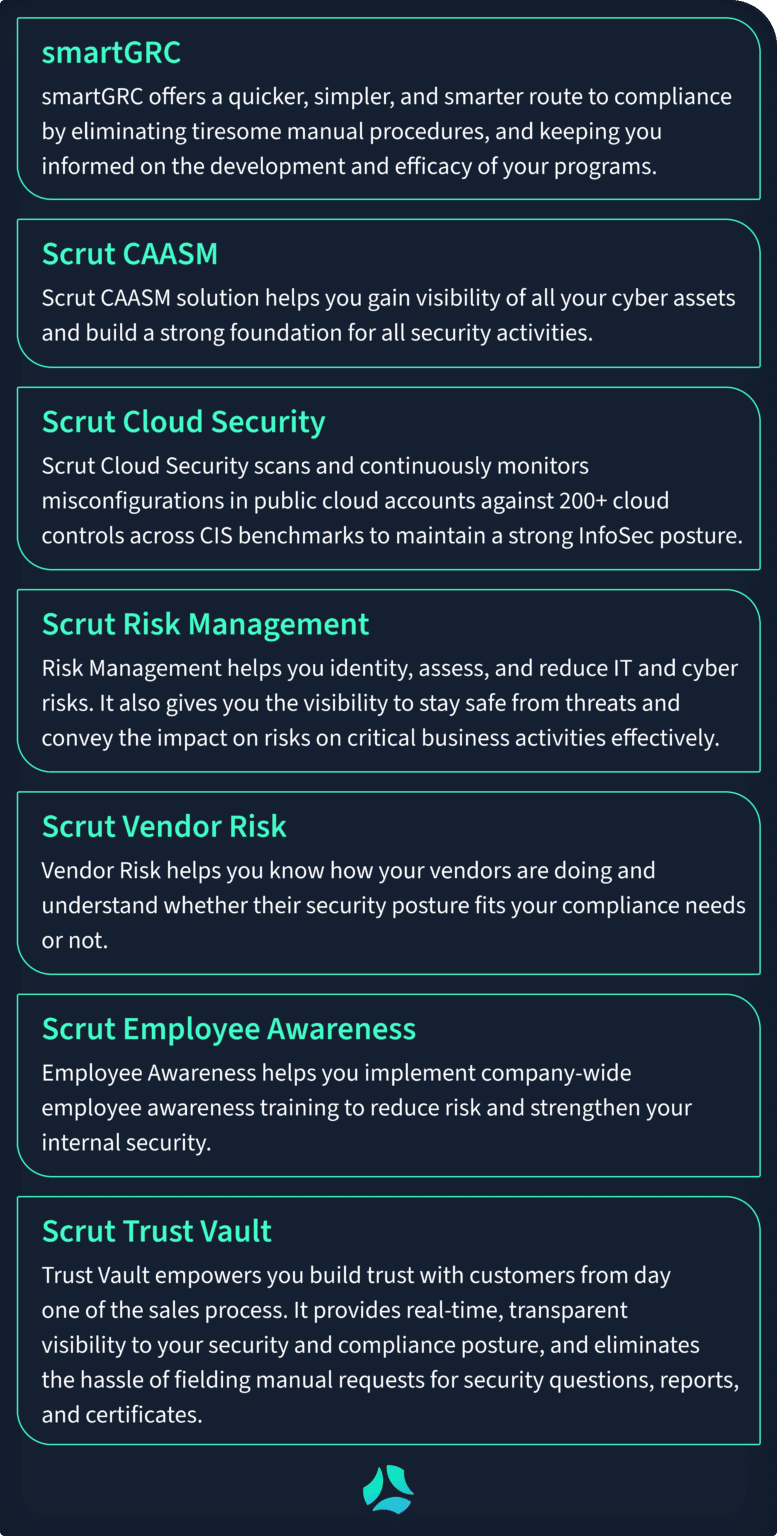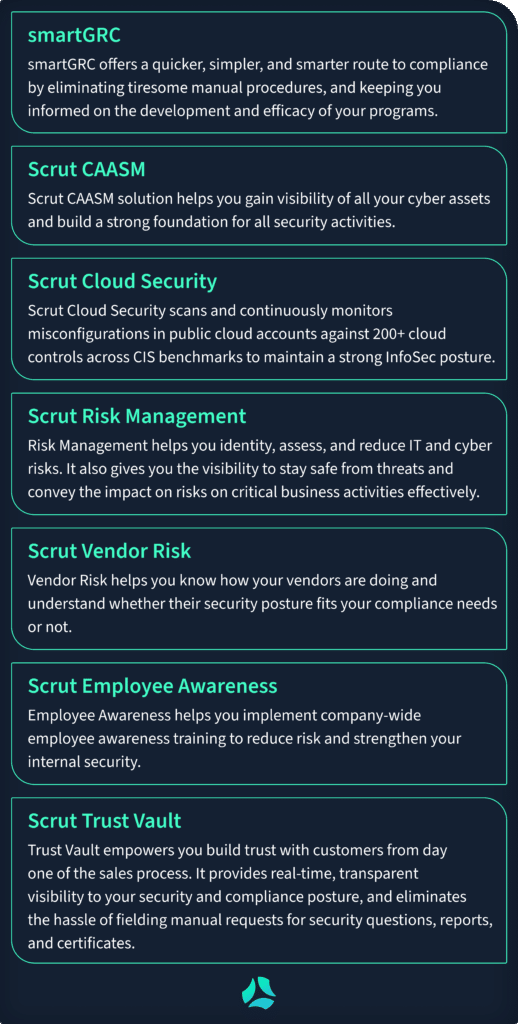 Our risk-monitoring and compliance automation solutions equip CISOs to achieve a faster, hassle-free path to information security.
You can rest knowing Scrut can help you by:
Integrating with your cloud infrastructure and application landscape,
Performing gap assessment of compliance status and requirements,
Monitoring over 200 automated cloud-risk controls,
Tackling vendor and employee risk management,
Enforcing policies through custom controls,
Simplifying compliance
…all through a single window for a seamless experience.
Who We Are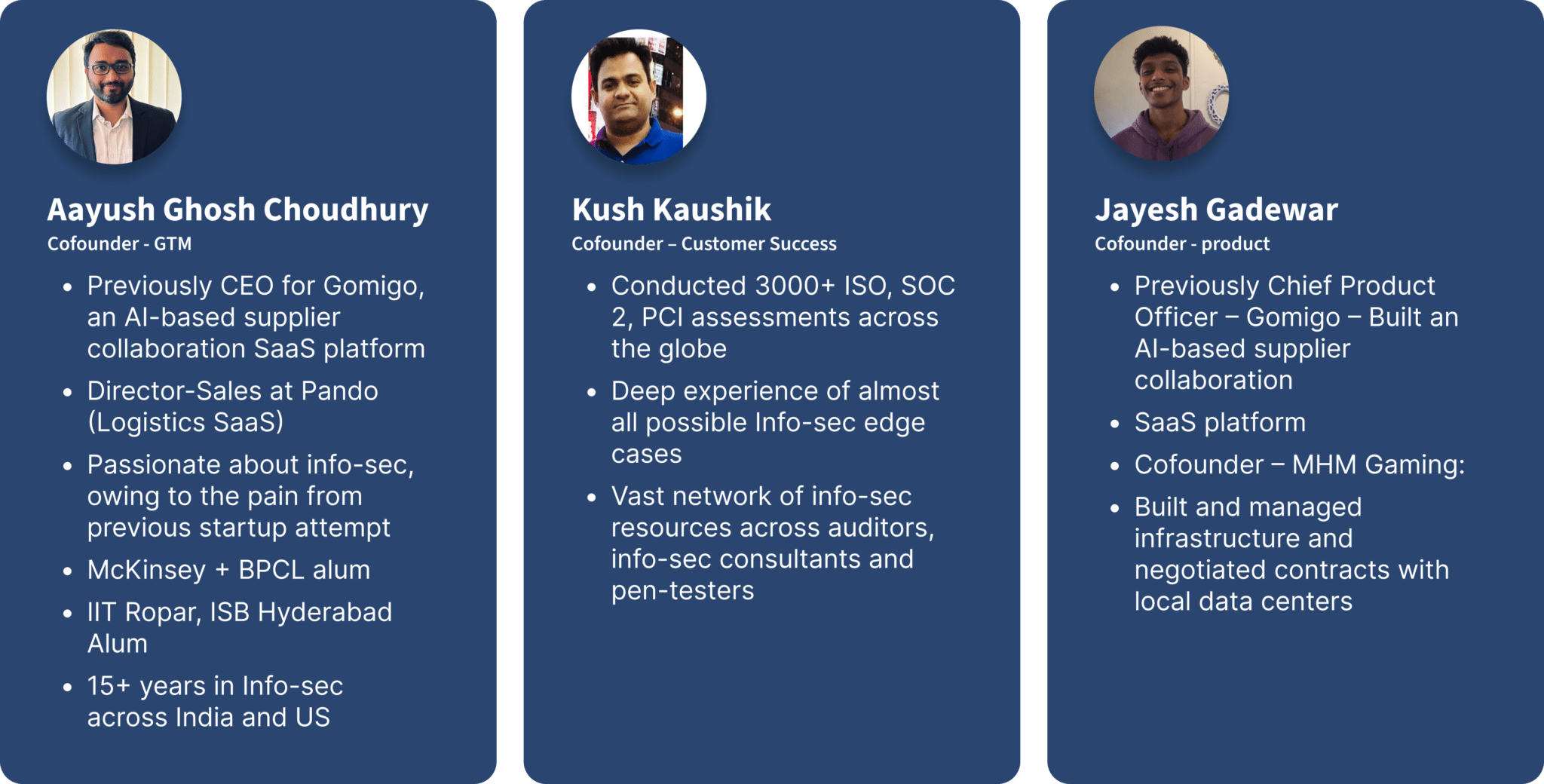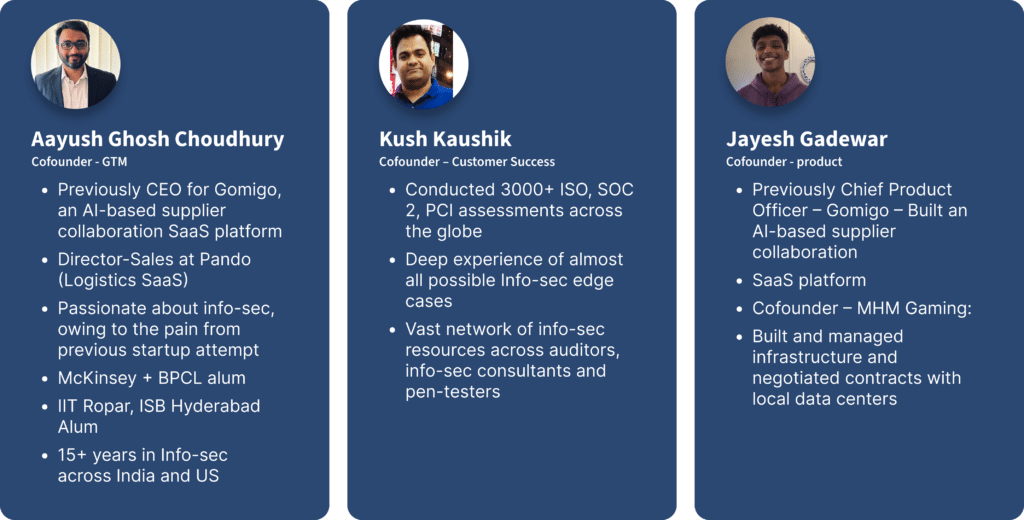 We are a cross-functional team of hustlers enthusiastic about SaaS and information security.
We believe that information security should serve as an accelerator, not an inhibitor. And our mission is to make information security accessible, easy, and hassle-free. Book a demo here if you're looking for ways to up your InfoSec or GRC game and are interested in knowing how Scrut can help you.