Getting compliant with SOC 2 is time-consuming and requires extensive planning and resources. Compliance automation tools help CISOs prepare for audits faster to meet the demands of different security and privacy frameworks.
The traditional method (via spreadsheets and consultants) of SOC 2 audit preparation and completion is resource intensive and time-consuming. This is where the SOC 2 compliance tools come into the picture.
SOC 2 compliance software speeds up the compliance process by reducing the hours of manual work required to prepare for and complete an audit.
Here are some key benefits of SOC 2 compliance software compared to doing it via consultants or in-house.
Most SOC 2 compliance automation software comes with policy templates to quickly get started
Seamlessly collaborate with team members for different tasks
Gives you visibility into all your InfoSec risks
Automate evidence collection
Helps you with vendor risk management
Monitor cloud for security and compliance misconfigurations
Some tools can help you train your employees for security awareness
Allows you to collaborate with auditors on the platform that, helps them to go through all artifacts quickly
How to select a SOC 2 Compliance Software?
There are many SOC 2 compliance software available in the market. But before you pick one, here are some key questions you need to ask to determine which tool is best for you:
Is it a single-window solution? Many jobs are involved when preparing SOC 2 audit, like doing gap assessment, vulnerability assessment, penetration testing, finding CPAs, etc. Though no software provider will do the task themselves, some providers have partnerships with these vendors for a seamless solution. A single-window solution prevents the hassle of searching for multiple partners for various jobs.
Does it come with pre-built templates? Creating and enforcing proper policies from scratch for SOC 2 requires a lot of effort and time. A SOC 2 compliance software with pre-built templates helps you get started quickly. Some vendors, like Scrut, even help you build custom policies per your organization's requirements.
What frameworks does it cover out-of-box? Many times, SOC 2 is not the only compliance framework you would be required to comply with. Later, you may be required to go for other compliance frameworks like ISO 27001, GDPR, HIPAA, etc., based on your organizational requirements. Thus, the tool must not be just limited to SOC 2 solution, but should also help you with other frameworks that you may need in the future.
Does it prevent duplication of efforts? When you go for other compliance frameworks, you should not be required to build from scratch. Ultimately, the foundation of all these frameworks is privacy and security. Hence, the tool must help you leverage all the work you have done previously. This eliminates duplication of efforts and saves you time as well.
What are the integrations available? Since the biggest reason companies use SOC 2 automation software is to save time, the tool should be able to automate as many tasks as possible. However, this depends on the tool's number of integrations with your existing tech stack. Hence, look for the integration capabilities of the tool.
Top 15 SOC 2 Compliance Automation Software
There are hundreds of SOC 2 compliance software available in the market. Here are the 15 best SOC 2 compliance software we have shortlisted to cut down your research.
1. Scrut
Scrut helps you prepare for SOC 2 audit in weeks rather than months. The platform allows you to manage everything from cloud risk assessments to control reviews, vendor risk management, and employee policy attestations.
Along with the compliance automation platform, Scrut gives you access to the following:
Help with gaps assessment
Pre-built policy templates tailored to your requirements
Best-in-class auditors, like EY, BSI, and RiskPro
Penetration testers, including red-team testers
Besides this, Scrut manages your service level agreements (SLAs) with the above partners—and represents you during the audits. This means you pass on the headache of answering the auditor's questions to Scrut InfoSec experts.
In short, Scrut takes care of everything you need to get SOC 2 compliant, a rare offering in the market.
Now, let's dive into how Scrut helps you with various SOC 2 compliance preparation tasks.
Strengthens your InfoSec program
Scrut strengthens your InfoSec program by identifying compliance gaps so you can concentrate on what needs to be fixed.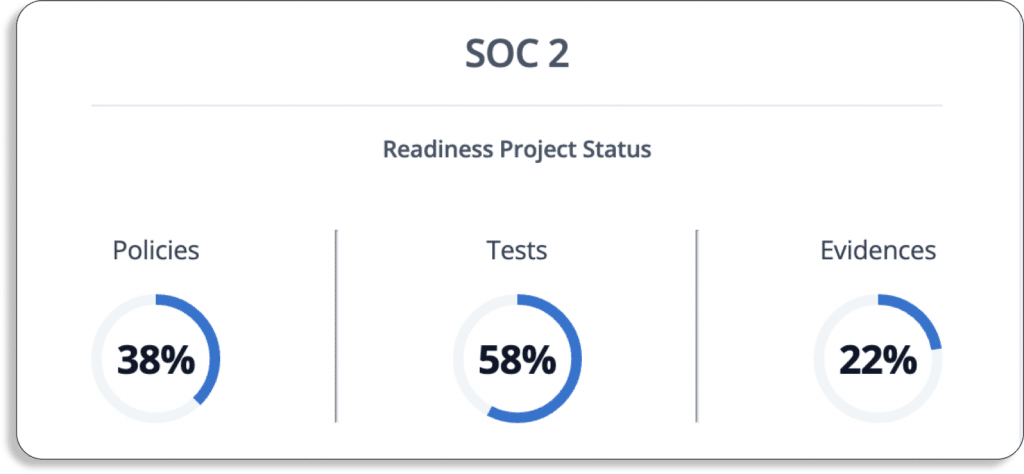 As shown in the screenshot above, this organization has:
38% of policies in place are required for being SOC 2 compliant
58% of cloud security tests comply with SOC 2 requirements
22% of the required evidence has been uploaded
Task and workflow management
By allocating tasks to team members and monitoring them on Scrut, you can stay informed about the progress of each task.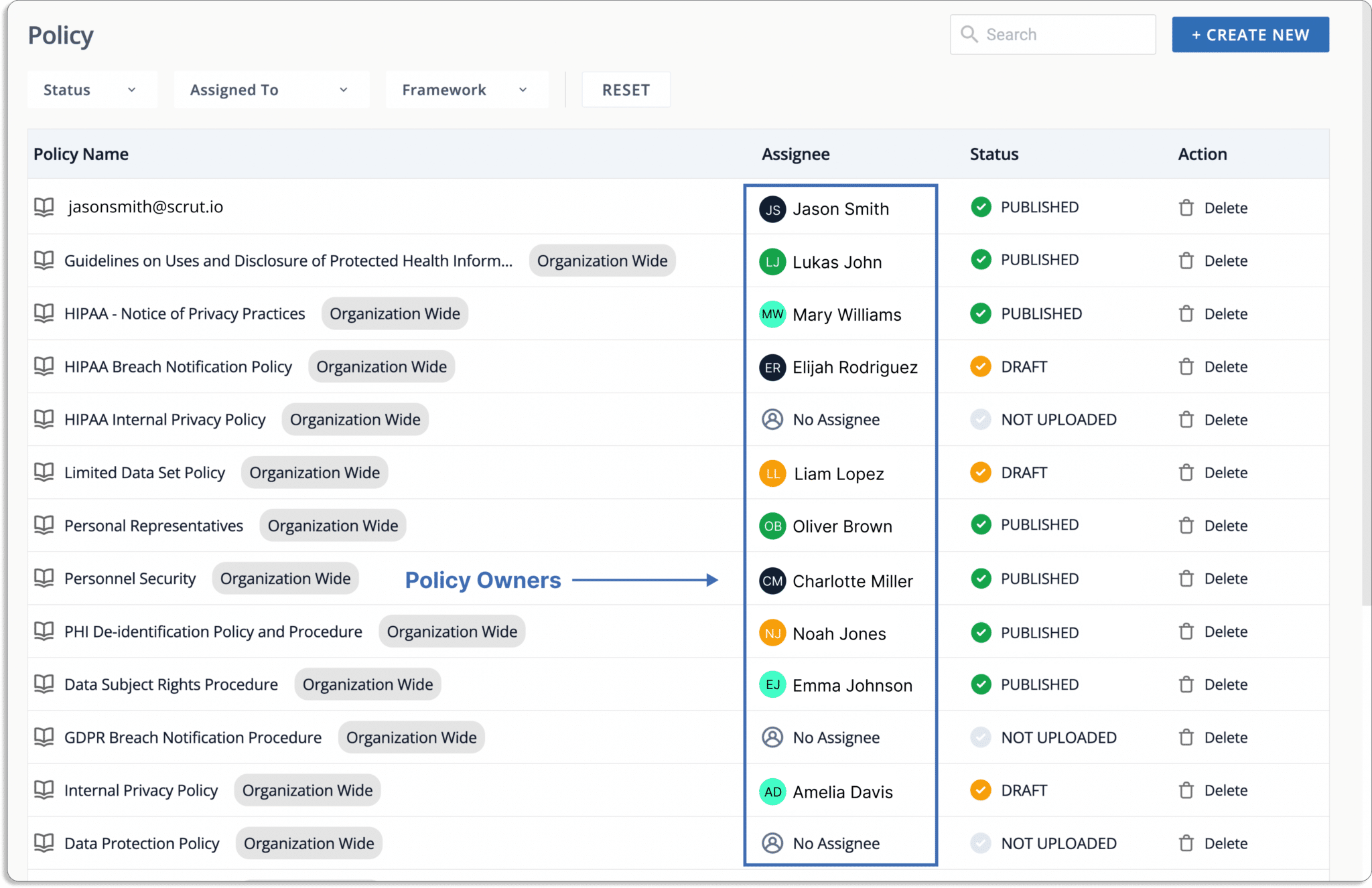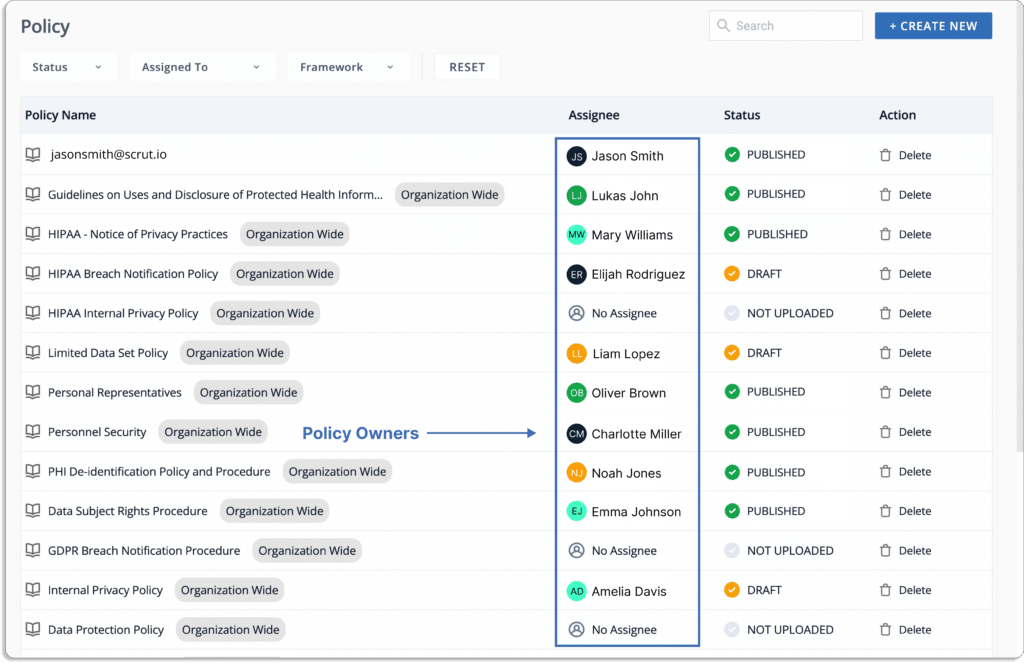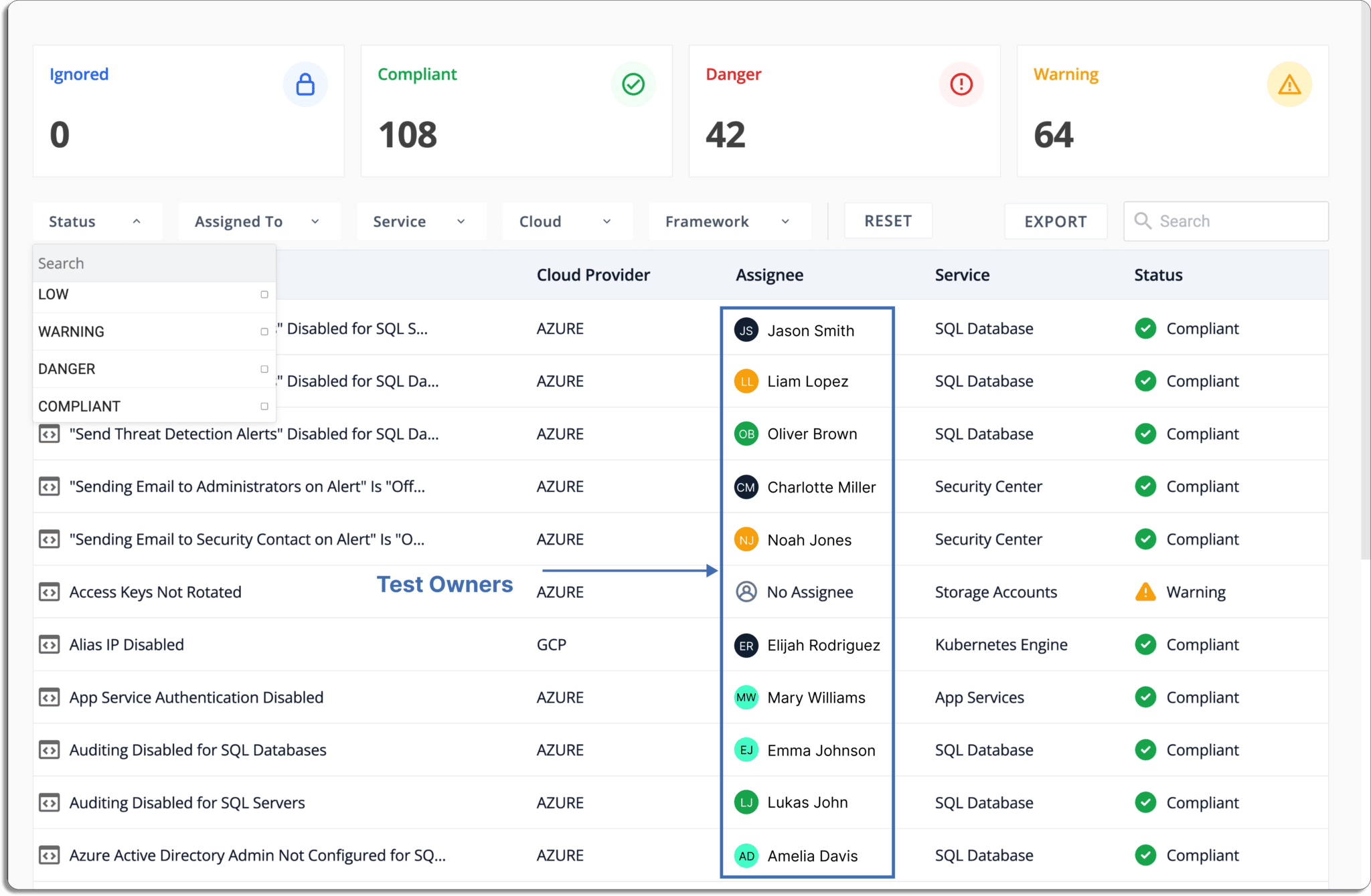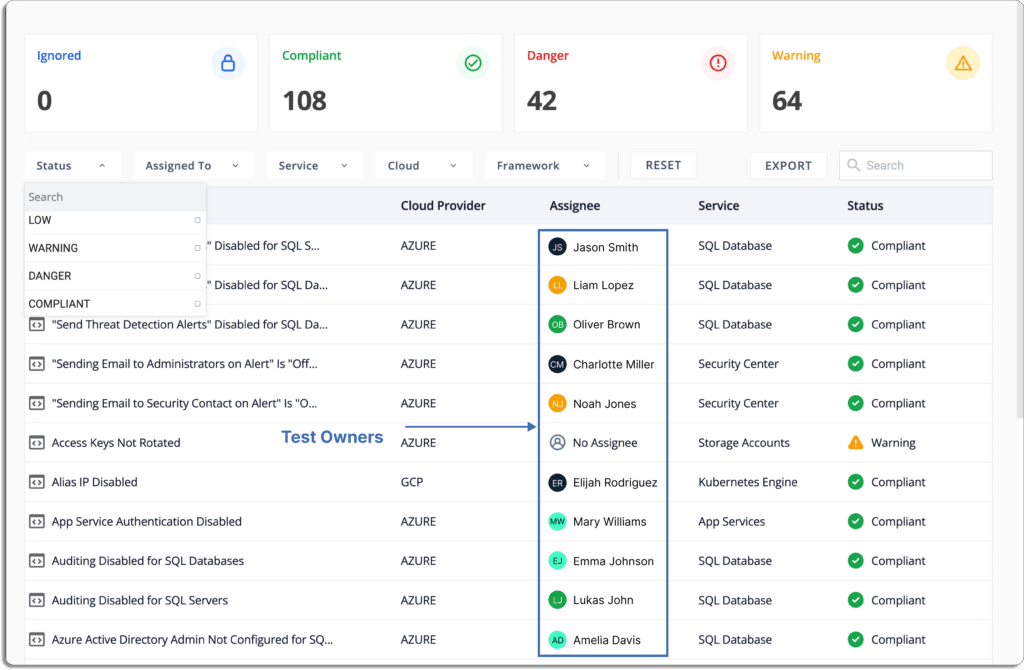 You can collaborate with the internal team using workflows to assign tasks, track them, and automatically send reminders for due tasks.
Scrut integrates with tools like Jira, and Monday to automatically create tickets in them for different compliance tasks. Furthermore, the assignees get notifications on Slack for any pending tasks.
You can build your SOC 2 compliant InfoSec program in minutes with Scrut's library of 50+ pre-built policies, as shown in the screenshot below.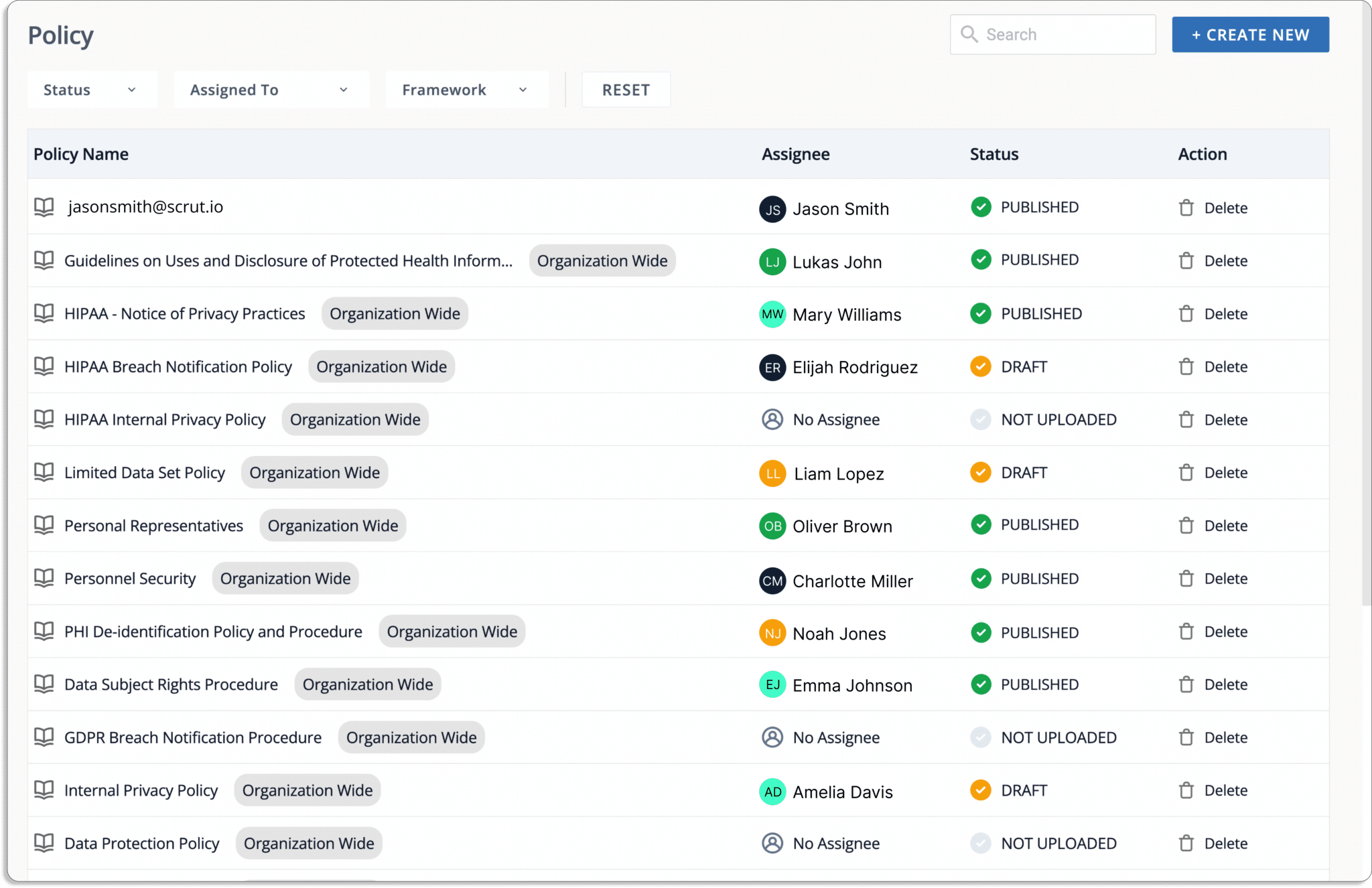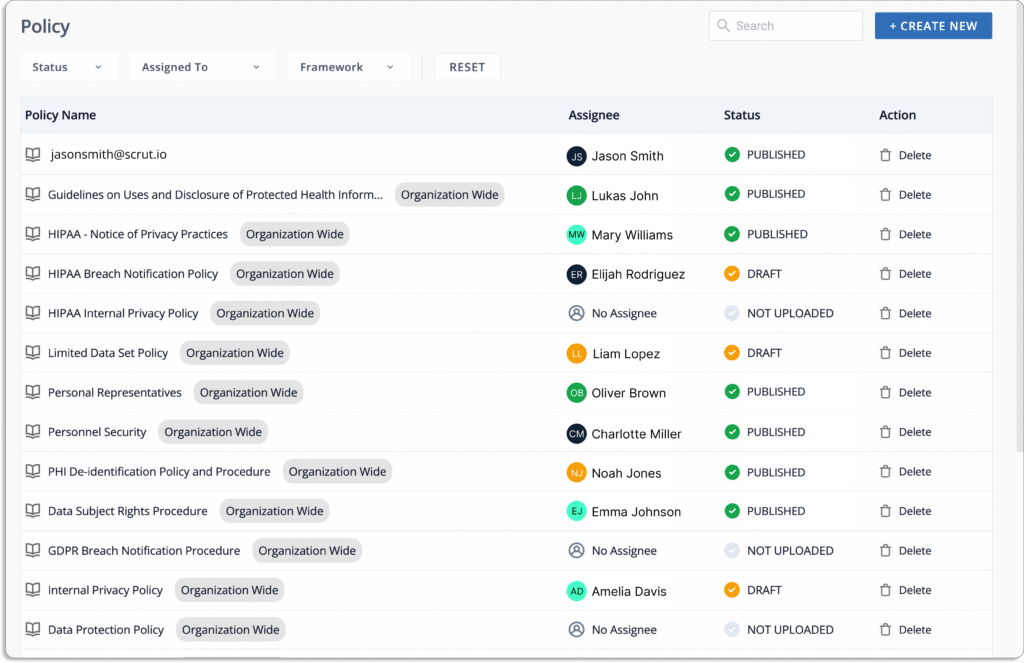 Further, with the help of an in-built editor, you can customize your policies as well. You can also upload your policy docs on the platform if you are migrating from another platform.
Collaborate with auditors
Scrut allows you to create audit projects and control access. You can invite auditors to the platform to manage numerous complex audits at once without hassle.
As shown in the screenshot below, you can collaborate with the auditor, who can comment on artifacts on the platform for any clarifications.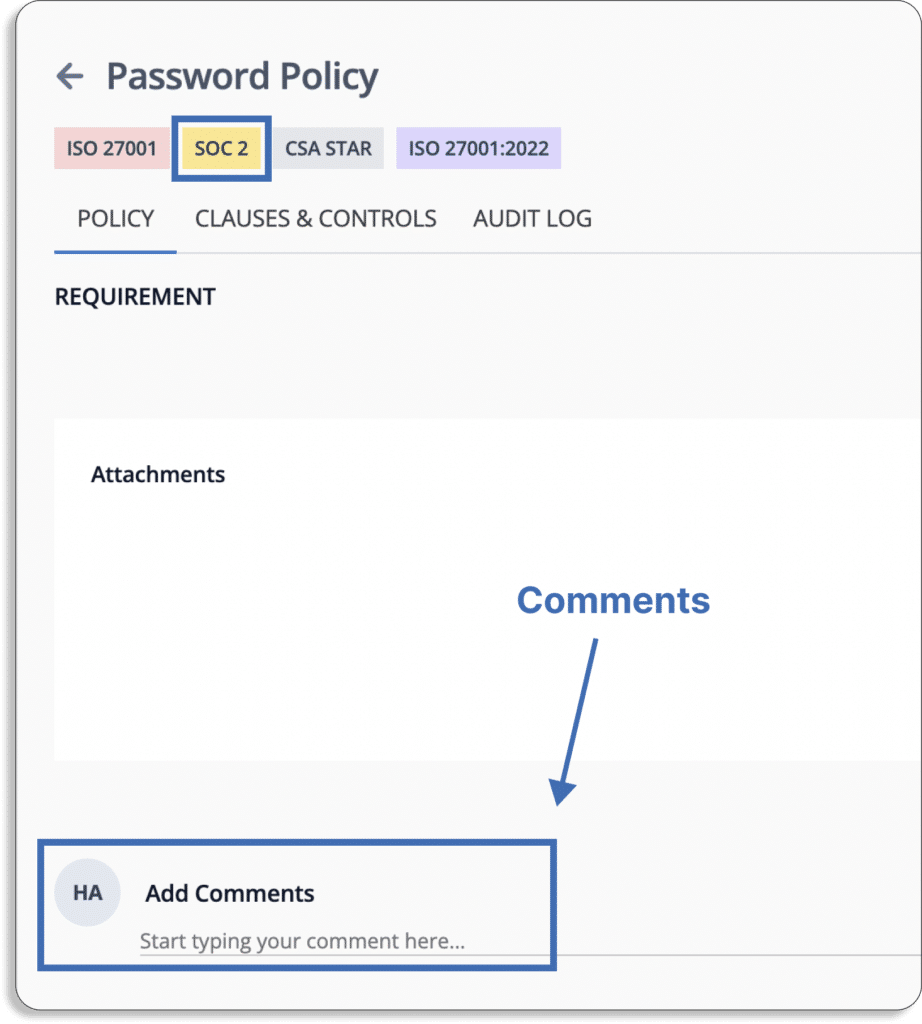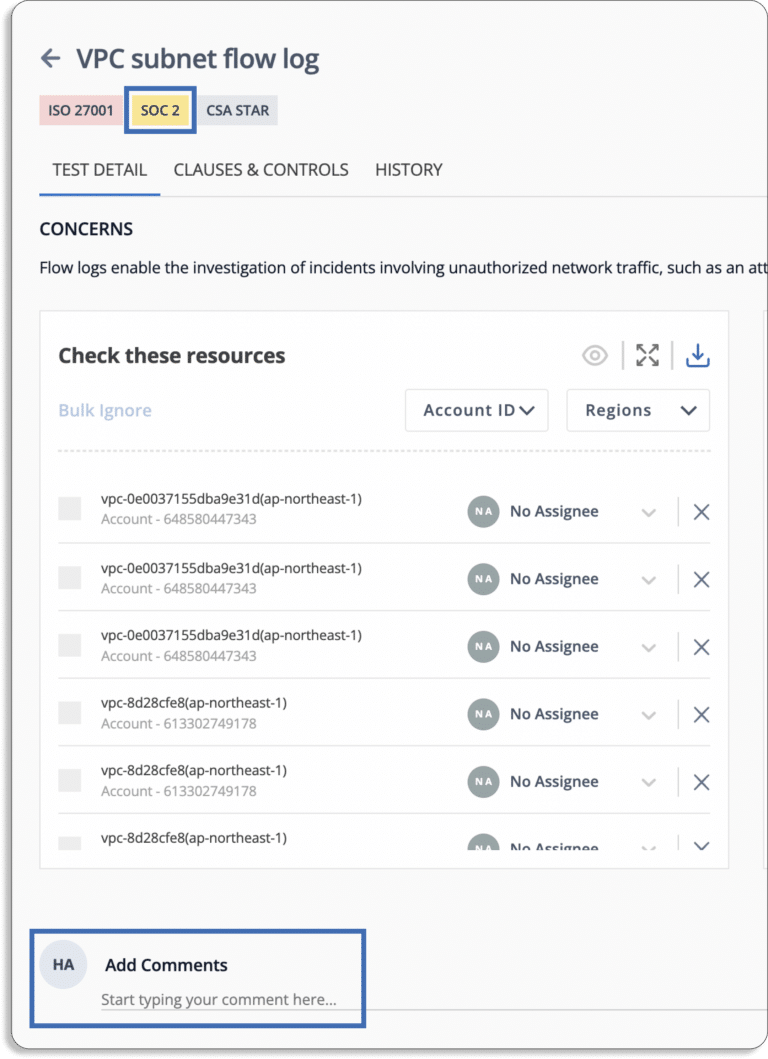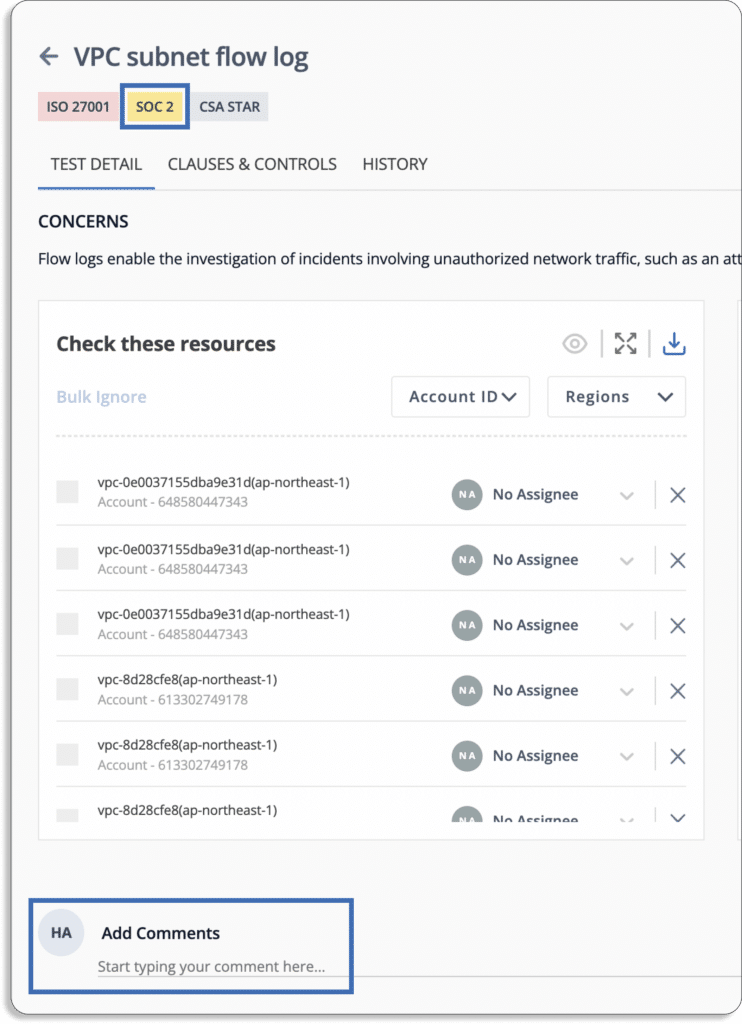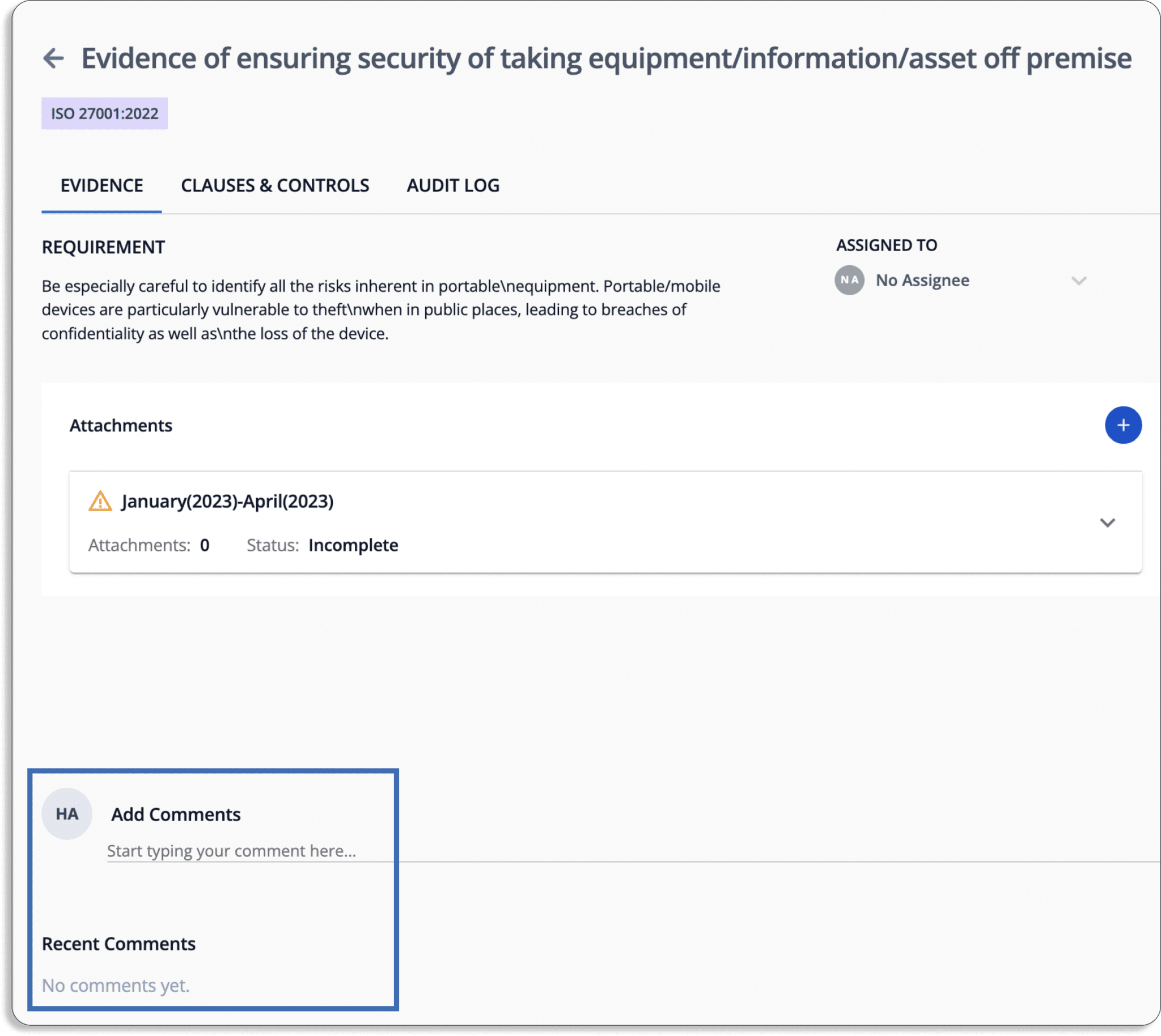 Scrut identifies gaps and critical issues in real time by automatically monitoring controls. It continuously scans your cloud environments against over 200+ cloud controls across CIS Benchmarks.
Not just this, Scrut helps you prioritize remediation of these issues by categorizing issues into danger, warning, low, and compliant based on the criticality of the issues.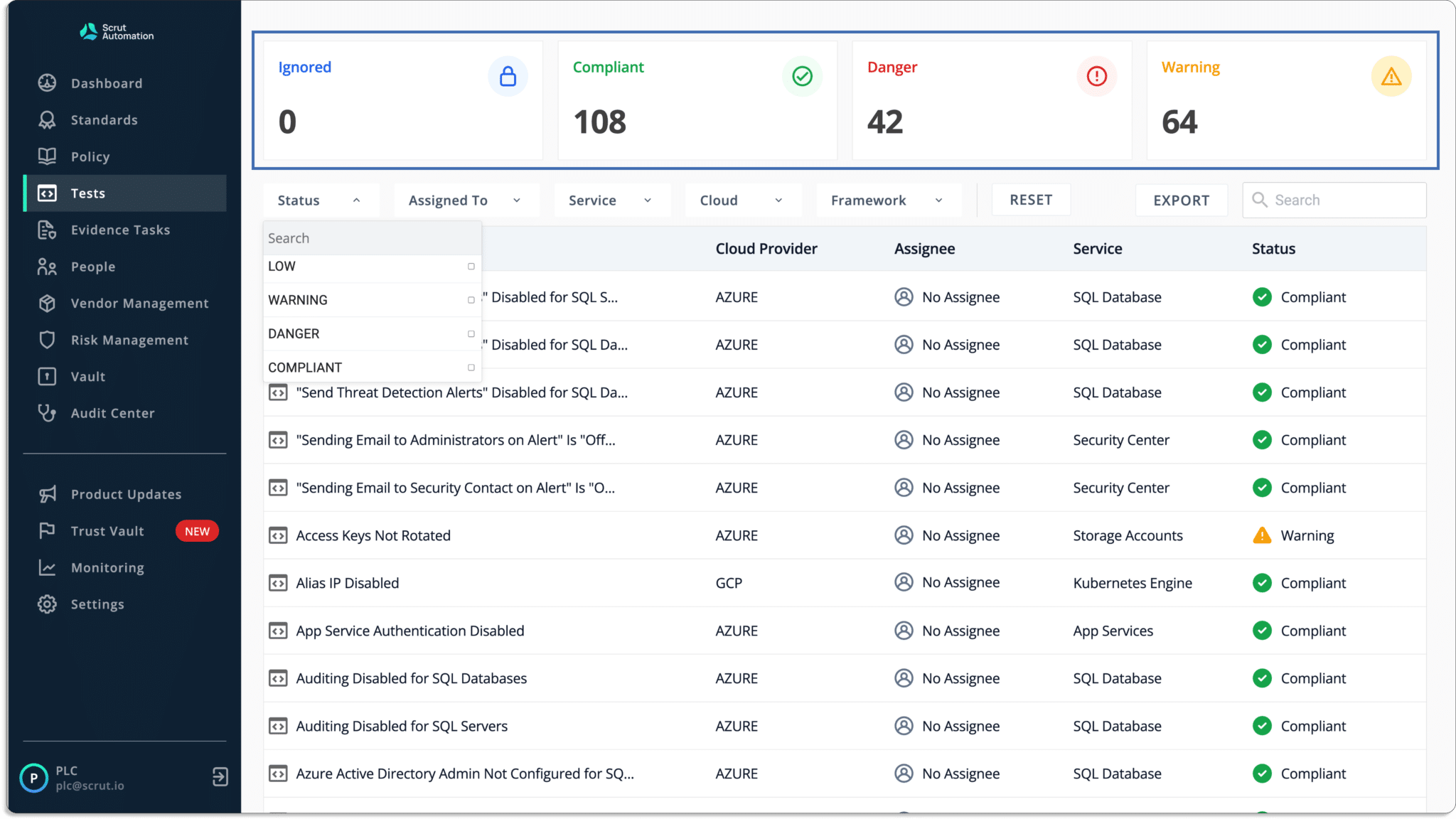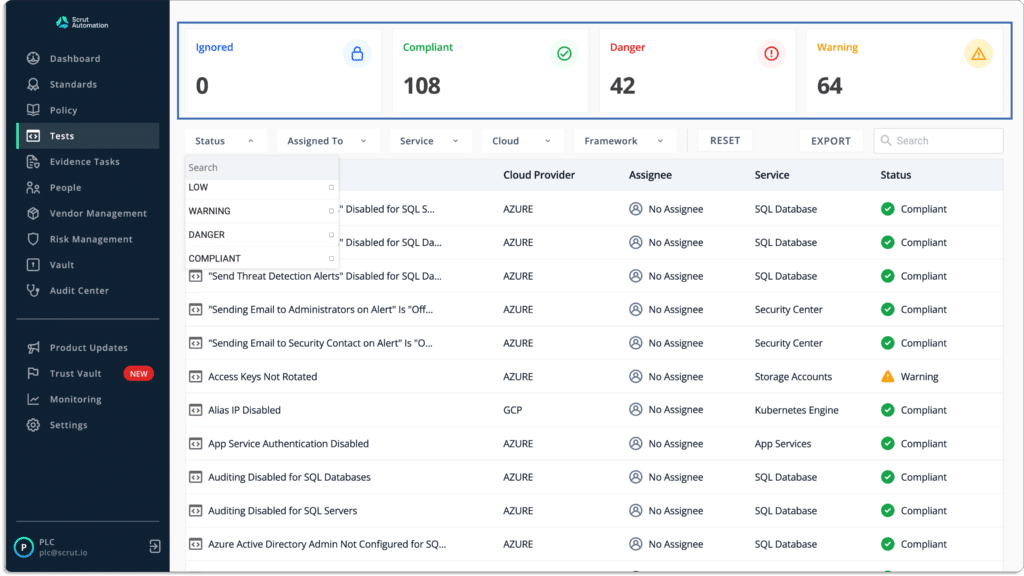 Automates evidence collection
Scrut automates over 65% of the evidence-collection process across your application and infrastructure landscapes against pre-mapped SOC 2 controls. This frees your time from repetitive and mundane tasks.
Furthermore, for the rest of the evidence-collection tasks, you can assign ownership to different team members and check the status on a single screen.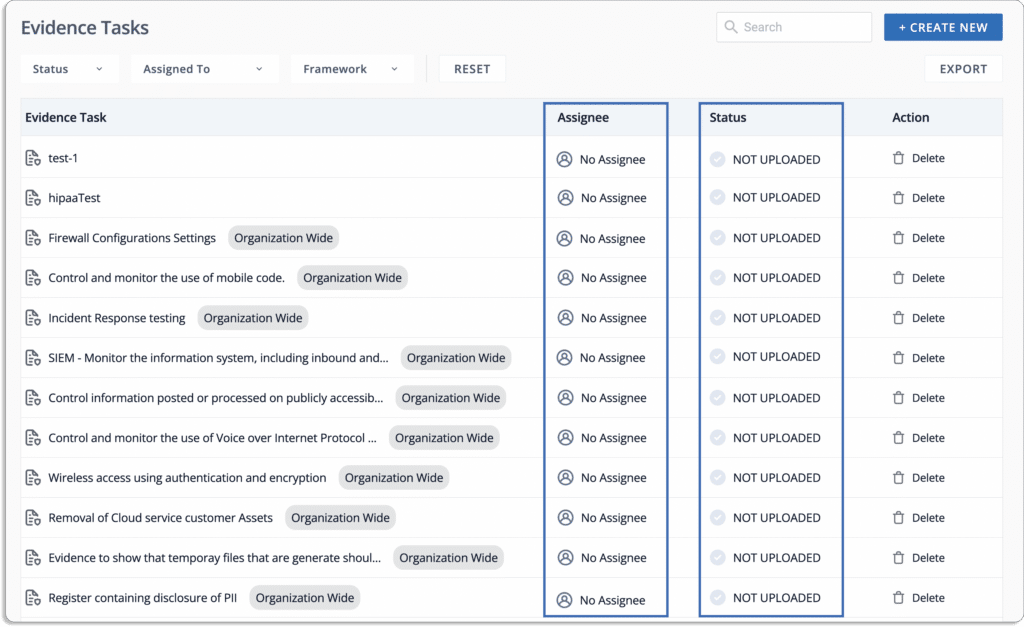 You can set up the frequency for recurring tasks via the recurrence option.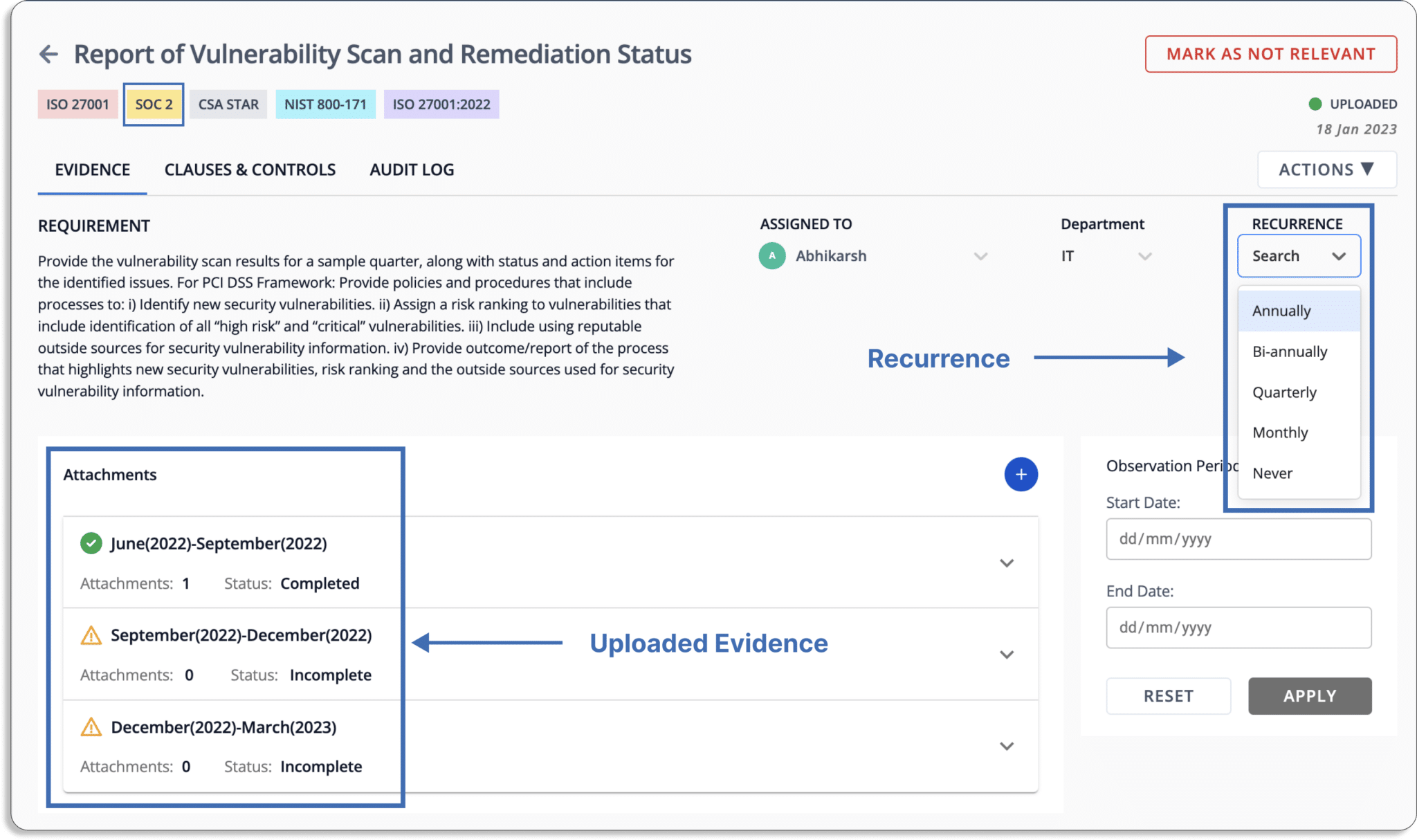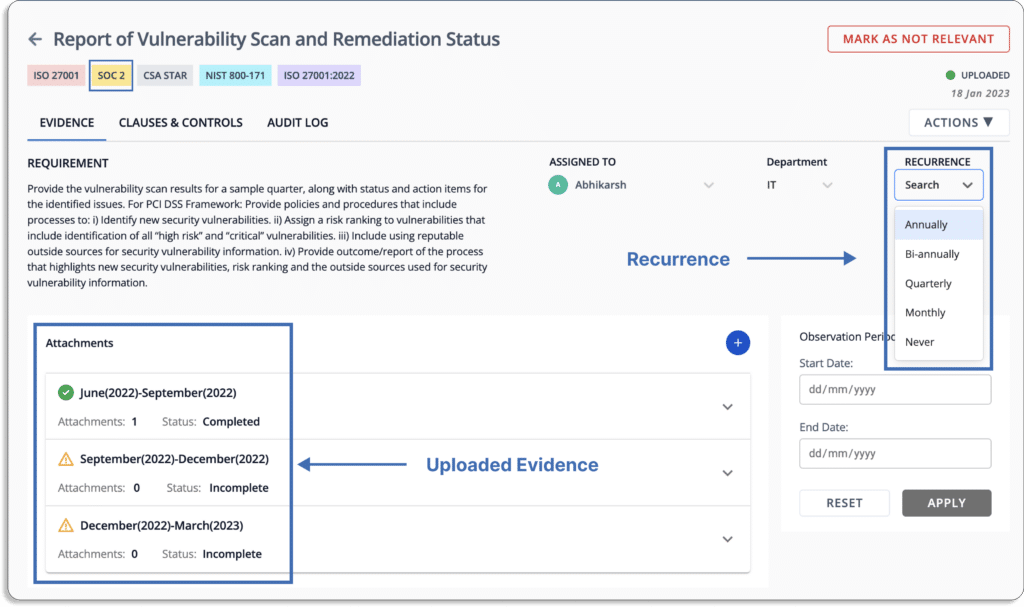 When the person responsible for uploading the evidence pieces fails to do so in time, they get reminders on their email and Slack (depending on the settings).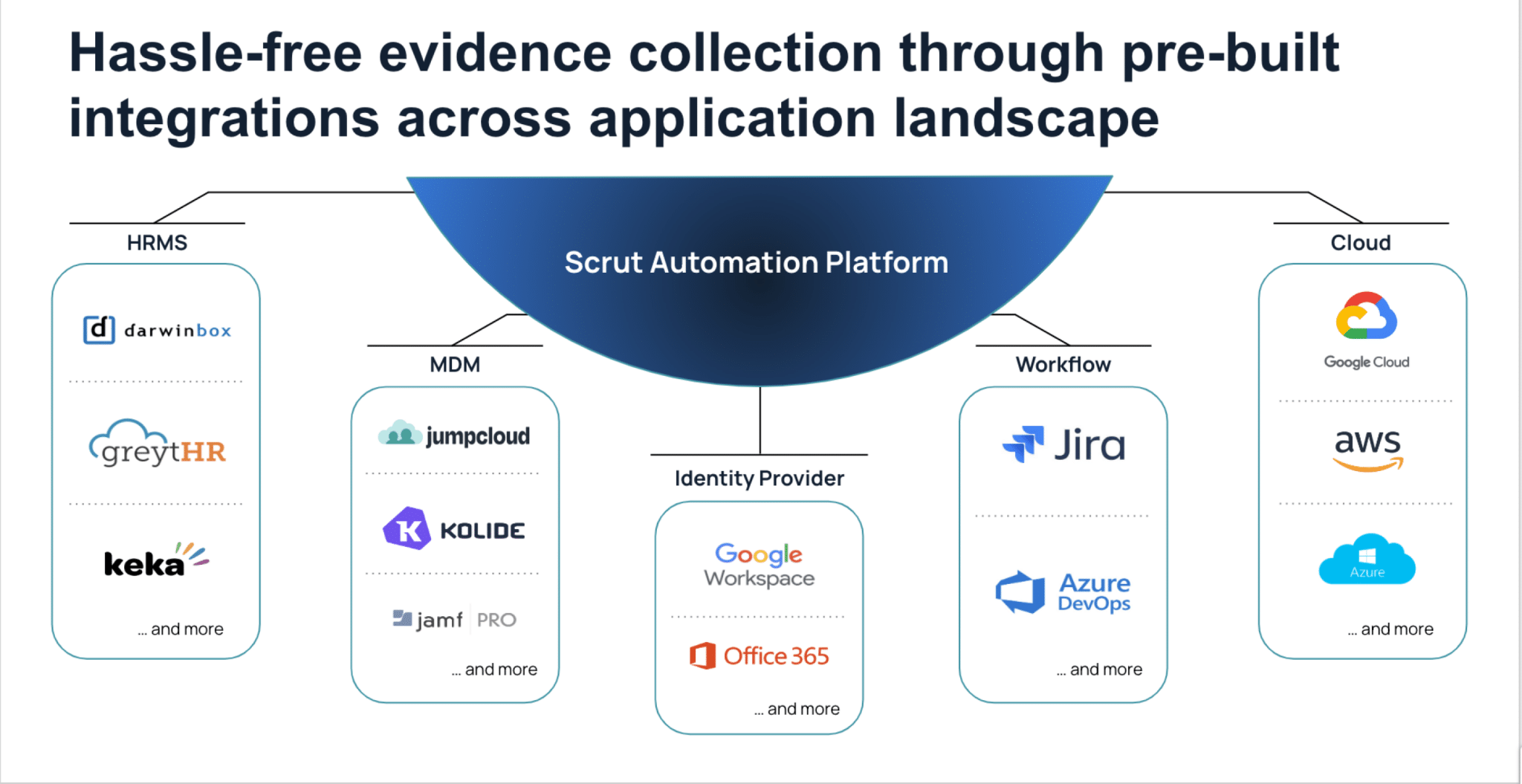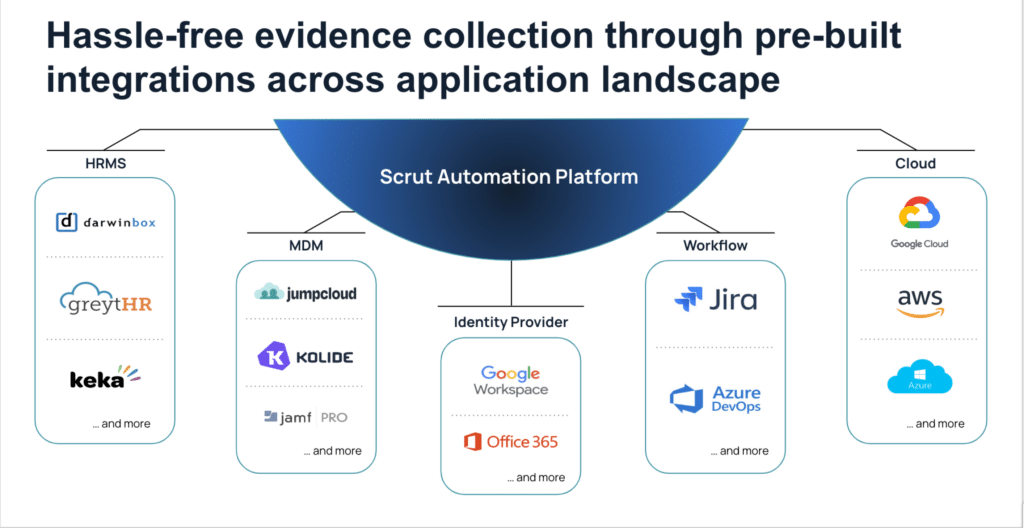 With Scrut, you can speed up your SOC 2 audit by sharing evidence artifacts, responding to requests, and monitoring audit status directly on the platform. In short, Scrut simplifies your SOC 2 compliance journey.
20+ frameworks out-of-box
Apart from SOC 2, Scrut also helps you comply with 20+ frameworks out-of-box.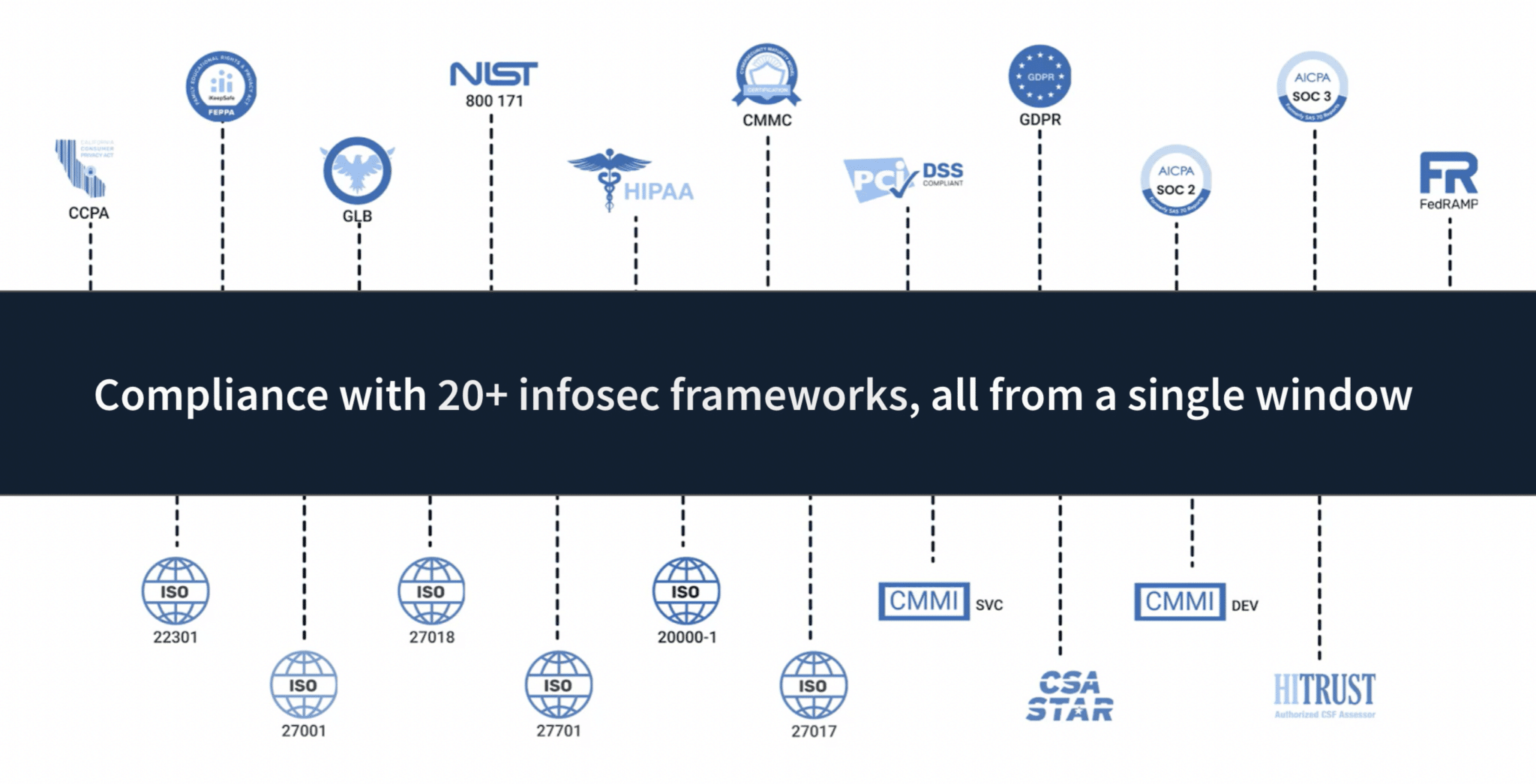 This means if you already comply with another framework, you don't need to start from scratch when going for SOC 2 compliance.
Or, if SOC 2 is your first compliance framework, you don't need to start from scratch when going for other frameworks. Ultimately, there is no duplication of efforts on your end.
Additionally, Scrut gives you a unified, real-time view of your entire compliance posture when you have multiple frameworks to manage.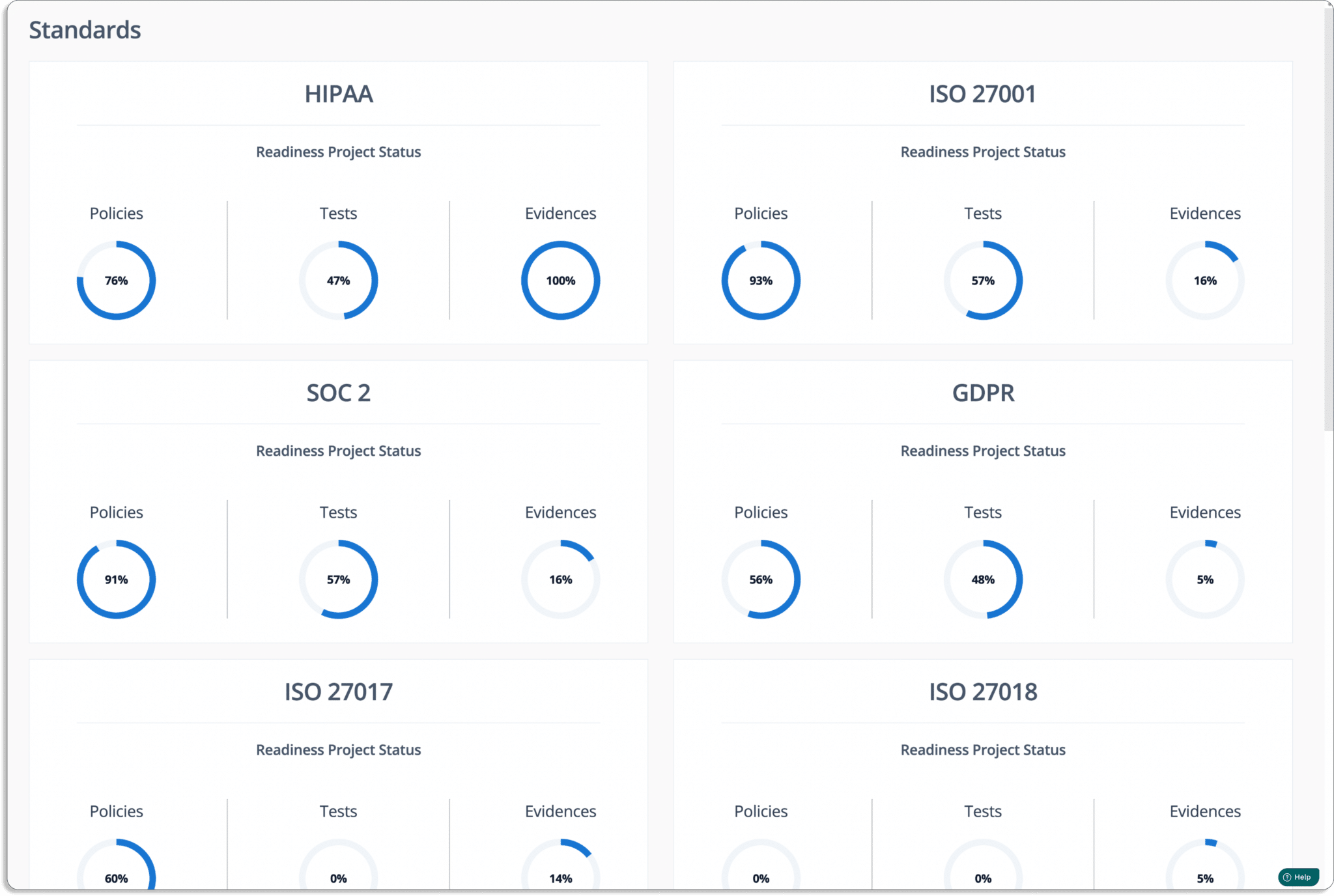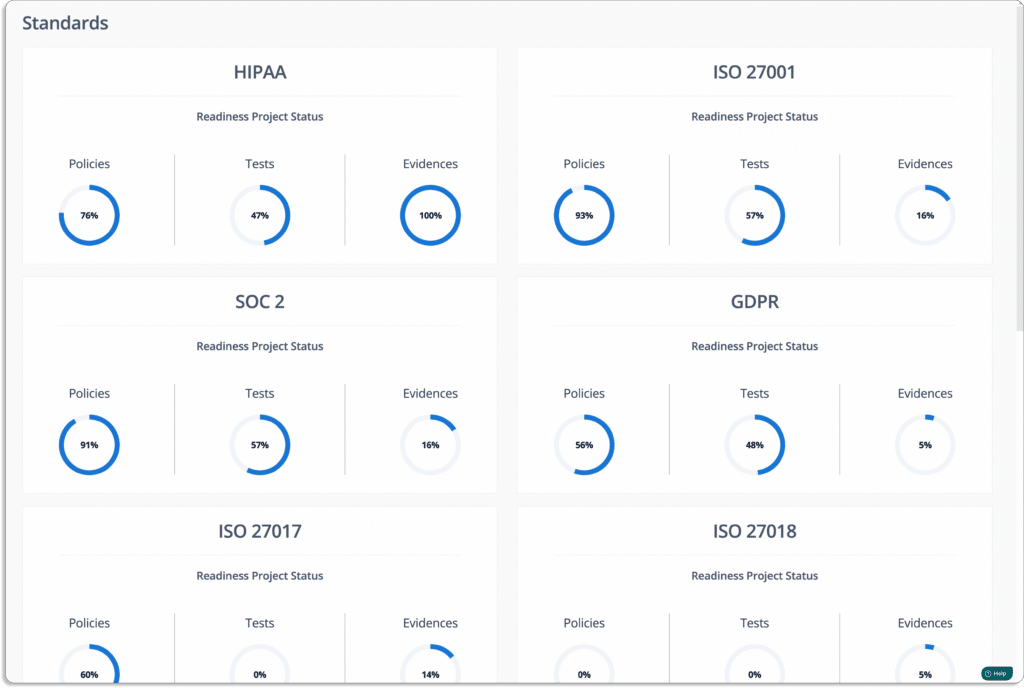 How iMocha, a skill assessment platform, used Scrut to simplify and accelerate its SOC 2 Type 2 audit?
iMocha used Scrut to scan and monitor their multi-region Azure environment to run tests across 200+ controls continuously, identified misconfigurations, and resolved them preemptively. This helped them establish and maintain a strong cloud security posture and enabled them to comply continuously with SOC 2 controls.
On the Scrut platform, they managed their entire security posture, from policies and controls to evidence artifacts.
Having a single window for their security operations enabled them to simplify and accelerate their audit for SOC 2 Type II significantly.


Check our customer reviews of G2 below.


Scrut provides the simplest way to automate your compliance journey.

Customer Rating
You can schedule a demo to learn more about Scrut Automation.


2. Sprinto
Sprinto eliminates the practice of using spreadsheets and speed up your SOC 2 audit by automating numerous evidence-collection tasks, providing pre-built policies and controls, and more. It helps you map risks to SOC 2 controls and run fully automated checks to ensure continuous compliance and a smooth SOC 2 audit. Sprinto also allows you to start an async audit with an auditor from Sprinto's network and finish audits quickly.
Pros
In-line policy editor enables you to edit policies on the platform.
Supports 150+ integrations that help to collect evidence automatically.
Cons
The platform doesn't include login with the SSO provider such as Okta.
Some manual work is still required to be done.
Customer Rating
3. Drata
Through continuous monitoring and assurance, Drata automates the SOC 2 process, allowing you to build trust and focus on your product. The platform provides pre-mapped controls, endpoint monitoring, pre-built risk assessments, etc. The quick-start features of Drata allow you to get up and running with automated evidence collection through 75+ integrations.
Pros
The platform provides recommendations by identifying gaps in the test module.
Drata's interface consolidates all of your information and provides actionable items to help you resolve problems.
You can easily identify issues in cloud infrastructure and improve security posture with the help of Drata.
Cons
The platform lacks some integrations, such as Slack notifications, which are needed for timely updates on testing status.
There is a 25 MB file size restriction for any evidence you upload to Drata. Thus, you have to contact the Drata support staff whenever you need to upload a larger file.
Audit logs are not available.
Customer Rating
4. Tugboat Logic
Tugboat Logic assists you in passing the audit by providing pre-built policies and controls aligned with the SOC 2 framework. The tool provides a centralized system of record for assigning controls to owners across your organization and storing all evidence to demonstrate that all SOC 2 controls have been implemented. The audit readiness module can automate compliance with industry frameworks, such as SOC 2. Pros
Tugboat Logic provides a clear roadmap from company policy to internal controls.
Security training is provided through the platform with a complete overview of who has completed and who has not.
It allows for regulatory compliance at all levels.
Cons
There are no integrations for ticket creation in JIRA directly from the tool.
The platform's main dashboard is not intuitive, and there is a brief reference to understand the same.
There is no in-line policy editor, so you have to upload policies manually every time you make any changes.
Not suitable for mid-size and large enterprises.
Customer Rating
5. Secureframe
Secureframe assists you in creating SOC 2 security policies that are appropriate for your company. You can choose from their policy library, customize them for your organization, and distribute them to your employees throughout the Secureframe platform. It assists you in maintaining SOC 2 compliance by monitoring your compliance environment and notifying users when tasks are due. Moreover, it streamlines and automates every step of the SOC 2 process so that you can easily prepare for an audit.
Pros
Secureframe monitors your compliance status by keeping track of all processes, partners, employees, and other information.
Cons
The platform doesn't provide any information on how to resolve errors. For example, the platform notifies that there is a problem with X Amazon tool in a region but fails to specify which regions are affected.
There is no auto reminder feature for integrated services.
Customer Rating
6. Vanta
Vanta reduces your workload throughout the SOC 2 journey by combining the automated compliance platform with an effortless audit experience. The platform quickly integrates with the most commonly used identity providers, cloud services, and other applications to automate the time-consuming task of gathering evidence for security audits.
Pros
Vanta assists users in producing detailed security reports.
Vanta provides complete visibility for policy sharing with third parties.
Cons
On Linux machines, tracking requirements such as encryption may not always work, necessitating manual verification and storing that information in Google Drive for the auditors.
Vanta's risk management feature provides valid output only against technical controls or a few policy controls, not accounting for all Business-As-Usual (BAU) risks.
There are no approval workflows for audit management, unlike other tools like Scrut.
Customer Rating
7. LogicGate
As the name suggests, LogicGate Risk Cloud primarily focuses on risk management. It is a cloud-based platform with a suite of pre-built applications that transforms how GRC processes are managed by combining expert-level content and service with no-code technology. The platform allows organizations to assess their internal controls, policies, and procedures against the AICPA's five trust services criteria, assisting them in preparing for and achieving a SOC 2 attestation report.
Pros
With LogicGate, users have the option to receive notifications when a task is due or has an upcoming deadline.
The tool simplifies reporting by providing different export formats.
It provides metrics for performance throughout the workflow's lifecycle.
Cons
Users have to enter many fields manually. For instance, the test plan description field.
Customer Rating
8. ZenGRC
The Reciprocity ZenGRC platform provides your security and compliance teams with a unified and integrated experience that identifies information security risks throughout your organization. It provides a faster path to compliance by eliminating time-consuming manual processes, accelerating onboarding, and keeping you informed about the status and effectiveness of your programs.
You gain a unified and real-time view of risk and compliance with seamless integrations with Reciprocity ZenRisk and the Reciprocity ROAR platform. The platform's prescriptive workflow walks you through selecting frameworks step by step. It includes a comprehensive library of over 20 regulatory and statutory frameworks.
Pros
ZenGRC provides the user with a centralized platform for managing multiple and complex audits.
ZenGRC makes the entire audit process seamless by providing direct access to audit controls and evidence.
Cons
The platform does not display due dates on individual tasks.
When a user changes the owner for the parent task, it does not reflect the same for sub-tasks. Users have to update manually every time.
There is no custom survey feature.
There is no in-line editor in ZenGRC for editing policies.
Customer Rating
9. JupiterOne
JupiterOne is a cyber asset management and governance software. It does play a role in the SOC 2 space, even though it is not positioned as such. It provides custom frameworks and policies to meet your specific governance and compliance requirements. Furthermore, it provides built-in security policies and procedure templates corresponding to your assets and environment.
Pros
Within minutes, almost anyone can integrate their environment and add evidence to assess SOC 2 controls.
Cons
Some much-needed data elements are not pulled into JupiterOne.
Doesn't allow to collaborate with auditors on the platform.
JupiterOne doesn't have in-built employee security training module, unlike other GRC platforms like Scrut.
Customer Rating
10. AuditBoard
AuditBoard simplifies SOC 2 compliance by clubbing the risks, controls, policies, frameworks, issues, and more to equip your organization to meet today's growing compliance requirements. The platform provides automated issue management by easily identifying and creating issues while testing, assigning owners to action plans, and automating follow-up. It tracks progress and gains visibility into open issues.
Pros
The platform provides additional modules, such as audit management, compliance provider partnerships, and workstream.
The platform provides real-time review and approval process features.
Cons
There is no option to create an interactive risk control matrix.
While the platform has limitless customization capabilities, finding and customizing what users want can be difficult.
Customer Rating
11. Hyperproof
Hyperproof is a compliance automation tool that increases the efficiency of your InfoSec team by organizing, automating workflows, and unifying your risk management and compliance activities. Furthermore, all control content is fully editable, and you can easily add your existing controls.
Pros
The platform is simple to use and collaborate with multiple teams.
The platform saves users time with integration capabilities and seamless workflow for linking controls to multiple frameworks.
Cons
There is no template for export and import functionality.
Very limited options for configuring notification frequency.
The audit process can be time-consuming as you collaborate with your auditor on the platform. You need to share all the artifacts (policies doc, evidence, controls, etc.) separately where the context is lost.
Customer Rating
12. LogicManager
LogicManager is a risk management platform that simplifies the SOC 2 compliance journey. The tool helps your organization achieve critical security benchmarks by taking a risk-based approach. The platform's automated testing enables you to track the effectiveness of your SOC 2 compliance over time and reduces external audit costs. You can use the LogicManager Readiness Assessment feature to divide SOC 2 compliance requirements into individual responsibilities.
Pros
The platform keeps track of completed attestations.
LogicManager provides a complete overview of all the risks in one location.
Cons
There is no undo feature for new users.
LogicManager does not capture key contract details.
Customer Rating
13. Anecdotes
Anecdotes is a compliance automation platform that connects you with relevant plugins to meet your SOC 2 requirements. Once connected, the platform collects and maps relevant evidence in the background. With anecdotes, you can connect plugins to gather and keep track of policies and documents automatically.
Pros
Each domain's progress can be tracked in real-time through the platform.
Users can identify gaps ahead of time with Anecdotes' centralized view.
The platform provides automated workflows, and there is no need to collect files and screenshots from different systems.
Cons
Communication within the team cannot be hidden from the auditor.
Customer Rating
14. Strike Graph
The Strike Graph allows you to designate accountability to the appropriate team members and automate SOC 2 evidence collection and maintenance reminders. The tool makes it simple to maintain compliance and cross-reference the controls and evidence you produce as part of the SOC 2 process.
Pros
The platform provides flexible audit completion by managing risks, controls, evidence, and their interactions.
Cons
Doesn't allow you to select multiple files for evidence retrieval automation.
Customer Rating
15. Apptega
Apptega is a cybersecurity management platform that can help create a SOC 2 program based on industry best practices and the SOC 2 framework. It also allows you to map multiple frameworks together. The platform assists you with your SOC 2 requirements, including assessments based on questionnaires, customizable reports, automated notifications, specific permission settings, automated reports, etc.
Pros
The platform offers pre-built framework content on topics such as NIST CSF, CIS, and GDPR.
The Harmony feature allows users to run multiple frameworks as a single program, eliminating the need to duplicate efforts.
Cons
Companies in the finance sector may not find the tool suitable as it cannot reduce current workflow demands.
It currently lacks APIs and integrations to pull reports from other monitoring tools, such as firewall logs.
Customer Rating
Get a demo
Now, once you have shortlisted the software, the next step is to take a demo to see the tool in action. Book a Scrut demo here.