We are ecstatic to announce that Scrut has been awarded 177 badges in the recently released G2 Summer 2023 Report! We beat our own record of 124 badges last season, and we will keep striving to top ourselves.
G2 is the largest marketplace for IT and software companies. It helps consumers and businesses discover, compare, and review technological solutions that suit their needs.
G2 reports are released every quarter to recognize the best tech companies based on unbiased user reviews. We are honoured to once again be named as a high performer in the industry by them.
These badges are a testament to the faith that our customers place in us, and this achievement would not have been possible without them!
We thank our customers for believing in us and motivating us to work harder to boost the infosec and compliance postures of their organizations.
Here is a look at all the badges we were awarded in the G2 Summer 2023 Report.
Scrut stands as the Leader in Security Compliance


Ensuring security compliance is an important part of our service. To be recognized as a leader in this category lets us know that we are on the right track and motivates us to do even better. We are beyond thrilled to be recognized as a leader in security compliance.
Over the moon with 16 High Performer badges

We are extremely delighted to be awarded 16 High Performer badges! Receiving the High Performer badge overall and in mid-market and small business segments across various categories fills us with pride. From IT asset management to cloud compliance, we have delivered quality services consistently to businesses across sizes and industries, and we strive to serve them even better.
Notable badges won at G2 Summer Awards 2023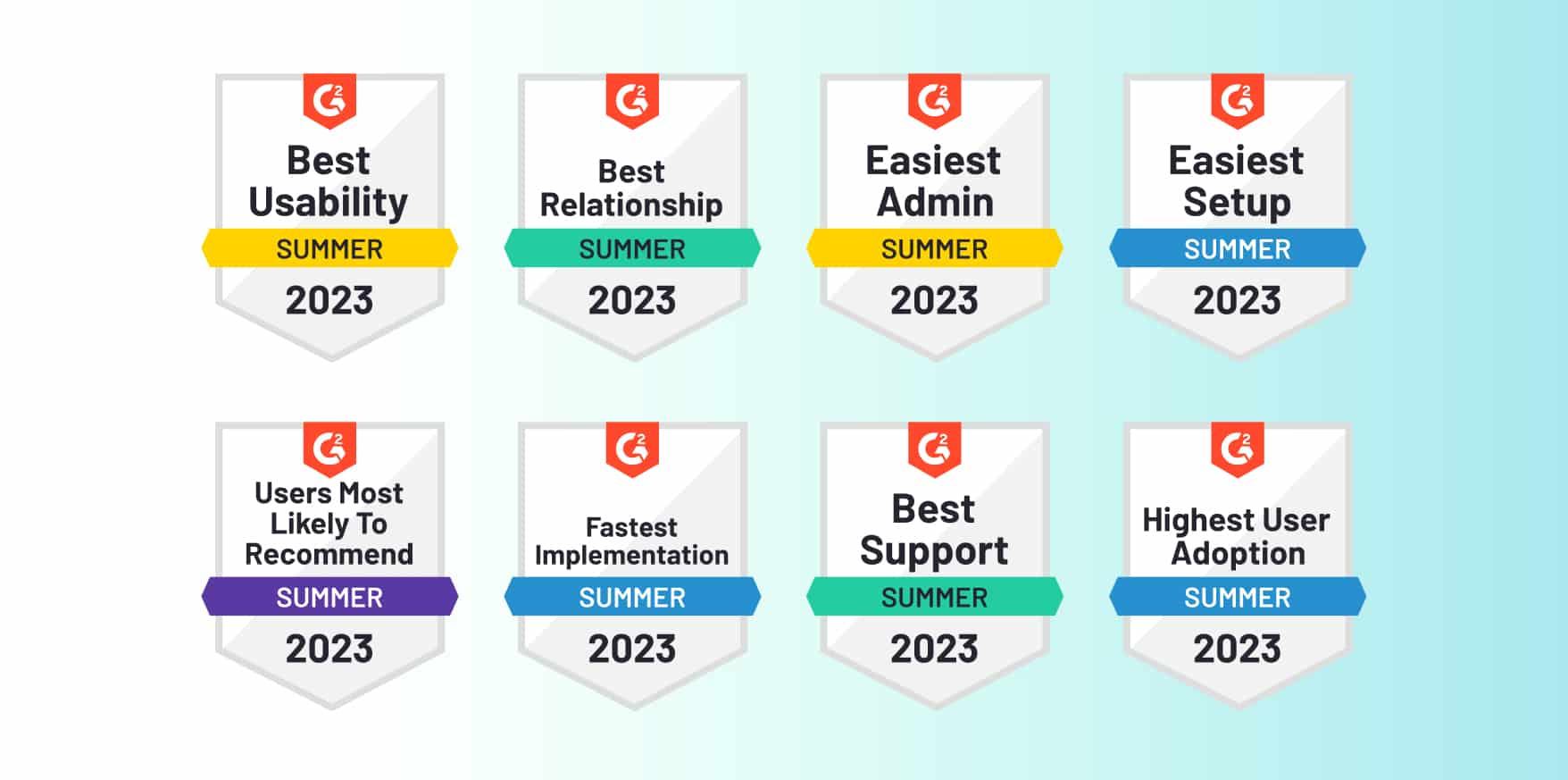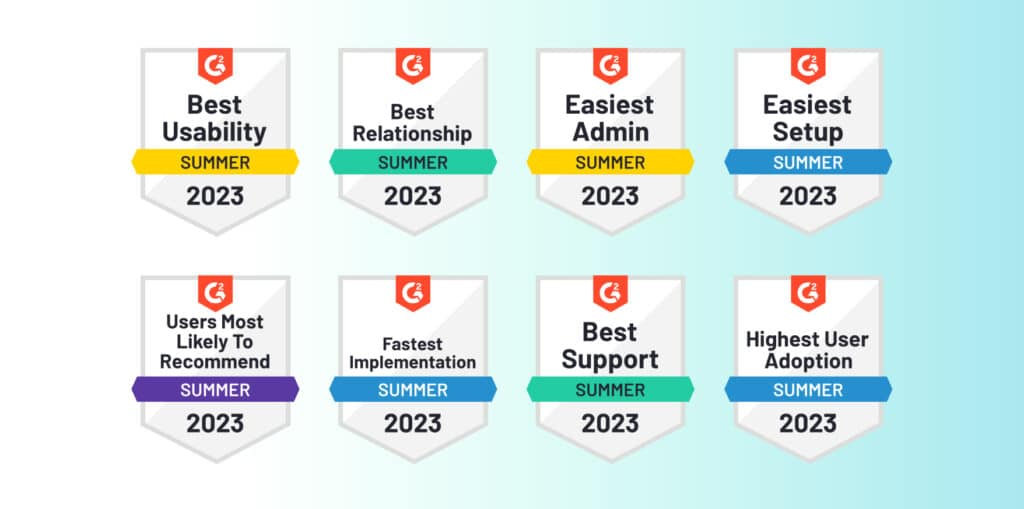 This report revealed our customers' appreciation of the user experience and customer support that we provide. We received 14 Best Relationship badges and 13 Best Support badges, lauding the support we extend to our customers.
11 Easiest Setup badges, 9 Easiest Admin badges, and 9 Fastest Implementation badges were awarded to us, indicating that our customers enjoy the seamless user experience that we offer to them.
We also received 15 Users Most Likely to Recommend badges and 7 Highest User Adoption badges signifying that we are a popular name when it comes to compliance and cybersecurity.
Acing Cloud Compliance with 38 badges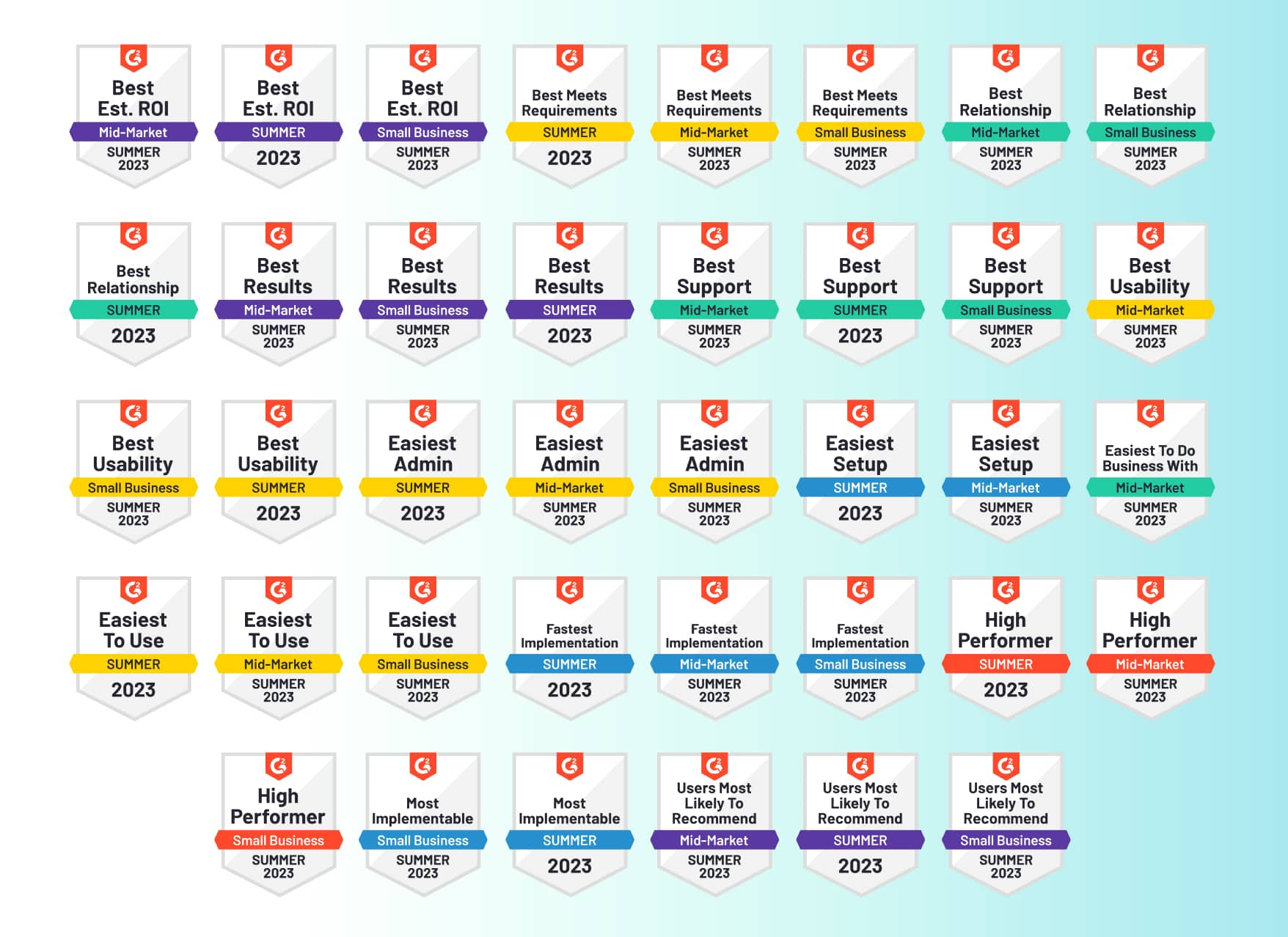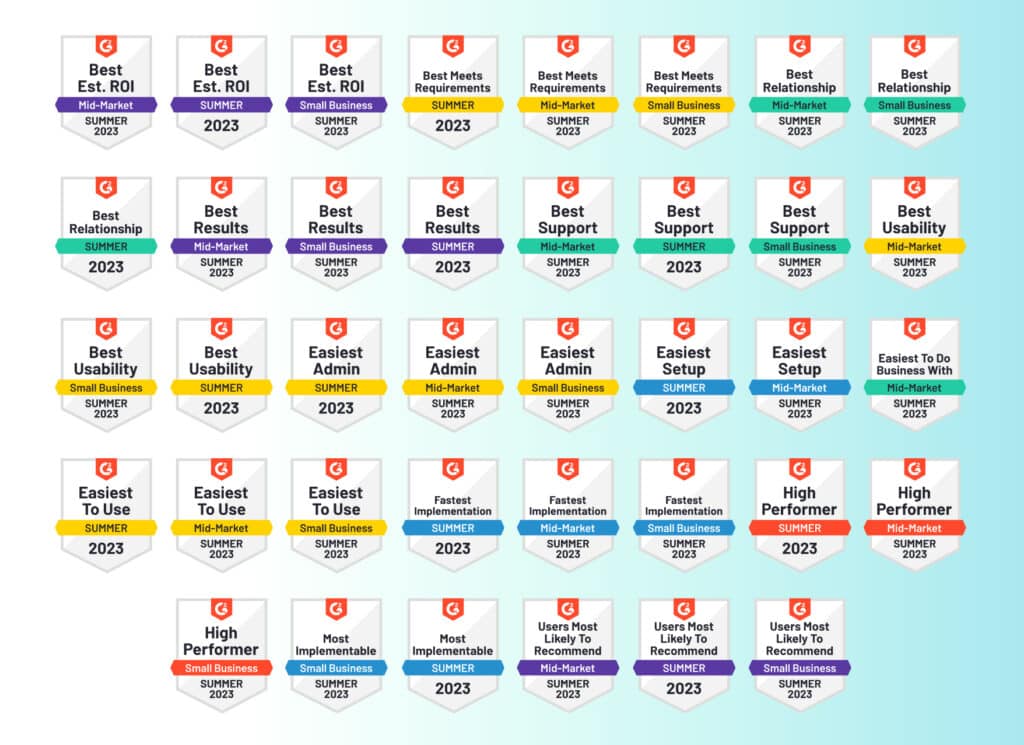 We bagged a whopping 38 badges for our efforts in streamlining cloud compliance. Our state-of-the-art compliance automation and management platform leaves no stone unturned when it comes to guaranteeing compliance.
Both small and mid-market businesses have reaped the benefits of our cloud compliance services, and we are honoured to have received the High Performer badge and Best Estimated ROI across business sizes in this category.
Redefining Cloud Security with 21 badges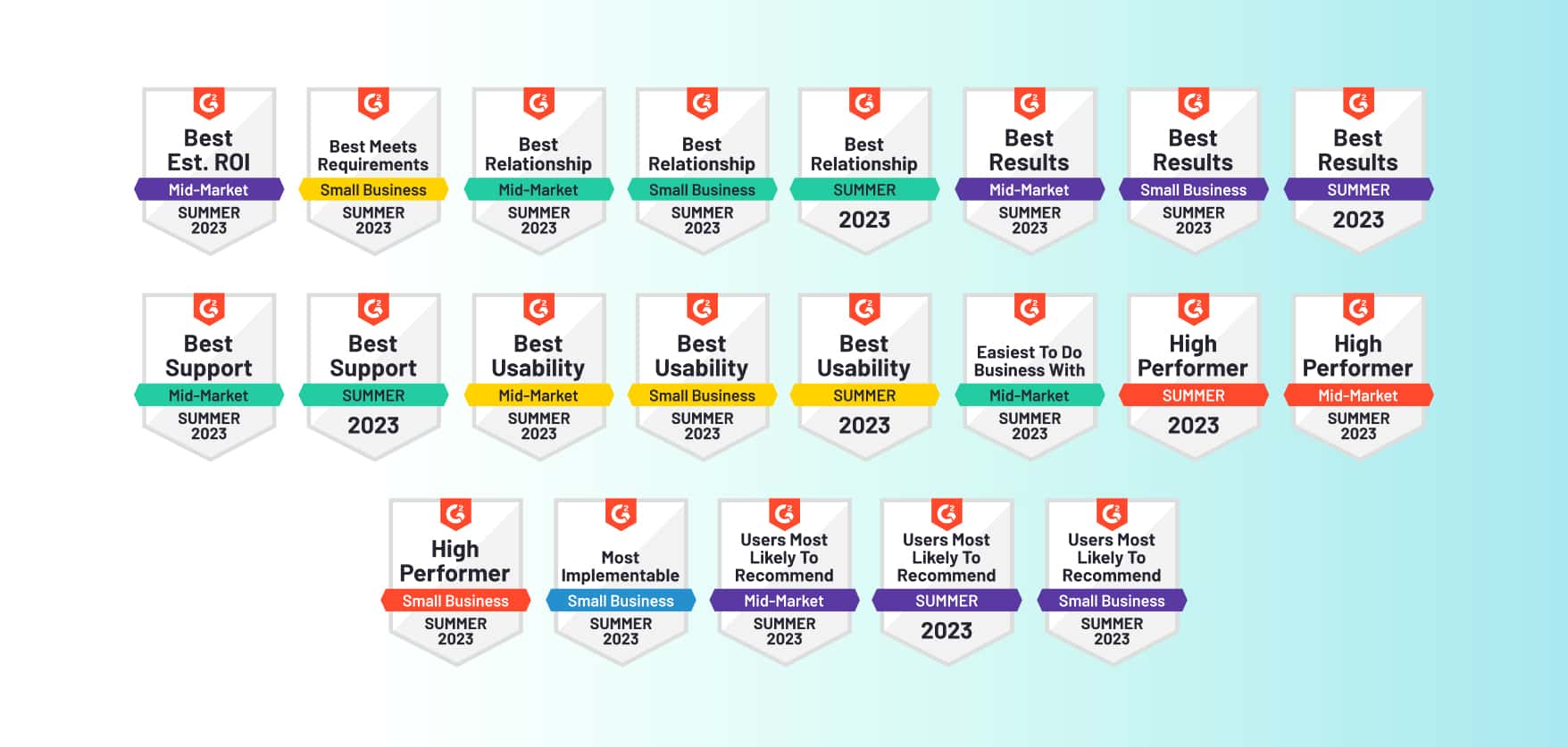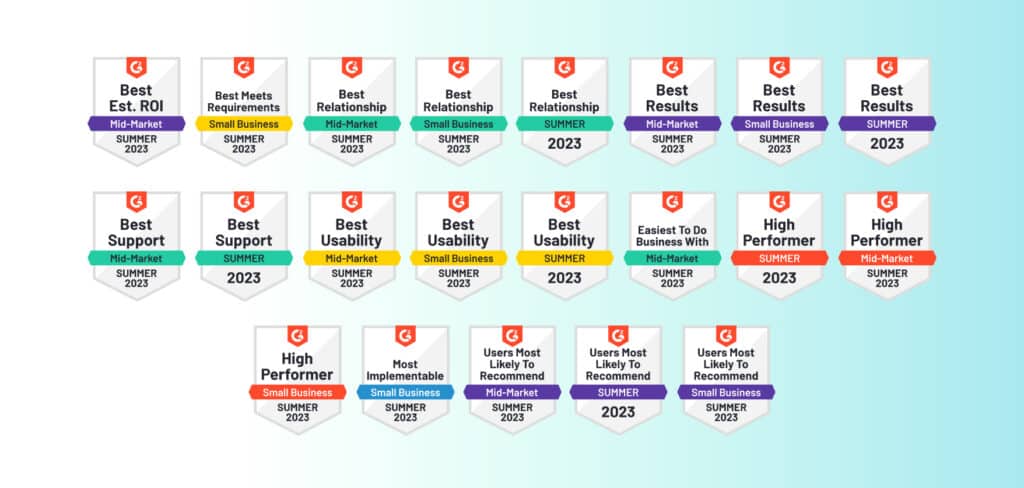 In this day and age, where most organizations use multi-cloud solutions, cloud security is the need of the hour. We take security very seriously, and the 21 badges that we received are a testament to our vigilant cloud security monitoring program.
We are delighted to have received the High Performer badge among many other badges in this category, and we will strive to keep bolstering the cloud security of our customers.
Elevating Cloud Security Posture Management with 33 badges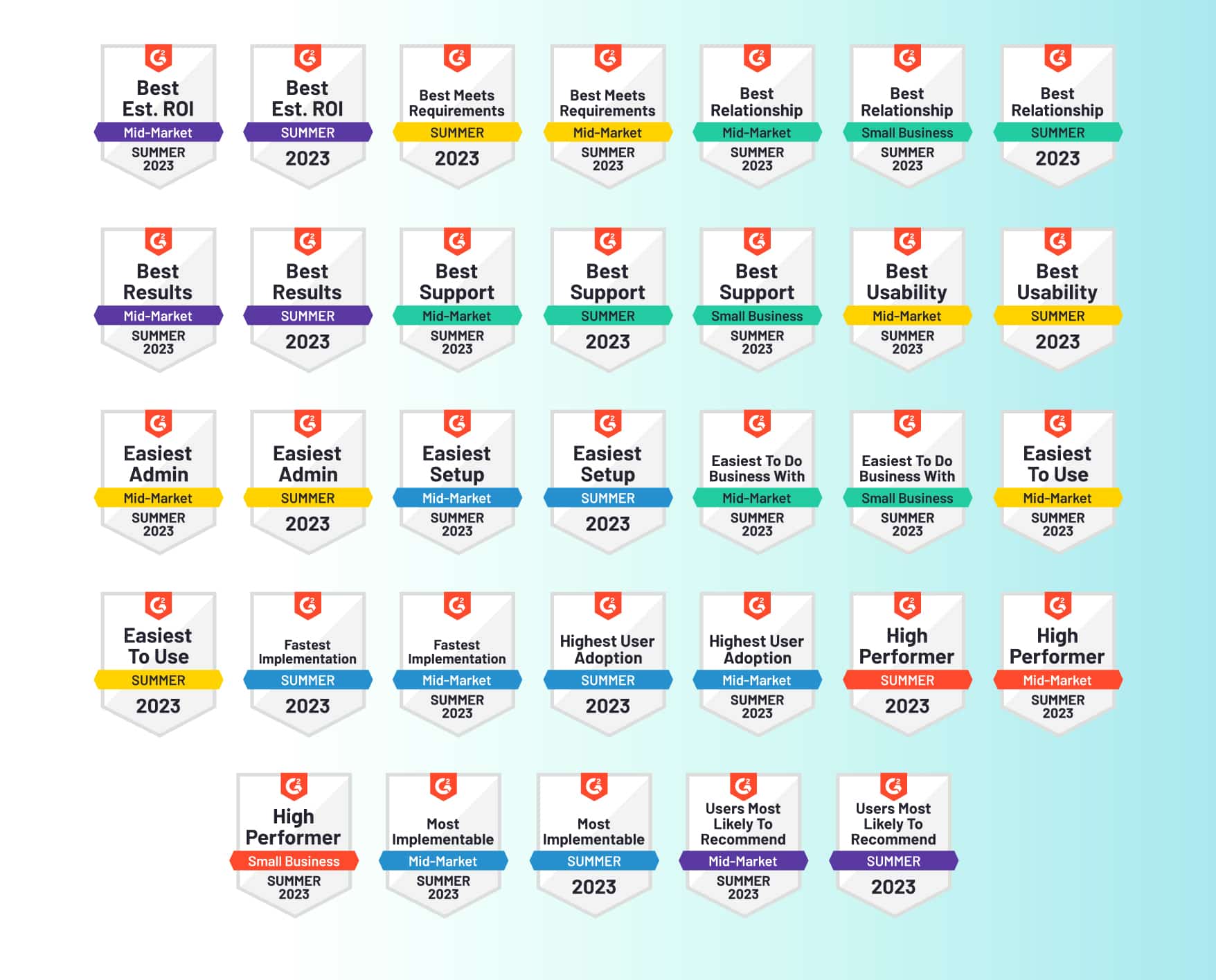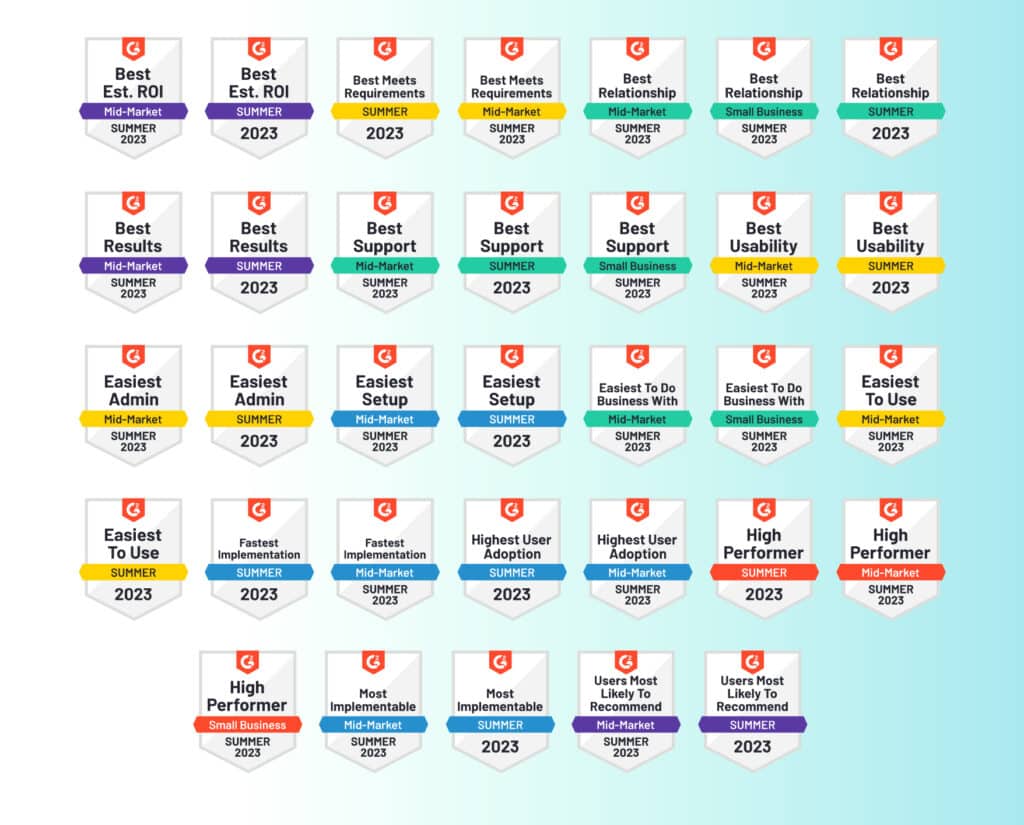 We received a staggering 33 badges for cloud security posture management! Apart from winning a High Performer badge, we also received the Best Estimated ROI badge and Best Results badge among several others. We cannot contain our excitement, but we will focus our efforts to keep bringing our A game to satisfy our customers.
Innovating GRC Platforms with 30 badges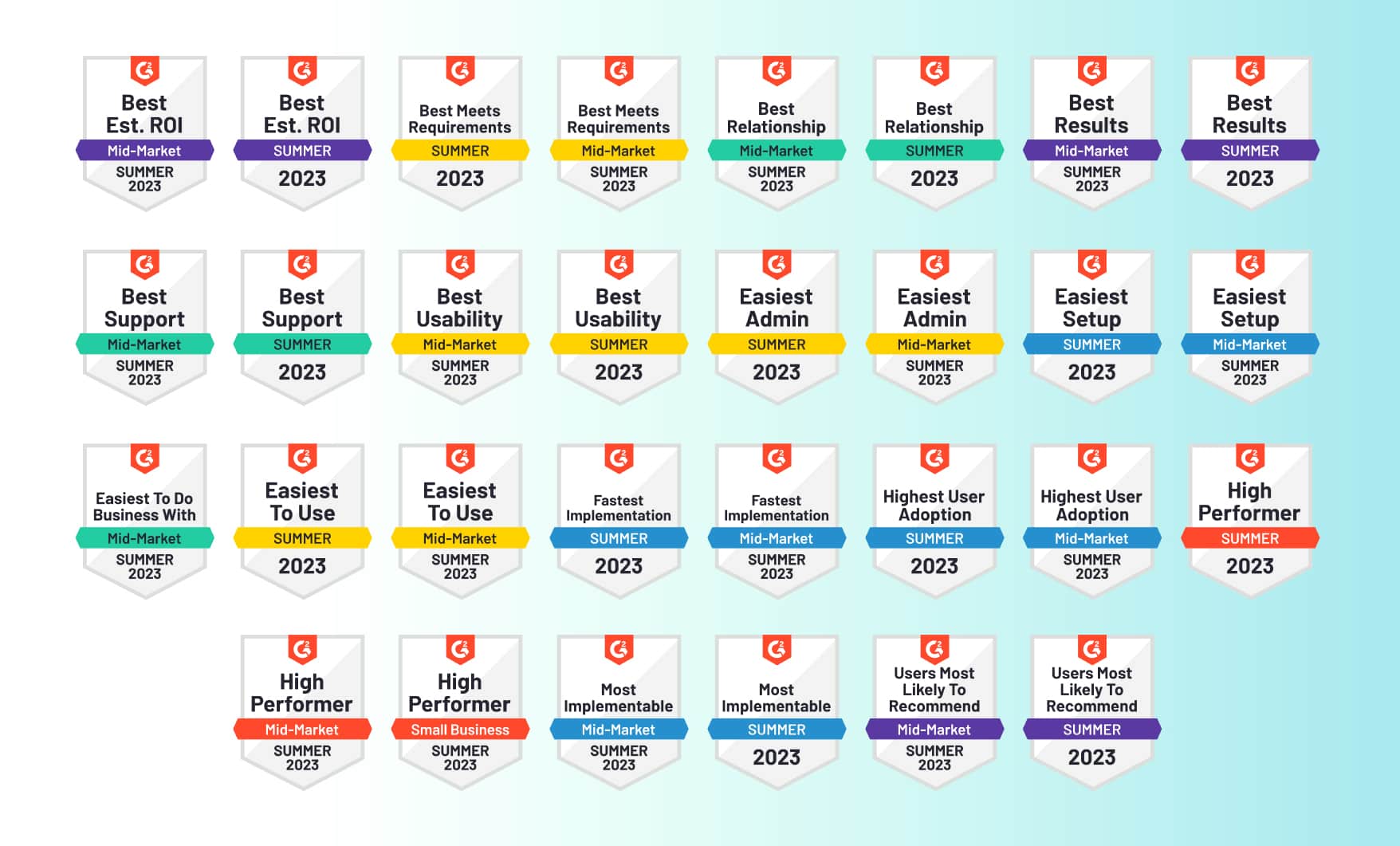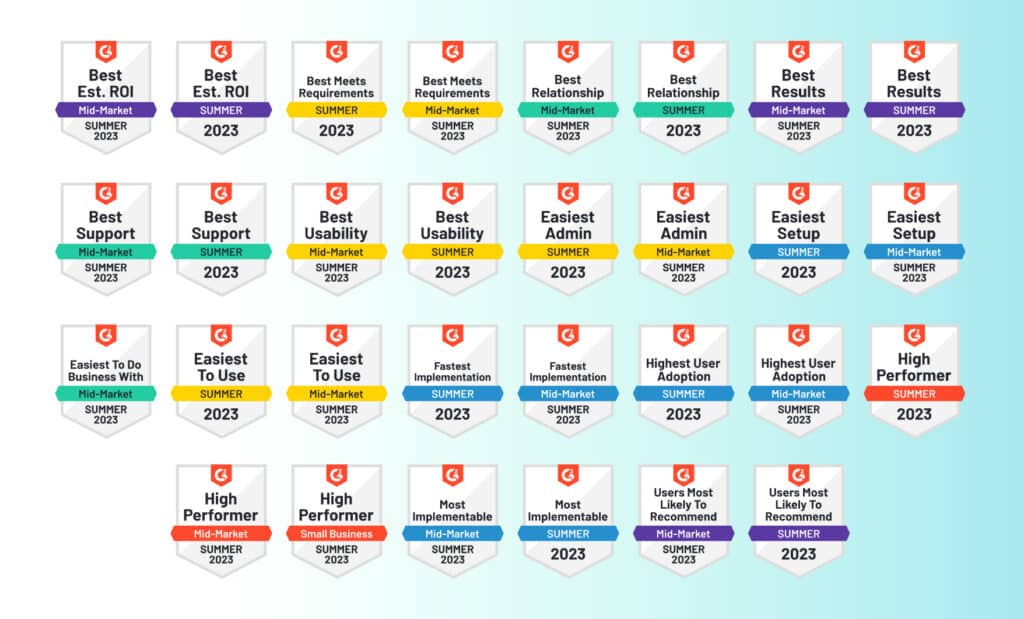 We are elated to have received 30 GRC platform badges! At Scrut, we do our best to streamline GRC through automation, and it seems our efforts have paid off, judging by the Best Results and Best Meets Requirements badges that we won in this category.
We will keep innovating GRC with the latest and best technology to serve our customers even better.
Honing IT Asset Management with 29 badges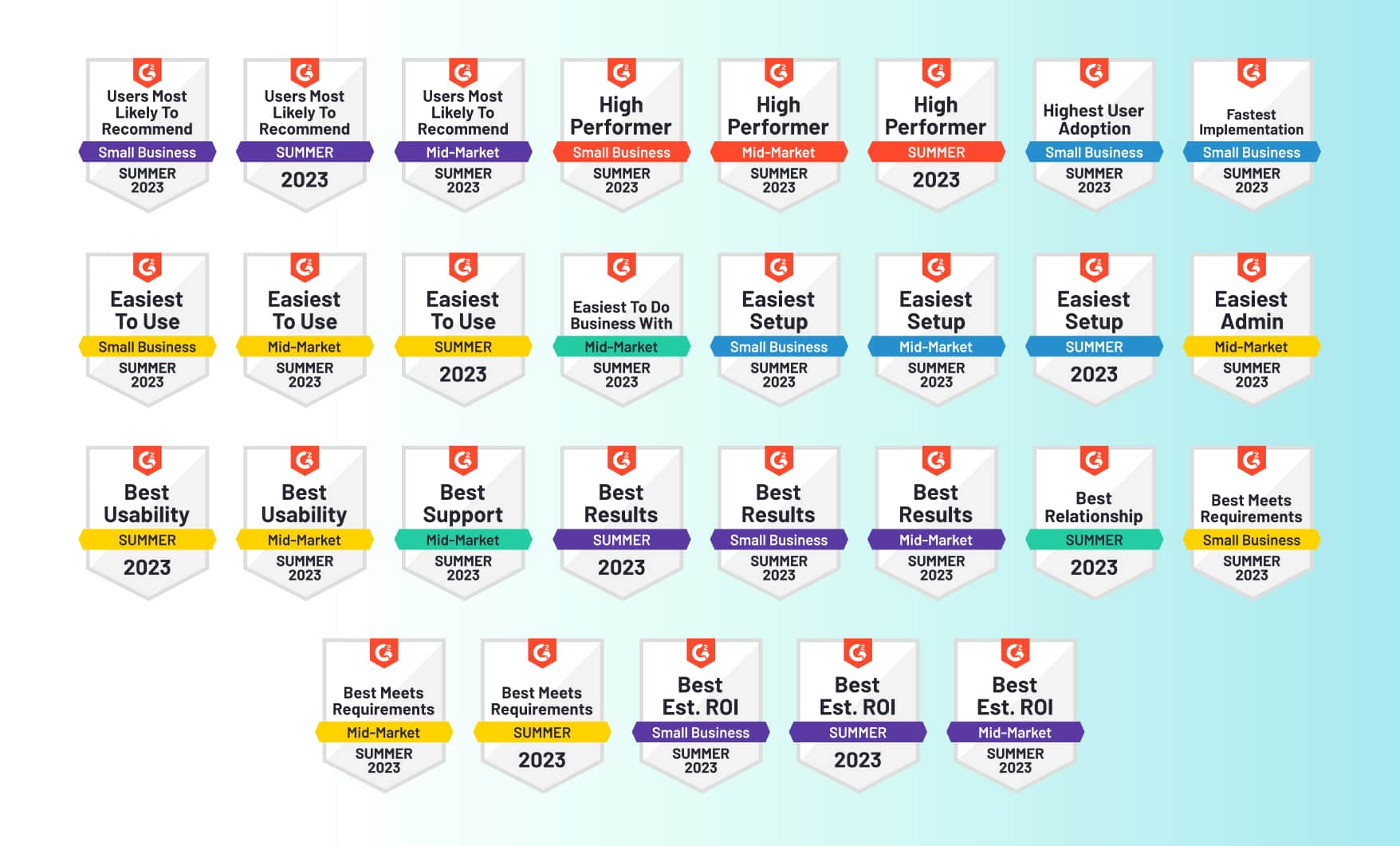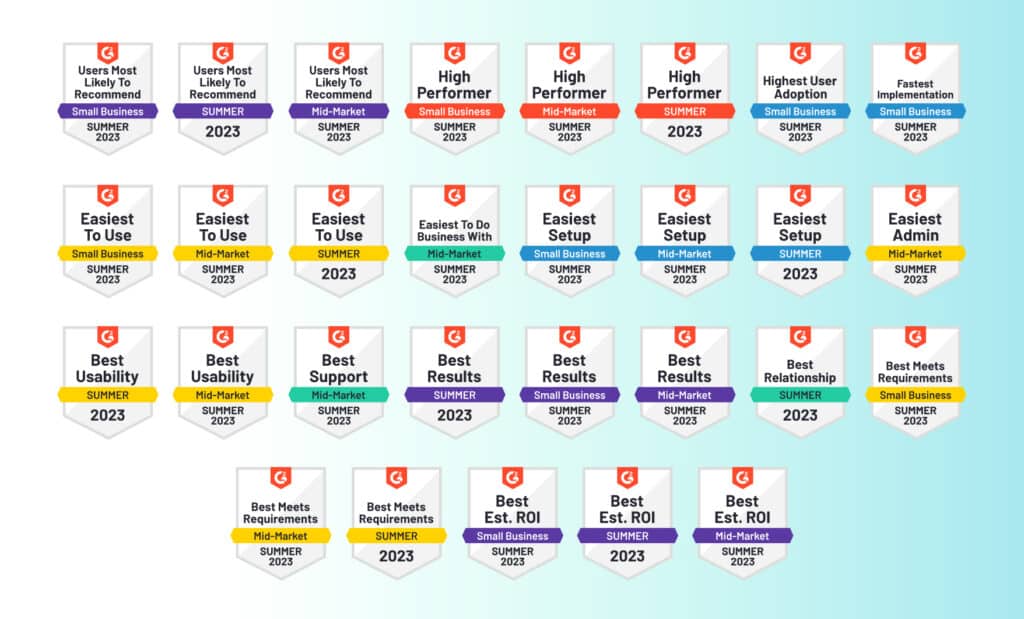 Receiving 29 badges for IT asset management shows our commitment to using resources efficiently and tapping the full potential of IT assets. We received a High Performer badge and Users Most Likely to Recommend badge, which shows that our efforts in managing IT resources have paid off.
Strengthening Security Compliance with 14 badges


We are proud to be recognized as a leader in security compliance once again! Our team gives it their all when it comes to ensuring that our customers' organizations are in line with the best security practices.
Receiving badges such as Users Most Likely to Recommend and Best Results motivates us to reach more organizations in need of stronger compliance postures.
Enhancing Vendor Security and Privacy Assessment with 12 badges


We were recognized as a High Performer in vendor security and privacy assessment, and we couldn't be more thrilled! We view vendor security as a crucial requirement for a robust security posture, and we are happy to see that we have helped organizations manage vendor risks better.
We will continue to do our best to enhance vendor security and privacy assessment so that our customers enjoy a more fulfilling relationship with their vendors.
Our gratifying G2 Reviews
At Scrut the support of our customers means the world to us, and it always makes our day when we come across one of their reviews of our services.
We not only cherish our customers' appreciation but also value their feedback, which helps us serve them better.
Here are some of the reviews that we received from our customers. Click here to read more reviews based on our performance and services.





What Scrut believes in
Scrut believes in putting the security and compliance of our customers' organizations first. We innovate ways to enhance risk monitoring and come up with solutions that simplify adherence to multiple frameworks.
Delivering products that are easy to use and providing services that give our customers more than their money's worth is something that we commit to every single day at Scrut.
Our user-friendly platform is sure to cater to all your security and compliance needs. Schedule a demo with us today to learn more.