In this post, we'll cover 12 Hyperproof alternatives —revealing their key features, pros and cons, and how they'll help with your InfoSec programs.
Despite being a top-notch GRC tool, Hyperproof has a few significant drawbacks, especially for teams with limited budgets:
No-inline policy editor: There is no in-line editor in Hyperproof for editing policies available on the platform. This means if you want to change or update any of your policies, you need to change it outside the platform and then upload it back on the platform.
No audit logs for policy updates: Since there are no audit logs, it is difficult to track what changes were made in different versions of the policies.
Weak audit management capabilities: The audit process can be time-consuming as you cannot invite your auditor to the platform. You need to share all the artifacts (policies doc, evidence, controls, etc.) separately where the context is lost.
Missing certain risk management features: For example, risk to standard mapping feature is not available.
No support for employee security training: Hyperproof doesn't have in-built employee security training courses, unlike other GRC platforms like Scrut. Thus, you need buy it separately.
Lack of customization for notifications: The tool does not support the ability to configure and customize notifications, thus you would get alert for everything leading to alert fatigue.
In this post, we'll compare 12 of the best alternatives to Hyperproof, and explore how the alternatives address these disadvantages of Hyperproof.
12 Alternatives to Hyperproof
Now, let's discuss the 12 best Hyperproof alternatives in detail starting with Scrut, our own GRC platform.
1. Scrut smartGRC
Scrut smartGRC platform provides a single window for all compliance-related tasks. You can start developing your compliance program immediately with a library of 50+ policies created and vetted by our InfoSec experts.
Let's see how Scrut helps you with implementing and monitoring an effective information security program.
You can get a quick glance of over InfoSec program on the dashboard. You can see the critical issues, which requires your most attention.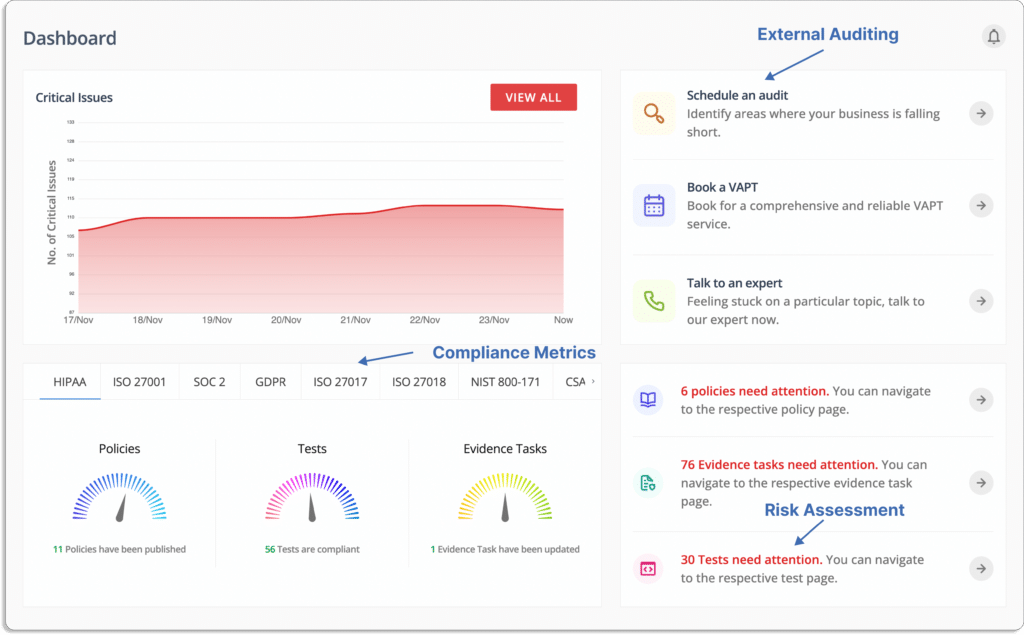 Furthermore, you can book a VAPT, and finally when ready, you can schedule an audit directly from the dashboard.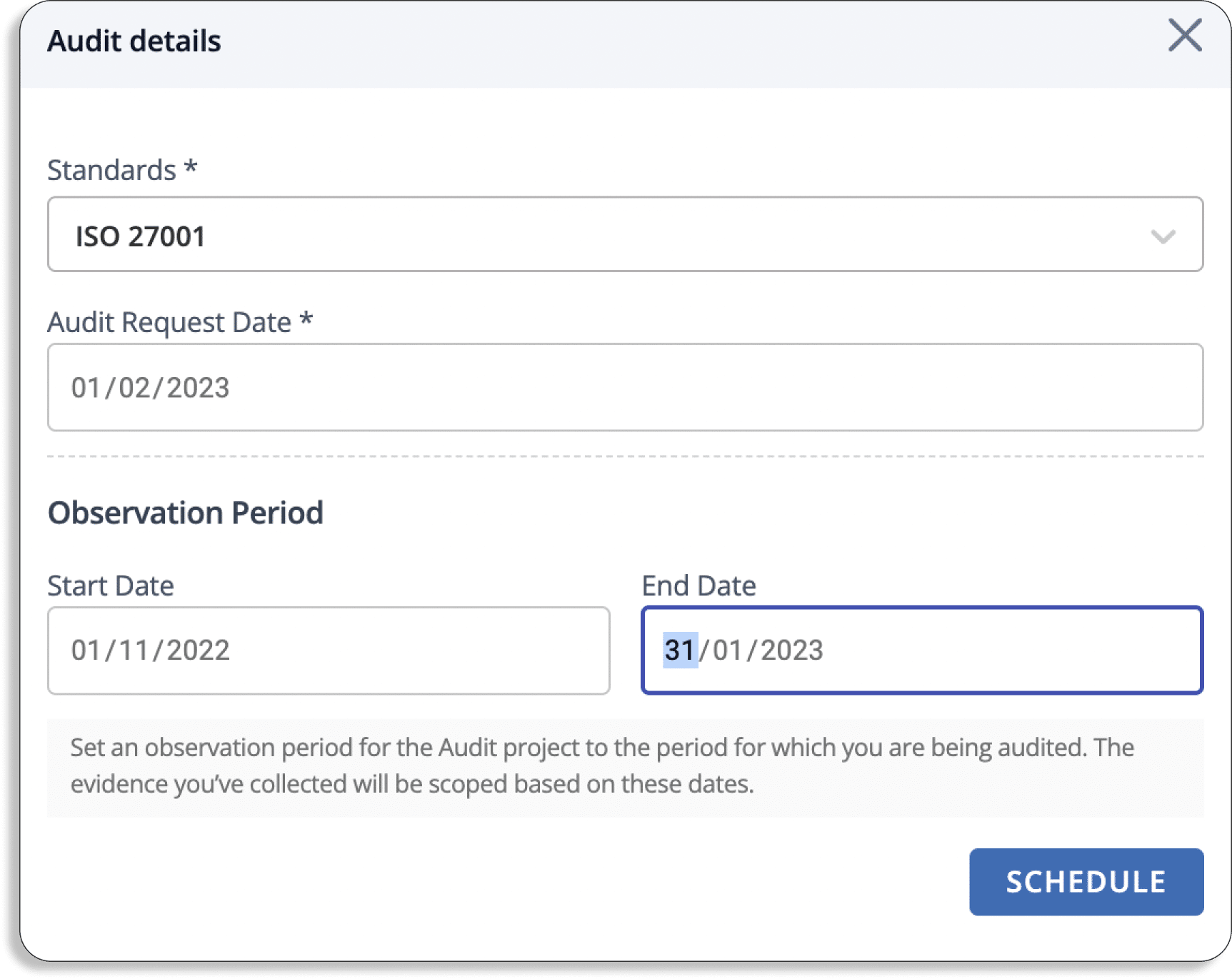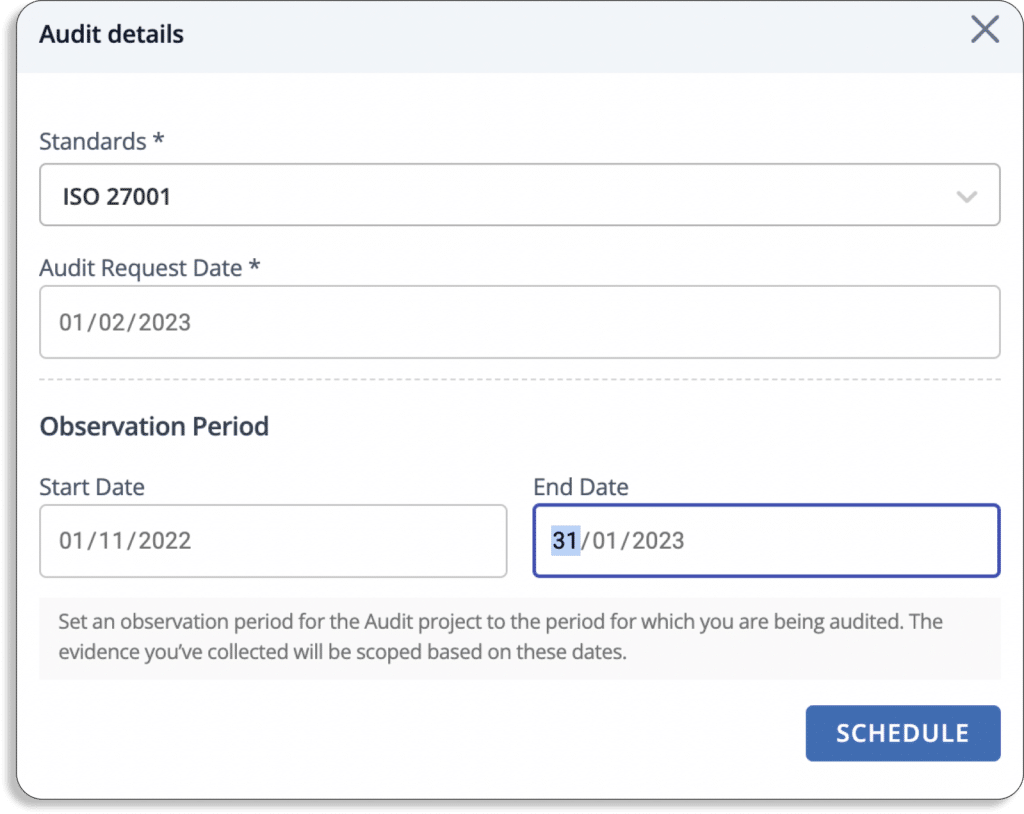 Scrut keeps you updated on the status of your overall governance, risk, and compliance setup.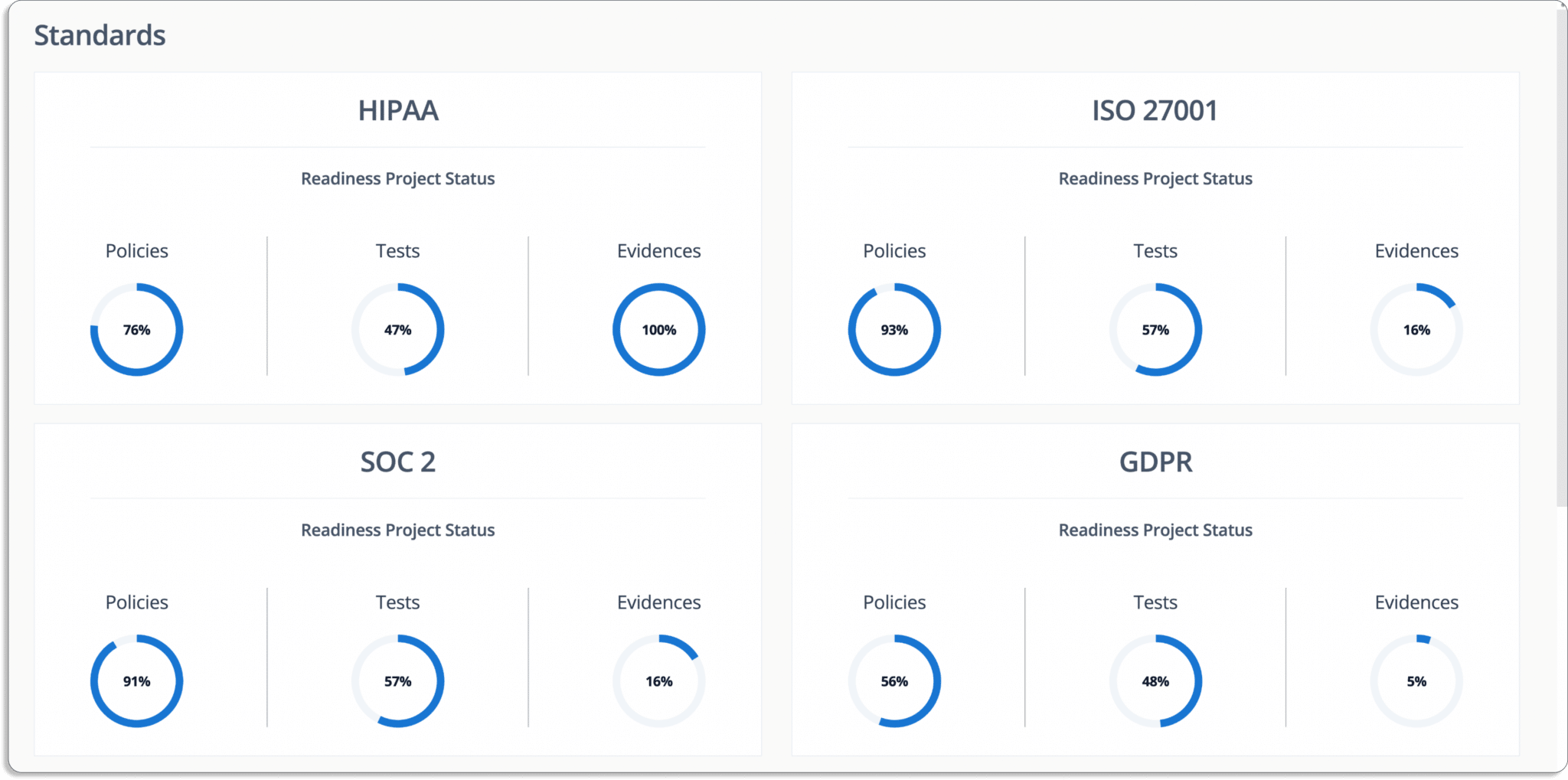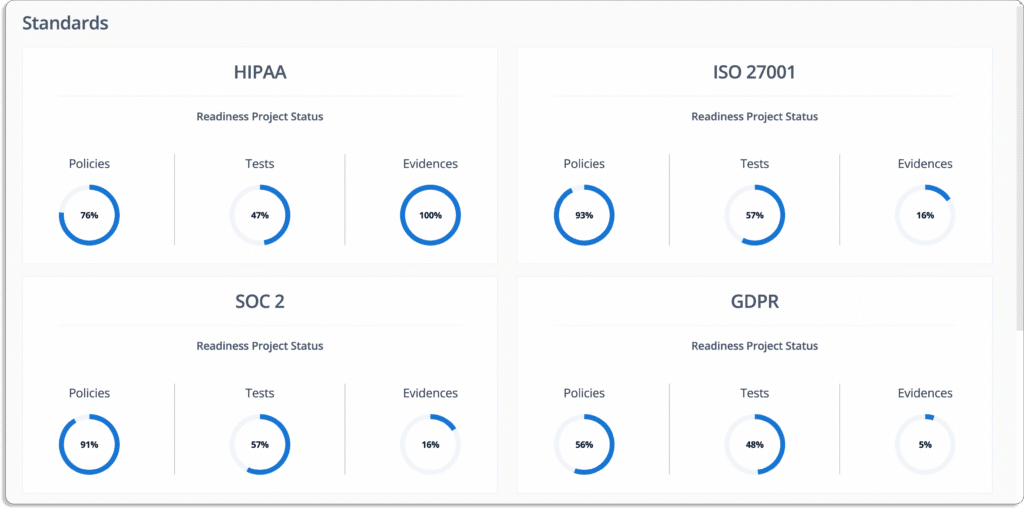 This is very useful when you have to be compliant with multiple frameworks.
How Scrut eases the implementation of InfoSec program
Pre-built policy templates
The Scrut smartGRC platform gives you pre-built policies that have been examined by InfoSec experts and are in line with widely used industry frameworks.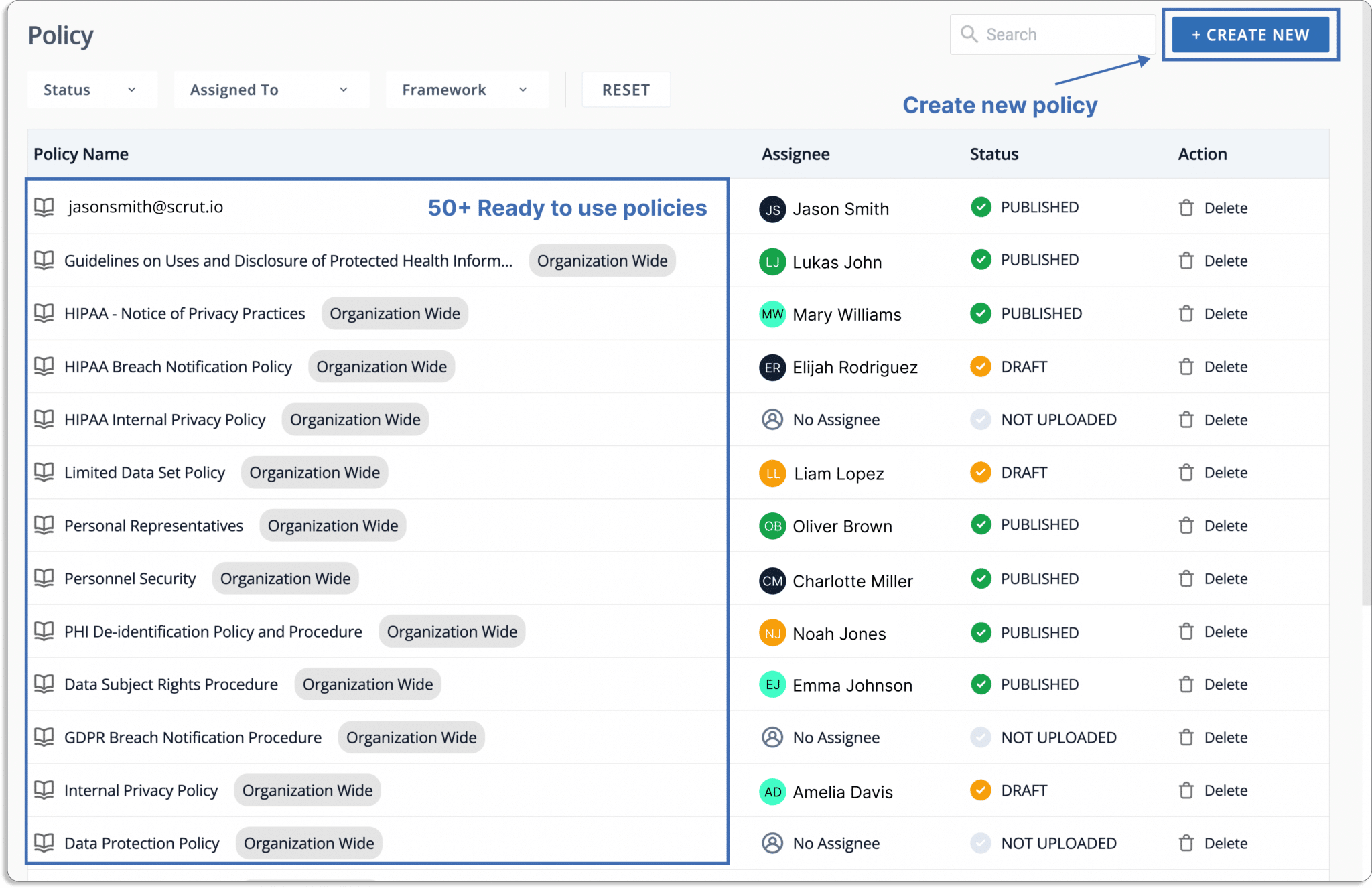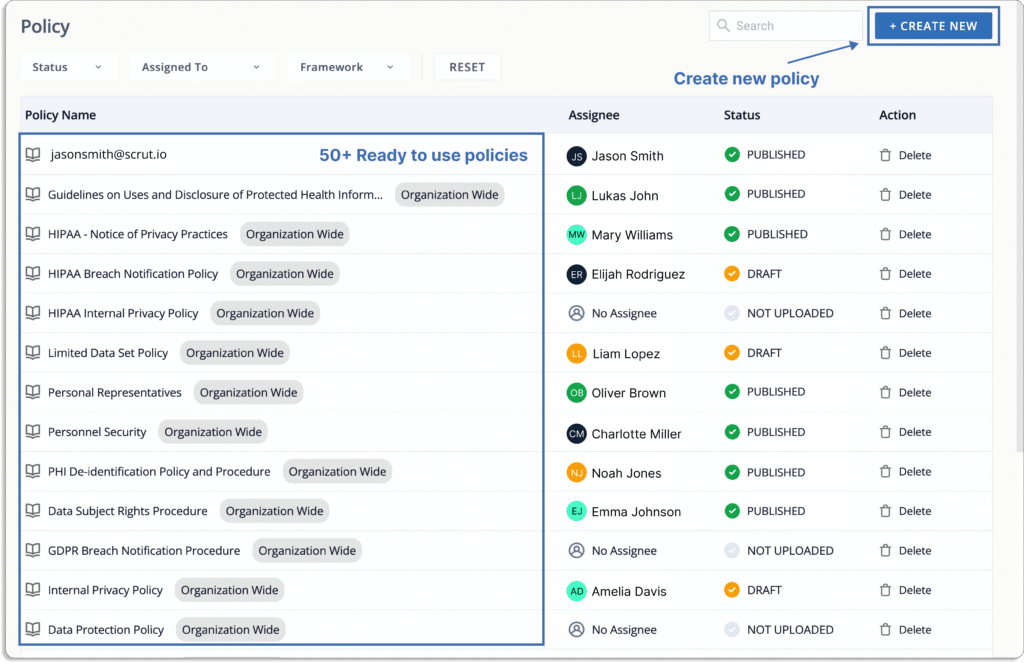 Note that you can create custom policies as well.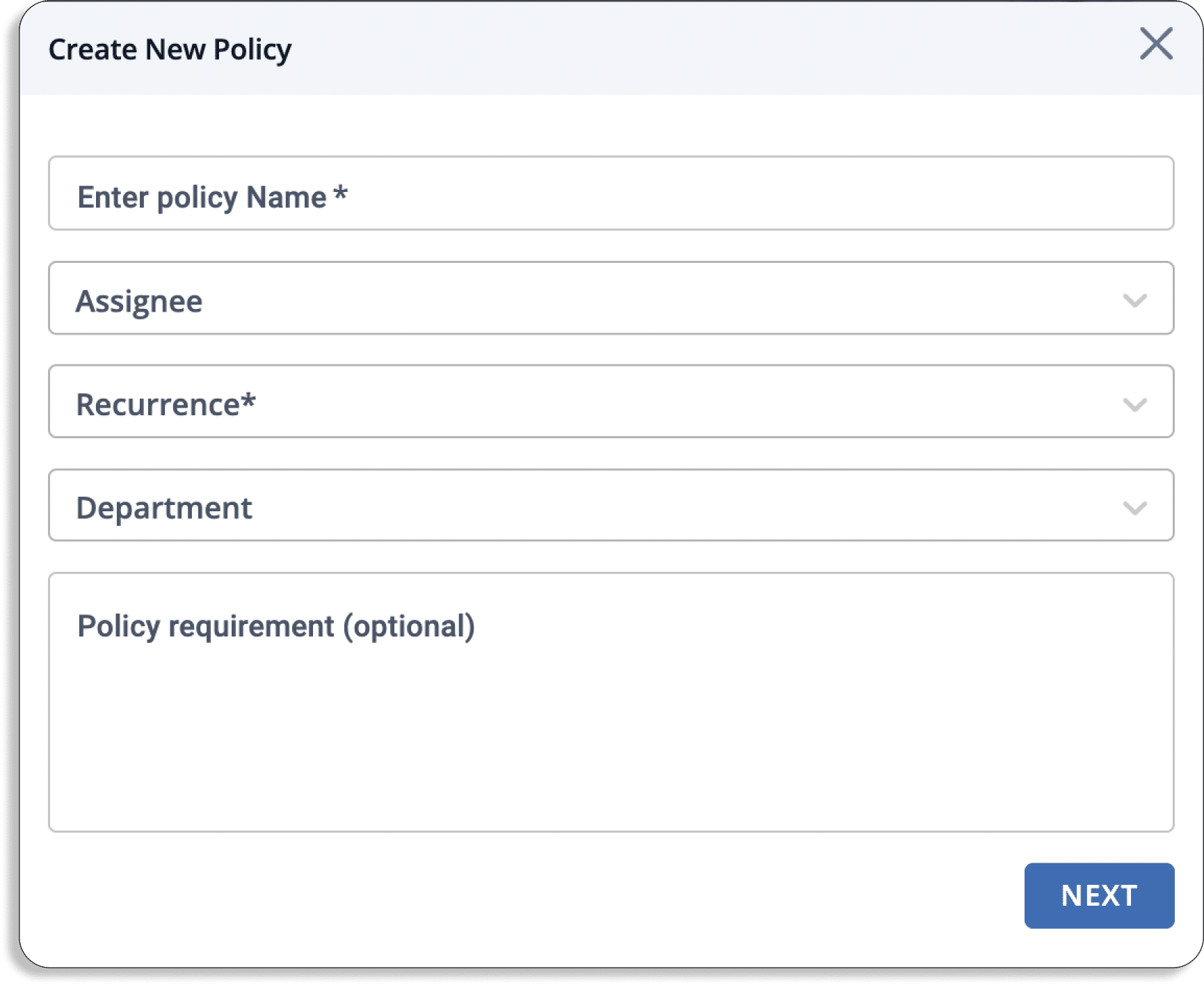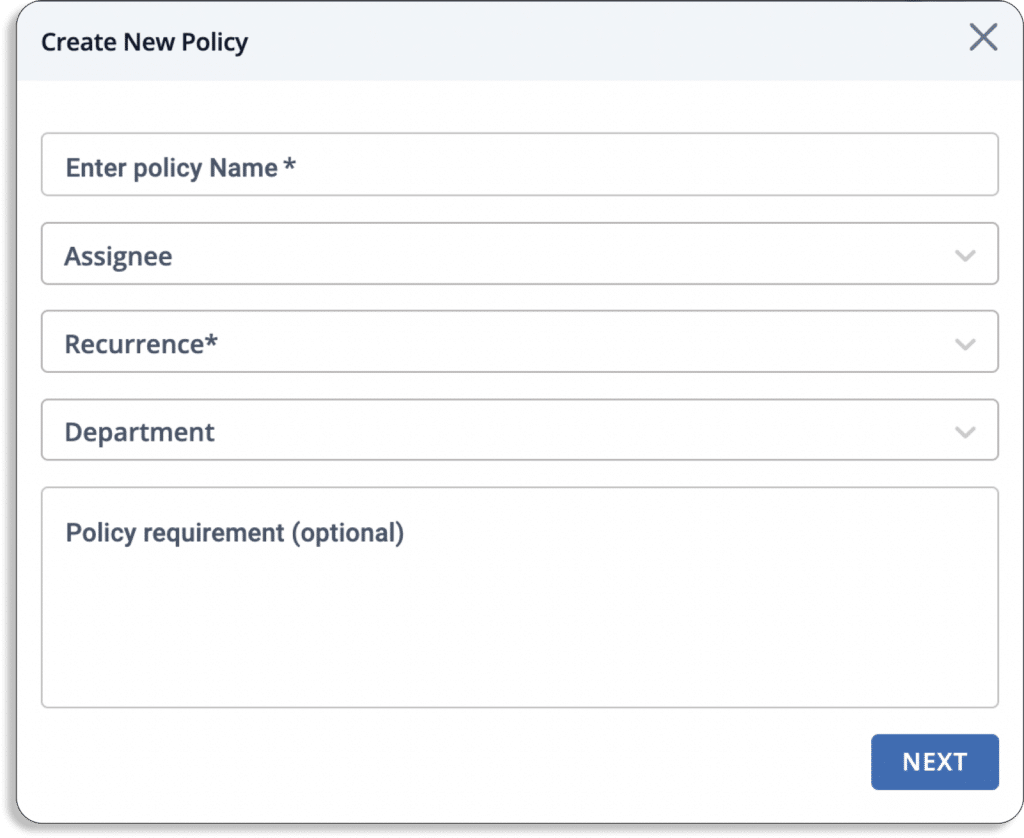 Additionally, you can use the built-in inline editor to customize these policies to suit your business requirements.


Hassle-free controls setup
With Scrut smartGRC, you can create controls that align with your risks and define custom controls to reflect the particular requirements of your business. These controls help you reduce InfoSec incidents, such as data theft, systems breaches, and unauthorized changes to your systems.
You can use pre-built control mapping to map those controls against the compliance frameworks you require.
Furthermore, once you have selected the controls applicable to you, Scrut shows you the status of all the controls in a single place.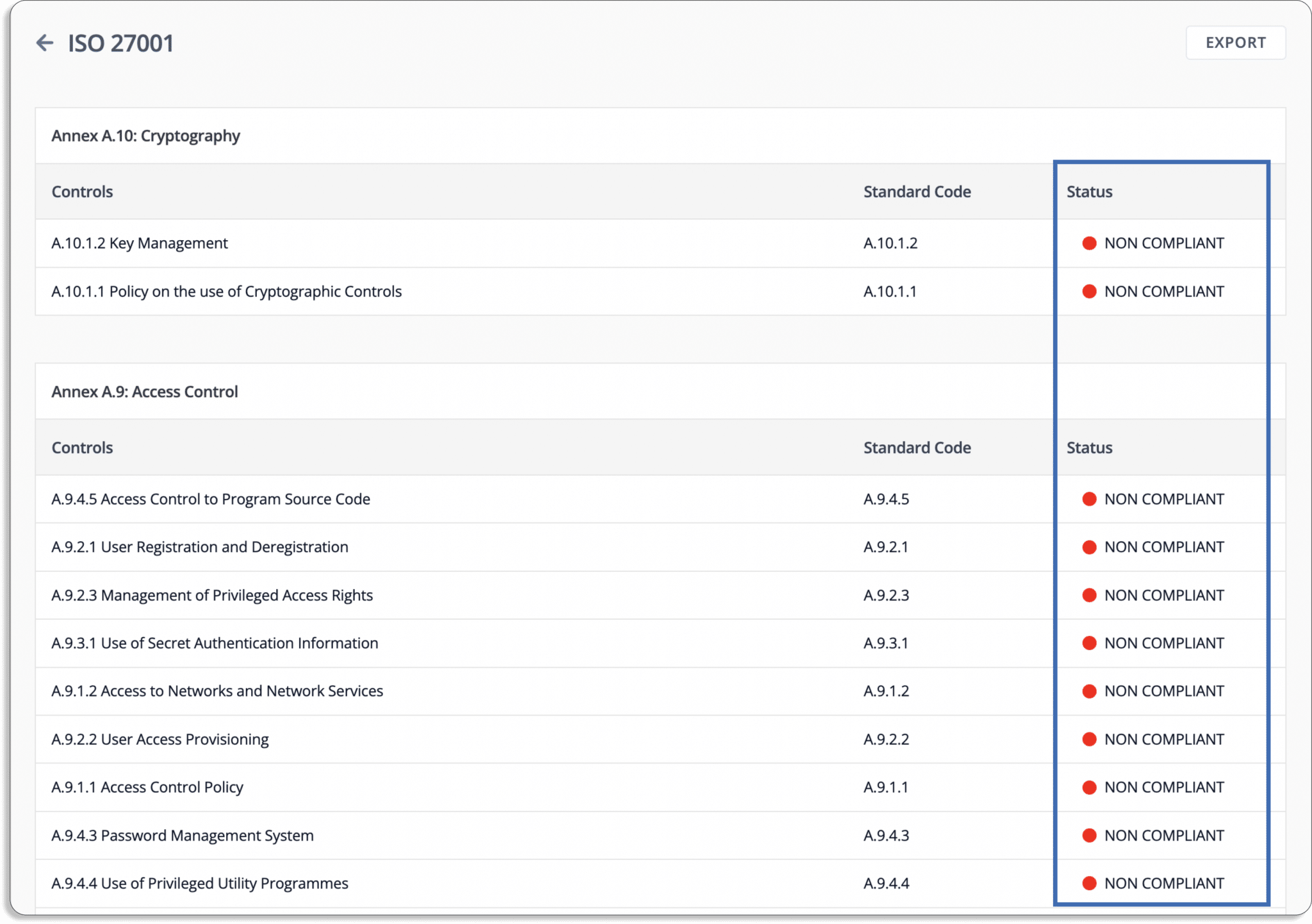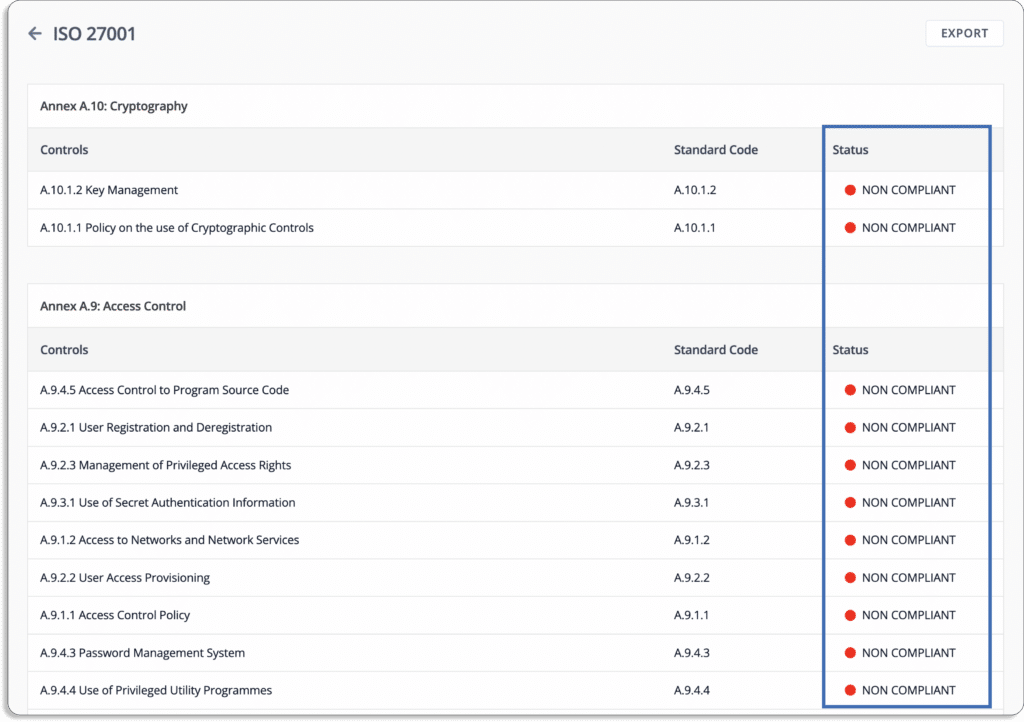 Ultimately, these controls help you build a strong information security posture.
Additionally, these controls can be mapped with multiple frameworks. This prevents duplication of efforts when going for multiple frameworks.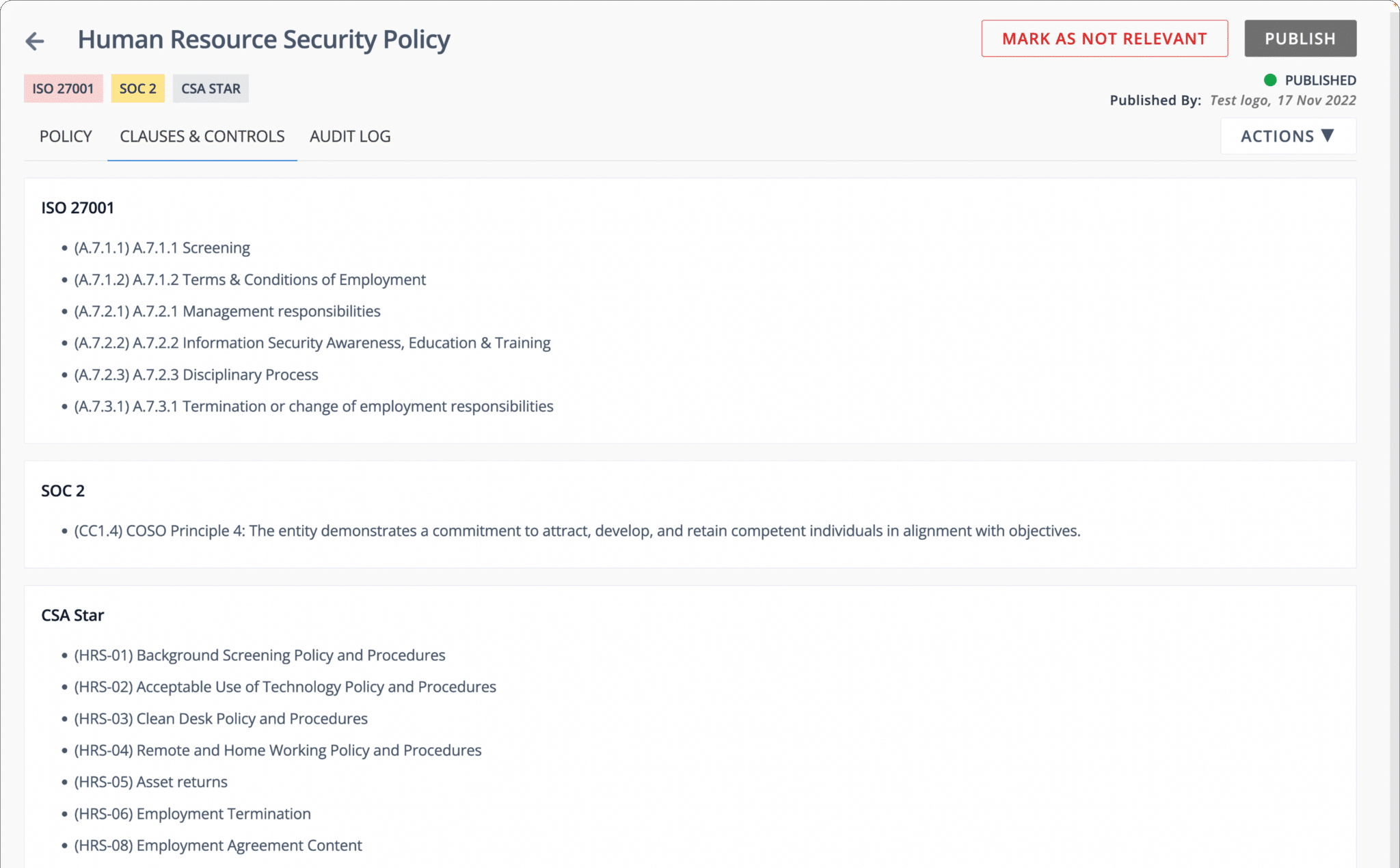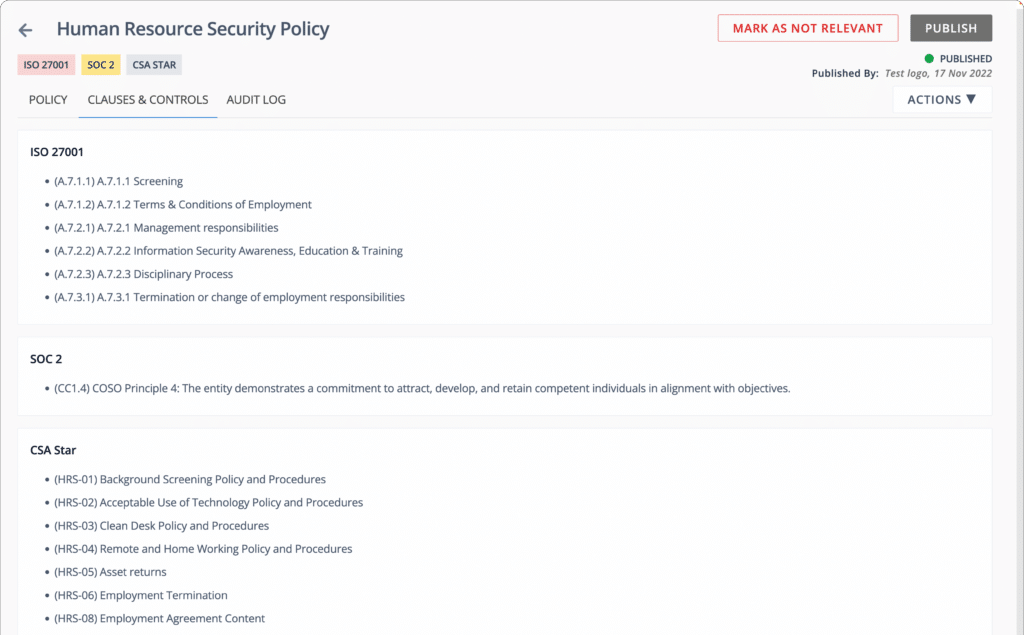 Automated evidence collection
Using data from over 70 integrations, Scrut smartGRC automatically collects evidence eliminating manual effort and saving a lot of time. The platform maintains all evidence required for the audit in one place.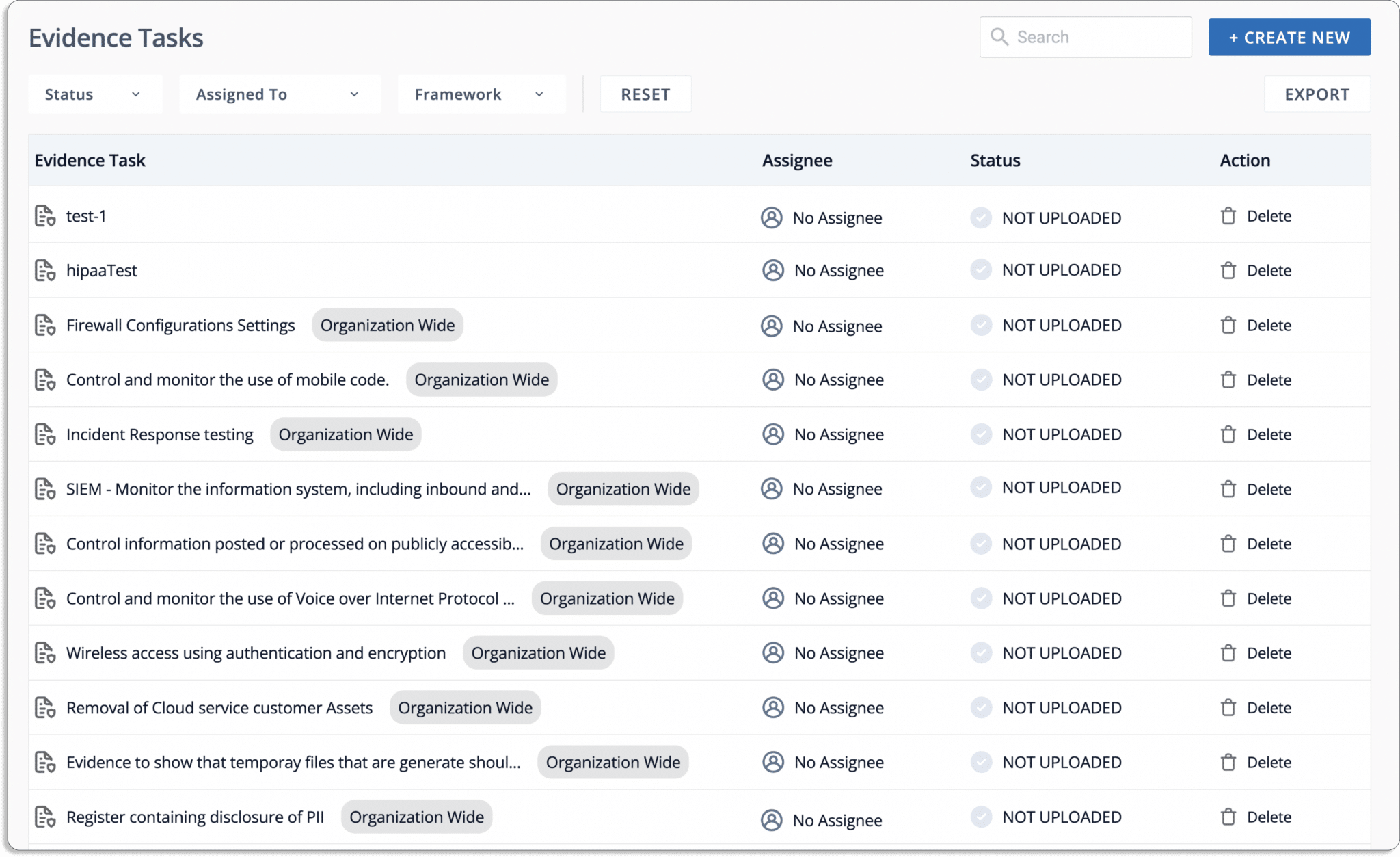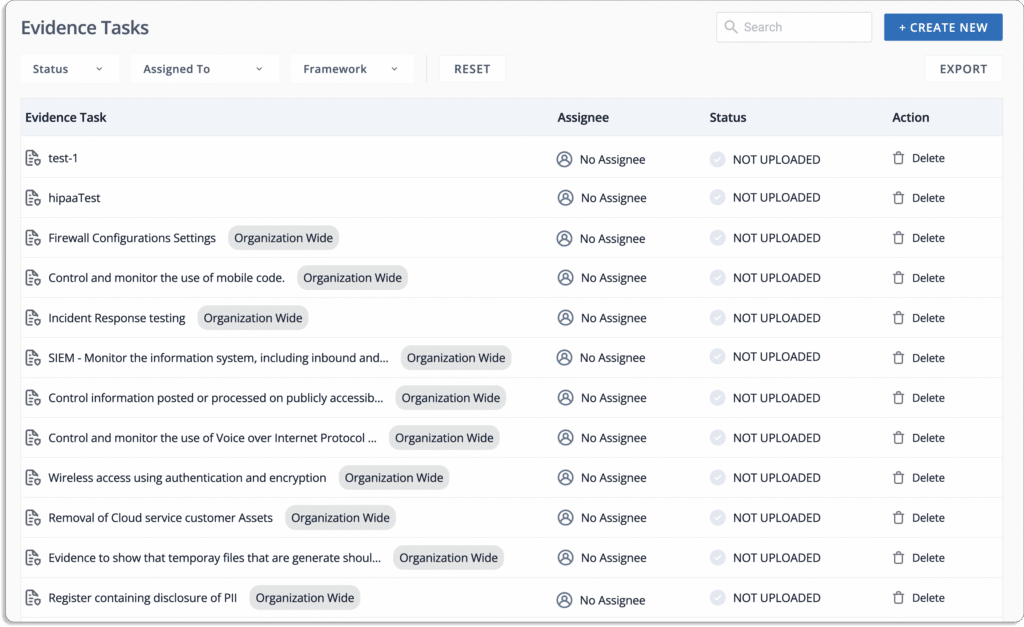 On the other hand, if you use Google Drive, OneDrive, DropBox, etc for storing your documents, you would be required to spend countless hours taking screenshots and managing multiple folders.
Earlier, one of our customers was keeping the evidence in Google Drive in various folders and was losing track of the versions. With Scrut, that problem was immediately solved.


Scrut eases the audit process for your auditor as well, as they don't have to look at multiple places for evidence.
You can check the updated list of all the integrations here.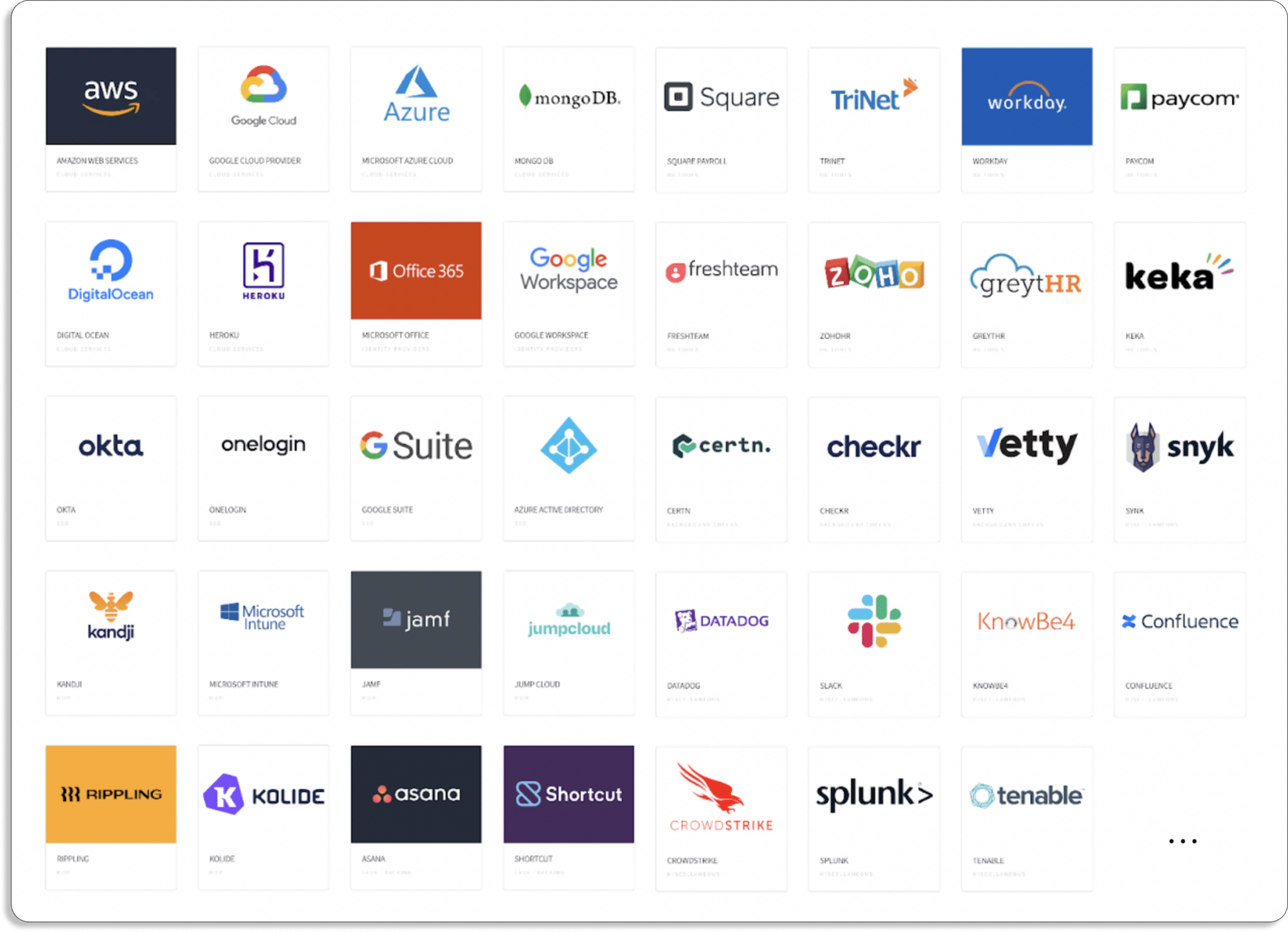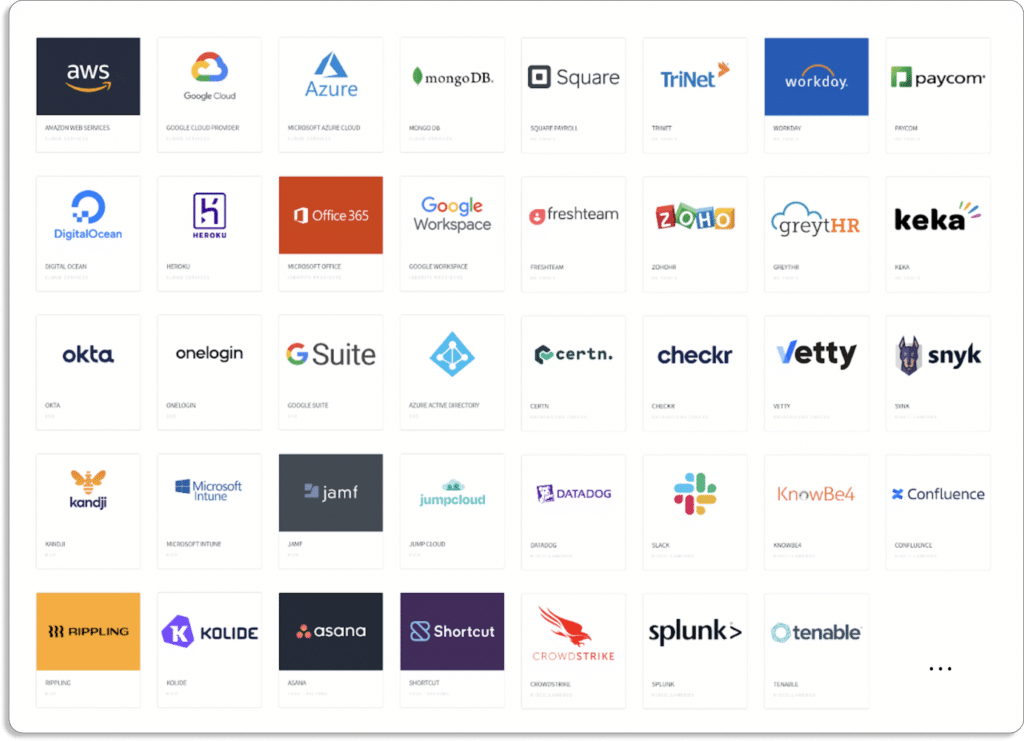 Task management and workflows
The platform allows you to assign tasks to team members and monitor their status. You can stay informed about the most recent progress on each task by getting updates via email and Slack.
Further, you can send reminders to different task owners for any pending tasks. These people would be responsible for renewing the policy at regular intervals set by you.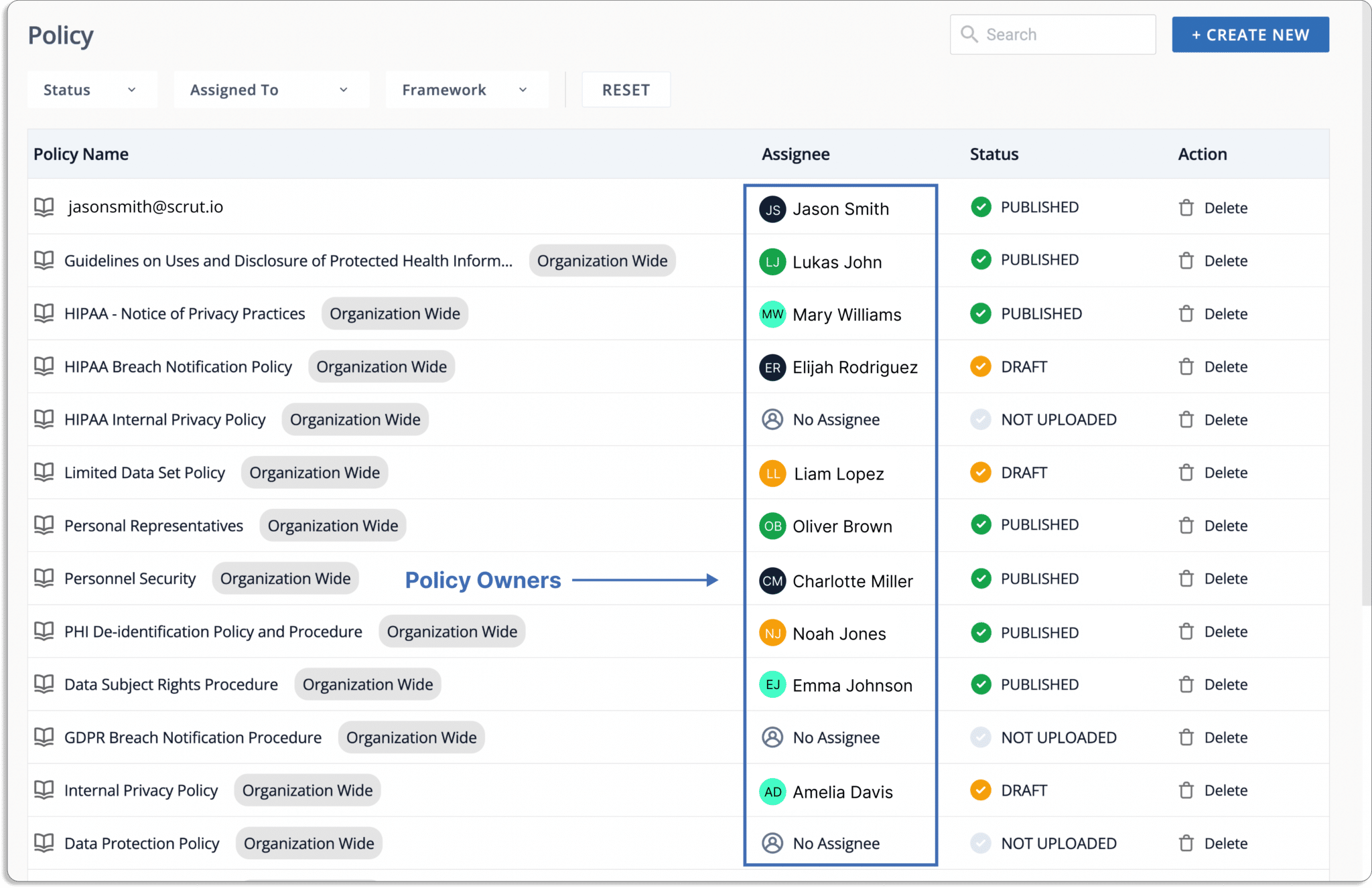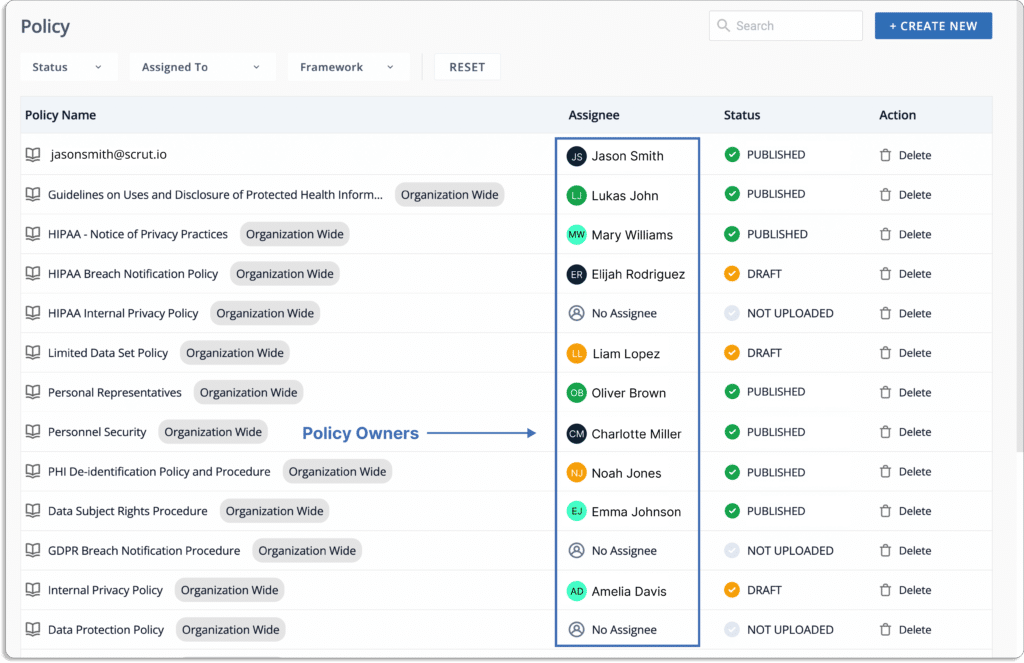 Note that task owners (Assignee) can only make changes to the policy, but cannot publish them. Only the admin can appove and publish the policies.
Similarly, you can assign ownership for any issues in your cloud in the test tab.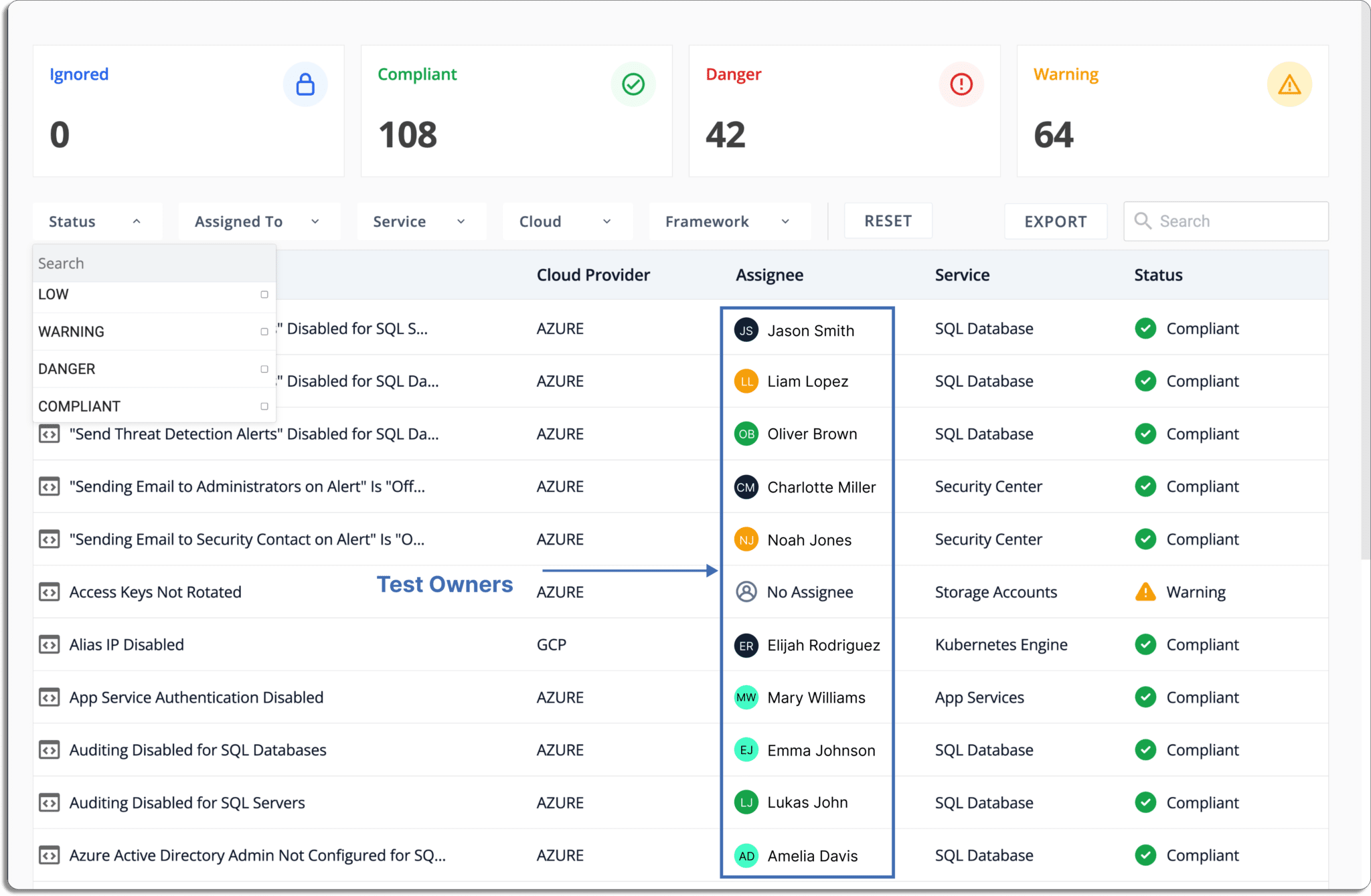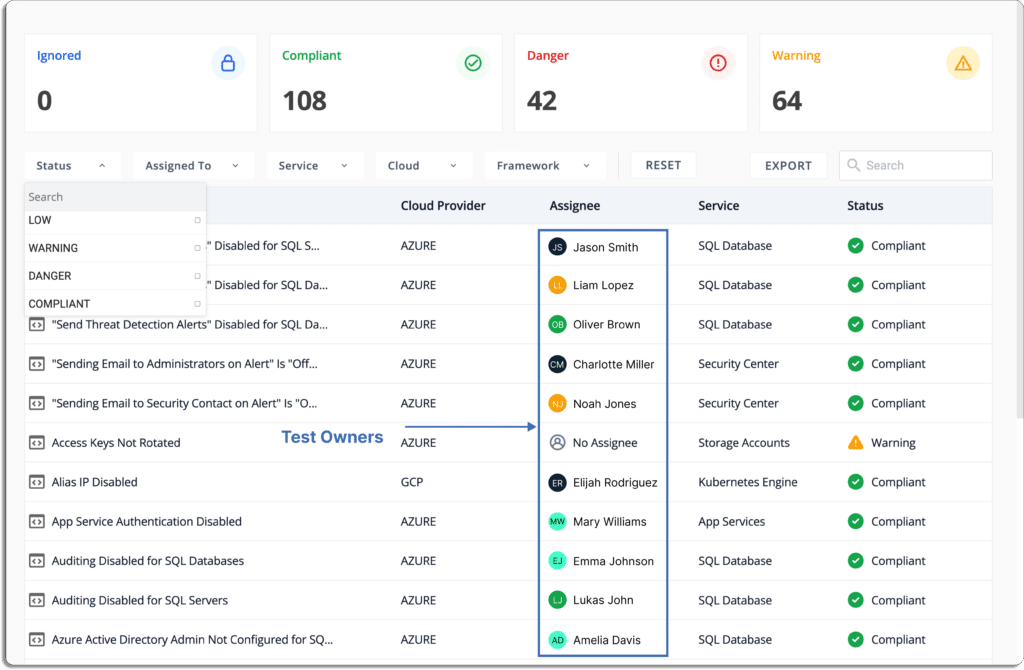 Further, you can assign sub-task owners.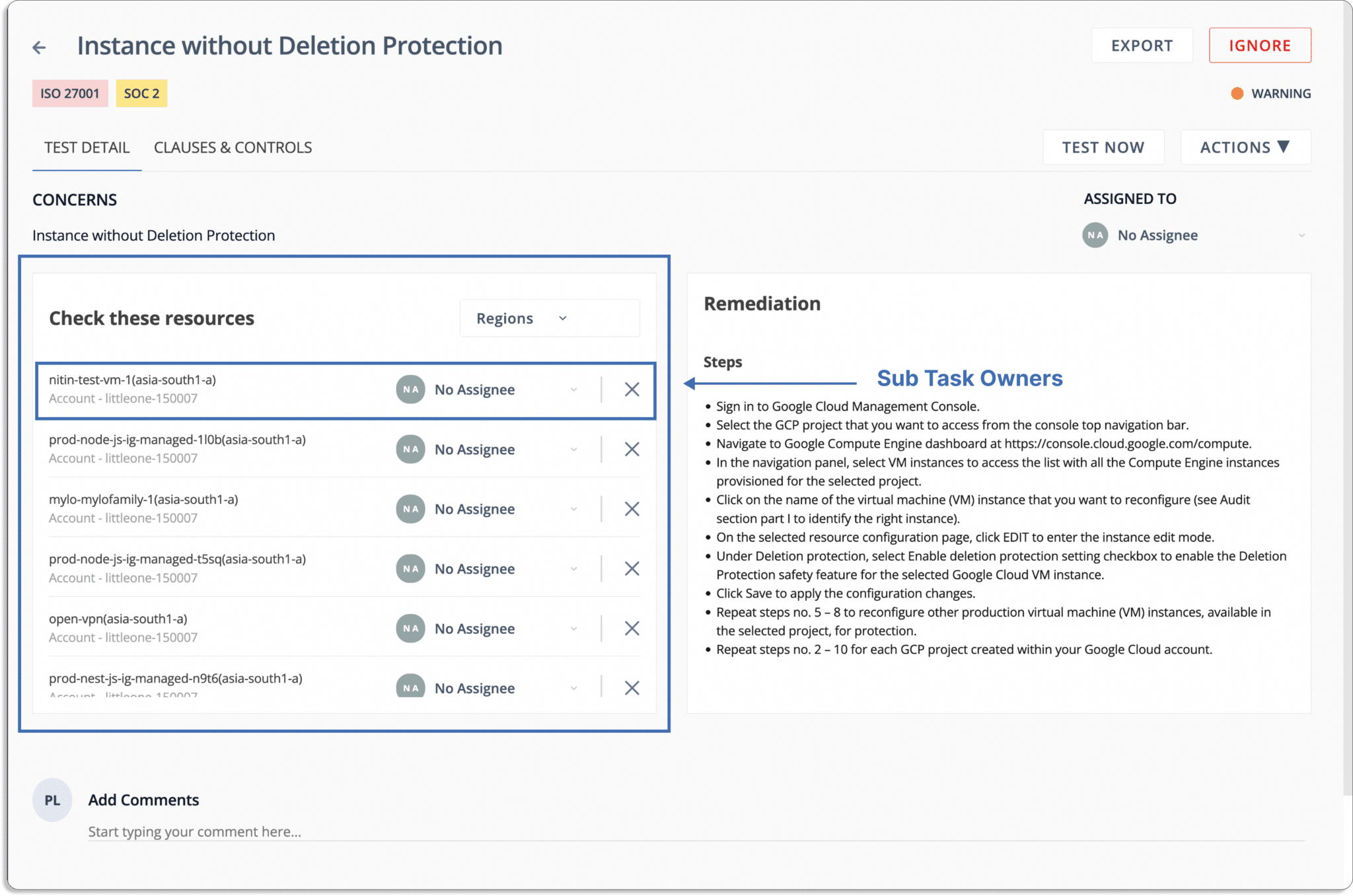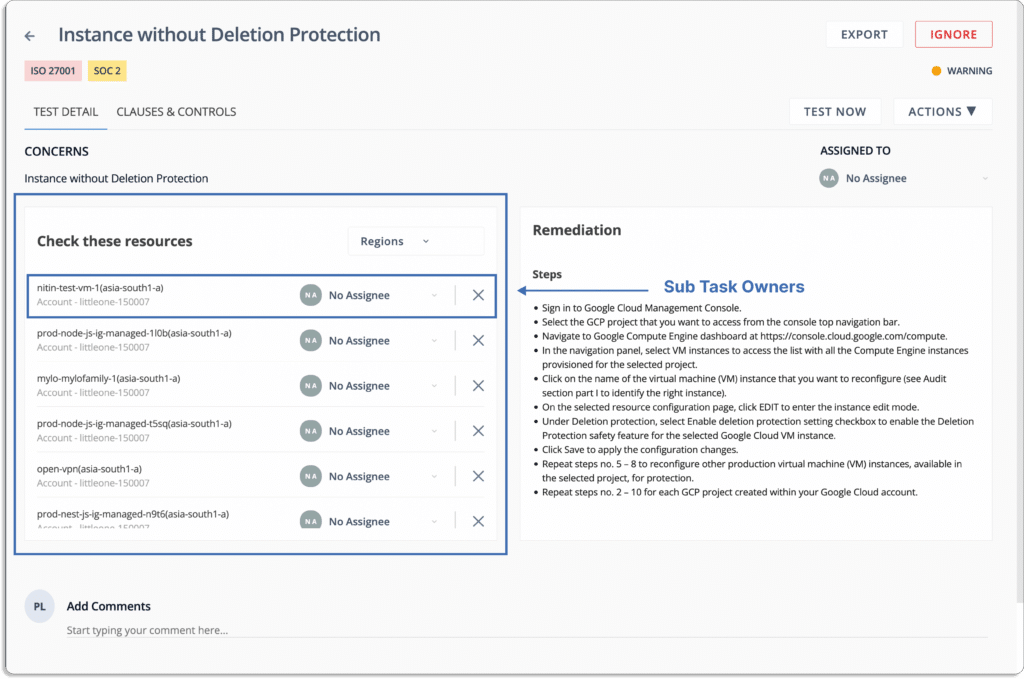 Scrut smartGRC also gives the assignees a step-by-step guide to resolve all the misconfigurations.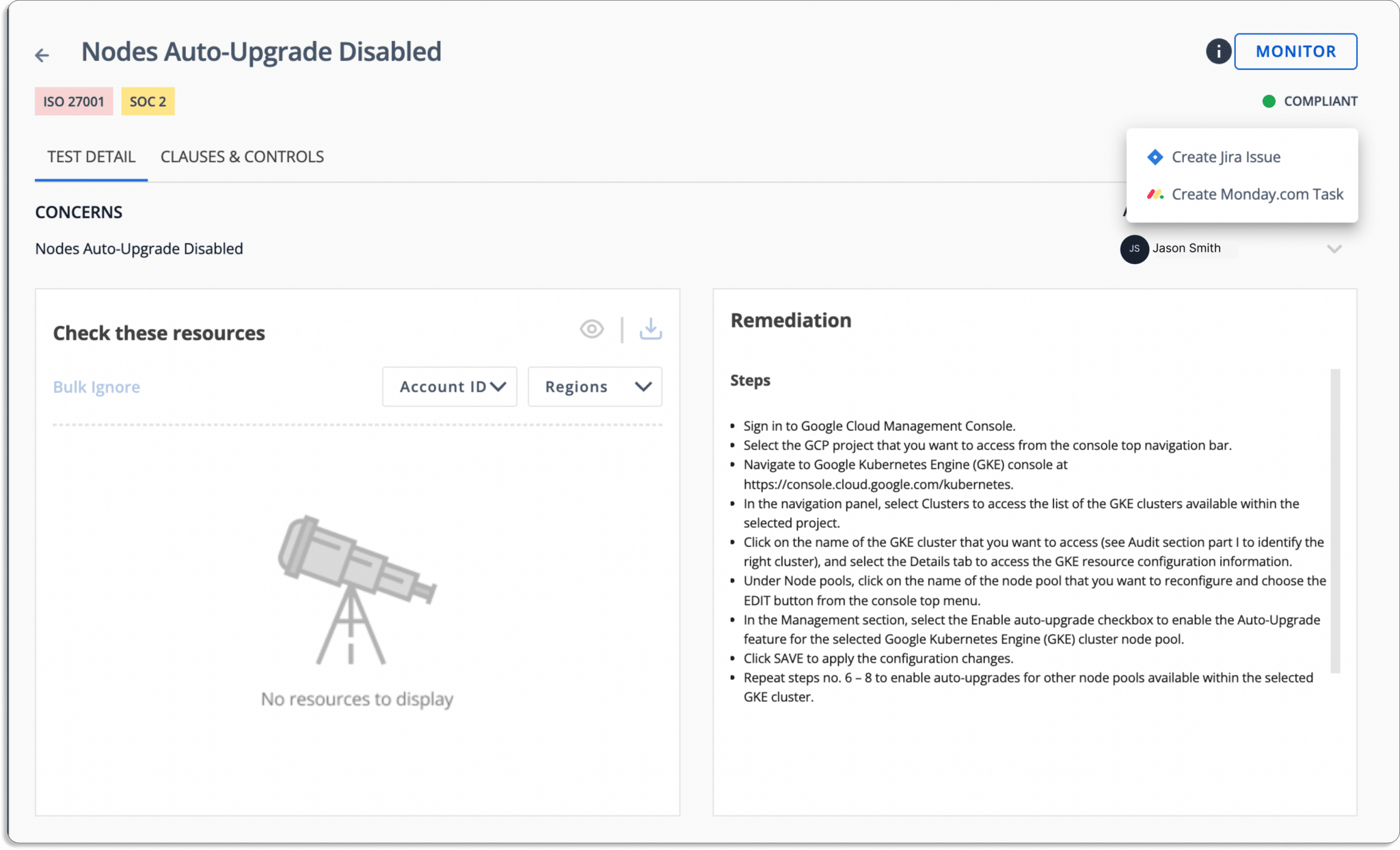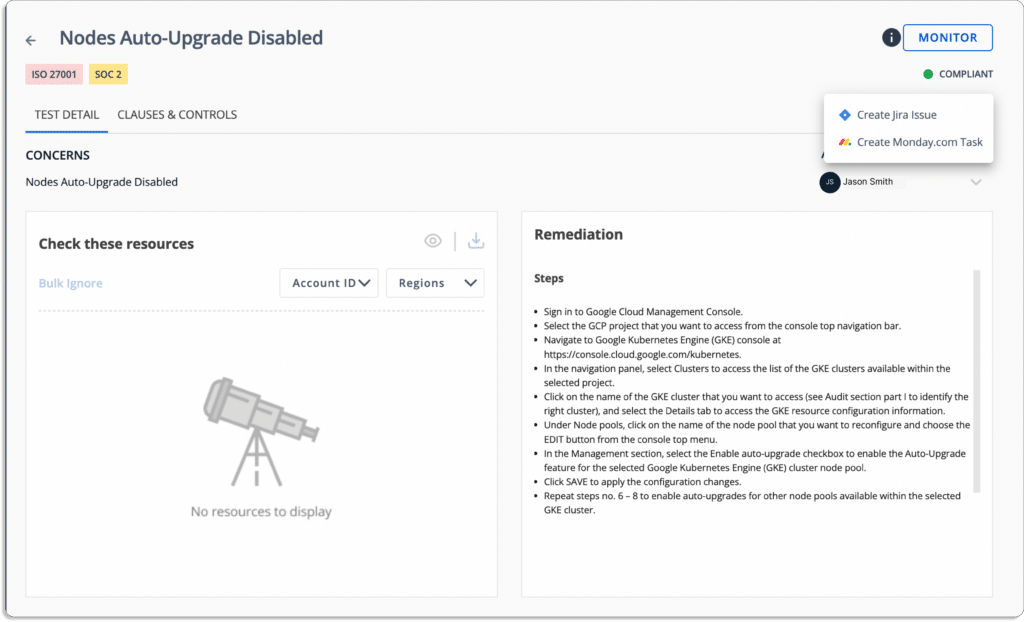 Manage multiple audits easily
Scrut enables you to invite auditors directly to the platform to manage numerous complex audits without hassle.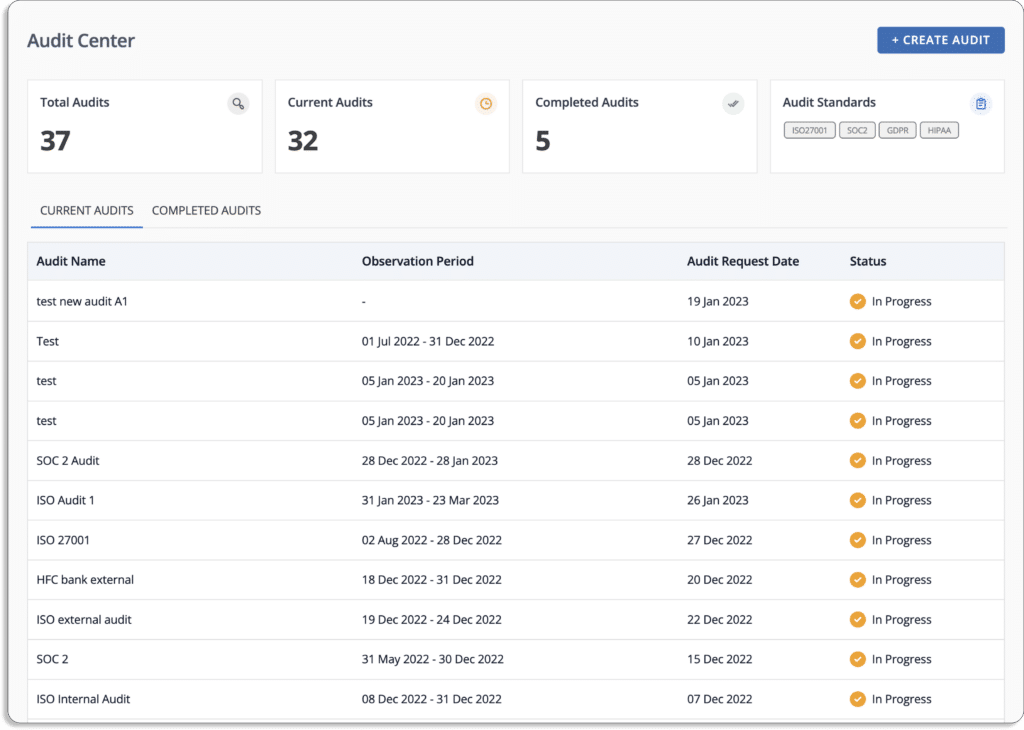 It's also easy for auditors to conduct the audit as they get access to all the artefacts related to the framework in one place.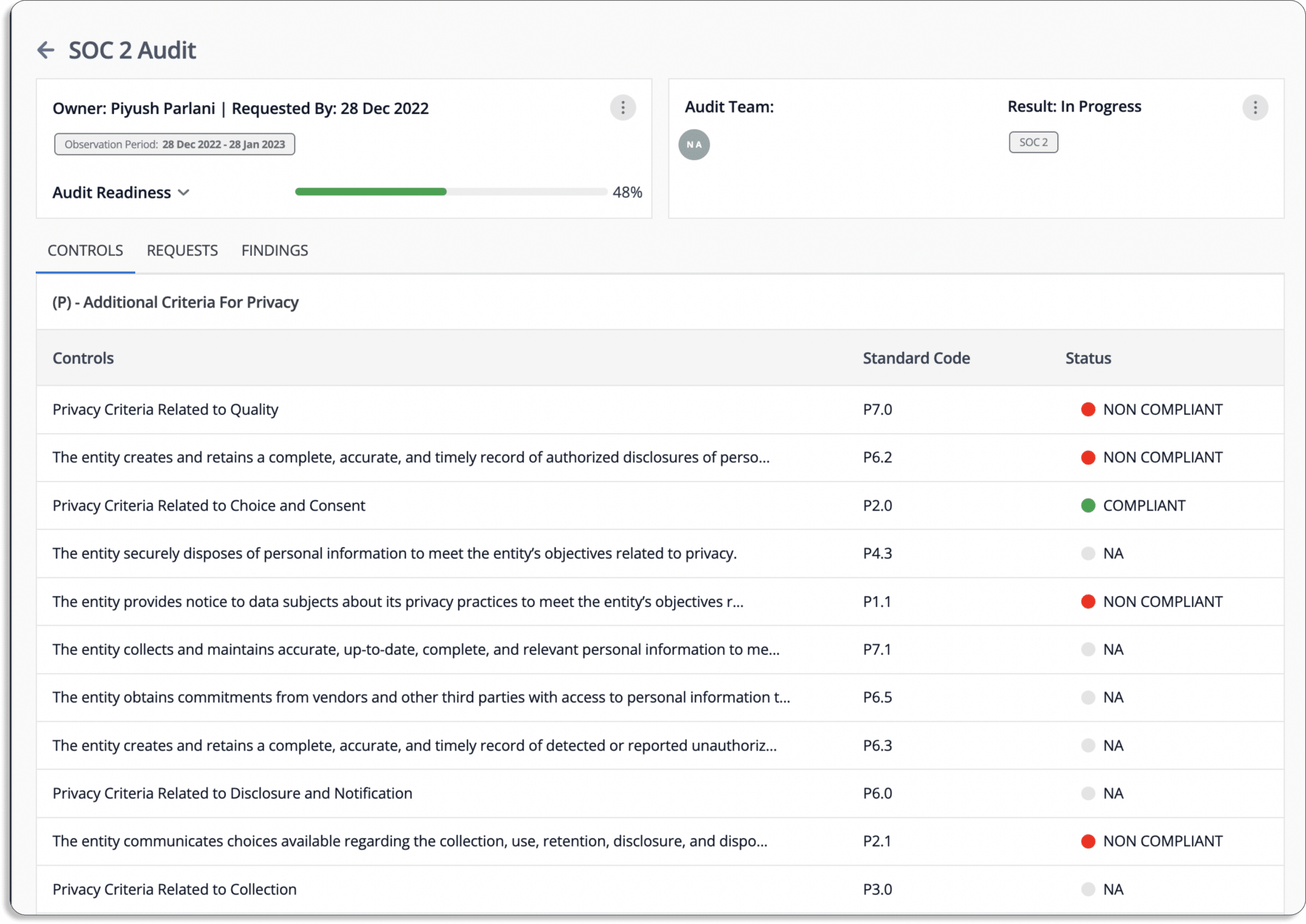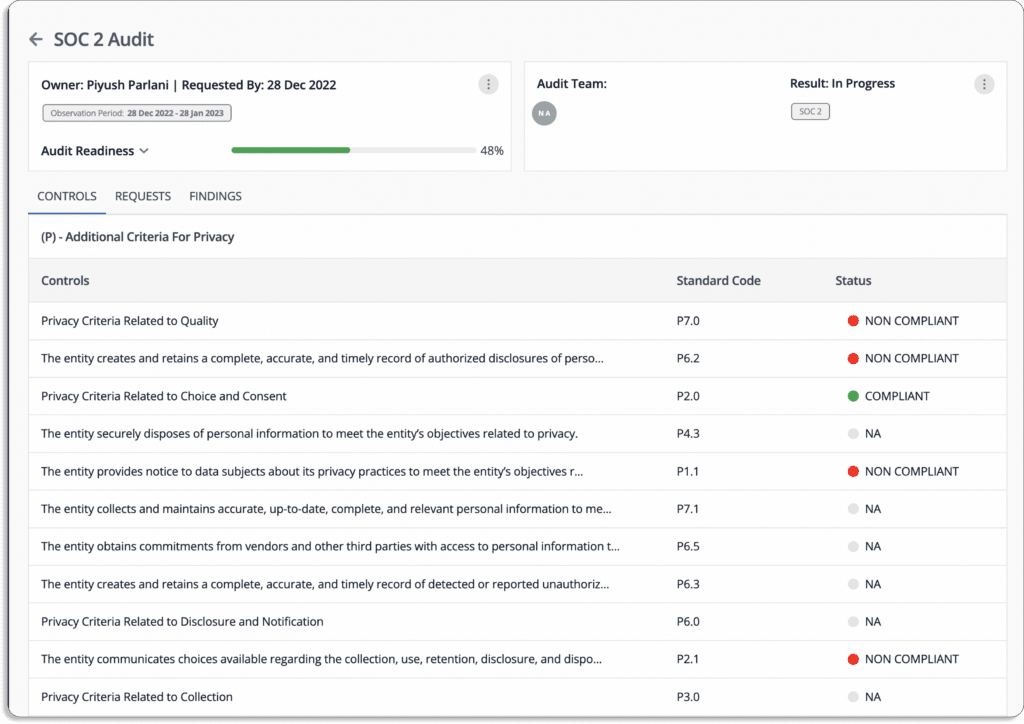 They can check any control for the associated policy, evidence task, tests, and leave comments if they need clarification about anything.


This ensures the audit process goes smoothly.
Establish trust early-on with Trust Vault
When discussing with our initial customers, we found that one of the major frustration was around the huge amount of time they had to invest in answering the same questions repeatedly as security questionnaires, security certifications, and report requests.
This increased the timeline for deal closures with customers and partners alike. Moreover, this requires their development and engineering teams to get involved in the sales process to answer these questions, as salespeople were not aware of these deeply technical security questions.
Trust Vault freed up their time, and now they can happily do their core job—building products.
Scrut's Trust Vault lets you showcase your real-time security and compliance posture to customers.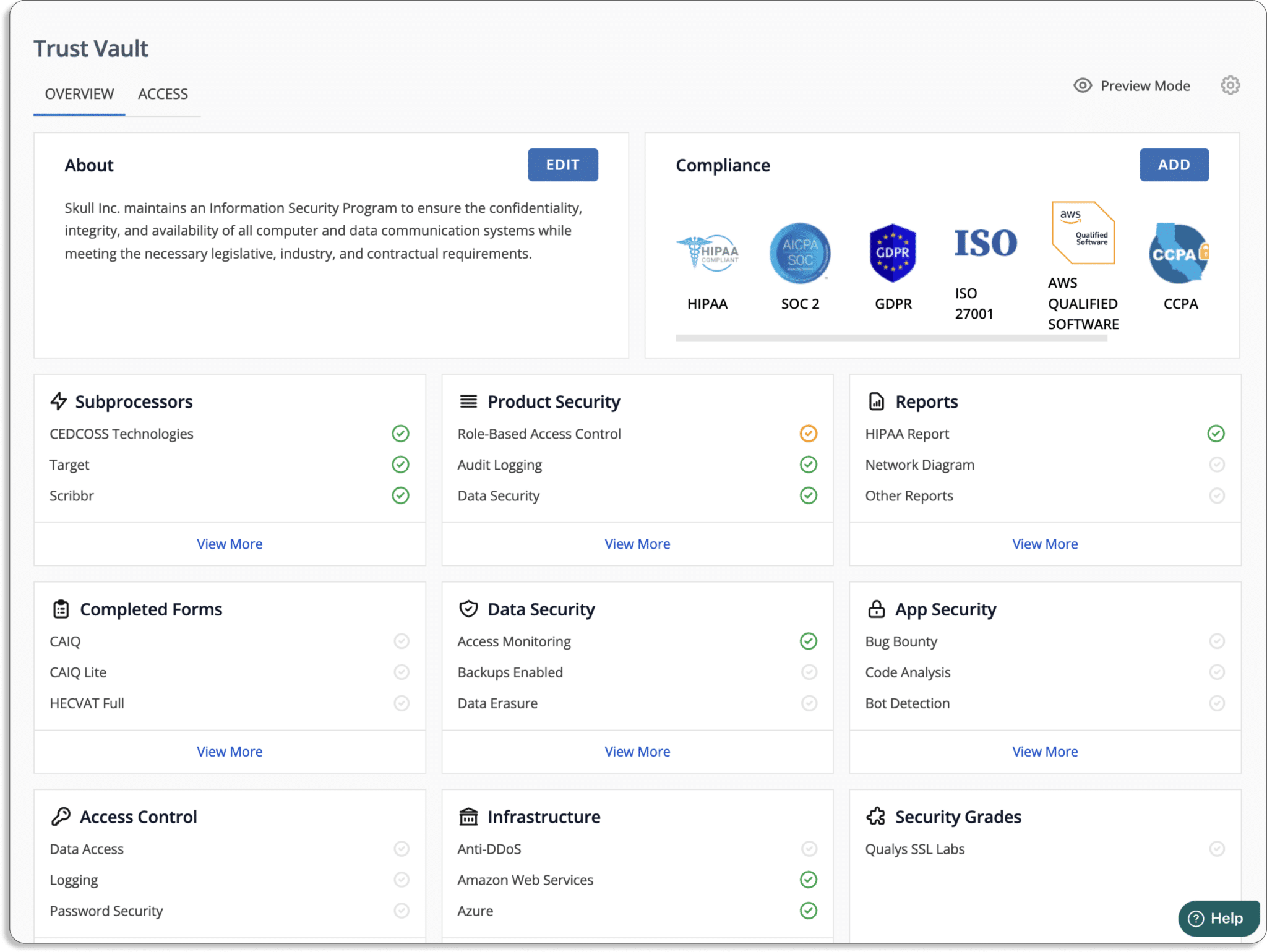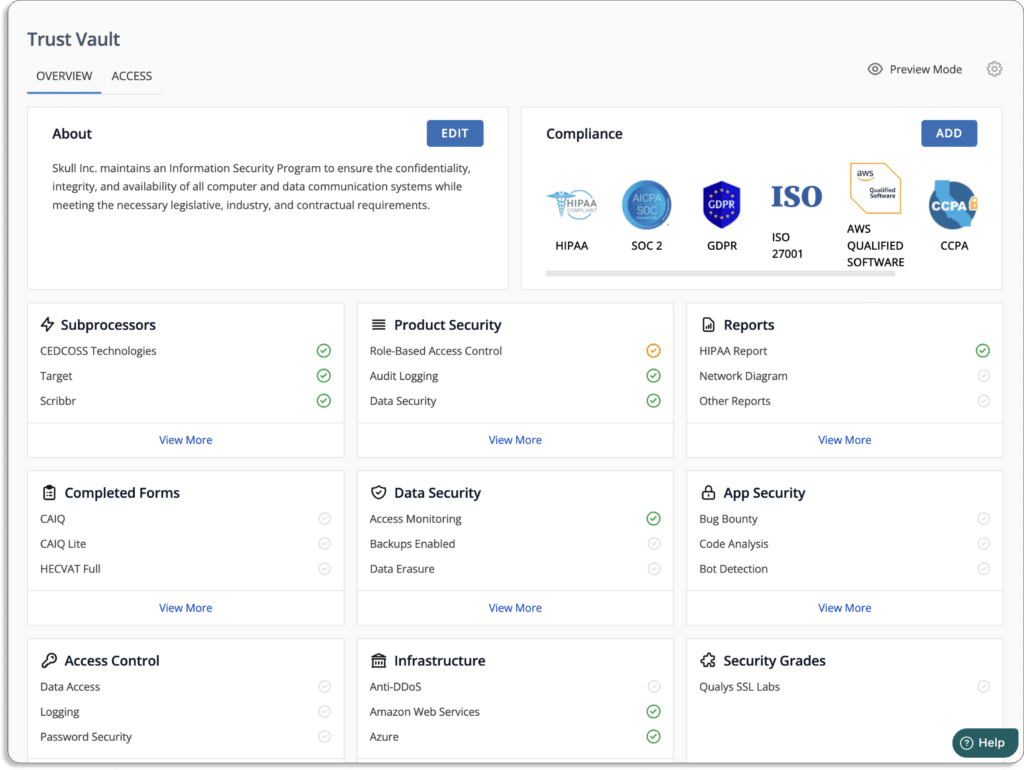 It helps you display your certifications and attestations, such as ISO 27001, SOC 2, GDPR, and HIPAA, which are frequently requested by customers and partners.
You get a host this report on your website (trust.yourdomain.com) where your customers can request access to it.
To your customers, it would look like this.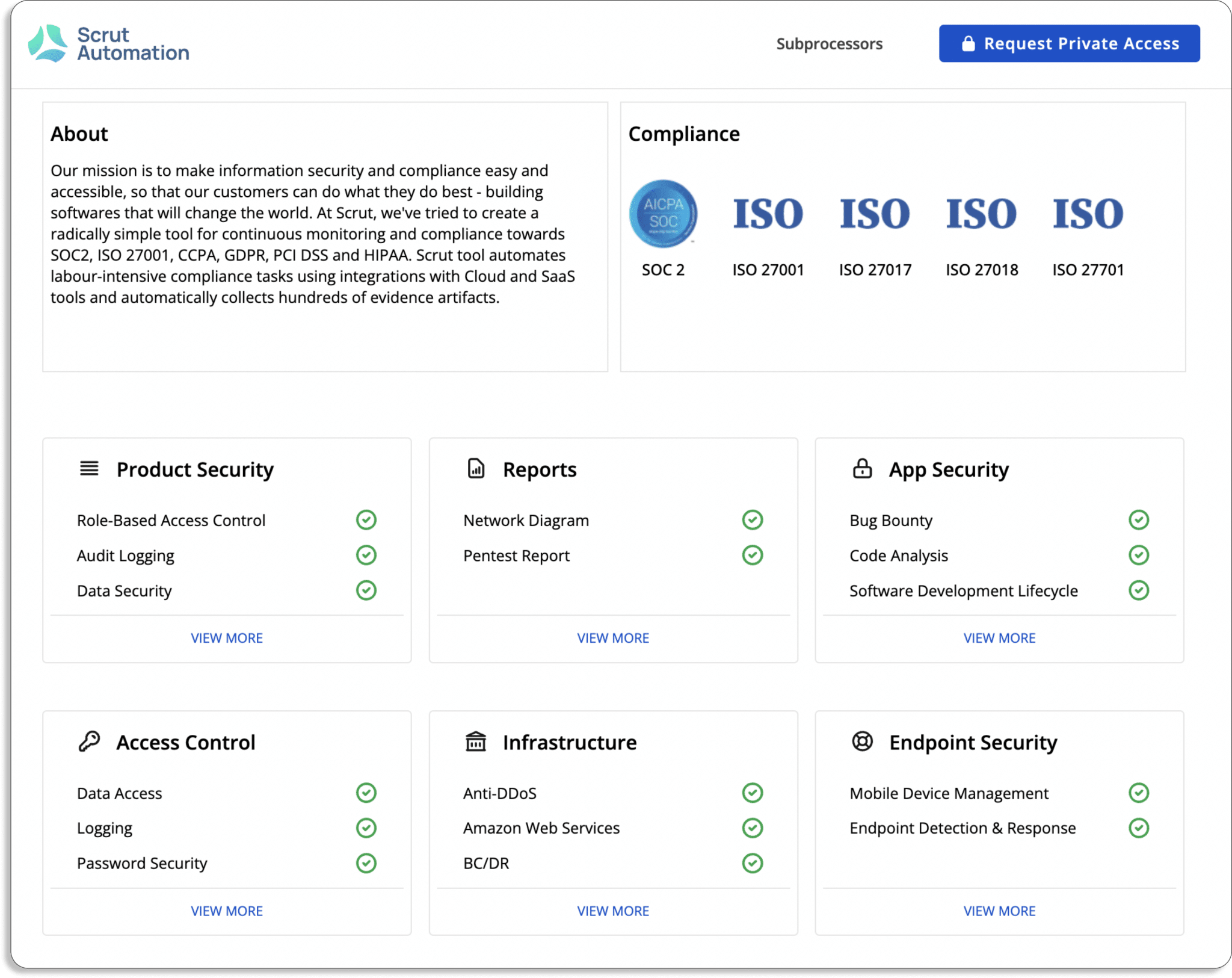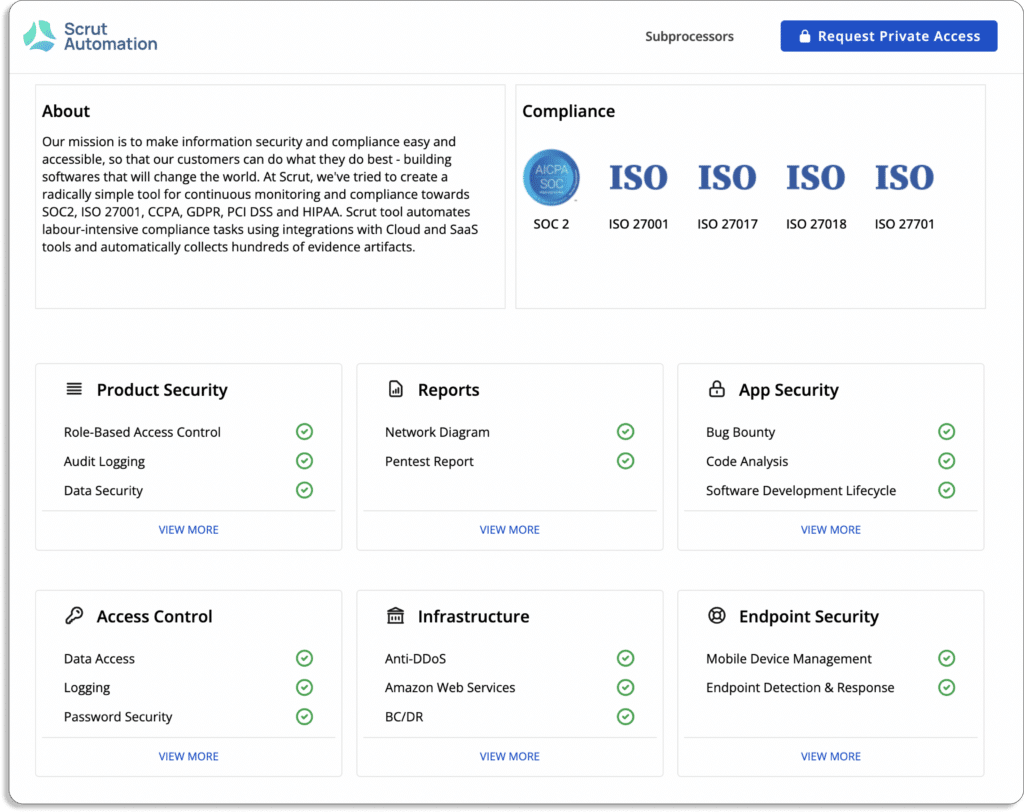 Once you approve the request, they can view it after signing an NDA.


Check out our own Trust Vault here.
Customer Rating


2. ZenGRC
Reciprocity's ZenGRC platform provides a unified, integrated experience that identifies information security risks throughout your organization. The tool streamlines audit and compliance management by providing a complete view of control environment, access to program evaluation information, and continuous compliance monitoring to address critical tasks.
ZenGRC's customized workflows support cross-team collaboration, thus, you can automate critical tasks like evidence collection, data sharing, and notifications.
Furthermore, it identifies gaps in your program, regulations, and frameworks to compare your security posture to that of your peers and the industry.
Pros
It provides an intuitive dashboard, heatmaps and consolidates all risks and regulations in one place.
The tool can cross-link objects to each other, such as linking to several frameworks, like HiTrust, SOC2, etc.
With ZenGRC, you can change ownership of several tasks.
Cons
Users cannot customize some settings, such as request screen and notifications settings.
You cannot assign more than one auditor to review the audit process.
Customer Rating
3. Drata
Drata is a real time security and compliance management software that helps you achieve SOC 2, ISO 27001, PCI DSS, HIPAA, GDPR, and CCPA compliance.
Drata's autopilot system bridges the gap between siloed tech stacks and compliance controls. It eliminates the need to check dozens of systems to provide evidence to auditors manually.
It gives visibility into your security posture and control over your compliance by providing actionable insights, reports, and alerts.
Pros
The platform provides all the required information related to issues in one place and helps to take action to remediate issues.
With the platform's upload document feature, users can properly communicate with the auditor.
It provides centralized visibility of all personnel and assets, allowing the user to get a detailed overview of which compliance requires attention.
Cons
With this tool, some integrations don't work correctly such as GCP and Checkr.
It doesn't support the duplicative evidence upload feature.
It is not easy to customize existing security programs with Drata.
Customer Rating
4. Vanta
Vanta assists businesses in scaling security practices and automating compliance with the industry's standards, such as SOC 2, ISO 27001, HIPAA, GDPR, and other popular security and privacy frameworks.
Vanta provides a centralized location for tracking progress and monitoring top security and privacy frameworks. The tool provides the guided scoping, policies, controls, automated evidence collection, and continuous monitoring required to prepare for an audit or prove attestation in the shortest time for each framework.
Pros
The ownership of alerts enables the distribution of the monitoring of various areas among various individuals. For example – policies can be monitored by a different person.
It connects to all development systems, such as GCP and GitHub, which significantly reduces the amount of manual testing and logging required.
The platform provides a policy template feature to create policies from scratch.
The platform automates up to 90% of the work required to prepare for an audit. It saves time and avoids the headache that comes with manual security audits.
Cons
The risk management feature only provides valid output against technical controls or a few policy controls, not accounting for all BAU risks of an organization.
The platform provides no information about the expectations of the auditor.
Customer Rating
5. ServiceNow
ServiceNow is a GRC platform that breaks down silos to manage risk and improve organizational compliance.
With ServiceNow GRC, you can use dynamic dashboard and continuous monitoring to get a real-time compliance overview across your entire extended enterprise.
Pros
It provides an efficient audit facility with a complete history of events.
It provides an efficient GRC program with customized workflows and can be integrated with the SOC tool for automating service request generations.
It provides a centralized location where users can track all the tickets and provide support accordingly.
Cons
The tool is inefficient in handling complicated logic.
It has limited reporting capabilities.
It has complex functionalities that are difficult for users to understand to use the tool properly.
Customer Rating
6. JupiterOne
JupiterOne allows you to automate your compliance processes quickly. It assists you in the development and automation of robust policies, procedures, and controls that link security requirements to specific cyber assets in your digital environment.
JupiterOne supports all major compliance frameworks, such as SOC 2, NIST, CIS, PCI, ISO, and HIPAA. Furthermore, it provides custom frameworks and policies to meet your specific governance and compliance requirements.
Pros
It provides efficient integration and allows users to add evidence for assessing SOC, HIPAA, GDPR, and other compliance requirements.
It provides continuous instrumentation and monitoring of cloud environments and controls.
It provides automated reporting and evidence collection for compliance.
Cons
There is a steep learning curve to understand the tools' overall potential as it provides many features.
Customer Rating
7. AuditBoard
With AuditBoard, you can effectively adhere to compliance activities while reducing expensive violations.
The platform provides a centralized view of all of your auditable entities with crucial metrics and risks linked. It performs risk assessments flexibly and identifies coverage gaps across these entities to develop a more impactful audit plan.
You can use AuditBoard templates to ensure consistency and save time on recurring compliance audits.
Pros
This GRC tool helps organizations in building different frameworks and streamlines control management, testing, and external auditing.
It efficiently prepares documentation and reviews paperwork for operational audits and SOX testing.
It integrates with different modules and enhances your data-driven decision-making capabilities.
Cons
It provides many features that create confusion for users as it increases the complexity of the learning curve.
The tool doesn't have all the auditing capabilities and needs to add data analytics and automate the process for a better user experience.
Doesn't have intuitive task management for managing compliance tasks.
Customer Rating
G2- 4.7/5
8. Tugboat Logic
With Tugboat, you can effectively manage your compliance frameworks and achieve compliance quickly with evidence cross-mapped for maximum effectiveness.
There are a variety of integrations and a library of ready-to-use content for each framework in Tugboat Logic. Additionally, everything is interconnected, allowing you to keep tabs on your progress and compliance status at all times.
The platform assists you in conducting a risk assessment by comprehending your strategic goals and advising you on the IT and security risks to consider. Furthermore, it demonstrates how to reduce these risks and automatically monitors the efficacy of risk-reduction measures.
Pros
It provides easy-to-read and updated policies that help you to manage controls.
With this tool, you can collaborate with auditors, manage security questionnaires and automate evidence collection using integrations.
It provides SOC 2 readiness modules, templates, and built-in policies and procedures for complying with standards such as ISO 27001, GDPR, etc.
Cons
The tool doesn't have a standardized risk format and needs improvement in reporting and requires efficient security, and compliance dashboards for better understanding.
The tool doesn't have SOC 1 component for compliance.
Customer Rating
9. Onspring
Onspring is a GRC management platform that unifies the entire business ecosystem with coordinated strategies and effective procedures.
Onspring offers real-time reporting right out of the box. You can connect your data and see immediate results. Then, to curate specific insights, you can filter and slice your data.
The platform creates multi-path or single-path workflows and provides real-time data reporting.
Pros
The tools allow you to customize your requirements efficiently.
It provides efficient reporting and admin features, and you can automate tasks and use APIs and security controls around your organization.
Cons
It is challenging for users to send issues to auditors to have their input during compliance auditing.
Customer Rating
10. LogicGate
LogicGate platform provides pre-built applications that transform GRC management. It combines content and service with easy, no-code technology. The tools help you stay compliant with relevant policies, laws, or regulations to protect your assets and avoid violations, legal penalties, and fines.
Pros
It provides a centralized location to keep critical risk information across different functions and business units.
LogicGate's robust and flexible GRC tool allows you to create customized workflows and processes for maintaining your required regulatory compliances.
You can accurately identify and access third-party related risk using its reporting capabilities and continuous monitoring.
Cons
It has a steep learning curve as it provides many features that can confuse the users to understand their full utilization efficiently.
It lacks data-based calculation capabilities as users find it difficult for themselves to calculate based on the existing data field.
Customer Rating
11. LogicManager
LogicManager provides GRC solutions to improve performance & drive efficiency in your organization. It provides an intuitive and flexible GRC program to manage your business's compliance and risks. It includes a comprehensive matrix of solutions that accelerates your risk management efforts.
It offers built-in controls and control suggestions with intelligent insights to reduce your compliance burden.
You can use the custom profile and visibility rules to configure the GRC program.
Pros
You can easily create libraries, workflows, surveys, and questionnaires using this tool.
It provides a centralized location for risk, compliance, and auditing programs.
Cons
It requires additional cost to implement new data protection tools if you're EU based.
It doesn't handle risk assessments and due diligence requirements efficiently.
Customer Rating
12. VComply
Vcomply allows you to centralize your compliance process and automate compliance programs across multiple functions.
You can launch your compliance program in 30 mins and automate alerts, follow-ups, and reporting to analyze gaps to take corrective actions for mitigating compliance-related issues.
You can effectively track and manage compliance-related obligations concerning GDPR, ISO 27001, vendor compliance, policy and risk, and more.
Pros
It sends automated email and non-compliance notifications and provides monthly non-compliance reports that help users to take action against any 0ccured compliance risks.
The tool is very effective in compliance automation and can assign tasks to individuals with reminders and provides a supporting document updating facility.
GRC management is efficient because of its interconnected modules.
Cons
Vcomply, due to its wide range of functionalities, creates a steep learning curve for its users and takes time for them to utilize the software fully.
Created issues while transferring files, and you can't assign ownership of files to multiple people.
Customer Rating