Fintech innovation is accelerating faster than regulatory changes. As a result, many businesses regard fintech compliance regulations as a barrier that makes meeting core objectives and deliverable dates more difficult. It is difficult for fintech startups to market their products to businesses without putting in place suitable security controls. This article will walk you through the best practices for developing an enterprise-friendly InfoSec posture to assist you in closing large deals.
Fintech is a combination of finance and technology that represents the next phase of evolution in financial services as new technology-focused companies enter the market to innovate products and services. The security status of its networks determines an organization's security posture, people, data, and systems; the resources it employs to protect them; and its ability to defend against and quickly recover from attacks. Your organization's security posture determines how vulnerable it is to cyber attacks or data breaches.
A data breach could jeopardize the company's reputation in the fintech industry. Cyberattacks could also jeopardize the entire fintech landscape, resulting in stricter fintech compliance regulations. As a result, all business-critical applications must implement a security strategy.
A poor security posture puts you at risk of not complying with several important data privacy regulations. These regulations specify what data must be protected and, in some cases, how it must be protected. To meet the requirements of these regulations, you must maintain a strong security posture.
How Scrut Helps Fintech Create an Enterprise-Friendly InfoSec posture
GRC provides you with a framework for integrating security and privacy into your company's overall goals.
Let us understand this with the example of smartGRC—our own GRC platform
Scrut smartGRC reduces manual effort by up to 75% and speeds up the completion of InfoSec tasks. You can automate and streamline tedious audit-related tasks, from preparation to analysis to effective audit collaboration. The platform keeps you informed about the overall status of your GRC program.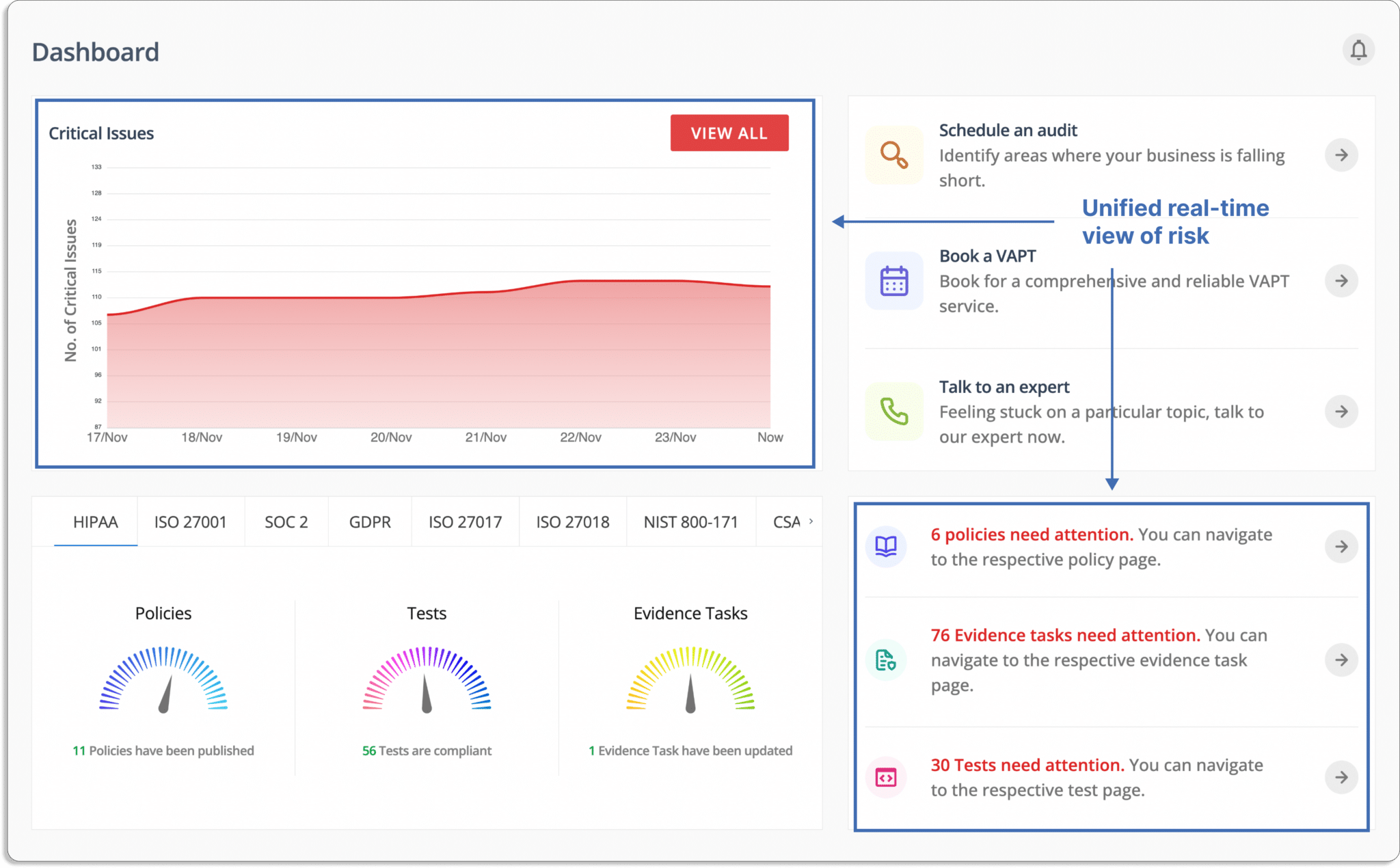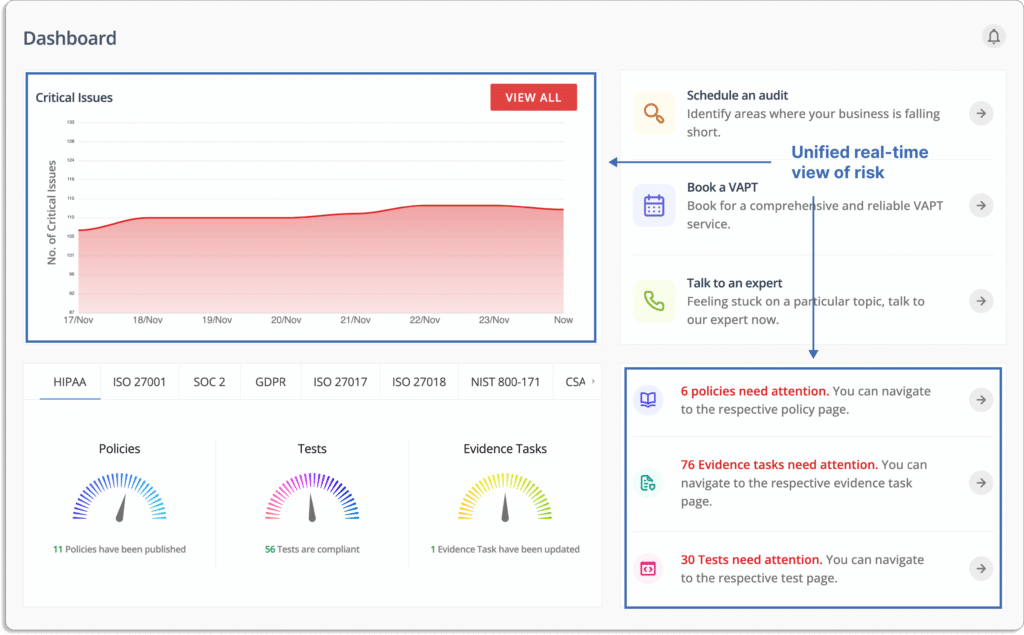 With integrations, Scrut simplifies the collection of evidence. This tool can automate the manual evidence-collection process across various application landscapes, including HRMS and endpoint management. It offers over 70+ integrations.
The platform allows you to collaborate with your team members. You can assign tasks to team members and stay up-to-date on the various task statuses. It sends pending task reminders to ensure that no one misses the deadlines.
Risk Management
Effective fintech security requires complete visibility of your IT environment. This visibility begins with reviewing potential security risks. Once you have reviewed and analyzed potential security risks, prioritizing them will allow you to take action. After identifying the most critical threats, you can invest time and resources in eliminating or mitigating those risks before an attack or breach occurs.
Scrut Risk Management provides complete visibility of your risk posture, as shown in the screenshot below.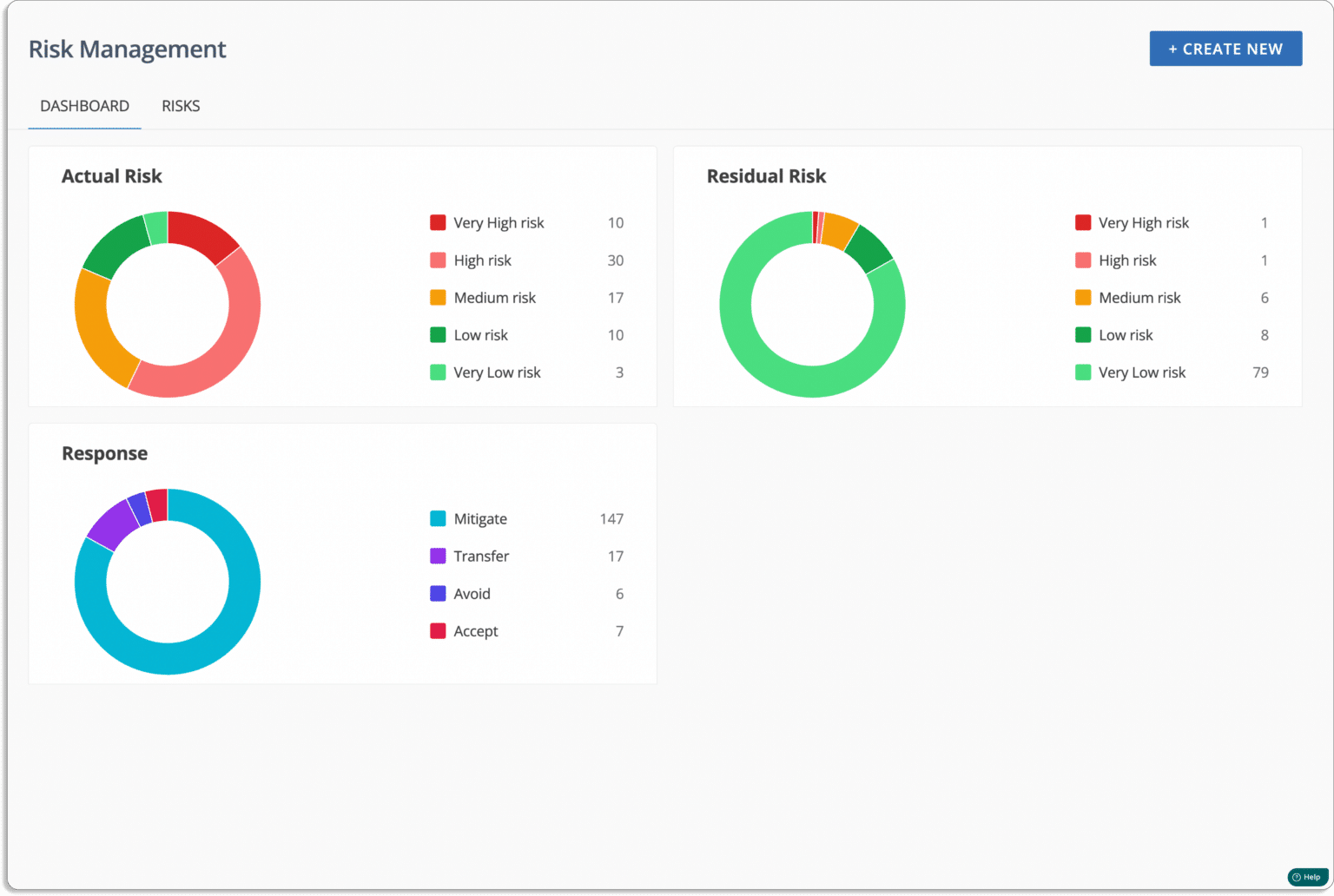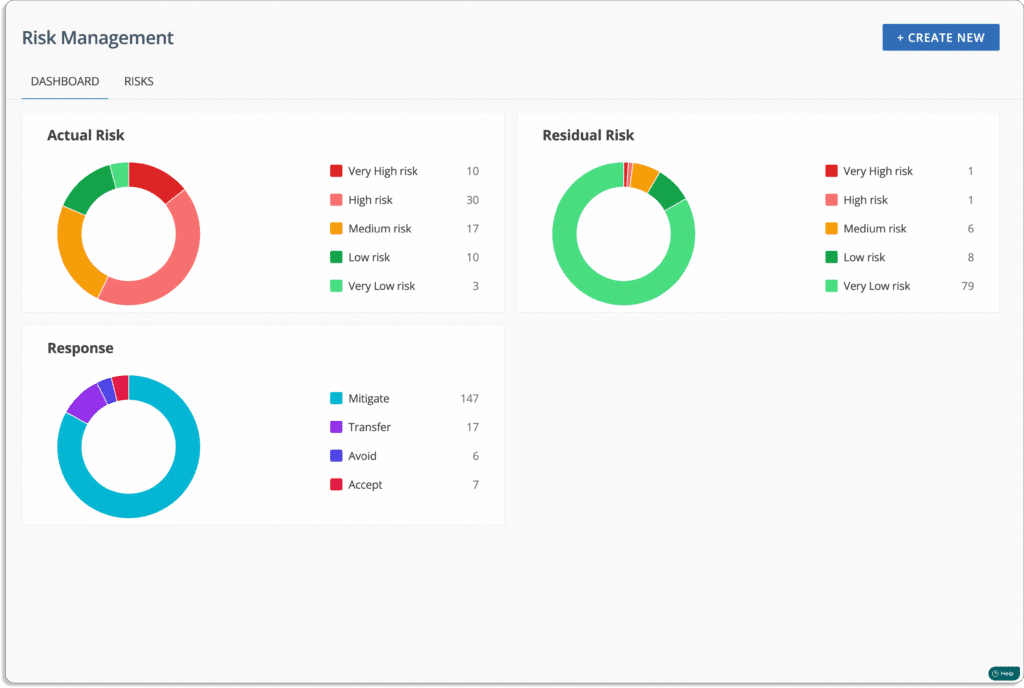 Here, the actual risk is the inherent risk, and the residual risk is the remaining risk.
Scrut detects risks in your ecosystem automatically by scanning the infrastructure, applications, access, code base, vendors, employees, and more. The platform allows you to create a risk register in minutes. You can use Scrut's pre-mapped risk library.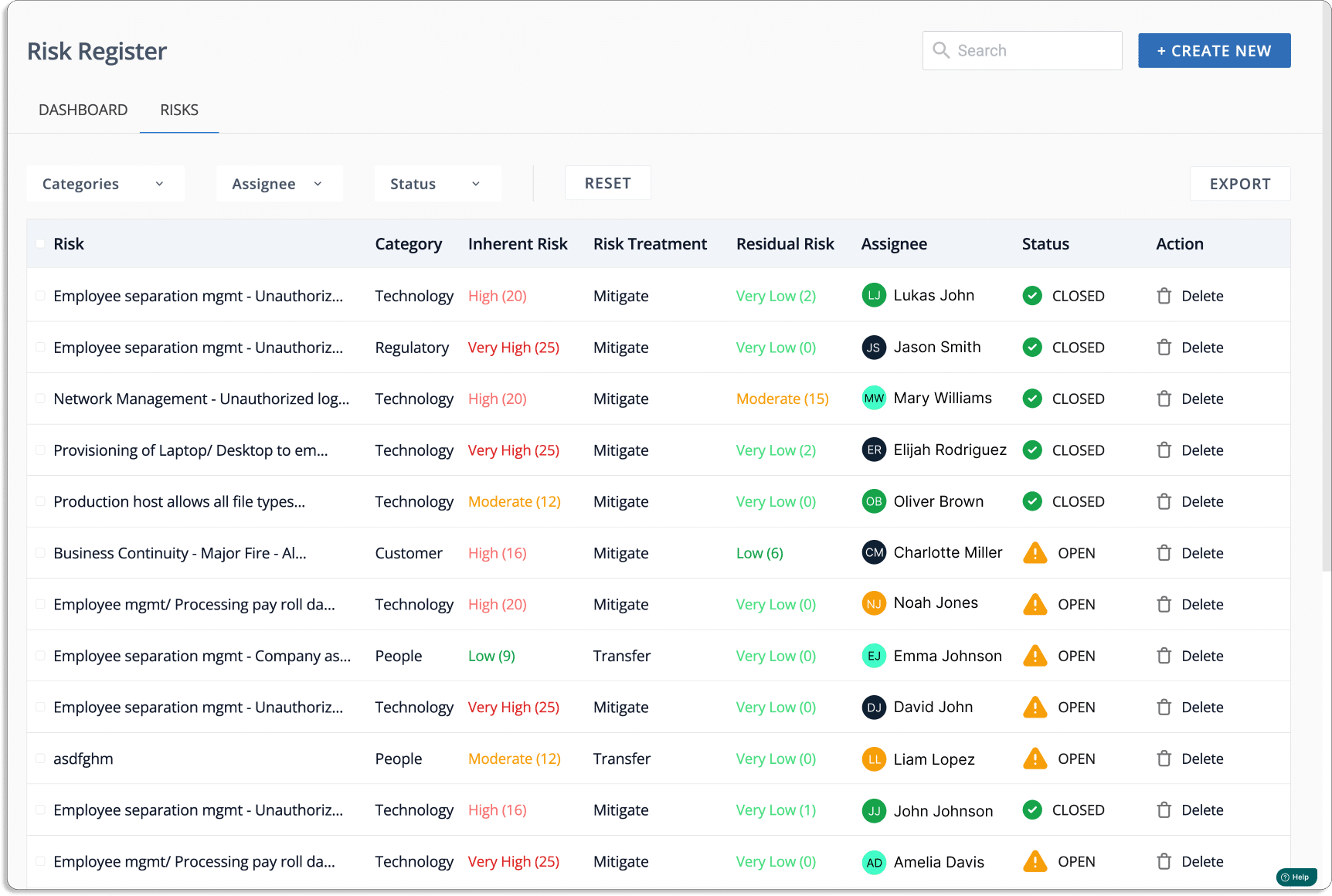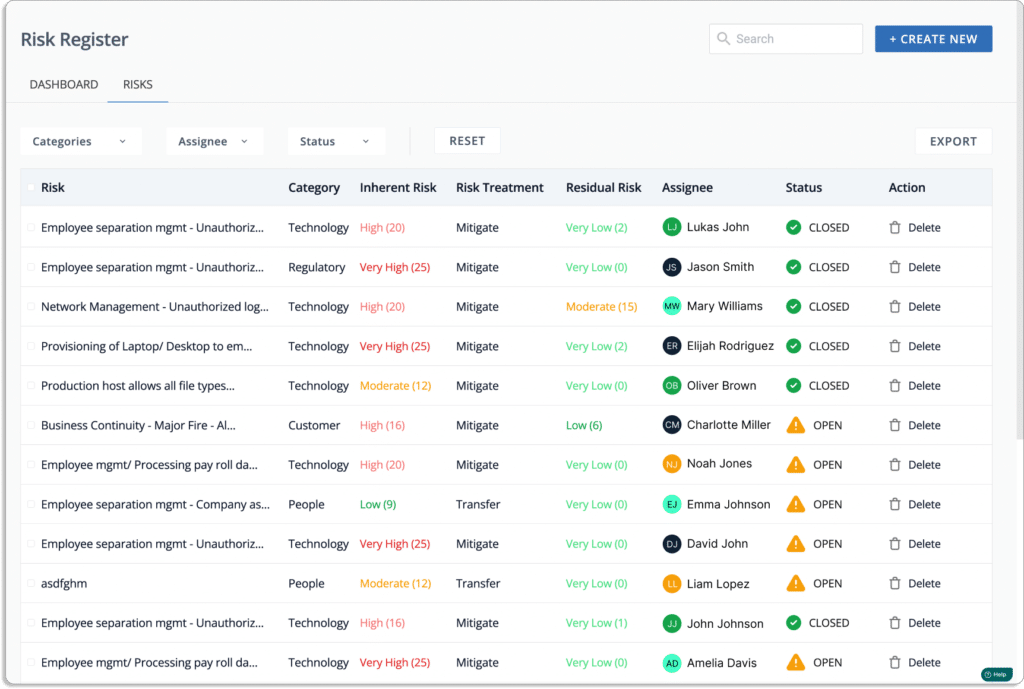 You can evaluate your risk profile using Scrut's automated risk scoring. It assigns risk scores based on the likelihood and impact of events. The probability of the risk occurring is defined as its likelihood. The possible effect of a risk event on the business is referred to as the impact.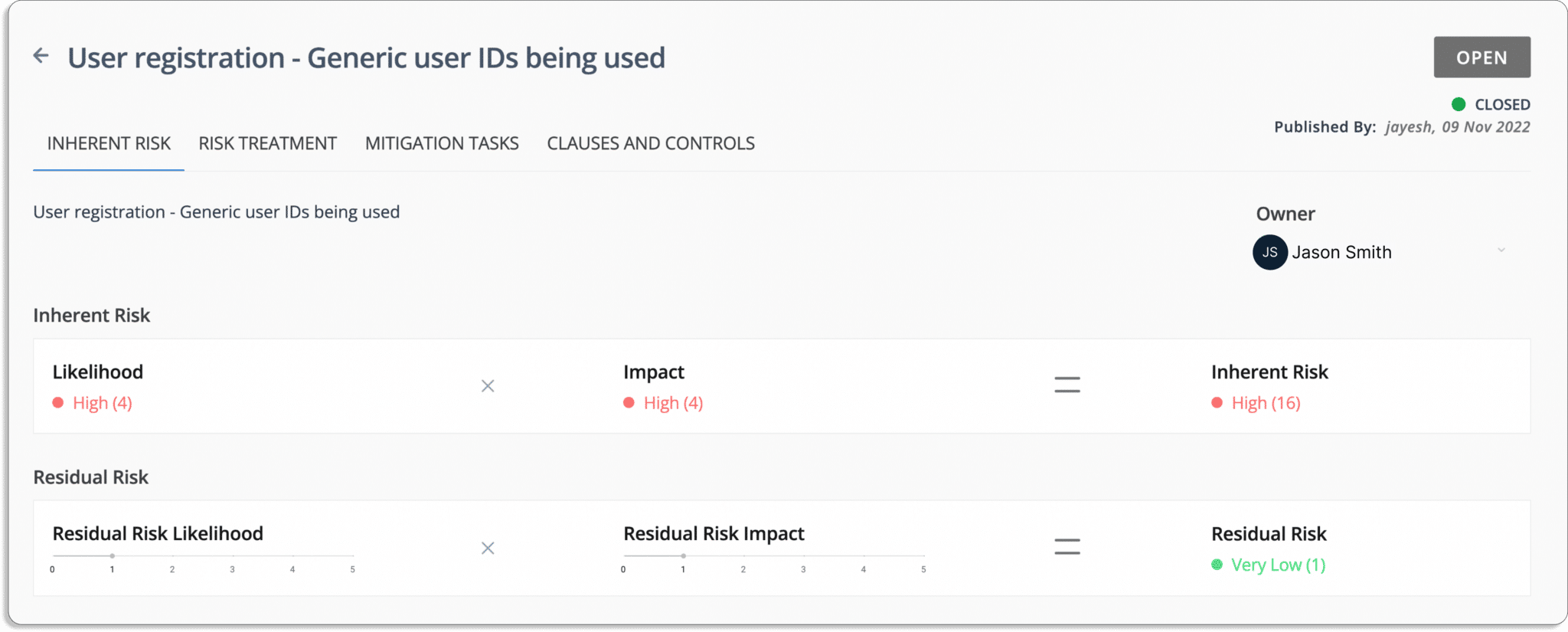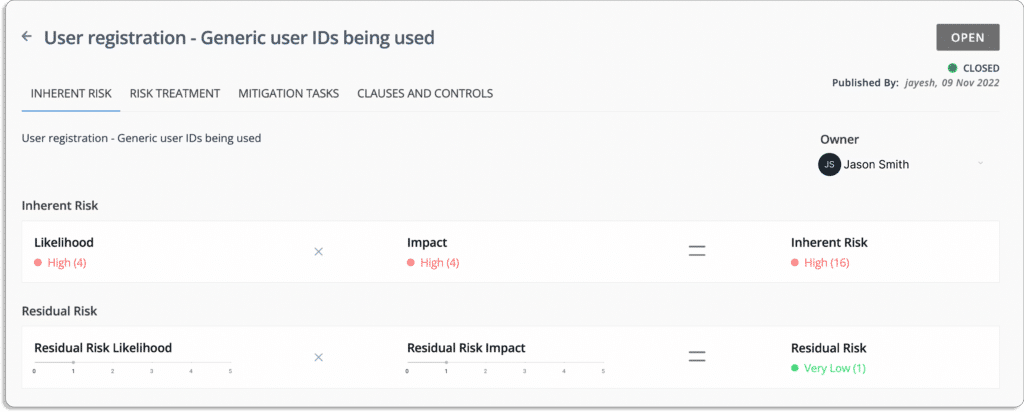 Here, the likelihood of this event = 5 (very high)
The impact in case the event occurs = 4 (high)
Thus, the inherent risk associated with this event = 20 (high)
Risk = Likelihood * Impact = 20
The next step is to work on the risk. Scrut allows you to choose whether to accept, mitigate, transfer, or avoid risk.
Risk mitigation example:


Risk transfer example:


Risk acceptance example:


With Scrut, you can also create mitigation task, as shown in the screenshot below:
Vendor Risk Management
Your company most likely outsources some of its activities to third-party contractors. As a result, these companies' security postures may impact your organization's cybersecurity readiness.
Scrut provides a clear picture of how vendors are performing and whether their security posture is in line with your organization's needs.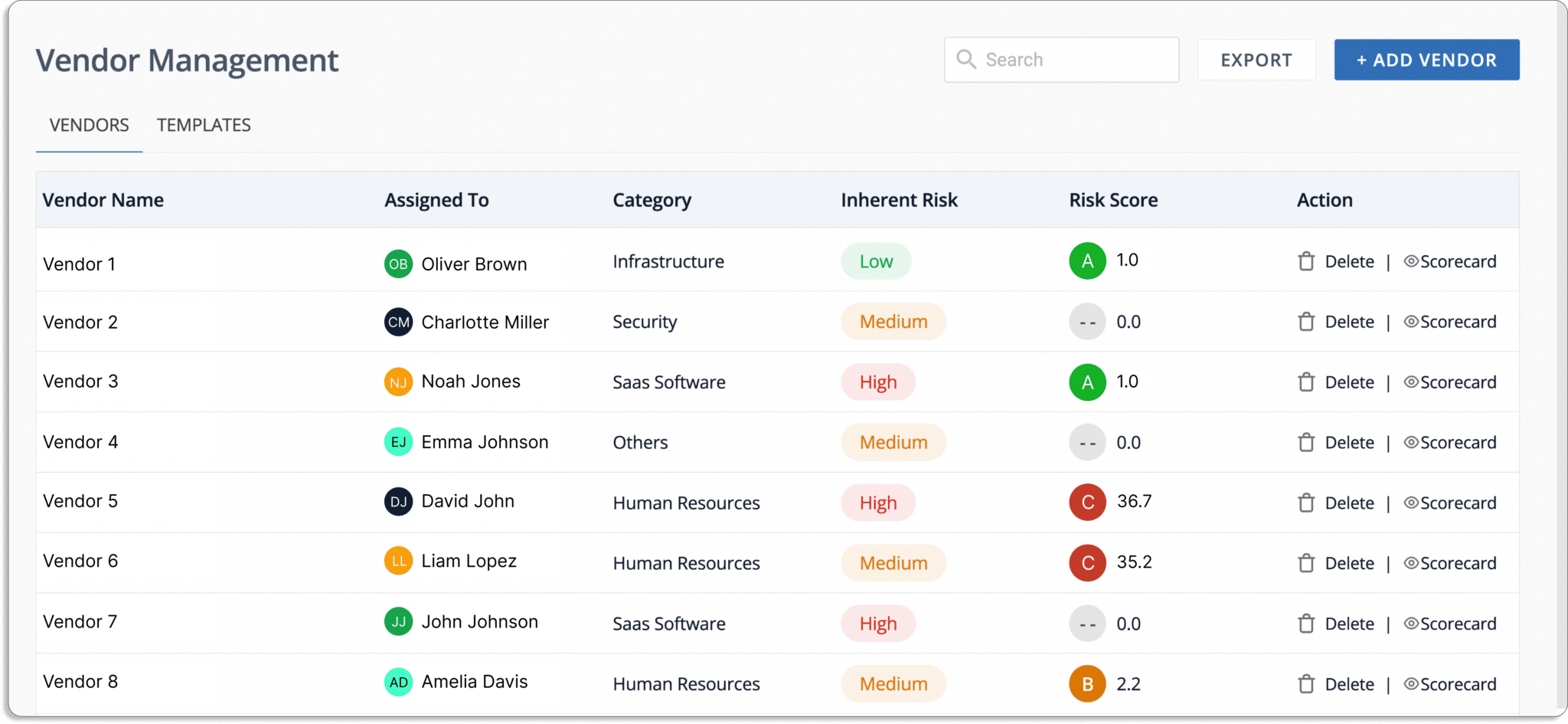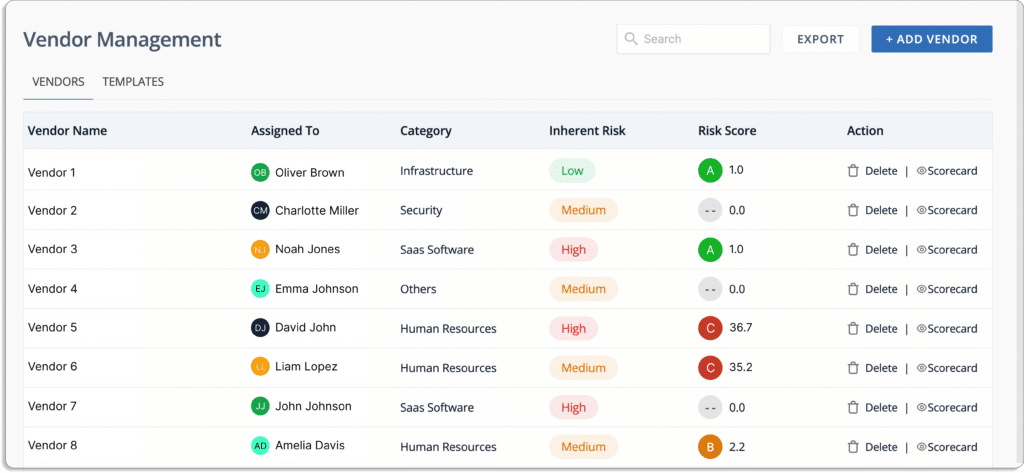 Scrut's vendor risk management module lets you upload a security questionnaire or use pre-built templates, eliminating the need for traditional vendor security evaluation methods.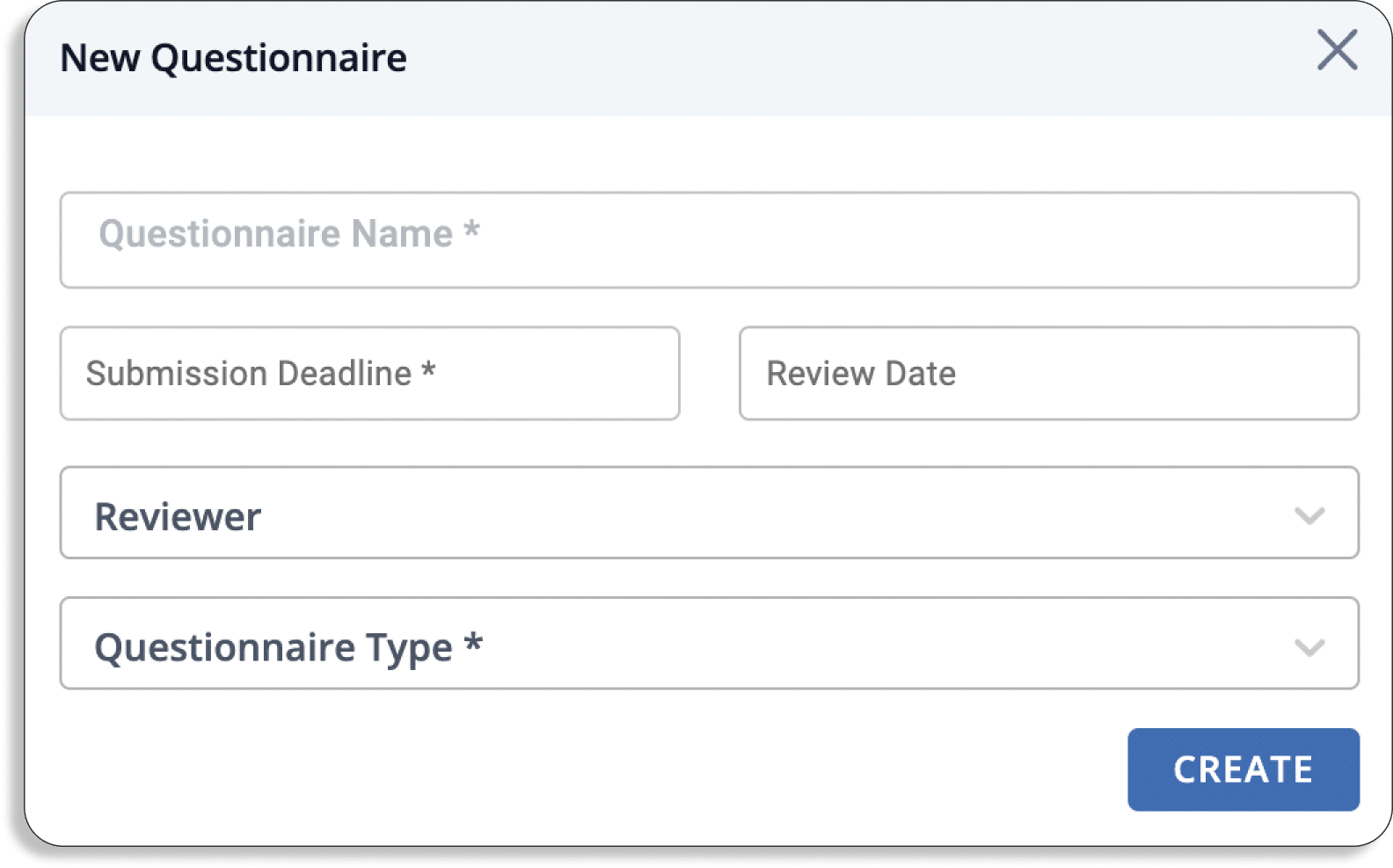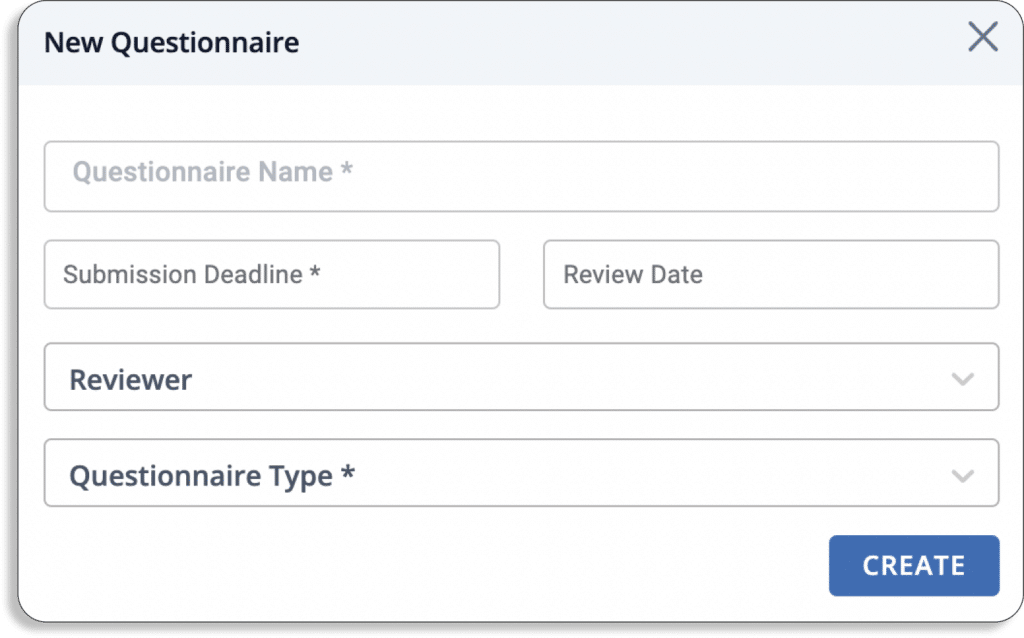 It enables rapid vendor compliance assessment by providing a centralized dashboard for sending security surveys and identifying deviations.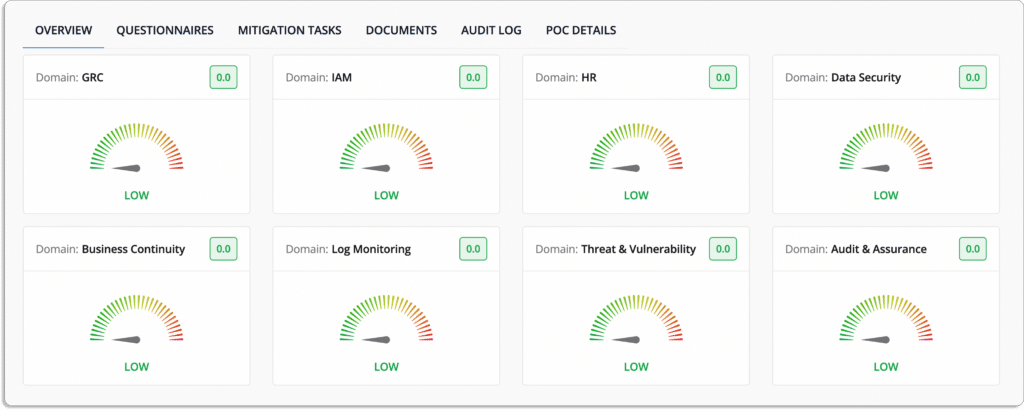 Cloud Monitoring
Through Scrut's cloud security module, you can scan and monitor misconfigurations in your public cloud accounts on AWS, Azure, and Google Cloud Platform. The platform maintains a strong information security posture by continuously monitoring your cloud configurations against over 200 cloud controls. It ensures that your cloud infrastructure remains compliant at all times. The tool generates alerts that include specific instructions for correcting any misconfigurations.
In addition, you can assign tasks to team members to fix misconfigurations.
Policies and Controls
Establishing a clear set of security controls is important in defining your organization's security posture. You must adhere to security and privacy frameworks to earn the trust of your customers, vendors, investors, and government officials. These are implemented through policies and controls to demonstrate that you value security and privacy. These controls should align with your security objectives and allow you to track your progress toward those objectives. //MT
Scrut provides you with pre-built policies that industry experts review.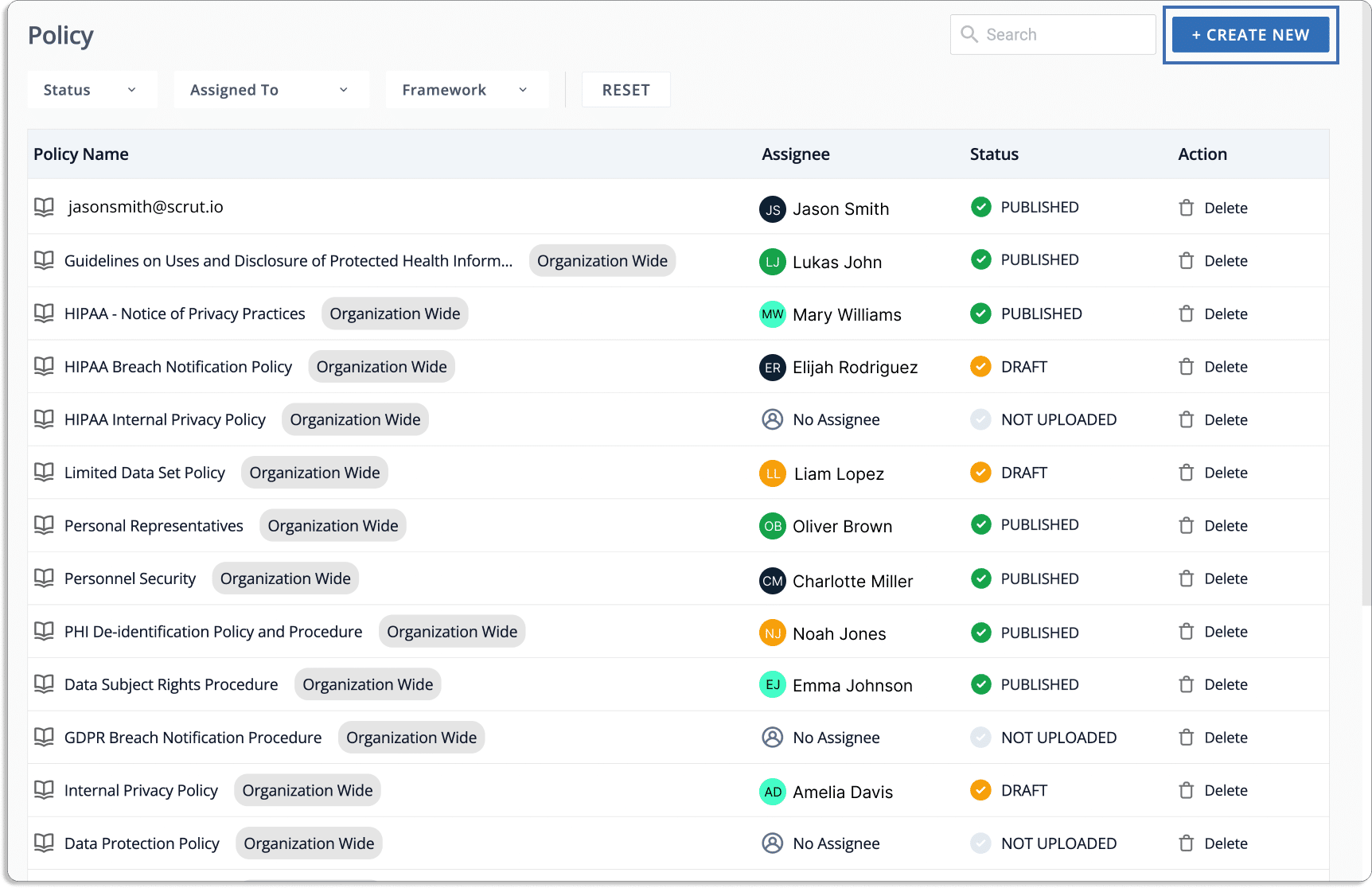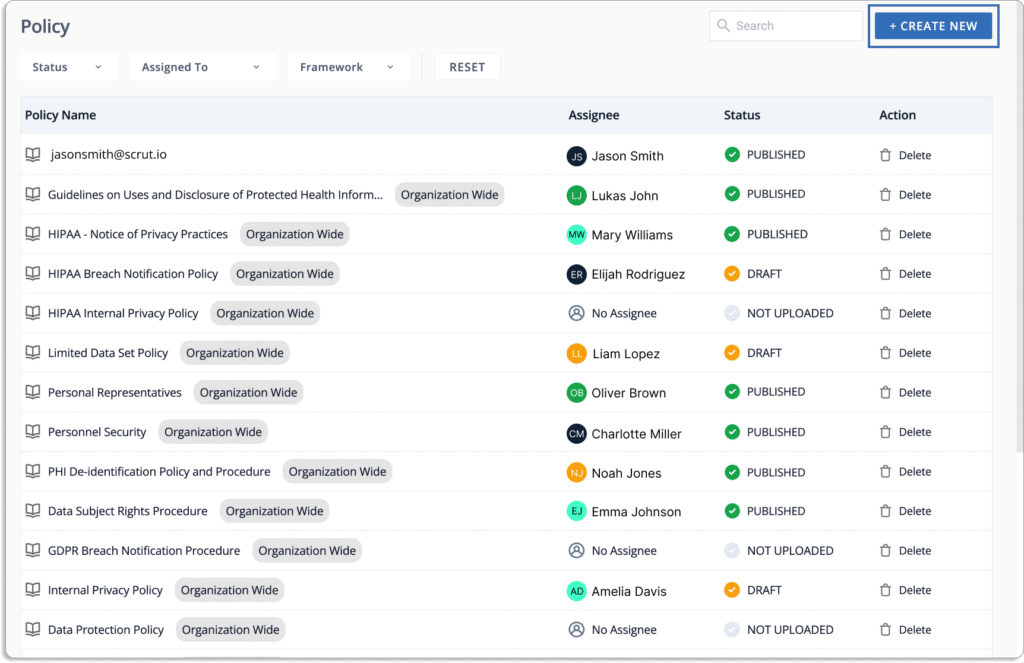 You can create a new policy by clicking the "Create New"option.
Following that, a pop-up box will appear. Fill out the required fields and submit.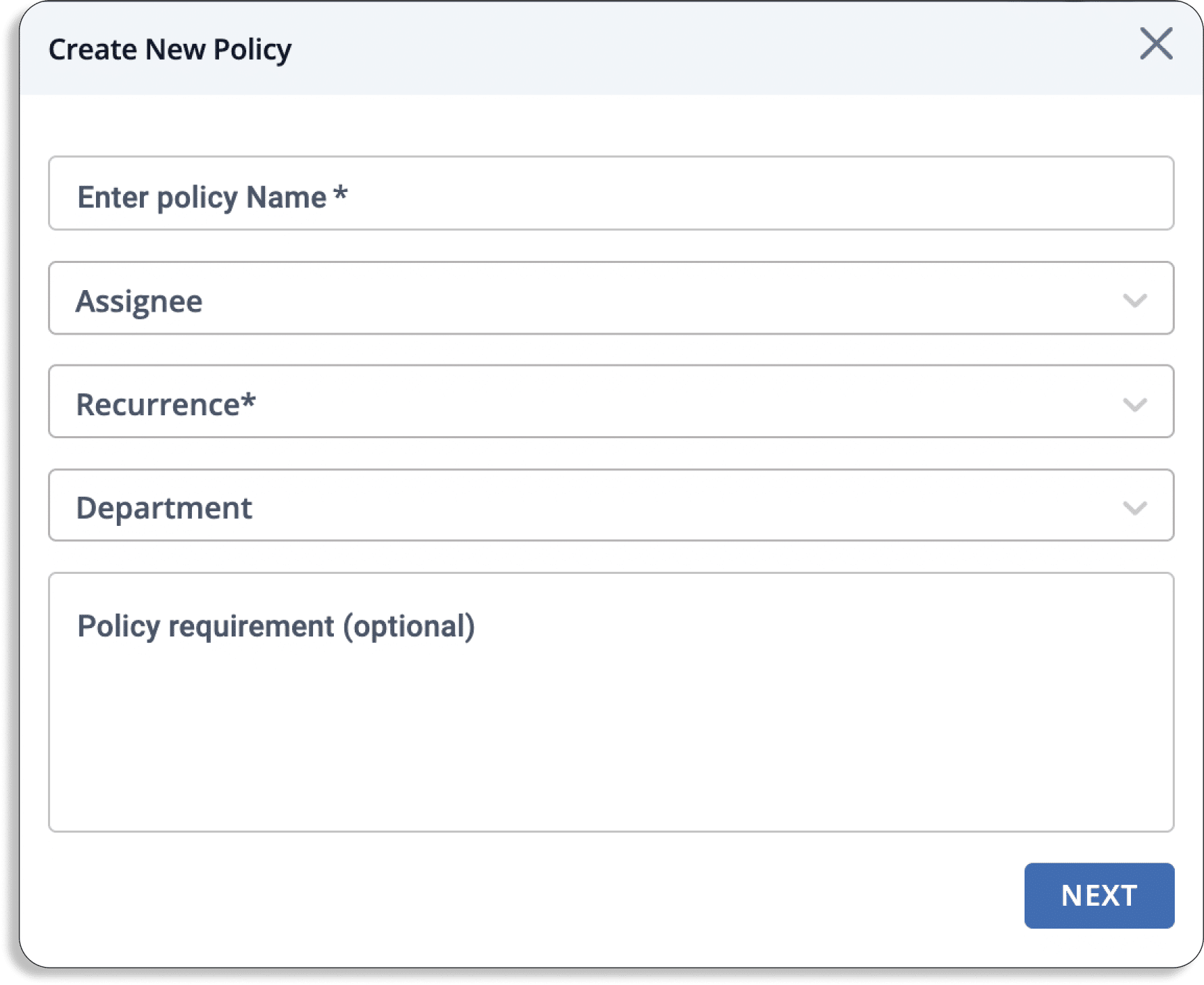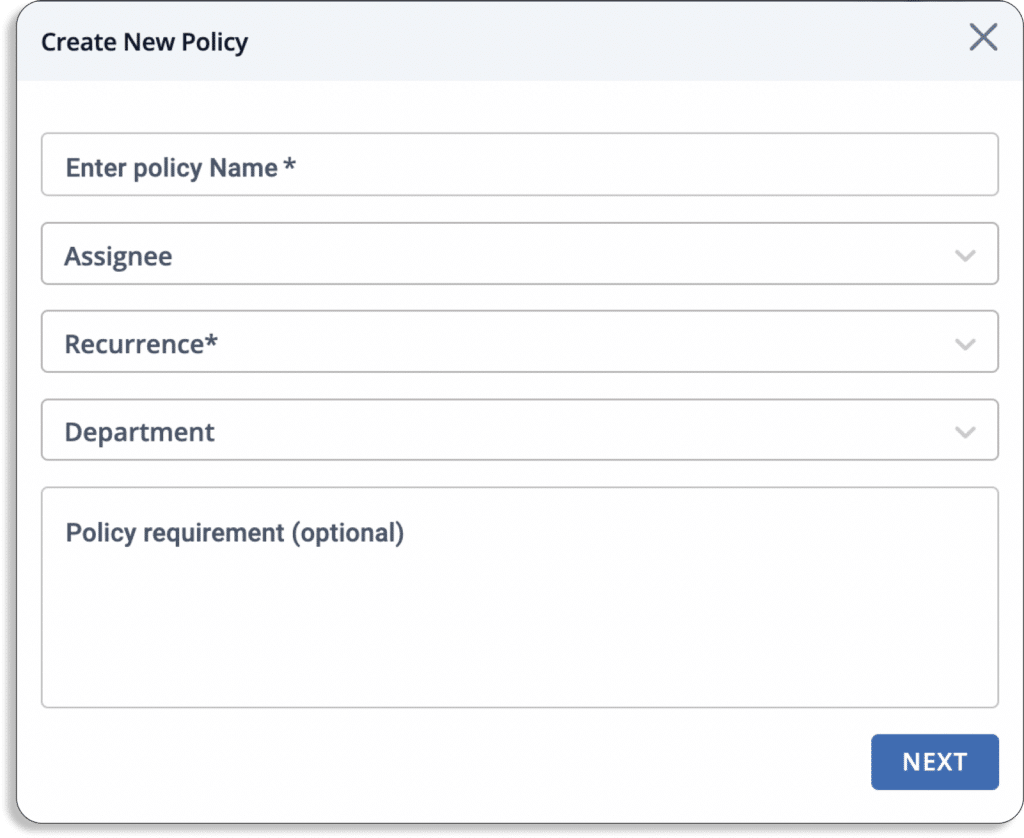 The screenshot below shows that the policy library is mapped to frameworks such as SOC 2 and ISO 27001.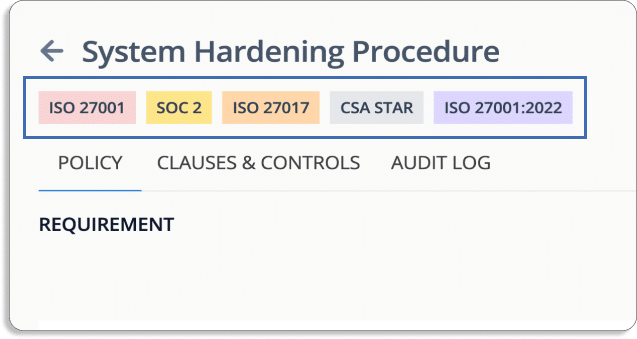 You can use pre-built control mapping to map them against your required compliance frameworks.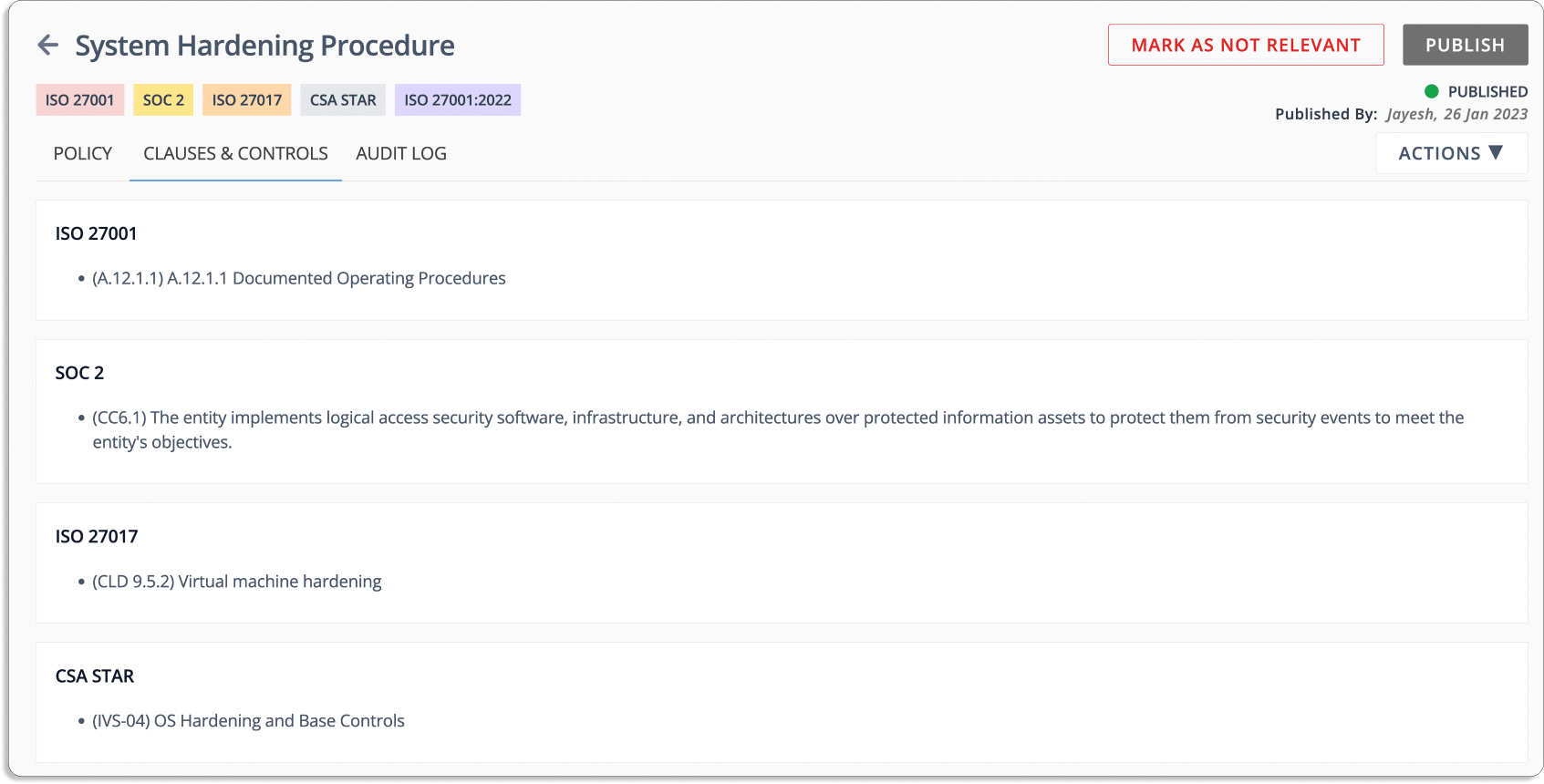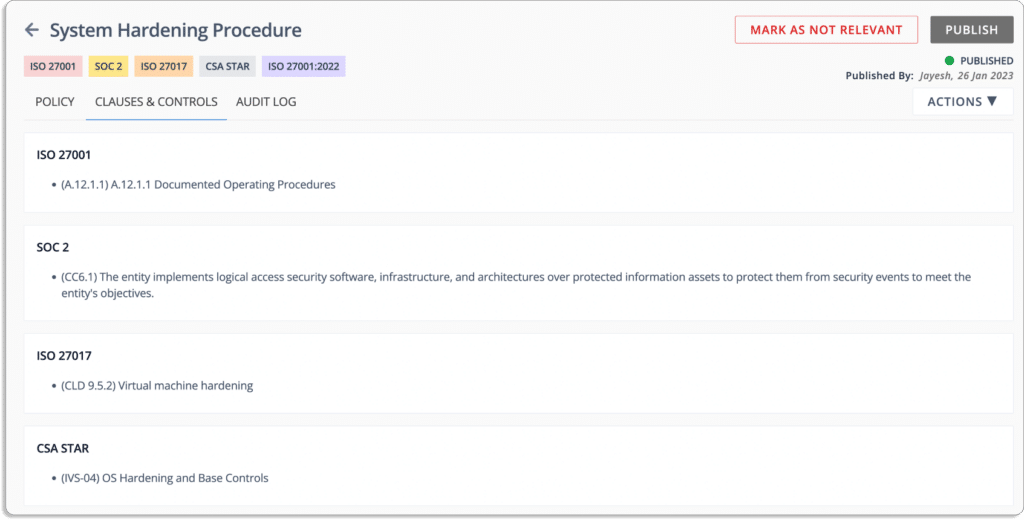 Trust Vault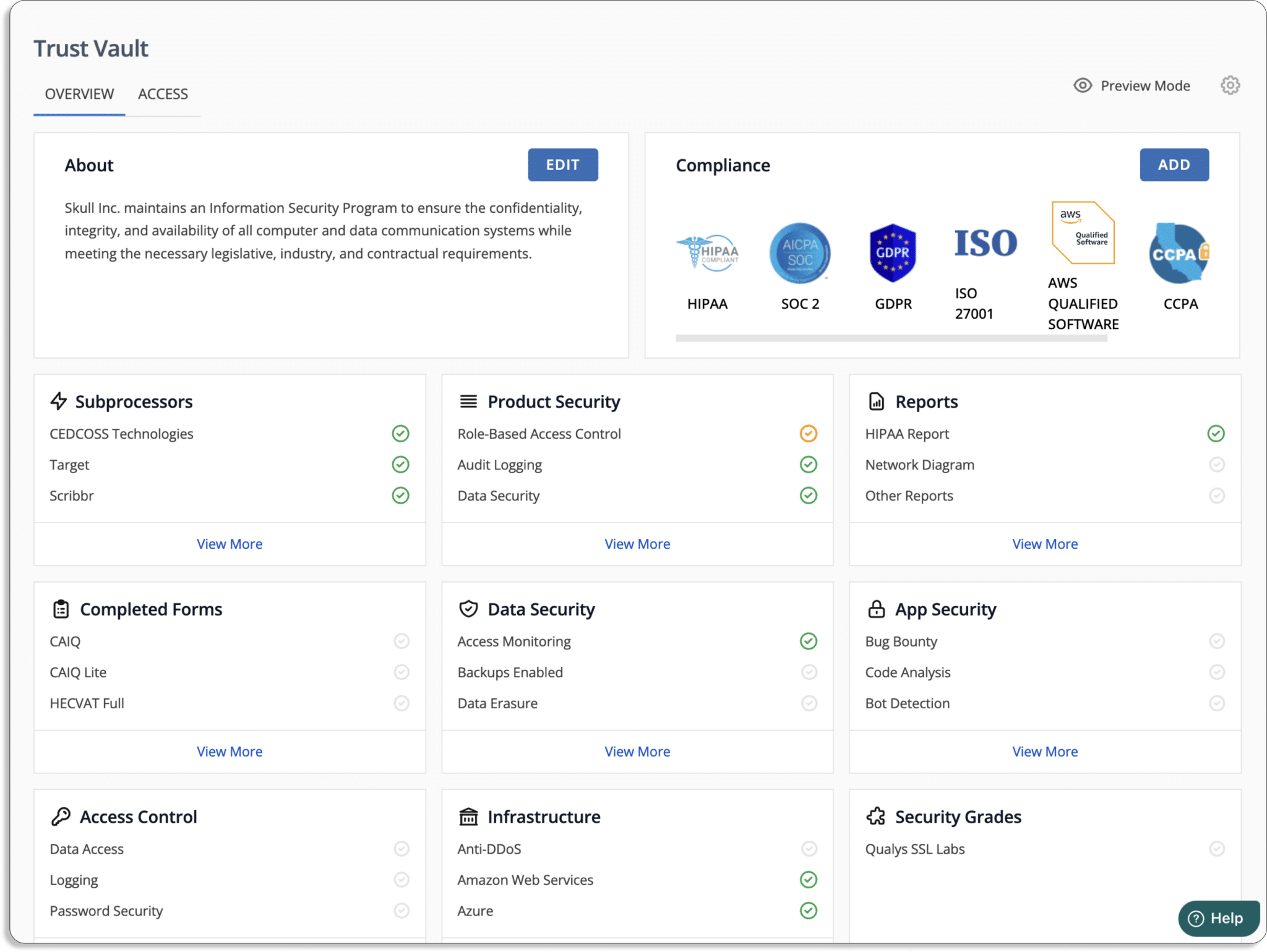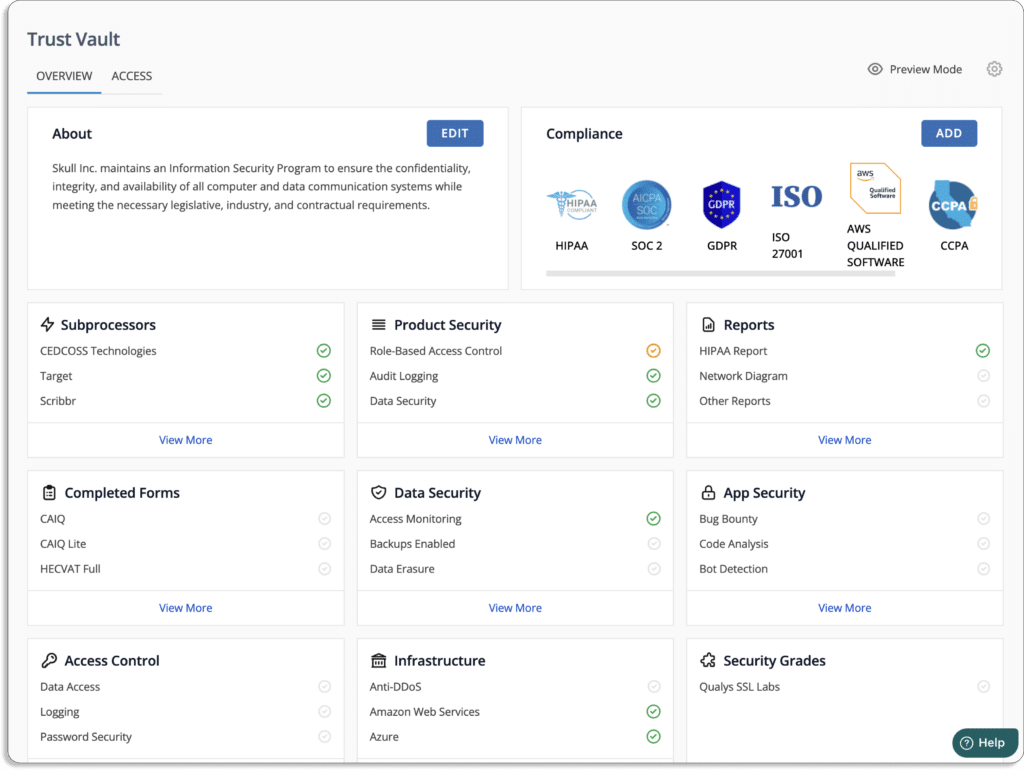 Scrut's trust vault module enables you to stay ahead of the competition by establishing customer trust from day one. You can close enterprise deals faster by demonstrating a strong security posture through customized and simple-to-create auto-populated security pages. The platform provides real-time visibility into your security and compliance posture. It eliminates the time-consuming process of handling manual requests for security questions, reports, and certificates. All your compliance certifications, attestations, and reports are displayed in one place.
Employee awareness
Regular training is the most effective way to reduce your team's risk of becoming a security risk. Scrut provides a pre-built, expert-vetted 30-minute information security course that educates employees on potential risks. The platform simplifies employee security training by centralizing policies and procedures in one location. The tool's dashboard makes tracking training completion and employee acknowledgment simple.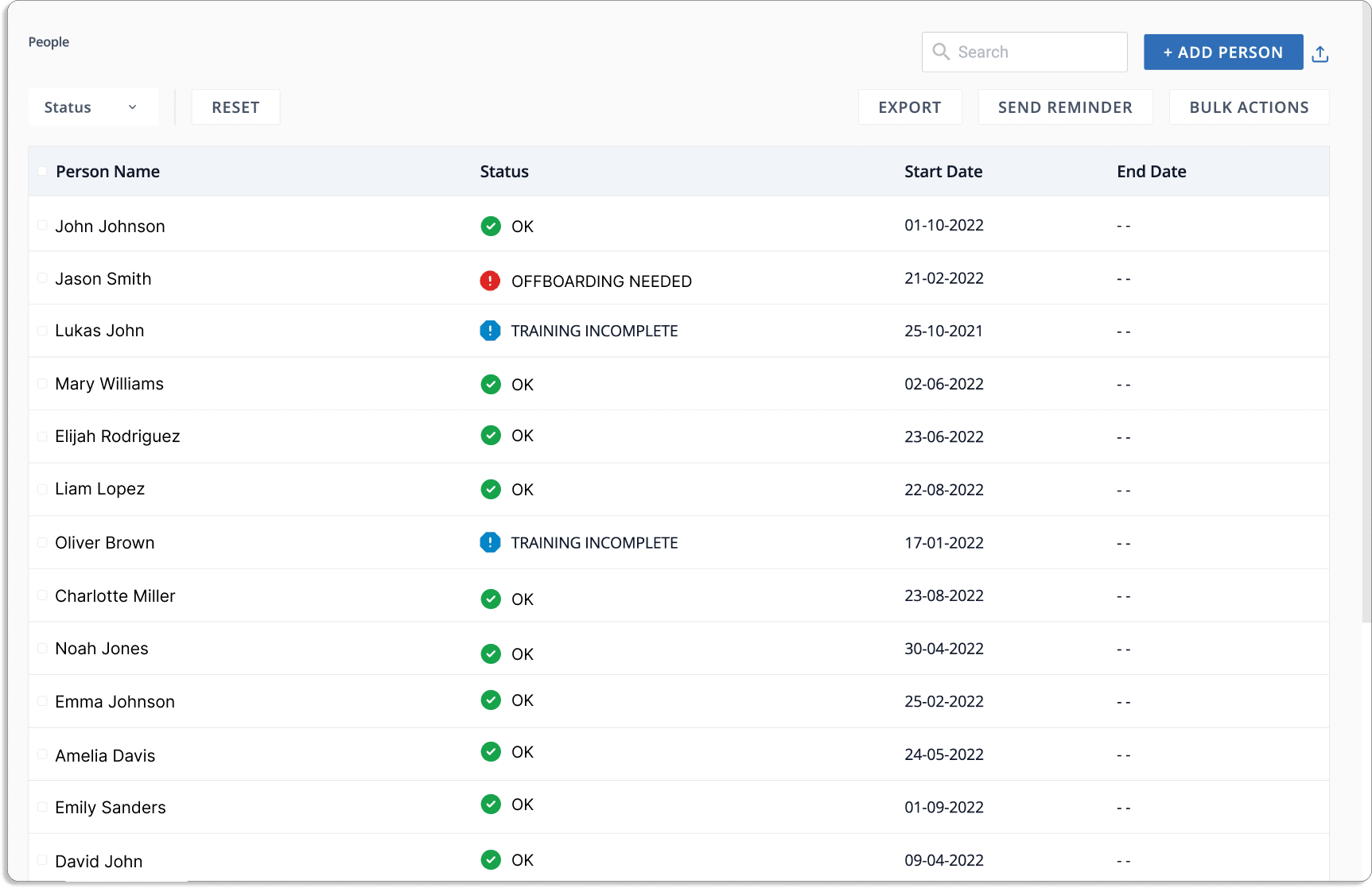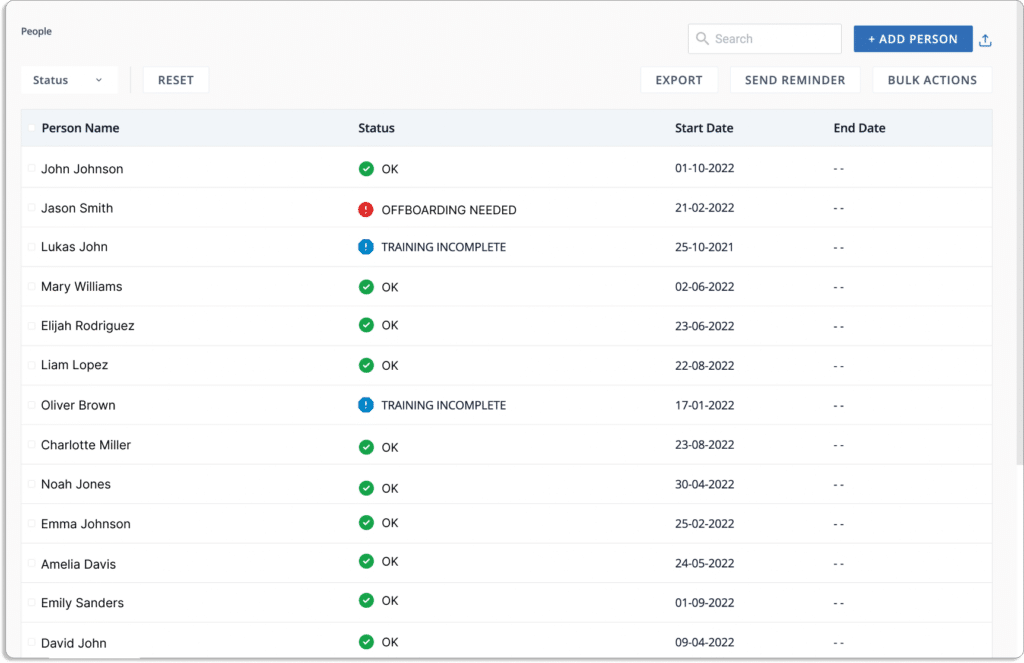 A secure platform like Scrut is required to strengthen your security posture. To learn more about how to create an enterprise-friendly InfoSec posture with Scrut, schedule a demo.