Scrut recently organized a conference with some of the brightest cyber minds in the country in attendance. The conference was centered around a panel discussion titled 'The Emerging Need for Cyber Asset Attack Surface Management' and discussed the various phenomena that makes CAASM a must for organizations in the present day.
For CISOs, this conference—which was put out in association with Dataquest India—was undoubtedly a high point. Security professionals took the platform to discuss asset management, surface security, and how cybersecurity affects our everyday life. They also discussed how a joint collaboration among the organizations could strengthen resistance against cyberattacks.
Let's look at the conference's core discussion points and what our speakers had to say about the emerging CAASM needs.
How does CAASM address Asset Vulnerability?
Cyber dangers remain a key concern for management and boards, as well as investors and other stakeholders in the organization. As more breaches, ransomware, malware, and other threats emerge, the risk curve keeps getting steeper.
In his introductory remarks, Dataquest Editor Sunil Rajguru provided a timeline of how connections, networks, and cybersecurity have evolved through time. He said the "last four years have felt like 20 years for cybersecurity."
Due to factors like ubiquitous Internet access, the world has undergone a significant transformation recently. In a matter of decades, the Internet completely altered the global landscape. Yet, cyber threats and attacks also rise sharply as more individuals get linked.


Asset mapping is a universal challenge
Aayush Ghosh Choudhury, CEO and Co-founder of Scrut, took the stage next to bring the focus on some of the problems organizations in the industry are consistently facing. In his opening keynote address, Aayush provided a few examples of problems, such as
"What is asset telemetry, and how do we maintain it? How do we keep this agentless and ensure fast time to value?"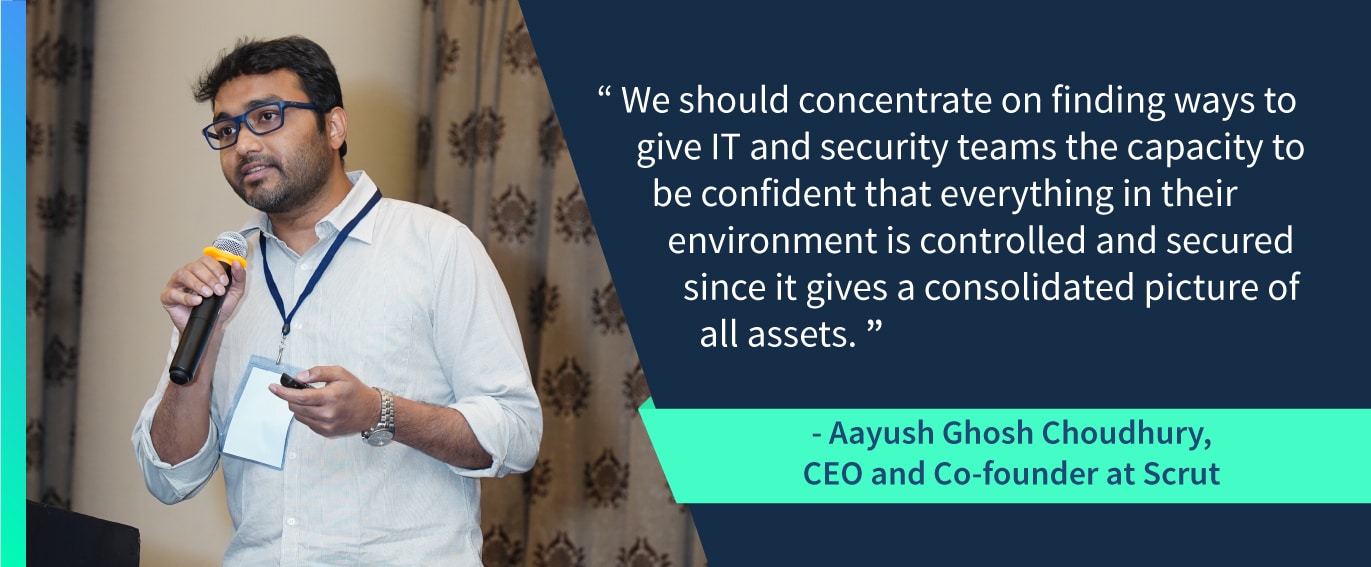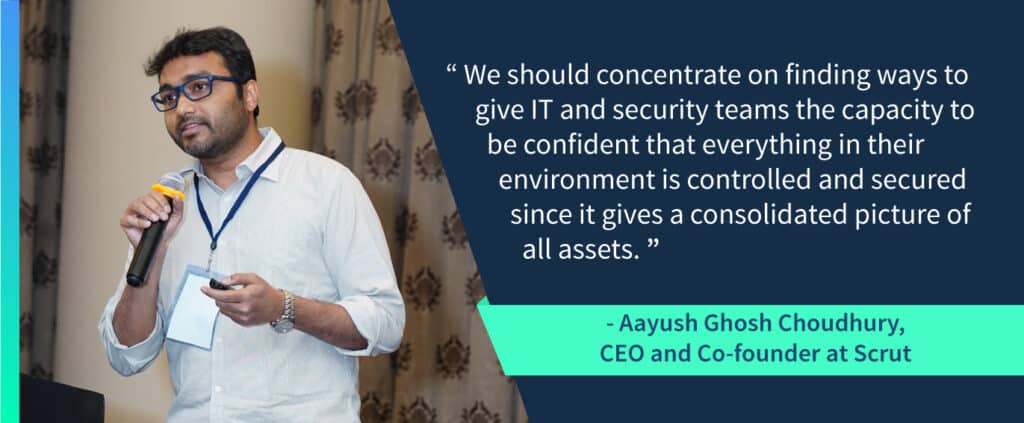 He then implied that new resources get deployed day in and day out, making it extremely difficult for organizations to be aware of their asset surface at a given point in time. Even though every compliance framework and regulation has a requirement for managing assets, most organizations need more confidence to translate it into action points for mapping the asset surface.
Adopting the DevOps approach
In his speech on "Understanding the Importance of CAASM," Arumugam Palani, Principal, Boston Consulting Group (BCG), highlighted the role of the pandemic in driving and accelerating digital transformation throughout traditional and non-traditional organizations.
He also rightfully mentioned that success is all about adopting a DevOps mindset that focuses on how things can function along with solving potential obstacles.
He emphasized that from the perspective of cybersecurity, a fundamental and cross-cutting horizontal pipe that guarantees every asset, and code, as well as inbound and outbound communication passes through numerous systems and equations is necessary.

After all, Implementing security most seamlessly is vital to building a secure organization. Not just CISOs, but every organization member should study the blueprint clearly, adopting a key position in identifying focus areas.
Before asset management comes asset visibility
The discussion further shifted from the DevOps approach to tackling real-time problems. Satish Kumar Dwibhashi, one of the panel members at the conference, mentioned that the tech world, as we know it, is evolving super fast, which significantly impacted how organizations manage their assets.
One of the major challenges organizations faces while safeguarding their assets is that of the unknown, which can only be rectified by identifying all assets.


When there are numerous complex clouds, finding the assets gets more challenging., As quoted by Satish, 'Even large enterprises struggle with understanding their assets.' But it is important to remember that security starts with assets, and this is where CAASM comes in. Identifying assets will directly help organizations identify their primary risks.


Asset classification is a second problem. You first identify your assets and then go into threats and vulnerabilities to understand how they can be exploited.
Businesses will continue to experience new attacks, says Satish. Consider your blind spots, he added, since at the time of an attack, keeping an eye on security dashboards and consoles becomes challenging. There should be absolute visibility because a quick response is essential.
Understanding the cruciality of CAASM
Jason Joseph, CISO at Signdesk, followed Satish's statement by saying that asset management is essential in the given security scenario. The complexity of each block brought on by shifting data governance and geographic concerns is forcing CISOs to step back and take a fresh look at asset management.
He was also seen advising people in the room, saying, "Set up a perimeter, then defend it. Asset management is known as both traditional and non-traditional."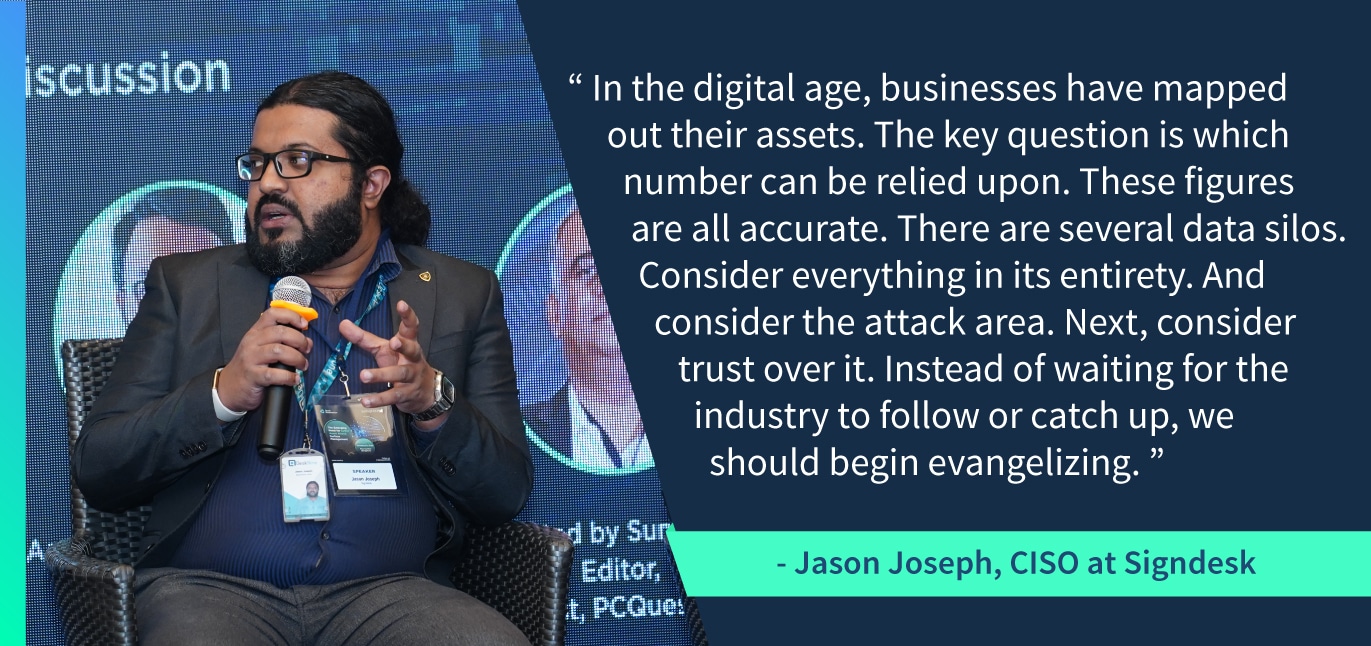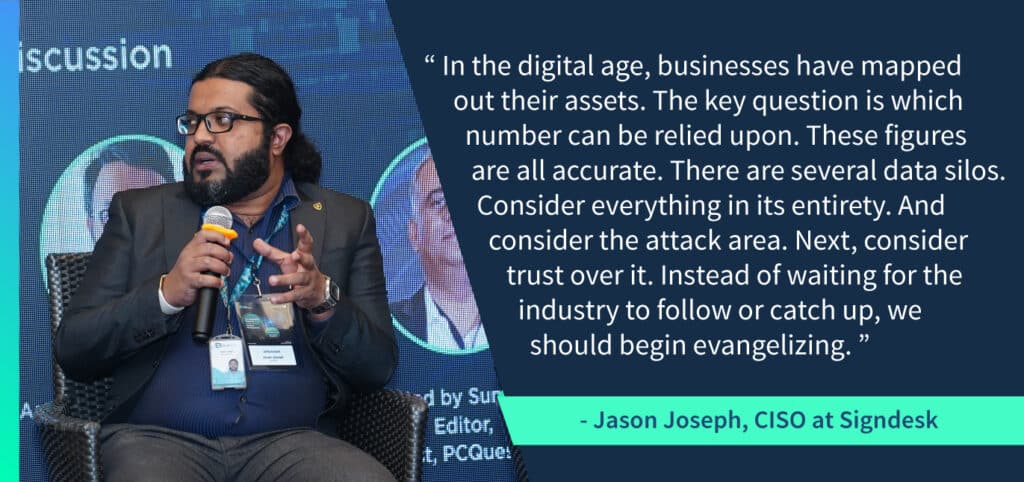 Aayush also commented on the ongoing discussion saying, "I can attest to the difficulties of the CISO position in terms of asset upkeep and asset counting after witnessing various firms. We think that real-time visibility is a useful tool for mid-market businesses, especially since Assets are tangible objects that are fluid to the touch."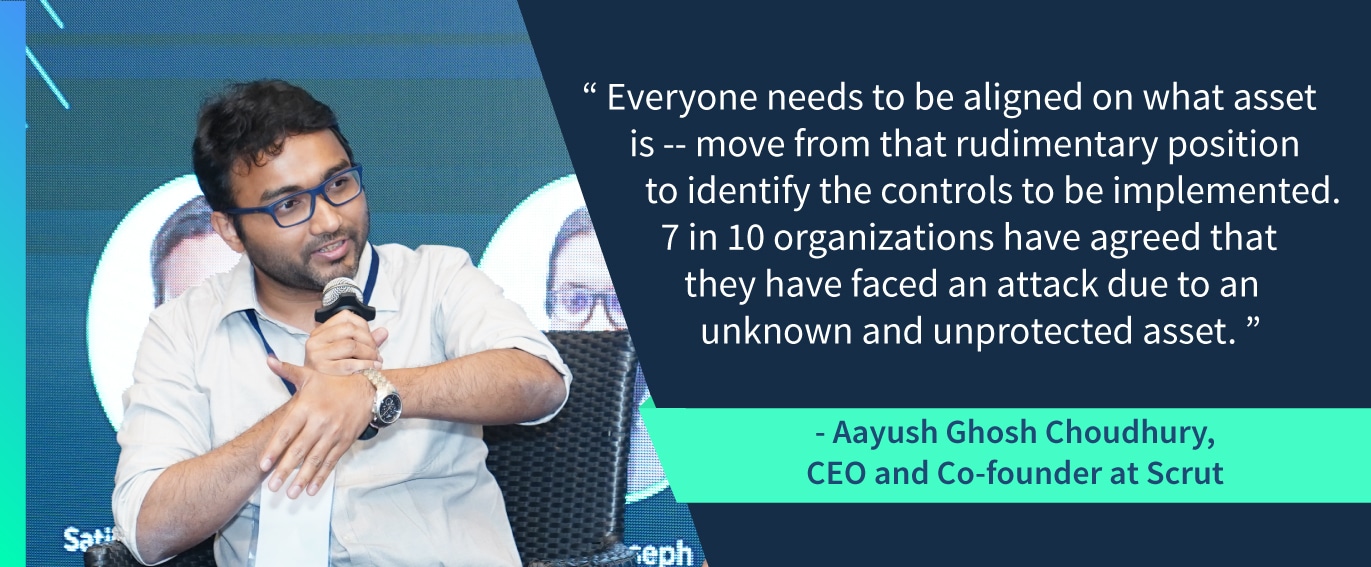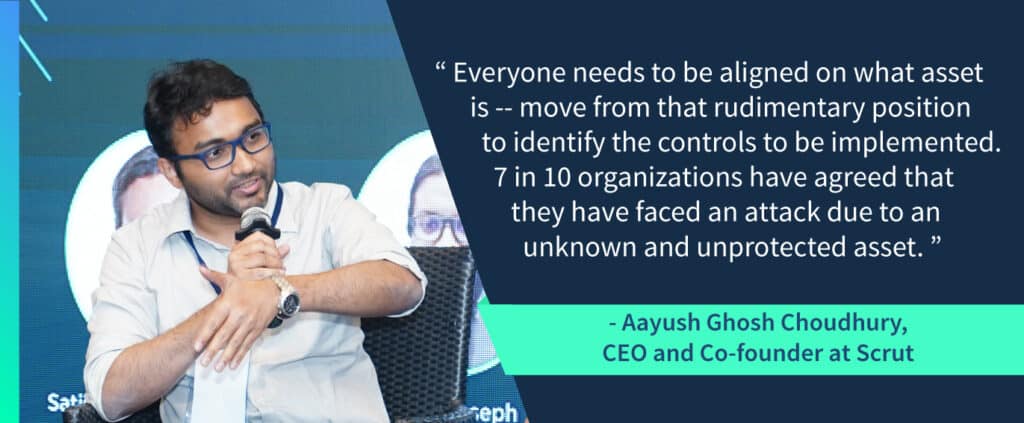 Importance of mapping and CAASM as a tool
When asked about the importance of asset mapping, Jason Joseph commented saying, "we are no longer within our boundaries. There is a hybrid, and the attack surface is multiplying. When an endpoint is inadequately mapped, small and medium-sized networks cannot address it. CISOs concerned with security will be aware of the assets and alarms but may not know what to do. The future of CAASM lies in prioritizing the asset and mitigating vulnerability."
This statement was further supported by Nitin Kotwal, Head of Security, MoEngage, and Pratyush Kukreja, Business Head—APAC, Scrut Automation, titled: Simplifying your Compliance Journey with CAASM during their fireside chat. Nitin pointed out that the first step towards mapping is to analyze the method or tool you use for it.
Organizations must question how viability is incorporated. How well can it combine IT and cloud solutions to collect all the assets and always verify them? Does it offer customization? Before selecting an asset management tool.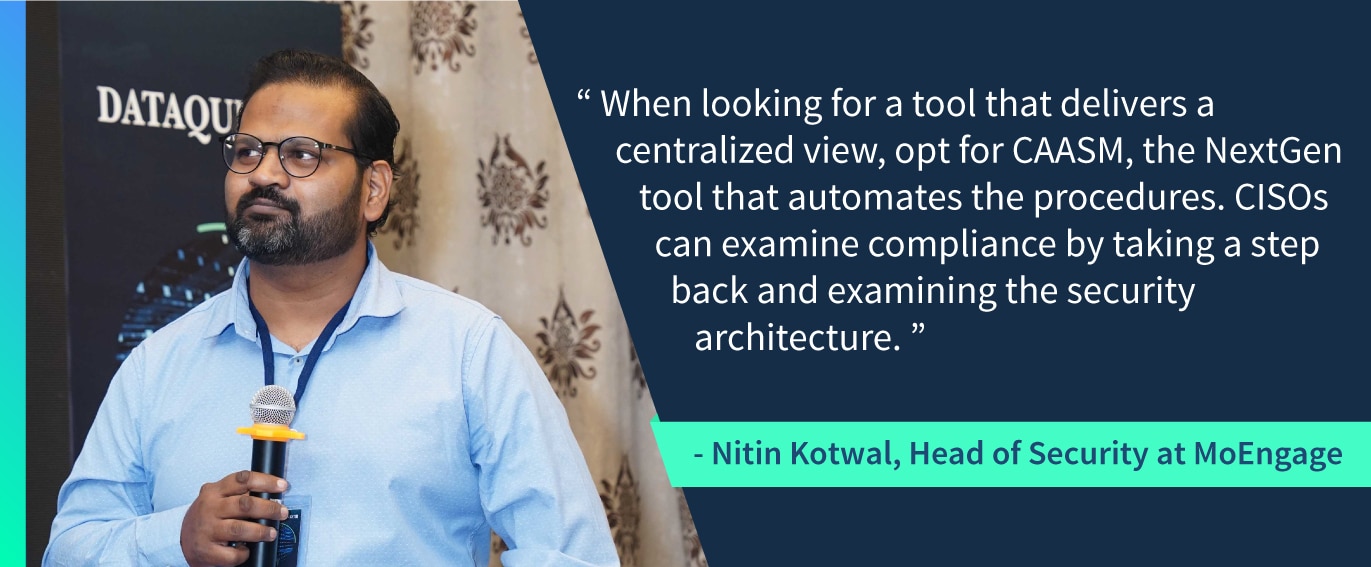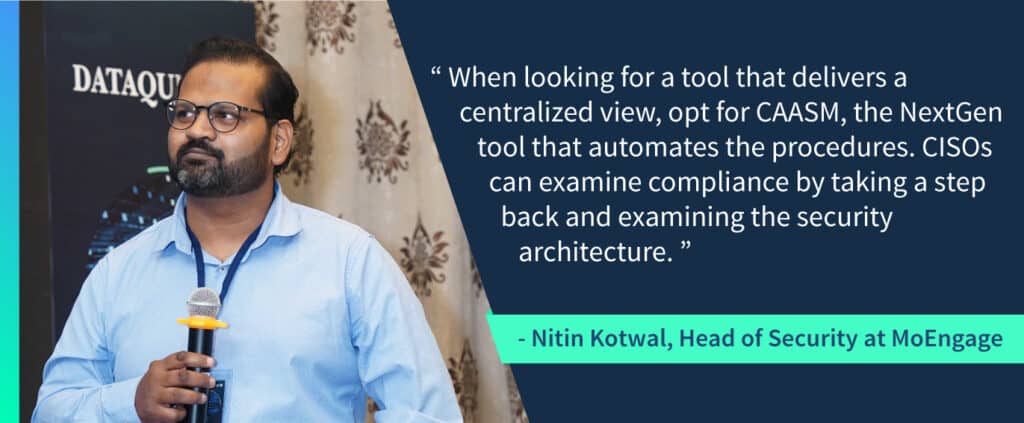 Concluding the conference with a resourceful solution
As we neared the end of the conference, it became clear that the end state is to proactively employ CAASM to contain the risk and be continuously compliant. All attending cybersecurity experts were in unanimous agreement that CAASM is not only the best solution but a necessary tool for organizations in the evolving digital landscape.
One such tool is Scrut's CAASM which enables you to obtain visibility into all of your cyber assets, helping IT and security teams to tackle cyber asset vulnerability concerns and create a solid platform for all security efforts.
You can use Scrut CAASM to streamline your distributed cloud environment assets and identify potential risks, therein reducing your attack surface.