Are you a cybersecurity expert? No! Compliance must be a task for you. So, what should you do? Try using the SOC 2 compliance software. It will guide you through each step of the SOC 2 process and will answer all your questions.
You might wonder, is there a designated software for all business needs? No, that's not the case. Depending on the specific business needs, you can evaluate the features of different software solutions, and find the best fit for your organization. This article provides a detailed guide on how to choose the most suitable SOC 2 compliance software for your business.
Systems and Organization Controls 2 is an audit process that assesses your company's ability to securely manage the data it collects and uses in its daily business operations. The American Institute of CPAs (AICPA) developed SOC 2 as a voluntary compliance standard for service organizations that specifies how organizations should manage customer data. It is a framework created to assist businesses in demonstrating the security controls they use to protect user data in the cloud. Completing a SOC 2 audit indicates that customers can trust your company with their data. While SOC 2 standards are not mandated by law or regulation, they are equally important to your company if you handle customer data.
SOC 2 audits are classified into Type 1 and Type 2.
Type 1 audit examines the design of a specific security process or procedure at a single point in time. SOC 2 Type 1 reports on data security and privacy controls in place during your audit. It takes approximately 3-4 months to complete, including preparation.
Type 2 audit evaluates the success of that security process over time. SOC 2 Type 2 examines the same set of controls as Type 1 but reports on how well you maintain them over a 6- to 12-month period using your processes, policies, and technologies.
SOC 2 compliance demonstrates that you are a trustworthy company. If you're SOC 2 compliant, you'll be less likely to experience a data breach and the associated costs.
SOC 2 compliance software assists in being SOC 2 compliant by monitoring security controls. An efficient tool should give you control over your security program and immediate visibility into your security and compliance. The software assists in understanding what steps you must take to become compliant. It automates the monitoring and collection of evidence for that compliance posture over time. Furthermore, the software assists in determining the specific policies and controls required to pass your SOC 2 audit.
Key Factors when choosing SOC 2 Compliance Software
The first step in choosing the SOC 2 software is determining your goals and criteria. When selecting a SOC 2 compliance tool, keep your company's needs in mind, such as budget, company size, deployment complexity, etc.
Here are some key pointers to consider when selecting SOC 2 software:
Is the software useful for other regulatory compliance certifications like HIPAA, PCI, or ISO 27001 besides SOC 2?
What business goals would you fulfill with the SOC 2 tool?
Does the pricing model of the tool meet all of your requirements?
What are the software vendor's reputation and track record?
What kind of training is offered?
Here, we have listed the factors you should consider while selecting SOC 2 compliance software.
Evaluate automation capabilities
When choosing your SOC 2 compliance automation solution, you should evaluate the automation capability.
Scrut is an example of SOC 2 compliance software that provides automated capabilities, such as evidence collection, automatic reminders, misconfigurations detection, automated employee training, task management, and more, making the process more efficient and reducing the risk of human error. Scrut integrations can automate more than 65% of the evidence-gathering process for SOC 2 controls across your application and infrastructure landscape. With integrations, Scrut smartGRC reduces the burden of evidence collection. The platform integrates across application landscapes, such as HRMS, endpoint management, and other tools, to automate the manual evidence collection process. It offers over 70+ integrations. For a complete list of integrations, click here.
Pre-build policy templates customized for your industry
One of the most valuable features of a SOC 2 platform is pre-built templates for policies and procedures. An effective SOC 2 compliance automation software should provide you with auditor-approved security policies that you can use to build your compliance program.
With Scrut, users can customize their policies using the built-in editor and review them with our in-house SOC 2 compliance experts.


Users can set up the SOC 2-compliant InfoSec program in minutes by leveraging 50+ pre-built policies.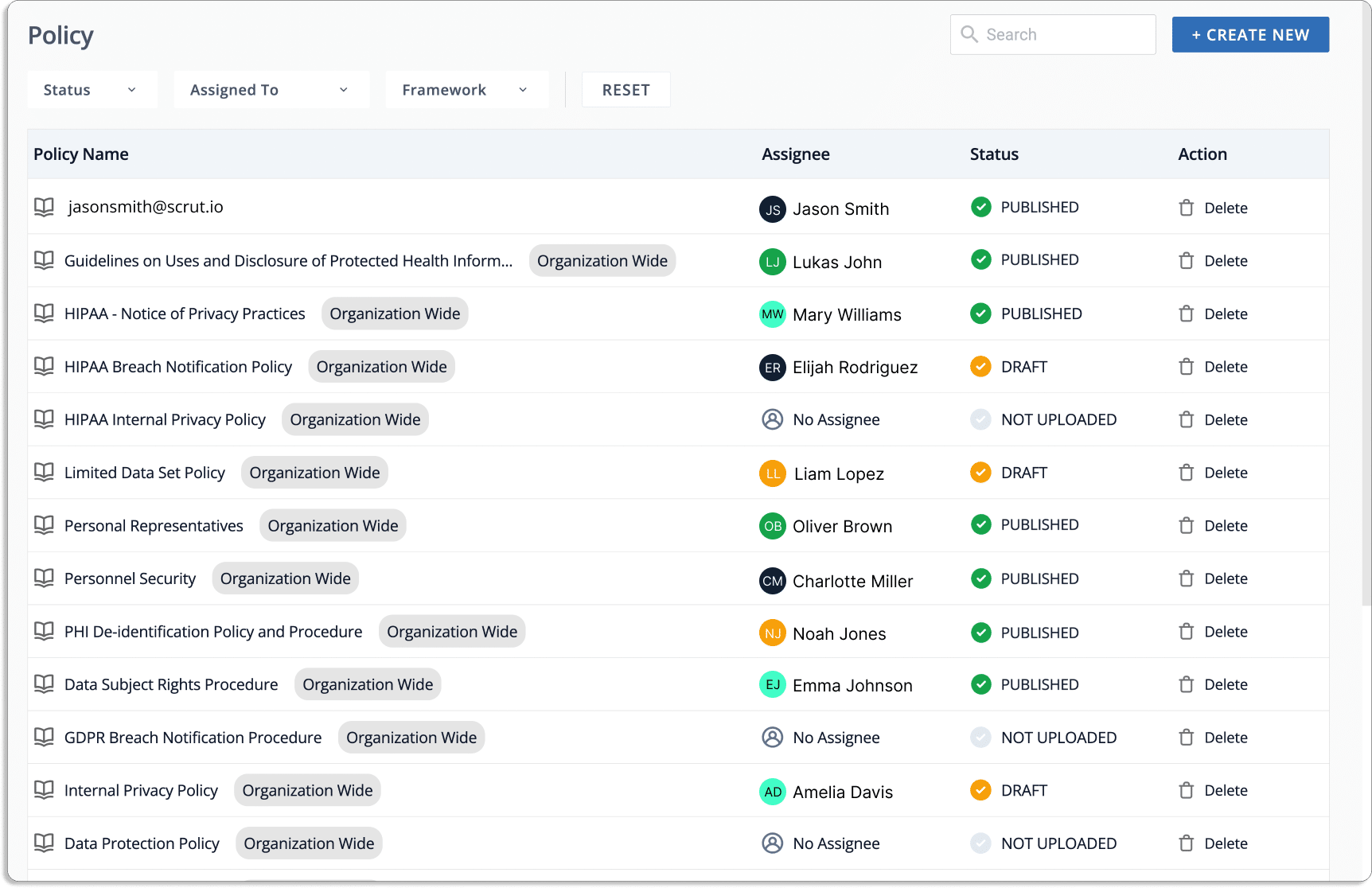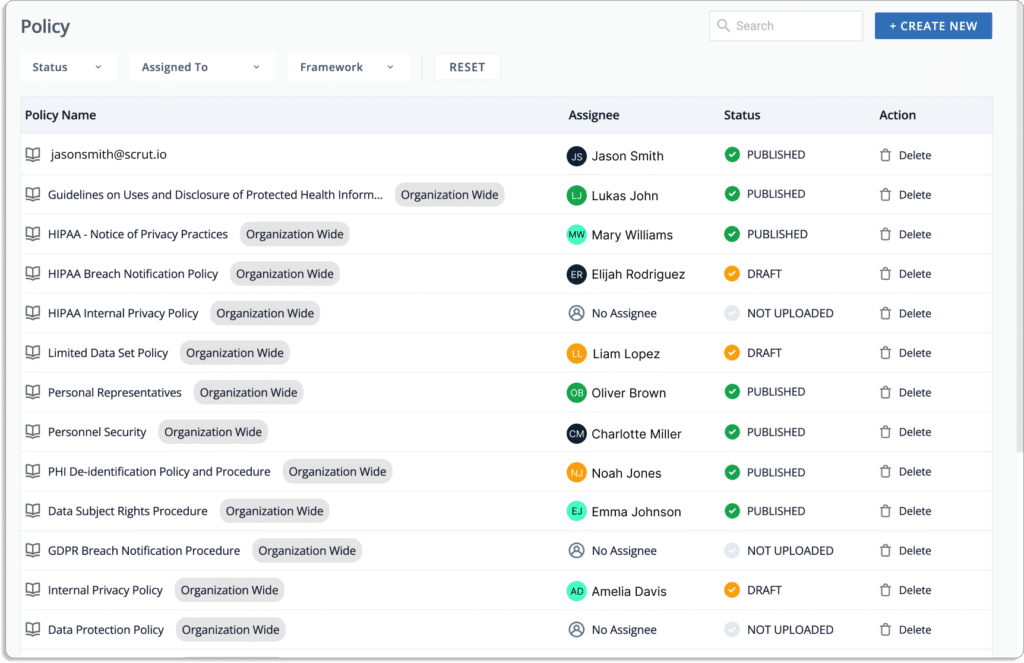 You can also upload your policy by clicking the "create new" button on the top right corner.
Employee security training
Check whether the organization is providing employee security awareness training or if you need to partner with another vendor for training. The awareness training aims to educate users and employees about their role in preventing data breaches.
Scrut enables users to automate employee information security training. The tool provides a prebuilt 30-minute information security course created by industry experts. Your employees can review policies, notifications, and security procedures all in one place. Scrut's dashboard allows users to track training completion status and employee acknowledgment.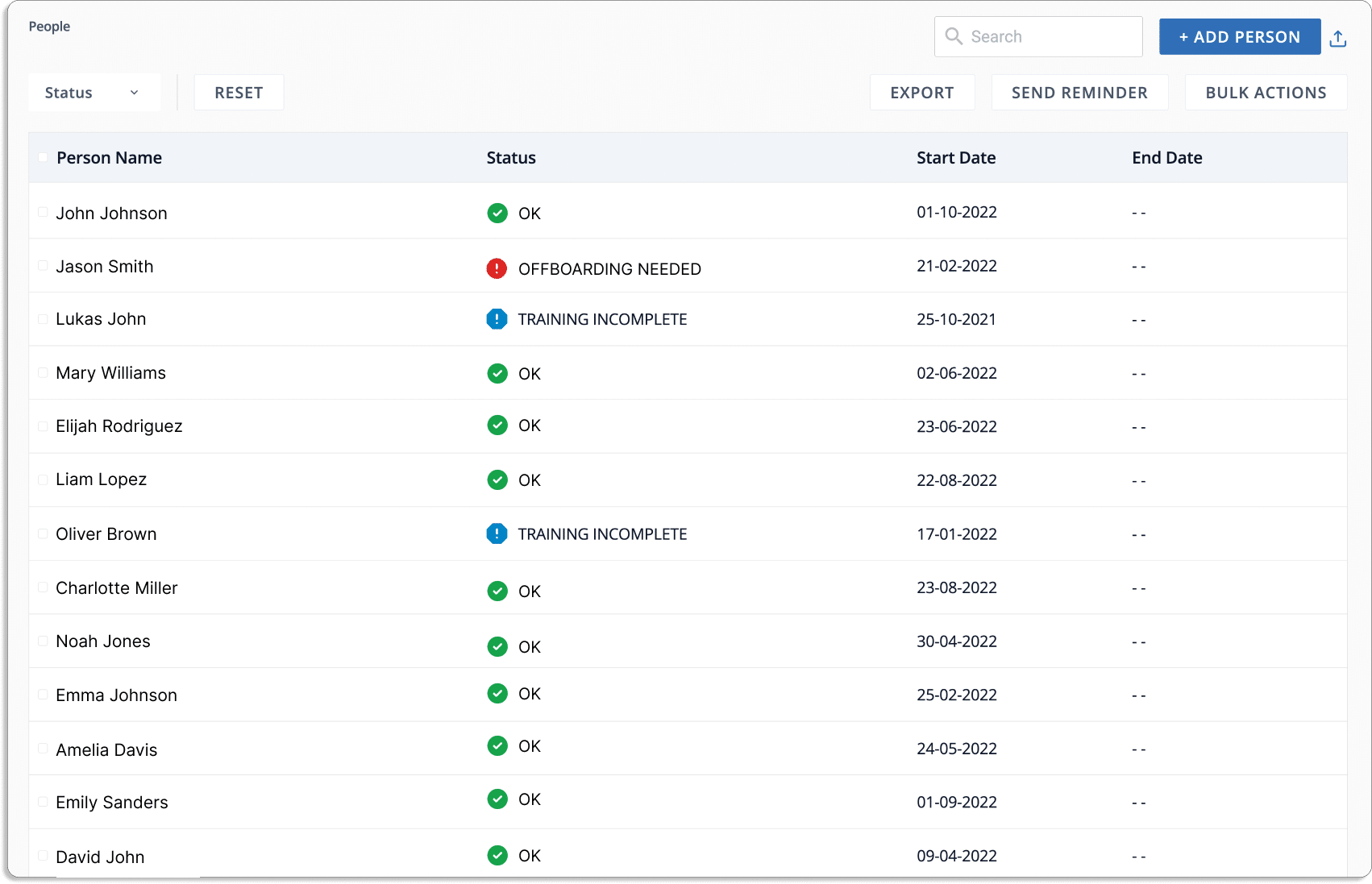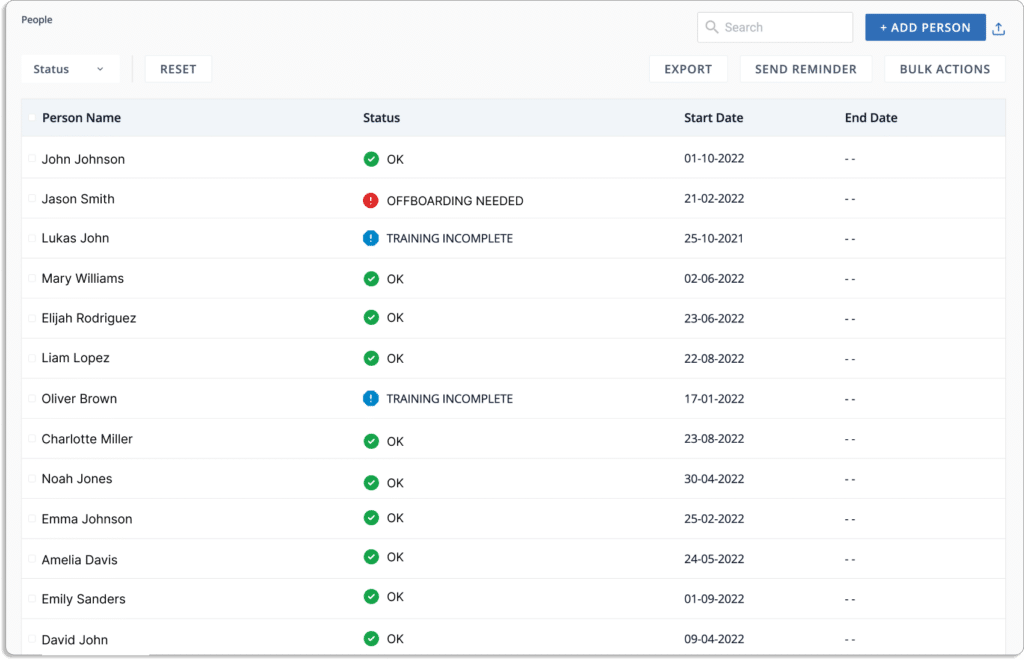 Risk management capabilities
One of the significant use cases of the SOC 2 tool is risk management capability. A SOC 2 audit, as well as many other security frameworks, requires risk management.
Risk management is a system of people, processes, and technology that allows an organization to set goals aligned with its values and risks. Your SOC 2 software should assist in identifying and evaluating potential threats to your business.
Let's understand this with the example of Scrut, our platform. Scrut Risk Management provides a smarter way to assist users in recognizing, evaluating, and mitigating IT and cyber risk.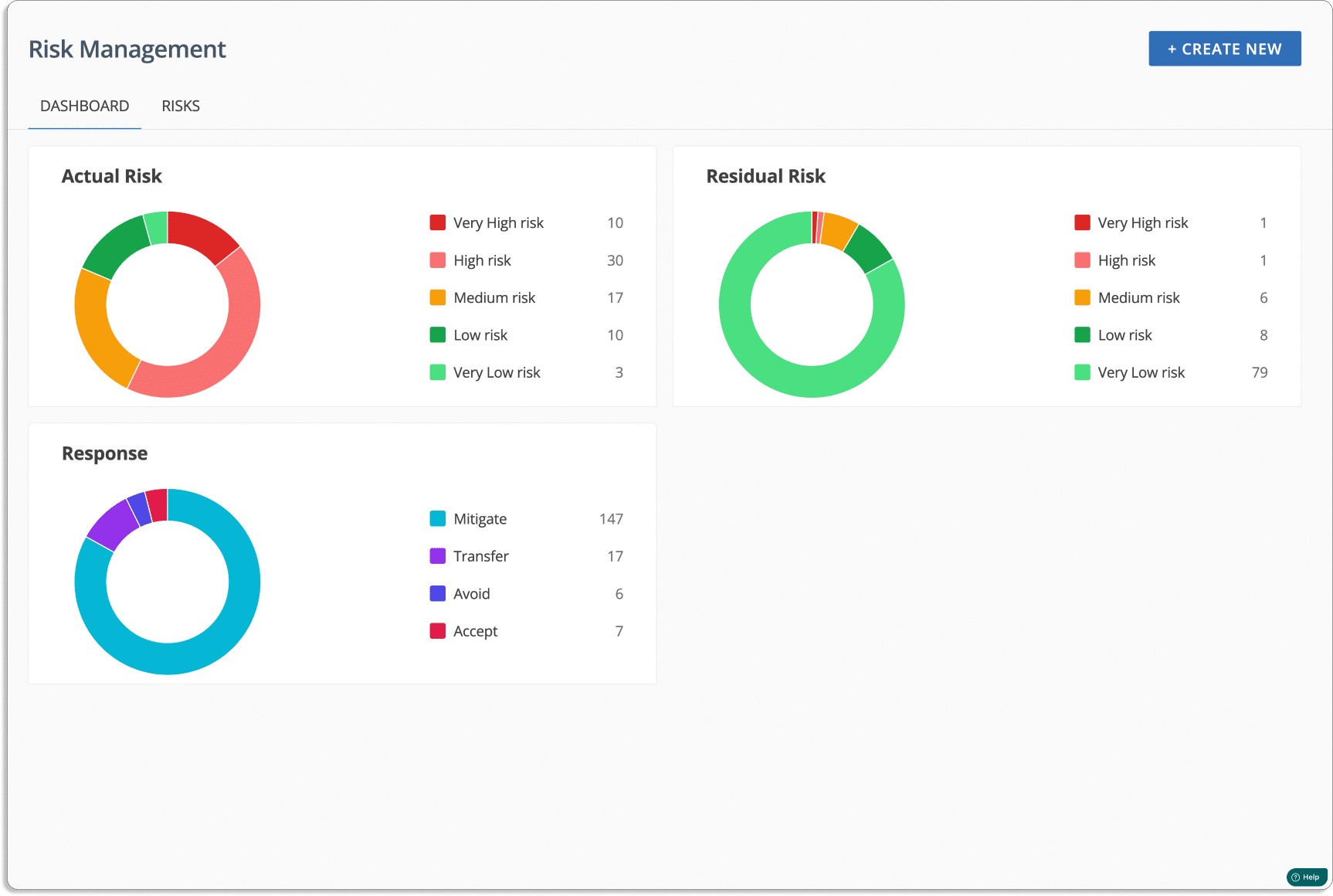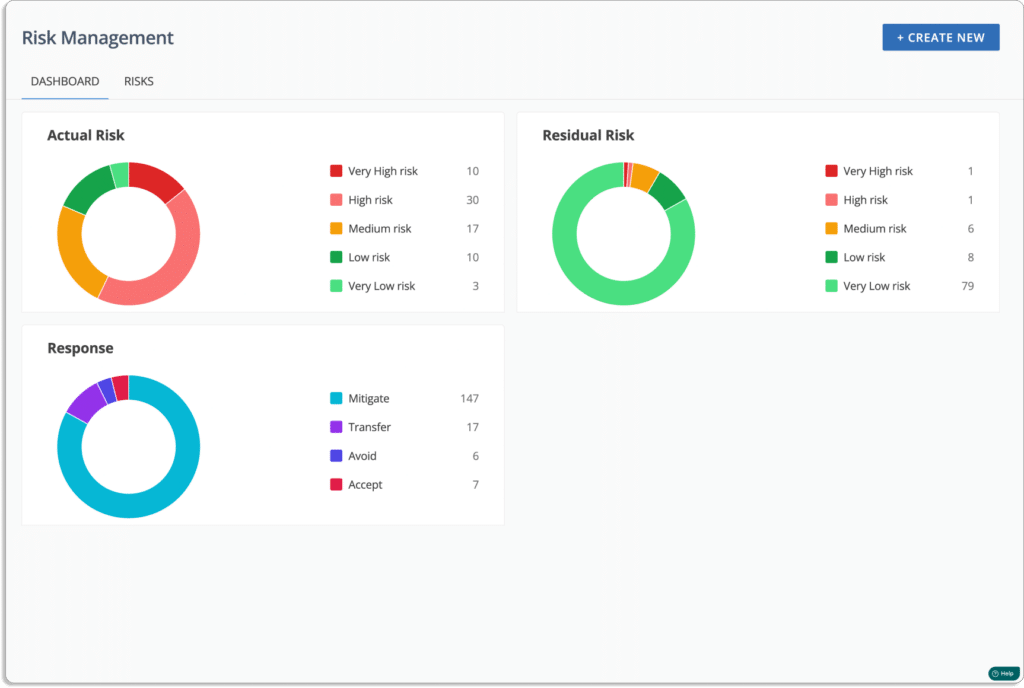 With Scrut, you can gain complete visibility of your risk posture. When it comes to business priorities, you can visualize, quantify, and communicate your risk posture with intuitive and actionable dashboards so that you can understand the risk implications of strategic choices.
Risk identification
To assess risks, you first need to identify risks. Scrut will first identify risks throughout your landscape. To automate risk identification, the platform scans your ecosystem for risks across the code base, infrastructure, applications, access, vendors, and employees.
Scrut allows users to create a risk register in minutes. Below is the screenshot of Scrut's risk register.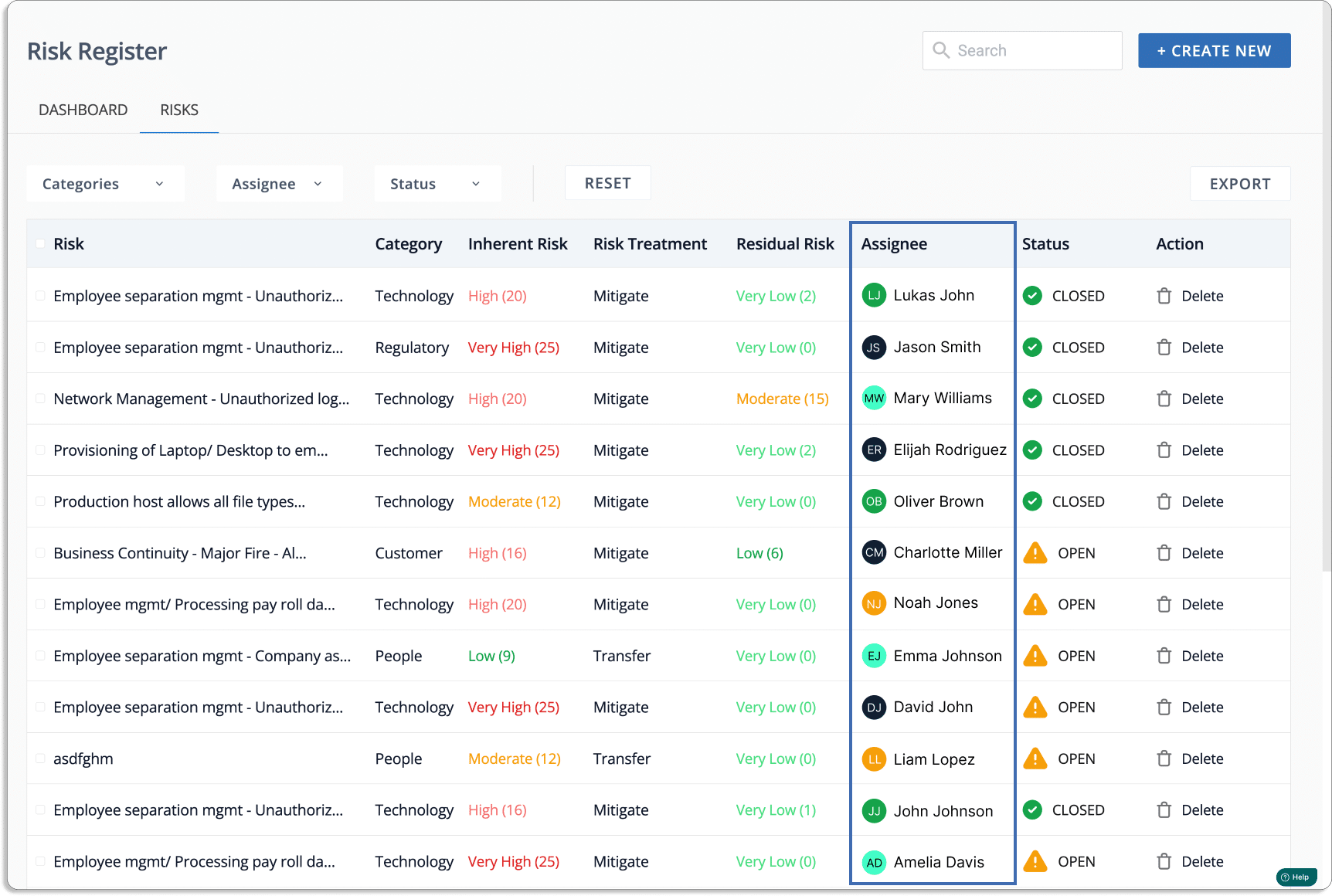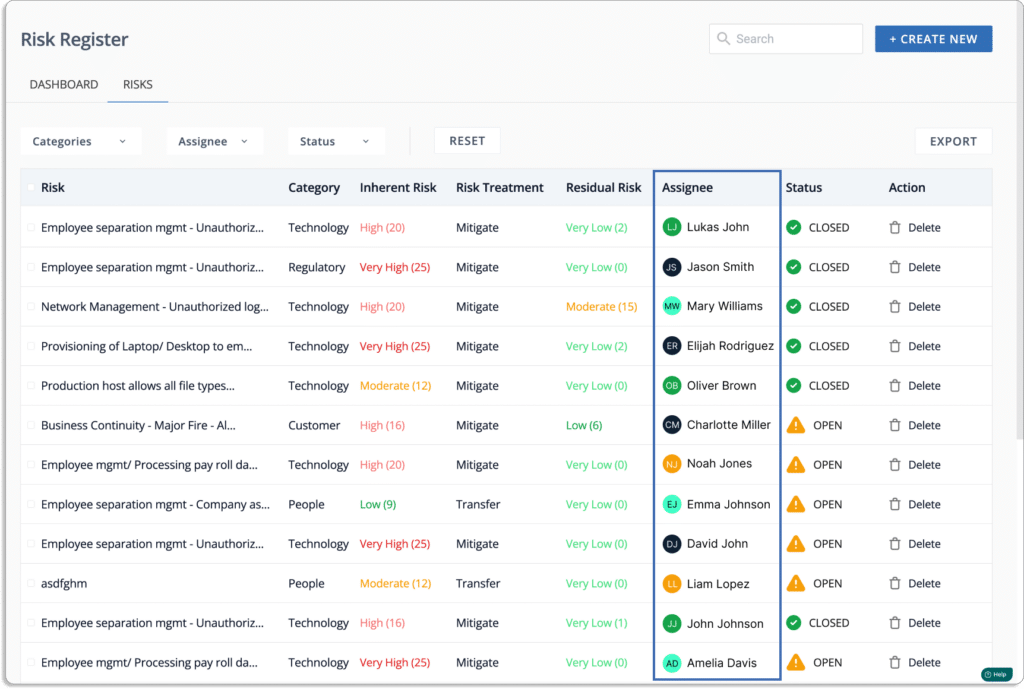 You can also create your custom risk with the Scrut, as shown in the screenshot below.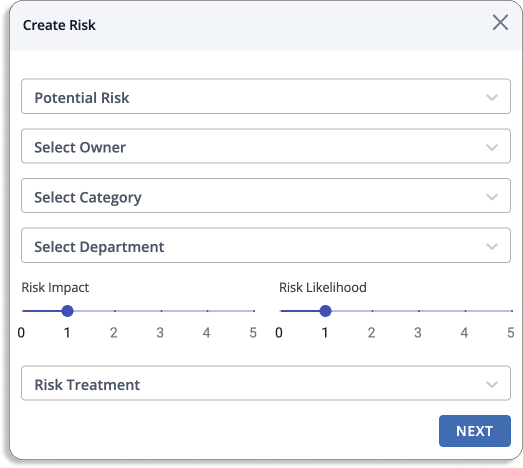 Risk assessment
Once your risk register is built, it's time for risk assessment. Risk assessments are a type of security control that must be implemented as part of SOC 2.
Scrut eliminates the time spent creating and mapping risks and threats, allowing you to begin risk assessments in minutes. With Scrut's continuous risk monitoring, you can stay on top of your risk posture.
Risk = Likelihood * Impact
Scrut risk scoring is based on the likelihood and impact of events, as shown in the screenshot below. The likelihood score ranges from 1-5, with one being very low and five being very high, and the impact score also ranges from 1-5, with one being very low and five being very high. The inherent risk score is then calculated by multiplying the likelihood and impact scores, resulting in a score between 0-25. A higher score indicates a higher level of inherent risk.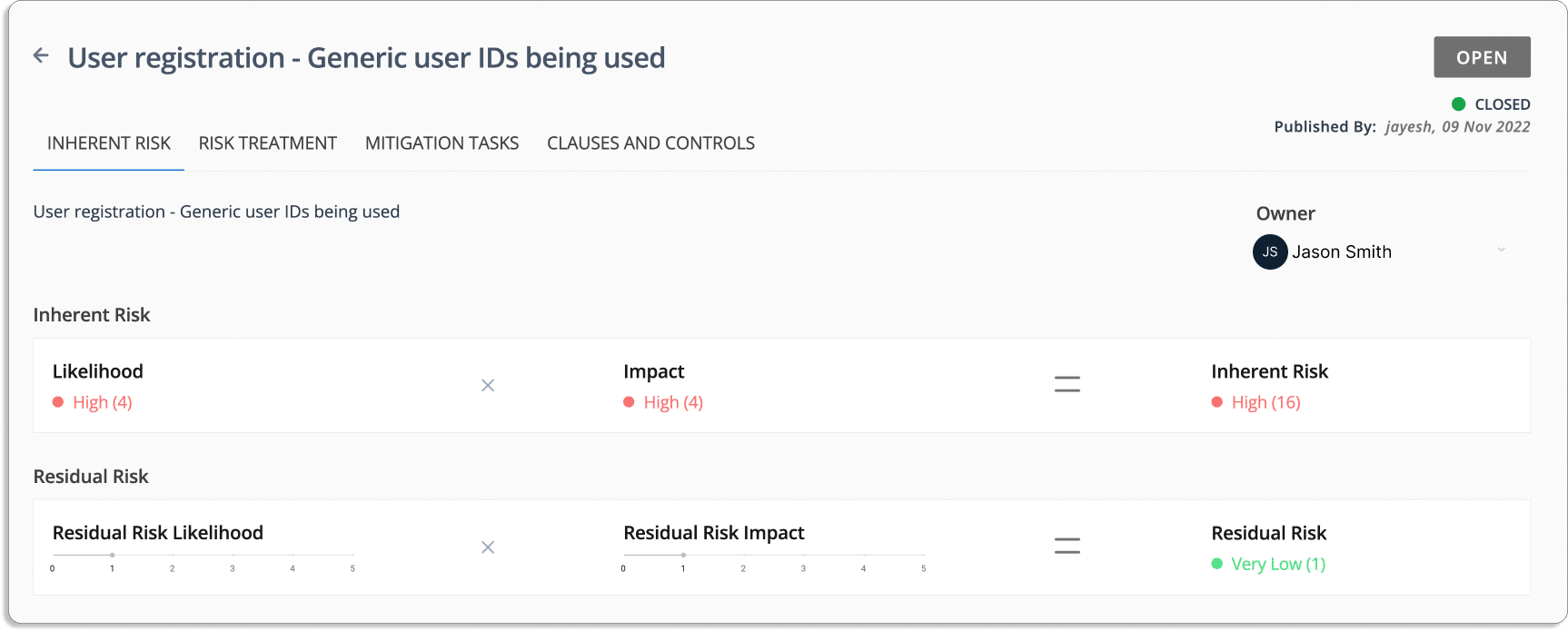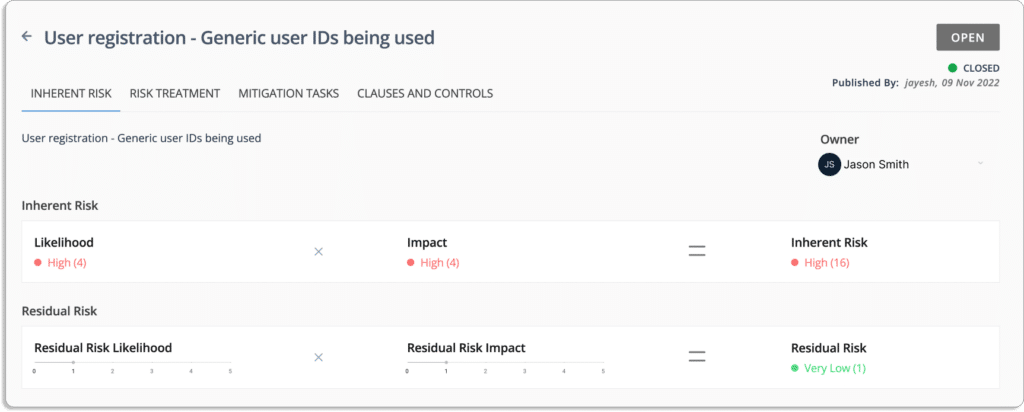 Calculating the inherent risk for the above example:
Likelihood = 5 (very high)
Impact = 4 (high)
Inherent risk = Likelihood (5) * Impact (4) = 20 (high)
The final score lies between 0 – 25.
0 – 5 – Very Low
6 – 10 – Low
11 – 15 – Moderate
16 – 20 – High
21 – 25 – Very High
Users get a visual overview of their risk profile at this step, as shown in the risk heatmap screenshot below.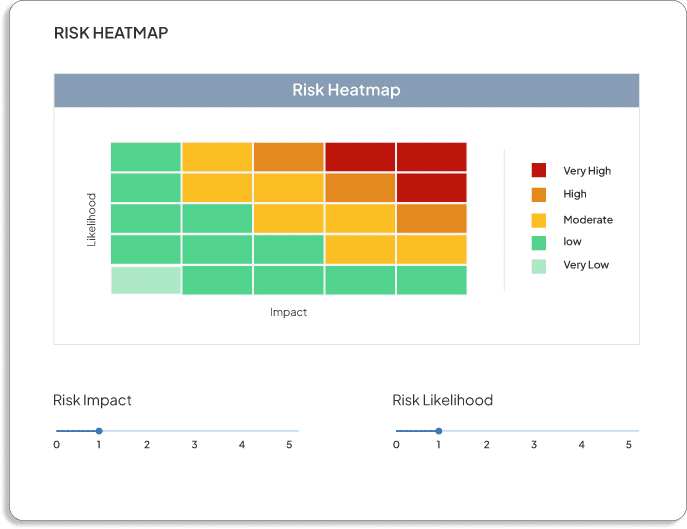 Risk Remediation
An effective SOC 2 software must include risk treatment actions that can be configured with a risk owner, start date, end date, and organizational links.
Scrut provides four ways of treating the risk. You can choose to ignore, accept, transfer, or mitigate each risk.
Risk remediation – eliminate the risk.
Risk mitigation – minimize the impact or likelihood of the risk.
Risk transfer – transfer the risk to another party.
Risk acceptance – accept the risk.
To continue with our example, you can select your risk treatment plan as accept, mitigate, transfer, or avoid, as shown in the screenshot below.

With Scrut, you can assign risks to team members.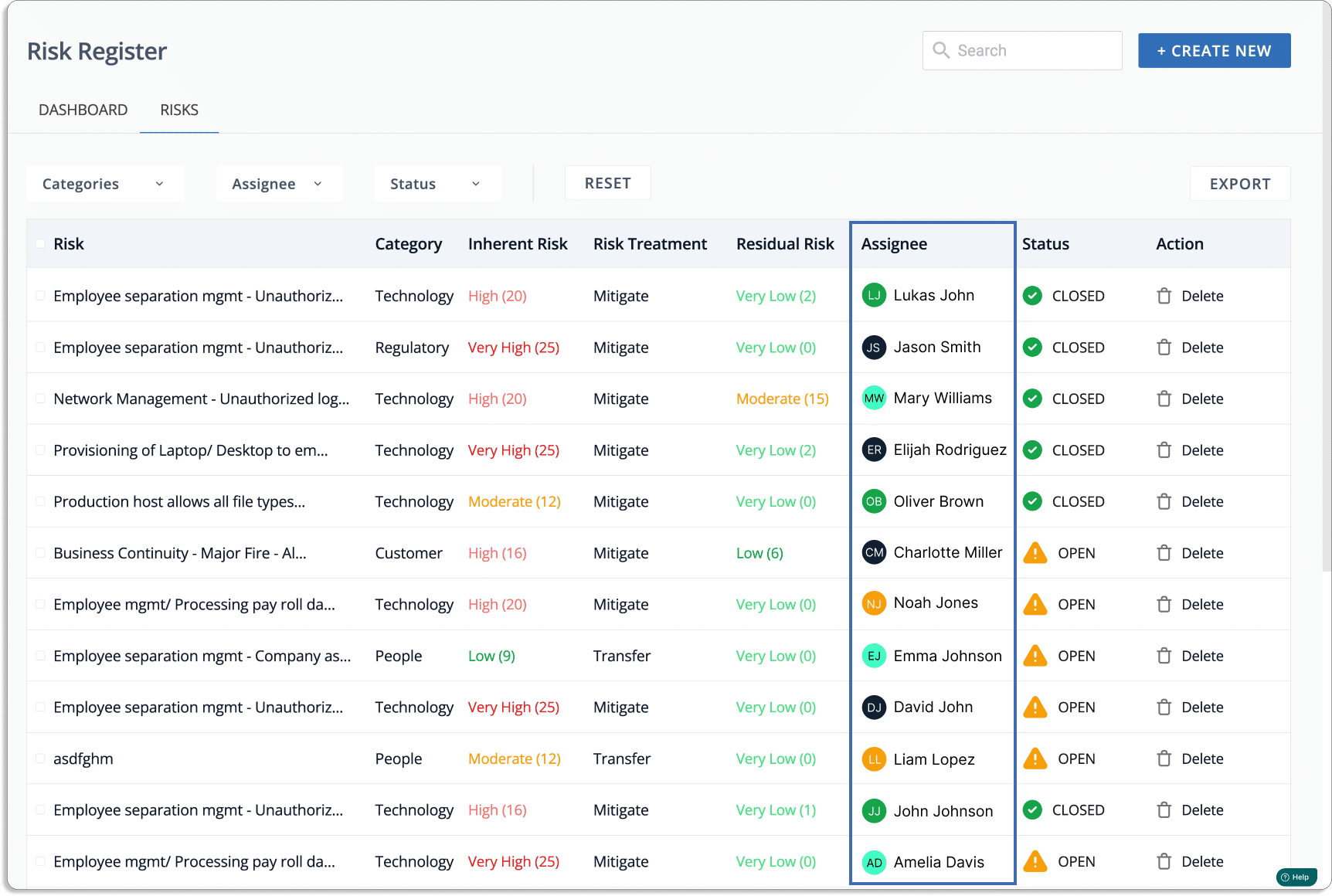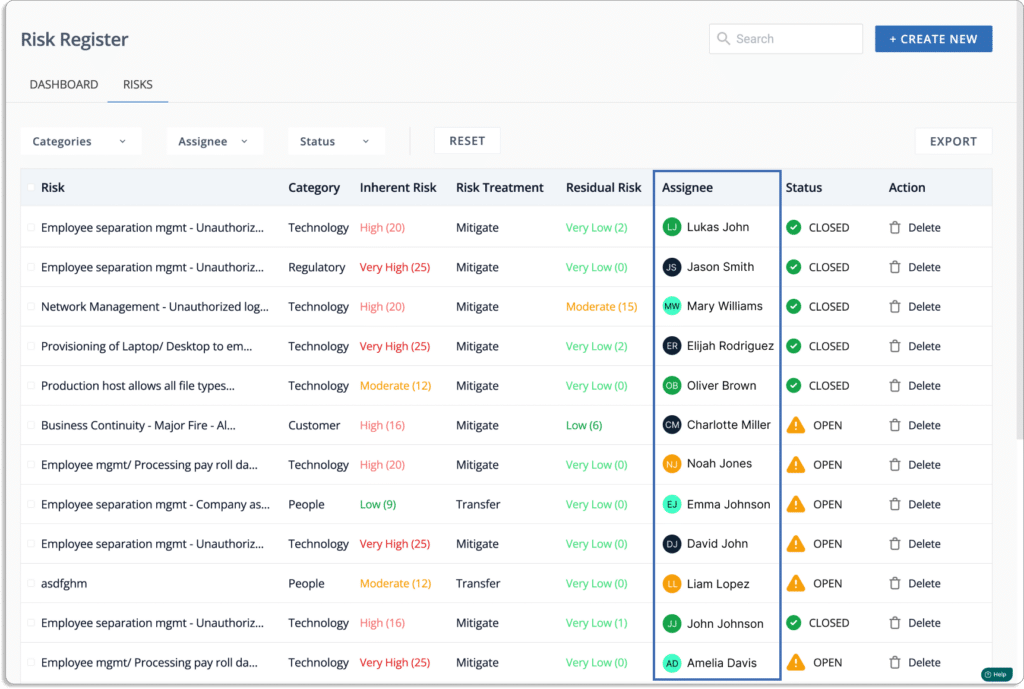 Vendor risk management capabilities
Vendor risk management and evaluation functionality are critical with hundreds of vendors in the organization's ecosystem. Inadequate visibility into all vendors and how they interact with your company can lead to SOC 2 noncompliance.
Scrut streamlines vendor compliance checks by developing quick, effective, and efficient methods for evaluating, monitoring, and managing vendor risk. With Scrut vendor risk management, you can upload your security questionnaire or use our pre-built templates. The platform centralizes all vendor security certifications, software vendor audits, and paperwork and seamlessly shares vendor responses with customers and auditors.


Duplication of effort
Scrut automatically maps artifacts to all the standards you wish to comply with, so there is no need for duplicate effort when going through multiple standards and regulations. This means you only have to do the work once and don't worry about creating and mapping policies for each standard separately.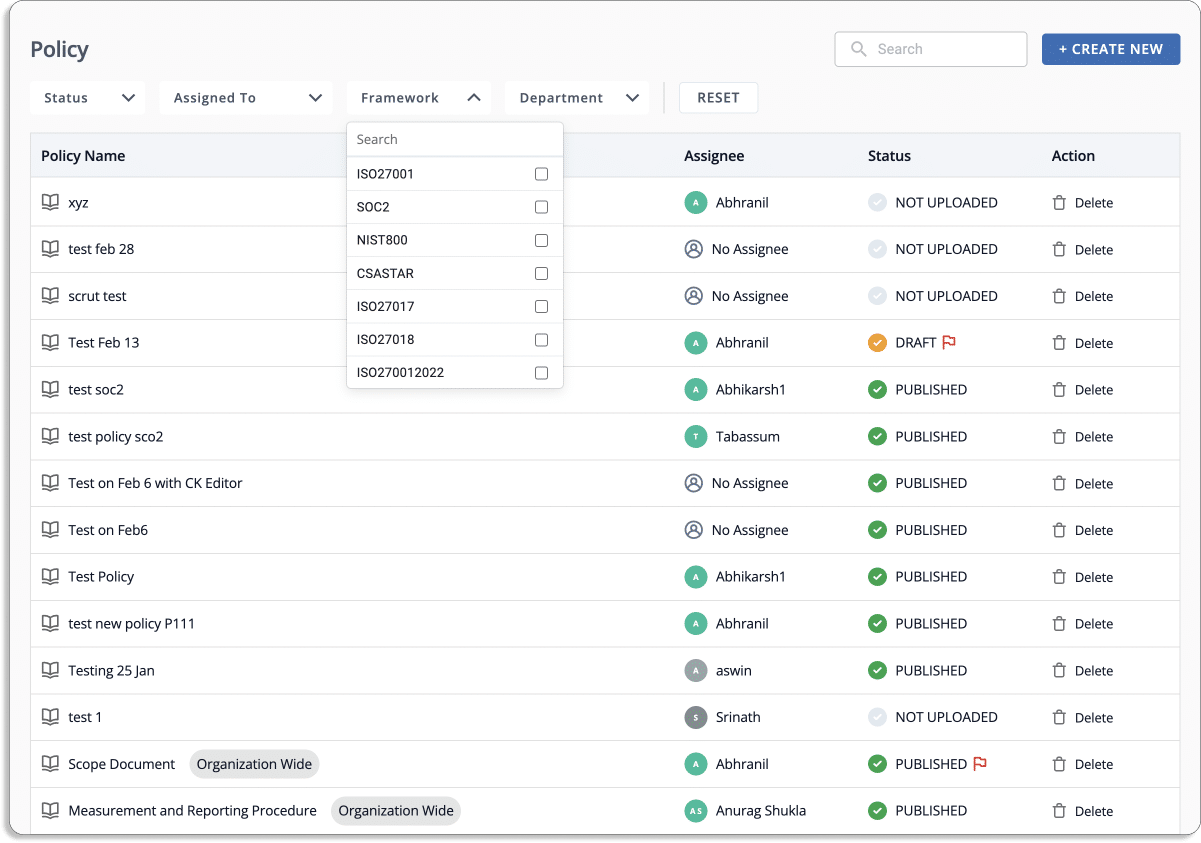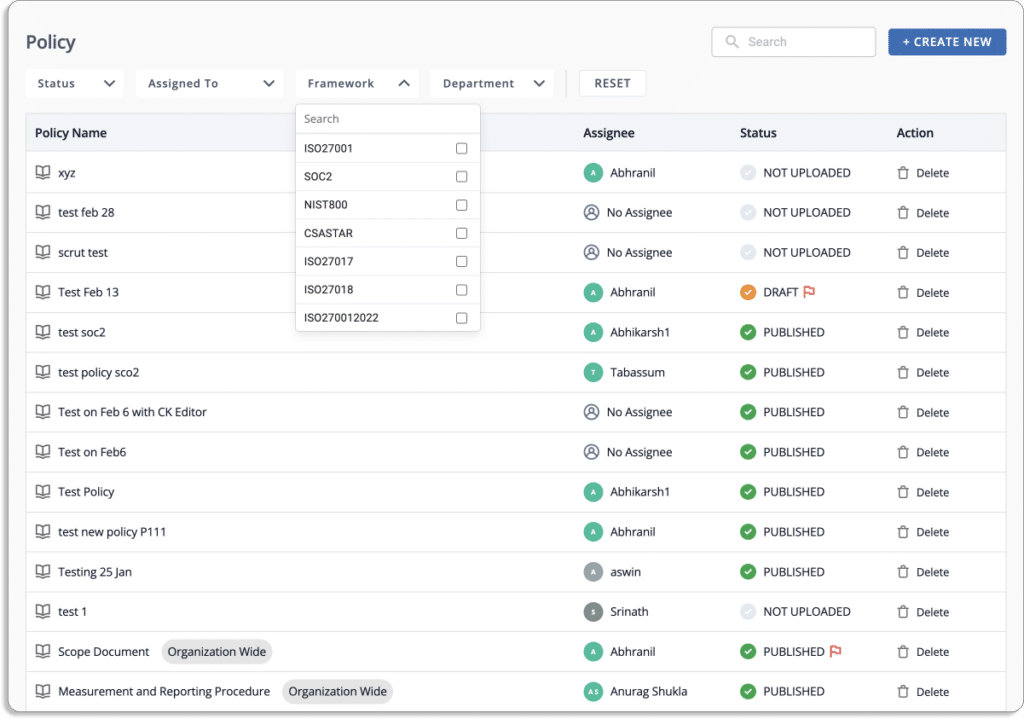 Collaboration with auditor
It is difficult to collaborate with auditors on hundreds of pieces of evidence. Scrut puts you in charge of creating audit projects and managing access with a few clicks. You can invite auditors to the platform and manage multiple complex audits simultaneously to make it more efficient and painless. Users can also assign tasks to team members.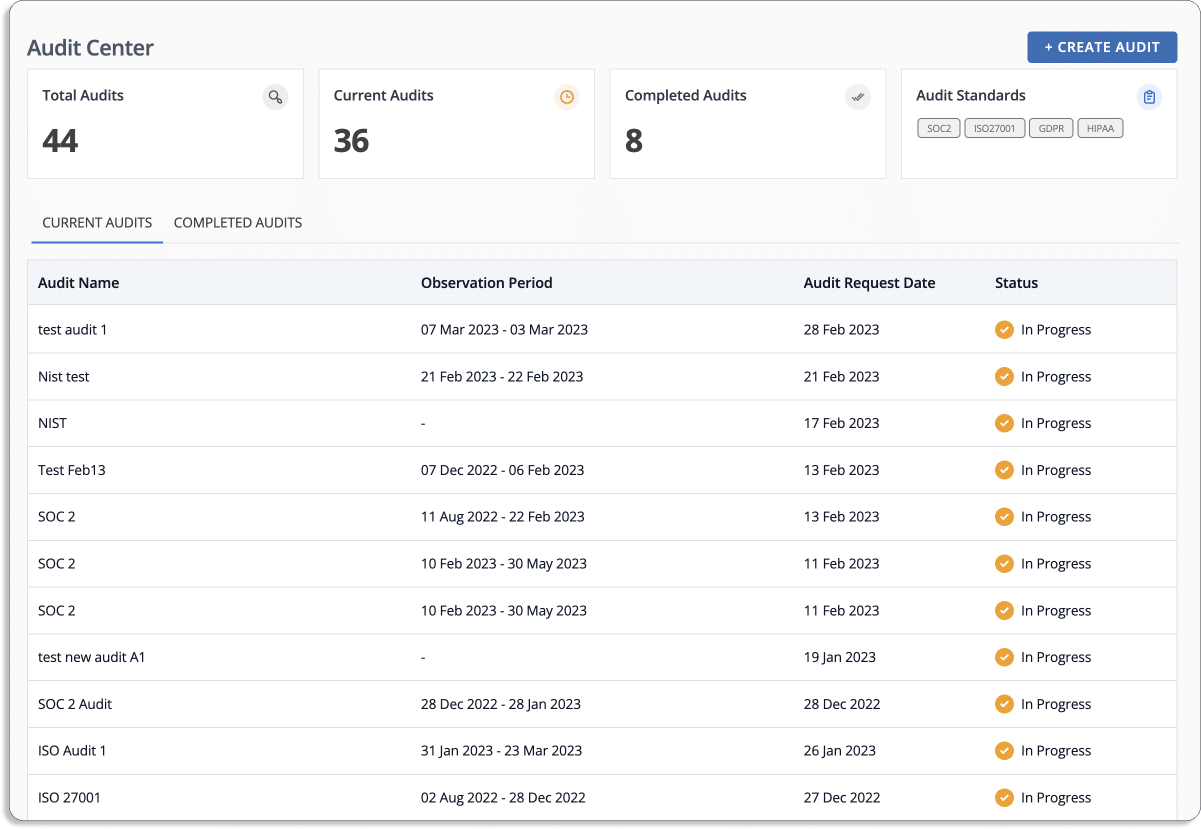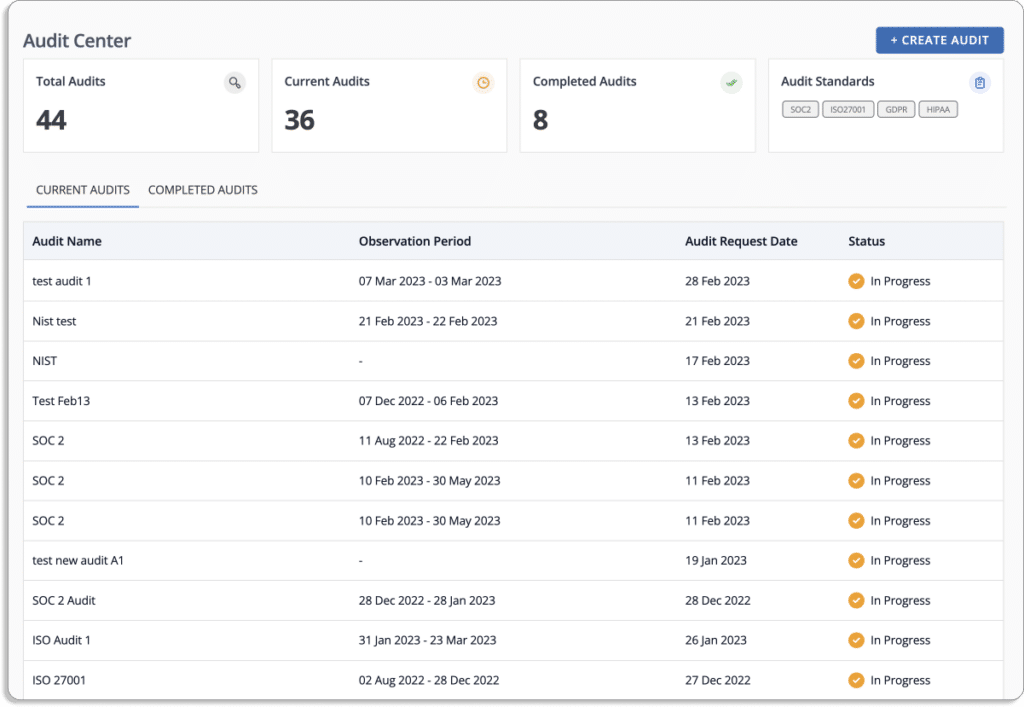 A single-window solution
Check whether the organization is providing the platform or a single window solution. Scrut smartGRC provides a true single-window experience for ensuring compliance with multiple information security frameworks. You can map your custom controls to pre-built ones mapped to globally recognized frameworks. SOC 2, SOC 3, ISO 27001, ISO 27701, ISO 27017, ISO 27018, ISO 22301, ISO 20000-1, GDPR, HIPAA, FedRamp, CMMC, CCPA, and PCI DSS are among the frameworks supported by the platform.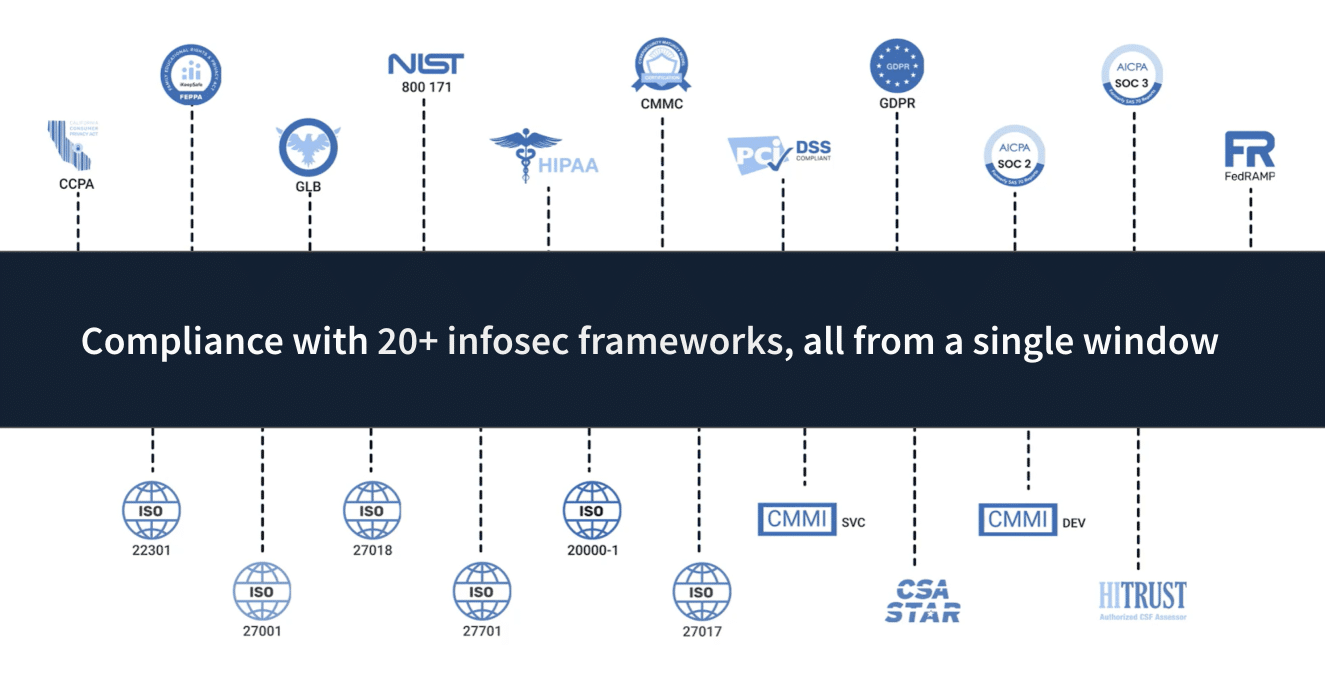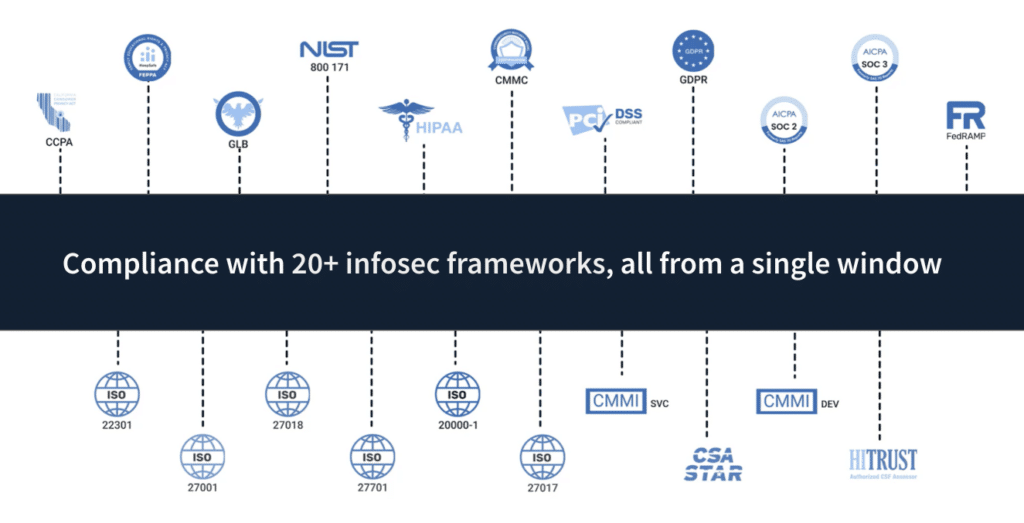 We have also established a network of pre-screened auditors and VAPT consultants who will be available to you as needed to streamline the audit procedure and assist you at every stage of your compliance journey, as shown in the screenshot below.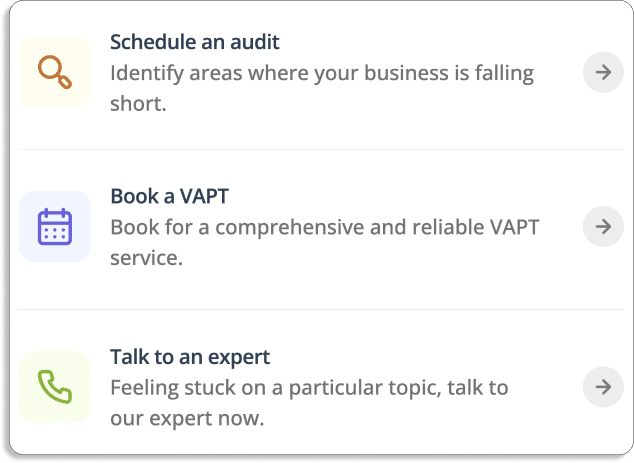 Scrut's partner network auditors are familiar with the platform. This simplifies the audit process and reduces the audit time from one week to a few hours.
Trust Vault to accelerate the sales process
An effective SOC 2 compliance software must include Trust Vault to accelerate the sales process. Scrut Trust Vault allows you to build trust with customers, partners, investors, and others.


The platform speeds up your sales by removing the manual effort and time required to share various InfoSec documents during the sales process. It eliminates the time-consuming process of handling manual requests for security questions, reports, and certificates. The tool gives users real-time and transparent visibility into their security and compliance posture.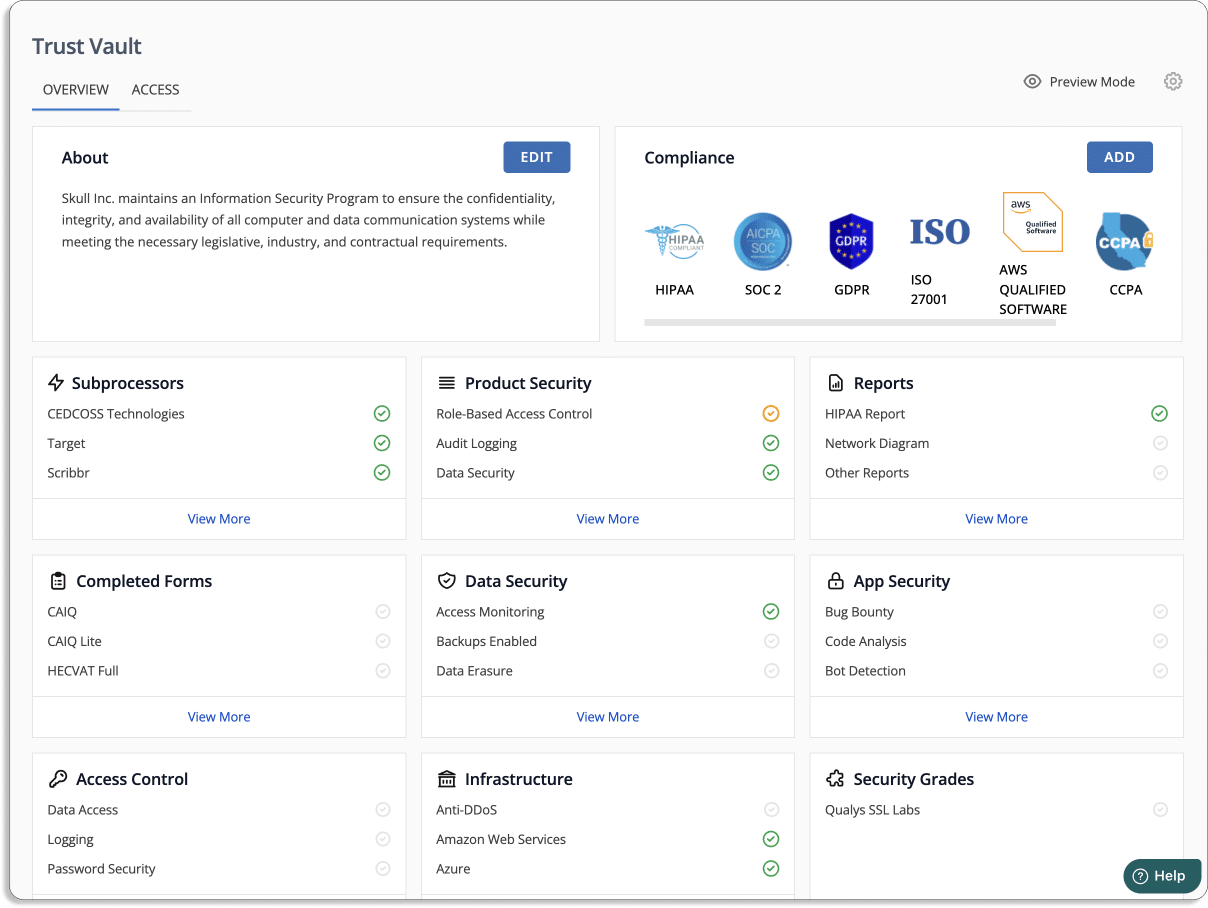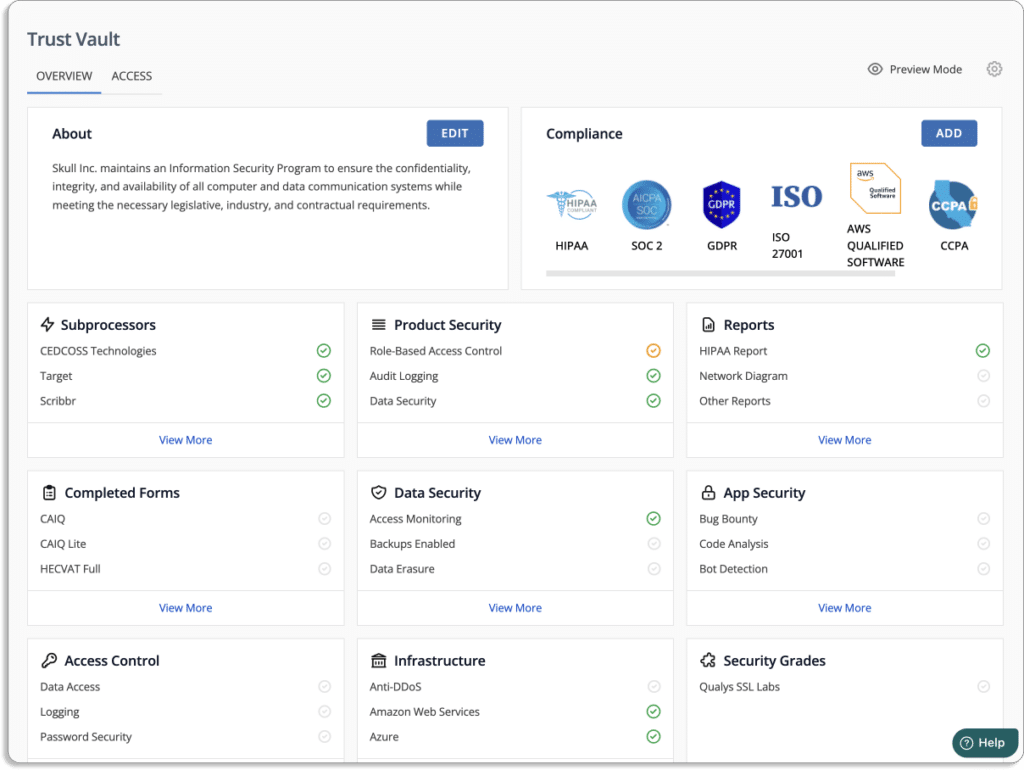 Furthermore, it increases enterprise sales by displaying your compliance certifications, attestations, and reports in one location.
The screenshot below shows that the Scrut product security dashboard provides real-time security insights.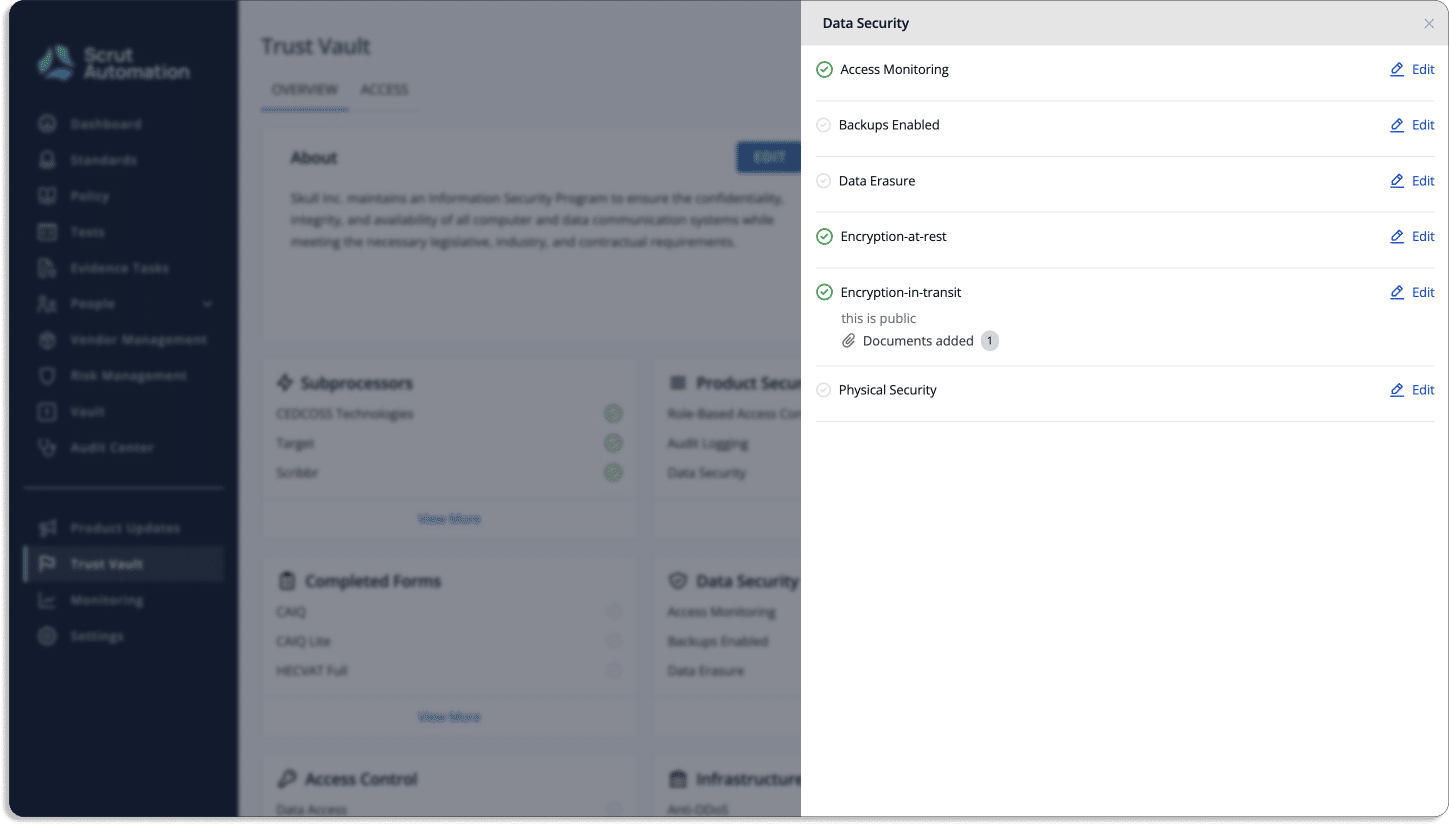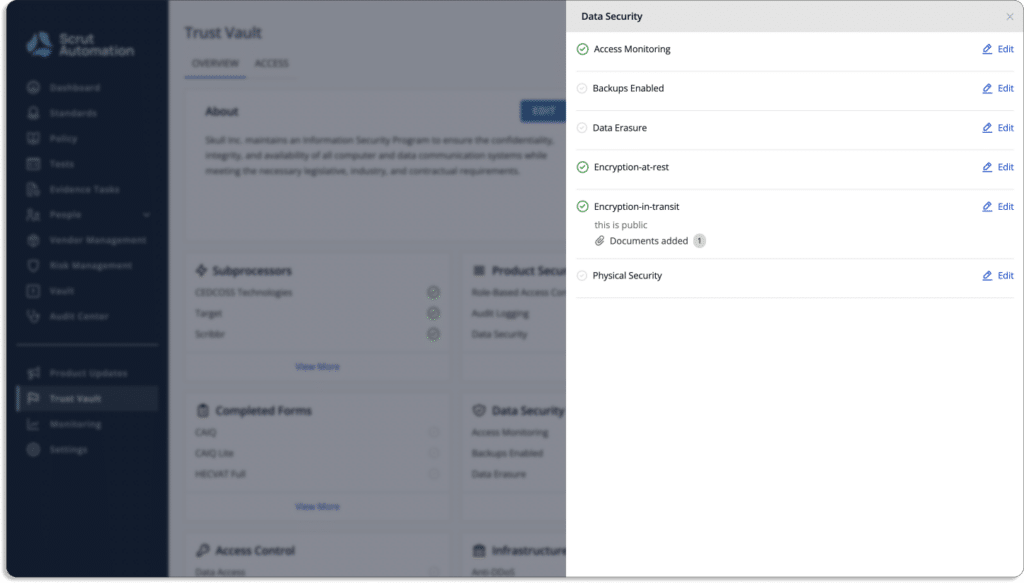 Check a few of our customer reviews below: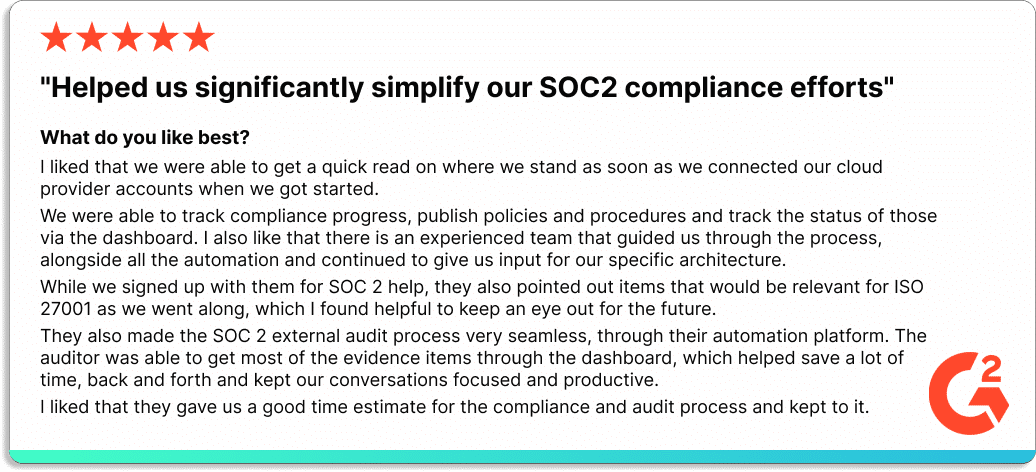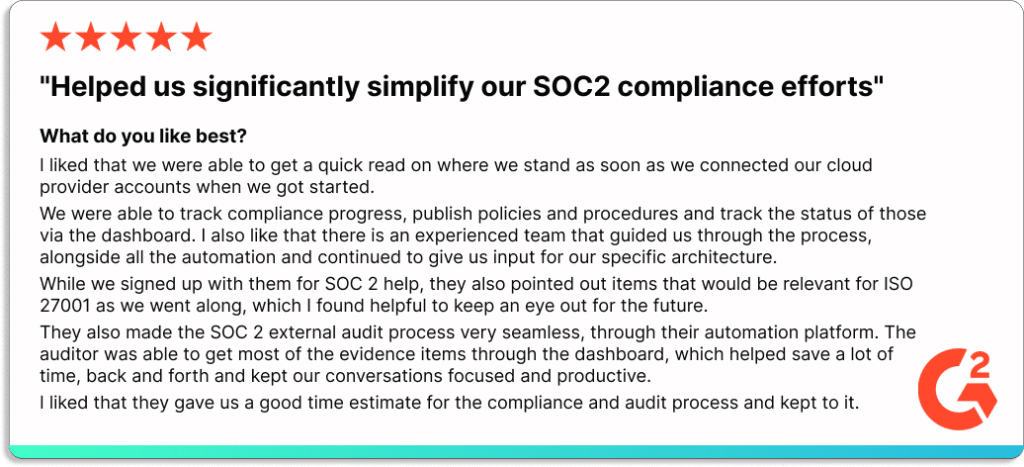 Case study: Learn how Quickwork uses Scrut smartGRC automation to accelerate SOC 2 compliance.
Sign up for a personal demo to see how Scrut can help you with your SOC 2 compliance.