If you want your company to be more trustworthy in customer's eyes, you must ensure that no data or privacy leaks occur. This is possible by implementing effective cloud security solutions.
Wondering what type of cloud security solution might be right for you? With so many options available, choosing the right solution can be hard.
This article will provide a comprehensive guide on what to look for when choosing a cloud security software for your organization.
According to a McAfee report, 97% of organizations use cloud services and 83% store sensitive data in the cloud. The cloud allows you to access more applications, enhances data accessibility, improves team collaboration, and simplifies content management. Organizations require cloud security as they implement their digital transformation strategy and incorporate cloud-based tools and services into their infrastructure. Cloud security refers to security measures designed to safeguard cloud-based infrastructure, applications, and data. It includes access control, security policies, and strategies, user security, data center security, threat prevention, detection, mitigation, regulatory compliance, and etc.
Key Factors when choosing Cloud Security Vendor
Cloud service vendors are usually selected based on the essential services they offer. The foundation of cloud security practice is the selection of a reliable service provider. You should work with a cloud provider with the best security protocols built in and adhere to the highest levels of industry best practices.
Some important questions you need to ask:
Is the solution compatible with all major cloud providers (AWS, Azure, and GCP)?
Is the software offers the ability to customize frameworks or build custom policies?
Does the tool's pricing model meet all of your needs?
Is the solution capable of taking remediation actions automatically?
Is the solution capable of providing real-time visibility into cloud events?
Cloud security monitoring capability
An effective cloud security solution should provide continuous CIS (Center for Internet Security Foundations) Benchmarking. The CIS Benchmarks cover logging, access control, monitoring, identity management, networking, and other topics.
Scrut cloud security automatically compares your cloud configurations to 200+ cloud control across CIS benchmarks to ensure a strong information security posture.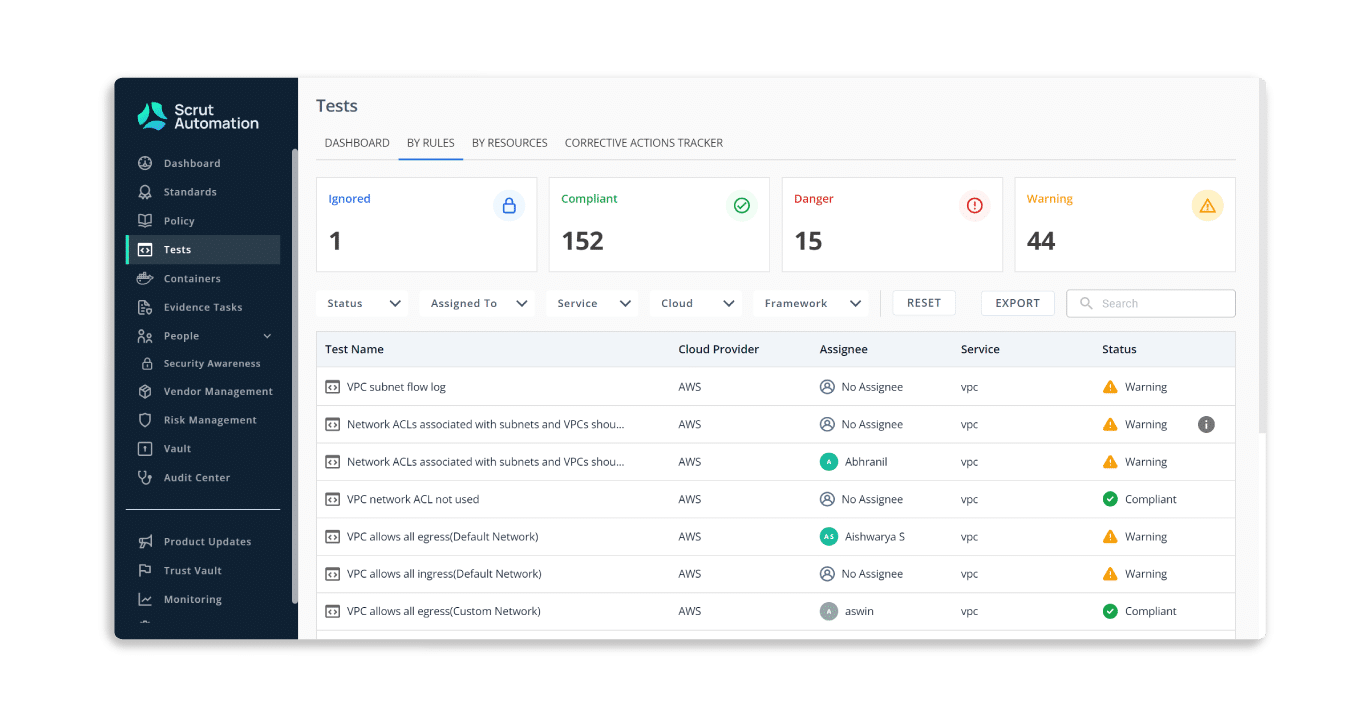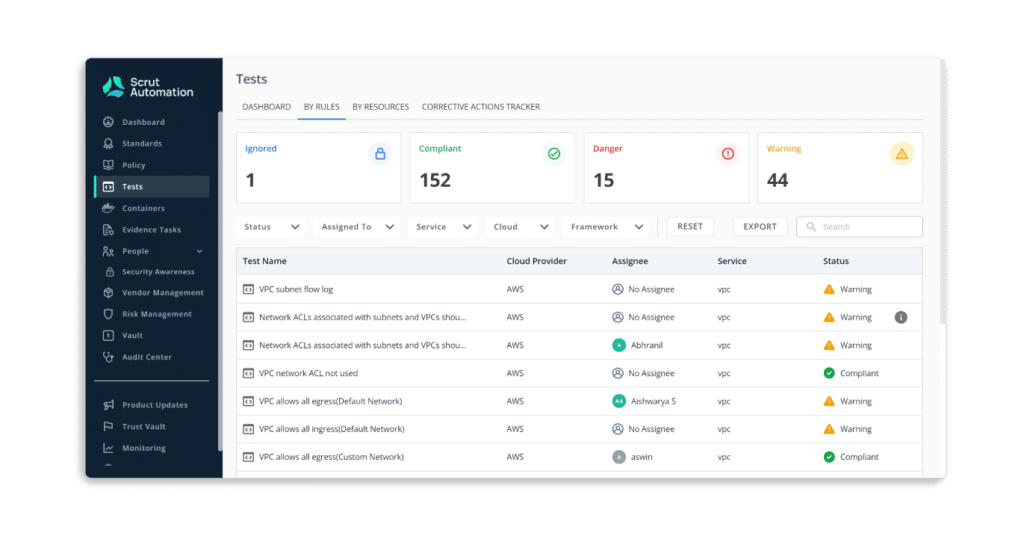 Scrut covers all major service types, including serverless, containers, and Kubernetes, and can assist you in establishing full-stack security for all your cloud-native deployments.
The platform ensures that your public cloud accounts are always compliant and secure. When misconfigurations occur, Scrut sends you alerts with actionable recommendations for correcting them.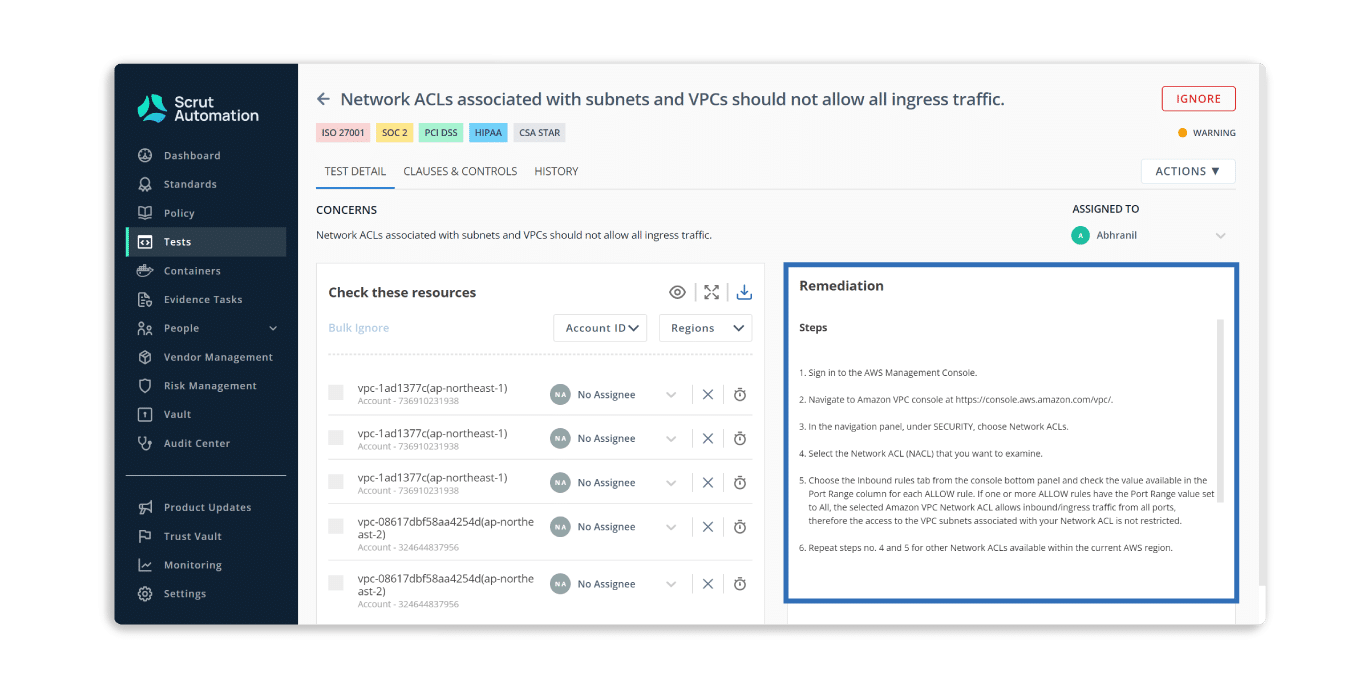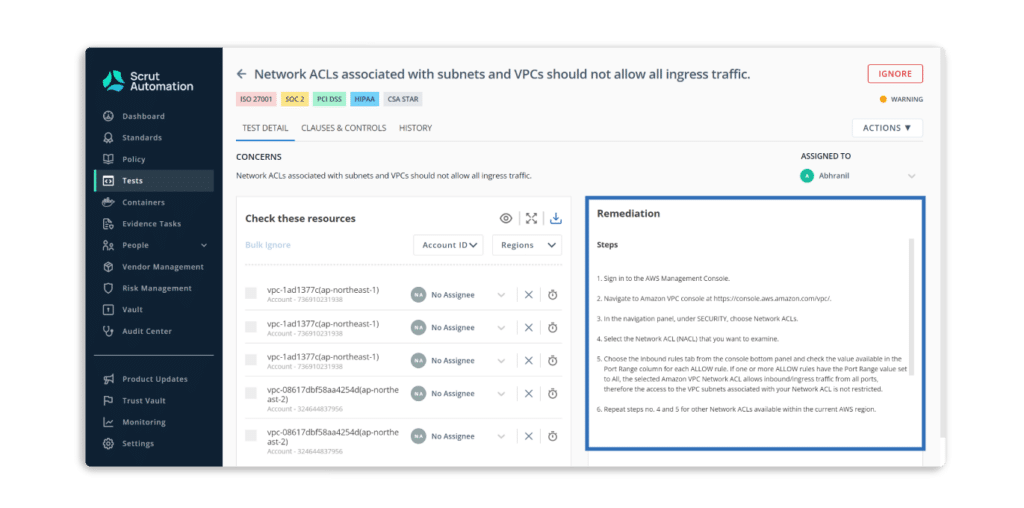 You can also assign tasks to team members to fix misconfigurations, as shown in the screenshot below.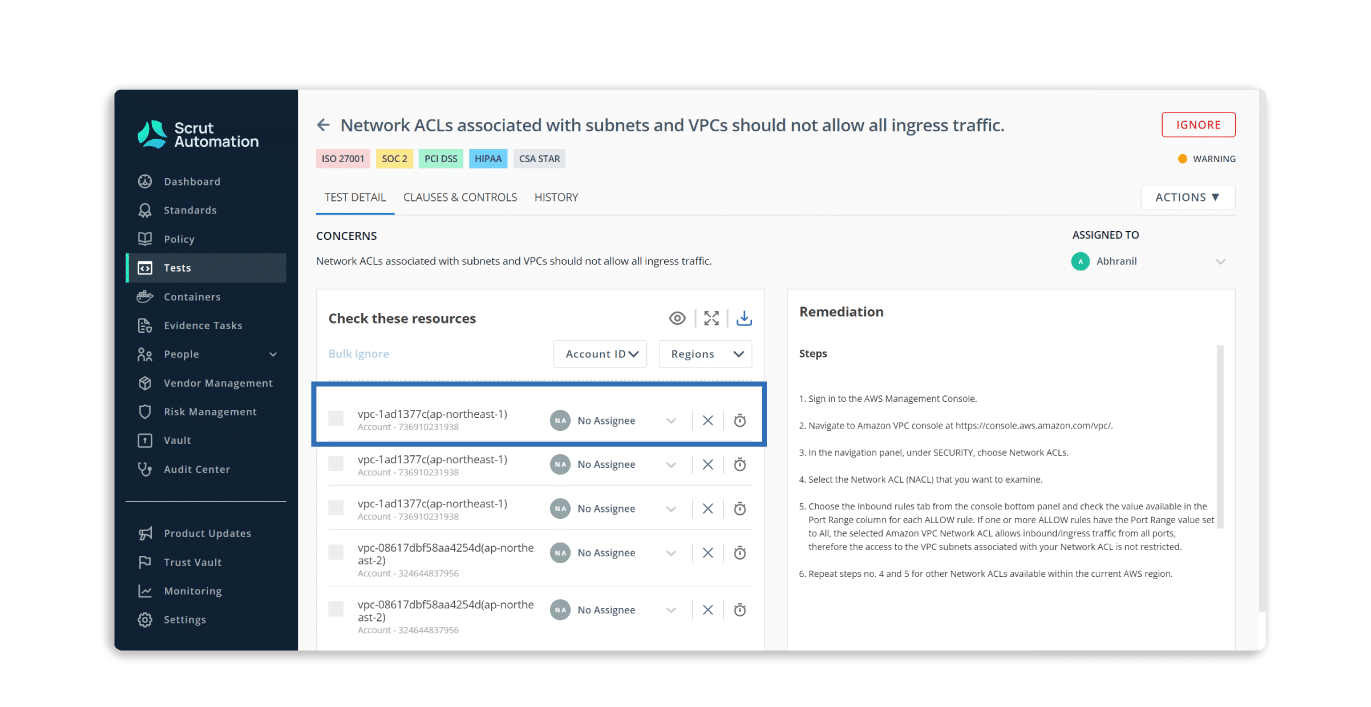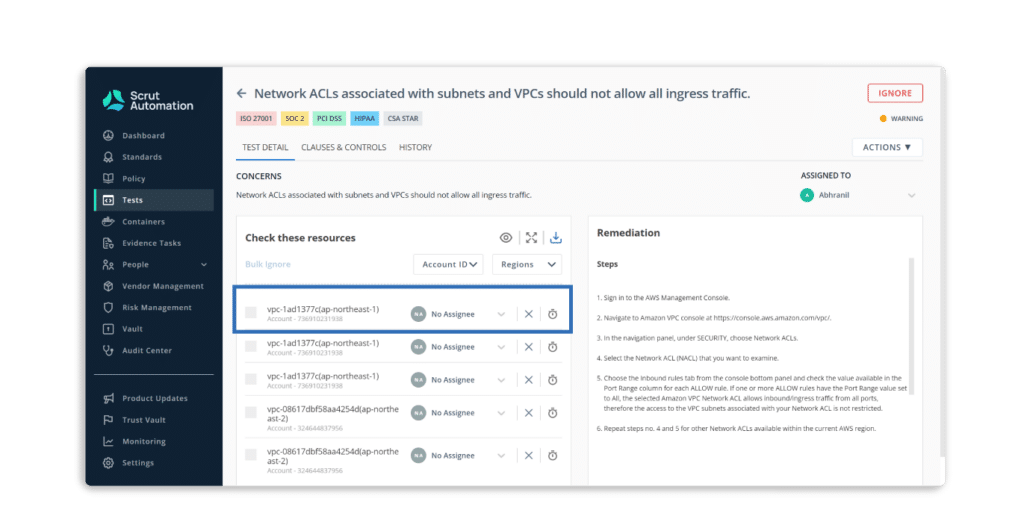 Continuous compliance
In choosing a cloud service provider, security and compliance are key considerations. Your chosen solution should provide cloud security compliance frameworks so that you can address and report on adherence to regulatory standards like GDPR, HIPAA, PCI DSS, and many more.
Compliance requirements vary depending on the regions where you want to set up your industry and your customer's preferences. For example, if you are a health tech company operating in the United States, you must be HIPAA compliant. If you are a software company selling in the United States, you must be SOC 2 compliant.
Scrut supports 20+ compliance frameworks. Furthermore, it maps controls with their respective frameworks, as shown in the screenshot below.


The platform offers the visibility required to understand your information security activities' status, efficacy, and impact on your compliance posture. It provides a single source of truth for all information security tasks and artifacts, allowing you to close compliance gaps in real-time and remain compliant 24*7.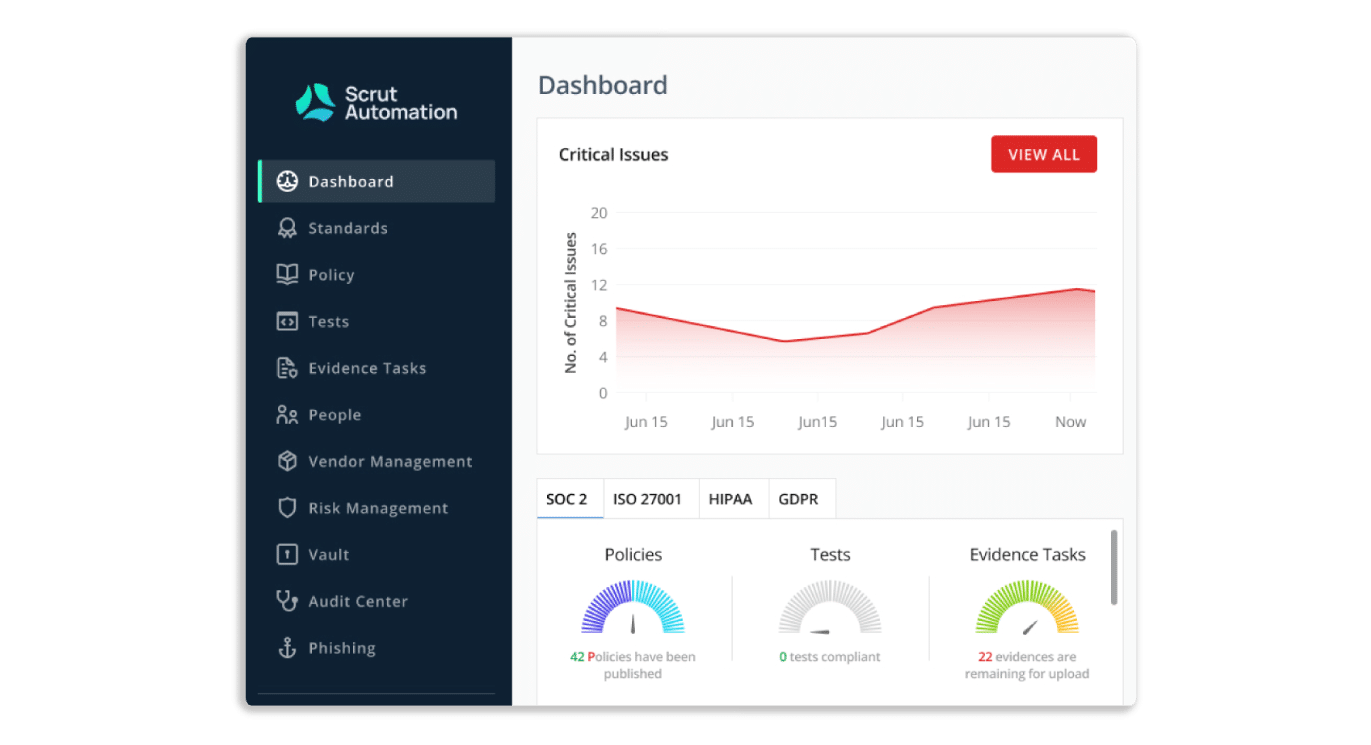 Scrut gives status for every cloud resource. And if any cloud resource does not meet your security requirements, you will see one of the following statuses:
Danger – The most critical issues that require immediate attention. Start with these.
Warning – After addressing the "danger" issues, you can proceed to these.
Low – These are low-priority risks that can be dealt with later.
Ignored – You can override the ignore status.
Compliant – Everything is fine if you are compliant. You are not required to do anything.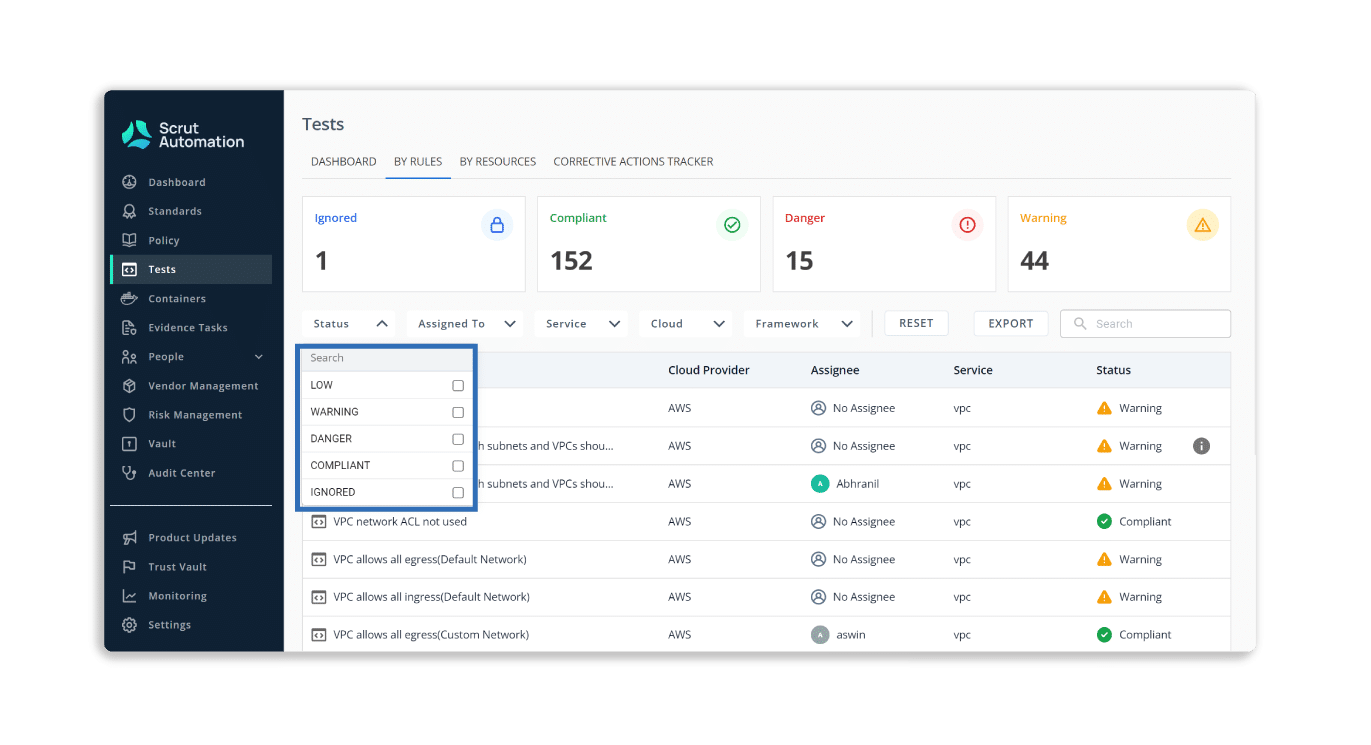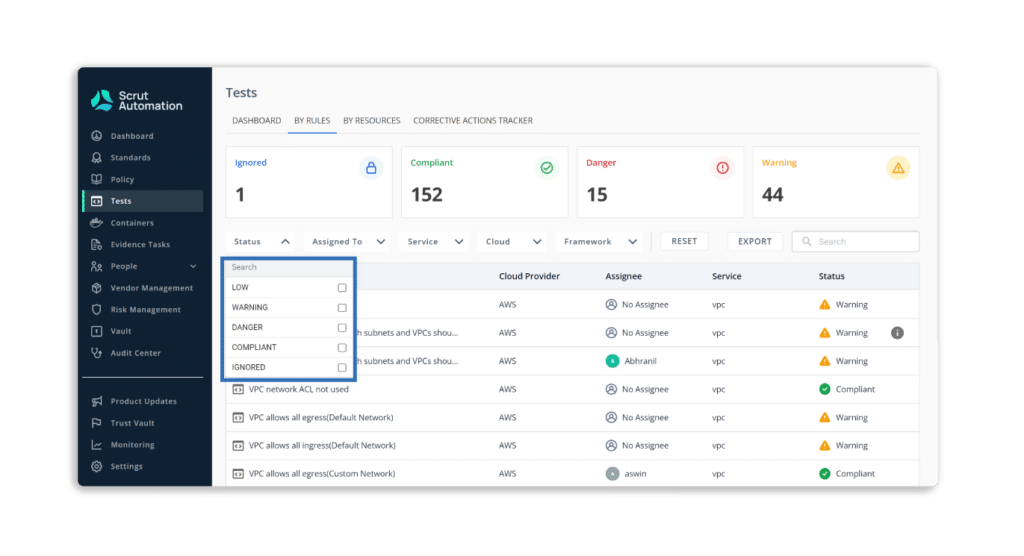 Risk management capability
An important use case of the cloud security solution is its capability to manage risks. Risk management involves identifying, analyzing, and responding to risk factors. It includes attempting to control future outcomes to the greatest extent possible by acting proactively rather than reactively.
Now, let's discuss Scrut Risk Management.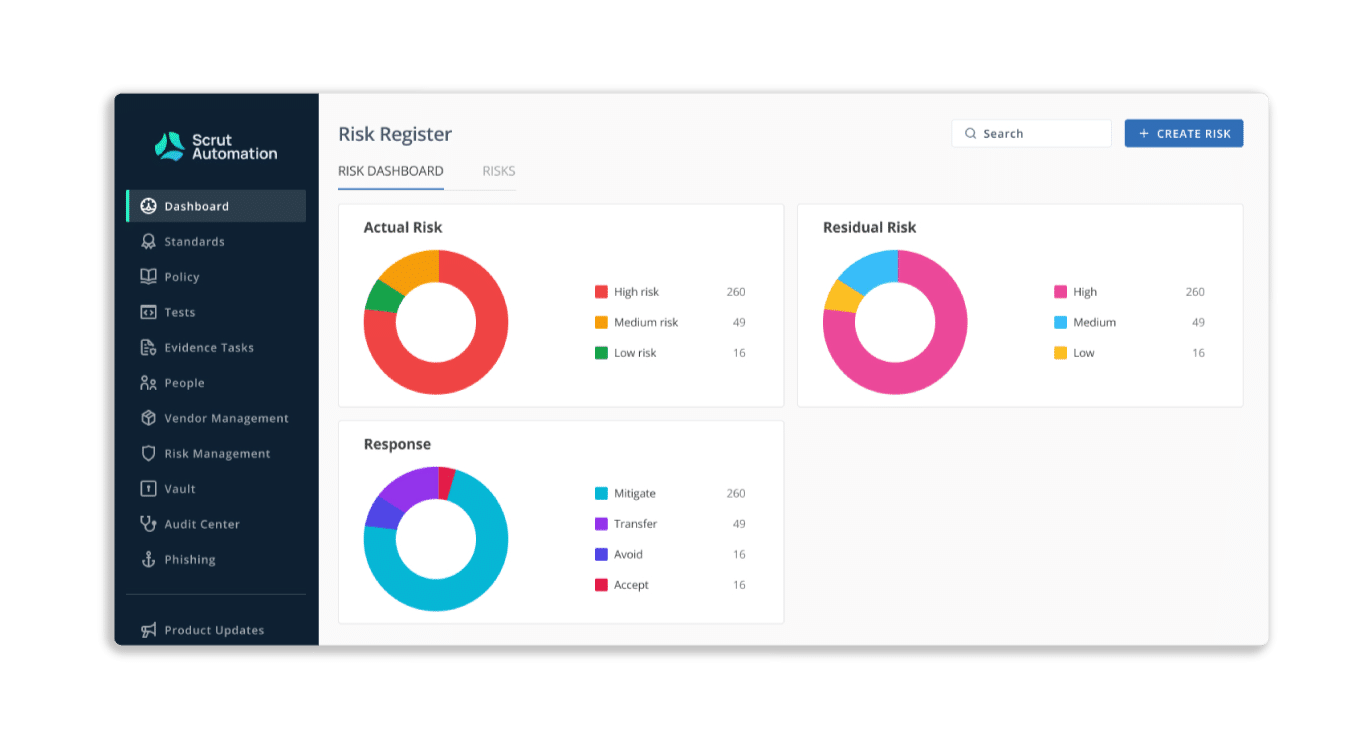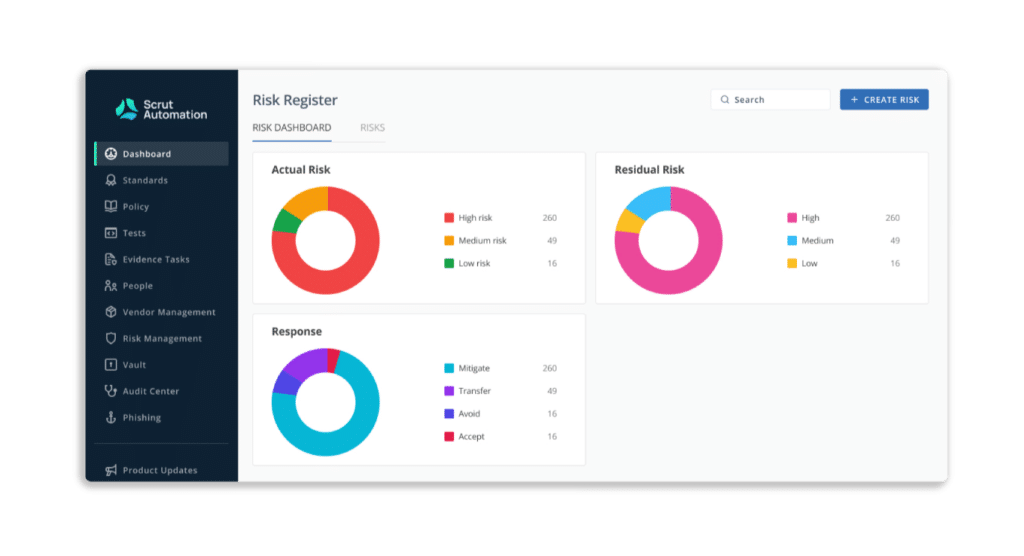 Risk Identification
The identification of risks is the first step in risk management. Risk identification includes analyzing IT assets such as systems, devices, data, software, networks, and vendors.
Now, let's look at the Scrut risk identification as an example.
Scrut allows you to create a risk register in minutes. The platform's risk library contains common risks encountered by various organizations.
Build a new risk library by clicking "Create New," as shown in the screenshot below.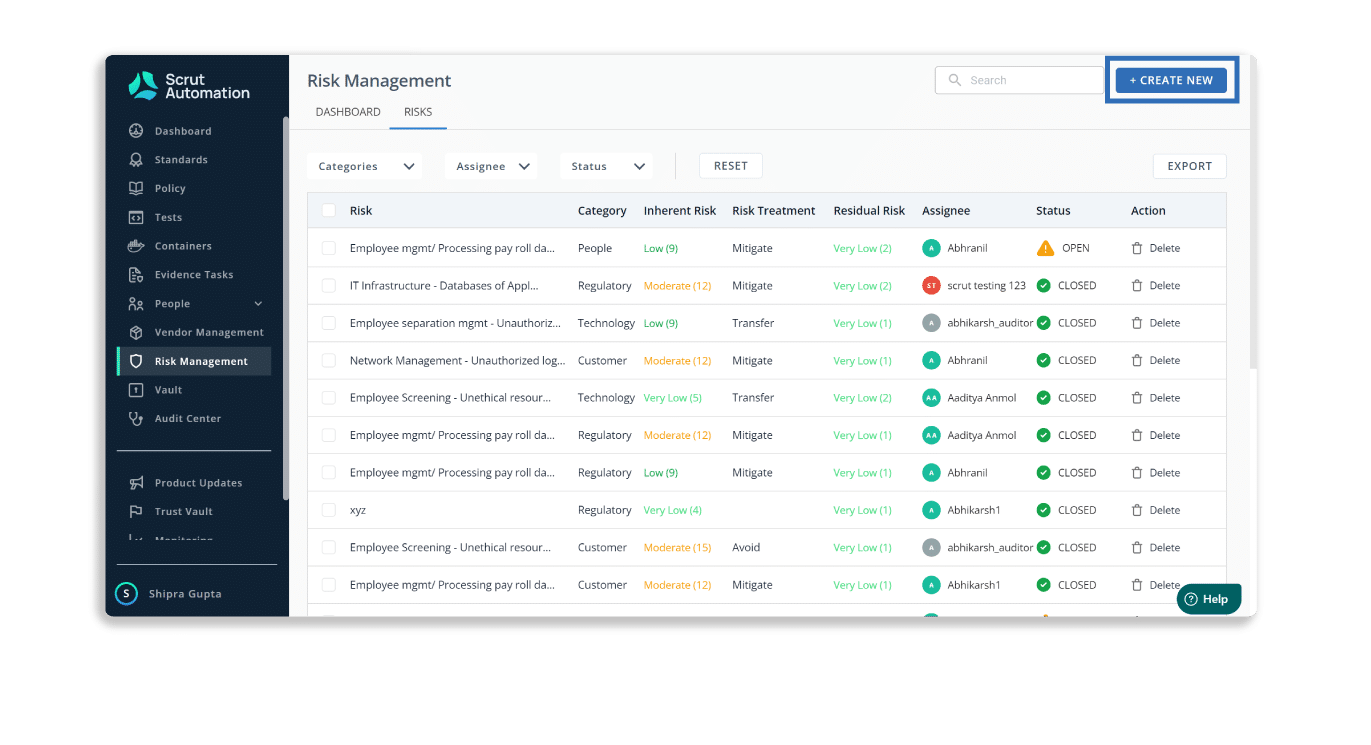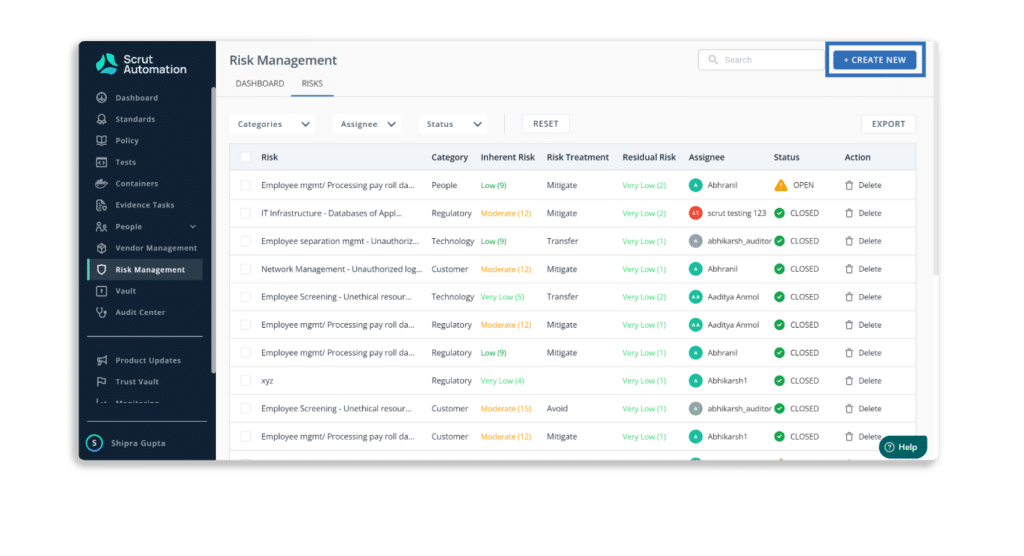 You can select from Scrut's risk library or create your custom risks.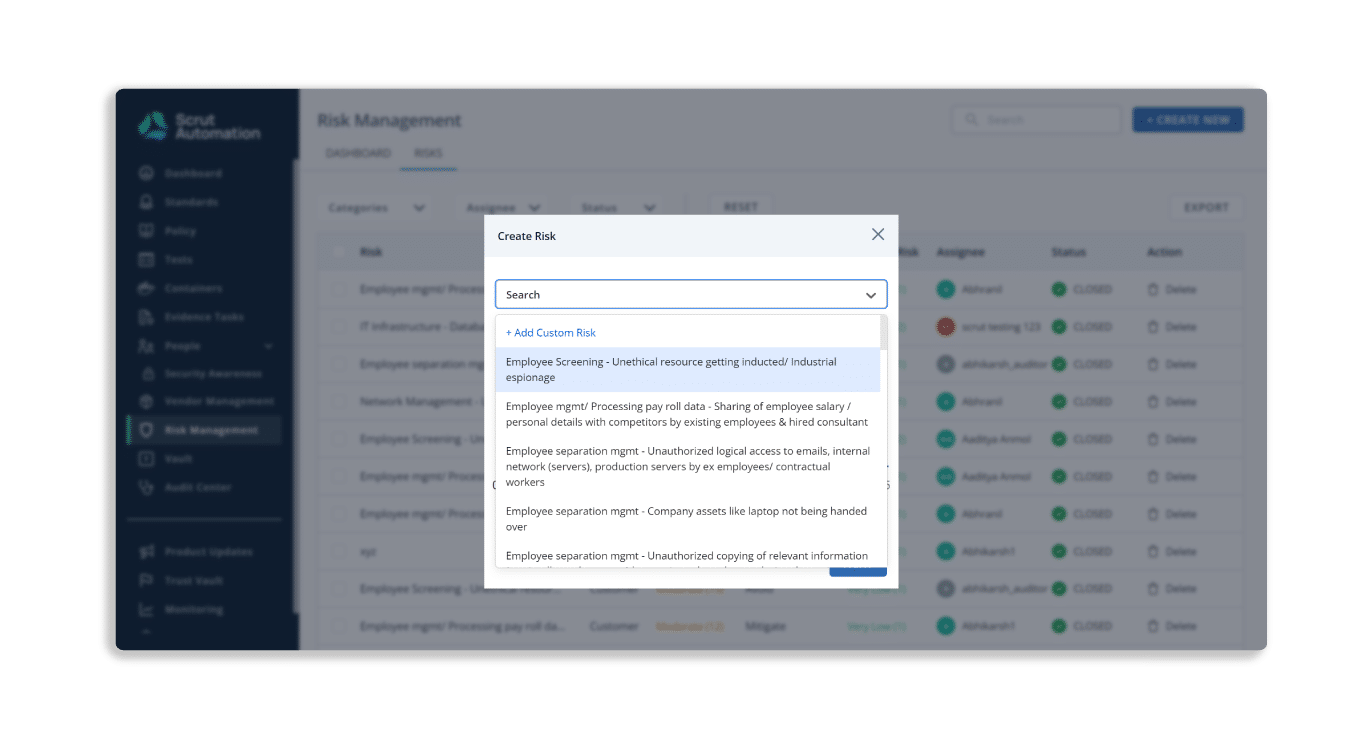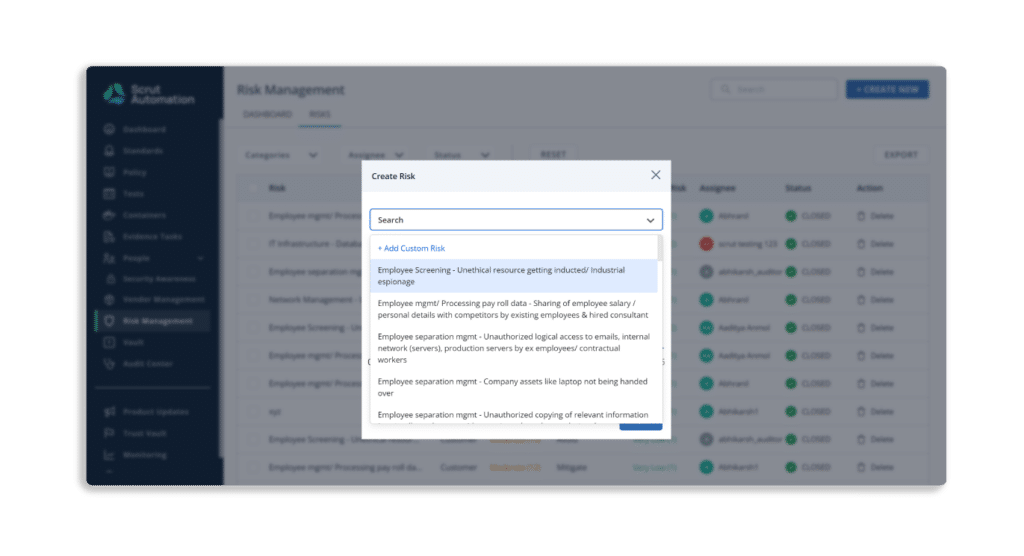 The seven categories of Scrut risk are shown below: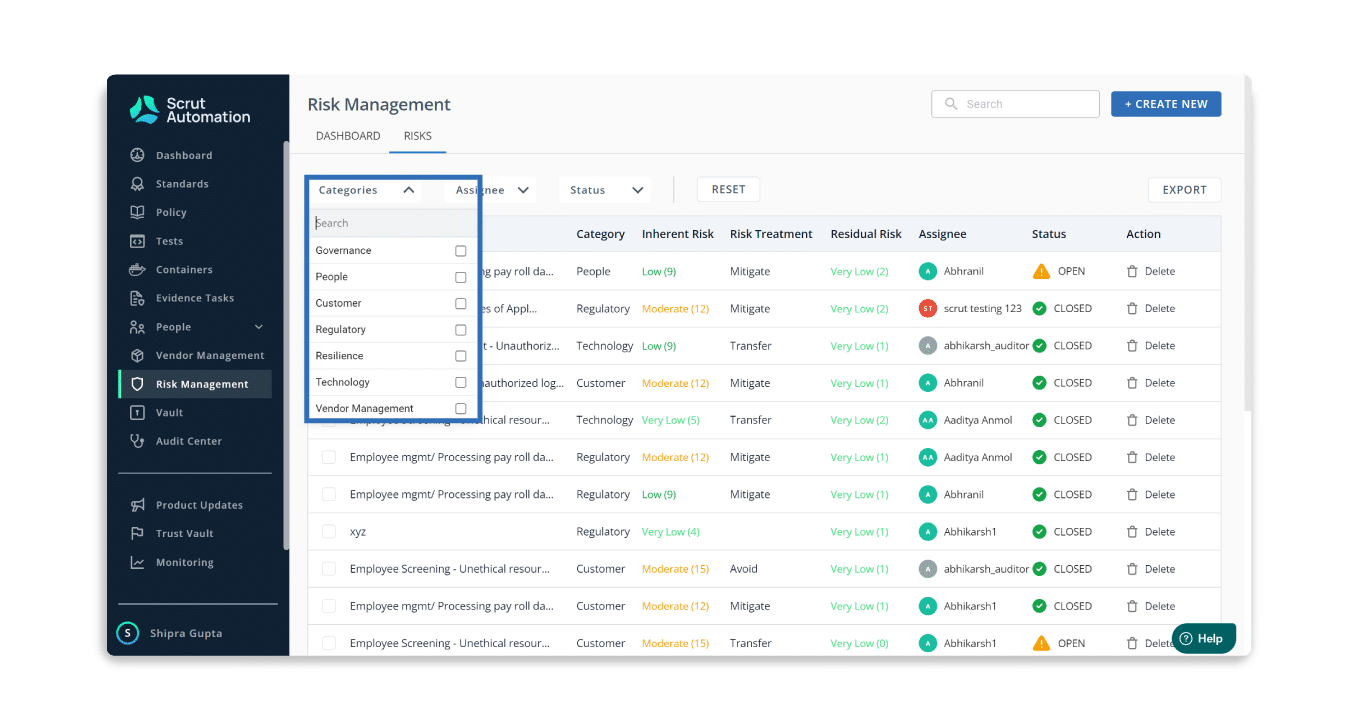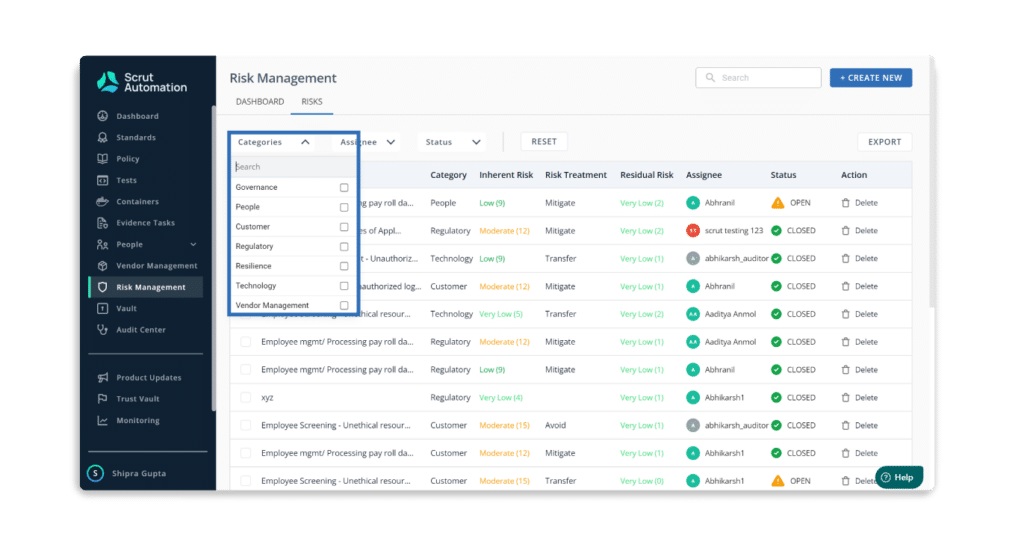 You will receive a list of all the risks associated with your organization at the end of this process.
Risk Assessment
The next step is to assess the risk after it has been identified. Risk assessment provides information about how various risks affect your organization. As a result, you can prioritize which risks to address first.
Scrut allows you to evaluate your risk profile using automated risk scoring. It generates risk scores based on the likelihood and impact of events.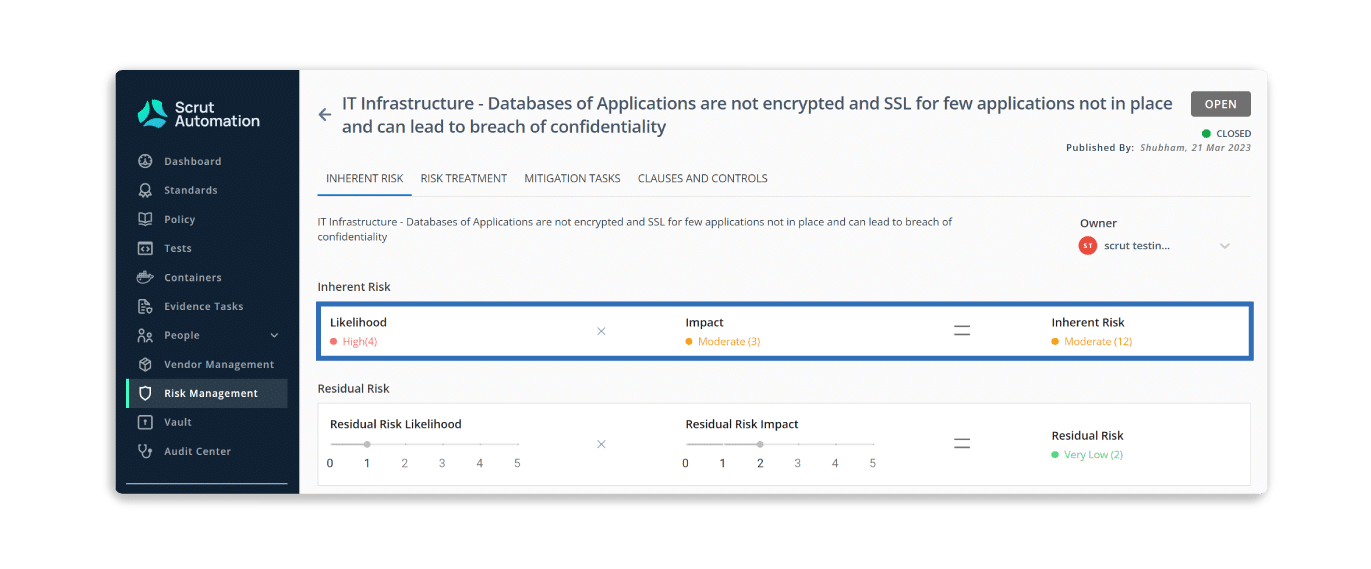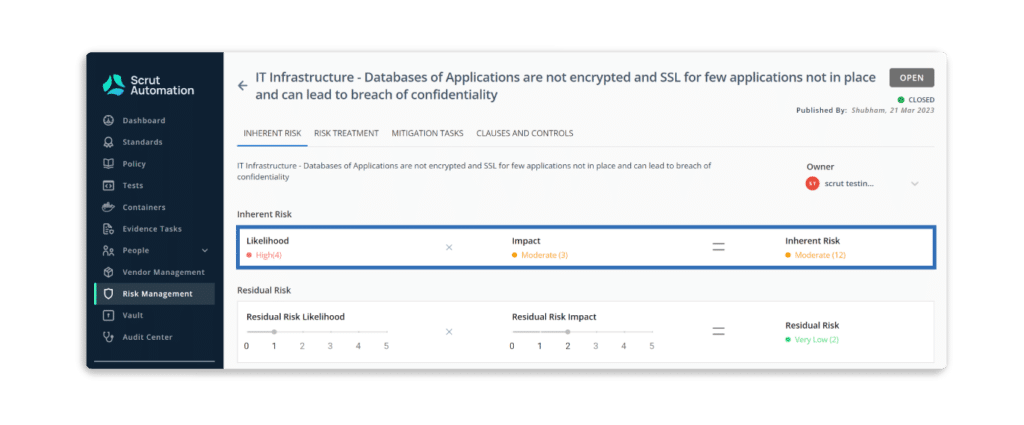 Risk = Likelihood * Impact
Likelihood = 3
Impact = 5
Thus, Inherent risk = 3*5 = 15
The platform also provides a heatmap to help you visualize your risks, as shown in the screenshot below.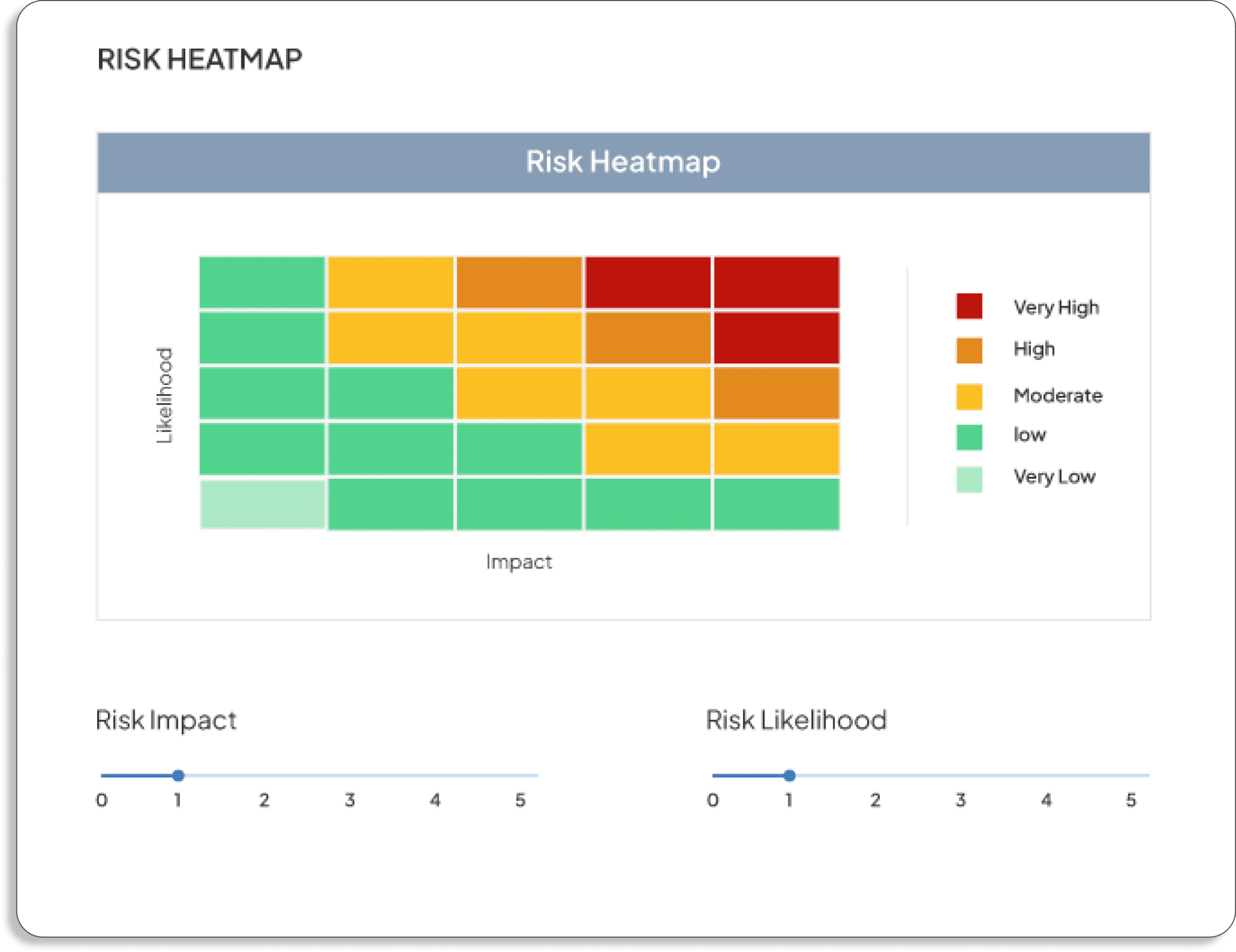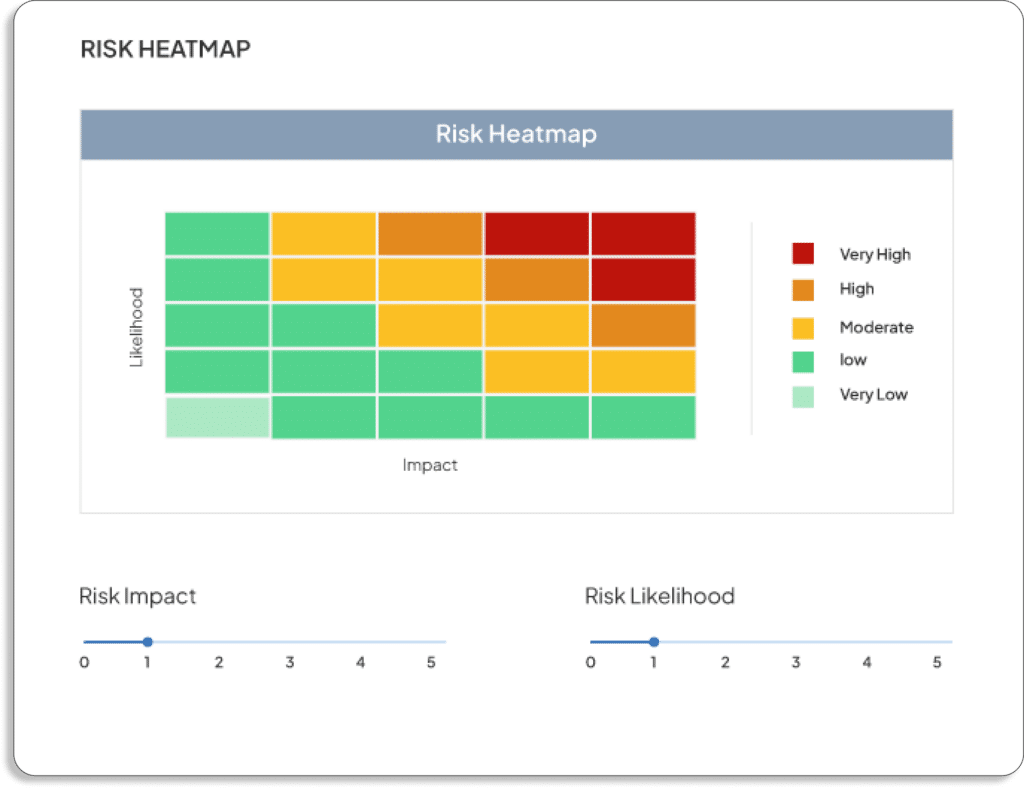 Risk Remediation
The next step after a risk assessment is to work on risk treatment. A cloud security system should provide risk treatment actions with start and end dates, an organizational link, and a risk owner to treat the risk further.
Continuing with Scrut as an example– you can select your risk treatment plan as accept, mitigate, transfer, or avoid.
Scrut provides four ways of treating the risk. You can ignore, accept, transfer, or mitigate each risk.
Risk Avoid – to eliminate the chances of risk by correcting an error.
Risk Mitigation – to minimize the impact or likelihood of the risk.
Risk Transfer – transfer the risk to another party. For example, an insurance company.
Risk Acceptance – accept the risk.
Risk Transfer Example:


Risk Mitigation Example:


Risk Acceptance Example:

For risk treatment, you can assign risks to team members, as shown in the screenshot below.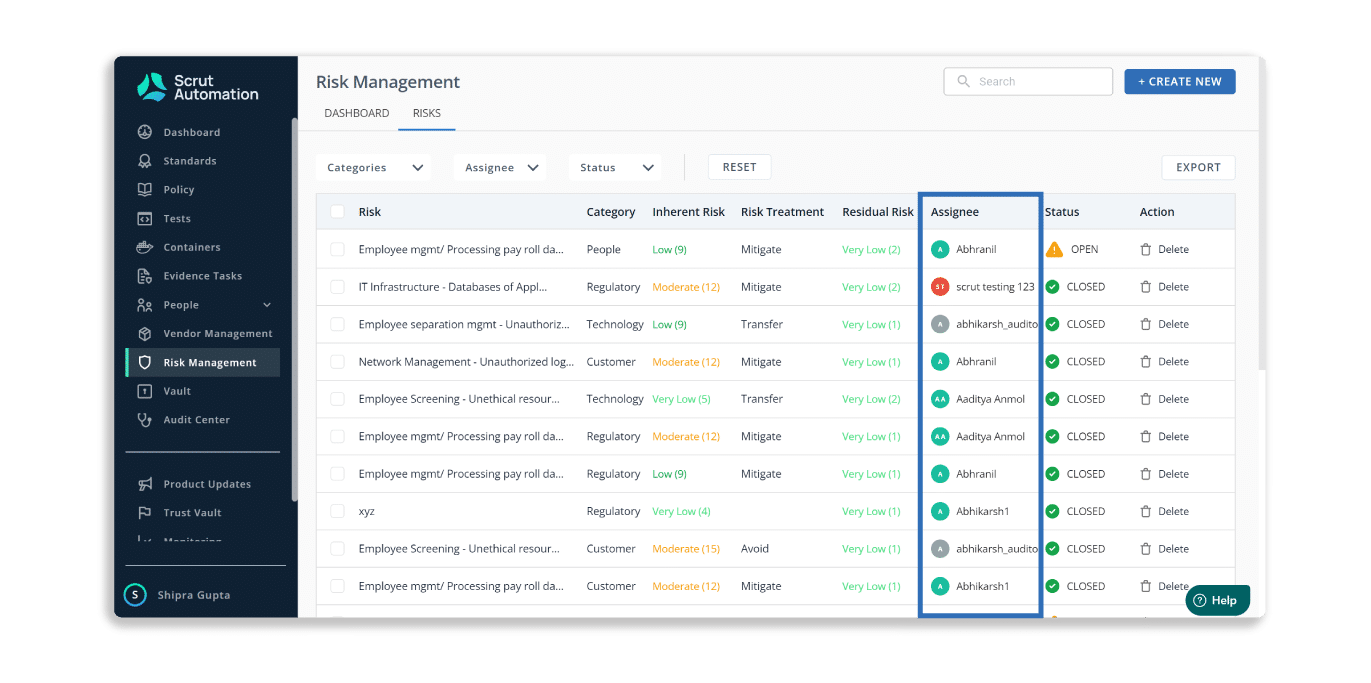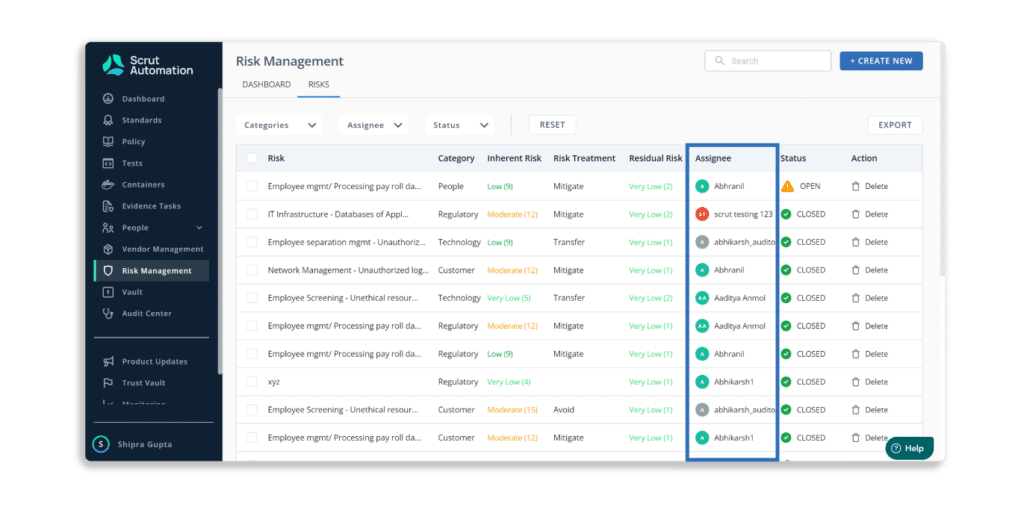 As shown in the screenshot, you can also create mitigation tasks.
In the screenshot, you can see your complete risk register after completing these steps.
Multi-cloud and multi-account
One of the most valuable features of cloud security vendors is the multi-cloud and multi-account cloud environment. However, a multi-cloud architecture is complex, and managing it is difficult. This is due to the fact that cloud providers use different security settings for the same services. When you use services from multiple cloud providers, you must also manage increasing configurations and ensure they are all correct. A good cloud service provider will provide you with a solution that gives you complete visibility over your data and who is accessing it, regardless of where it is or where you are.
Therefore, your selected cloud security solution must be able to connect with all your cloud providers simultaneously. It wouldn't be able to find misconfigurations if it cannot.
Scrut is one such example of a cloud security platform that supports multi-cloud and multi-account cloud environments. You can connect your entire cloud infrastructure, including AWS, Azure, GCP, and others, to the Scrut platform in less than 10 minutes. Once connected, the platform can automatically discover and create an inventory of all your cloud assets, which is the foundation for cloud security.
Evaluate automation capability
When selecting a cloud security solution, consider the automation capability. An effective cloud security solution must automate risk workflows. Automation allows you to complete tasks that would otherwise take a long time.
Scrut allows you to free your team members' time-consuming manual work by providing automated workflows for conducting risk assessments and executing treatment plans. It offers automated features such as misconfiguration detection, evidence collection, automatic reminders, automated employee training, task management, and more, making the process more efficient and lowering the risk of human error.
Scrut collects evidence automatically. The platform collects reports and evidence via prebuilt cloud-based integrations across your cloud, HRMS, DevOps, and other systems, eliminating the need to update evidence against each risk manually.
With Scrut, each control can be assigned to a team or person. Furthermore, the team leaders can delegate these tasks to different team members. You can create Jira tickets directly from the platform to ensure smooth workflows.
Employee awareness training
Your users are the first line of defense regarding cloud computing security. Their knowledge and application of security practices can be the difference between protecting your system. The awareness training aims to educate users and employees about their role in preventing data breaches.
Scrut automates employee information security training by providing a prebuilt 30-minute information security course created by industry experts. Your employees can review policies, notifications, and security procedures all in one place. Scrut's dashboard allows users to monitor training completion and employee acknowledgment. You can use the platform to create alerts, set reminders, and send personalized notifications to employees to ensure they complete the training.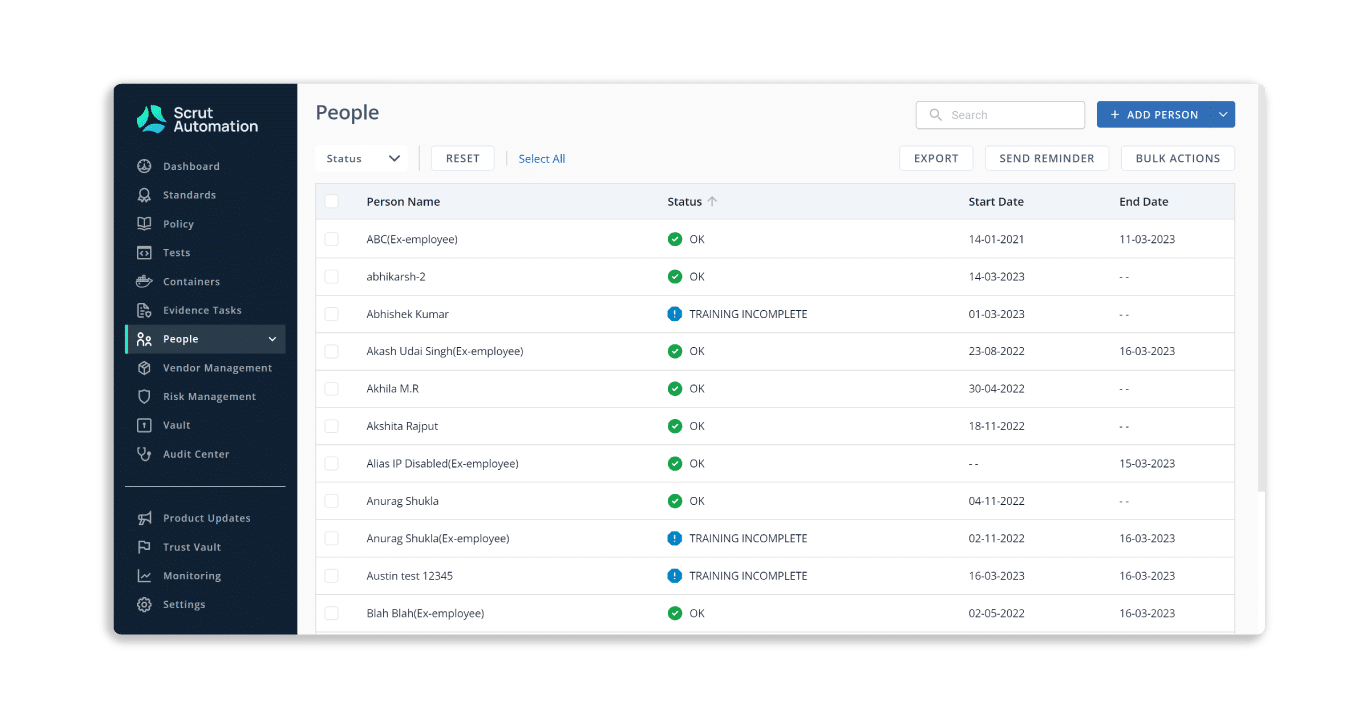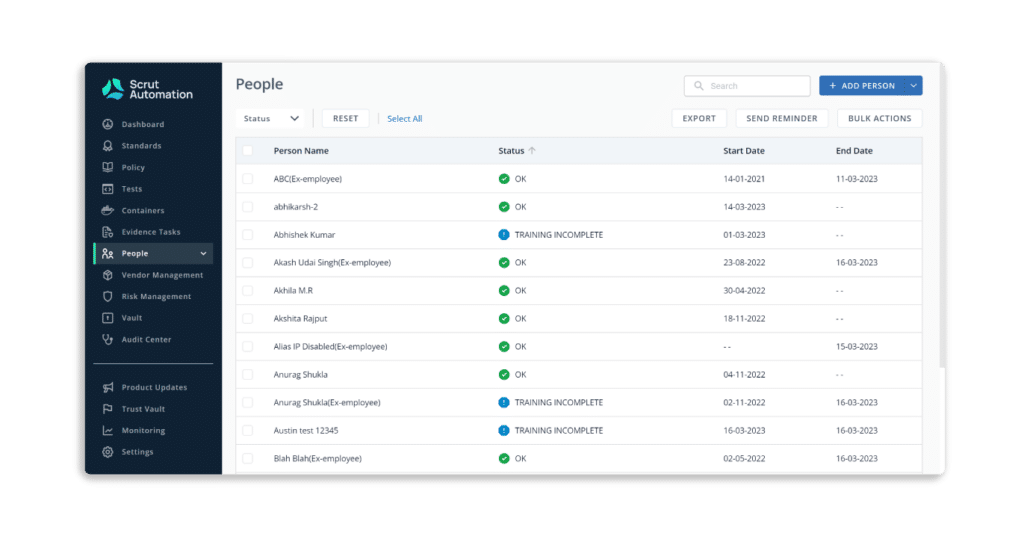 See some of our customer's reviews below:






Case Study – Learn how NextBillion.ai automates cloud infrastructure monitoring for its distributed GCP cloud.