AuditBoard is a cloud-based platform that transforms audit, risk, environmental, social, and compliance management. The platform assists organizations in managing compliance processes. It is not the only GRC tool available; other GRC platforms will better meet your needs. Based on our detailed review of the platforms in this article, you can select from various GRC platforms available in the market.
The AuditBoard platform assists in increasing risk visibility in your organization and driving risk-aware decisions to mitigate all risks. It automatically maps new framework requirements to your controls, allowing you to scale your compliance program quickly and keep up with changing regulations.
Let's discuss the key features of AuditBoard.
Key features
Users can gain real-time visibility into open issues and track progress with AuditBoard. The platform automates findings management by identifying and creating issues during testing. It quickly assigns action plan owners and automates follow-up.
Users can view all auditable entities in one centralized universe, with key metrics and risks linked.
AuditBoard automates testing, issue remediation, and reporting with automatic workflow notifications and report generation capabilities, allowing your team to conduct more relevant and timely compliance audits.
The platform streamlines communication with stakeholders by automating the distribution of audit surveys, evidence requests, and reminders. It maintains an easily accessible audit trail and keeps all communication in one location.
The tool uses standardized risk templates to streamline the IT risk assessment process. It dynamically scores and ranks risks to determine their severity.
The tool integrates seamlessly into your cloud ecosystem to automate and scale your audit, risk, ESG, and compliance programs.
The platform saves time by automating vendor onboarding and combining third-party data into a single editable profile.
Drawbacks
The drawbacks of the tool are listed below:
Access to archived data is restricted. For example, there is a barrier to accessing the previous year's data.
AuditBoard sync only allows users to view one file at a time and frequently times out.
Users cannot see which tasks the team is working on each week.
The platform does not offer a chat and screen share feature for clients.
Within OpsAudit, the platform doesn't provide any option to create an interactive RCM.
10 Best AuditBoard Alternatives
Below are some of the AuditBoard alternatives available:
1. Scrut
Scrut is an all-in-one platform for all compliance-related policies, tasks, and evidence. The platform guides you through gathering the information you need to pass the audit and become certified. It gives you pre-built policies and controls mapped to these frameworks and guides you through gathering what you need to pass the audit and become certified.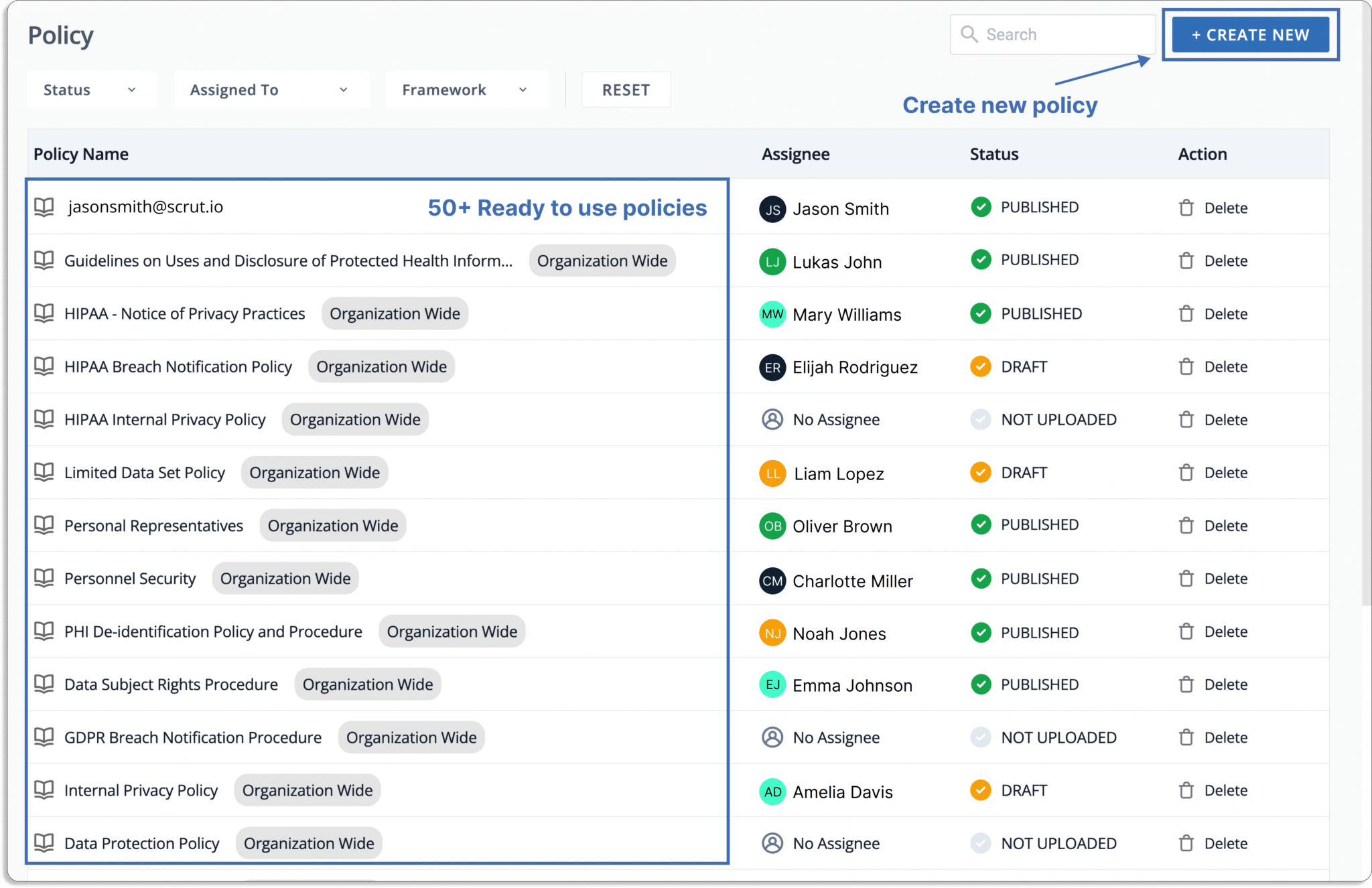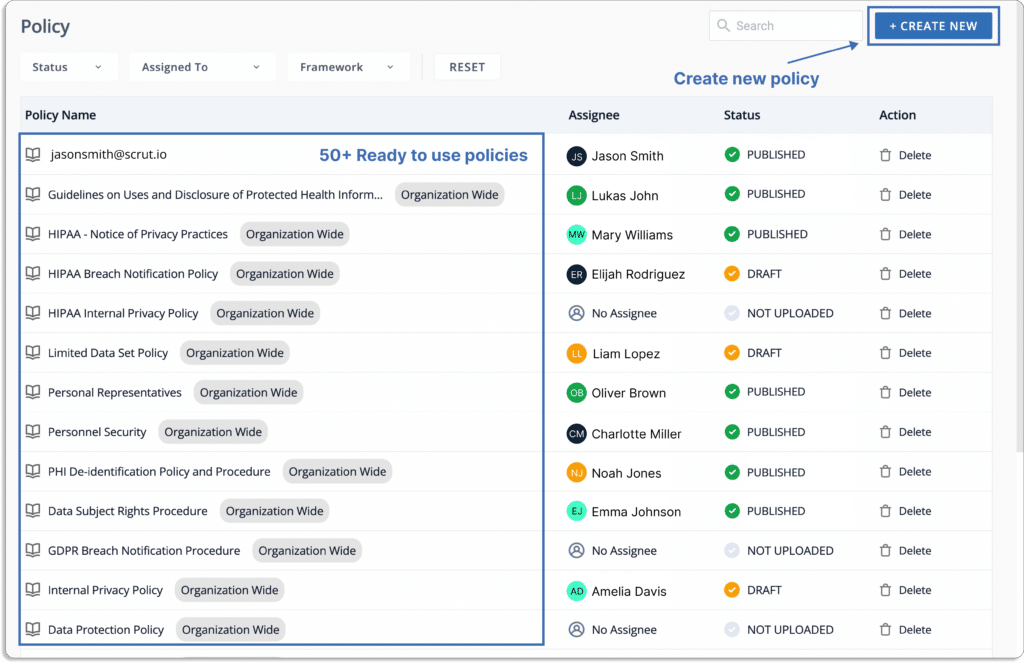 Scrut supports the following frameworks: SOC 2, SOC 3, ISO 27001, ISO 27701, ISO 27017, ISO 27018, ISO 22301, ISO 20000-1, FERPA, HITRUST, FedRamp, GDPR, CMMC, CCPA, PCI DSS, CSA Star, CMMI – DEV, CMMI – SVC, HIPAA, GLB, NIST 800 171, and others.
You gain a unified, real-time view of risk and compliance with seamless integrations across your application landscape, providing the contextual insight needed to make strategic decisions that keep your organization secure and earn the trust of your customers, partners, and employees.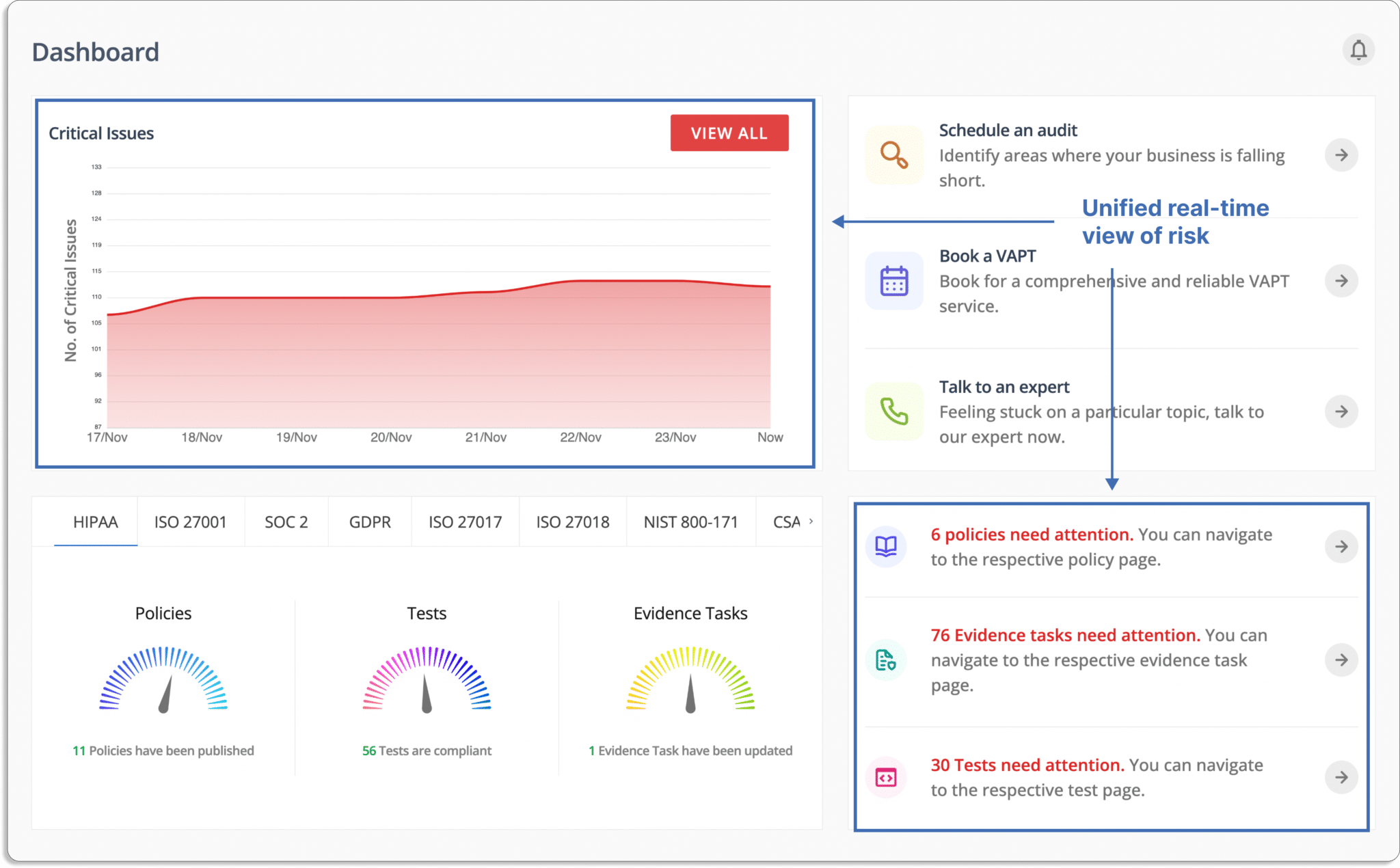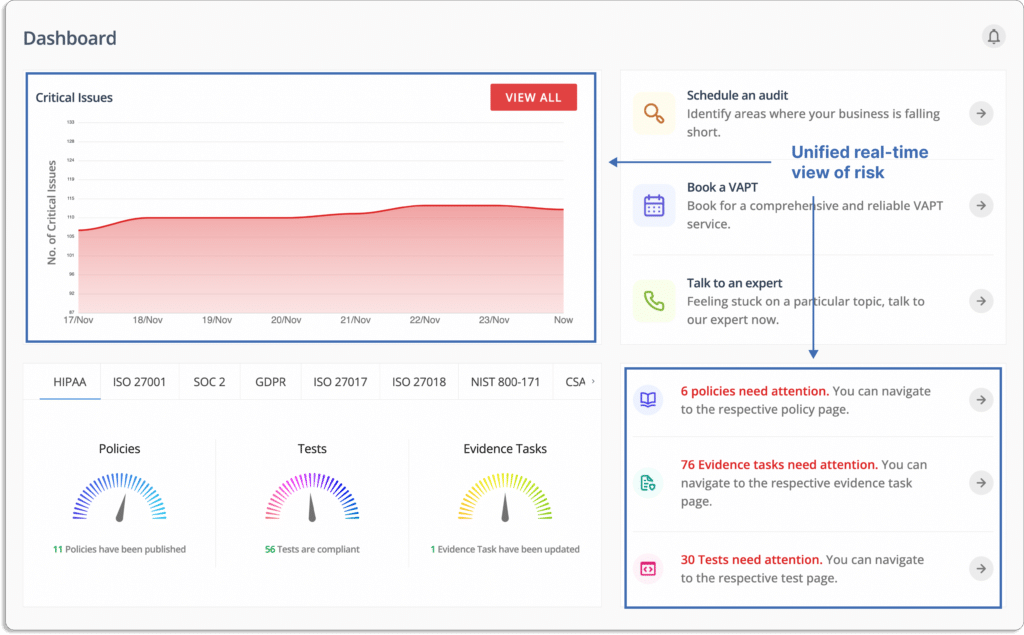 Pros
Track multiple compliances simultaneously: The Scrut platform includes over 20 security and compliance frameworks. Due to overlap between frameworks, these controls are mapped with multiple frameworks. As a result, one control may satisfy the requirements of multiple frameworks. This eliminates the need for duplication of effort when using multiple frameworks simultaneously or in the future.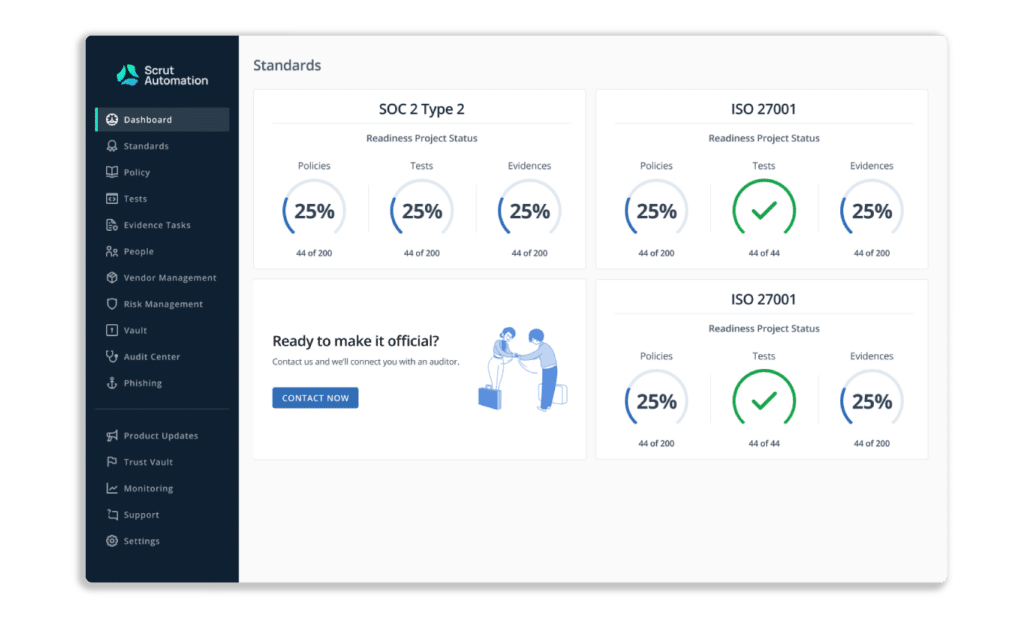 Centralized record for all evidence: It includes a centralized record-keeping system for assigning ownership and storing relevant evidence across an organization.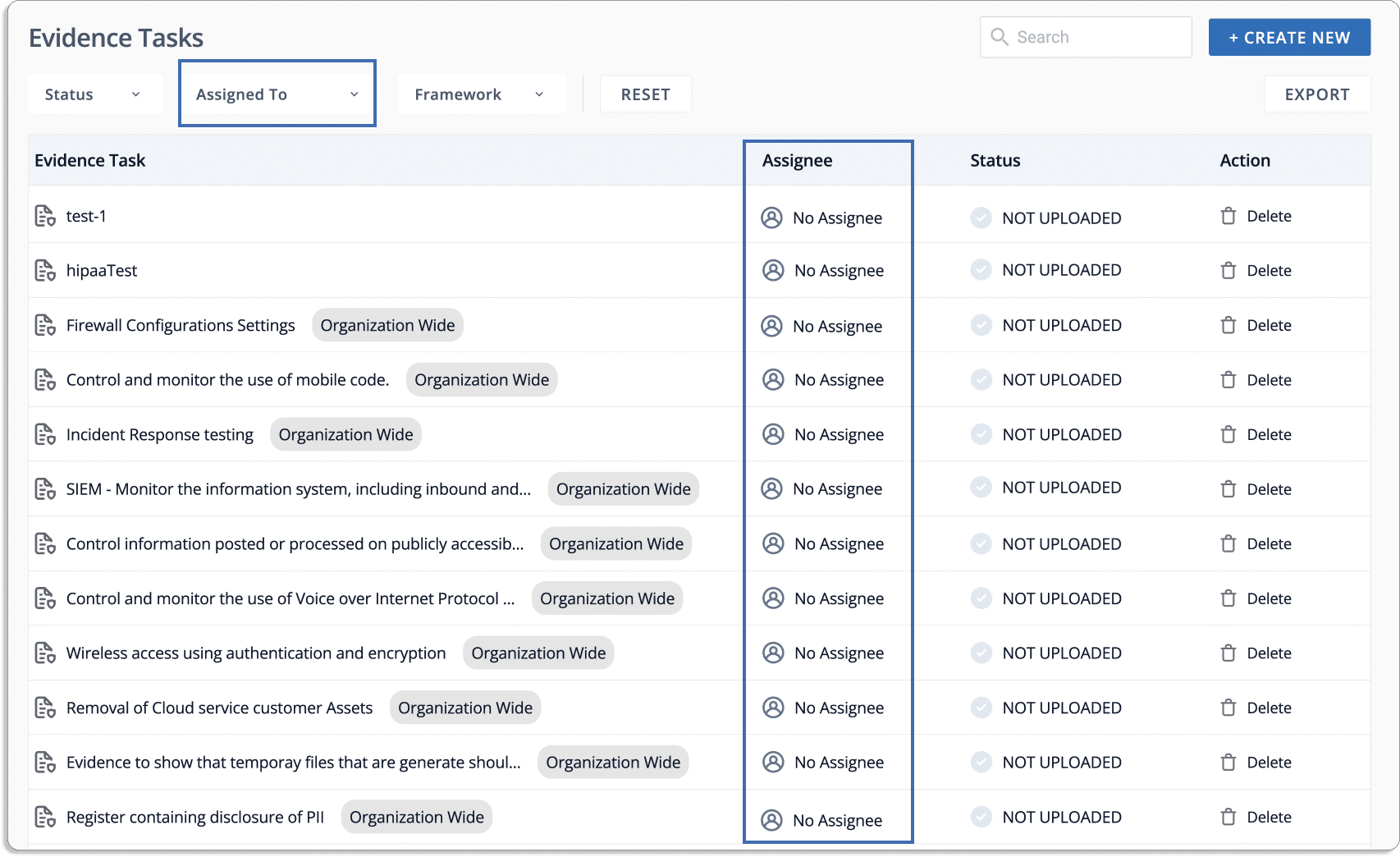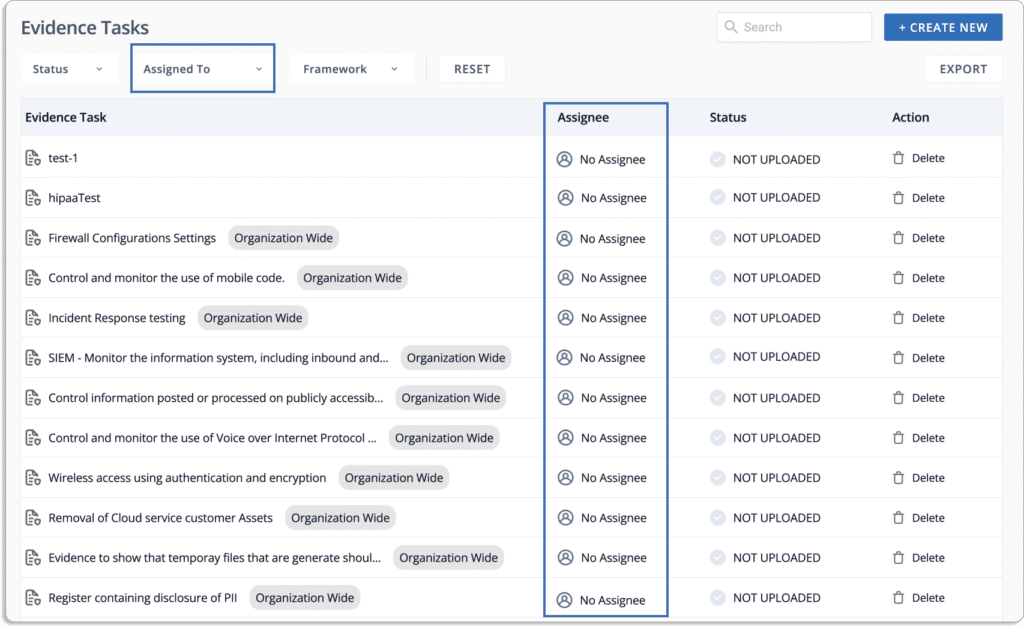 Smooth audit process: You can invite your auditor for various audit tasks on the platform. Auditors can easily find all audit-related artifacts on the platform, allowing them to complete audits more quickly.
Automate cloud security monitoring: Scrut Automation helps you become compliant and keeps you compliant. The platform automatically tests your cloud configurations against 200+ cloud controls across CIS benchmarks to ensure a strong InfoSec posture.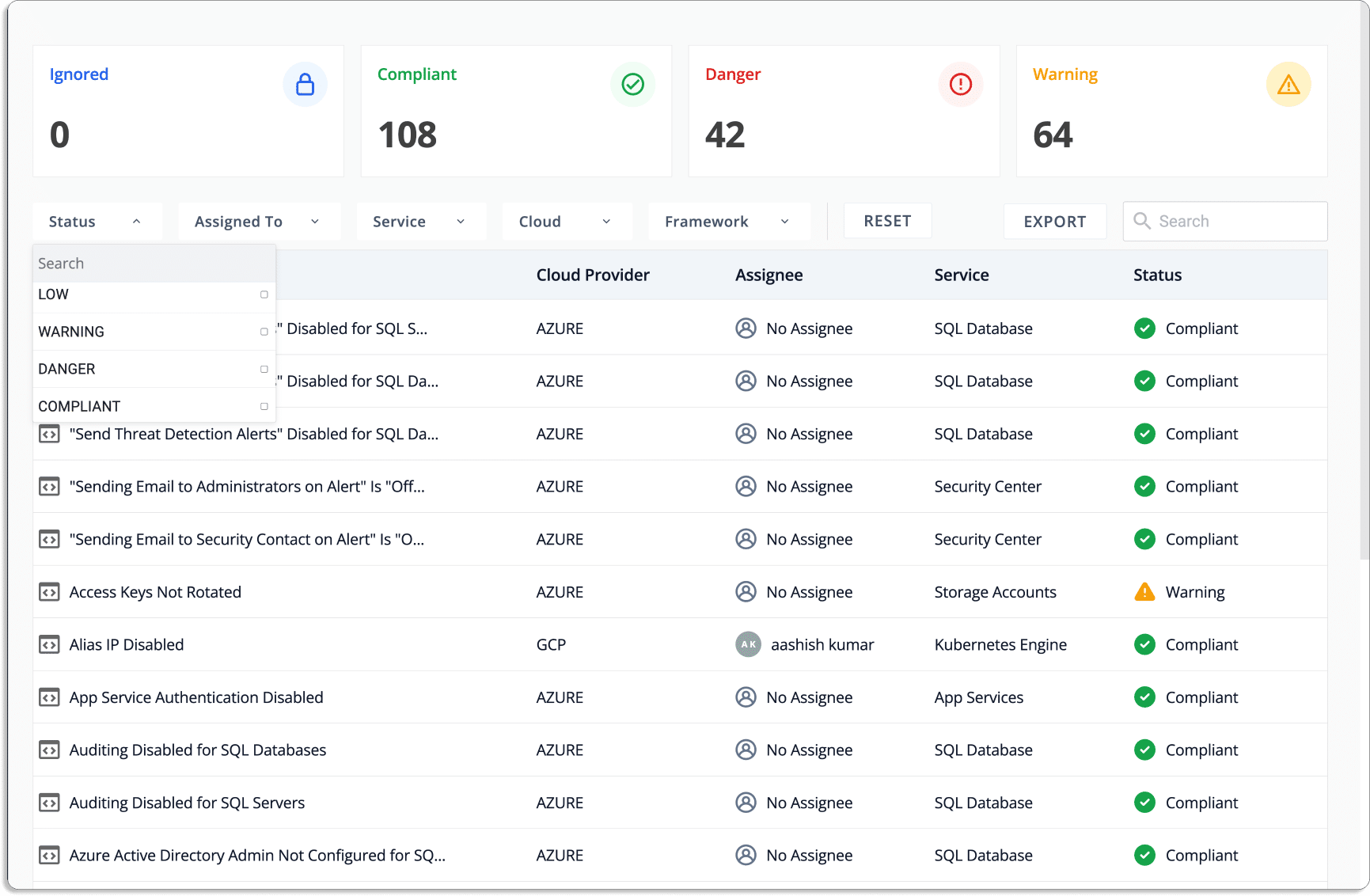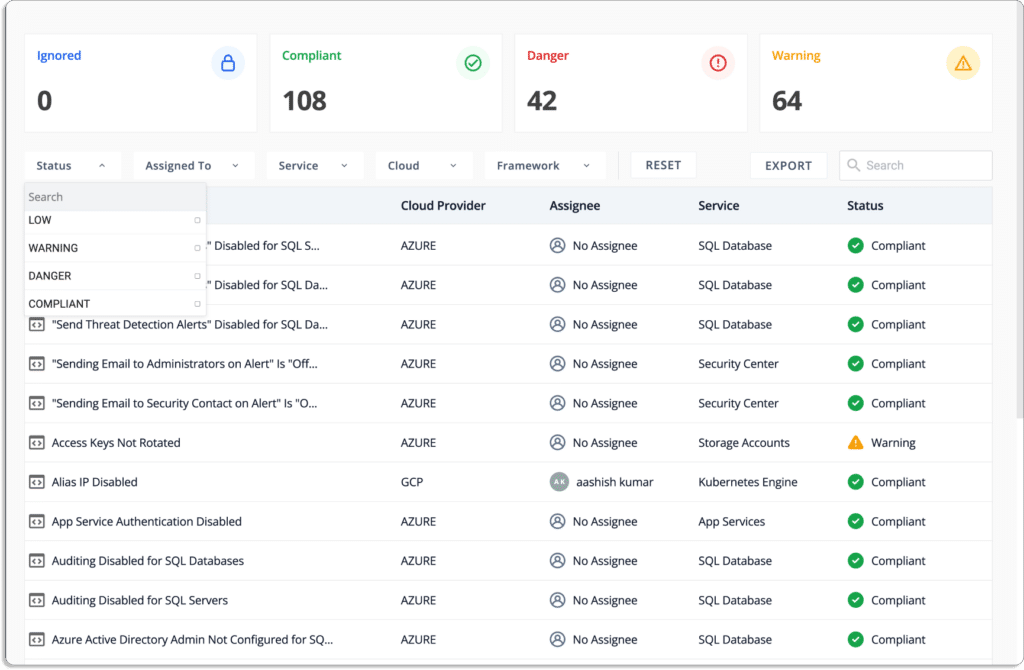 Customer Rating


2. Drata
Drata is a security and compliance automation platform that monitors and collects evidence of a company's security controls in real time while streamlining workflows to ensure audit readiness. It streamlines the audit process with pre-vetted auditors and provides compliance support. Drata's automated evidence collection engine allows you to achieve and maintain compliance with your frameworks without the hassle of developing overlapping controls.
Pros
Drata provides helpful advice at every stage to help users resolve issues so they can resume their compliance processes.
Users can see a detailed overview of which compliance requires attention through Drata's centralized visibility of personnel and assets.
Cons
In the platform, placeholders for policy templates are not provided.
Additional charges for a feature like Trust Center.
Customer Rating
3. Vanta
Vanta assists businesses in automating compliance with the industry's most sought-after standards, including SOC 2, ISO 27001, HIPAA, GDPR, and other critical security and privacy frameworks. It reduces risk to your business by continuously monitoring critical tools and services to ensure that once compliant, you remain compliant. The platform provides real-time alerts, allowing users to address problems as they arise. Vanta's custom controls will enable you to reduce risk as your company grows.
Pros
The tool provides automated test features for detecting vulnerabilities in cloud infrastructure.
Vanta's task-based methodology allows customers to locate right-away work on the platform.
It provides complete visibility into third-party policy sharing.
Cons
There were some items that Vanta misreported. Evidence collection, for instance, has a few exceptions that the user must work around.
There are no clear scopes and feedback loops between SOC 2 controls, available policy choices, and auditors' opinions.
Customer Rating
4. ZenGRC
The Reciprocity ZenGRC platform provides your security and compliance teams with a unified, integrated experience that identifies information security risks throughout your organization. The platform simplifies audit and compliance management by providing complete views of control environments and continuous compliance monitoring to address critical tasks at any time. ZenGRC dashboards increase visibility into critical security program metrics and demonstrate progress to key stakeholders.
Pros
With ZenGRC, users can quickly create a Sarbanes-Oxley program using template import and the GUI features.
It facilitates the mapping of an organization's frameworks, programs, risks, and vendors.
Cons
Evidence storage solutions are not fully integrated.
Users have to add custom fields in the model risks functionality.
Customer Rating
5. Secureframe
Secureframe is a GRC platform that automates and streamlines the end-to-end compliance process, allowing you to become compliant as soon as possible. The tool centralizes information for easy assessment, allowing you to manage and mitigate regulatory, legal, and financial risks. The platform's automated alerts and reports notify users of a critical vulnerability, allowing users to fix it quickly and remain compliant.
Pros
Integrations with the platform allow data to be pulled automatically.
This tool simplifies the compliance process by dividing complicated requirements into manageable tasks.
It provides an easy-to-use reports tab to make your organization compliant with privacy frameworks.
Cons
The tool provides no instructions for resolving errors. For example, it reports a problem with the X Amazon tool in a region but fails to specify which regions are affected.
It does not provide high-level priority order of events.
Customer Rating
6. Logic Manager
LogicManager is a SaaS-based Enterprise Risk Management software enabling businesses to improve their performance through strong governance, risk management, and compliance. The platform's built-in controls and control suggestions provide insights into existing controls, allowing users to reduce the number of controls that must be tested. It offers customizable workflows enabling users to send automated tasks to decision-makers, eliminating the need for constant email chains.
Pros
The owner can create forms without the assistance of an expert.
With Logic Manager's monthly updates and webinars, users can improve vendor, compliance and audit programs.
Cons
Some of the locked fields do not meet the needs of users in terms of reporting.
The reporting module does not reflect recent real-time changes.
Customer Rating
7. Hyperproof
Using Hyperproof, you can automate workflows and unify your compliance and risk management processes, so you can focus on the things that matter most to you.
It is an all-in-one platform for understanding compliance requirements, implementing and managing internal controls, defining your ideal compliance processes, and monitoring and reporting your compliance posture. With Hyperproof, you can define the controls your organization requires and how they should be managed, as well as automate evidence collection and control testing from a single platform.
Pros
Hyperproof frameworks allow users to create the right control set.
This tool allows users to integrate controls into multiple frameworks and link them seamlessly.
Cons
Deactivated uses accounts appear in the module because platform security controls are not being inherited.
Some features of the platform are not compatible with all browsers. For instance, downloading already uploaded artifacts through Firefox does not work properly.
Customer Rating
8. Sprinto
Sprinto is a simple software that automates any security compliance program. It integrates seamlessly with your cloud environment to consolidate risk, map entity-level controls, and fully automated checks. It goes to great lengths to ensure compliance and prompt remediation – all in real-time. The platform complies with the most security standards of any software. It is designed to easily layer and monitor multiple compliance programs on top of one another.
Pros
The tool integrates with major services such as Amazon Web Services, Google Cloud Platform, and other HR management software.
It provides all the next steps and monitoring processes in one location.
Cons
This software requires desktop installation, a difficult and time-consuming task for users.
The platform doesn't include login with the SSO provider such as Okta.
Customer Rating
9. JupiterOne
JupiterOne provides a consolidated compliance solution to your cybersecurity and governance team. It supports all major compliance frameworks, including ISO, SOC 2, NIST, CIS, HIPPA and PCI, and HIPAA. The tool provides custom frameworks and policies to meet your governance and compliance requirements. It enables you to collect data automatically to meet compliance requirements and prepare for your next audit.
Pros
Users can visualize the relationships to understand what is happening in their digital environment.
The tool provides a query syntax feature for locating assets using filters.
Cons
Some desirable data elements are missed in JupiterOne.
There is a significant barrier to learning all the different features.
Customer Rating
10. ServiceNow GRC
ServiceNow GRC is a platform designed for a rapidly changing world, aiming to optimize processes, make work more intuitive, and create new value. The platform reduces risks by resolving issues before they become audit findings using real-time insights into compliance. It increases productivity through automated, cross-functional workflows, artificial intelligence, and user experiences similar to those of consumers.
Pros
The tool generates real-time reports in a single dashboard, covering everything from end-user inquiries to control procedures.
The platform's configuration Item setup provides detailed information about an application/server/database.
Cons
When updates are not saved, and notifications are not sent, there is a risk of missing the ticket.
The available modules do not adhere to NIST standards.
Customer Rating