Compliance in IT service management involves adhering to standards, ensuring secure service delivery, and upholding industry-specific regulations. It fosters transparency, accountability, and operational efficiency.
However, as technology has become increasingly intertwined with our daily lives, the significance of compliance has taken on new dimensions.
Consequently, many businesses find it difficult to navigate the complicated regulatory environment and multiple frameworks while maintaining strong cybersecurity.
Fortunately, a new synergy is carving its mark—one that blends the prowess of IT service providers with the diligence of compliance experts—offering a shield against cyber threats and guiding ethical digital growth.
In this blog, we discuss how this synergy can elevate your security framework and help you achieve compliance excellence.
Strategic benefits of outsourcing compliance
Managed Service Providers (MSPs) integrate compliance with IT infrastructure, ensuring security and compliance go hand-in-hand. Leveraging MSPs with in-house teams optimizes compliance by leveraging their IT familiarity
Here are some strategic benefits of outsourcing compliance to a trusted MSP: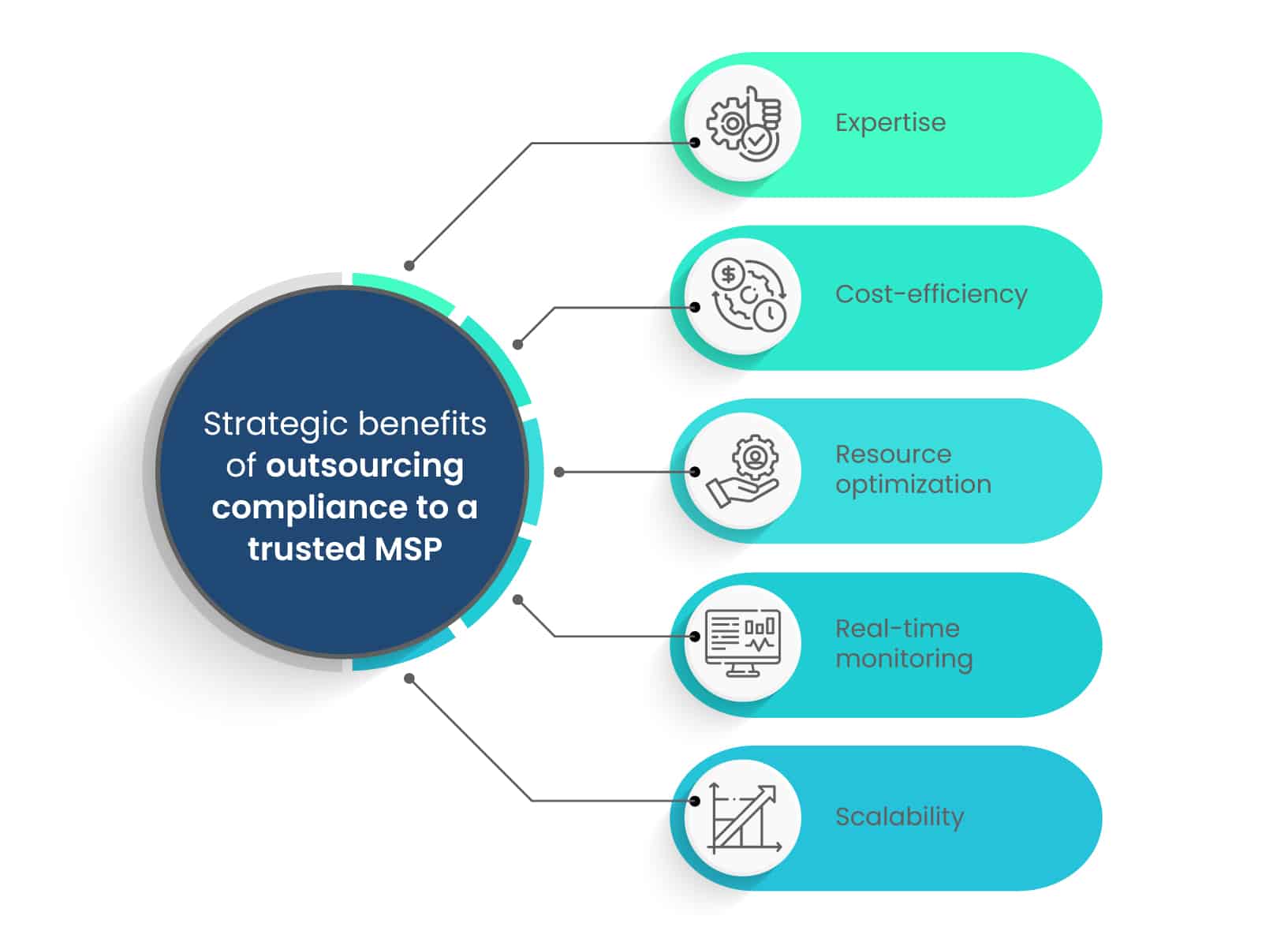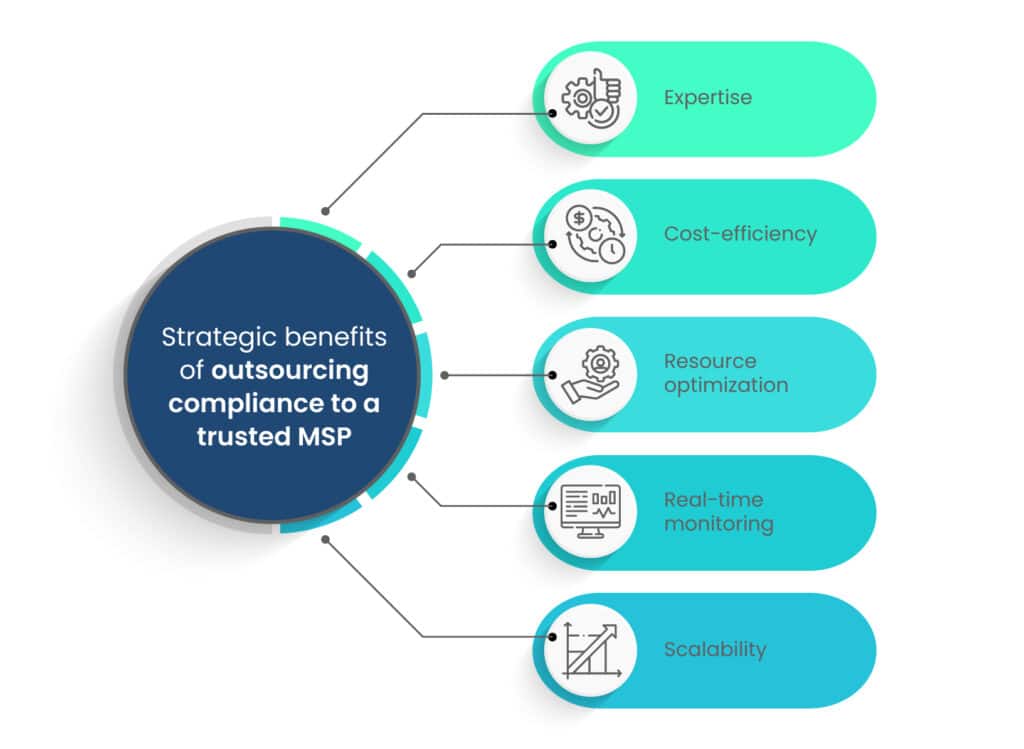 1. Expertise
Compliance excellence hinges on the expertise of a trusted Managed Service Provider (MSP) that combines IT proficiency with compliance know-how. MSPs employ compliance specialists who understand industry-specific standards and emerging trends.
Their proactive approach identifies potential risks before they escalate, fostering a culture of continuous improvement. This expertise ensures organizations meet regulatory requirements while bolstering security and staying ahead of compliance challenges.
2. Cost-efficiency
Achieving compliance excellence is linked to cost-efficiency. Outsourcing compliance to an MSP cuts the need for extensive in-house teams and lowers overhead expenses. MSPs offer streamlined processes, allowing businesses to allocate resources strategically.
This results in a leaner, more agile organization that can respond swiftly to compliance changes, contributing to compliance excellence and financial stability.
3. Resource optimization
Compliance excellence relies on resource optimization. Outsourcing compliance to an MSP frees internal teams to focus on core competencies and strategic initiatives. This resource optimization enhances productivity, ensuring the right people work on the right tasks and maximizing the organization's potential.
4. Real-time monitoring
Real-time monitoring is crucial for compliance excellence. MSPs equipped with monitoring tools track data security and compliance adherence in real-time. Immediate responses to threats reduce the risk of compliance violations, enhancing compliance excellence and data protection.
5. Scalability
Compliance excellence requires adaptability. MSPs offer scalability, adjusting compliance strategies to business growth and changing regulations. This ensures long-term compliance excellence by keeping measures effective, relevant, and aligned with the organization's evolving needs.
Why are MSPs switching to GRC automation to streamline compliance?
MSPs utilize GRC automation to simplify compliance for their clients, enhance security, and meet evolving regulatory expectations effectively.
As an MSP using compliance automation, you gain real-time insight into clients' compliance status through an intuitive dashboard. This eliminates data duplication and streamlines audits.
Compliance automation boosts efficiency in certifications like SOC2, ISO 27001, or PCI, making the process manageable. It provides granular insights to identify gaps and helps you develop mitigation plans.
But what happens when MSPs use manual processes for compliance?
Manual processes: Yea or nay?
MSPs deal with substantial data, documentation, and reporting requirements, all of which must be accurate to ensure robust GRC programs for their clients.
Manual processes, while time-consuming, are also prone to errors that can result in compliance gaps or inconsistencies.
Leveraging trusted IT service providers takes compliance to the next level by eliminating the risk of human error associated with manual processes.
For MSPs looking to expand into comprehensive managed GRC services, the challenge lies in acquiring expertise in GRC domains, establishing essential processes, and seamlessly integrating GRC into their existing service portfolio.
So why not pick an external vendor?
External vendors who lack insight into your IT infrastructure may struggle to provide solutions that adequately address your specific compliance needs.
This misalignment can lead to inefficiencies, compliance gaps, and potential vulnerabilities that pose a significant risk to your business.
The convergence of IT and compliance services through a trusted MSP empowers businesses to enhance cybersecurity and ensure regulatory compliance. This approach offers an adaptable, efficient, and tailored solution for their unique needs.
Here's what you should do instead.
Take compliance to the next level with a trusted MSP
Businesses can reap several benefits by partnering with a trusted MSP that possesses a deep understanding of their IT infrastructure and industry-specific regulations,.
Such an MSP can help implement tailored compliance solutions that align seamlessly with your existing systems and processes. This enhances security, streamlines compliance efforts, and reduces the risk of costly non-compliance penalties.
MSPs can proactively identify and mitigate security risks, leveraging cutting-edge technology and expertise to fortify defenses against cyber threats. They also ensure that the organization remains compliant with evolving regulatory requirements.
This synergy offers a more efficient and cost-effective solution compared to handling compliance in-house or outsourcing to a generic vendor.
How to harness trusted IT service providers for compliance excellence:
Select a Reputable Partner: Choose an MSP with a proven track record in compliance management and a deep understanding of your industry's regulations.
Define Clear Objectives: Clearly outline your compliance goals and expectations, ensuring alignment with your organization's specific needs.
Leverage Technology: Utilize cutting-edge compliance automation tools and solutions provided by the MSP to streamline processes and ensure real-time monitoring.
Collaborate Actively: Foster open communication and collaboration with the MSP to ensure they are well-informed about your compliance requirements and can tailor their services accordingly.
Continuous Improvement: Regularly assess and review your compliance strategy with the MSP to adapt to evolving regulations and enhance your overall compliance posture.
Join hands with TenisiTech: Compliance with confidence
Enter TenisiTech, a globally trusted Managed Service Provider (MSP), that offers specialized Compliance-as-a-Service solutions designed to shield organizations from compliance pitfalls.
Its services include risk analysis, policy development and implementation, documentation management, third-party risk management, security training, and incident management.
TenisiTech understands that compliance is not one-size-fits-all and provides bespoke solutions tailored to fast-growing organizations. Their experts offer valuable guidance, leveraging their industry knowledge and global experience for effective compliance strategies.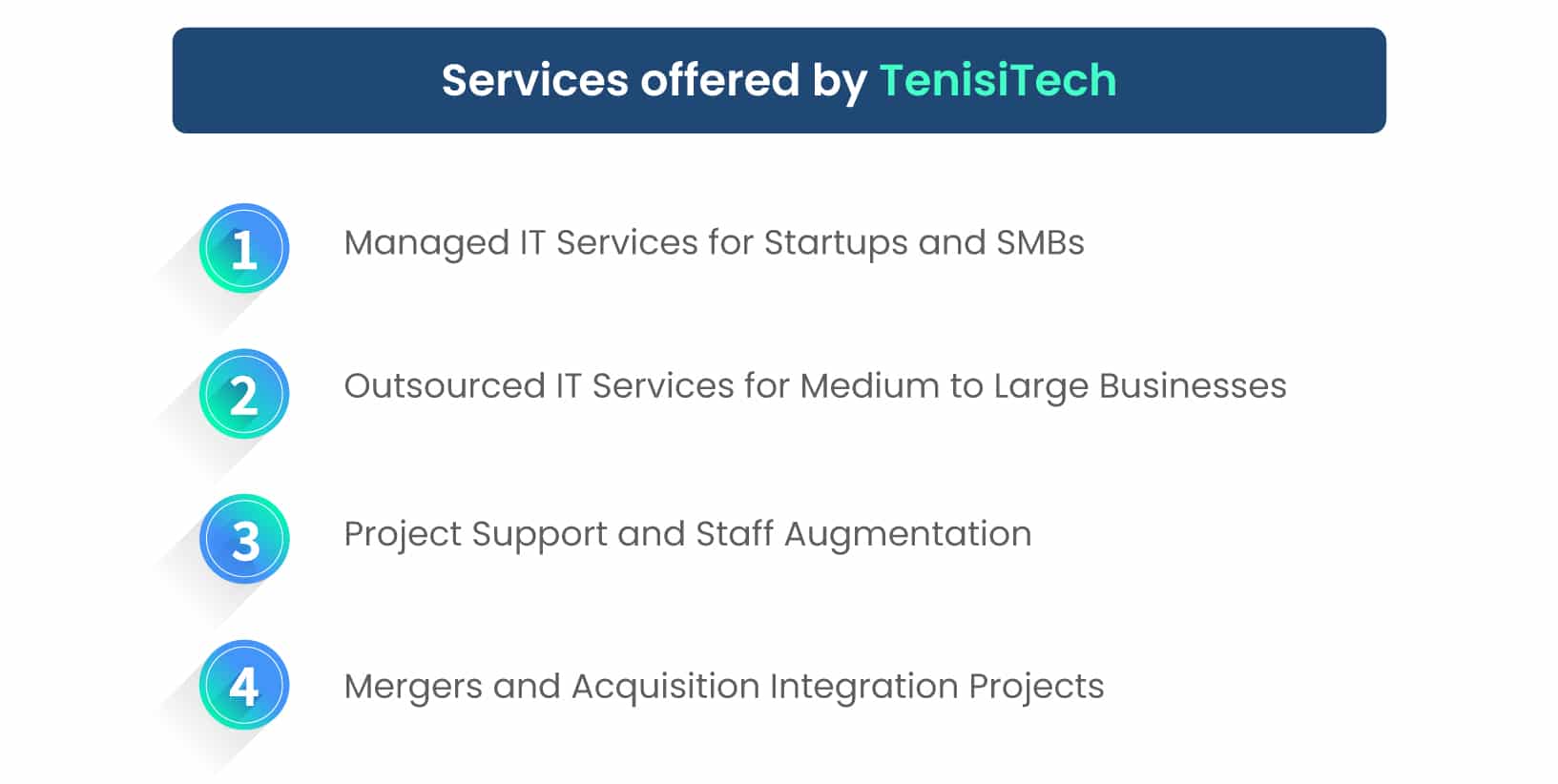 Through its partnership with Scrut, TenisiTech expands its reach and offers clients access to a diverse pool of compliance specialists in various industries and jurisdictions. This allows you to craft compliance strategies that align seamlessly with your business operations and objectives.
Outsourcing compliance to TenisiTech enhances operational efficiency and performance, allowing organizations to focus on core activities.
Leverage the expertise of TenisiTech's team and Scrut to embark on a journey towards streamlined, tailored, and successful compliance management.