Put your best foot forward
To Acing
Enterprise RFP Security Questionnaires
A security questionnaire is a document used to collect information about an organization's security posture. The RFP security questionnaire delves into a vendor's security policies, security procedures, security practices, incident response plans, and security certifications. It also collects information about that business's security infrastructure, including its network, servers, and applications. Learn about how to ace enterprise security questionnaires through this step-by-step guide.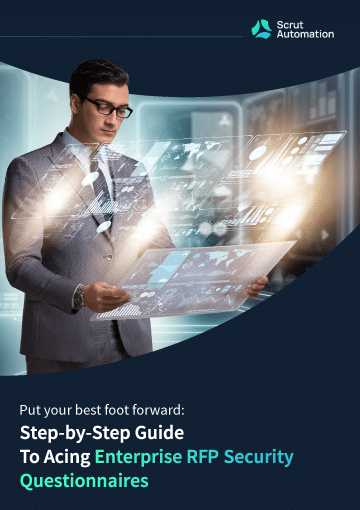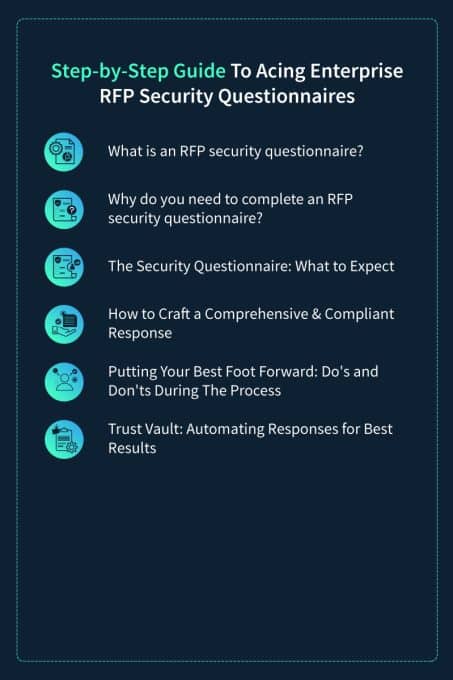 Learn how InfoSec Compliance can benefit your Business, through our cutting-edge Compliance E-Books
Frequently asked questions


---
What is a security questionnaire?
Before deciding to do business with a company, an enterprise may use a security questionnaire to assess and confirm that organization's security procedures.
What is an RFP checklist?
An RFP checklist is a thorough workflow that methodically describes the RFP process phases from start to submission.
What to expect in the Security Questionnaire?
Vendors of cloud computing provide hosted services over the Internet, including computing resources, storage, and software programmes. Numerous advantages come with this delivery approach, such as quick implementation, low upfront expenses, scalability, and flexibility.
Today, the majority of businesses operate resources and services in one or more public clouds as well as on-premises data centres using a hybrid or multi-cloud strategy. Cloud-based apps, data, and workloads are secured across one or more cloud environments with the aid of cloud security tools and utilities. Automated tools are regarded as a crucial component of cloud security plans.
What's in a security questionnaire?
A security questionnaire will vary depending on the industry, but still following are some of the common topics raised in the questionnaire.
Application security – Do you have an updated SSL certificate?
Audit & compliance – Are you CCPA & GDPR compliant?
Protection Regulation — Are you GDPR compliant in addition to other compliance requirements?
Business continuity – Do you have contingencies in place to continue operations during an outage?
Disaster recovery – How soon will you let customers know if there has been a breach? How are you going to handle the breach?
Change control – How are security patches, for example, rolled out under emergency change control?
Data/information security – What rules do you have regarding security?
Data privacy – How often do you back up your data, and how do you do it?
Encryption management – Do your systems employ encryption or cryptographic methods?
Governance & risk management – Do you keep a log of security incidents?
Human resources – Are employees instructed on security procedures?
Identity & access management – Offer single sign-on (SSO) to users?
Physical security – How can on-site privacy be protected while protecting your physical assets?
3rd party management – Fourth-party breaches do occur. How do your vendors inspect their vendors?
Vulnerability management – How are vulnerability analyses carried out?
What are the most common types of security questionnaires?
You might receive several kinds of security questionnaires, depending on your sector, the industry of your prospect, and the continuously expanding InfoSec risks and developments. Following are some of the most common types of security questionnaires.
CIS Critical Security Controls (CIS First 5 / CIS Top 18)

Standardized Information Gathering questionnaire (SIG Core & SIGLite)

ISO 27001 questionnaire

California Consumer Privacy Act questionnaire (CCPA)

Consensus Assessments Initiative Questionnaire (CAIQ)

General Data Protection Regulation questionnaire (GDPR)

National Institute of Standards and Technology (NIST SP 800-171)

Payment Card Industry Data Security Standards questionnaire (PCI DSS)