Best Practices and Expert Insights
Becoming Best-in-Class in
Cloud Compliance
One of the biggest risks organizations face today is losing control over their data. When data is stored in the cloud, it is stored on servers outside the organization's control. This can lead to compliance issues if data is not adequately secured. Read about the right ways to protect your cloud infrastructure in our ebook 'becoming best-in-class in cloud compliance.'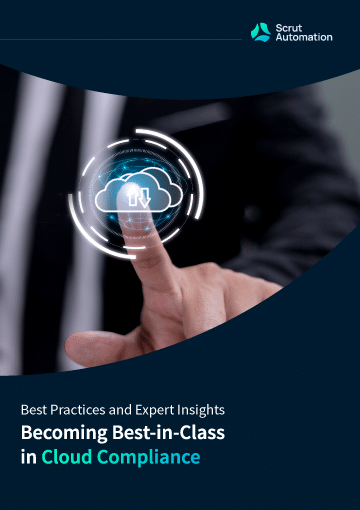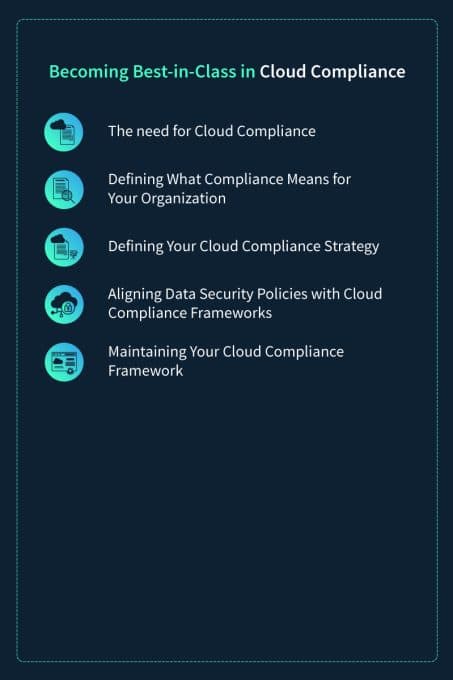 Learn how InfoSec Compliance can benefit your Business, through our cutting-edge Compliance E-Books
Frequently asked questions


---
What is cloud compliance?
Cloud compliance is the art and science of complying with the recommendations of regulatory standards and industry frameworks for cloud usage in accordance with industry guidelines and local, national, and international laws. A few such compliance standards include Health Insurance Portability and Accountability Act (HIPAA) and the Payment Card Industry Data Security Standard (PCI DSS), Service Organization Control Type 2 (SOC 2), General Data Protection Regulation (GDPR), and ISO/IEC 27001.
What are the compliance risks associated with the cloud?
Following are some of the compliance risks associated with cloud computing.
Forfeiture of Visibility: Moving your operations to the cloud forfeits a lot of the responsibilities related to system management to the cloud services provider.

Loss of Information: As a preventative measure against data loss, backups are essential, and cloud storage is seen as being very resilient due to redundant servers and storage functionality spread across several geographical regions. Still cloud storage is susceptible to natural disasters and ransomware like other forms of storage.

Issues with Cloud Compliance Standards: Moving your operations to cloud means that your and your client's sensitive data can be remotely accessed by malicious parties. To prevent this from happening, several compliance standards have set guidelines that are to be followed at all times. Failure to comply with these standards can result in hefty financial loss.

Cloud-based Cybercrimes: As mentioned above, remotely accessing information can leave your data vulnerable to cyber-attacks.

Unprotected integrations and syncing with APIs: Businesses can sync their data with the cloud using Application Programming Interfaces (APIs), which essentially automate the data workflow between cloud systems. Poor APIs that fail to encrypt data and monitor activity properly often lead to vulnerabilities.
What are cloud security tools?
Vendors of cloud computing provide hosted services over the Internet, including computing resources, storage, and software programmes. Numerous advantages come with this delivery approach, such as quick implementation, low upfront expenses, scalability, and flexibility.
Today, the majority of businesses operate resources and services in one or more public clouds as well as on-premises data centres using a hybrid or multi-cloud strategy. Cloud-based apps, data, and workloads are secured across one or more cloud environments with the aid of cloud security tools and utilities. Automated tools are regarded as a crucial component of cloud security plans.
How does cloud security work?
There are plenty of tools and solutions that secure your cloud solution, most of them work around the same four principles.
Micro-segmentation: This security technique allows the data center to be divided into multiple security segments, right down to the level of each individual task. As a result, the harm that attackers can do is reduced.
Advanced firewalls: These are the next generation of firewalls that are much more effective than their traditional counterparts. They keep out threats by using an application-aware filtering system. 
Threat Monitoring: Continuous cloud storage monitoring allows for quick response to any threats or lapses in security.
Data encryption: By encrypting your data, you ensure the safety of your data as the process leaves the data incomprehensible without the key.