Build trust with your EU customers, with continuous
GDPR compliance
---
Strengthen your GDPR compliance posture with pre-built controls and continuous compliance monitoring
General Data Protection Regulation (GDPR) is a set of regulations designed to give EU citizens more control over their confidential data. It aims to streamline the business regulatory environment so citizens and organizations in the European Union (EU) can wholly benefit from the digital economy.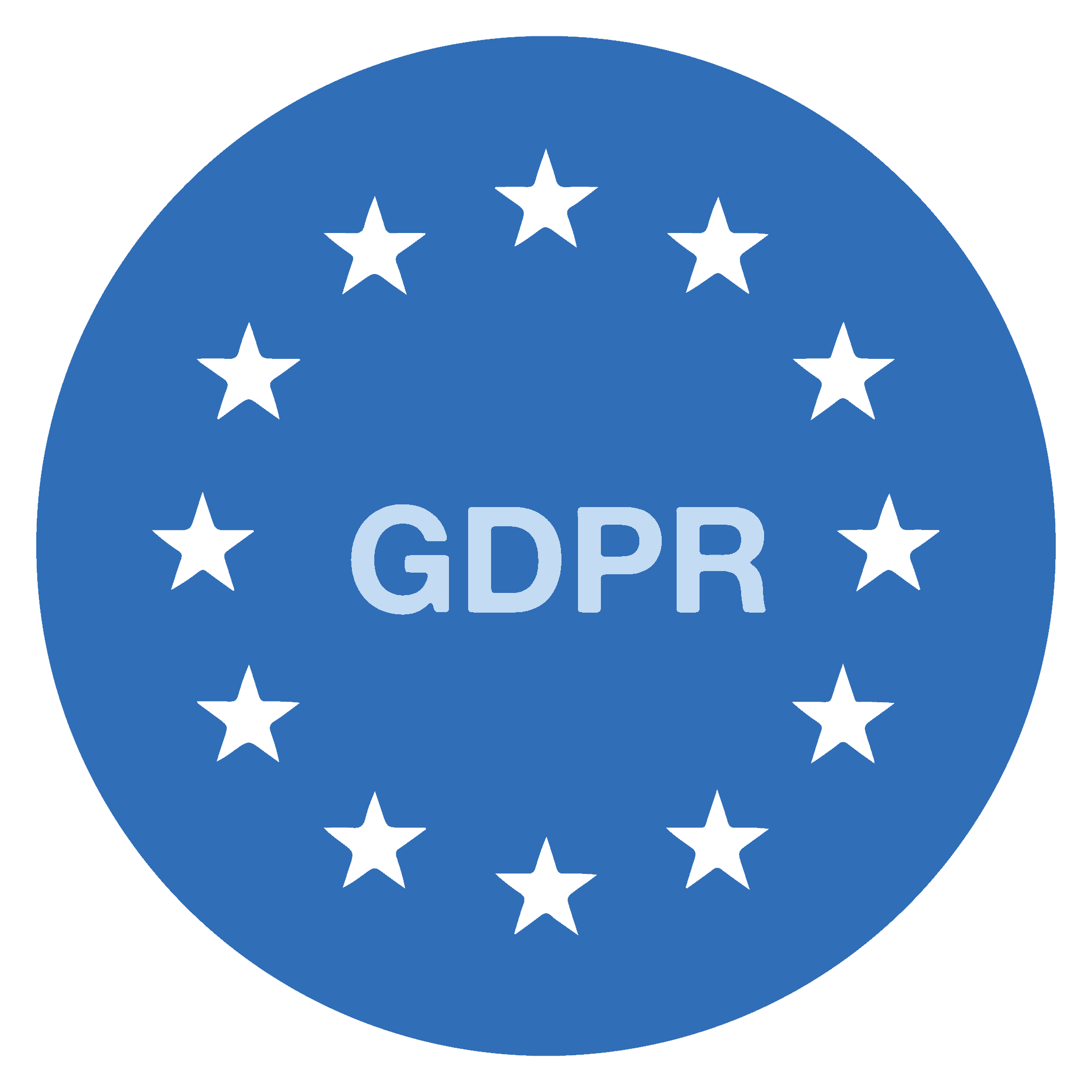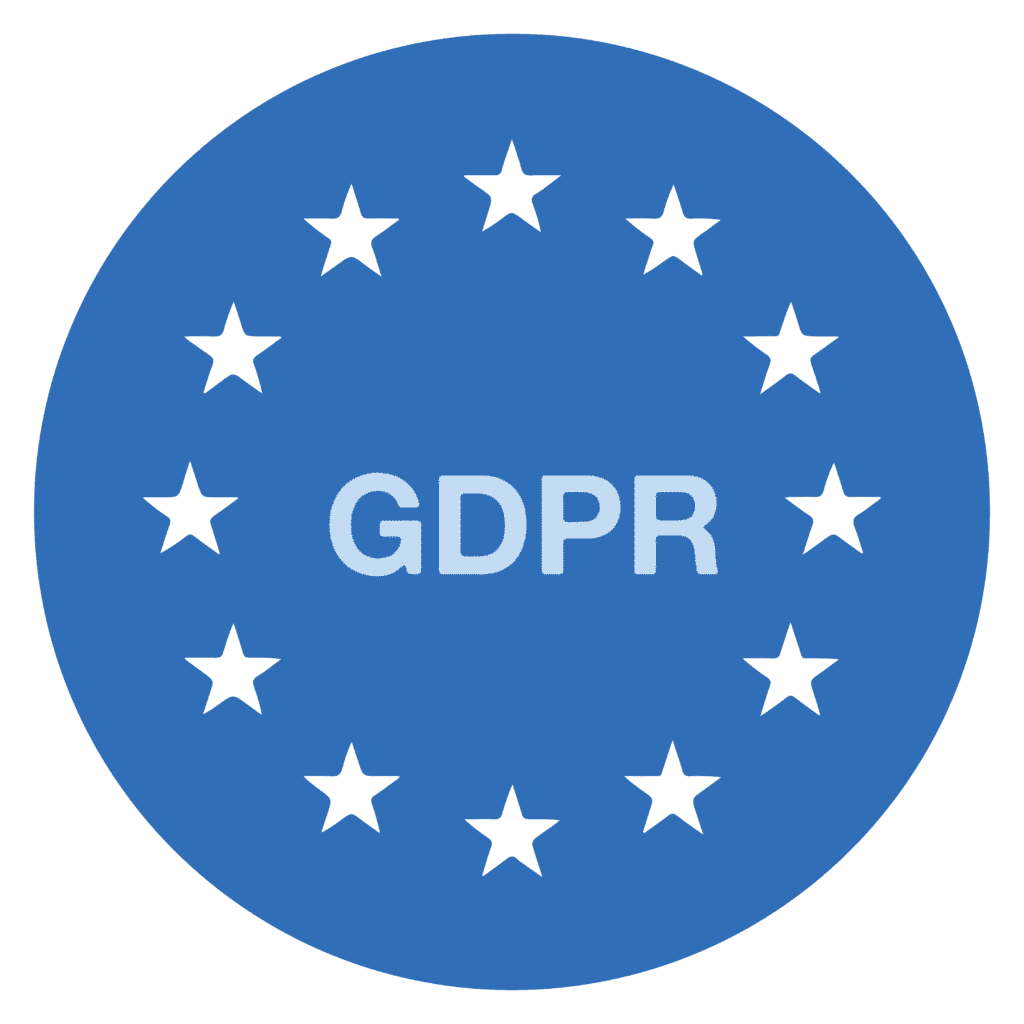 Simplify end-to-end GDPR compliance
Manage everything from cloud risk assessments, control reviews, employee policy attestations, and vendor risk through the platform. Identify compliance gaps so you can focus on what to fix.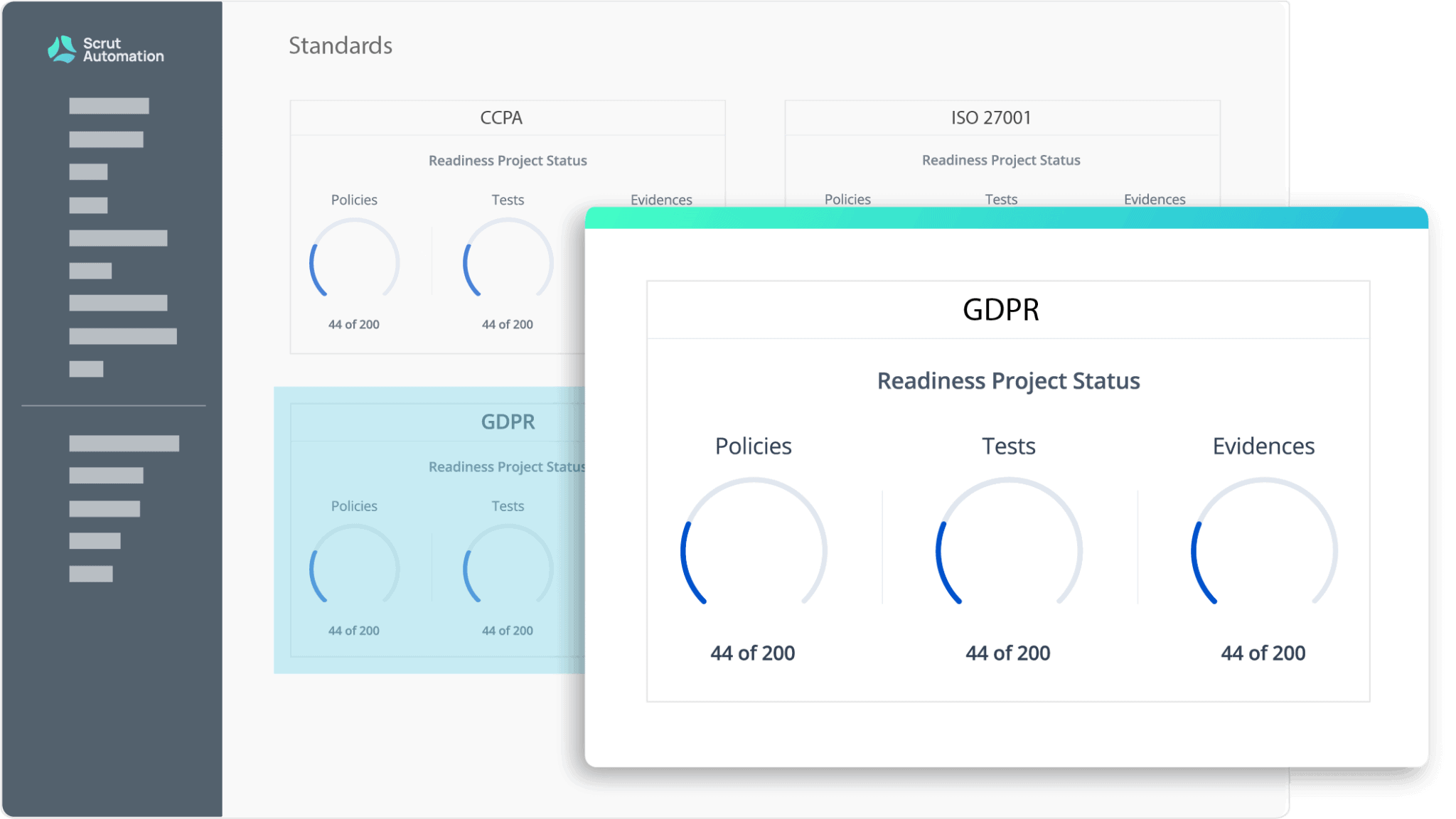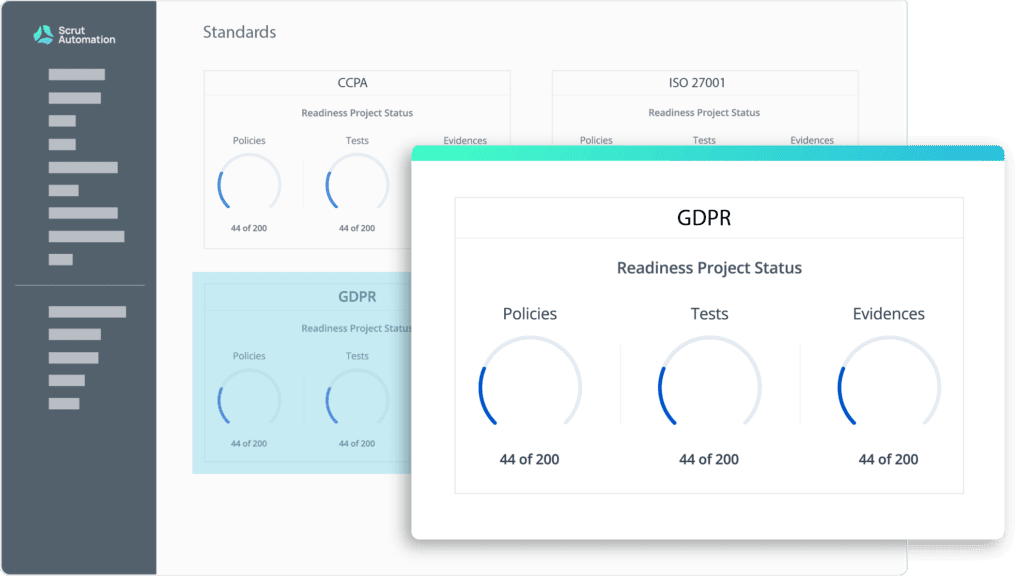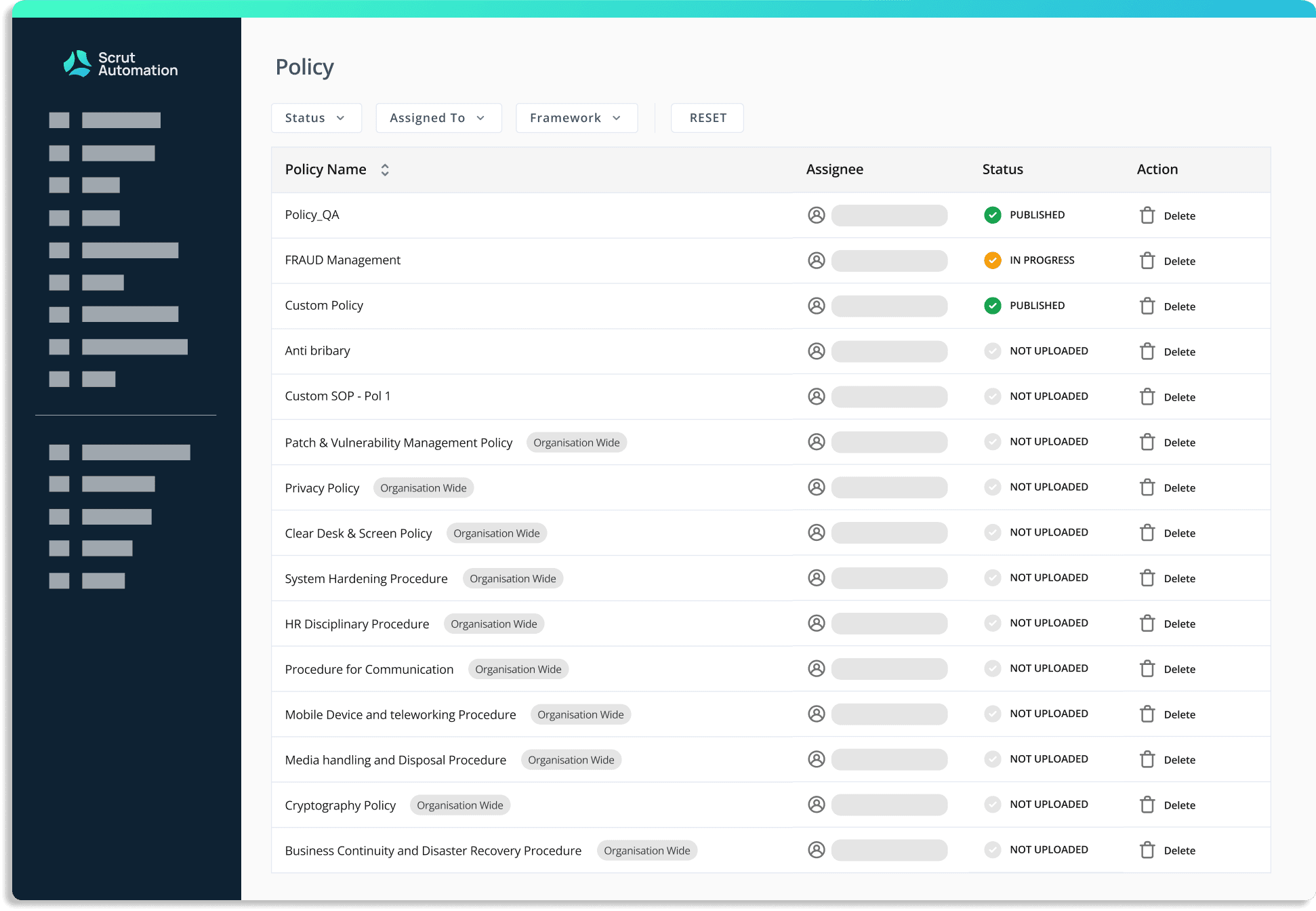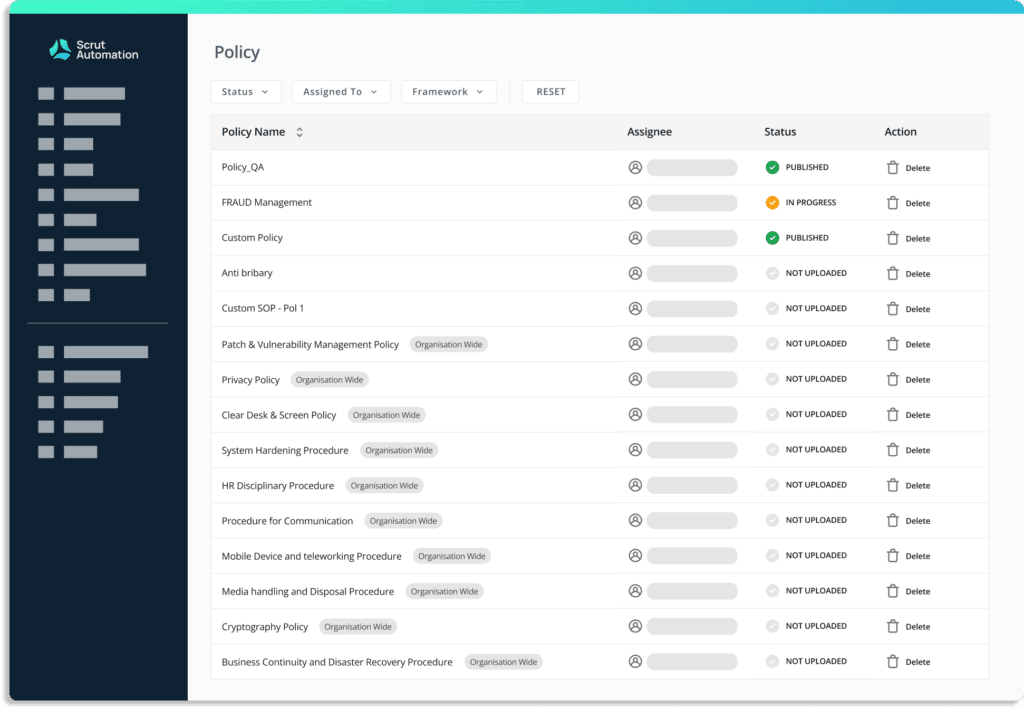 Set up GDPR compliant policies in minutes
Leverage our policy library with 50+ pre-built policies or upload your own – to set up your infosec program in minutes. Customize your policies with the in-built editor and get them vetted by our in-house compliance experts.
Streamline compliance workflows
Streamline all your compliance activities through the Scrut platform. Create, assign, and monitor tasks with your team and share artifacts seamlessly. Collaborate with the auditor on the platform for faster and painless audits.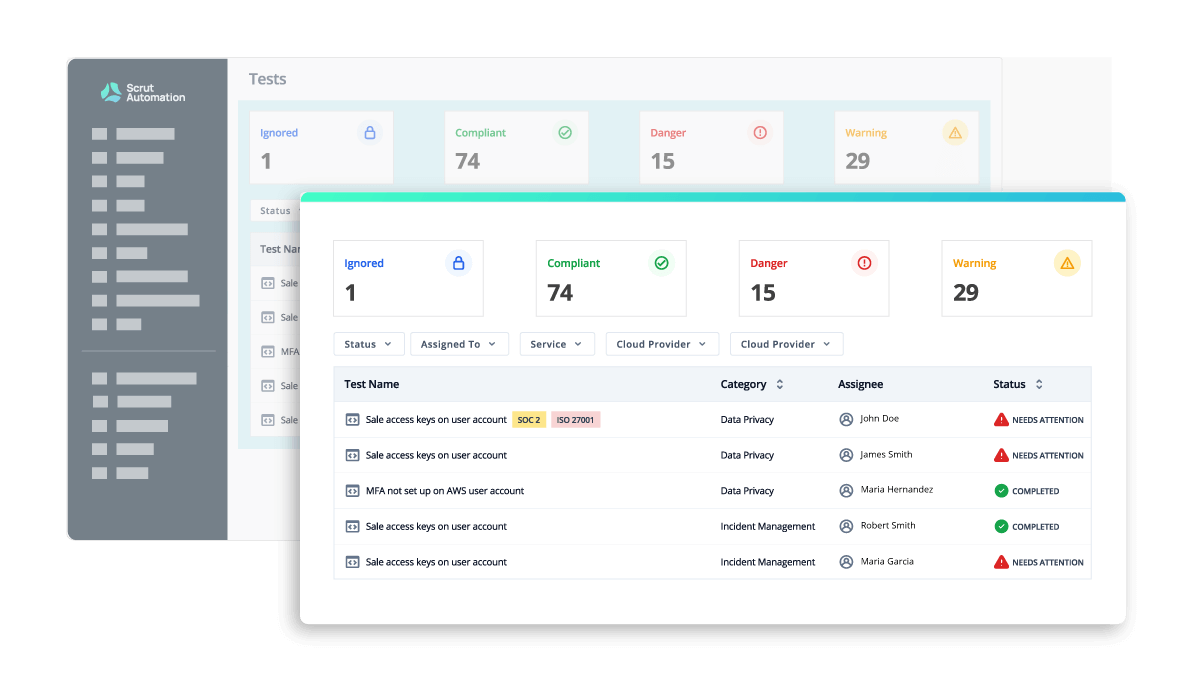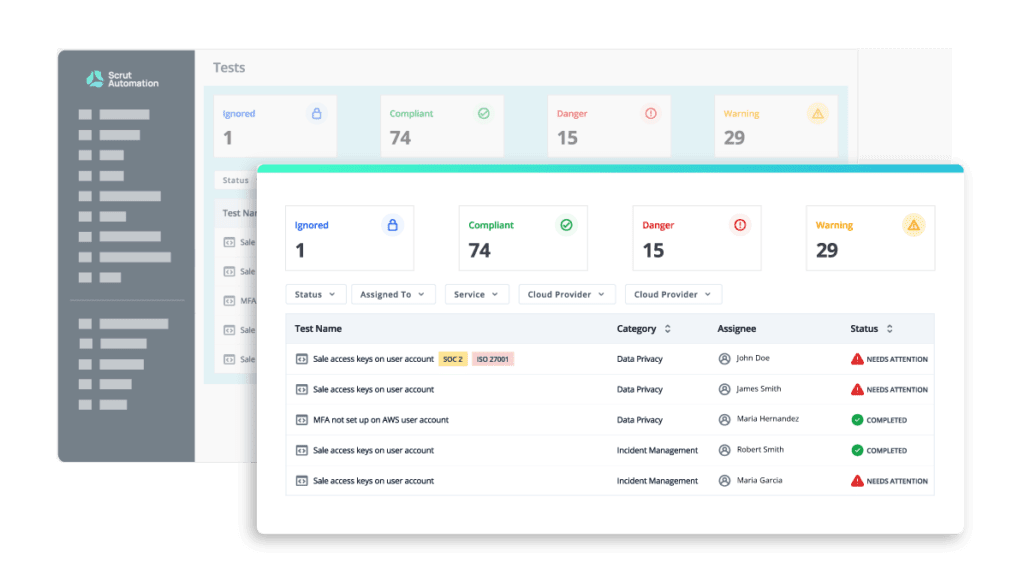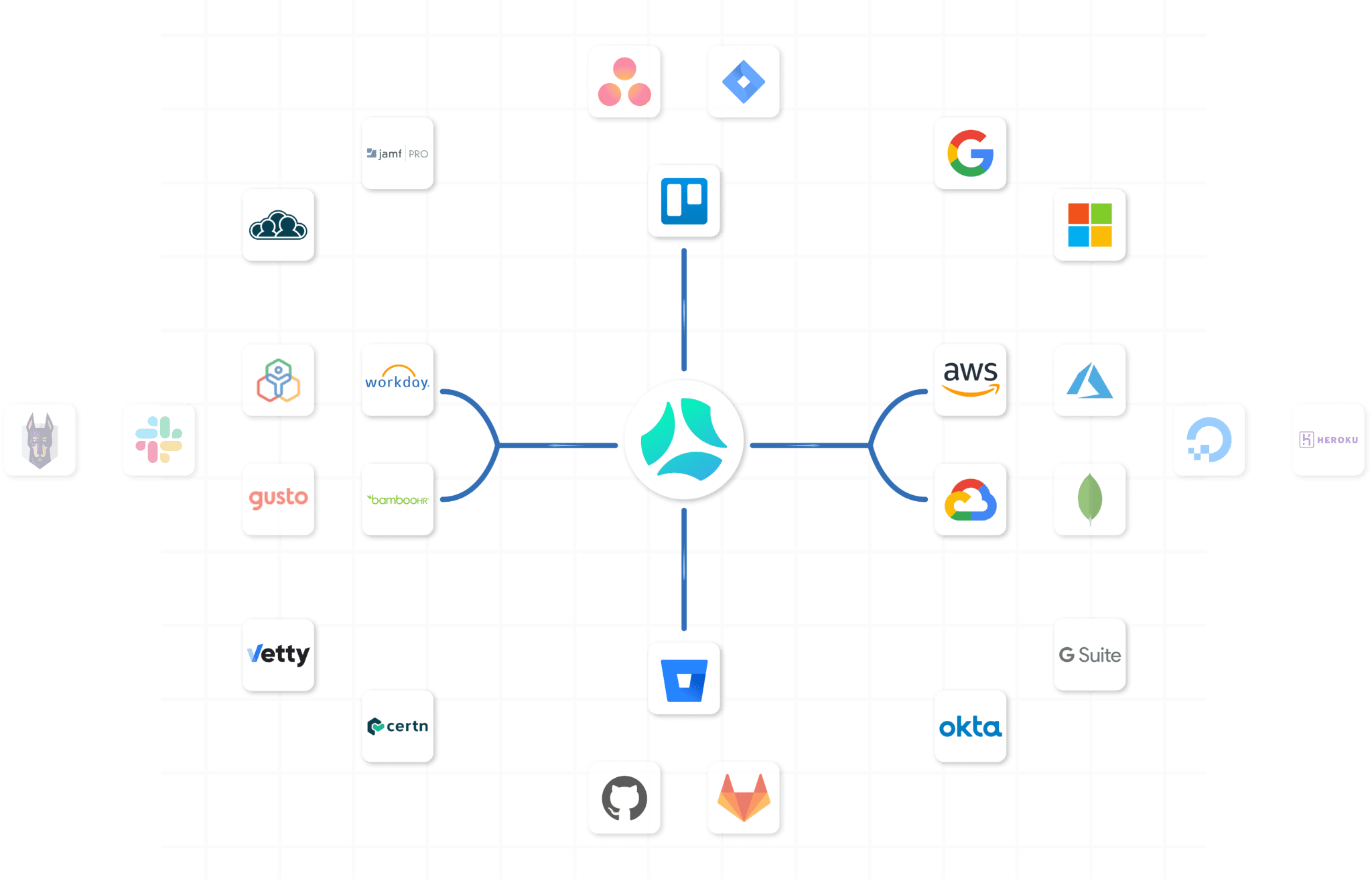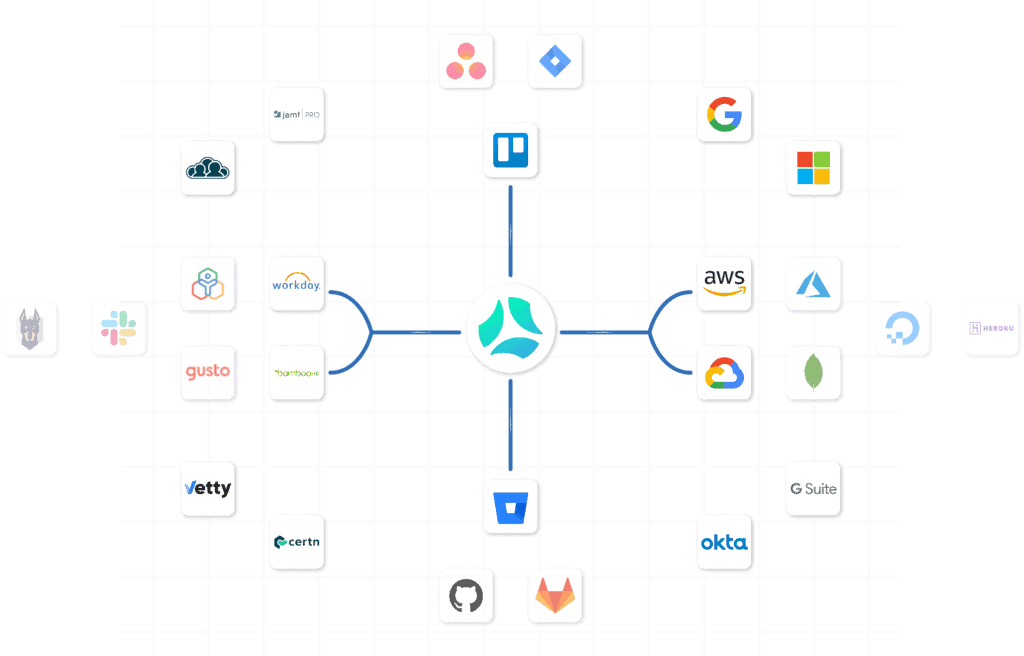 Automate evidence collection
With 70+ integrations across commonly used applications, evidence collection is no longer a mundane, repetitive manual task. Scrut automates >65% of the evidence collection across your application and infrastructure landscape against pre-mapped controls.
Monitor controls continuously
Identify gaps and critical issues in real-time with continuous automated control monitoring. Stay on top of your compliance posture with automated, configurable alerts and notifications for maintaining daily compliance.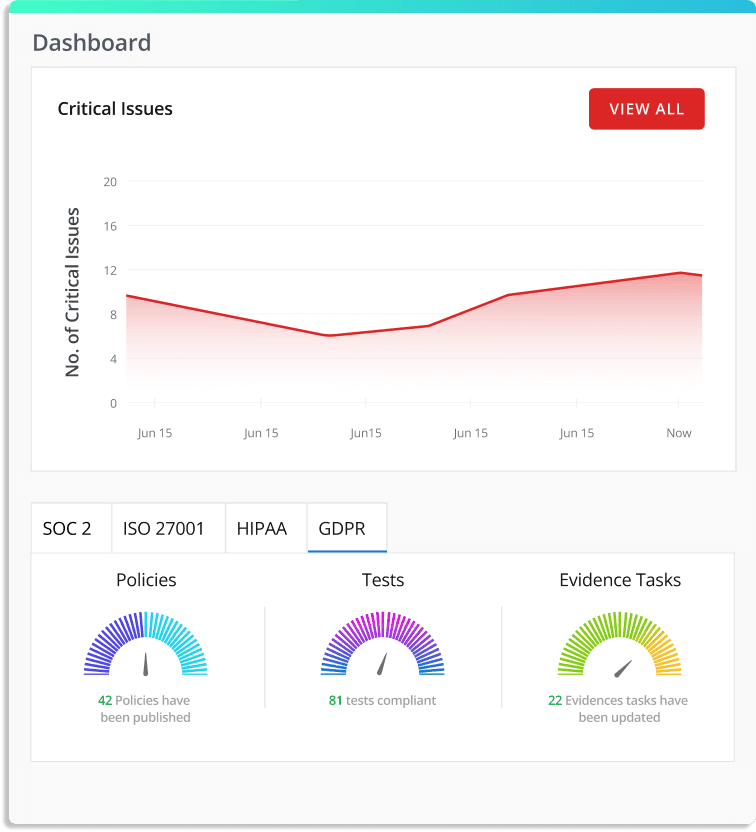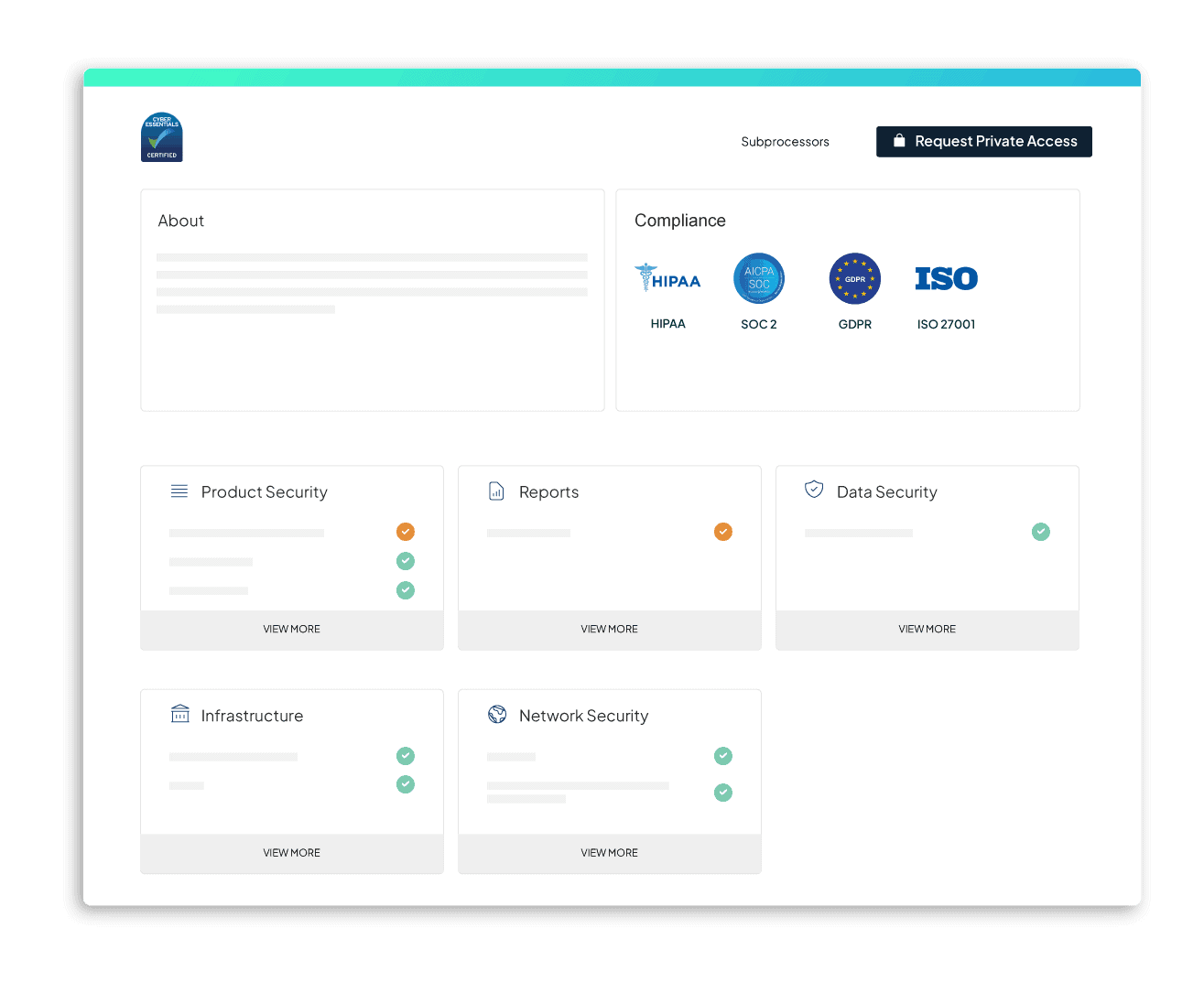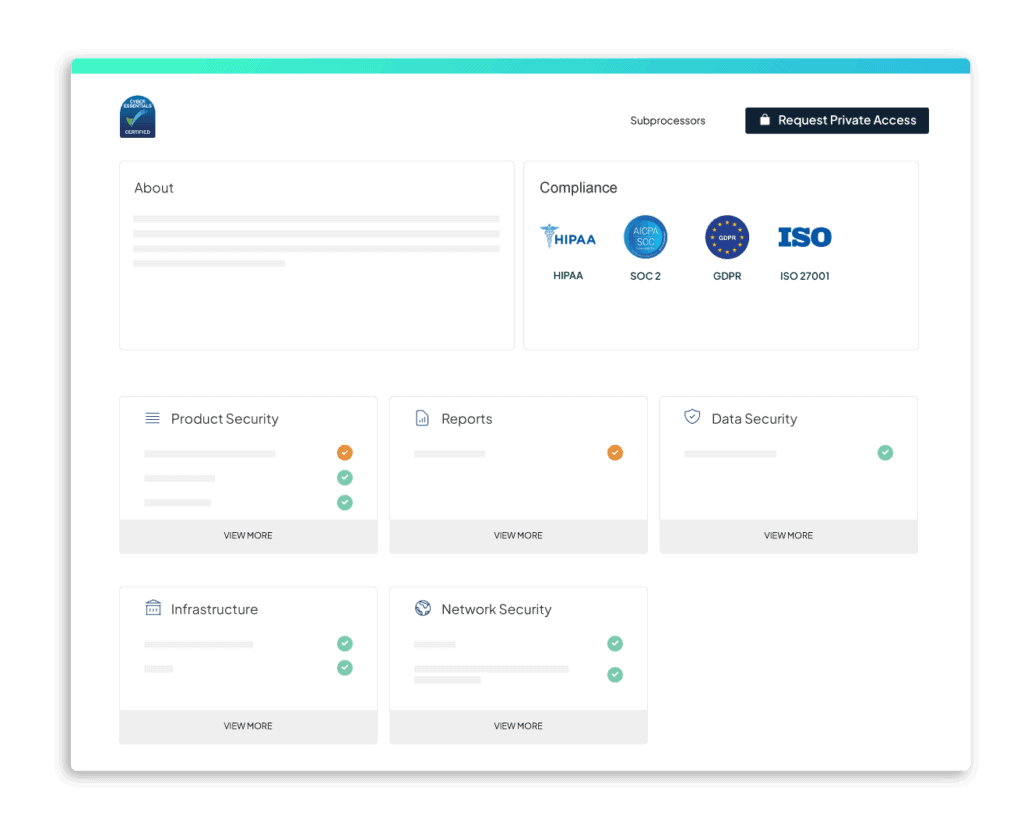 Effortlessly manage evidence of compliance
Demonstrate compliance seamlessly to key stakeholders – showcase GDPR, other security certifications, and your security protocols to build real-time transparency into your security and compliance postures.
Access to GDPR compliance experts
Scrut doesn't leave you with just a tool; we walk the walk with you. With Scrut, you get access to GDPR auditors, consultants, and more, along with our in-house GDPR compliance experts, for a seamless compliance experience.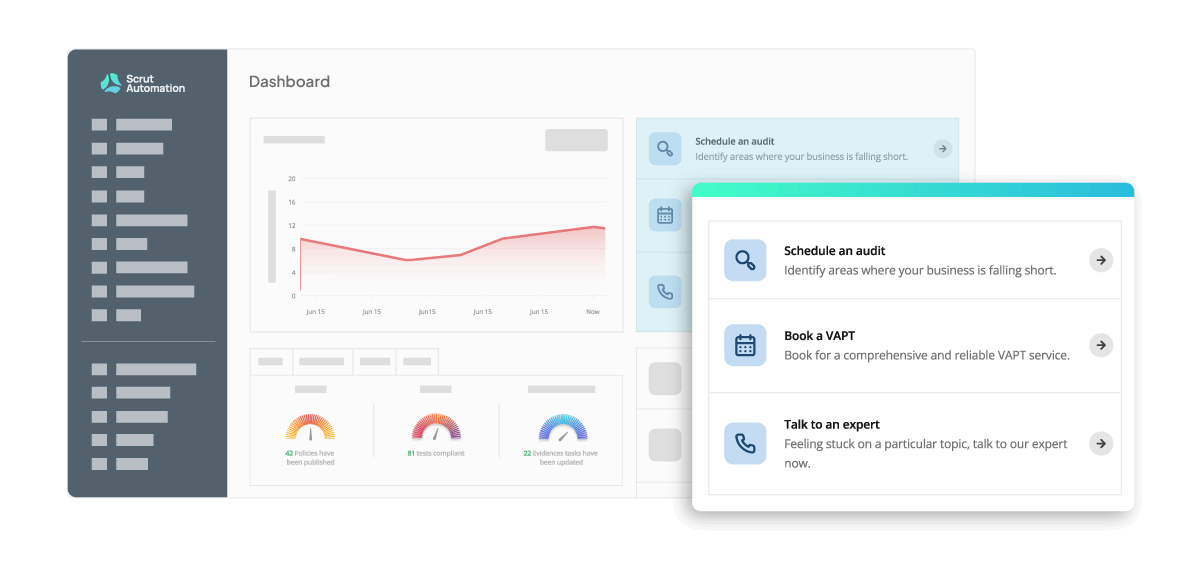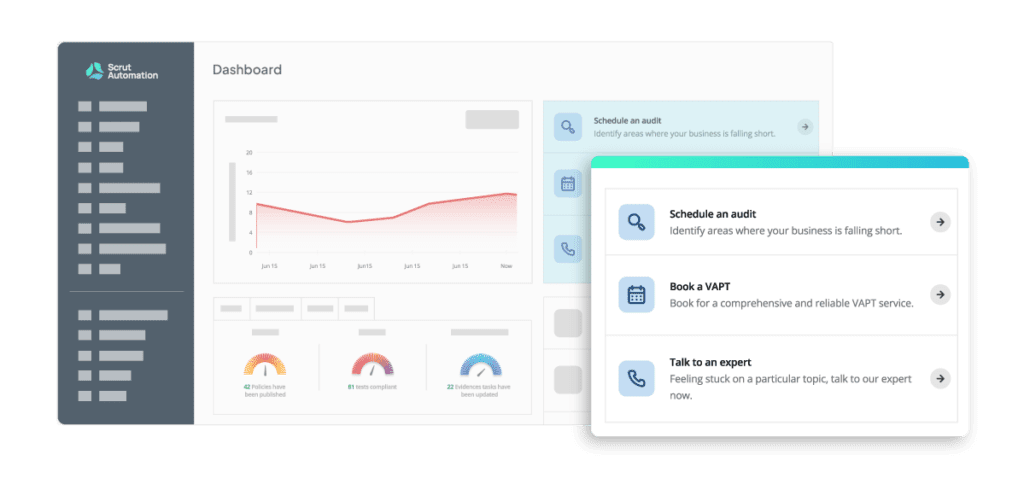 On the top of the leaderboard
In Cloud Security, Cloud Compliance and Security Compliance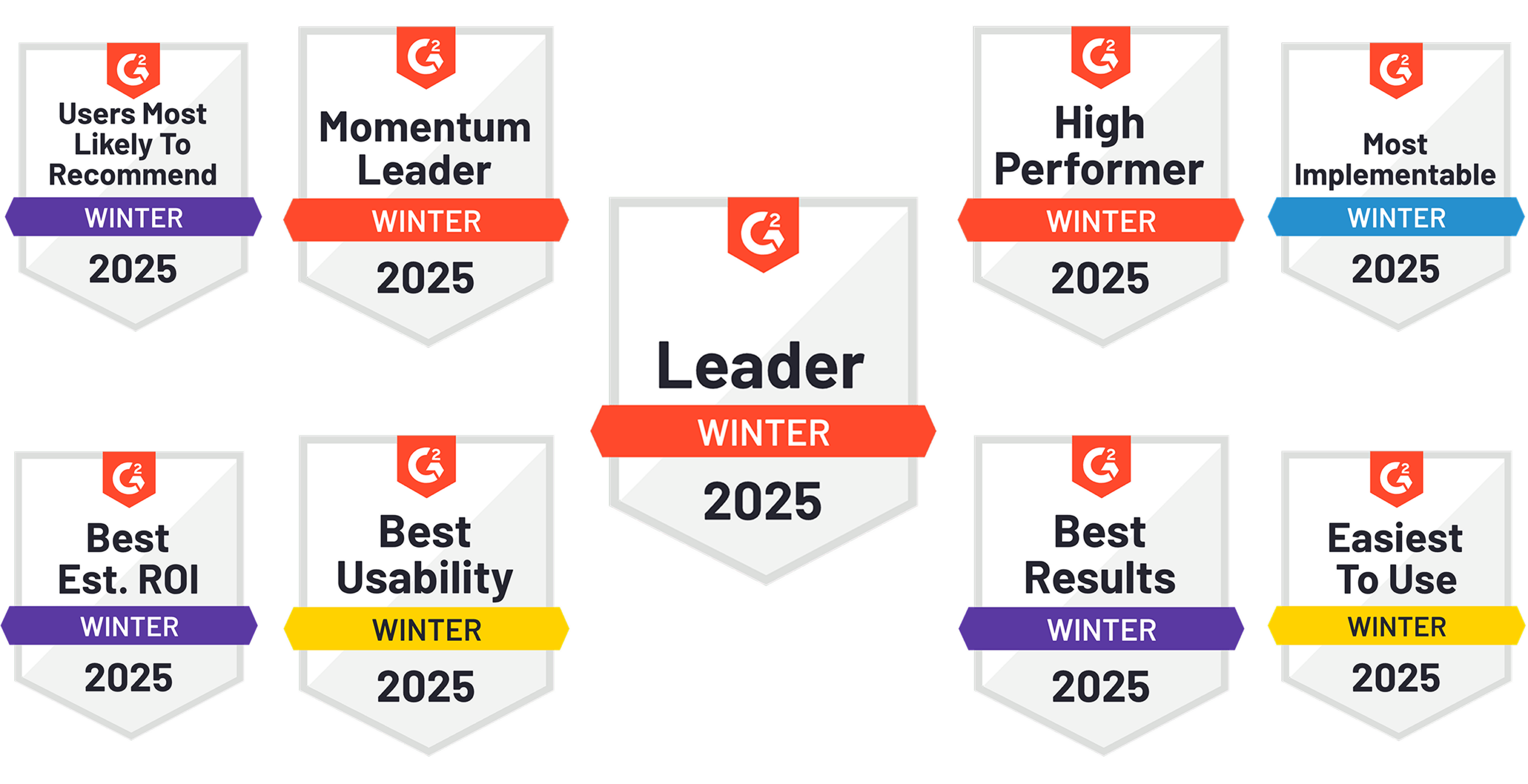 Frequently asked questions


---
What is GDPR?
The General Data Protection Regulation is a law of the European Union that came into effect on May 25, 2018, and it mandates that businesses protect personal data and uphold the rights of anyone who resides in the EU to privacy. The regulation outlines eight privacy rights that corporations must support and seven data protection principles that organizations must implement.
Who is subject to GDPR compliance? Is GDPR compliance a legal requirement?
Any corporation that offers products or services to consumers in the European Union or the United Kingdom must comply with the GDPR.
What does GDPR mean for individuals versus organizations?
The GDPR sets forth certain privacy rights for EU citizens, such as the right to be forgotten and the right to obtain your user consent before sharing your data with a third party. For organizations, the GDPR is a legal framework that covers data governance, data privacy, and data management for any organization with customers in the UK or EU, regardless of where the company is located.
What are the seven principles of GDPR?
To guide the enforcement of GDPR, the standard sets forth seven principles. They are:
Lawfulness, fairness, and transparency

Purpose limitation

Data minimization

Accuracy

Storage limitation

Integrity and confidentiality

Accountability
What is the penalty for GDPR non-compliance?
Businesses that do not abide by the General Data Protection Regulation's (GDPR) rules regarding data processing, data security, and data protection run the risk of incurring hefty fines. The maximum penalty for a lesser offense is $11.03 million, or greater than 2 percent of the company's annual global revenue or $11.03 million. For more serious offenses, the maximum fine is greater than $22.07 million or 4% of the annual global revenue.
Why is it important for companies to be compliant with GDPR?
The GDPR applies to all organizations that handle the personal data of EU citizens. Any information about an individual, such as names, email addresses, IP addresses, eye color, political affiliation, and so forth, is referred to as "personal data." Even if a company is not directly affiliated with the EU, it must abide by the rules if it handles personal data belonging to EU citizens (through tracking on its website, for example). 
Is it permitted for me to send data outside of the EU?
Yes, but transfers of personal data of EU citizens to locations outside the European Economic Area are strictly governed by GDPR. To enable these transfers, you may need to establish particular legal frameworks or abide by certification frameworks, depending on the situation. You can get help from our team of infosec specialists as you follow the required protocols.
How are Personal and Sensitive Data Different?
Personal data represents any information related to the data subject that is used to directly or indirectly reveal a person's identity. On the other hand, sensitive data represents information related to the data subject's fundamental rights, intimacy, and free will. It could be health records, political opinions, or religious beliefs.
Why is GDPR challenging?
Regardless of its location, any organization with clients in the European Union must abide by the GDPR requirements to avoid fines and possible business repercussions.
The law is applicable everywhere, regardless of whether the transaction occurs inside or outside of an EU member state. Companies outside the EU have also been reevaluating their standards to comply with them due to their broad transnational scope of application. Despite the risks of non-compliance, many organizations continue to doubt their own capacity to adhere to the rule. This is particularly due to GDPR's complexity, which leaves much room for interpretation.