SOC 2 compliance is considered to be the gold standard of data security, and rightfully so. It showcases organizations have adequate controls to avoid and protect against data breaches. However, to comply with SOC 2, organizations need to complete a rigorous process of testing implemented controls known as the SOC 2 audit.
The success of the SOC 2 audit also depends on the organization's knowledge of information security standards and its efforts to meet compliance requirements.
Preparing for SOC 2 is undoubtedly challenging, which is why a SOC 2 compliance checklist is what you need.
In this article, we will address some questions, recommendations, and the industry's best practices giving you a ready reckoner to know whether your organization is prepared for a SOC 2 audit or not.
What is a SOC 2 report, and why is it important?
SOC 2 is a security compliance standard created by the American Institute of Certified Public Accountants (AICPA). Once compliant, organizations can share the SOC 2 report with their clients to demonstrate that their business has adequate controls with regard to the five TSCs; security, availability, processing integrity, confidentiality, and privacy.
To receive the SOC 2 report, however, organizations must undergo the audit process. A SOC 2 report is issued by a third-party auditor at a licensed CPA firm. The auditor conducts a detailed review of an organization's information security management system.
Types of SOC 2 Audits
There are two types of SOC 2 audits, as shown in the infographic below.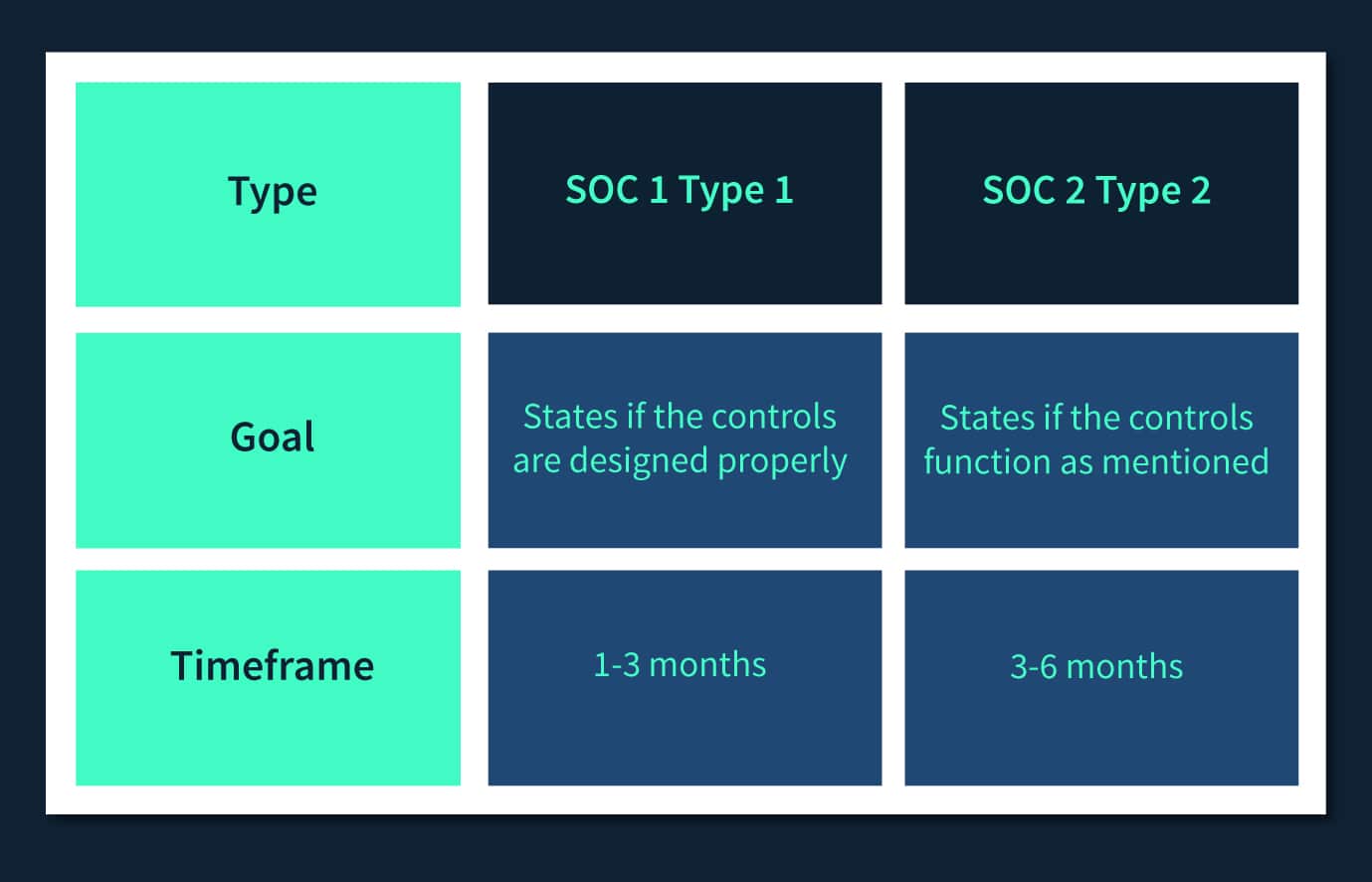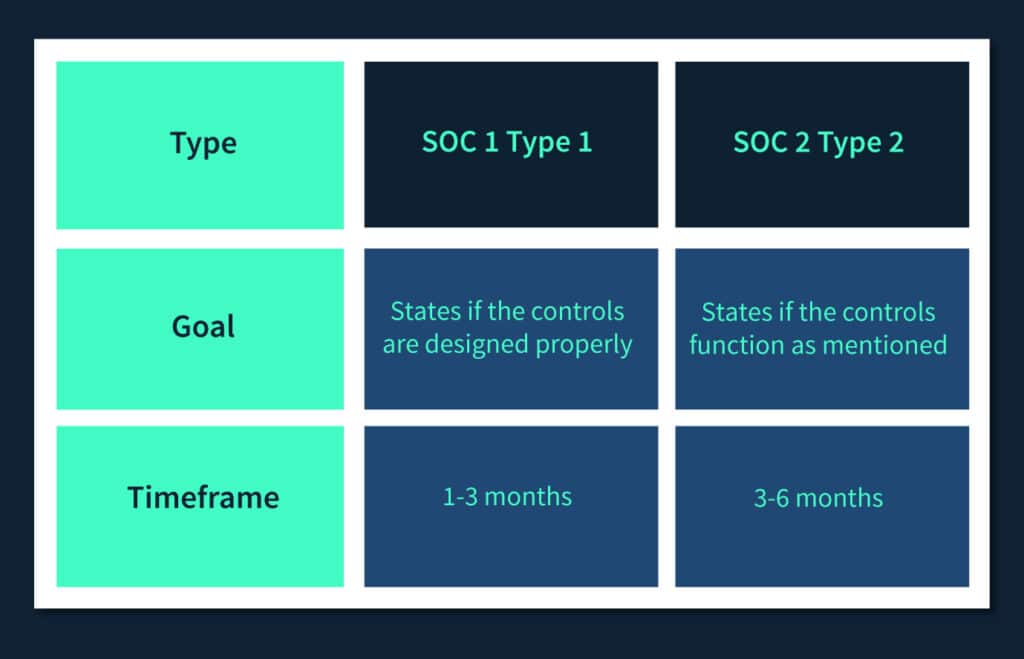 A SOC 2 report benefits organizations in many ways, but it primarily focuses on testing the design and operating effectiveness of controls to outline any potential risks for customers or partners who wish to work with the organization.
How to prepare for a SOC 2 audit?
As we have discussed the importance of the SOC 2 reports in demonstrating security to prospective clients and stakeholders, it is crucial to ensure that an organization obtains reports successfully. To do this, preparing for the SOC 2 audit is critical.
A SOC 2 audit can be long-winded since it is both time and resource-consuming. Organizations must follow SOC 2 compliance checklist to complete the certification successfully. Below are some points that will help you break down the SOC 2 audit process into easy-to-follow steps, along with some helpful questions you can address.
Step 1: Pick the type of SOC 2 report you want to pursue
As we mentioned above, SOC 2 report is divided into two types, Type 1 and Type 2. Before you plan the audit process and start developing teams and tasks, among other things., it is imperative to decide and select the type of SOC 2 report your organization wants to pursue.
If your answer to most of the questions mentioned below is "NO," then we recommend you begin with a SOC 2 Type 1 report.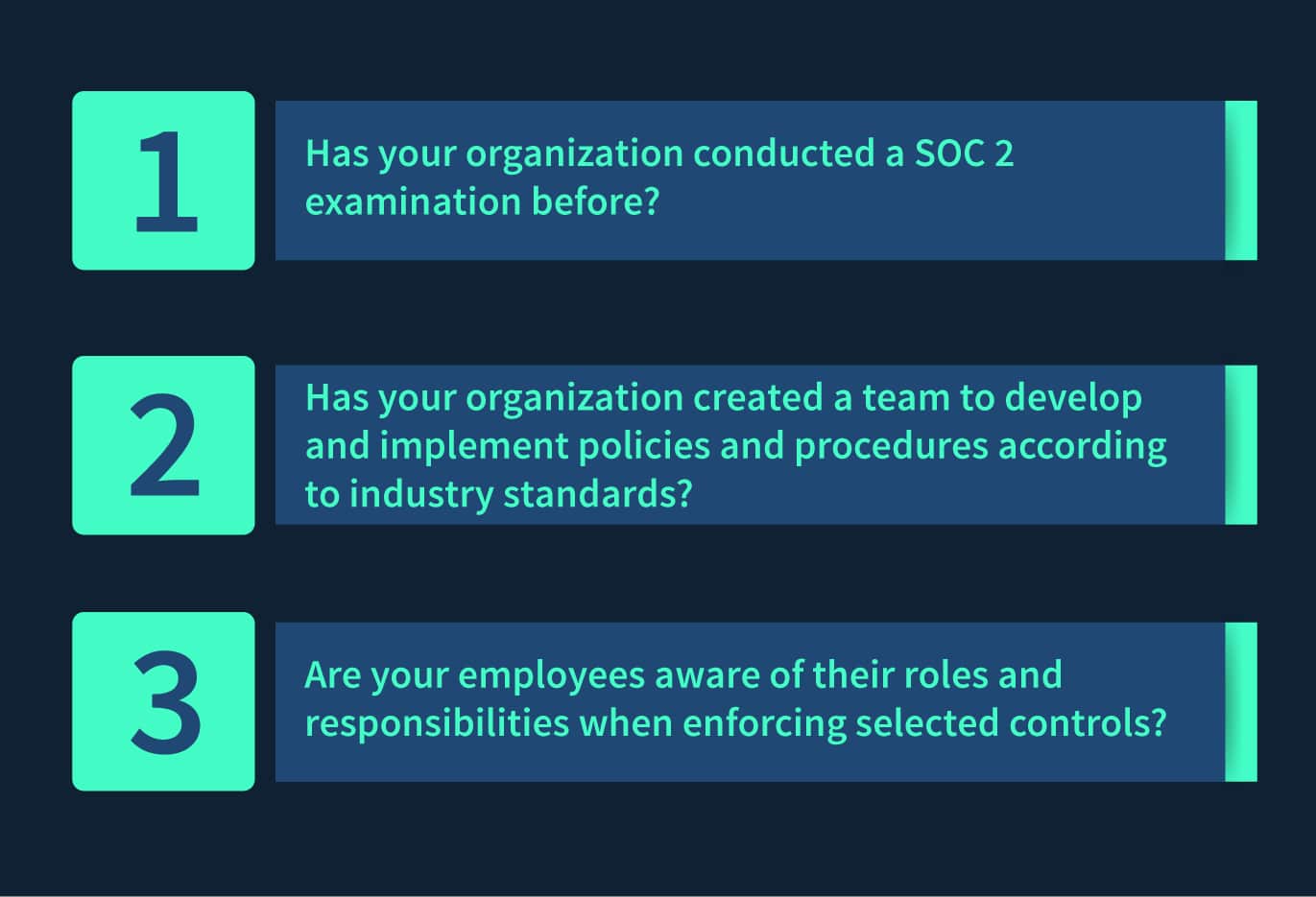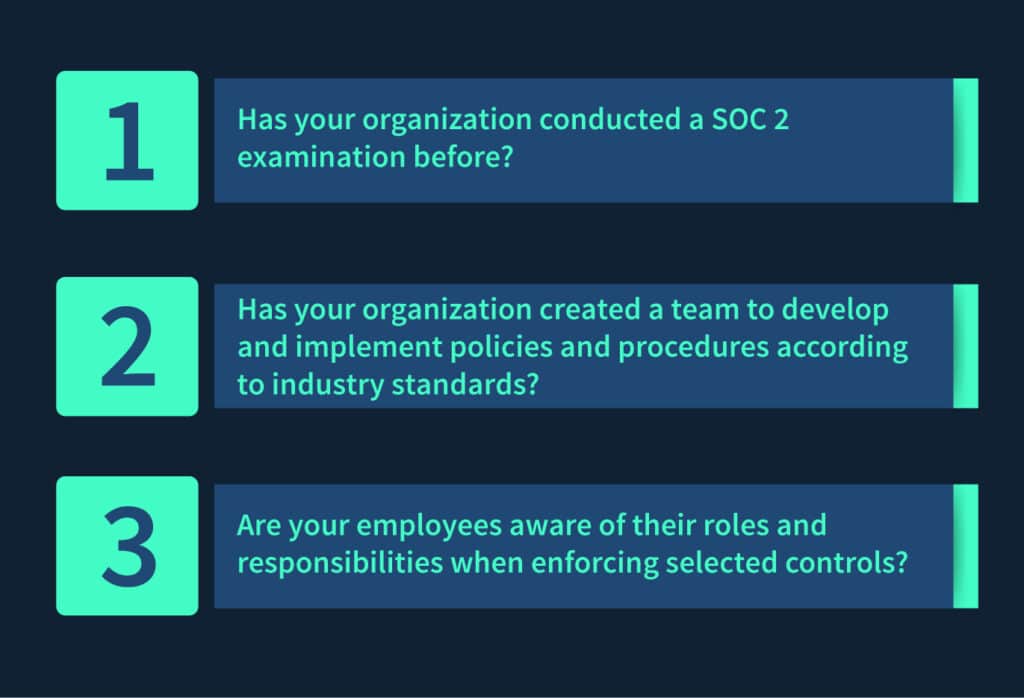 Step 2: Determine the scope of the SOC 2 audit and define its objectives
SOC 2 audits are all-encompassing, with divided attention between infrastructure, employees, data, risk management policies, and security controls, which is why it is essential to determine what will be included in the audit for your organization.
You can also start by determining which of the four Trust Services Criteria (TSC) – availability, processing integrity, confidentiality, and privacy, you want to include in your audit. Security, the fifth TSC, is a mandatory requirement for every SOC 2 audit.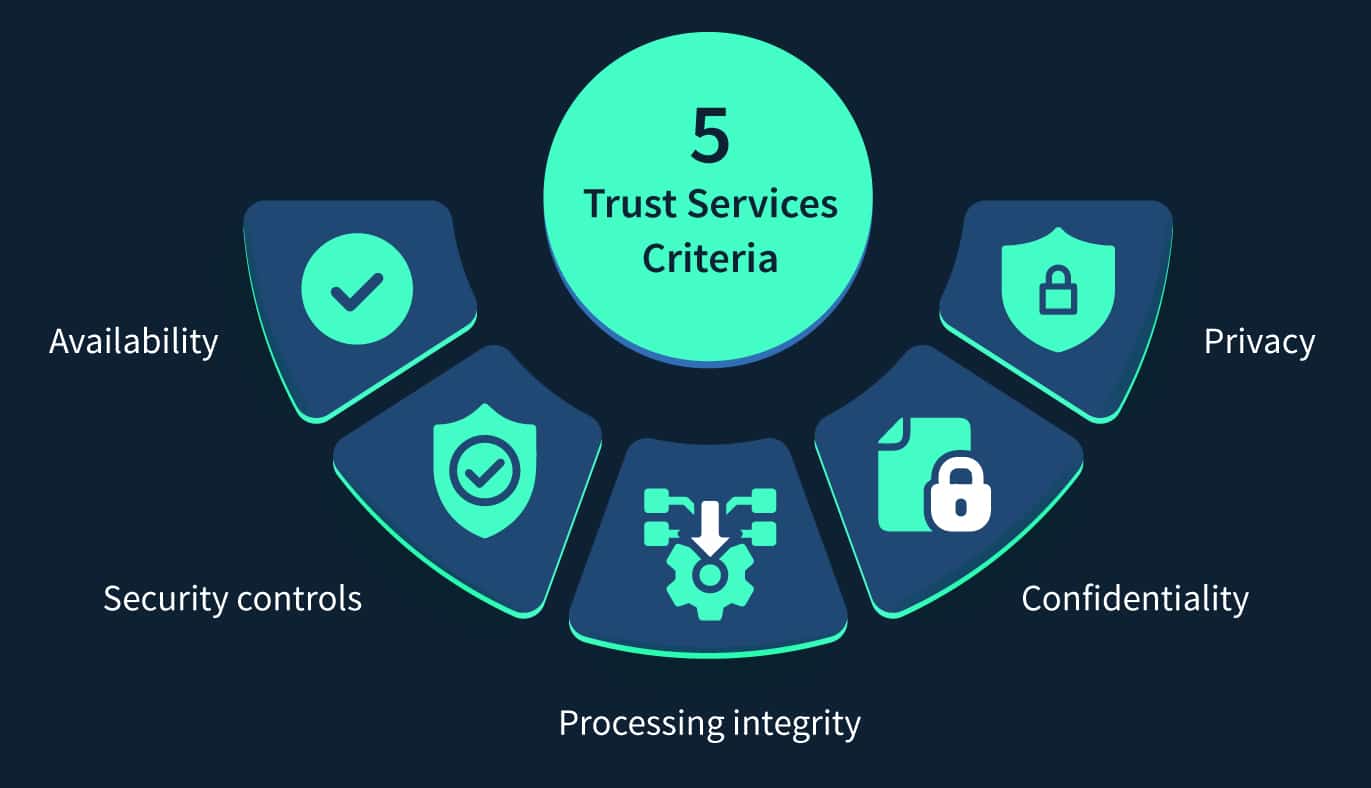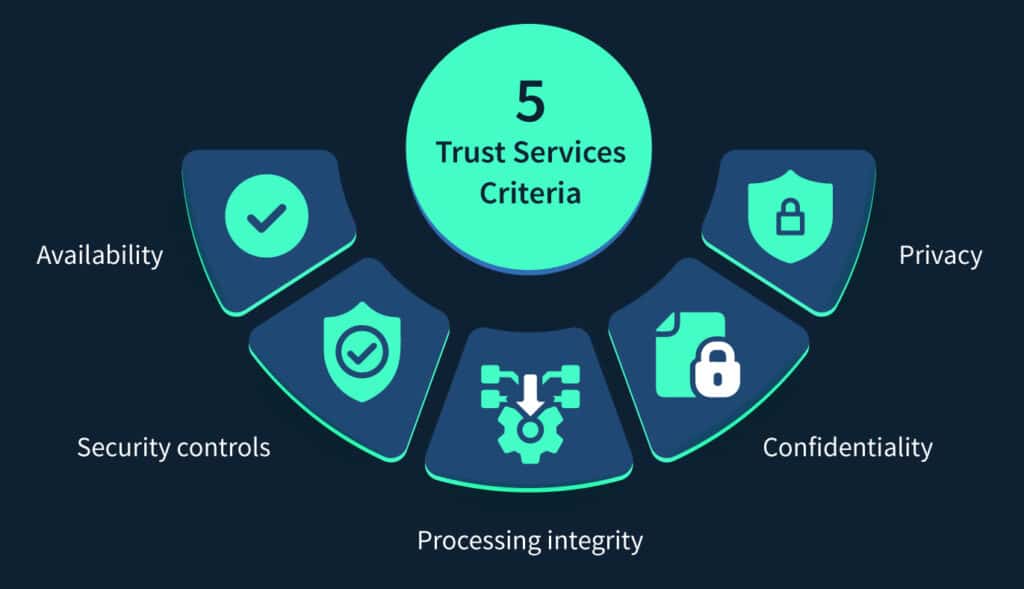 Below we have listed the elements included in each Trust Service Criterion, along with some questions that will help you select which principle is best suited for your organization.
Security controls are designed to include an array of risk-mitigating solutions, such as endpoint protection and network monitoring tools. The security trust criterion helps in protect information throughout its lifecycle in an organization and protects the data from unauthorized access and disclosure.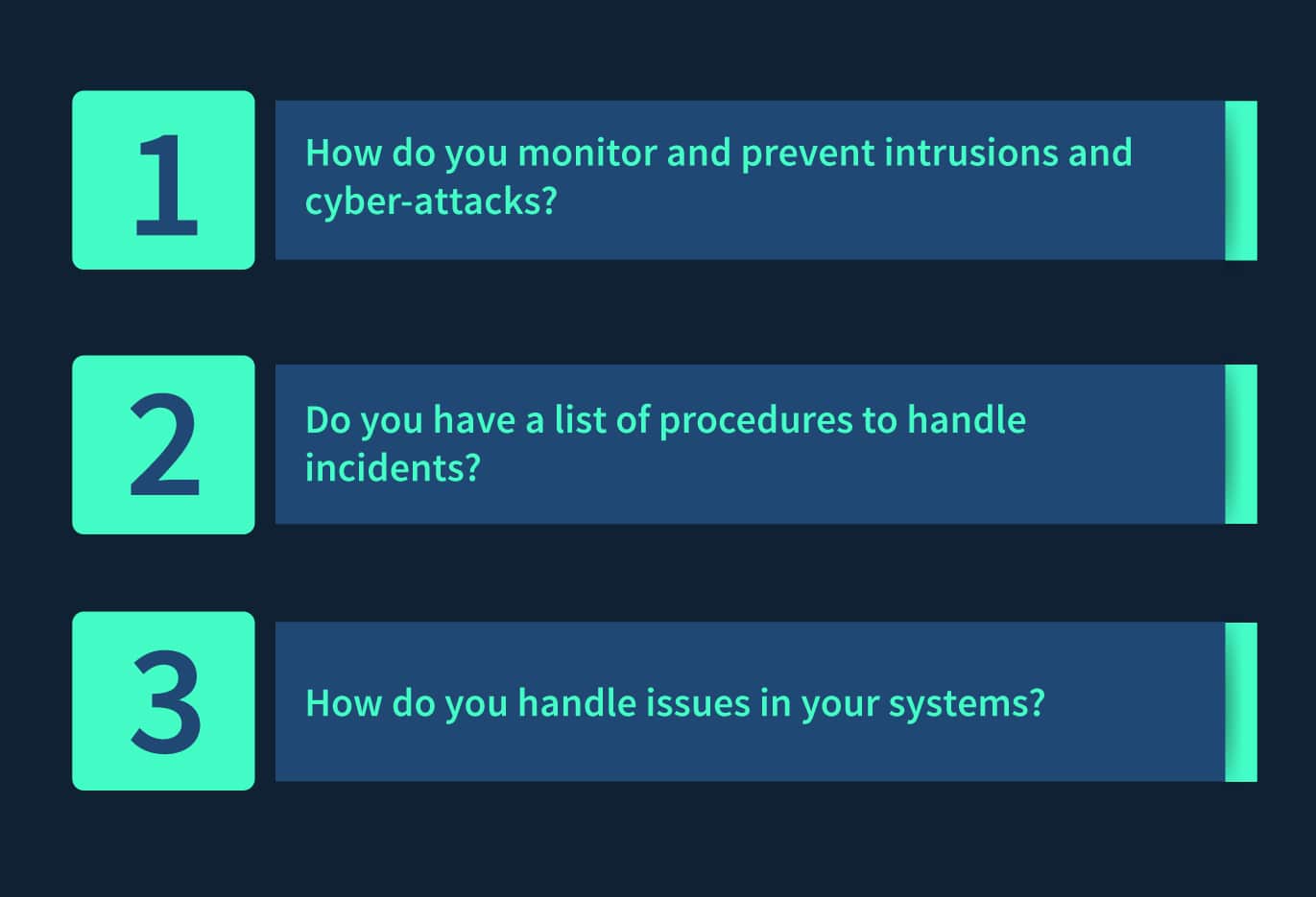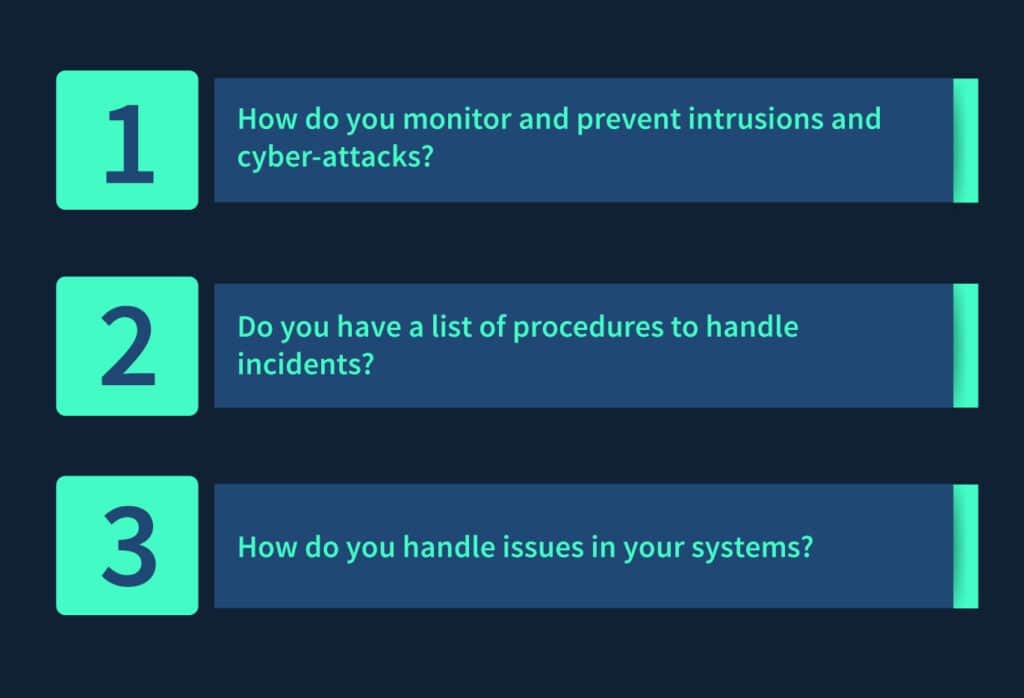 Availability addresses whether systems include controls to support accessibility for operation, monitoring, and maintenance.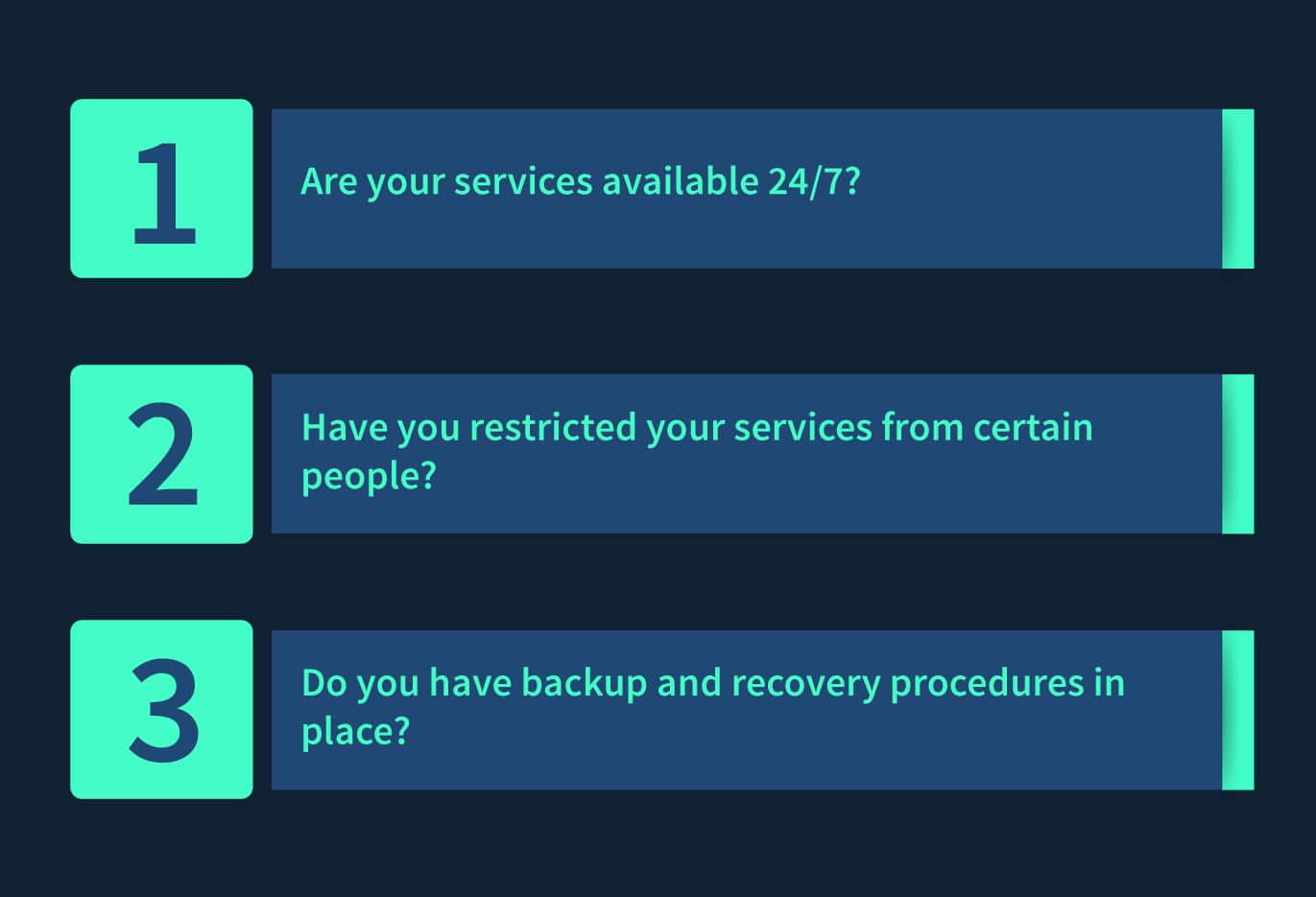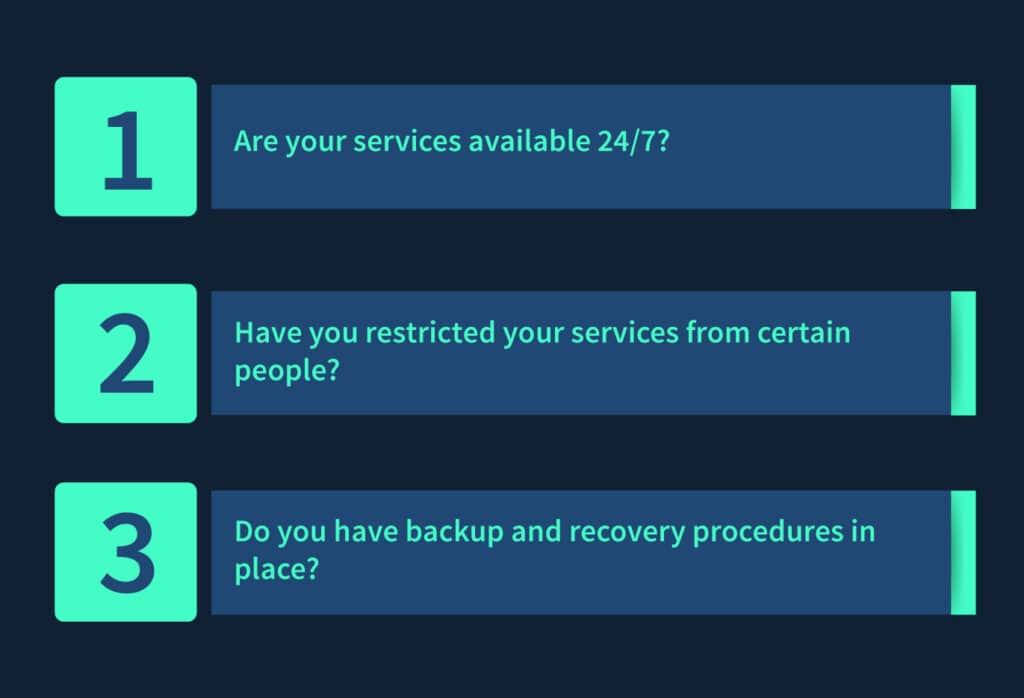 Processing integrity focuses on data accuracy and the completeness of the end-to-end process to ensure applications function without delay, error, omission, or accidental data manipulation.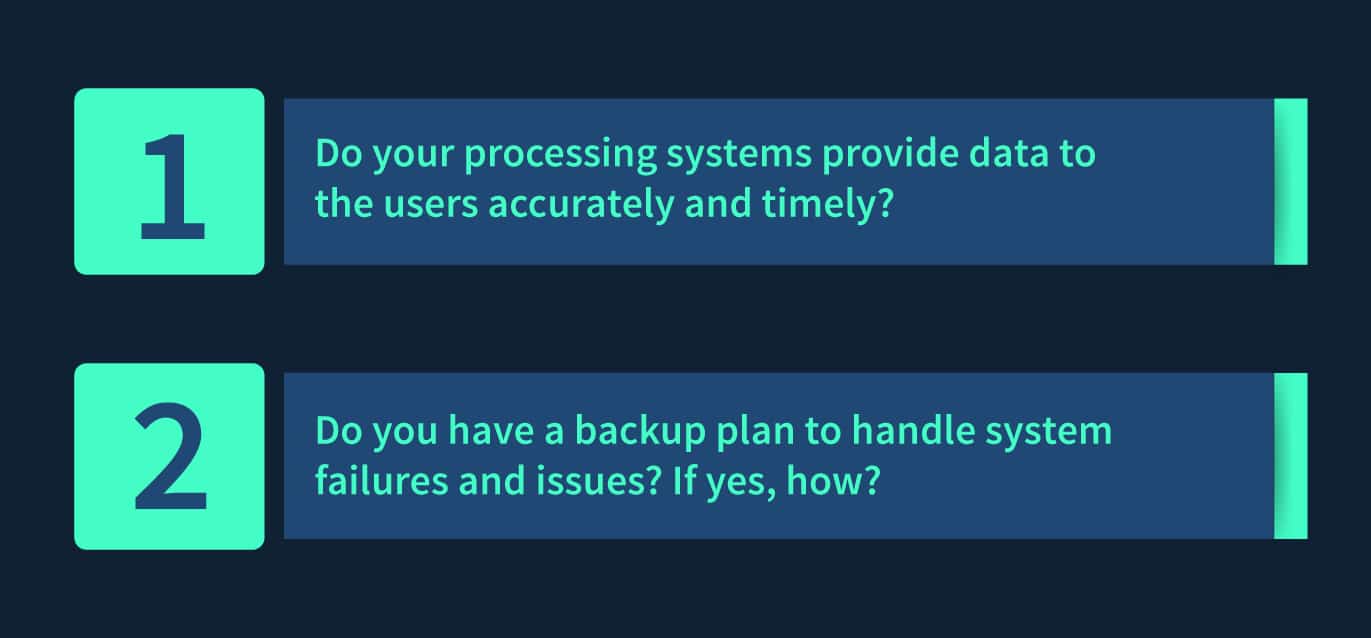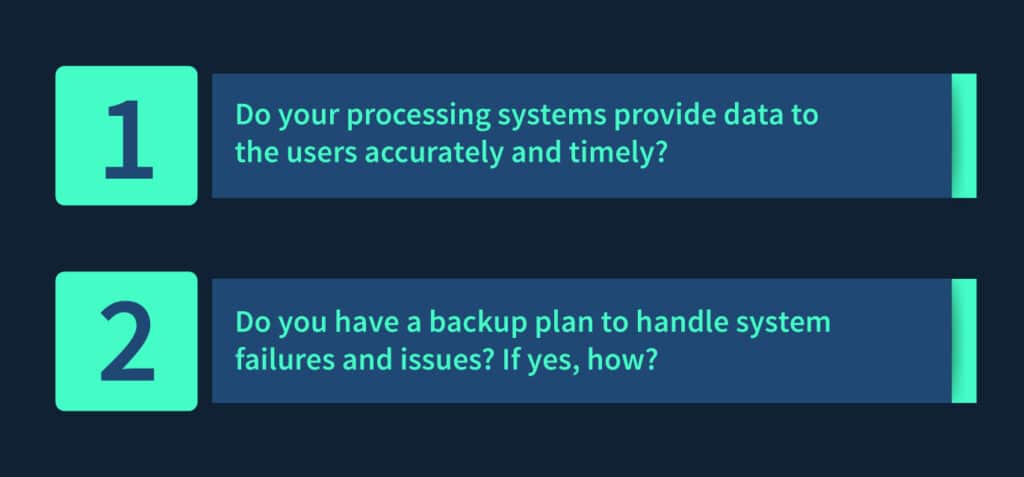 Confidentiality evaluates how organizations protect confidential information – limit access, storage, and use. It ensures that only authorized individuals can view sensitive information like legal documents or Personally Identifiable Information (PII).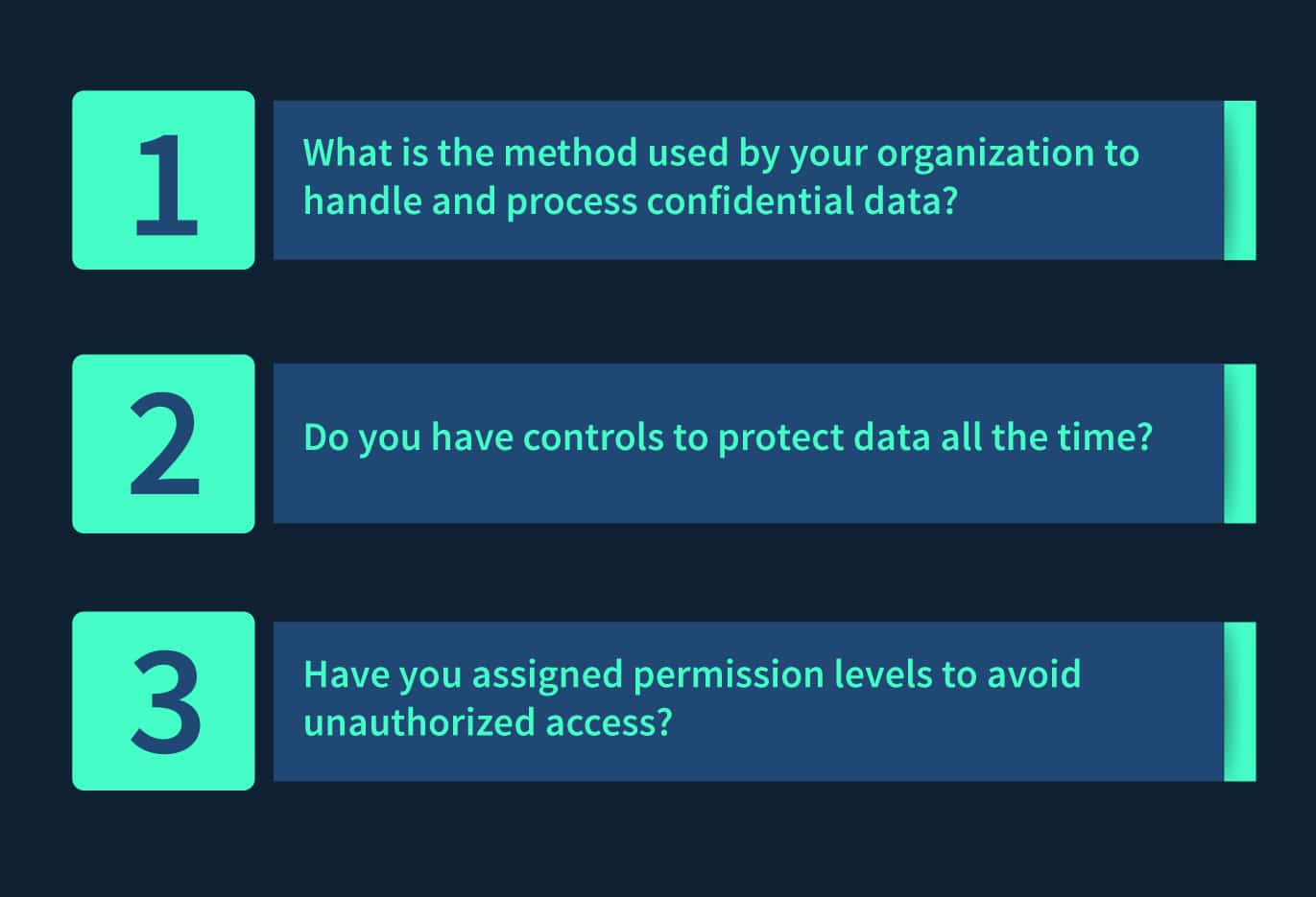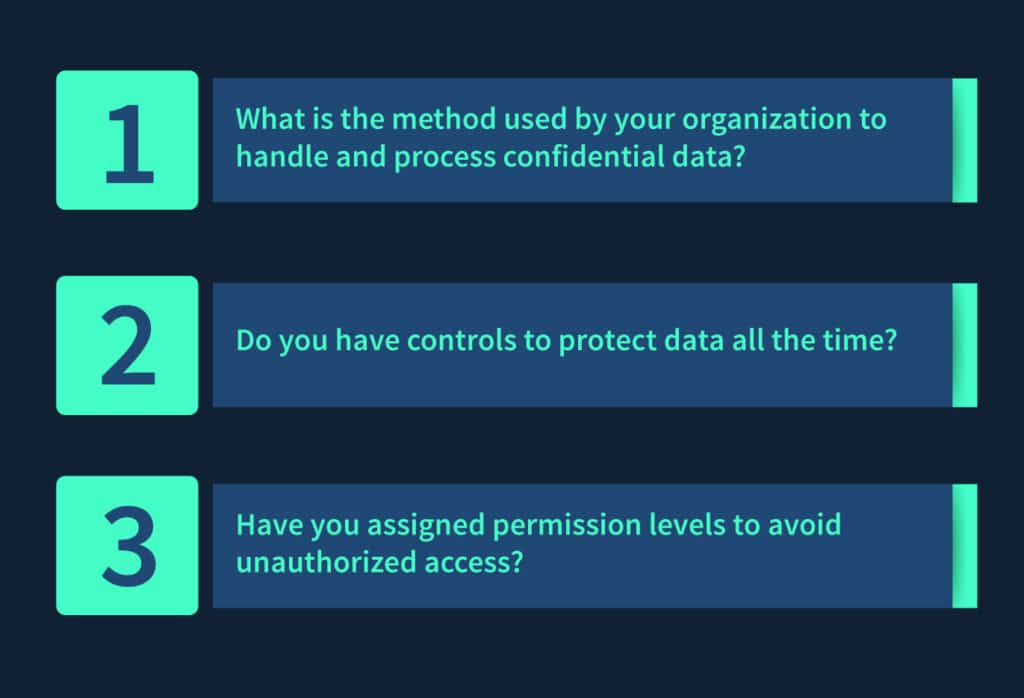 Privacy assesses how, why, and when an organization shares information like name, address, email, or any other personal information.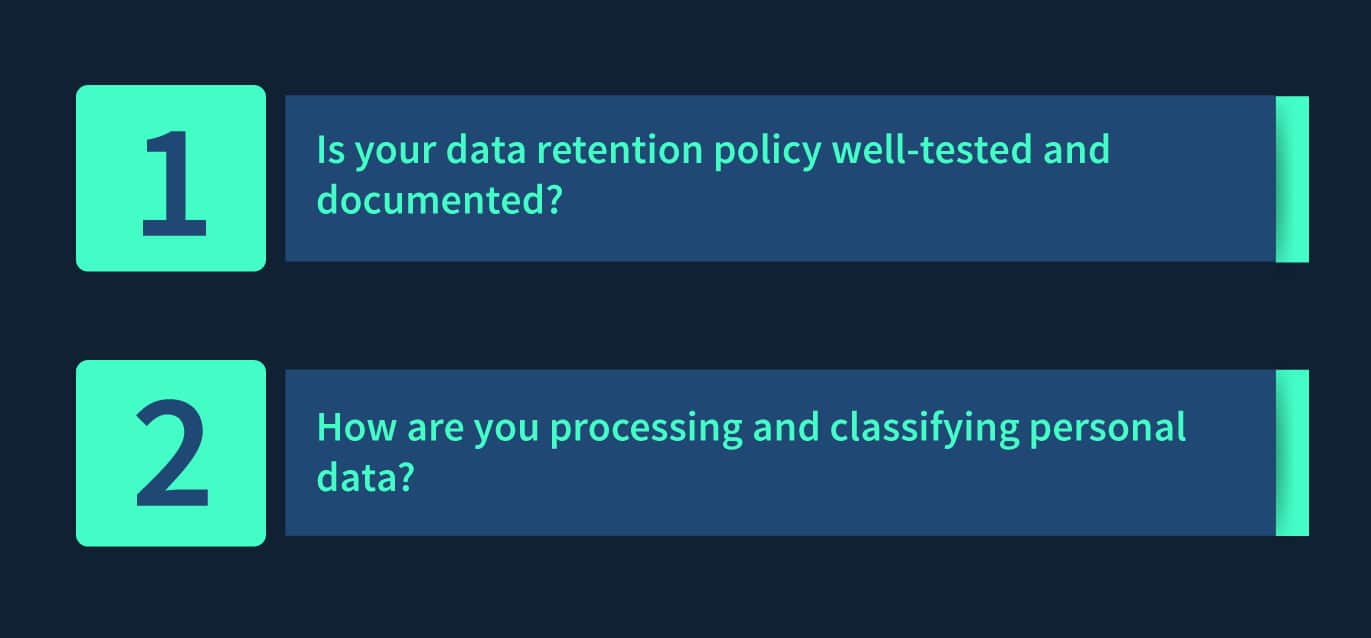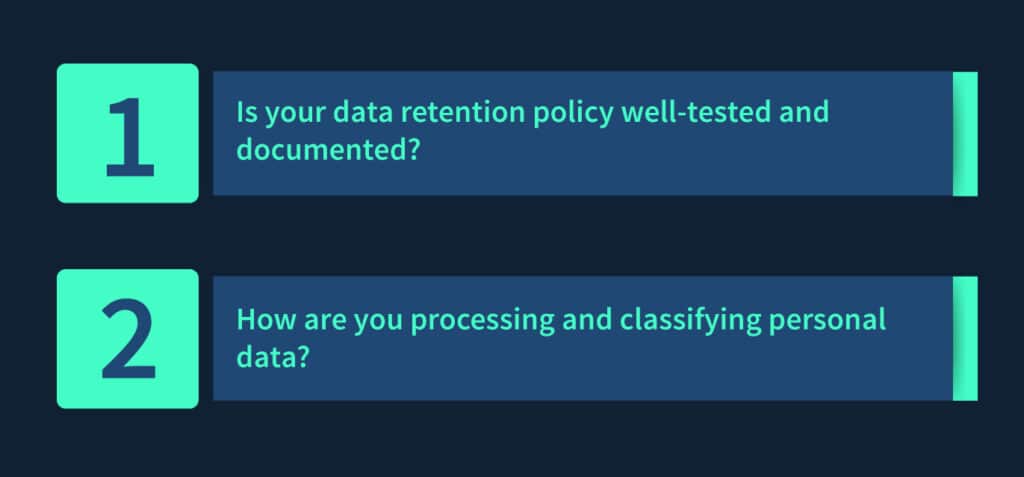 If you have limited resources for the audit, choose criteria that offer the highest potential ROI or the one you can test without a lot of additional work.
Step 3: Do an internal risk assessment
Performing a risk assessment is the next step in the SOC 2 compliance checklist. This step is equally important as the final certification, primarily because it assists organizations in identifying any risks connected to expansion, location, or infosec best practices, internally.
These risks must be documented and consequently mitigated by assigning an impact and likelihood rating. Any errors, omissions, or missed opportunities in risk assessment at this point could significantly increase your vulnerabilities.
Some questions to consider during this step are: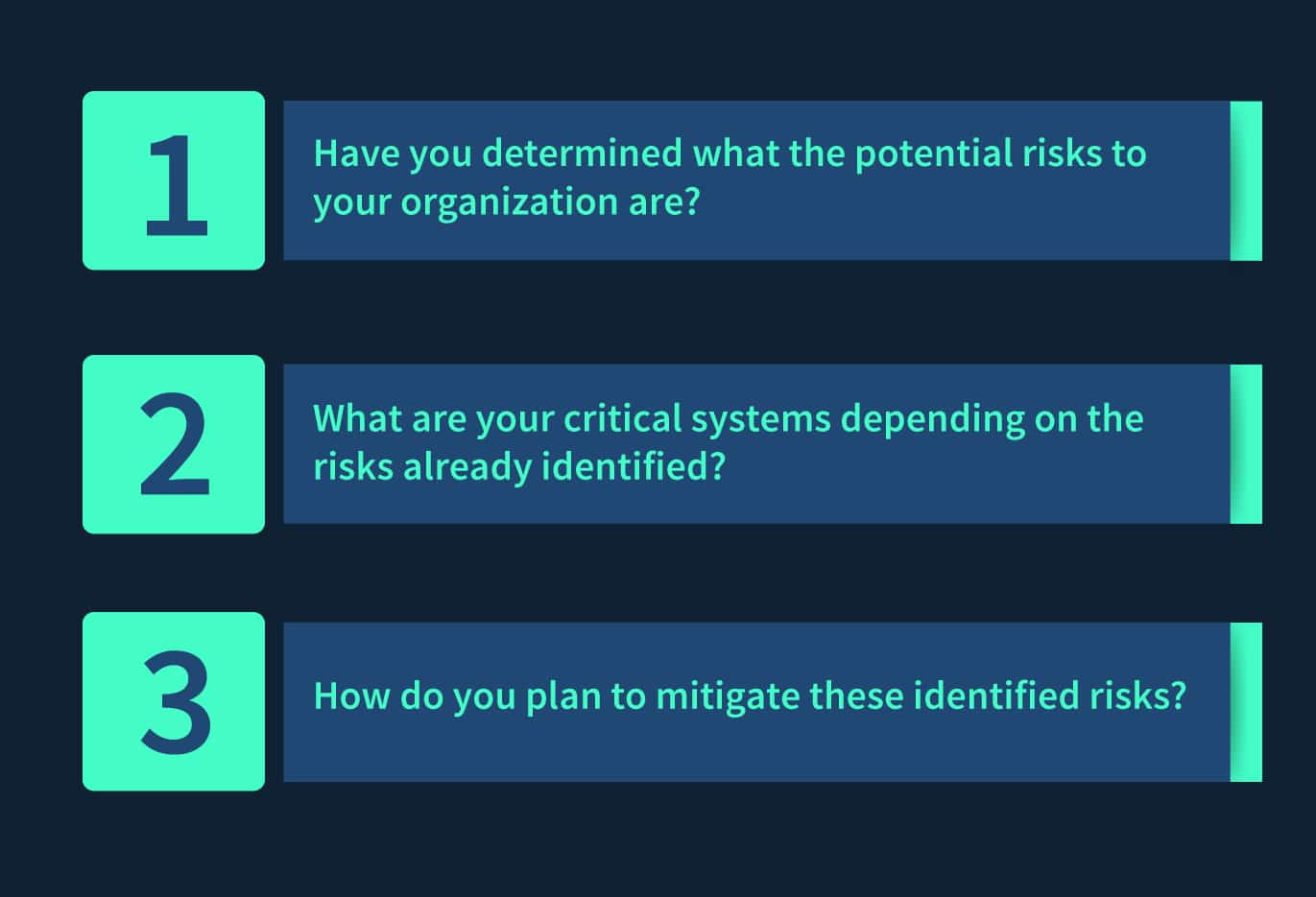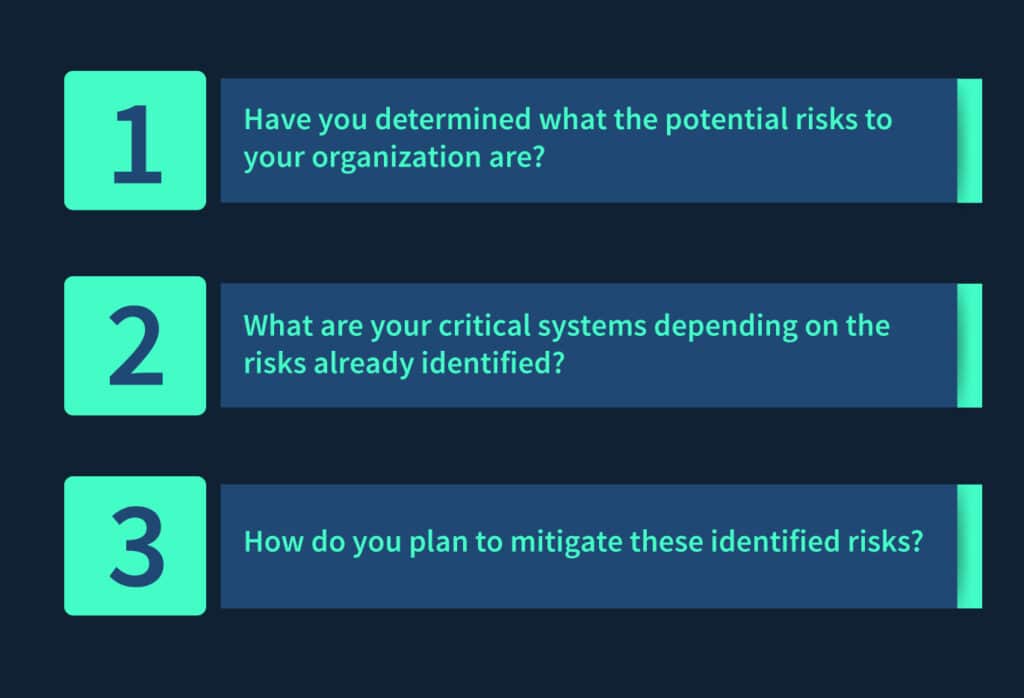 Step 4: Perform gap analysis
After conducting the internal risk assessment, your organization needs to perform a gap analysis. This is another important step of the SOC 2 compliance checklist because it examines existing procedures, rules, and controls to assist you in better understanding your present security posture and which measures you still need to implement to meet the Trust Services Categories' applicable criteria.
Following the completion of your gap analysis, you need to work with teams across the organization, examining policies, formalizing procedures, making necessary software changes, and any further steps, such as integrating new tools and workflows. This will allow you to take the necessary steps to close the gaps before the audit.
Take into account the following questions while performing the gap analysis: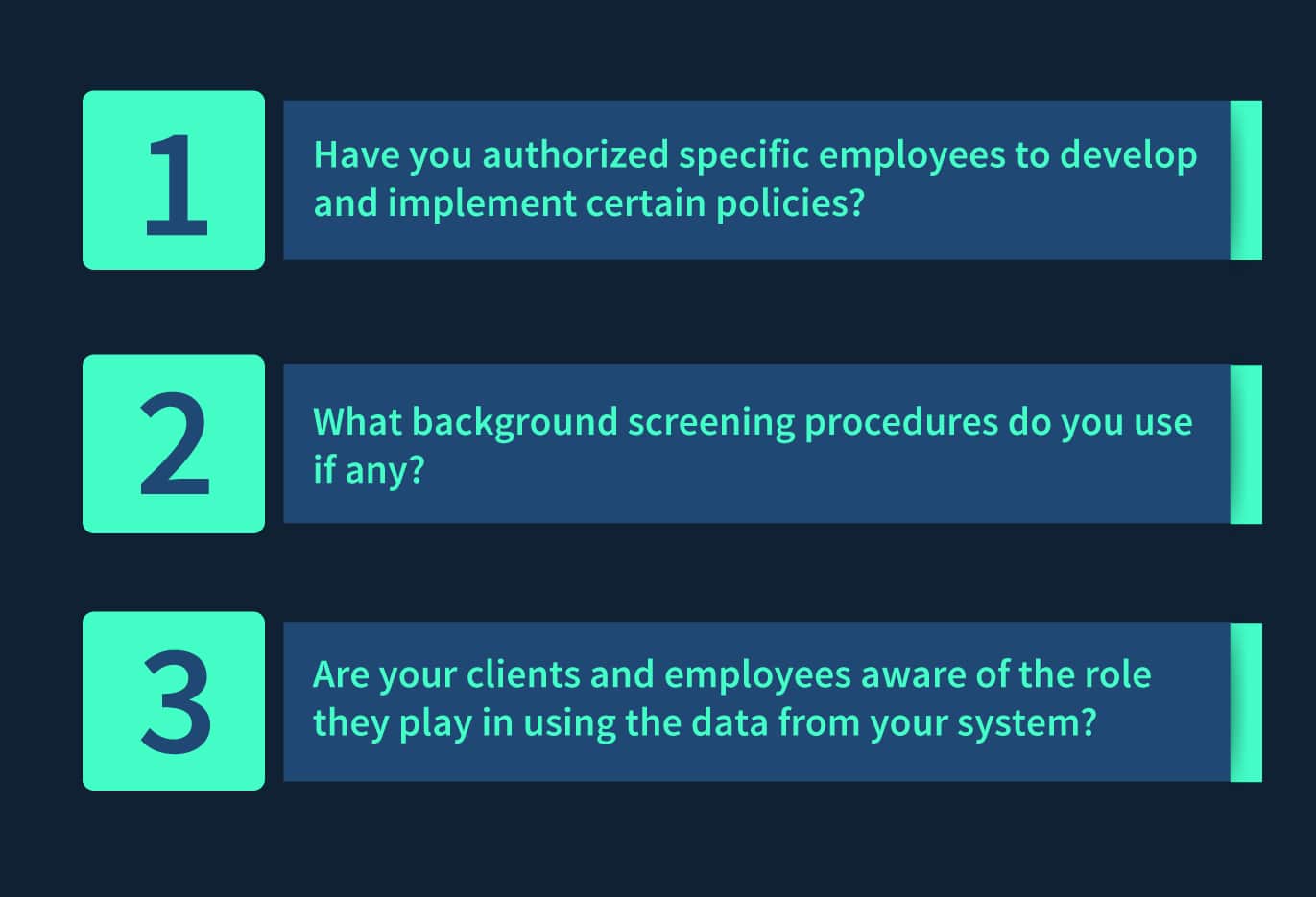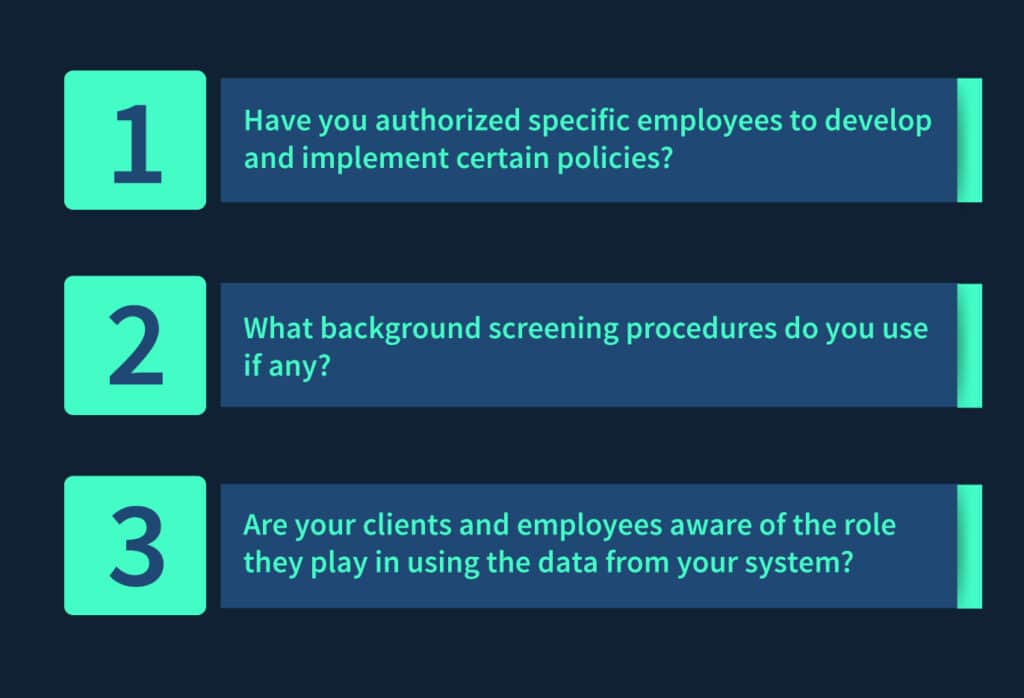 Step 5: Conduct a readiness assessment
A readiness assessment helps you determine your preparedness for a SOC 2 final audit. You can perform a readiness assessment independently or engage an auditing firm to complete your review. But it is highly recommended to use a third-party auditor during a readiness audit so that you can pressure test controls, which the internal teams can miss.
In this assessment, the auditor walks through the systems, processes, and controls that will be in the audit. At the end of the audit, the company receives a detailed report covering any weaknesses or gaps and recommendations to fix them.
While no organization can technically 'fail' a SOC 2 audit, you must address errors to guarantee you obtain a satisfactory report.
Step 6: Final SOC 2 audit
After finding the right SOC 2 auditor for your organization, you can finally test for a SOC 2 audit and receive the SOC 2 report.
To do so, you must provide your auditor with all of the essential information so that they can analyze evidence for each in-scope control, verify information, schedule any walkthroughs, and give you the final report.
SOC 2 Type 2 audits can either take 2 weeks or 6 months, depending on the volume of corrections or issues raised by the auditor. Type 1 audits, on the other hand, are less intrusive and require you only to provide evidence of the various checks and systems you have in place to meet the SOC compliance checklist requirements.
The auditor may ask the following questions: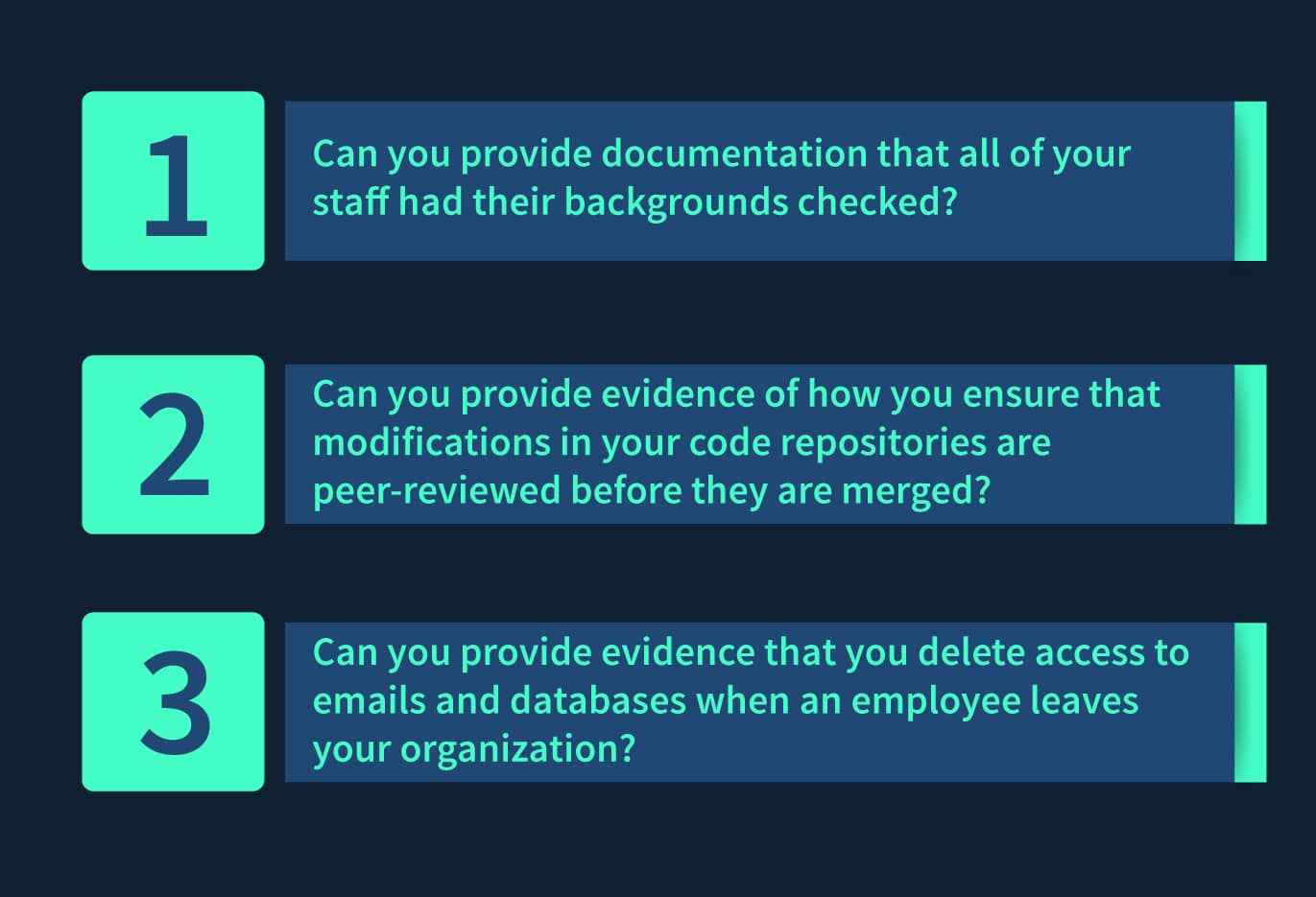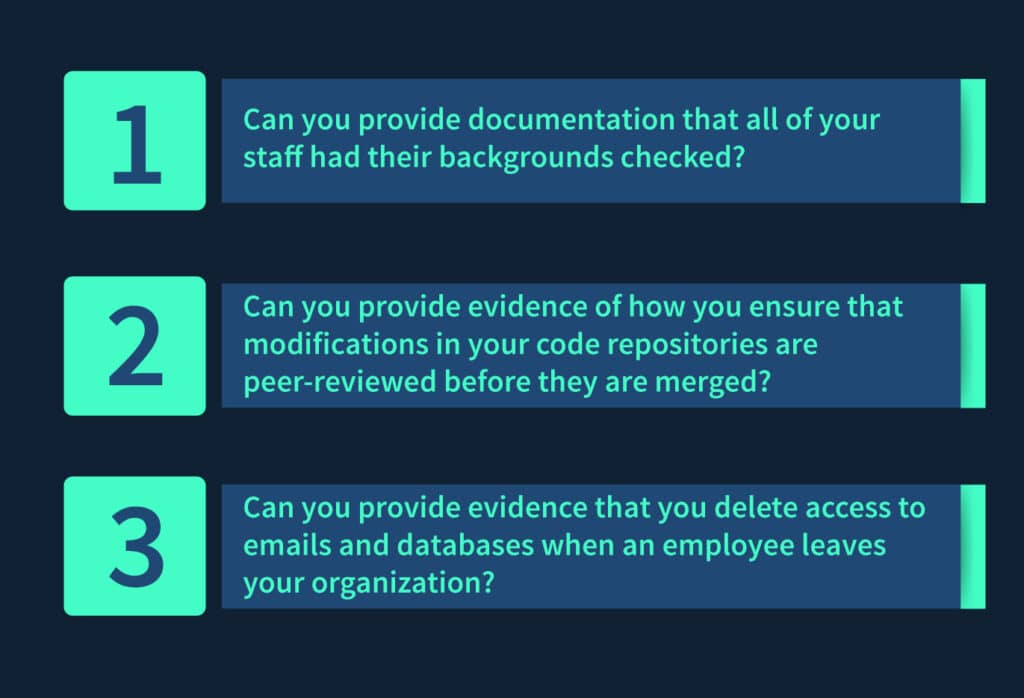 Step 7: Monitor controls to maintain compliance
Compliance is a continuous journey, so SOC 2 compliance doesn't end once you complete the audit, get certified, and receive the SOC 2 report.
Because security is an ongoing effort, receiving the report is only the beginning. As SOC 2 audits occur on an annual basis, it will help you to build a strong continuous monitoring approach. You can do this by investing in vulnerability scanners, incident management systems, security measure updates, and pen testing, among other things.
There are some factors that you should consider while setting up your monitoring approach, such as: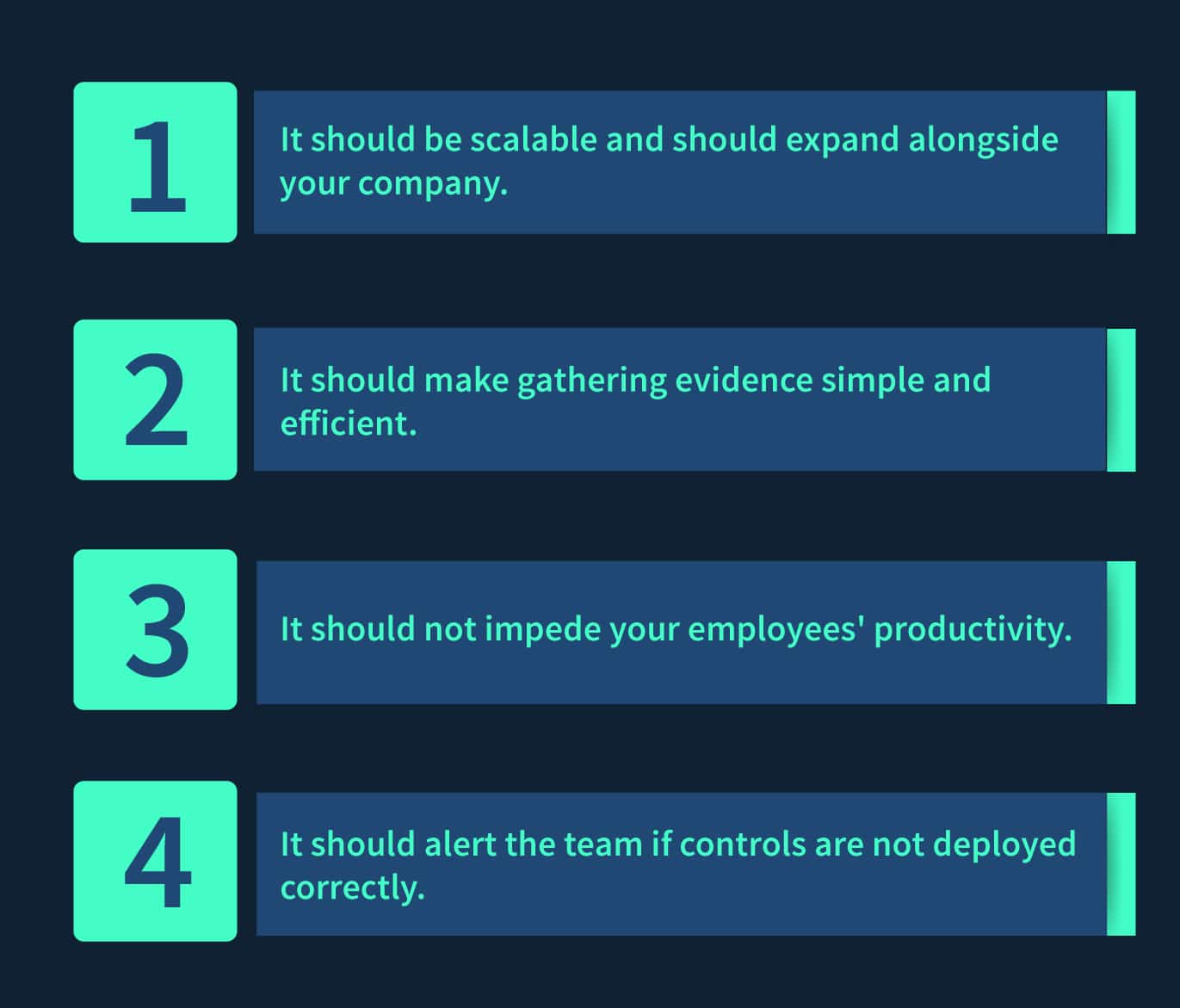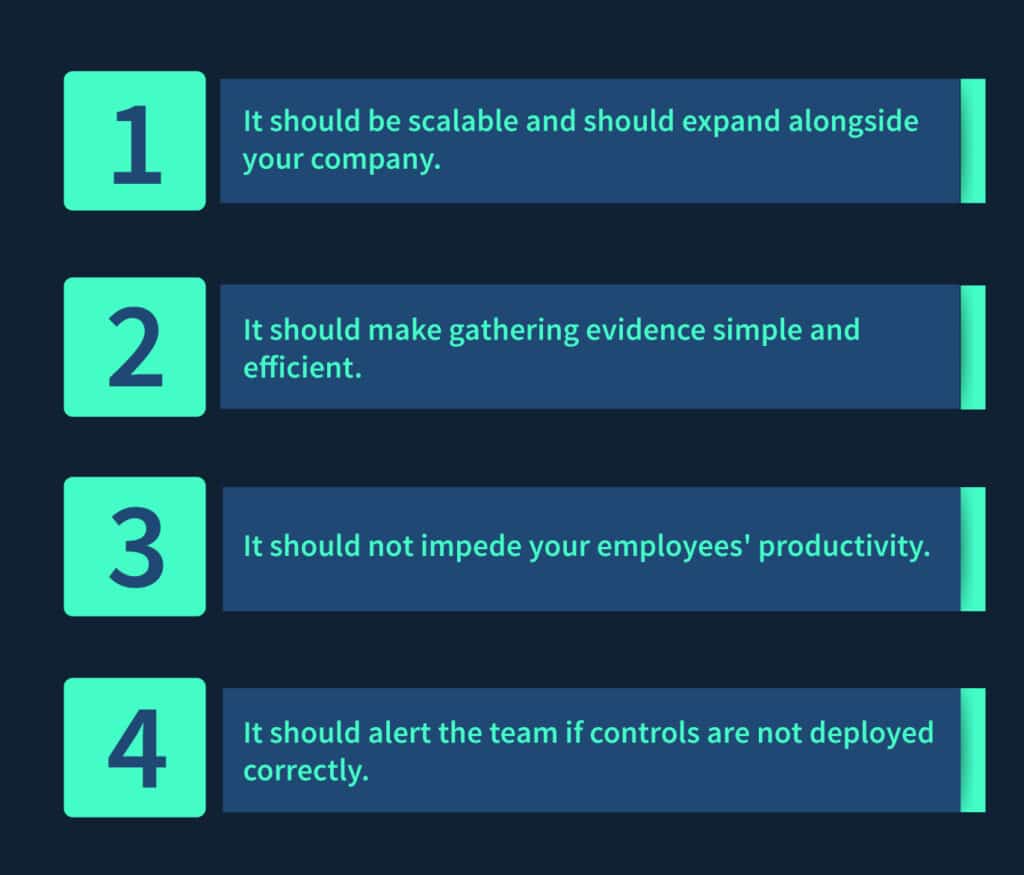 Conclusion
Every organization has the liberty to select the Trust Service Criteria barring security, which is mandatory. This also means that the SOC 2 compliance journey for every organization will be different. That said, this SOC 2 compliance checklist template is a useful guide for organizations looking to get SOC 2 certified, despite their separate choice of controls.
AICPA does not provide clear guidelines with respect to the controls an organization must have in place to be SOC 2 compliant. What works for one organization might not necessarily work for others and vice versa. We recommend you get in touch with a compliance officer or work with a compliance automation platform like Scrut to get started with SOC 2.
Scrut Automation is a smart and radically simple Governance, Risk, and Compliance automation platform for growing startups and mid-market enterprises. With Scrut, Compliance teams can reduce ~70% of their manual effort in continuously maintaining compliance towards SOC 2, ISO 27001, GDPR, PCI DSS, and privacy laws like HIPAA, GDPR, and CCPA. Schedule your demo today to see how it works.
Frequently Asked Questions (FAQs)
1. Who can perform a SOC Audit?
Only an auditor employed by a certified public accounting firm, particularly one with an emphasis on information security, is qualified to conduct a SOC 2 audit. 
2. What are the SOC 2 trust service criteria? 
There are five SOC 2 TSCs, namely, security, availability, processing integrity, confidentiality, and privacy. Organizations have the right to select which criteria they want to test for, except security, which is a mandatory requirement for all SOC 2 audits. 
3. Where can I find a SOC 2 compliance checklist template? 
This article covers all the essential points that you will need to cover while preparing your organization for a SOC 2 audit. You can also find a SOC 2 compliance checklist pdf to navigate through the compliance journey seamlessly.