Every risk has a business impact. Therefore, CISOs must invest in a risk management tool to manage risks efficiently.
This article will help you find the right IT risk management solution considering your budget, compliance, and security needs.
In IBM's 2022 Cost of a Data Breach Report, the average cost of a data breach has reached an all-time high of $4.35 million. 83% of businesses that participated in the survey said that more than one data breach had occurred. And finding and stopping a breach took an average of 277 days.
Gaining visibility into an organization's IT infrastructure and systems is essential for identifying and managing potential security risks. An organization may be unaware of critical vulnerabilities and potential threats without a proper method for monitoring and analyzing the IT landscape. Implementing a comprehensive risk management strategy can help to detect and respond to data breaches more quickly, reducing the potential impact and repercussions of a successful attack.
This is where risk management software comes into the picture.
Key Features of IT Risk Management Tools
Most IT risk management tools have the following features:
Real-time risk posture monitoring: It helps monitor the organization's risk posture and compliance with pre-mapped controls to HIPPA, SOC 2, ISO 27001, and other standards while eliminating time-consuming manual processes.
Pre-loaded risk library: It has a comprehensive risk library that allows you to create your risk register in minutes. With a pre-populated list of risks, you can choose from a library of pre-loaded risks applicable to your organization.
Robust risk analysis: The tool helps transform your IT asset data into easily digestible reports that provide actionable insights within the context of your business processes.
Automatic risk scoring: It helps you stay ahead of threats by using continuous, real-time risk scores. Some tools also help you to create a treatment plan for each risk.
Top 13 IT Risk Management Software
In the section that follows, we have picked 13 IT risk management tools to reduce your research time.
1. Scrut Automation
Scrut is a risk-focused GRC platform that assists cloud-native businesses in simplifying and streamlining information security while recognizing, evaluating, and reducing InfoSec risks.
Scrut identifies risks across the code base, infrastructure as code, applications, vendors, containers, and databases by scanning your cloud infrastructure.
You can stay on top of your risk posture with simple-to-configure alerts and notifications on Slack and email.
The dashboard gives an overview on your overall risk posture.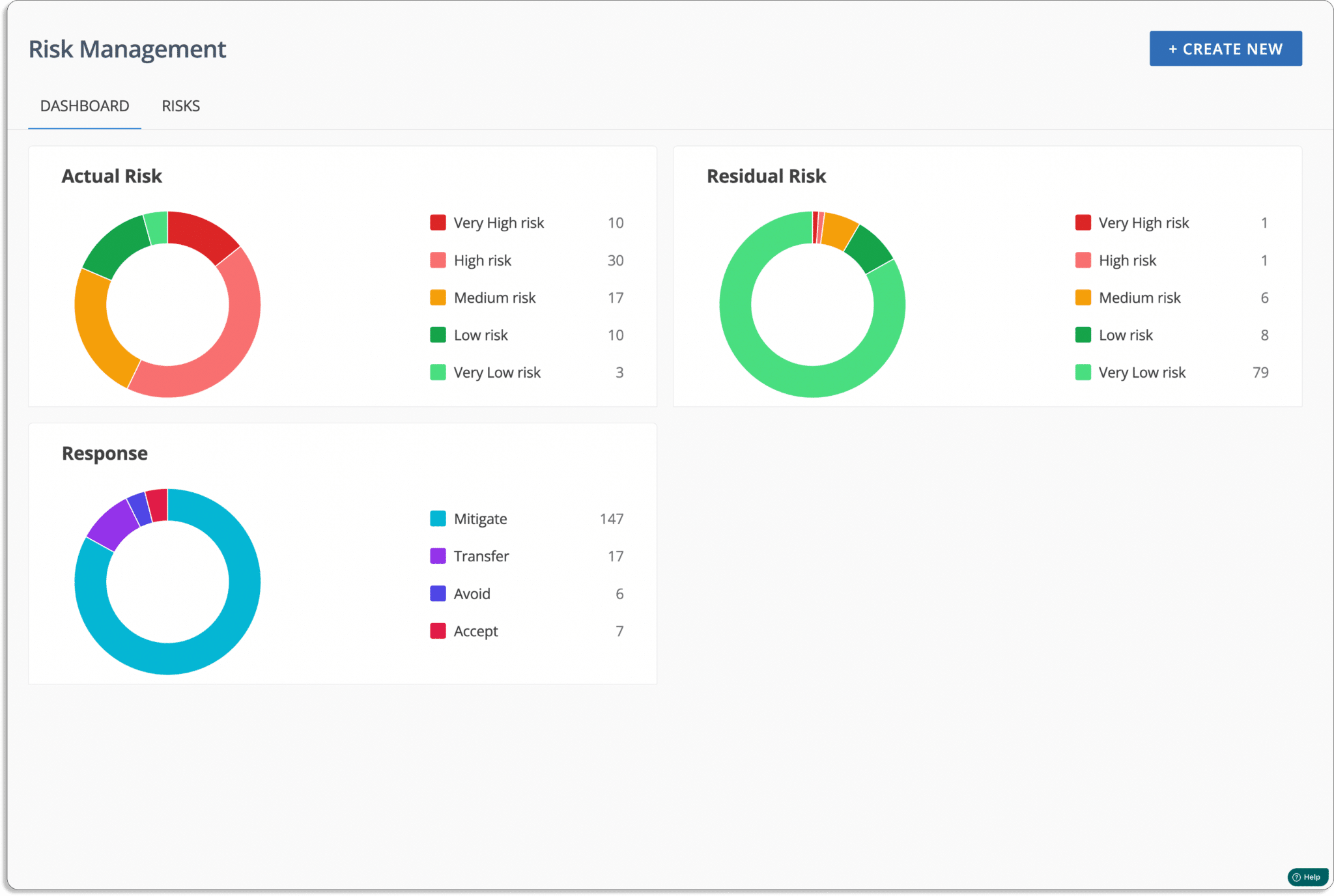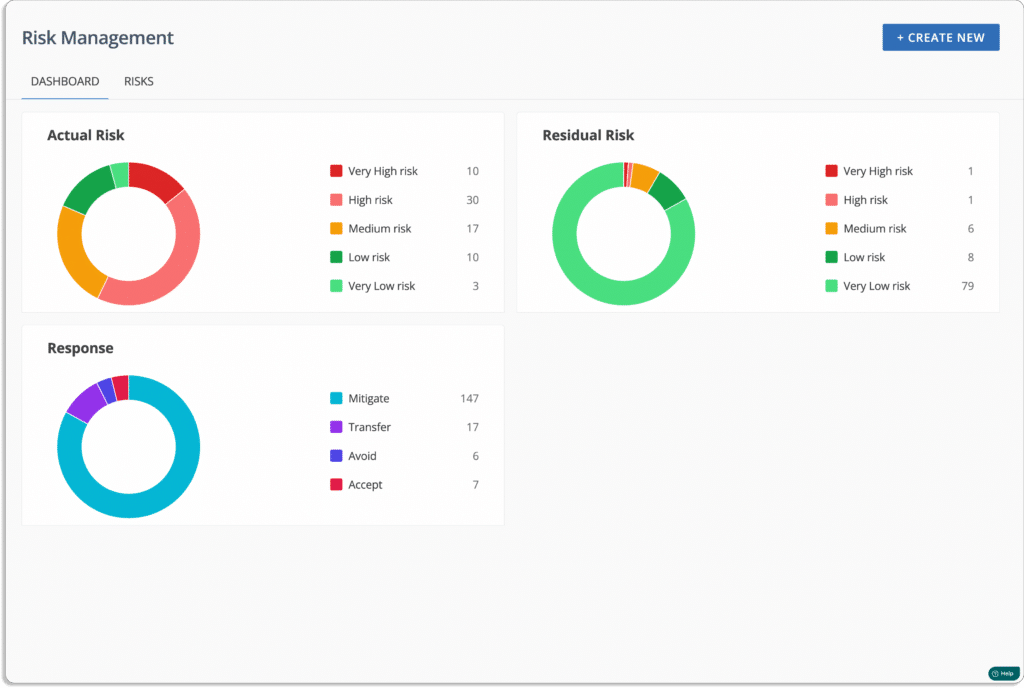 Now, let's see how Scrut helps you with all the 3 phases of risk management i.e., risk identification, risk assessment, and risk treatment.
With Scrut, you can create a risk register in just a few minutes.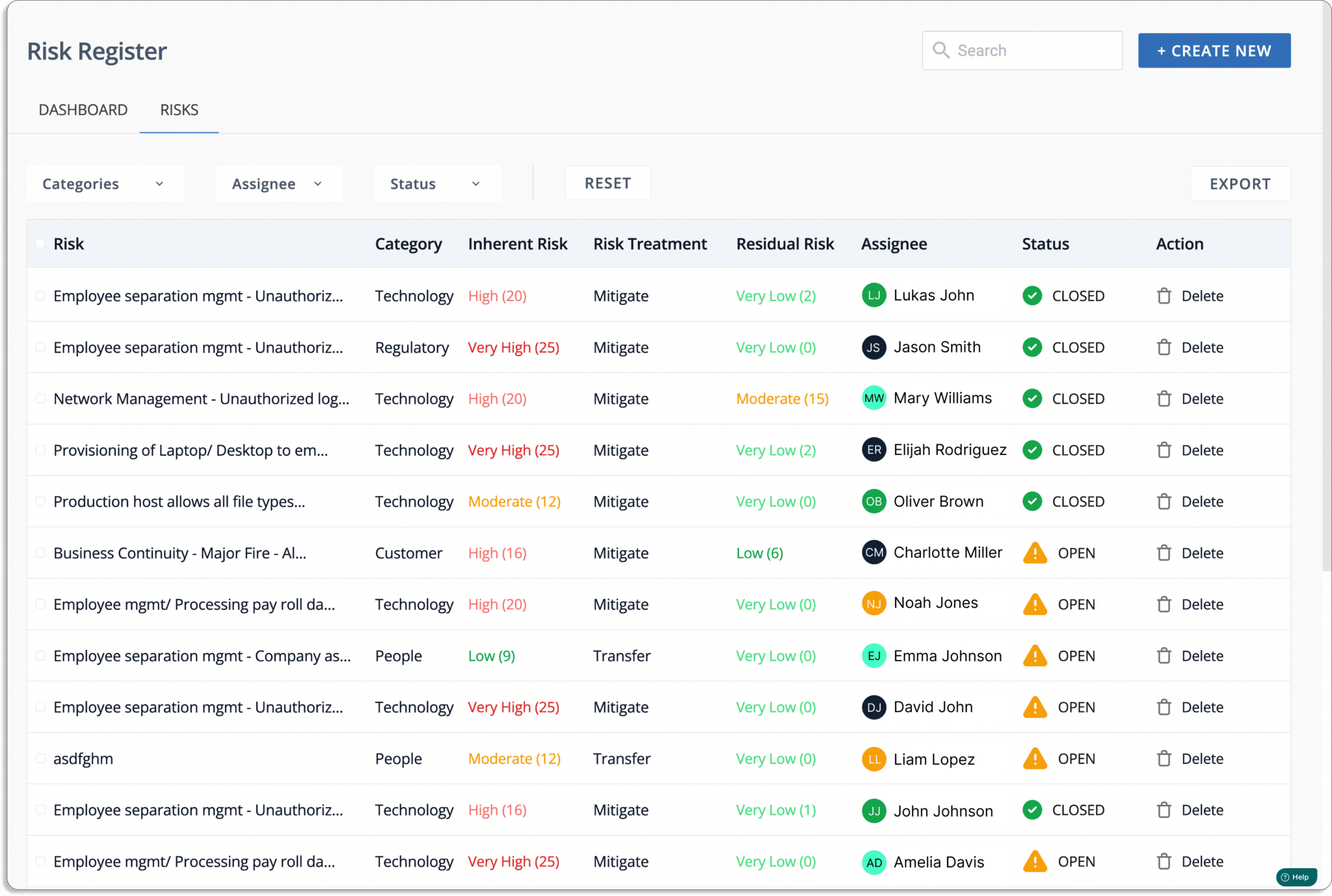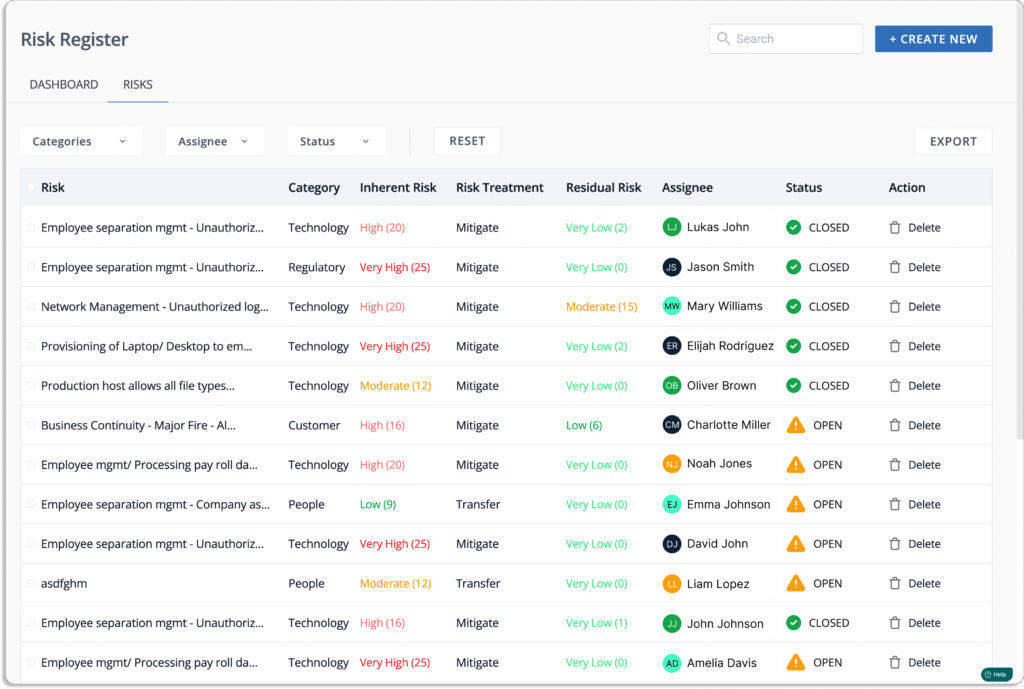 Scrut comes with pre-populated risks that most organizations face. You can find them in the risk library.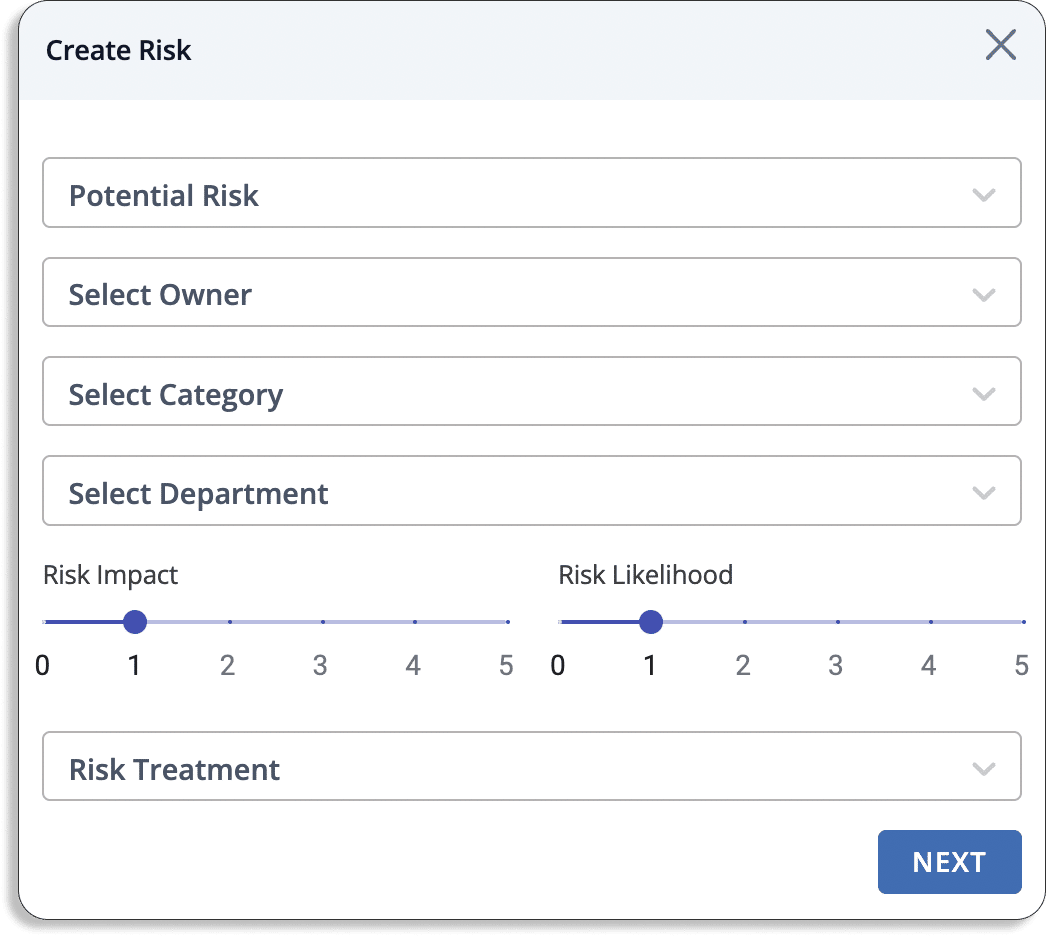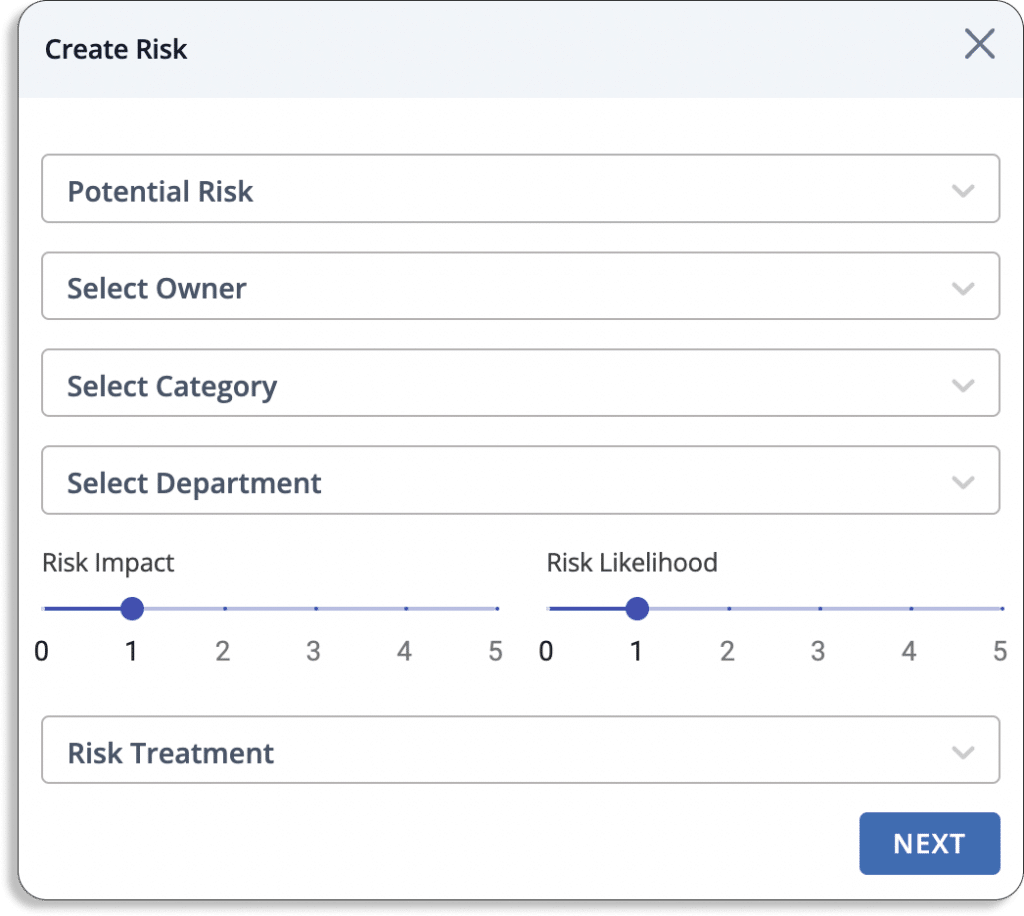 All you have to do is choose the risks applicable to your organization, assign the person responsible for it, select the type of risk and select the department it belongs to.
Scrut classifies risks into 7 categories: governance, people, customer, regulatory, resilience, technology, and vendors.
Scrut automatically maps the controls against different compliance frameworks as well.


Once you've identified all the risks you are exposed to, next comes risk assessment.
Assessing risk gives you insight into how it affects your organization. With risk scoring, Scrut automates the risk assessment tasks.
Scrut creates your risk scoring based on the likelihood and impact of events.
Risk = Likelihood * Impact
Let's take an example of remotely accessing related risk, as shown in the screenshot below.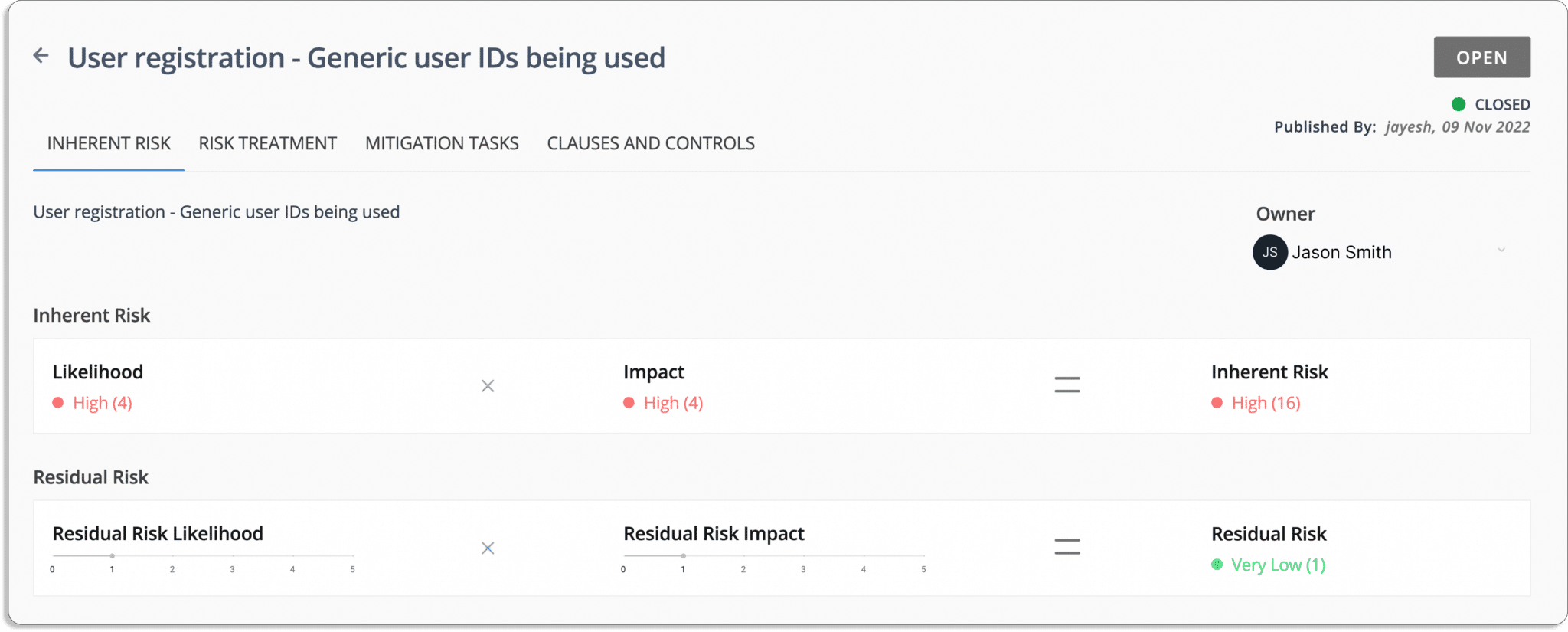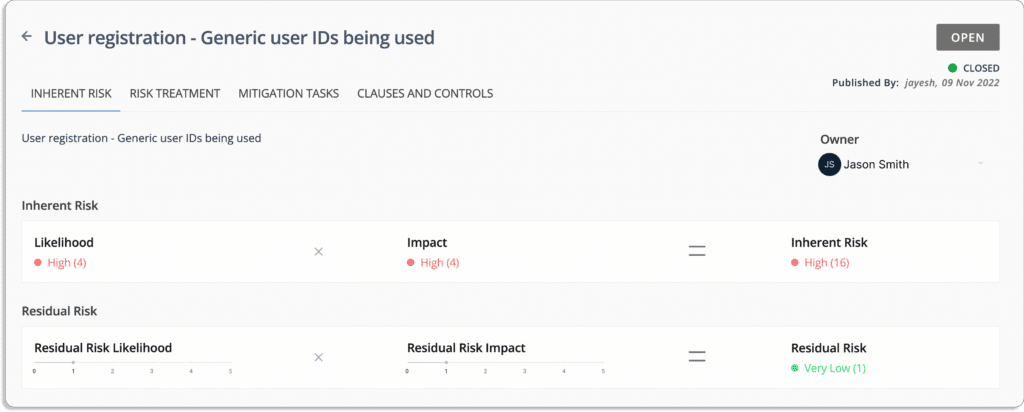 The likelihood of this event = 5 (Very High)
The impact in case the event occurs = 3 (Moderate)
Likelihood (5) * Impact (3) = 15
Thus, the inherent risk associated with this event is also moderate = 15 (Moderate)
The final score always lies between 0 – 25.
0 – 5 – Very Low
6 – 10 – Low
11 – 15 – Moderate
16 – 20 – High
21 – 25 – Very High
Scrut also shows a heatmap for visualizing the results of risk assessment.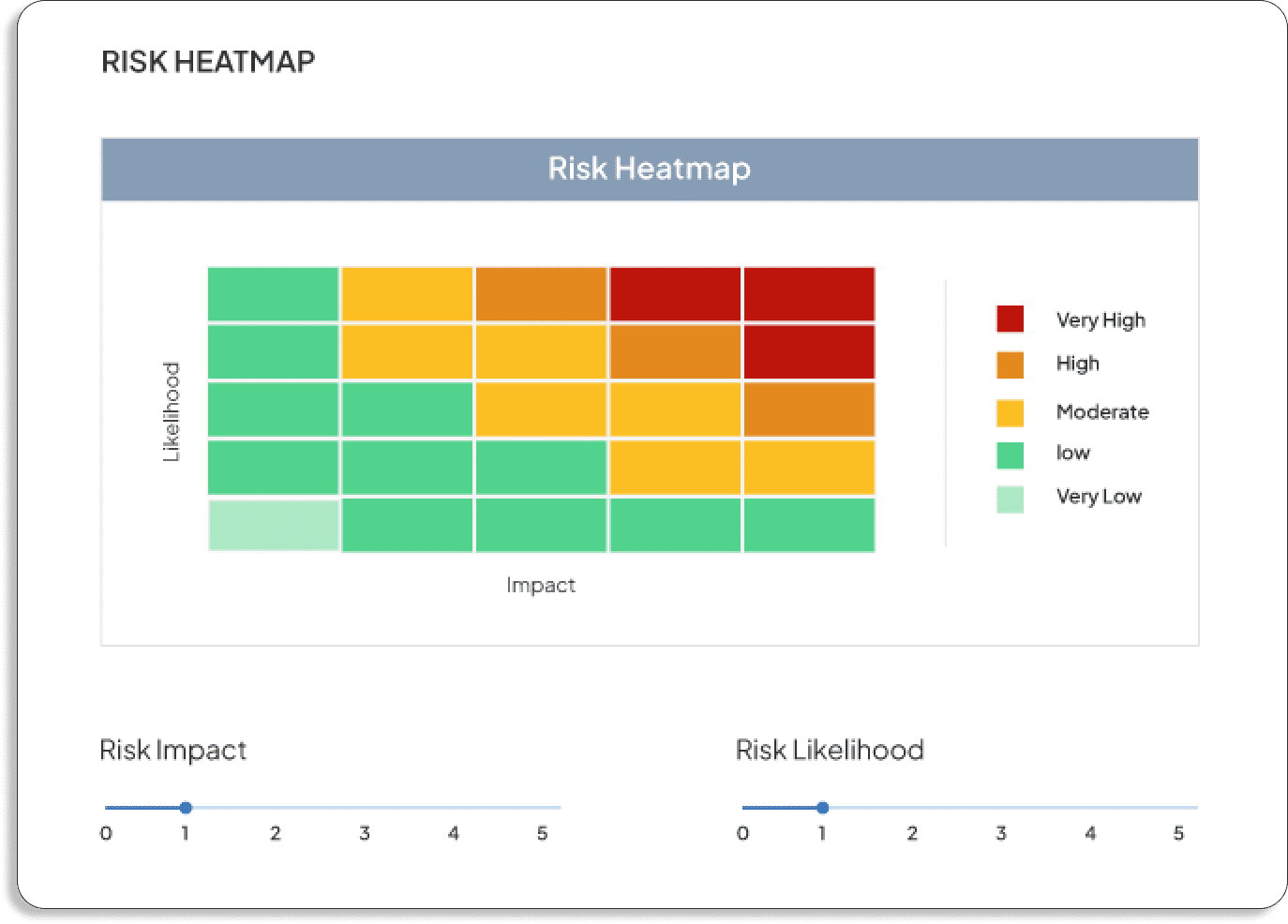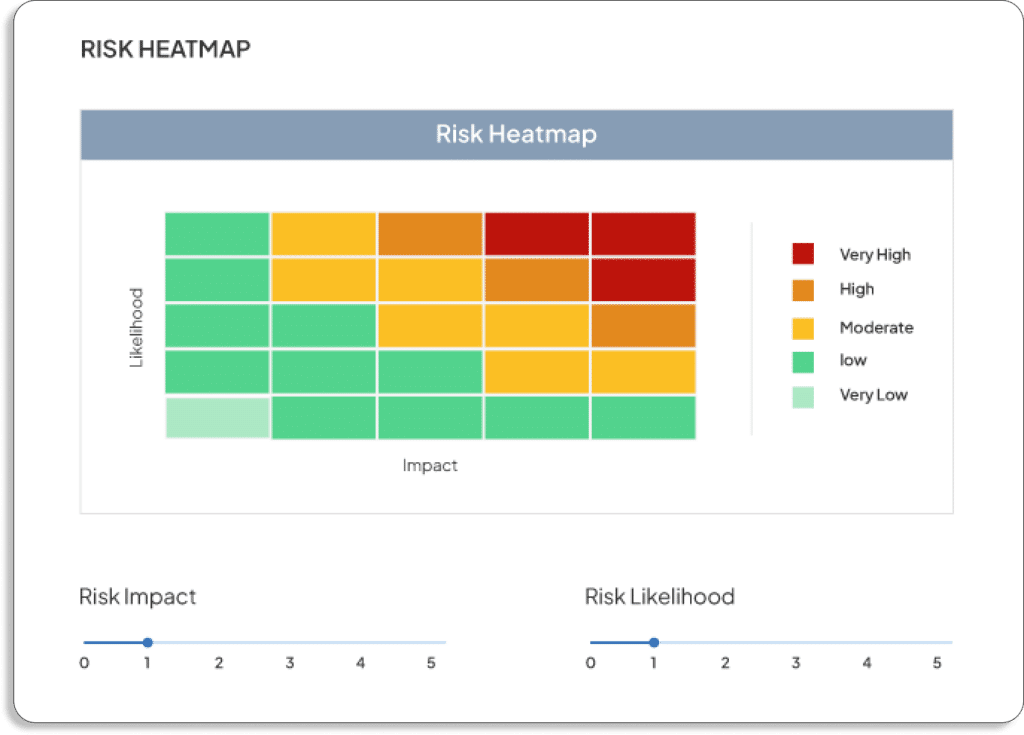 The next step after risk assessment is to work on the risk. Risks can be mitigated through compensating controls implemented in the customer's organization, such as integrating SaaS platforms into the organization's SSO solution, employee security training regularly, and requiring multi-factor authentication (MFA) for all logins, etc.
Scrut offers four methods for dealing with risks. You can choose to ignore, accept, transfer or mitigate each risk.
Risk Remediation – taking steps to eliminate risks.
Risk Mitigation – taking action to reduce the likelihood or impact of a risk.
Risk Transfer – transferring risk to another party.
Risk Acceptance – acknowledging the risk.
Scrut's risk management module allows you to assign each risk to an owner in your team to handle the risk, be it accepting, mitigating or remediating.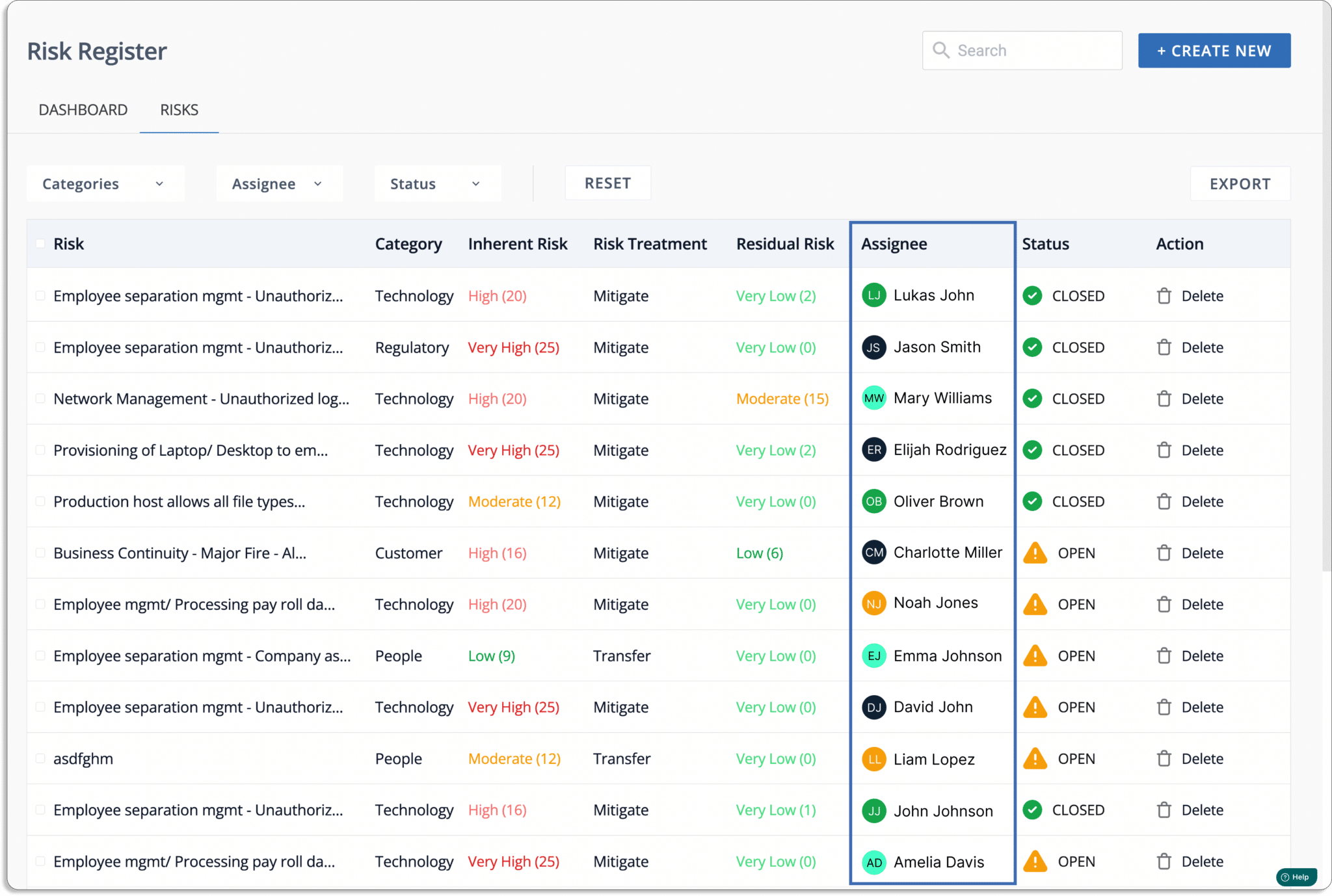 You can also create mitigation tasks, as shown in the screenshot below.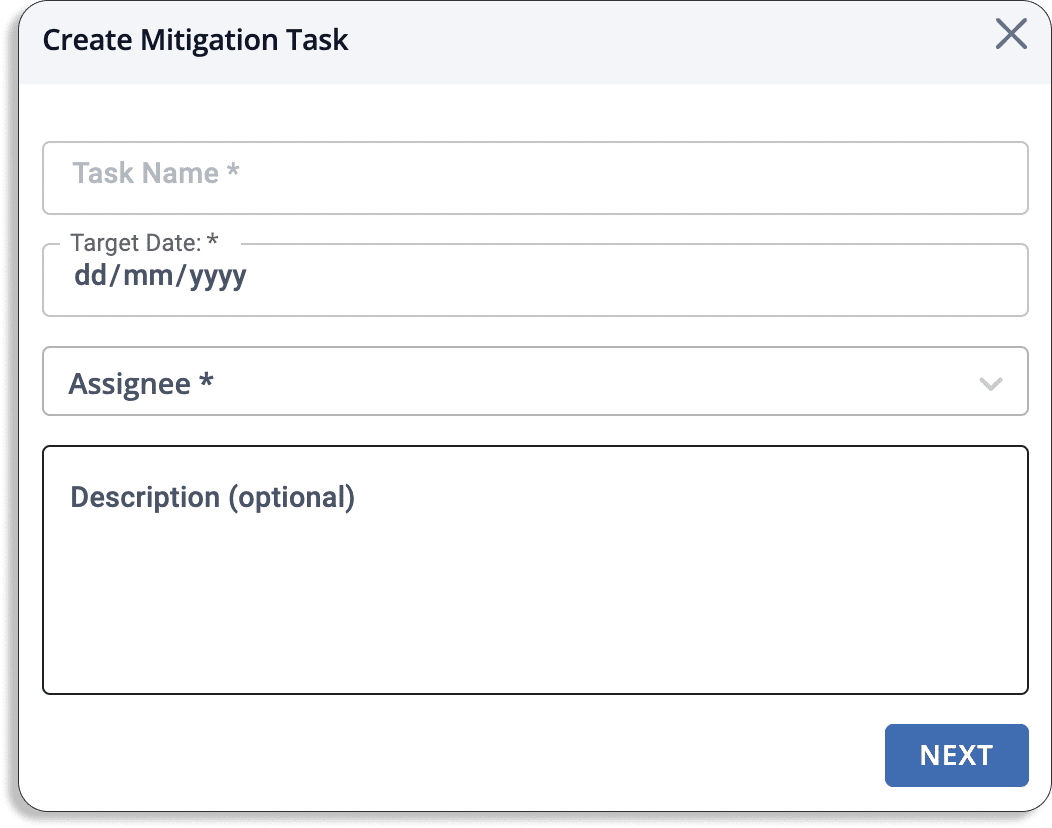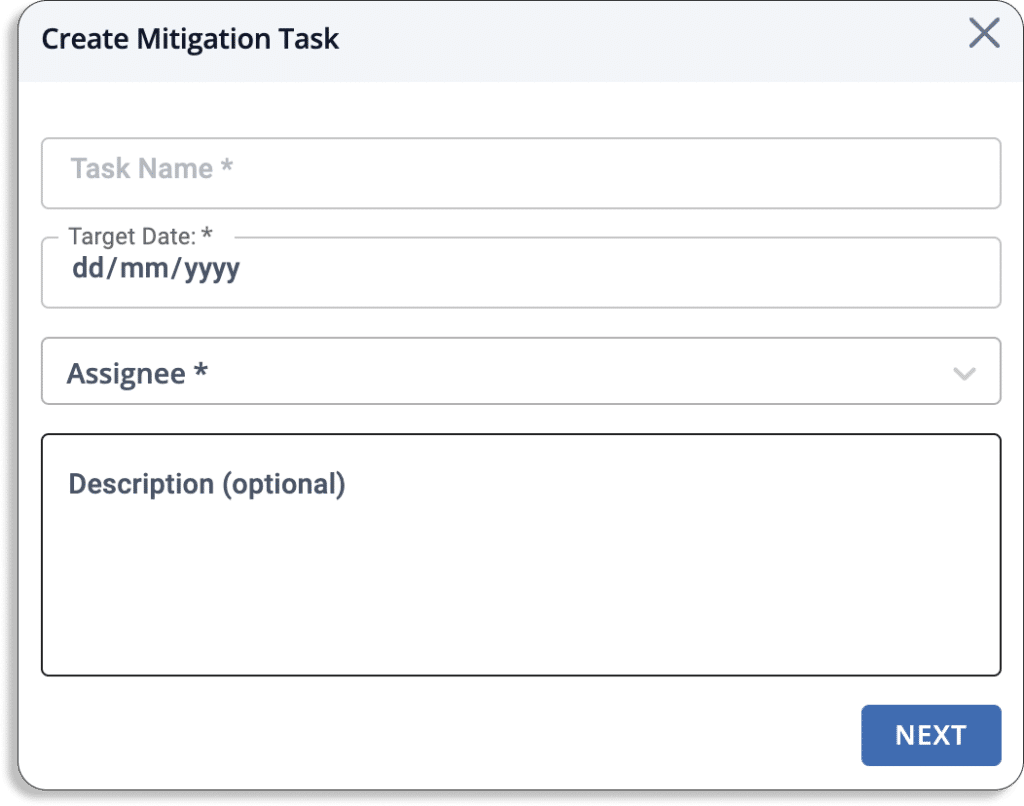 Learn how Gameskraft uses Scrut to monitor its cloud assets and comply with ISMS policies and controls.
Trust Vault – Build trust with your customers from day 1
One major reason organizations choose IT risk management software is because it directly impacts sales. With a strong risk posture, your sales team can be confident during sales and close more deals.
Scrut's Trust Vault helps demonstrate your security and compliance posture by displaying public information security-related certifications, reports, and attestations alongside gated NDA-backed access to detailed reports.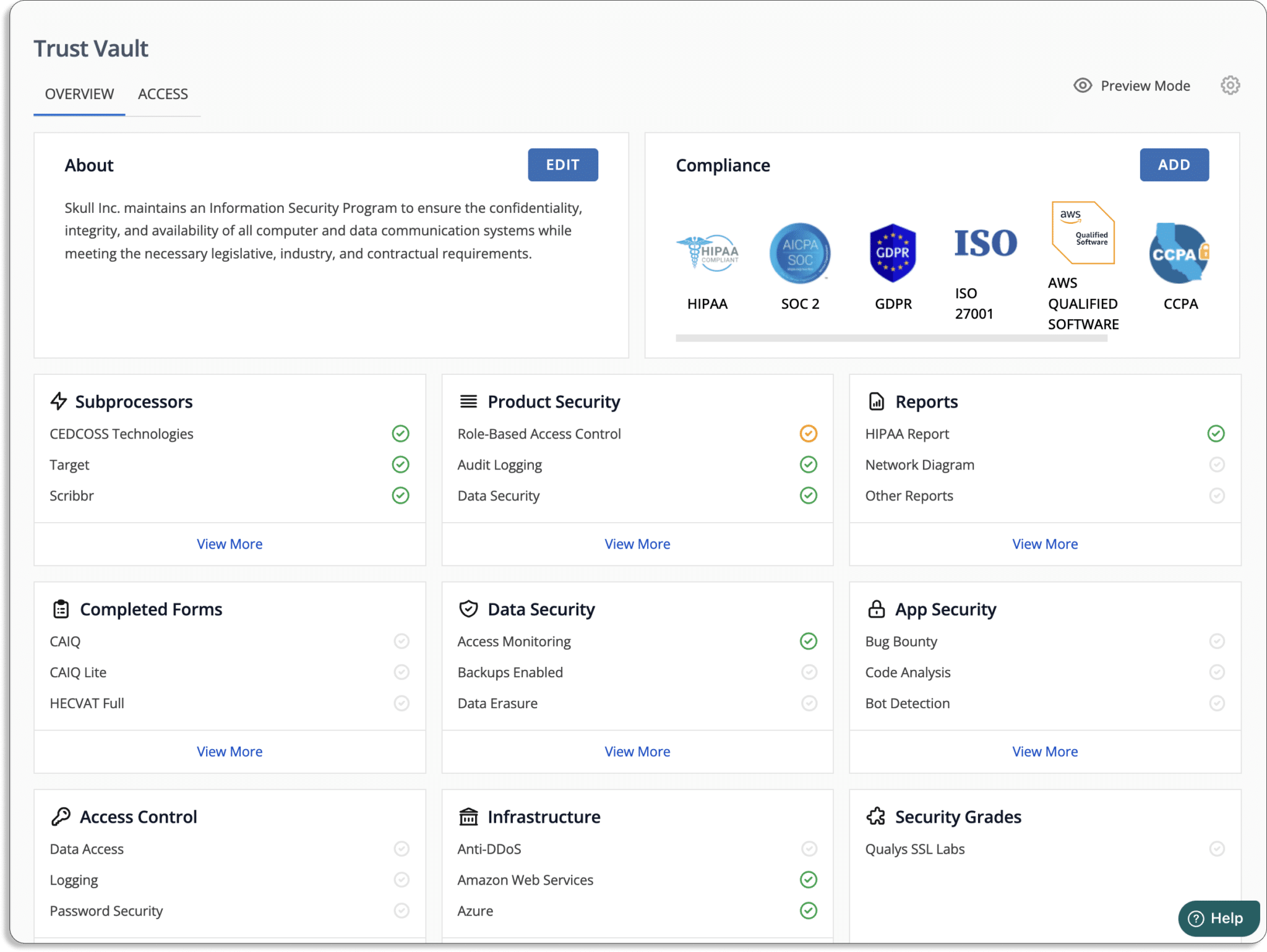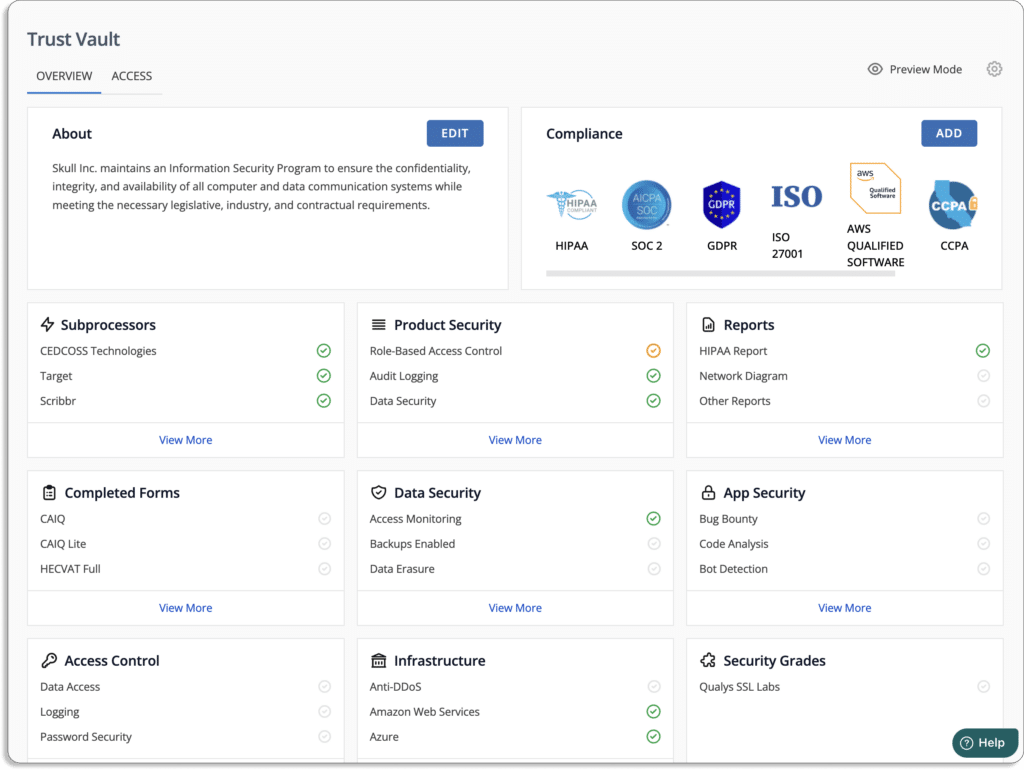 The Trust Vault page will be updated with your most recent proofs. It enables you to demonstrate your daily compliance and security measures to external and internal stakeholders.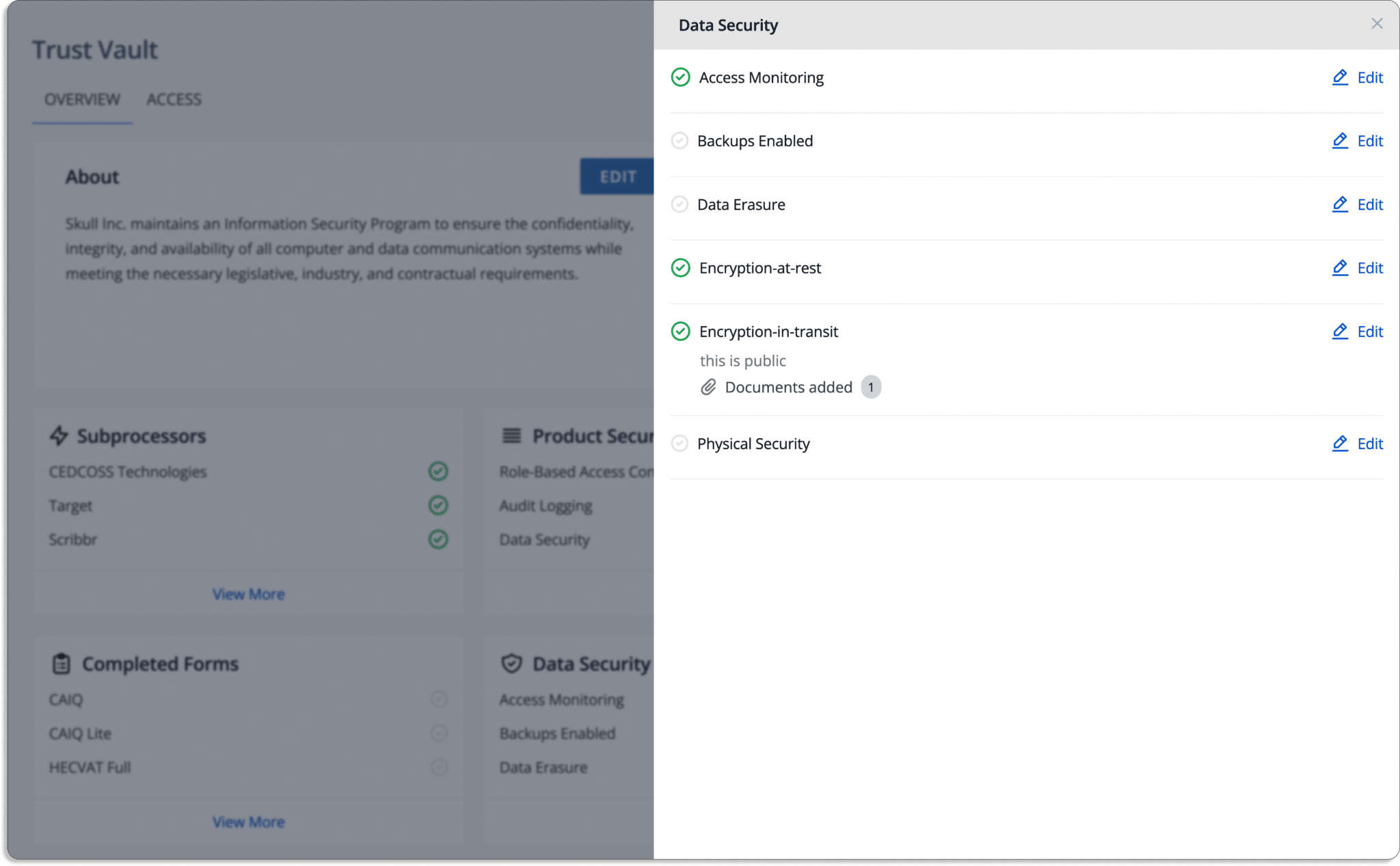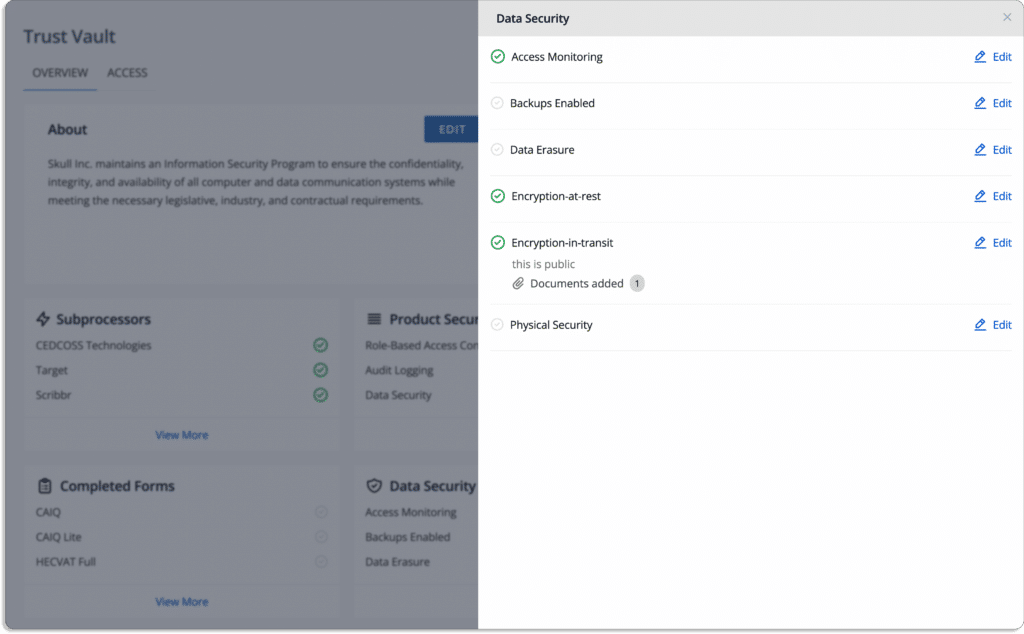 See this customer review from g2.com below.


Customer Rating
2. Hyperproof
Hyperproof is a simple and user-friendly platform that helps to launch your compliance program, pass the audit, and maintain continuous compliance. The platform maintains a central registry to track risks, document risk mitigation plans, and map controls to risks and compliance requirements. Hyperproof's dashboard lets you monitor your risk, security, and compliance posture in realtime.
Pros
The capability to manage control at the team/product/owner level has significantly reduced the number of controls that must be managed across multiple compliance programs.
The functionality to automate evidence collection for documented controls reduces the manual workload.
Cons
There is currently no control remediation tracking to monitor the progress of individual entities' remediation.
UI does not respond to display scaling or window resizing.
Customer Rating
3. ZenGRC
ZenGRC is a GRC management solution that helps businesses of all sizes and industries manage the entire audit cycle, from automating a request to collecting evidence regularly. ZenGRC implements the SCF (Secure Controls Framework), which supports 32 domains and over 750 controls, making control mapping across multiple frameworks easier for your security team. It also includes compliance and risk dashboards, which aid in gap analysis and highlight progress.
Pros
Bulk ownership change feature for tasks and bulk audit upload.
The training and educational content in the knowledge base make it simple to set up the platform on your own with minimal assistance.
Cons
Subtasks do not automatically reflect changes to the parent task's owner or assignee, so users have to update it manually every time.
The relationship between different areas like requests, assessments, and issues confuses internal administrators and auditors.
Customer Rating
4. Drata
Drata is a platform that automates your compliance journey from audit-ready to beyond, whether you want to scale your GRC program or improve your security. It allows teams to manage end-to-end risk assessments and treatment workflows and automate testing from a single platform. It also allows you to create treatment plans, align assessment scores, and even create risk-related tasks directly from the risk drawer using Drata's Jira integration.
Pros
The policy center is well-designed, with expert-level policies prewritten and only needs some general context replacement, saving countless hours of policy writing time.
The dashboard that displays your controls mapped to the frameworks provides a clear picture of where you meet the benchmark for each framework.
Cons
The number of controls included as a part of the framework is overwhelming.
The policy template provides little detail.
Customer Rating
5. Vanta
Vanta is an automated security and compliance platform that assists businesses in scaling security practices and automating compliance for the industry's most desired standards. The Vanta Risk Management solution streamlines and automates the risk assessment process. It includes a risk library, suggested mitigating controls, risk prioritization, risk reporting, treatment tracker, and ownership assignment.
Pros
Real-time monitoring, vulnerability scans, and integrations with cloud systems are all well-designed.
Supporting resources, such as templates, samples, and external references, are available directly with each requirement.
Cons
The vendor management capabalities are less sophisticated and not an all-in-one solution because it lacks specific attributes like contract expiry, SOW, MSA, etc.
Customer Rating
6. Tugboat Logic
Tugboat Logic is a security assurance platform that simplifies and automates information security management to assist businesses in navigating security and compliance complexities. The IT and Security Risk Management module connects your data across the enterprise to flag risk in context, optimize controls for risk mitigation, and gain real-time visibility into your risk posture.
Pros
It provides a central location from where you can quicklyrespond to client questionnaires.
The readiness project feature offers a compartmentalized assessment for SOC, ISO, GDPR, and other compliance requirements specific to your product or company.
Cons
It doesn't have the ability to notify the InfoSec team of their tasks and send individual reminders of what remains to be completed.
The frequent improvements to policies and controls overwrite any custom edits made to them. Therefore, adopting the platform improvements is difficult because you risk losing your custom edits.
Customer Rating
7. ServiceNow GRC
Making enterprise-wide risk-informed decisions is easier with the help of Servicenow GRC, which helps you manage your governance framework, including policies, laws and regulations, and best practices, in one system. Servicenow GRC allows you to design and schedule self-assessments based on maturity level to monitor risks and control accuracy.
Pros
Simple tracking and workflow management, global implementation, and simple navigation between different modules.
The software suite includes service management, change management, project management, and configuration management.
Cons
It only provides version upgrades twice a year rather than patching for minor fixes and enhancements that could reach customers sooner.
The reporting tool lacks advanced filters such as group conditional formatting and data visualization schemes.
Customer Rating
8. AuditBoard
AuditBoard is an easy-to-use cloud-based platform for SOX, internal controls, audit management, compliance, and risk management. AuditBoard's risk management tool includes automated risk surveys and in-person interviews that dynamically score risk by collecting ratings for impact, likelihood, and other risk criteria.
Pros
Comprehensive reporting that includes reports on the number of controls tested, the status of policy approval, the effectiveness of compliance, and issue management.
Cons
This is a SOX-centric tool, with functionalities designed with SOX in mind but not with compliance/risk in mind.
Customer Rating
9. LogicManager
LogicManager is a SaaS-based enterprise risk management (ERM) platform. It is a hub for all risk, compliance, and auditing programs. LogicManager's ERM solution includes centralized libraries of industry-specific potential risks for better risk assessments.
Pros
It provides full functionality on day one without purchasing multiple add-ons or modules due to its robust reporting capabilities to design reports suitable for management reports.
Cons
The risk-scoring methodologies in ERM are not very adaptable.
Customer Rating
10. JupiterOne
JupiterOne is a cybersecurity asset management tool that makes your journey to continuous compliance easier. The platform generates a comprehensive cyber asset inventory from all cloud accounts, identity and access management (IAM) systems, Git repositories, and other sources. Its dashboard allows you to track compliance status, create rules for gaps in security frameworks, and download evidence in minutes rather than days or weeks.
Pros
It is simple to implement and use.
The application is API-based. With JSON's simple structure, you can build a query and run it within minutes.
Cons
Learning all the different features presents a significant learning curve, and because of how comprehensive and adaptable the tool is, at first it may seem confusing.
Doesn't allow to add custom risks as per your organization.
Customer Rating
11. LogicGate Risk Cloud
With LogicGate Risk Cloud, you can scale and evolve to changing business needs and regulatory requirements through a suite of purpose-built applications. Risk Cloud's enterprise risk management makes creating a comprehensive risk management process simple by capturing everything from vendor interactions and finance to sales and marketing activities.
Pros
The software is extremely flexible for creating workflows tailored to specific requirements.
In addition to providing GRC functionality, it also provides excellent workflow orchestration functionality.
Cons
Customer Rating
12. Soterion
Soterion is a GRC software suite that focuses on translating complexity into a language that business users can understand. It offers SAP customers comprehensive access risk reporting, allowing organizations to manage their access risk exposure effectively.
Soterion's Access Risk Manager enables customers to identify their SAP access risk exposure through a user-friendly web application. It also aids in proactive prevention during the SAP change request implementation process.
Pros
It is a simple system with built-in risk rule sets, clean-up opportunity wizards, and graphical representations of business flow – all accessible via a user-friendly web application.
Cons
It works with SuccessFactors but not with other non-SAP solutions.
Customer Rating
13. SureCloud IT Risk Management
SureCloud IT Risk Management is a governance, risk management, and cyber security management software. It streamlines your IT risk management processes and allows for the synchronization and orchestration of all risk management activities, including the identification of control weaknesses and the implementation of remediation steps. You can use the tool to document steps and exceptions to remediate findings from risk management activities.
Pros
It enables users to customize and personalize their assessment configuration based on user's preferences users'
Robust built-in risk and third-party management modules.
Cons
There is no feature to see how risk owners can review and update risks.
There are no reporting capabilities for board-level reports.
Customer Rating