HIPAA (Health Insurance Portability and Accountability Act) compliance is critical for maintaining patient privacy, safeguarding data security, avoiding legal repercussions, promoting interoperability, and ensuring high-quality and efficient healthcare services.
Every organization that uses, handles, or discloses protected health information (PHI) must understand its responsibilities under the Health Insurance Portability and Accountability Act.
A HIPAA compliance requirements checklist makes it simple for organizations to comply with the HIPAA criteria that apply to them. It can assist HIPAA-covered companies in complying with requirements and becoming HIPAA-compliant.
The basic goal of the Health Insurance Portability and Accountability Act (HIPAA) is to safeguard the security and privacy of individuals' protected health information (PHI). HIPAA applies to various entities involved in the healthcare industry, including healthcare providers, health plans, and their business associates:
Privacy Rule – The HIPAA Privacy Rule specifies standards for protecting personal health information (PHI). It governs the permissible uses and disclosures of PHI and grants certain rights to individuals regarding their health information. It also defines what information is classified as ePHI (electronic PHI) and its maintenance and transmission channels without compromising data integrity.
Security Rule – The HIPAA Security Rule establishes criteria for protecting ePHI. The administrative, physical, and technical protections must be implemented to secure ePHI from unauthorized access, use, or disclosure.
Breach Notification Rule – The Breach Notification Rule, as the name suggests, outlines the steps to take in the event of a data breach. This guideline implies that no system is completely secure, and that having a comprehensive strategy for what to do in an emergency is preferable.
The Breach Notification Rule Specifies how affected patients should be notified and what efforts should be taken to reduce the damage. It requires covered entities to notify affected persons, Health and Human Services department and, in some situations, the media.
Enforcement – The Enforcement Rule empowers the HHS department to enforce the Privacy and Security Rules. HIPAA compliance is enforced by the Office for Civil Rights (OCR). Compliance with HIPAA regulations is conducted through investigations and audits conducted by OCR.
HIPAA Compliance Checklist
A HIPAA compliance checklist is a resource that organizations use to learn about the stages involved in obtaining and maintaining HIPAA compliance.
Understand HIPAA Requirements: Familiarize yourself with the Health Insurance Portability and Accountability Act and its needs, such as the Privacy Rule, Security Rule, and Breach Notification Rule.
Determine Whether The Privacy Rule Applies To You: Appoint a privacy officer in charge of managing HIPAA compliance inside your organization.
While most of the Privacy Rule provisions do not directly apply to business associates, you will still need to implement some of the mandatory policies and safeguards for your covered entity, including rules regarding using and disclosing personal health information and patient rights.
Learn About HIPAA Security Rules And The Types Of Safeguards: The HIPAA Security Rule provides specific restrictions designed to prevent breaches in the creation, sharing, storage, and disposal of ePHI. Since its implementation, the rule has been utilized to manage patient confidentiality in the face of evolving technologies.
As part of HIPAA's Security Rule, organizations must establish administrative, physical, and technical safeguards based on risk assessments and analyses. These safeguards serve as the foundation for the security measures organizations must implement in their environment.
Administrative Safeguards: To ensure compliance, administrative safeguards (such as risk assessment, workforce training, workforce sanctions policy, and access controls) should be implemented to provide policies and procedures that employees may refer to and follow.
Physical Safeguards: Physical safeguards should lead the development of policies and processes to safeguard electronic systems and ePHI from potential threats and environmental dangers. Developing and implementing policies and processes that address physical security measures is necessary. This includes securing physical access to areas where ePHI is stored, such as data centers, server rooms, and paper records storage facilities. This includes access controls, visitor logs, security systems, and video surveillance.
Technical Safeguards: Technical safeguards are intended to establish written, accessible policies and procedures that monitor user access to systems that store ePHI. Implement technical safeguards to secure ePHI, such as access controls, encryption, antivirus software, audit controls, and regular system monitoring. Ensure that your network infrastructure, systems, and devices are protected against unauthorized access and regularly patched and updated.
Maintain Documentation: HIPAA requires organizations to document their compliance efforts comprehensively. A HIPAA checklist serves as a framework for documenting the implementation of privacy and security measures, policies, and procedures. It helps ensure that all necessary components are addressed and properly recorded. In general, HIPAA documentation requirements include – policies, procedures, HIPAA risk analysis, employee sanctions, contracts, training records, password policies, etc.
Configure breach notifications for any data loss: Creating an incident response plan to address potential security breaches or incidents is essential. Define the steps to be taken if a breach occurs, such as containment, notification, and mitigation. In order to meet HIPAA compliance requirements, you must develop breach notification guidelines. The Breach Notification Rule of HIPAA requires business associates to inform covered organizations about a PHI breach at or by a business partner.
How Scrut Can Help You Simplify HIPAA Compliance?
Let's go over how Scrut can assist users in achieving HIPAA compliance.
Scrut SmartGRC – Scrut smartGRC offers pre-built policies linked with major security and privacy frameworks. Users can build their compliance program in minutes with a library of 50+ policies created and approved by in-house infosec specialists.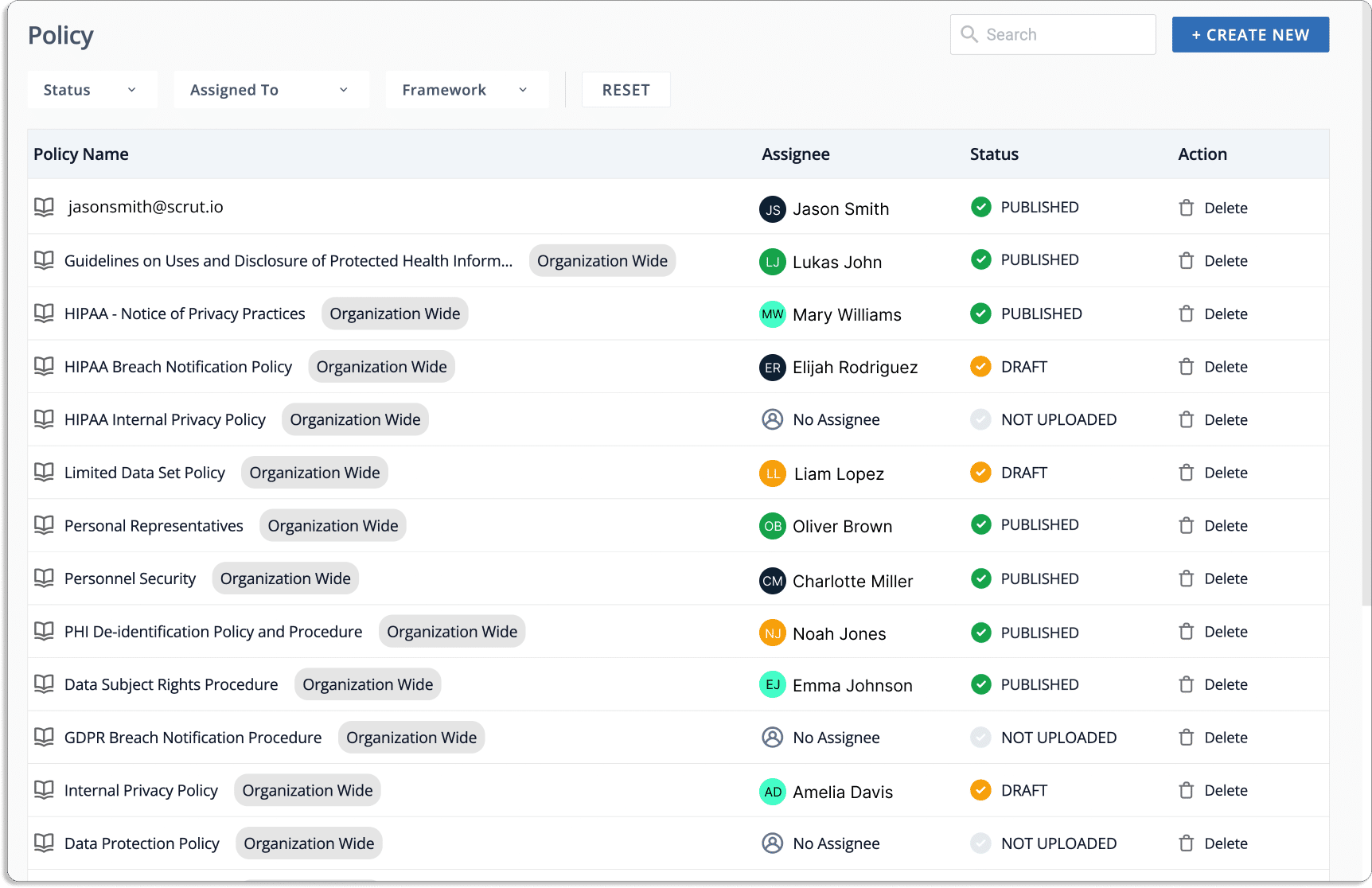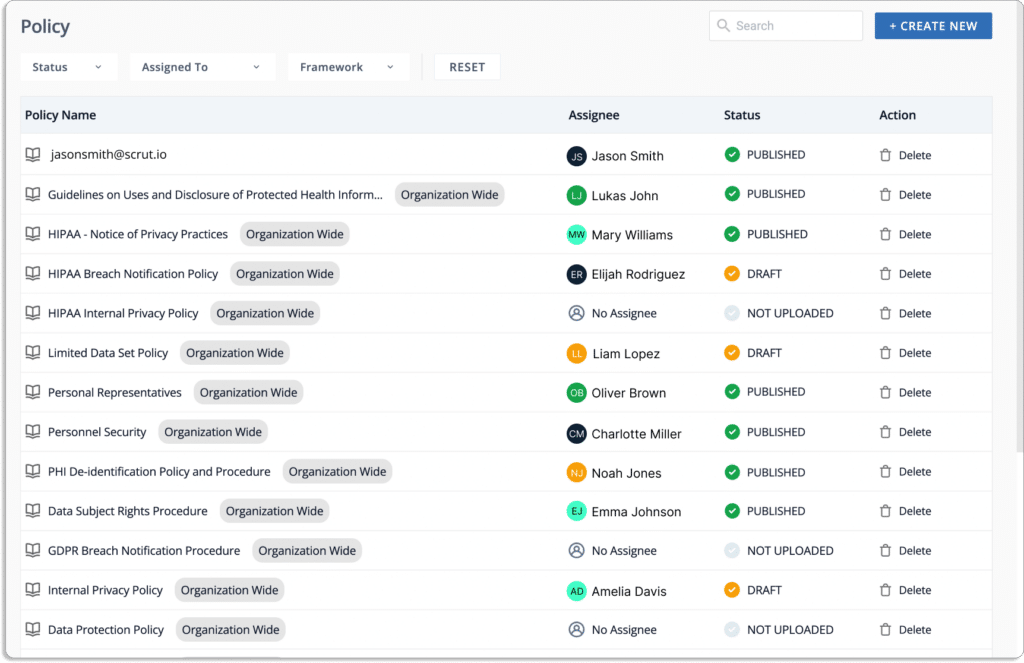 Scrut supports the following frameworks, among others: SOC 2, SOC 3, ISO 27001, ISO 27701, ISO 27017, ISO 27018, ISO 22301, ISO 20000-1, GDPR, HIPAA, FedRamp, CMMC, CCPA, PCI DSS, CSA Star, CMMI – DEV, GLB, and NIST 800 171.
Scrut provides a consolidated picture of all your assets, controls, policies, and history that comprise your risk or compliance program. You can quickly explore files, navigate to different rules or controls, and take action as needed.
The platform reduces the need to keep track of documents, emails, and other evidence by providing the auditor with a single platform to analyze all records. Auditors can also use the tool to raise inquiries about specific documents. It saves time and reduces the headache of managing multiple documents.
Scrut Risk Management – Scrut Risk Management provides actionable insights into your business processes for detecting, assessing, and responding to IT and cyber threats. It provides seven categories of risks. Governance, People, Customer, Regulatory, Resilience, Technology, and Vendor Management are Scrut's risk categories.
To automate risk identification, the platform examines your ecosystem for vulnerabilities across the code base, infrastructure, applications, vendors, personnel, and access. It allows users to search a pre-built controls library to discover organizational hazards. Users can discover high-risk locations by combining data with built-in industry-standard scoring algorithms and expert-recommended ranks.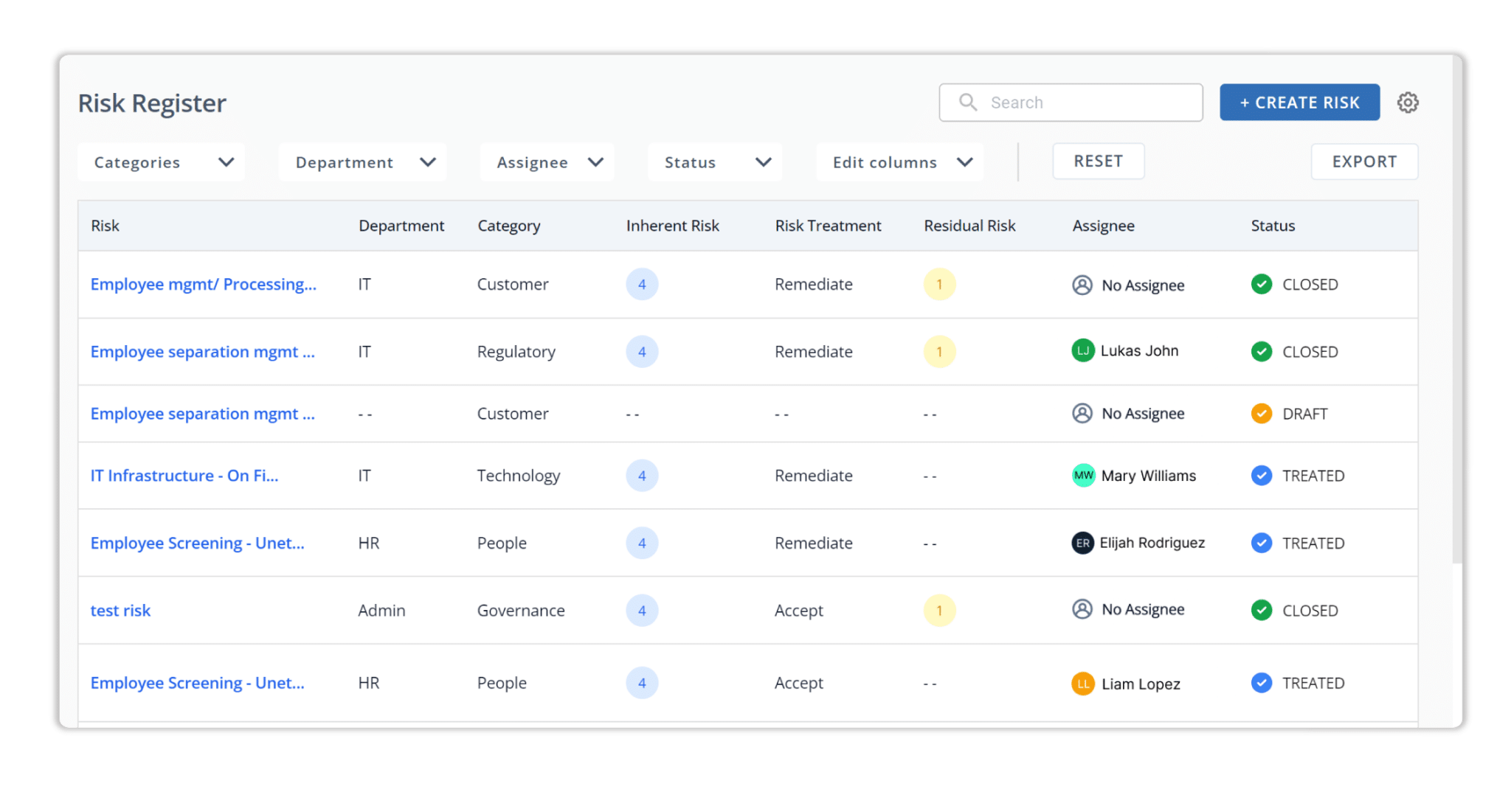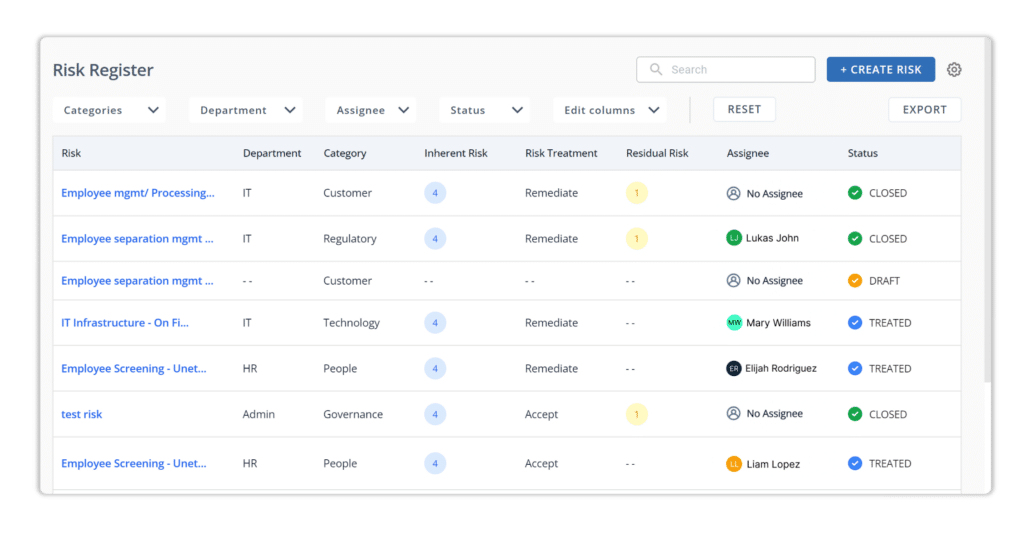 Vendor Risk Management – The tool assists users in effectively identifying, monitoring, and managing vendor risks. It allows users to acquire insight into the security posture of their suppliers. Through a comprehensive evaluation, users can determine whether a vendor aligns with their compliance requirements, ensuring a robust and secure business ecosystem.

Scrut Cloud Security – With Scrut, users can stay compliant while proactively protecting their data to establish a solid information security posture. The platform automatically evaluates your cloud setups against 200+ cloud control across CIS benchmarks to maintain a strong InfoSec posture. It identifies gaps and critical issues in real-time by automatically monitoring controls.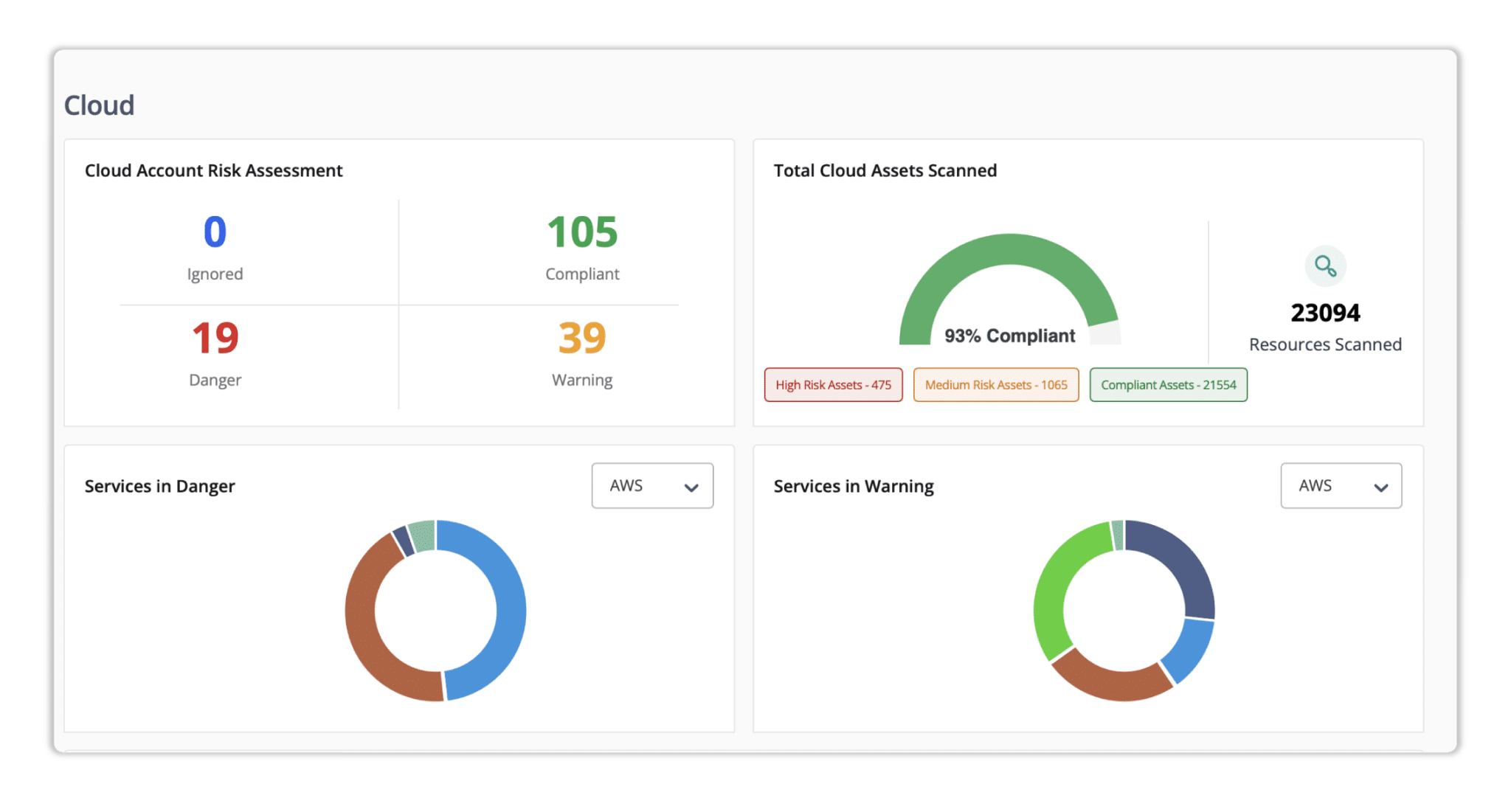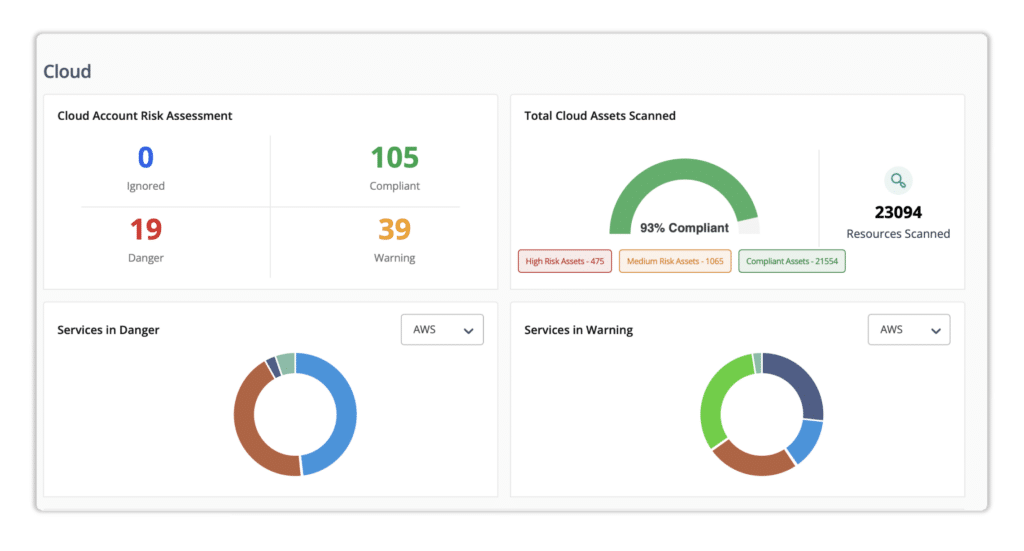 Security Awareness Training For Employees – Train your staff on compliance standards, conduct periodic tests, launch anti-phishing programs, and establish policy attestations to ensure that your employees are your first line of defense.
Scrut uses pre-built modules to automate employee security awareness training. As demonstrated in the screenshot below, it gives up-to-date statistics on the general state of the training programs. As an administrator, you are continually aware of the overall features of your employees' training programs.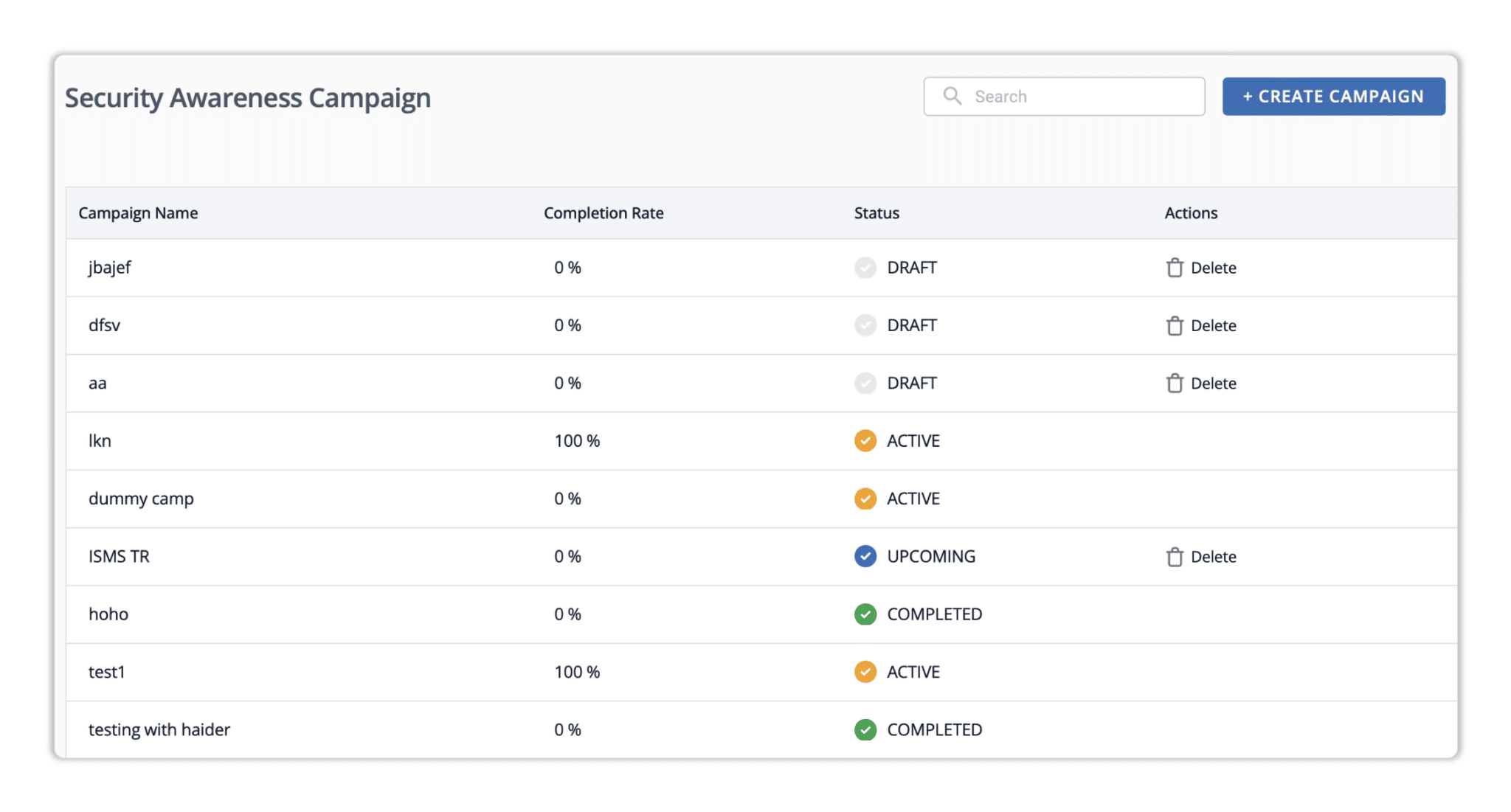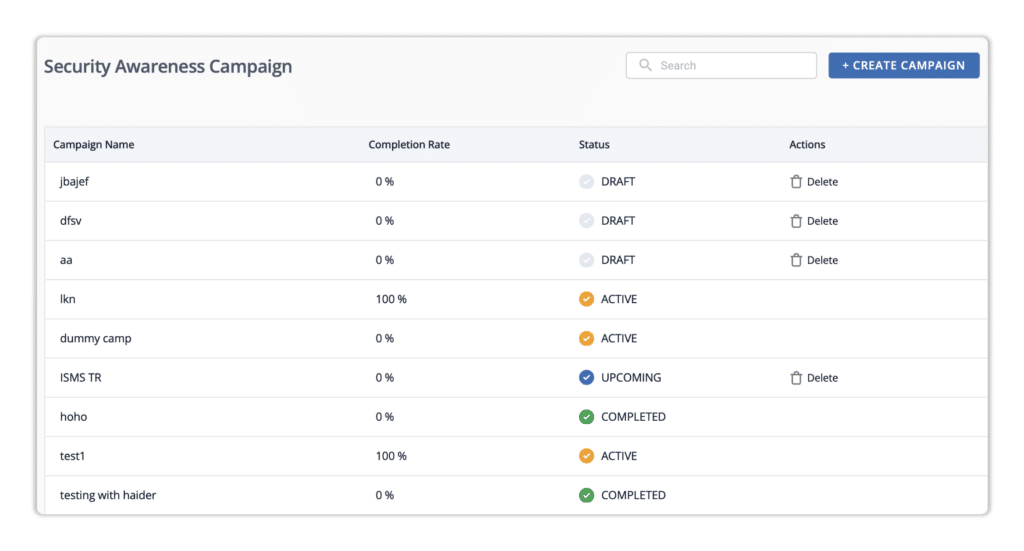 Scrut Trust Vault – Scrut Trust Vault enables customers to show their security and compliance posture openly and transparently. Users can customize a security page for their website based on the company's identity. The tool automates security and compliance practices by demonstrating information security-related certifications, reports, and attestations.
It also aids in demonstrating to internal and external stakeholders your daily compliance management and security efforts.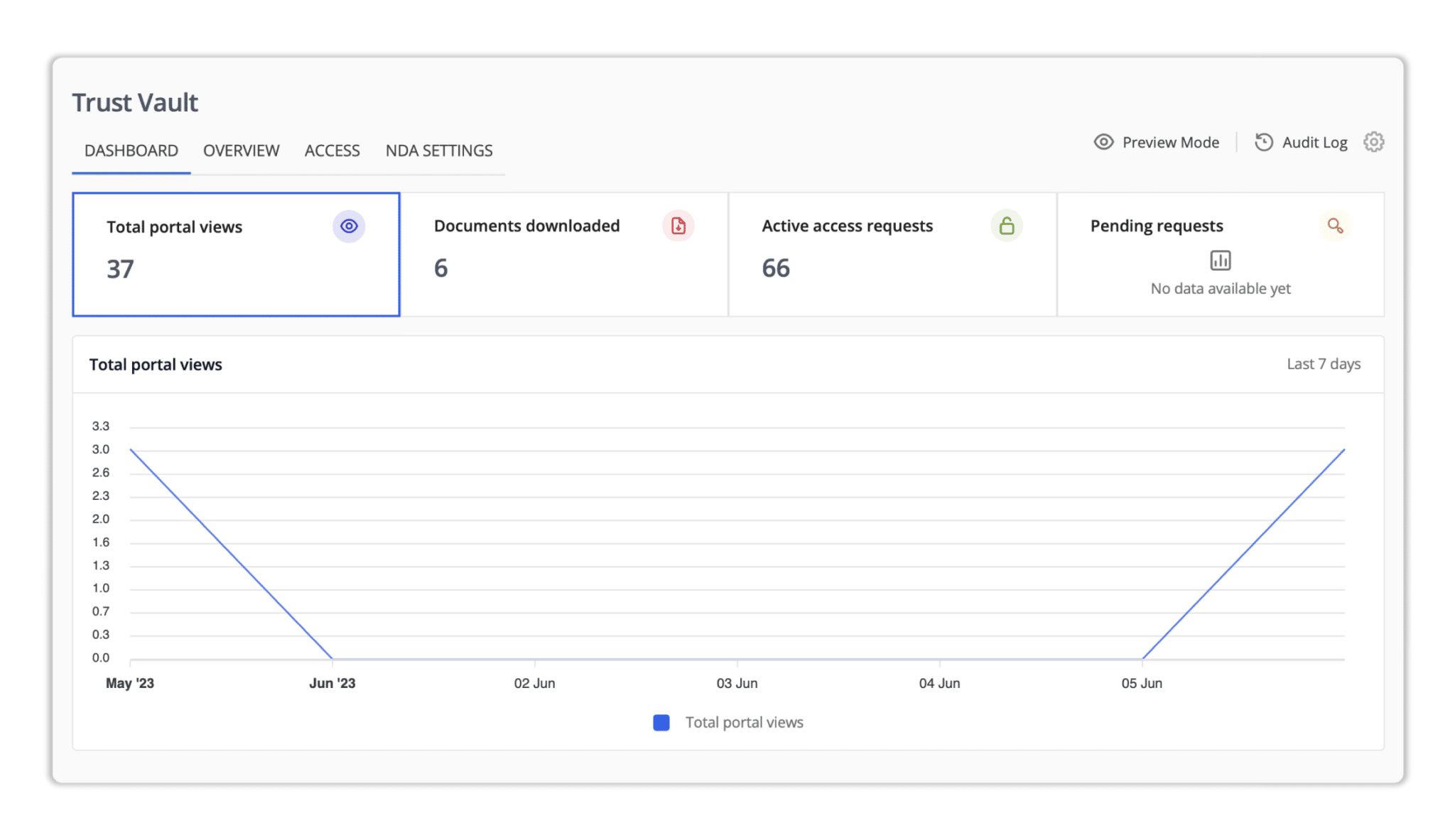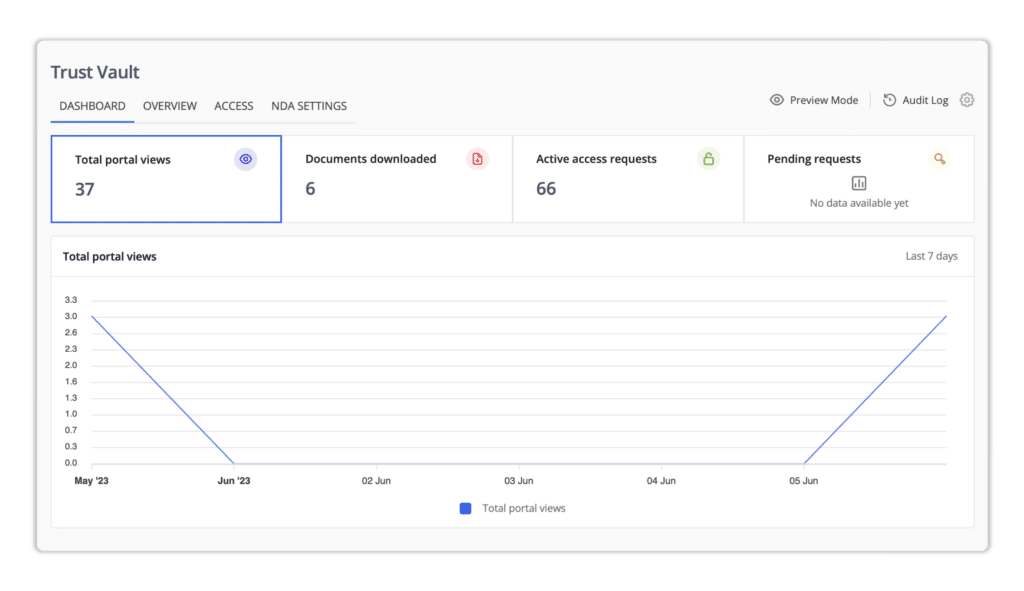 Automate evidence collection – With over 70 integrations across widely used programs, evidence collection is no longer a tedious, repetitive manual process. Scrut automates over 65% of the evidence-collecting process across your application and infrastructure landscapes against pre-mapped controls.
Scrut offers a streamlined approach to HIPAA compliance, covering the entire compliance lifecycle. From conducting cloud risk assessments to performing control reviews, managing employee policy attestations, and assessing vendor risk, Scrut handles it all.
Click here to schedule a demo with Scrut.