In an era defined by data, privacy, and digital transformation, the General Data Protection Regulation (GDPR) stands as a monumental piece of legislation that has fundamentally reshaped the way organizations handle personal data. Adopted by the European Union in 2018, GDPR is not just another set of regulations; it is a paradigm shift in the world of data protection and privacy.
GDPR policy's significance cannot be overstated. It was designed to empower individuals by giving them greater control over their personal data, and it imposes strict obligations on businesses and organizations that process this data. Whether you're a multinational corporation, a small business, or even a non-profit, GDPR policy applies if you handle the personal information of residents of the European Union (EU) and the European Economic Area (EEA).
Why does GDPR matter? Simply put, it's about safeguarding privacy, fostering trust, and ensuring responsible data handling in a digital age where data breaches and misuse have become all too common. GDPR compliance is not just a legal requirement; it's a reflection of an organization's commitment to respecting the privacy and rights of individuals.
In this blog post, we will delve into the five common myths about GDPR compliance and the facts behind them that every responsible organization should know.
What is GDPR?
The General Data Protection Regulation (GDPR) is a comprehensive data protection and privacy regulation that was adopted by the European Union (EU) in April 2016 and became fully enforceable on May 25, 2018. GDPR was designed to strengthen and harmonize data protection laws across the EU member states while also addressing the export of personal data outside the EU and European Economic Area (EEA).
What are the rights of data subjects under GDPR?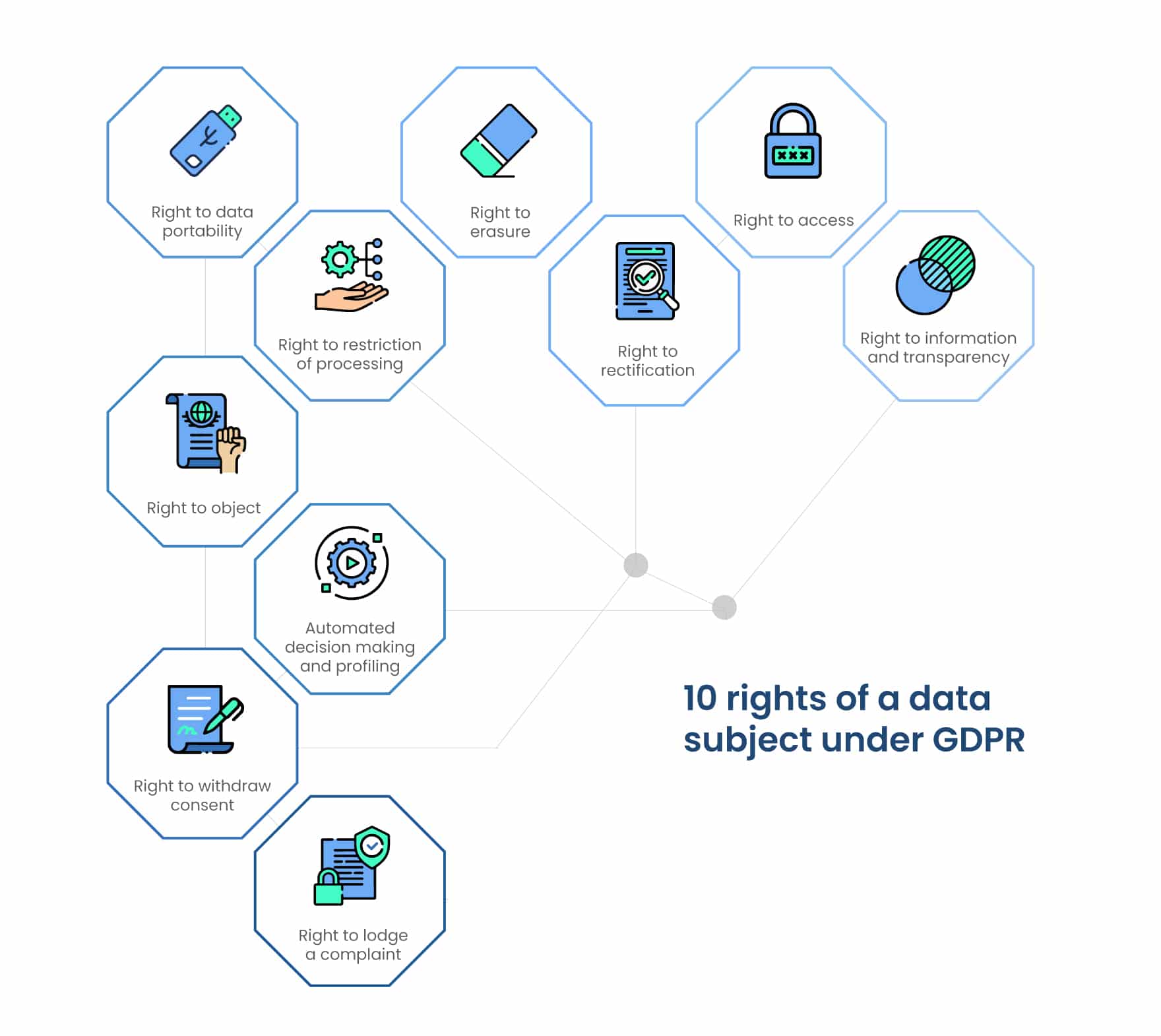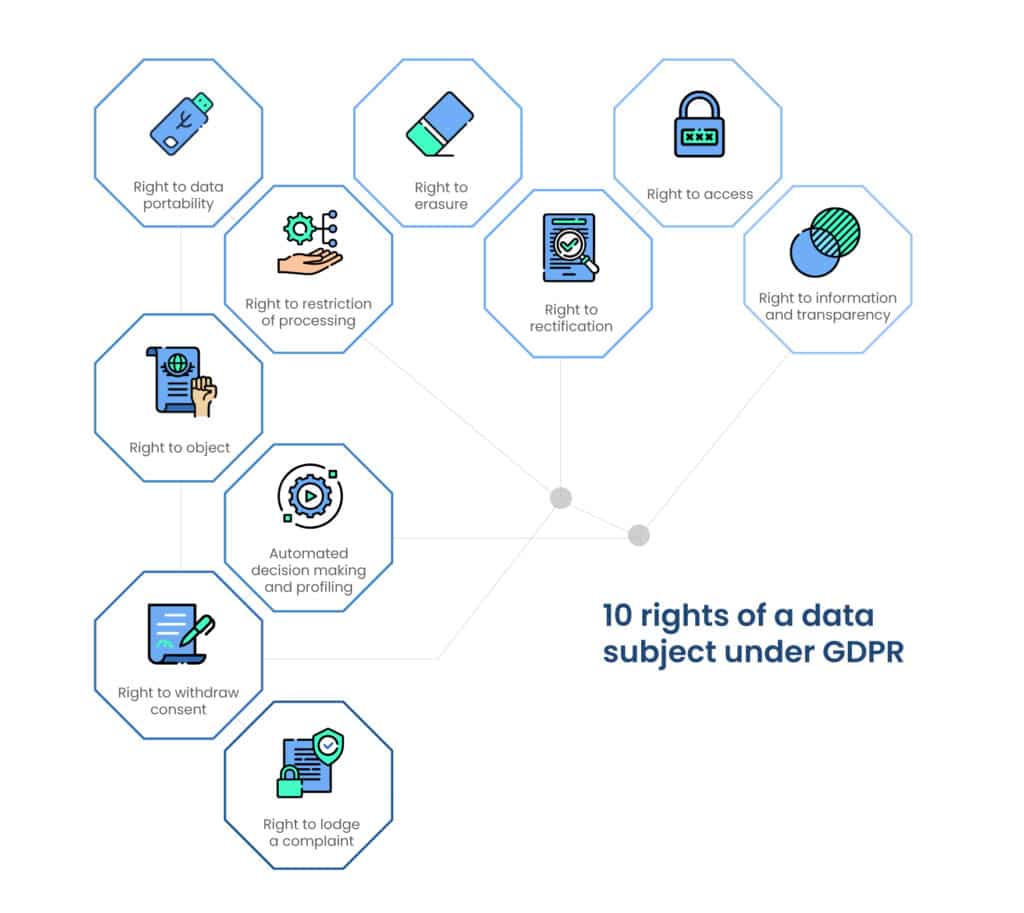 GDPR gives the following GDPR rights to the data subject:
Right to information and transparency: Data subjects have the GDPR right to be informed about how their data is being collected, processed, and for what purposes. Organizations must provide clear and concise privacy notices to explain these details.
Right to access: Data subjects have the GDPR right to request access to their personal data held by an organization. This allows individuals to verify the accuracy of their data and how it is being used.
Right to rectification: If the data subject's personal data is inaccurate or incomplete, they have the right to request its correction or completion by the GDPR data controller.
Right to erasure (GDPR right to be forgotten): GDPR data subjects have the right to request the deletion of their personal data when certain conditions are met. This GDPR right is not absolute and may be subject to legal obligations or other legitimate reasons for data retention.
Right to restriction of processing: In some cases, GDPR data subjects can request the temporary suspension of data processing, especially when they contest the accuracy of the data or the lawfulness of the processing.
Right to data portability: GDPR data subjects have the right to receive their personal data in a structured, commonly used, and machine-readable format. They can also request the transfer of their data to another data controller where technically feasible.
Right to object: Data subjects can object to the processing of their personal data for specific purposes, such as direct marketing or legitimate interests of the GDPR data controller. The organization must cease processing unless it can demonstrate compelling, legitimate grounds for processing that override the interests, rights, and freedoms of the data subject.
Automated decision-making and profiling: Data subjects have the GDPR right not to be subject to solely automated decisions that significantly affect them unless there are safeguards in place, including the right to human intervention.
Right to withdraw consent: If processing is based on the data subject's consent, they have the right to withdraw that consent at any time. The withdrawal should not affect the lawfulness of processing based on consent before its withdrawal.
Right to lodge a complaint: Data subjects have the right to lodge a complaint with a data protection authority if they believe their GDPR rights have been violated.
GDPR definition of personal data
The GDPR defines personal data as any information that relates to an identified or identifiable natural person, known as a "data subject." An identifiable natural person is someone who can be directly or indirectly identified, particularly by reference to an identifier such as a name, an identification number, location data, an online identifier, or one or more factors specific to the physical, physiological, genetic, mental, economic, cultural, or social identity of that natural person.
In essence, personal data encompasses a wide range of information, including but not limited to:
Basic identity information: Names, addresses, identification numbers (e.g., social security or passport numbers), and photographs.
Contact information: Email addresses, phone numbers, and postal addresses.
Online identifiers: IP addresses, device IDs, and cookies when they can be linked to an individual.
Location data: GPS data, mobile tower data, and Wi-Fi access points that can pinpoint a person's location.
Biometric data: Fingerprints, facial recognition data, and other biometric information.
Health and genetic data: Medical records, genetic information, and health-related data.
Cultural or social data: Information about an individual's cultural background, religious beliefs, political affiliations, and social media activity.
Financial data: Bank account numbers, credit card information, and financial transactions.
Employment information: Employment history, job titles, and work-related contact information.
Behavioral data: Data related to an individual's behavior, preferences, and interactions with websites, apps, and services.
It's important to note that personal data can also include data that, when combined with other information, can lead to the identification of an individual. GDPR places significant emphasis on the protection of personal data and imposes various obligations on organizations that process such data, including obtaining consent, ensuring data security, and providing data subjects with GDPR rights to control their data.
Additionally, GDPR distinguishes between personal data and "special categories of personal data," which includes sensitive information like racial or ethnic origin, religious beliefs, health data, and more. Processing special categories of personal data is subject to stricter regulations and requirements under GDPR.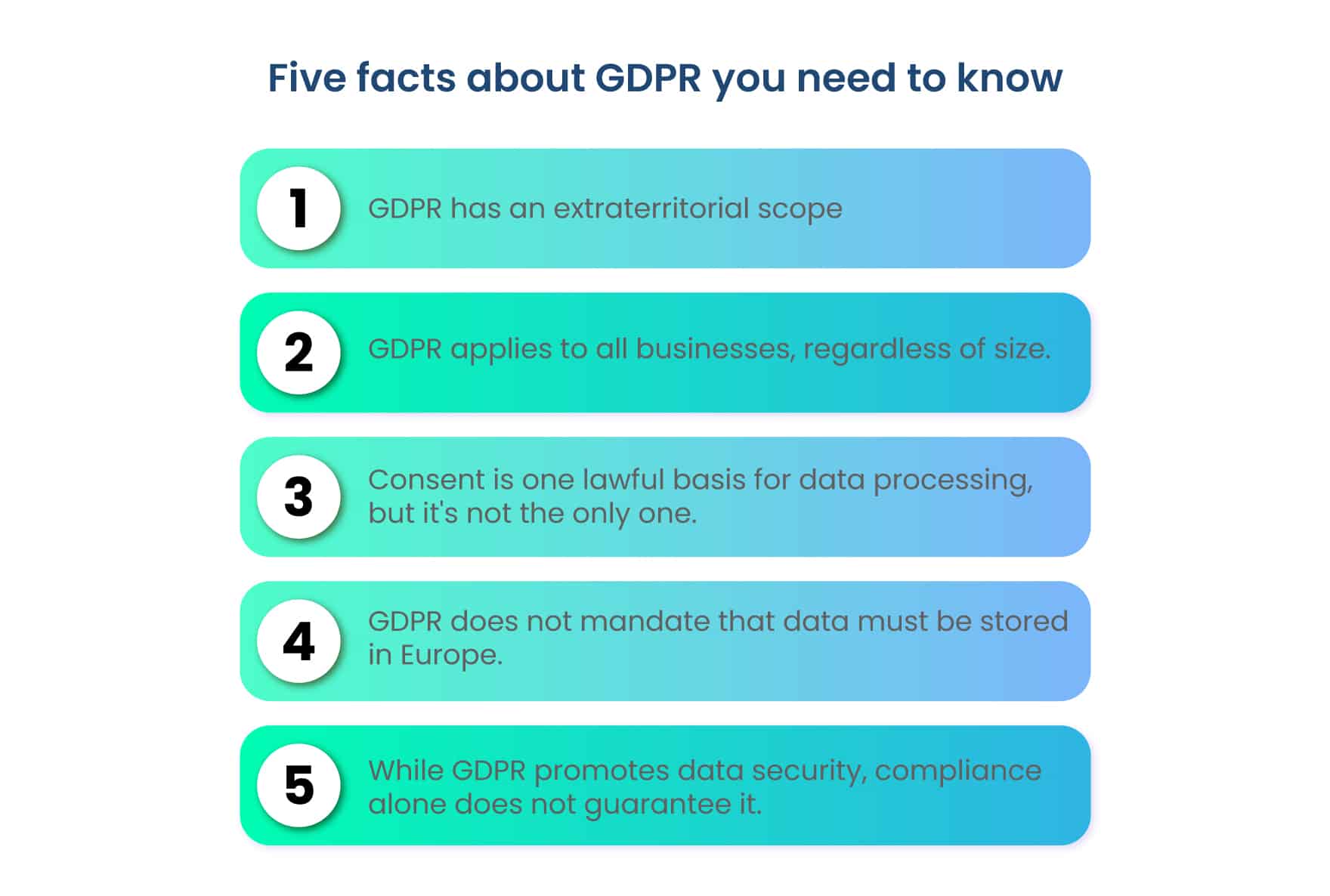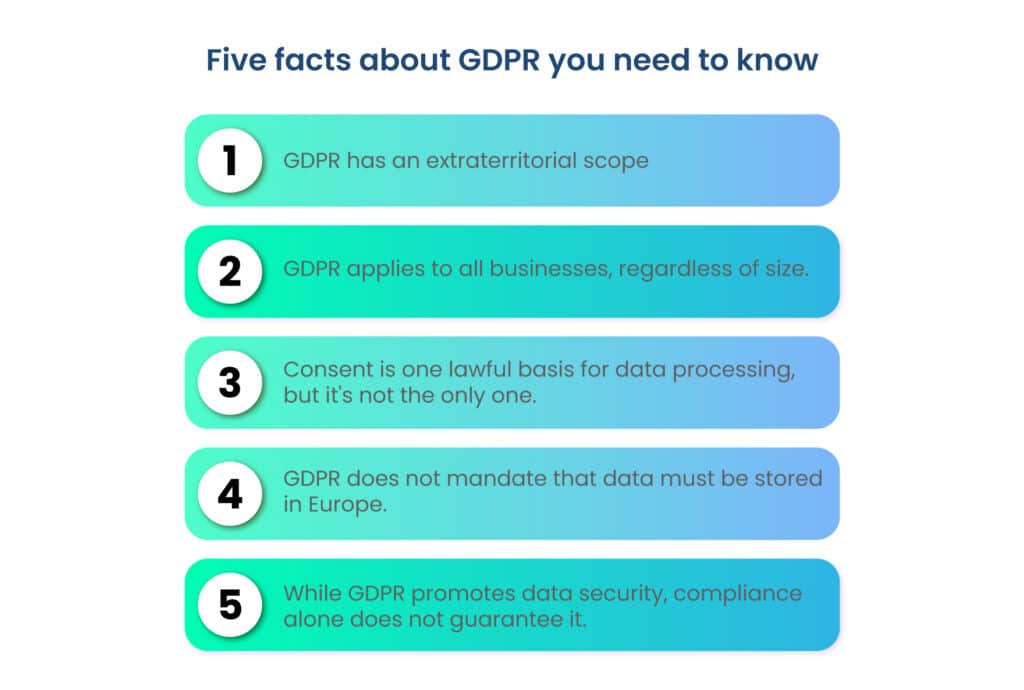 There are many misconceptions in the market about GDPR compliance. Let's discuss the most common five myths and debunk them.
1. Myth: GDPR only applies to European companies


The myth that the GDPR policy applies exclusively to European companies is a common misconception. In reality, GDPR extends its reach far beyond the borders of the EU and applies to any organization worldwide that processes the personal data of EU residents. This extraterritorial scope is a fundamental aspect of GDPR policy and serves to protect the privacy and data rights of EU citizens, regardless of where their GDPR data is processed.
Here are some key points to debunk the myth and clarify GDPR's global applicability:
Worldwide jurisdiction: GDPR policy is not confined to European soil; it reaches across continents and applies to organizations in any part of the world. If your organization handles the personal data of individuals residing within the EU, you are subject to GDPR regulations.
Protection of EU Residents: GDPR's primary aim is to safeguard the personal data of EU residents. It ensures that their GDPR data is handled with care, transparency, and accountability, regardless of whether the data controller or processor is located within or outside the EU.
Compliance obligations: Organizations subject to GDPR must adhere to a set of strict compliance obligations, including obtaining explicit consent for data processing, implementing robust data protection measures, designating a Data Protection Officer (DPO), and promptly reporting data breaches. These obligations apply to both European and non-European entities.
Penalties for non-compliance: GDPR enforces significant penalties for non-compliance, and these penalties can be substantial for all organizations, regardless of their geographic location. Non-European companies can face severe financial consequences for failing to meet GDPR standards.
Cross-border data transfers: GDPR also regulates the international transfer of personal data outside the EU. Organizations must ensure that GDPR data transferred to countries outside the EU is adequately protected and complies with GDPR standards.
In summary, the myth that GDPR policy exclusively targets European companies is inaccurate. GDPR's extraterritorial scope emphasizes the global nature of data processing and privacy concerns. Any organization, irrespective of its location, is bound by GDPR if it processes the personal data of EU residents. Compliance with GDPR is not merely a legal obligation; it reflects a commitment to respecting individuals' privacy rights and maintaining the highest standards of GDPR data protection, regardless of borders.
2. Myth: Small businesses are exempt from GDPR


It is a common misconception that small businesses are exempt from the GDPR. However, the fact is that GDPR applies to all businesses, regardless of their size. The regulation does not provide exemptions based on the number of employees or the scale of operations. Instead, GDPR's requirements may vary in complexity and implementation depending on the size and nature of the organization, but compliance is mandatory for all.
Here are some key points to clarify GDPR's applicability to small businesses:
Universal application: GDPR policy is a comprehensive data protection framework that applies uniformly to all businesses, including small and medium-sized enterprises (SMEs). It is designed to protect the personal data of individuals within the EU, irrespective of the organization's size.
Scalable requirements: While GDPR applies to all, some of its requirements are scalable. This means that certain obligations, such as appointing a Data Protection Officer (DPO) or conducting Data Protection Impact Assessments (DPIAs), may be more relevant to larger organizations with extensive GDPR data processing activities. Smaller businesses may have simpler compliance obligations, but they are still obliged to follow GDPR principles.
Data processing thresholds: GDPR policy does include some thresholds related to data processing. For example, organizations that process personal data on a large scale or engage in certain high-risk processing activities may have additional compliance requirements. However, these thresholds are based on the nature of GDPR data processing rather than business size.
Consistency in data protection: GDPR is committed to ensuring consistency in data protection standards across all businesses. Small businesses, like their larger counterparts, must take data protection seriously and implement measures to secure personal data, obtain proper consent, and respond to data subjects' requests.
Penalties for non-compliance: Small businesses are not immune to the penalties for non-compliance with GDPR. Regulatory authorities can impose fines for violations, and these fines can have a significant impact on smaller organizations.
In conclusion, it is vital for small businesses to recognize that GDPR policy applies to them just as it does to larger enterprises. While some requirements may be tailored to the complexity of data processing activities, compliance with GDPR is mandatory for all businesses. Taking GDPR data protection seriously and adopting appropriate measures is not only a legal obligation but also a means of building trust with customers and protecting their GDPR rights.
3. Myth: Consent is always required for data processing


While it's a common belief that consent is the only way to process personal data legally, this is indeed a myth. The reality is that consent is just one of several lawful bases for data processing, as outlined in data protection regulations like the GDPR. Organizations can rely on various legal bases to process personal data, depending on the specific circumstances and purposes of the data processing.
Here are some key facts to clarify the various lawful bases for GDPR data processing:
Consent: Consent is a lawful basis for data processing, and it requires individuals to provide clear, informed, and freely given permission for their GDPR data to be processed for specific purposes. However, consent is not always the most suitable or required basis, especially when there are other lawful reasons for processing the data.
Contractual necessity: Data processing that is necessary for the performance of a contract with an individual is another lawful basis. For example, if an individual enters into a contract with a company, the company can process their data as necessary to fulfill that contract, even without explicit consent.
Legitimate interests: Organizations can process personal data based on their legitimate interests, provided these interests are not overridden by the individual's rights and interests. This allows businesses to use personal data for purposes such as marketing, fraud prevention, or internal administration without requiring explicit consent.
Legal obligations: When processing is required to comply with a legal obligation, such as tax or regulatory requirements, it is considered a lawful basis for GDPR data processing. Organizations are obligated to process data in these cases, regardless of consent.
Vital interests: Data processing may also be necessary to protect someone's vital interests, such as in a medical emergency, without obtaining consent.
Public task or official authority: Public authorities may process personal data for tasks carried out in the public interest or in the exercise of official authority.
Consent as a choice: When organizations do rely on consent, it must be a genuine choice for individuals, and they must be able to withdraw their consent at any time without adverse consequences.
In summary, while consent is an important lawful basis for data processing, it is not always required or appropriate. Organizations must carefully consider the specific circumstances and purposes for which they are processing personal data and choose the appropriate legal basis in accordance with data protection regulations like GDPR. This ensures that individuals' GDPR data rights are respected and that data processing activities are conducted in a lawful and ethical manner.
4. Myth: GDPR requires data to Be stored in Europe


A prevalent misconception is that the GDPR obliges organizations to store personal data exclusively within the borders of Europe. However, the fact is that GDPR does not impose such a restriction. Instead, GDPR prioritizes the protection and privacy of personal data, regardless of where it is stored or processed.
Here are some key points to debunk the myth and clarify GDPR's stance on data storage location:
No geographic storage mandate: GDPR does not dictate that personal data must be stored in Europe. It recognizes that GDPR data processing and storage can occur globally due to the international nature of modern business and technology.
Data protection emphasis: GDPR places a strong emphasis on the protection and security of personal data. Organizations are required to implement appropriate safeguards, security measures, and contractual provisions when transferring data internationally to ensure that it remains adequately protected.
Adequate protection standards: GDPR requires that when personal data is transferred outside the European Economic Area (EEA) to countries that do not have an "adequate" level of data protection, organizations must take additional steps to ensure data protection. These steps may include using standard contractual clauses or other approved mechanisms to safeguard data during international transfers.
Accountability: Organizations are accountable for ensuring that any third parties or data processors they engage with, whether inside or outside Europe, comply with GDPR's data protection standards.
Consent and transparency: GDPR mandates that organizations inform GDPR data subjects about international data transfers and the safeguards in place to protect their data. If necessary, organizations should obtain explicit consent for such transfers.
In summary, GDPR does not impose a geographical restriction on where personal data can be stored or processed. Instead, it focuses on the principles of data protection, security, and transparency. Organizations are required to take appropriate measures to protect personal data, whether it is stored locally within Europe or transferred internationally. This approach ensures that individuals' privacy rights are upheld, regardless of the data's physical location.
5. Myth: GDPR compliance guarantees data security


It is essential to recognize that while GDPR promotes data security and privacy, compliance with GDPR requirements does not automatically guarantee the complete and foolproof security of personal data. GDPR sets forth a framework of rules and guidelines for the responsible handling of personal data, but it is the responsibility of organizations to implement specific security measures and practices to adequately protect that GDPR data.
Here are some key points to clarify the relationship between GDPR compliance and data security:
Legal framework: GDPR establishes legal requirements and standards for how organizations must handle personal data, including the implementation of appropriate security measures. Compliance with these regulations is mandatory and ensures that organizations are following specific GDPR data protection practices.
Risk-based approach: GDPR policy emphasizes a risk-based approach to data protection. Organizations are expected to assess their own risks and vulnerabilities and implement security measures that are commensurate with the level of risk associated with their data processing activities.
Specific security measures: GDPR does provide guidelines on security measures, such as encryption, access controls, and data breach notification procedures. However, it does not prescribe a one-size-fits-all solution, as the security needs of each organization may vary.
Ongoing commitment: Achieving GDPR compliance is not a one-time event. It requires an ongoing commitment to monitoring, assessing, and improving data security practices. Organizations must adapt to evolving security threats and technology changes.
Accountability: GDPR policy places a strong emphasis on accountability. Organizations are accountable for demonstrating compliance and ensuring that the personal data they process is adequately protected. This includes conducting regular risk assessments, documenting security measures, and responding to data breaches promptly.
Cybersecurity challenges: Data security is a complex and evolving field, with cyber threats constantly evolving. Compliance with GDPR helps create a strong foundation for data protection, but organizations must also stay vigilant and adapt to emerging security threats.
In summary, while GDPR compliance is a critical step in promoting data security and privacy, it is not a guarantee of absolute security. Organizations must take proactive measures to assess and mitigate risks, implement appropriate security controls, and maintain a continuous focus on data security to protect personal data effectively. Compliance with GDPR policy is a part of the broader effort to safeguard personal data and respect individuals' privacy rights.
Summing up
In today's digital age, the General Data Protection Regulation (GDPR) is a critical law that shapes how personal information is handled. Since its introduction by the European Union in 2018, GDPR has revolutionized data protection.
GDPR is vital because it gives people more control over their personal information and sets strict rules for organizations that handle this data. It applies to all types of businesses, big or small, as long as they deal with the personal information of European residents.
GDPR is not just about following the law; it's a way for organizations to show they respect people's privacy and rights. In this blog, we've cleared up five common misunderstandings about GDPR, explaining what it is, what personal data means, and correcting misconceptions about its reach, business size, lawful data processing, data storage location, and the link between compliance and data security.
Ensure GDPR compliance with Scrut! Take the first step towards data protection and privacy. Get started now to safeguard your business and customer data. Click here to explore Scrut's GDPR compliance solutions.
FAQs
1. Does GDPR apply to businesses outside of Europe?
Yes, GDPR has an extraterritorial scope, meaning it applies to any organization worldwide that processes the personal data of residents of EU and EEA. It's not limited to European companies.
2. Do small businesses need to comply with GDPR?
Yes, GDPR applies to all businesses, regardless of their size. While some requirements may scale with the size of the organization, compliance is mandatory for all.
3. Is consent the only lawful basis for data processing under GDPR?
No, consent is one lawful basis for data processing, but it's not the only one. Organizations can rely on other legal bases such as contractual necessity, legitimate interests, legal obligations, and more.